PrivacyGuard Review
Our experts tested out PrivacyGuard and here's how well it worked.
What We Like
Comprehensive credit and identity monitoring: PrivacyGuard hits all the major marks when it comes to protecting your identity and monitoring your credit.
Affordable pricing: Starting at only $9.99 a month, PrivacyGuard has very reasonable pricing.
Monthly contracts: Unlike many of its competitors, you won't have to sign up for a year with PrivacyGuard.
What We Don't Like
Poor customer support: You may not receive a response in a timely manner, or a response at all, for your support requests, based on my personal experience.
Identity theft insurance not available with all plans: Of the three plans from PrivacyGuard, only Identity Protection and Total Protection include identity theft insurance. The Credit Protection plan, despite costing $19.99 a month, doesn't offer insurance coverage.
Bottom Line
We signed up monthly for PrivacyGuard, and even though their prices were low, their identity monitoring was nothing if not comprehensive. Starting at just $9.99 a month, PrivacyGuard gave us peace of mind, which is actually quite priceless.
Our credit scores are something we should be tracking year-round, although I get that it's not the most fun activity. However, monitoring your credit report and scores is actually a great way to keep track of your identity security.
PrivacyGuard features
| | |
| --- | --- |
| Credit card monitoring | Yes |
| Bank account monitoring | Yes |
| Identification/ application verification | Yes |
| Registered offender locator | Yes |
| Email, phone, name, and birthday monitoring | Yes |
Editor's Rating
Monthly charges range from $9.99 to $24.99
Monitoring for credit scores and reports, financial accounts, dark web and more
Identity theft insurance with maximum reimbursement of $1 million
Other Options for Guarding Identities
We liked PricayGuard's comprehensive services and high-tech approaches to identity theft protection, but it's unfortunate that insurance isn't included with all of their plans. That said, identity theft protection isn't a one-size-fits-all exercise. Check out these three other favorites below to see if they might be a better fit: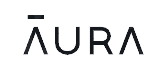 Identity monitoring services like PrivacyGuard are also helpful for monitoring other areas like public records, neighborhood reports, and other areas where your personally identifiable information might be found if stolen.
In this PrivacyGuard review, I'm taking a look at this identity monitoring service and determining who it would be good for. Let's get started!
PrivacyGuard Features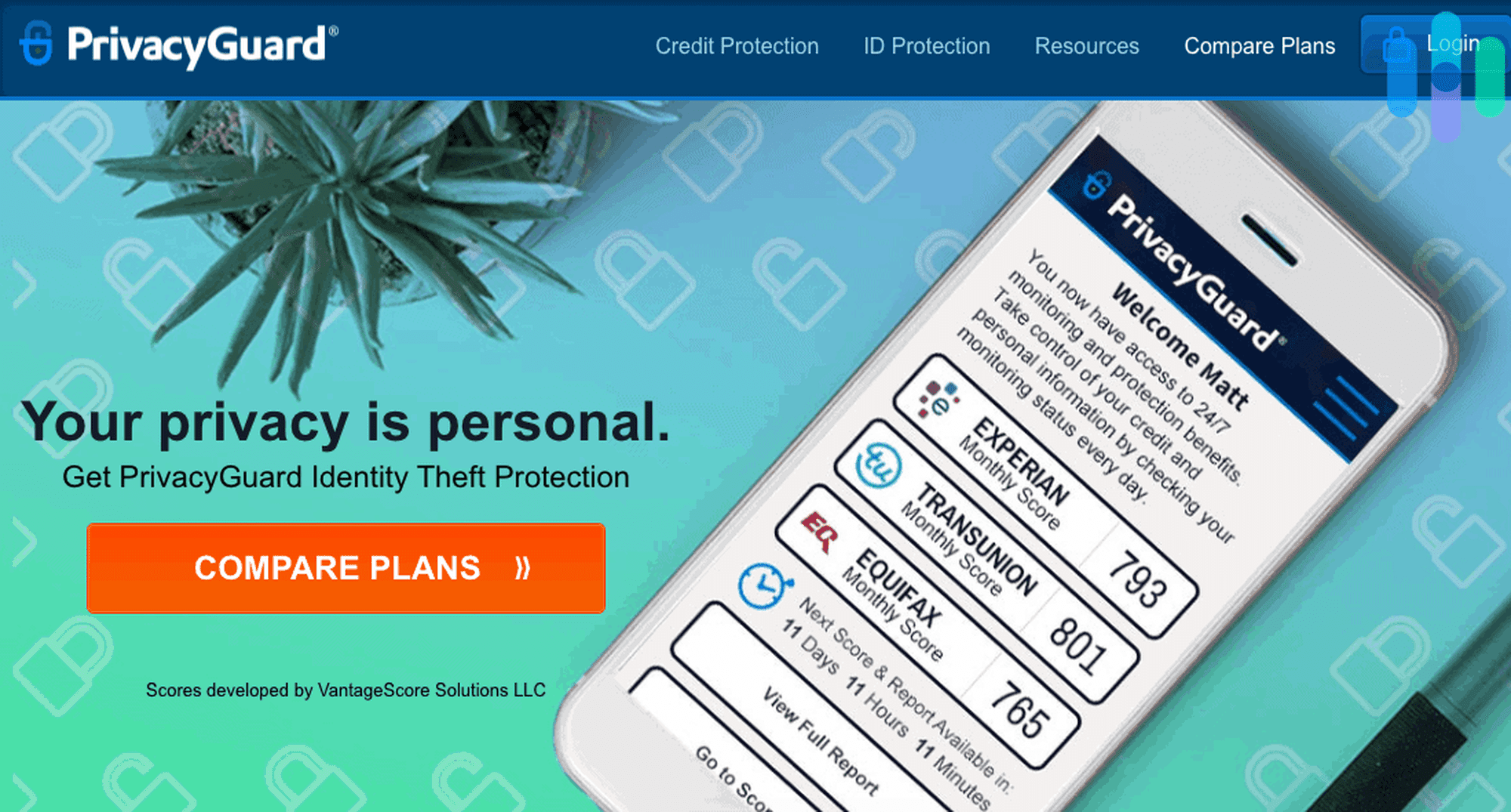 The main function of PrivacyGuard is to monitor your credit scores and reports from the three credit-reporting agencies, namely Experian, TransUnion, and Equifax.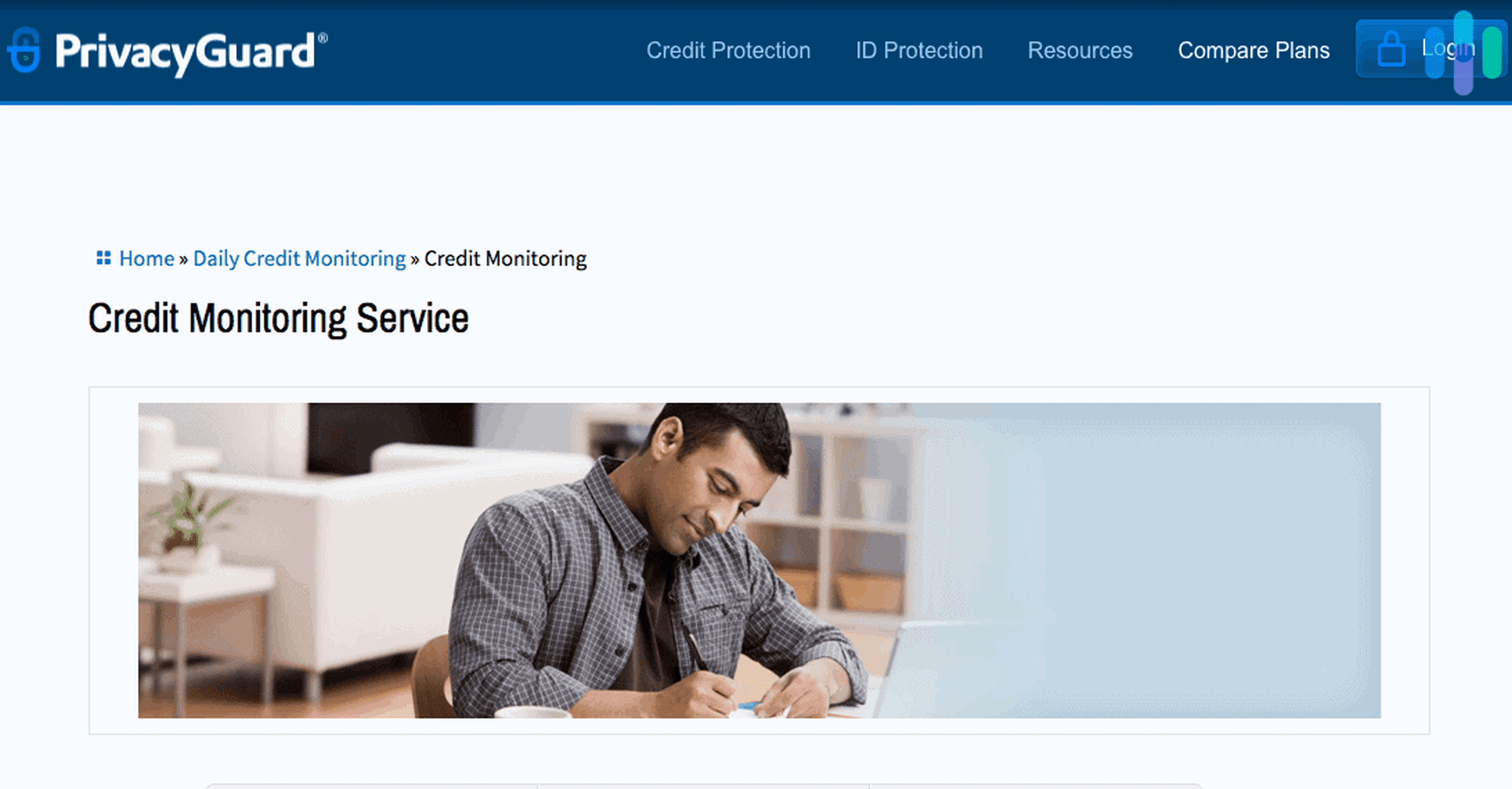 You'll receive a monthly update, which is about as often as possible. Now, that's just the basic credit protection, but PrivacyGuard also monitors for identity theft in these areas:
Dark web
Social Security numbers of adults and children
Driver's licenses and passports
Bank account
Debit and credit cards
USPS address changes
Email, phone, name and birthday
Identification/application verification
Public records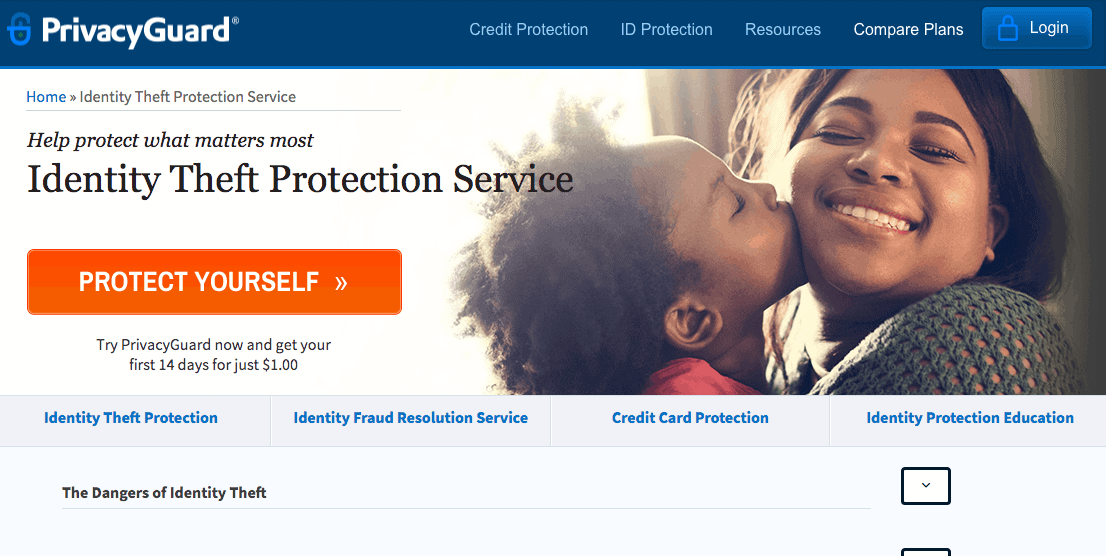 We'll talk more about what features each subscription gets you in a little bit, but this covers all of PrivacyGuard's offerings, which is totally comprehensive when compared to other identity monitoring services. You'll get alerted of any changes or updates via email or SMS notifications, and if your identity is stolen, you could be eligible for up to $1 million in reimbursements. You would also get help from a dedicated ID fraud resolution agent as well as online fraud assistance.
If you want the most protection, PrivacyGuard offers even more features like:
Reduced pre-approved credit card offers
Neighborhood reports
Registered offender locator
Emergency travel assistance
Medical records reimbursement
Lost and stolen wallet protection
Annual public records report.
While these features may not have to do with identity or credit monitoring specifically, they put you in a good position when it comes to fielding credit card offers, keeping on top of neighborhood crime, and adding some insurance for traveling or lost wallets.
PrivacyGuard Privacy and Security

If you're trusting PrivacyGuard to monitor your identity, then they're going to need to know a lot of your personal information, from your Social Security Number to your bank account information, so it's important that this information stays private. Now, one good thing that I'll say right off the bat is that you can access PrivacyGuard's app through multi-factor authentication, meaning fingerprint or face recognition. That prevents unauthorized users from accessing your account, which is a clear win, but is it enough to protect your data?
PrivacyGuard is based in the United States, a member of the international surveillance alliances Five Eyes, Nine Eyes, and 14 Eyes. That means that, under certain circumstances, the government could legally force the company to hand over customer data, which is why it's essential that PrivacyGuard keeps as little of it as possible. That's why I checked out their privacy policy, which lists all the personal data of yours that PrivacyGuard stores. Here's what they collect:
Social Security Number
Name
Address
Phone Number
Birthdate
Payment information
Service usage history, which could include your IP address, browser type, operating system, etc.
Trilegiant Corporation, which owns PrivacyGuard, maintains that while this information can be shared for joint marketing with other financial companies, only information about your "transactions and experiences" will be shared with affiliates for their "everyday business purposes," not "information about your creditworthiness." Unfortunately, this practice of collecting and selling data to third parties is incredibly common in our current digital landscape, so PrivacyGuard isn't doing anything that every other identity monitoring service isn't also doing.
While PrivacyGuard doesn't offer any information about the methods they use to encrypt your data, this is also unfortunately pretty common when it comes to identity monitoring services. However, the company hasn't had any security breaches in the past and has never gotten into trouble with the Federal Trade Commission for improperly storing customer data, which we can see as a plus.
To explore other options, read our review of Identity Guard and our review of IdentityForce, two popular services that have had similarly clean records.
Using PrivacyGuard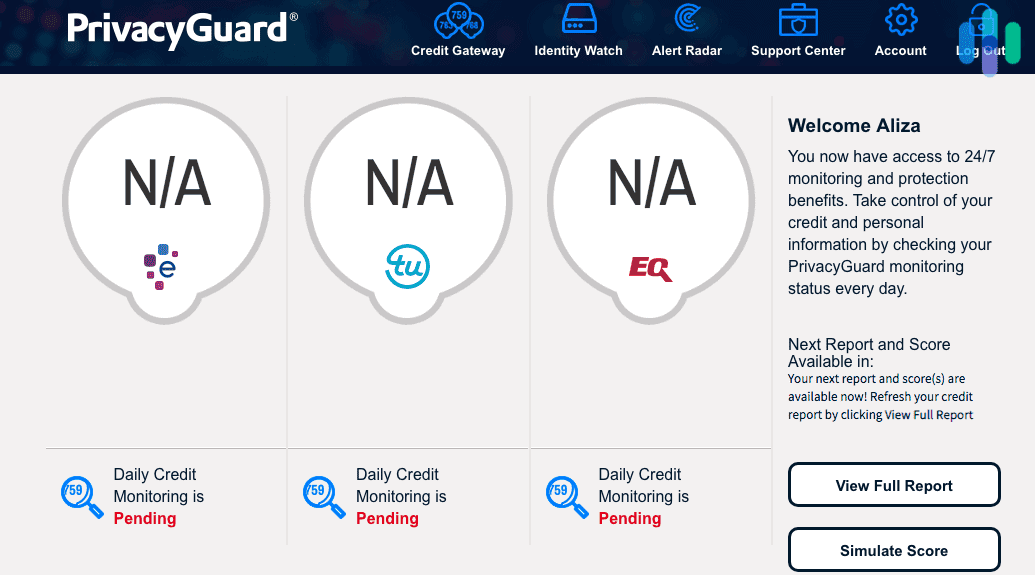 To begin using PrivacyGuard, first I had to select a plan. Then, I entered a username and password, along with some information like my name, address, birthday, Social Security number, and billing information. From there, I had to answer a few multiple-choice questions to verify my identity, and then, I had to call a phone line to answer even more multiple-choice questions. But even though I authenticated my identity over the phone, when I tried to log into PrivacyGuard, I received an authentication error.
I called back and it turns out I had to wait 15 minutes before logging in, which the woman on the phone hadn't told me before. Oh, well. After about 15 minutes, I logged on successfully and was able to see my credit score along with any monitoring alerts. Overall, the setup process took about 20 minutes, which is a little longer than other services but for good reason, authenticating my identity.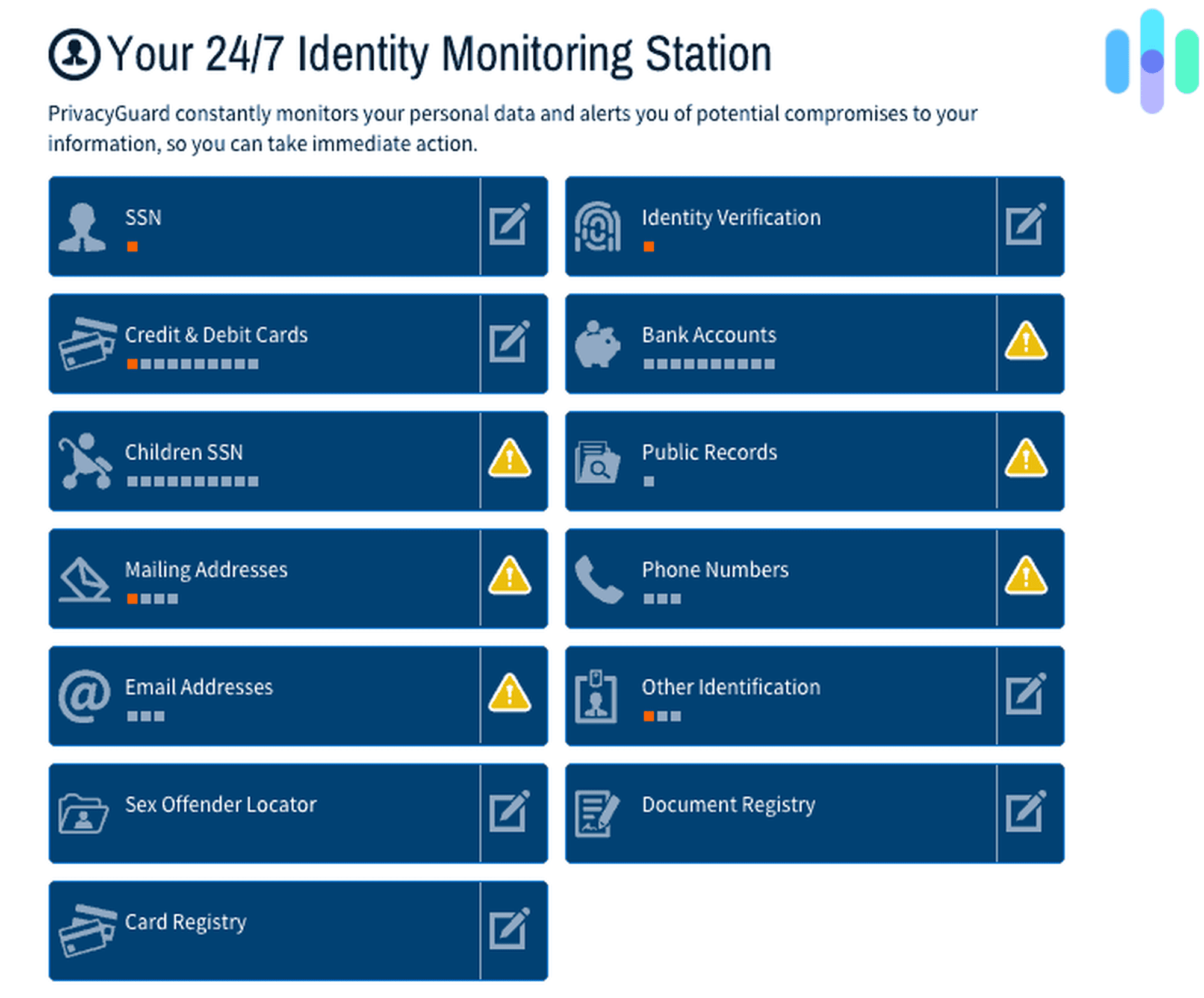 It was super easy to navigate my alerts, although I must say that PrivacyGuard's website is a bit passé in terms of aesthetics. But this isn't a fashion show, and aside from the minor speed bump in the setup, I think PrivacyGuard is super user-friendly for the average consumer.
PrivacyGuard Subscriptions
| | Credit Protection | Identity Protection | Total Protection |
| --- | --- | --- | --- |
| Monitoring of 3 Credit Bureaus | Yes | No | Yes |
| Credit Score Alert | Yes | No | Yes |
| 24/7 Triple-Bureau Daily Credit Monitoring | Yes | No | Yes |
| Monthly Credit Status Updates via Text or Email | Yes | No | Yes |
| Credit Score Simulator | Yes | No | Yes |
| Financial Calculator Suite | Yes | No | Yes |
| Secure Browser and Keyboard | Yes | No | Yes |
| Public & Dark Web Monitoring | No | Yes | Yes |
| Social Security Number Monitoring | No | Yes | Yes |
| Driver's License and Passport Monitoring | No | Yes | Yes |
| Bank Account Monitoring | No | Yes | Yes |
| Debit & Credit Card Monitoring | No | Yes | Yes |
| USPS Address Change Verificiation | No | Yes | Yes |
| Email, Phone, Name, DOB Monitoring | No | Yes | Yes |
| ID/ Application Verification Monitoring | No | Yes | Yes |
| Public Records Monitoring | No | Yes | Yes |
| Children's Social Security Number Monitoring | No | No | Yes |
| Email and Text Alerts | Yes | Yes | Yes |
| Dedicated ID Fraud Resolution Agent | Yes | Yes | Yes |
| Online Fraud Assistance | No | Yes | Yes |
| $1 Million ID Theft Insurance | No | Yes | Yes |
| Lost & Stolen Wallet Protection | No | Yes | Yes |
| Annual Public Records Report | No | Yes | Yes |
| Reduced Pre-Approved Credit Card Offers | No | No | Yes |
| Neighborhood Reports | No | No | Yes |
| Registered Offender Locator | No | No | Yes |
| Emergency Travel Assistance | No | No | Yes |
| Mecical Records Reimbursement | No | No | Yes |
| Monthly Price | $19.99 | $9.99 | $24.99 |
You can pay $19.99 a month for Credit Protection by itself, $9.99 a month for Identity Protection, or $24.99 a month for Total Protection. Total Protection combines the features of Identity Protection and Credit Protection, with some additional features, like Social Security number monitoring for children. If you have kids below the age of 18, PrivacyGuard will monitor the usage of their Social Security numbers. You can add up to 10 children per subscription. I recommend doing Total Protection, especially because PrivacyGuard doesn't make you sign up for a long-term contract. And at $24.99 a month, the price is definitely fair, especially since I've seen other services charge all the way up to $40 a month.
Now, when I subscribed to PrivacyGuard, it automatically gave me a 14-day trial for $1. For the first two weeks, the company charged my card $1, nothing more, nothing less. If, for any reason, I decided to cancel my subscriptions within that 14-day period, I would have lost a dollar only. PrivacyGuard only charged my card the full amount of my subscription, which was $24.99, on the 15th day and then monthly thereafter.
PrivacyGuard Customer Support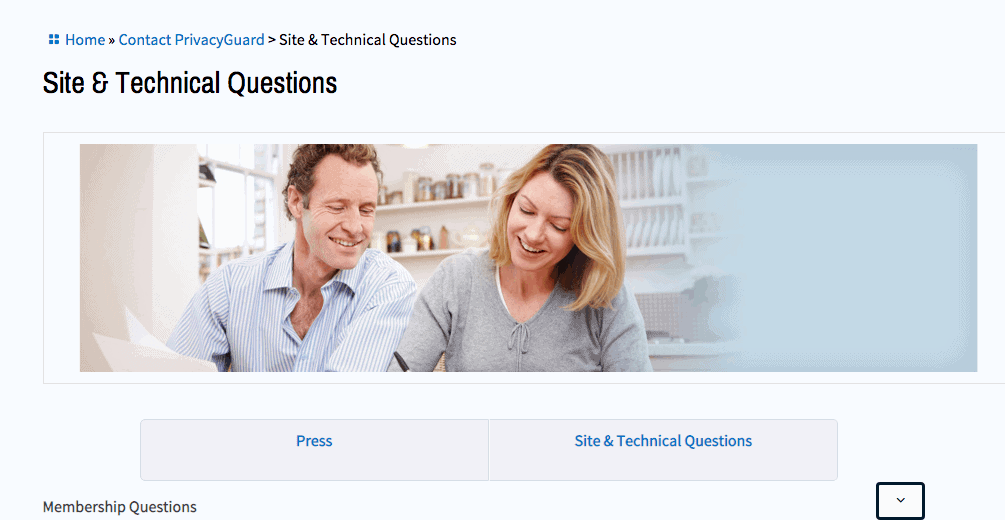 Need help with any aspect of PrivacyGuard? You can check out their online FAQs, call their phone line, or email them. When I had a question regarding encryption, I emailed support, and I was told I'd receive a response within five business days. Seven days later, I got a response asking me why I was asking, so that was unhelpful. However, that may say more about their transparency than their customer support.
Good customer support in this industry isn't always a given. For services with stronger customer support, check out our review of Credit Sesame and our review of IDShield.
The Digital Protection App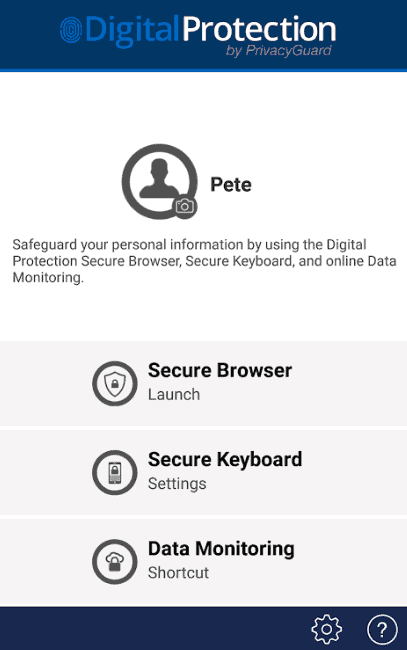 If you have an iPhone, you'll use the PrivacyGuard Identity Security app, while the app is called PrivacyGuard – Protection against Identity Theft on the Google Play store. The app is where you'll monitor your identity and credit on the go. It provides a secure mobile browser that protects against phishing, plus a secure keyboard that protects against malware and makes sure that nothing is accidentally sent to the cloud.
Overall, the app makes for a great companion software for PrivacyGuard's services. The app is well-received by iOS and Android users alike, having a 4.3 stars rating on the App Store and a solid four-star rating on Google Play.
The navigation alone made PrivacyGuard's app much easier to use than Lifelock's app, which was buggy and limited when we reviewed Lifelock. But it's still a notch up from some other services, like IdentityIQ's monitoring plans, that don't offer a mobile app at all.
Recap
Despite PrivacyGuard's shortcomings, I would definitely recommend it as an identity monitoring service overall. However, I think it really depends on what you're looking for, which is why I broke it down below.