IDShield Review: Identity Protection Online and Beyond
We took IDShield for a test run to see if it could shield our information from identity thieves.
What We Like
Affordable Plans for Individuals and Families: Plans start at just $14.95 a month, which is on par with other identity monitoring services.
30-Day Trial: Try IDShield for free; the company didn't charge our credit cards until 30 days after our purchase.
Great Coverage for Identity and Credit Monitoring: From Social Security numbers to sex offender monitoring, IDShield covers everything we needed to protect our identities.
What We Don't Like
Based in the United States: Government agencies could force IDShield, an Oklahoma-based company, to hand over personal information. That's part of the agreement of the Five Eyes, Nine Eyes, and 14 Eyes alliances, which the U.S. is a member of.
Clunky Setup: The user experience wasn't the best when we signed up for IDShield.
Bottom Line
With plans as low as $14.95 a month, IDShield monitored our identities without breaking the bank. If you want to see how it works yourself, you can try IDShield for free for 30 days.
Not to scare you, but the internet can be a dangerous place. We divulge a ton of information online, from our names, addresses, and telephone numbers to our debit and credit card information and Social Security numbers. In fact, we probably tell the internet more about ourselves than our friends and family, which is why it's essential to use a strong identity monitoring service. Today, we're looking at a service called IDShield. Let's see if IDShield has what it takes to protect us in the digital landscape and beyond.
IDShield Features Overview
| | |
| --- | --- |
| ID Touch verification | Yes |
| Credit score monitoring | Yes |
| Sex offender location monitoring | Yes |
| Google Play app user rating | 4.8 |
| App Store app user rating | 4.8 |
Editor's Rating
Access to licensed Private Investigators
Credit freeze and fraud alert features
Up to $1 million in ID theft restoration 
More Security.org Recommendations
Check out more of our favorite identity theft services.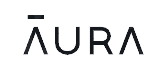 IDShield Privacy and Security
IDShield protects our personally identifiable information online, but to do that, we have to give the company our information. The question now is, can we trust IDShield? After all, it is an Oklahoma-based company, which means that the government could squeeze out all the information that IDShield has on us, under very specific and unlikely circumstances. That's because the good old U.S of A is part of the Five Eyes, Nine Eyes, and 14 Eyes alliances. Members of these international surveillance alliances have laws that could force companies to hand over customer data. Now, keep in mind that every single service on our best identity theft protection list hails from the U.S., so IDShield isn't unique in this way. However, if privacy is a number one priority, this is the type of information you should know about.
So what information does IDShield keep, anyway? When we tested IDShield, it kept the information that we provided, including our:
Names
Addresses
Payment information
Social Security numbers
That may seem bad, but again, IDShield needed those pieces of information so it could protect our identities. Aside from those, however, IDShield collected data whenever we visited its website or whenever we communicated or transacted with the company or its affiliates. According to the company's privacy policy1, IP addresses and cookies were some of the types of data it collected. That's a bit more than necessary, but not by much, given that a lot of the other identity protection services we tested collected the same information, if not more. Overall, we'd say that IDShield's privacy policy is as solid as it gets in the identity protection industry.
We also liked that IDShield allowed us to use Touch ID on our iPhones, on top of our four-digit passcode, when logging into the IDShield app. Basically, IDShield's multi-factor authentication made sure that we were the only people who could access our IDShield apps.
Hot Tip: To keep your account safe, enable multi-factor authentication on your phone, requiring Touch or Face ID.
How Does IDShield Protect Your Identity?
So what did we pay for exactly when we enlisted IDShield's services? Primarily, IDShield monitored our identity and credit, which included monitoring for:
Credit Scores and Reports: We invested in the Three Bureau plan so we got updates from all three major credit bureaus, Equifax, Experian and TransUnion. We got our credit score monthly and an updated report annually. Should you choose the One Bureau plan, IDShield will monitor your TransUnion credit scores and reports only.
Social Security Numbers: Believe us, someone else using your Social Security number isn't a good thing. Fortunately, IDShield used what it calls SSN Skip Trace to detect when someone besides ourselves were using our SSNs.
Dark Web Monitoring: The dark web is where cybercriminals sell and buy stolen passwords and credentials

2

, so IDShield scanned it to make sure our information stayed off the dark web.
Public Records: Did you know that there are 78 billion public records in the United States? IDShield scanned them for our personal information, which, if we entered it all, amounts to 34 different pieces of data, from our names to our addresses to our Social Security numbers.
Court Records: On top of that, the U.S also has over 350 million court records, all of which IDShield monitored to make sure our information didn't show up. This included local, state and federal courts, the Department of Corrections, and more. We all want to maintain our squeaky clean records, and IDShield made sure that criminals weren't using our names when committing crimes.
Payday Loans: If someone tried to get money quickly using our information, IDShield was on it, monitoring payday, online, and rent-to-own loans.
Username and Password: Once we entered the usernames, passwords, and credentials of our important online accounts onto the IDShield app, it made sure they didn't pop up anywhere else online.
High-risk applications: IDShield monitored databases of new financial account applications, and let us know of potentially fraudulent new accounts under our names.
Address Changes: Someone trying to get our mail? Not so fast. IDShield monitored the U.S Postal Service to make sure we'd get alerts if anyone requests to change our addresses using our names.
Child Monitoring: We didn't sign up for the family plan, but if you're a parent and you got a family plan, your children will get the same identity monitoring features as you. IDShield can protect your kids from child identity theft, which is a more serious issue than some might think.
Sex Offender Tracking: This isn't something we want to think about, but it's great that IDShield told us exactly where the sex offenders in our neighborhood lived, along with some useful information about them. Now we know when to cross the street and when to keep walking on our path.
Telecom: IDShield monitored phone records, over 1.5 billion to be exact, to see if someone had been redirecting our phone numbers to theirs and stealing verification SMS meant for us. Most identity monitoring services don't include this feature, so kudos to IDShield.
Social Media: We put more information than we need to on social media sometimes. That's why we're glad that IDShield scanned our social media profiles and posts for information that could put our privacy at risk. That included home addresses, email addresses, birthdays, and Social Security numbers.
Aside from identity monitoring, IDShield took it a step further with features that didn't only make us safer, but also got rid of some of the junk in our lives, literally:
Trifecta of digital protection: IDShield partnered with Trend Micro to provide us with three vital digital security features: anti-malware protection, VPN, and password manager. These products cost about $8 a month if purchased separately, so it's really great that IDShield included them free of charge. We've reviewed Trend Micro's antivirus, so check that out if you want to see how well it works.
Solicitation Reduction: Junk mail and telemarketing calls may seem like minor annoyances, but actually, they contain a lot of our personal information. IDShield did its best to reduce such solicitations, which left our voicemails and physical mailboxes much less cluttered.
Deleting Data Brokers: Websites like Whitepages and Spokeo contain tons of personal information, which they then sell to third parties, mostly for advertising purposes. If you don't believe us, just Google your name and see what comes up! After we bought IDShield, however, it removed our information from these types of websites, otherwise known as data brokers.
Medical Data Reports: Some more information we'd like to stay private? Our medical data. IDShield had our back, scanning medical data reports for false or even fraudulent information.
Anti-Bullying Protection: Only included in family plans, IDShield helps protect kids against cyberbullying, which affects about 22 percent of kids in the U.S from ages 12 to 18.

3

Reputation Management: The cancel culture has gotten so bad that netizens dig up reputation-damaging posts even from 10 years ago. We don't remember every little thing we've posted online. Luckily, IDShield scanned our social media for posts and comments that contained colorful language and images so we could delete them. Remember those pics from Spring break in Cabo? IDShield will catch those.
Unlimited Consultation: If we had any questions or concerns at all, IDShield's identity theft specialists were available for as much time as we needed.
Licensed Private Investigators: IDShield, like every identity monitoring service, can't completely prevent identity theft from occurring. So if it does occur, the company would help us out, giving us licensed private investigators to help us get our identities back. These investigators will be available at all times, even in the middle of the night and Christmas. Talk about full coverage!
$1 Million Protection Policy: Aside from support, we got an identity theft insurance policy that could reimburse us for up to a million dollars if our identities were stolen. This coverage is the standard maximum, so we're glad to see that IDShield offers competitive policies.
Lost Wallet Support: Finally, if we ever lose our wallets, our investigators could help with that, making sure our identities are safe should our wallets end up in the wrong hands.
All of these features are what we look for exactly in identity monitoring services, covering everything from criminal areas like court records to our financial accounts. But how much did it set us back?
IDShield Subscription Options
| Subscription information | One-Bureau plan for individuals | One-Bureau plan for families | Three-Bureau plan for individuals | Three-Bureau plan for families |
| --- | --- | --- | --- | --- |
| Credit bureaus monitored | TransUnion | TransUnion | Equifax, Experian, and TransUnion | Equifax, Experian, and TransUnion |
| Number of people covered | 1 adult | 2 adults, 10 children | 1 adult | 2 adults, 10 children |
| Monthly price | $14.95 | $29.95 | $19.95 | $34.95 |
| Free trial | 30 days | 30 days | 30 days | 30 days |
IDShield's subscription options are very straightforward. All plans include all the monitoring features we mentioned above. The only differences were the number of people each plan covers, and the number of credit bureaus each plan monitors. Individual plans provide coverage for a single adult, while family plans cover two adult individuals plus up to 10 dependent children. As we were all single and childless, we chose from the individual plans. Next, we chose how many credit bureaus we want to monitor. One-Bureau plans monitor TransUnion credit scores and reports only, while Three-Bureau plans monitor TransUnion, Equifax, and Experian. As we want the best coverage, we got the Three Bureau plan.
All in all, we spent $19.95 a month on the Three-Bureau individual plan, pretty average compared to other companies. To make things even better, we didn't pay for the first month, thanks to IDShield's 30-day free trial. Now, as for the family plans, starting at $25.95 a month, we think they are reasonable considering the number of people they cover. For a family of 12, that's only a little over $2 per month per person! To learn more, read our IDShield pricing page.
FYI: IDShield offers a free 30-day trial with all of its subscriptions, so there's no risk to trying it out.
Our Experience Using IDShield
Getting started with IDShield involved selecting the plan; again, we went with the three-bureau monitoring for one adult, which includes a 30-day free trial. Full disclosure: we really like free trials. Not every monitoring service offers one, so when we see one, we take note. We took advantage of it when we explored Experian IdentityWorks pricing and IdentityForce pricing, though both services ended up costing more than IDShield after the trial period ended.
But we digress. After choosing our IDShield plan, we entered in some contact information (our names, addresses, email addresses, birthdays, phone numbers, and the last four digits of our Social Security numbers), before creating usernames and passwords and putting our credit card in (which IDShield didn't charge until we were a month into our subscriptions).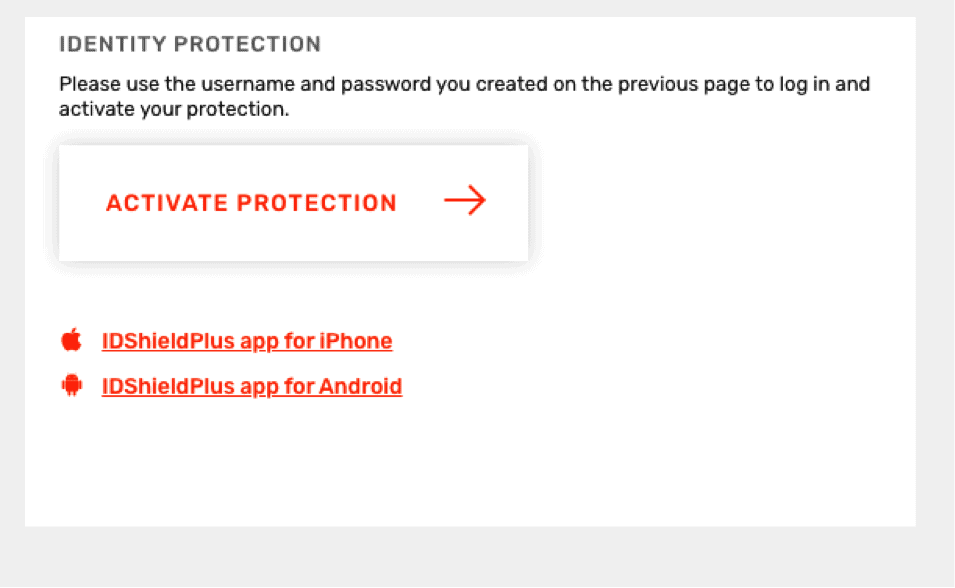 Although IDShield provided links for the mobile apps, we decided to set everything up on our laptop first, as it's easier for us to type, but we'll get to the app in a bit. Here's how the activation process went:
We entered a confirmation number that IDShield sent to our email.
The next window had us confirm our last name and zip code.
IDShield sent us another confirmation email, that time, to verify our email address.
We created security questions and answers, as well as answered verification questions to confirm our identities.
We accessed our dashboard.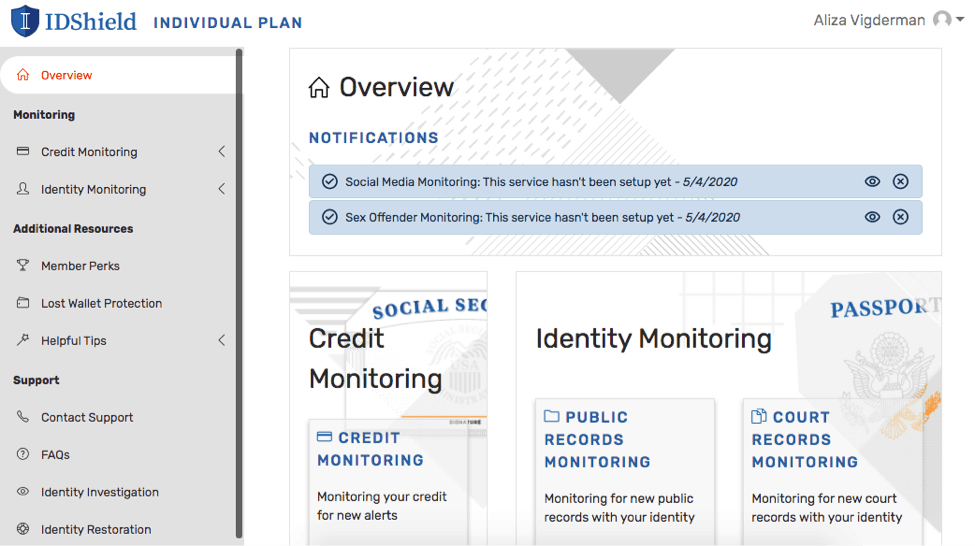 From there, we set up social media monitoring, allowing IDShield access to our Facebook, Twitter, and Instagram accounts.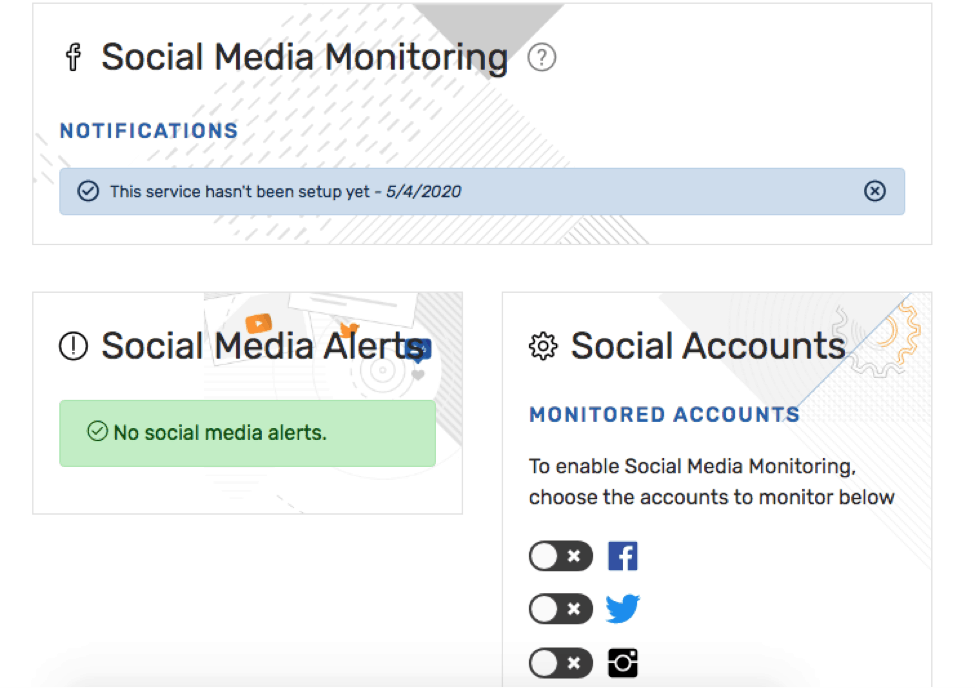 We also set up sex offender monitoring by entering our address. IDShield already had our address, so it was unclear why we needed to enter our address again. It was a bit annoying and tedious, to be honest. Not to mention, IDShield had us confirm our email twice when we were activating our account. First, with the confirmation number, then again when we set up our security questions. Not a big deal, but IDShield could have streamlined its setup process a little better.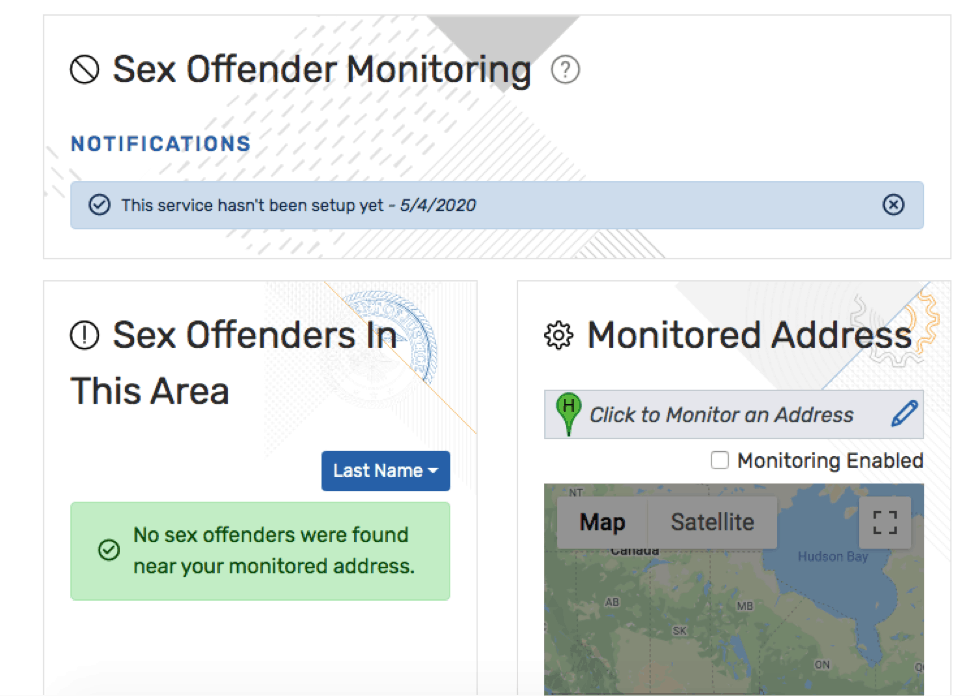 As far as actually using IDShield on a day to day basis, we had no issues. When we wanted to check in, the home page's overview section told us all the information we needed to know, namely that it didn't detect identity threats. Checking our credit score was also simple, and we like how IDShield tracked it over time in a rainbow-colored chart.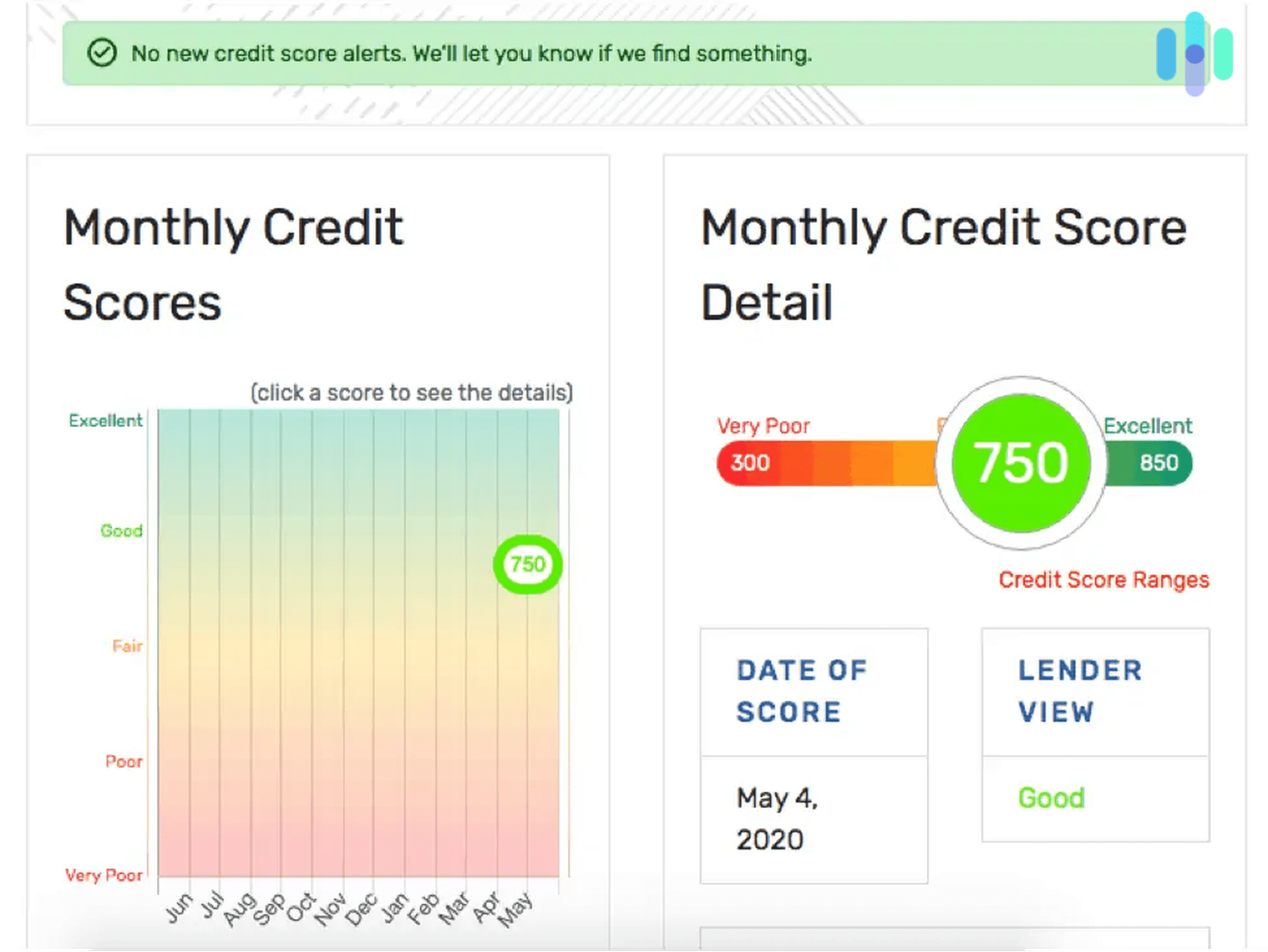 Although the setup process was a bit cumbersome, IDShield is easy to use on a day-to-day basis.
The IDShield App
Of course, we're not at our desktop computers all the time. Sometimes we wanted to monitor our identities and credit scores on the go, so we downloaded the IDShield app from the App store. As soon as we logged in, we turned on Touch ID as well as made a four-digit passcode, which made sure that we were the only ones who could log in. After skipping an app tutorial, we found ourselves on the home page with two new alerts.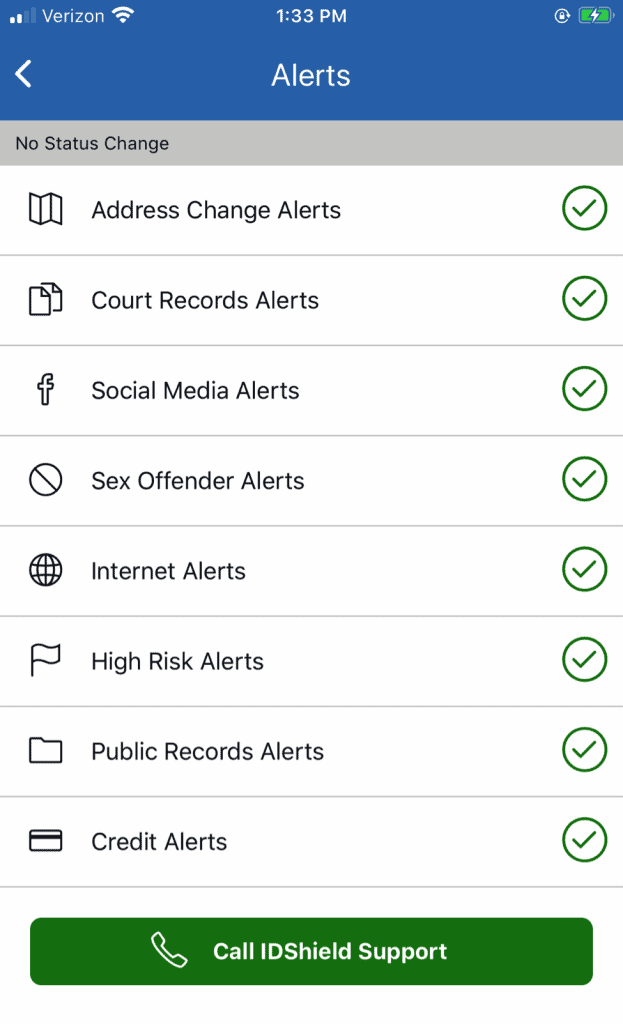 When we clicked on the alerts, we found that we had to activate social media and sex offender monitoring again.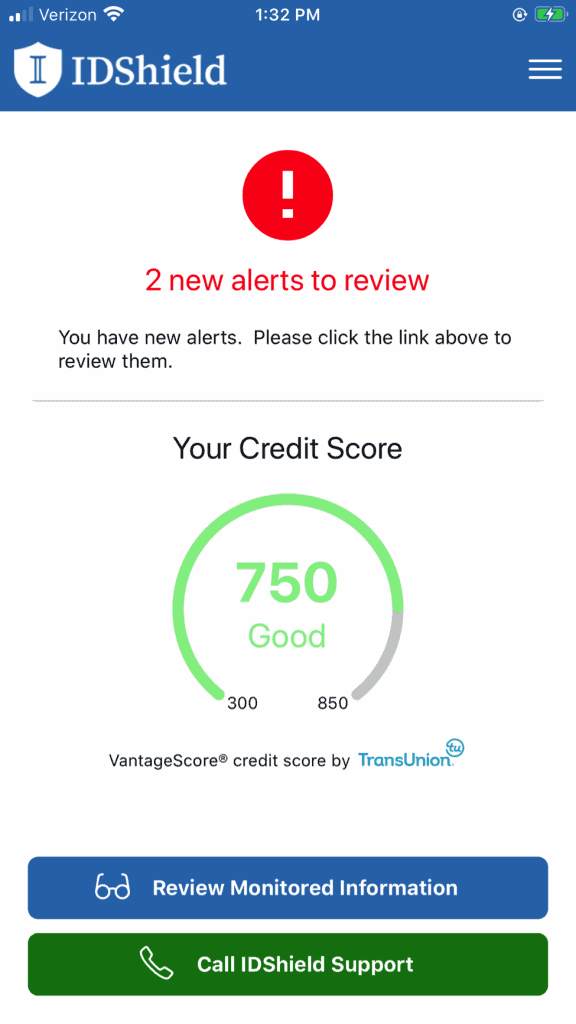 Since we already did this on the desktop version, this felt a bit cumbersome. Fortunately, it was easy to sync our social media with IDShield and enter an address from which to monitor sex offenders.
But aside from that, the app is easy to use, with all of the options accessible on the left-hand side tab.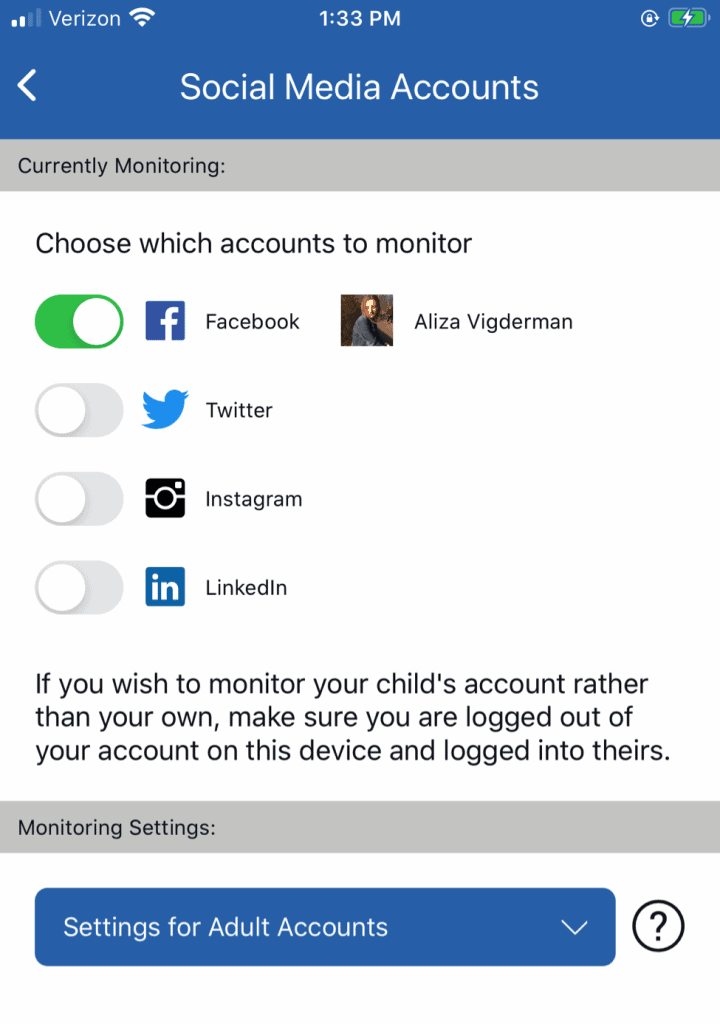 We could access our credit scores and even a monthly tracker easily, as well.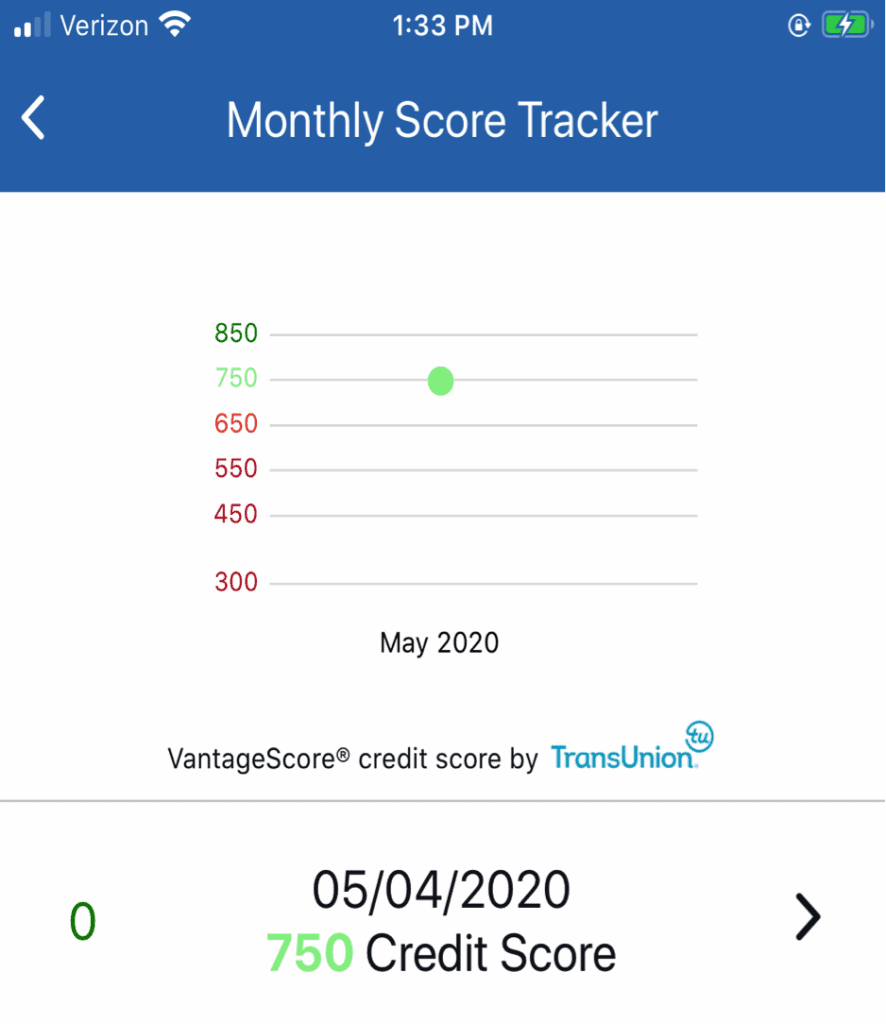 So although setting up the IDShield app's features was a little redundant since we already set those up from our browser dashboard, the app itself was straightforward and well-designed in general. It wasn't as intuitive as the app we used when we reviewed Privacy Guard, but it's worth noting that good mobile apps aren't always a given with identity monitoring services. For example, we ran into a few bugs with the LifeLock mobile app, so we relied on our laptops more heavily when we tested LifeLock. And when we pivoted to our IdentityIQ review, a lesser-known service, we found no mobile app at all. It's also worth noting that despite the inconveniences we experienced with IDShield's app, it has some of the highest app ratings we've seen in identity monitoring services. It holds a 4.8 stars rating, both on the App Store and Google Play.
Customer Support
Excellent customer support is always important, but when it concerns your personal information online, it's particularly important. With IDShield, we had a few different methods of contacting support, from online FAQs to live chat, phone, and email, all available on IDShield's desktop site as well as its mobile application. Of course, having the prerequisite millennial social anxiety, we opted for live chat and we had always received help within minutes. Overall, IDShield really seems to care about its customers, and its number of support options proves it!
Final Verdict
IDShield impressed us immensely, and we would definitely recommend it to anyone looking for comprehensive identity protection. Let's break it down even further:
Why IDShield may be right for you
Extensive coverage for individuals or families
Affordable prices
Great support
Why IDShield may not be right for you
Extensive setup
Member to surveillance alliances.
With IDShield on our phones and computers, we feel confident that even if someone stole our identities, we'd be safe in IDShield's capable hands.
FAQs
To cap off this review, we've answered some of the questions we hear a lot about IDShield.