Created nearly three decades ago to facilitate safe corporate data transfers, virtual private networks (VPNs) have evolved to protect individuals and promote free global communication.
Today, businesses now have more technologies to choose from for securing their networks, but VPNs remain indispensable to individuals around the globe. Beyond shielding Americans from invasive marketers, they help Russians learn about the Ukrainian war, the Chinese avoid the Great Information Firewall, and Iranians evade government censors.
While consumer awareness of the massive VPN market has steadily grown, overall use has stagnated as the technology shifts from mostly an enterprise solution to a personal safeguard.
To assess current VPN implementation, the technology's most popular use cases, and the industry's potential for growth, Security.org conducted its third annual study of a broad cross-section of Americans (see the 2020 and 2021 reports for past insights). We also dug into thousands of consumers' insights to see what VPN features interest people most.
>> Learn more: The Best VPN's We've Tested
Key findings:
88 percent of Americans are familiar with virtual private networks today, up from 72 percent in 2020.
Though awareness has risen, adoption rates have stayed almost the same since last year: 39 percent of Americans currently use VPNs for work or personal use. Today, Americans are more likely to use VPNs for personal reasons than for business applications.
Nearly 50 percent of personal VPN users have free VPNs, and nearly two in three report performance issues with their free services.
Less than half of Americans would trust VPN services provided by Google, which the company recently added to Google Pixel phones.
Table of Contents
VPN Awareness Has Dramatically Increased Since 2020, and Use Cases Have Shifted
We conducted our research during National Cybersecurity Awareness Month and found that Americans are increasingly aware of virtual private networks. Nearly 90 percent of adults correctly identified VPNs as remote encrypted portals that enhance online security and privacy by shielding internet activity from hackers, trackers, and censors.
This represented an increase over last year's already impressive numbers.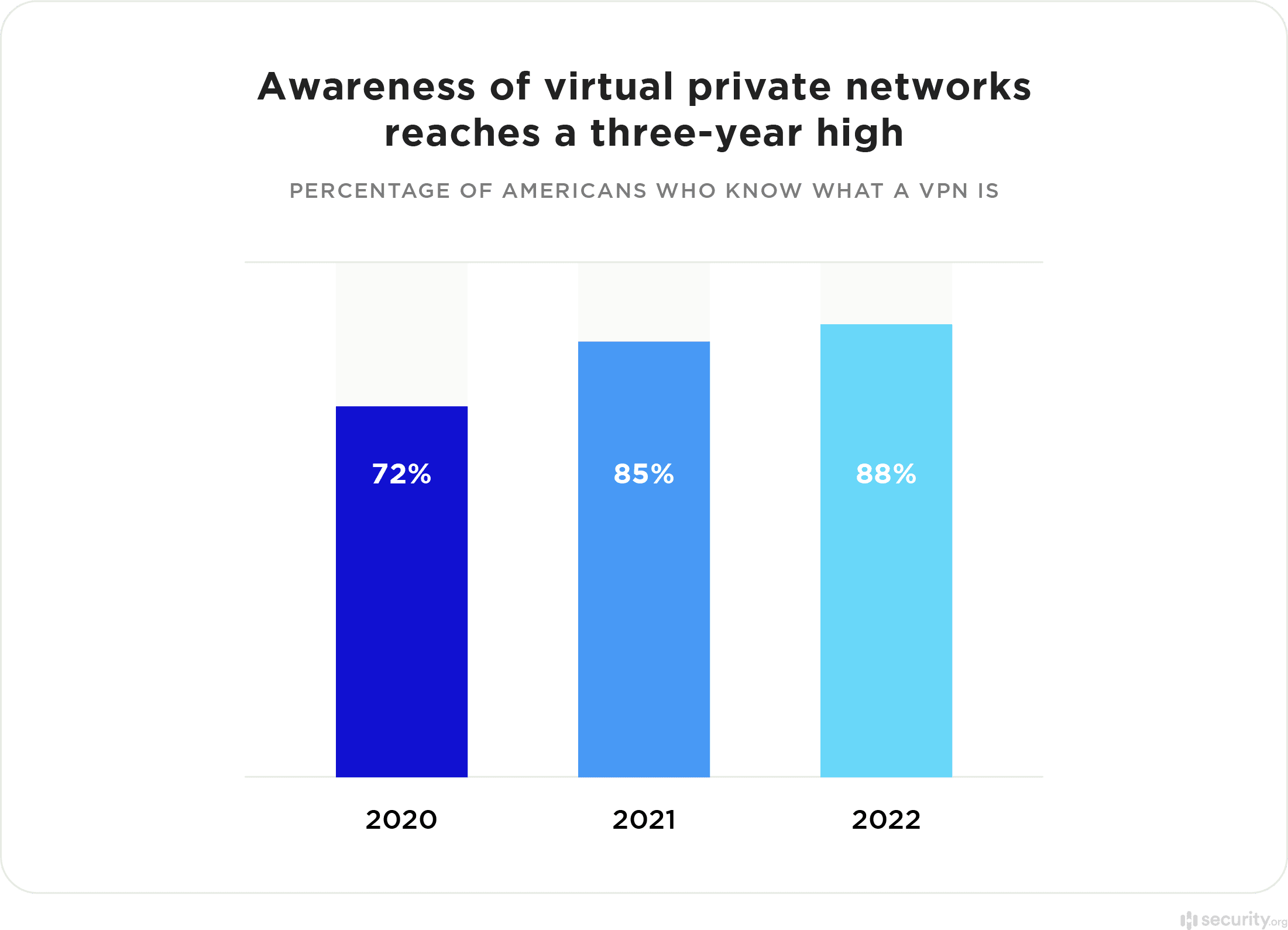 Despite this increased familiarity with VPN services, our data showed that their usage didn't increase over the past year. Usage rates were nearly identical between 2021 and 2022.
Business VPN use ballooned when COVID-19 forced a sudden switch to a universal work-from-home economy. This immediate need for mass remote access to corporate networks elevated VPNs as the most stable solution. However, since many workers have returned to their offices (and their secure internet connections), many businesses don't need expanded VPN access.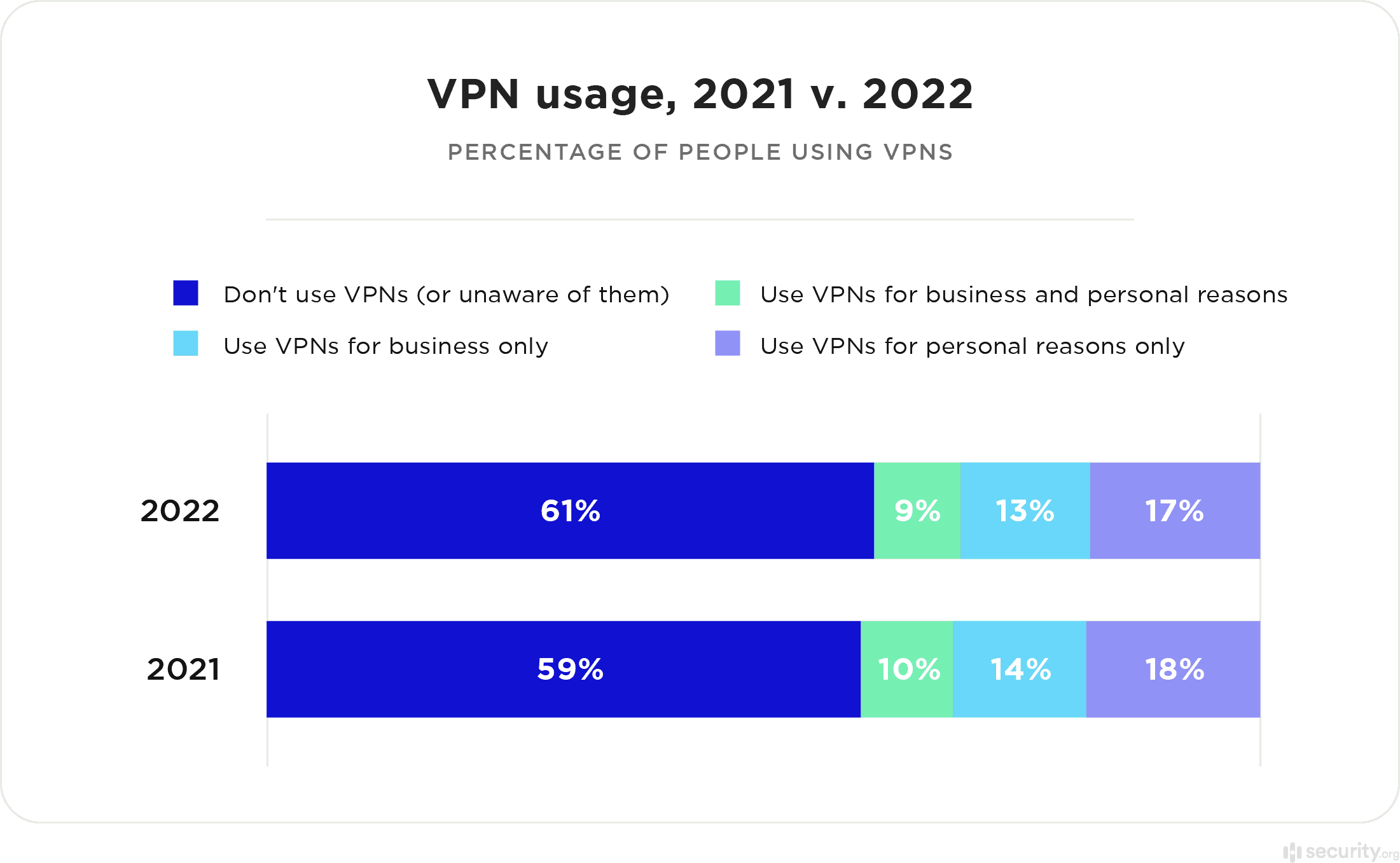 It's worth noting that business VPN usage declined among Generation Xers (people aged 42-57), dropping from 33 percent in 2021 to 24 percent in 2022.
Many enterprise users have since transitioned to Zero Trust Network Access (ZTNA) models to restrict unfettered connections or shift data to decentralized databases (sometimes with cloud VPNs).  As a result, most current VPN users access the services for personal applications. We can see more subtle shifts away from business uses when customers explain why they turn to VPNs.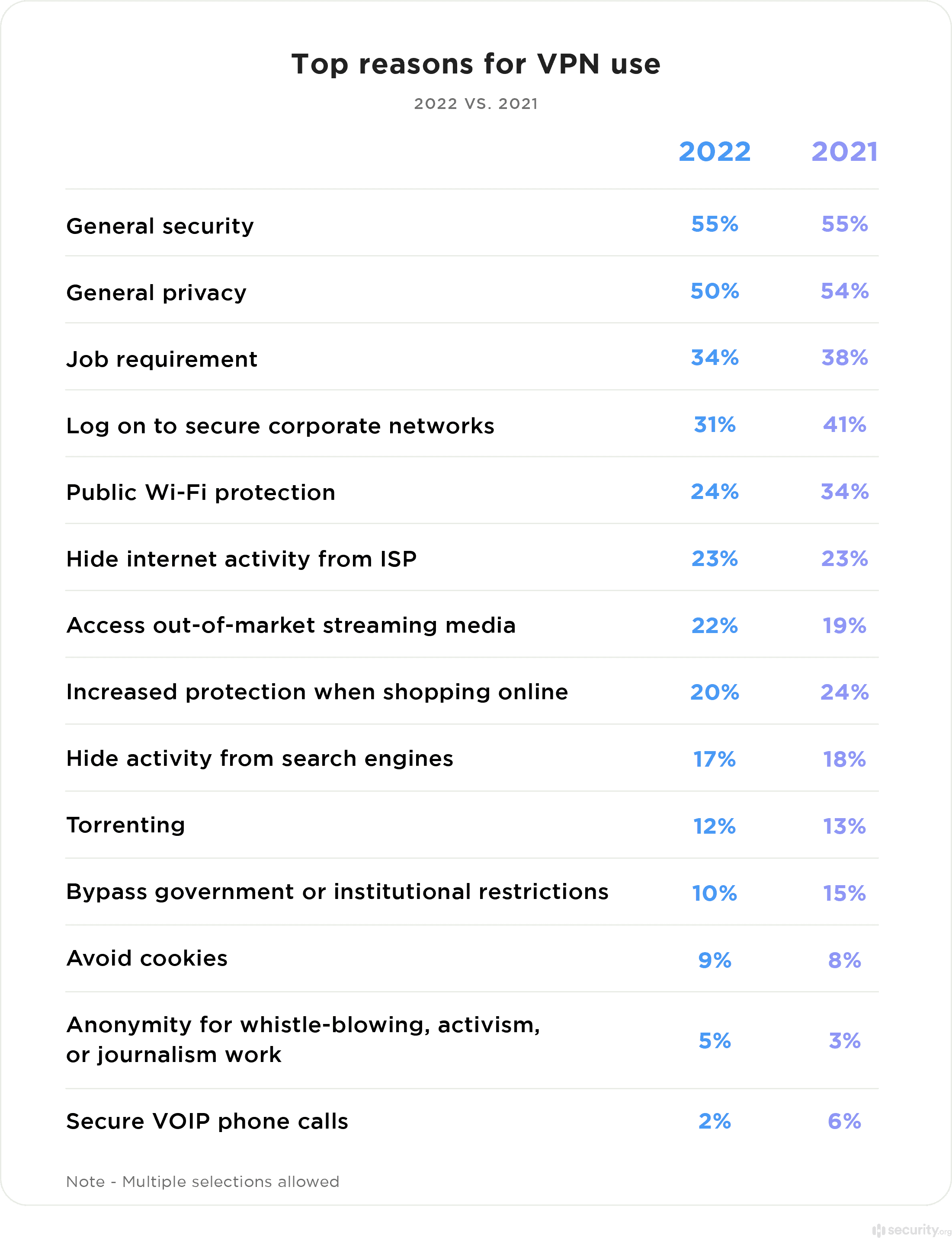 Over the last year, the use of VPNs to access corporate networks dropped 10 percentage points. This decline is due in part to updated infrastructures (including ZTNAs and cloud-based databases) and the return of American workers to their offices.
Similarly, the number of users relying on VPNs to secure public Wi-Fi connections dropped 10 percent in 2022. This dropoff is also partially due to reduced remote work, improved HTTP encryption, and the rapid expanse of 5G networks that leave consumers less reliant on third-party connections.
Identifying the top use cases for personal and professional users further highlights different priorities.
Top reasons for personal VPN use
1)
General privacy
59%
2)
General security
57%
3)
Hide activity from ISP, search engines, etc.
44%
4)
Access streaming content
37%
5)
Public Wi-Fi protection
28%
Top reasons for business VPN use
1)
Workplace policy/requirements
70%
2)
Access secure corporate networks
62%
3)
General security
40%
4)
General privacy
18%
5)
Public Wi-Fi protection
11%
Note – Multiple selections allowed
Personal VPN users emphasize privacy and content access in addition to security, while those using VPNs at work primarily cited employer obligations. These results confirm findings from our own data on thousands of consumers: We discovered that VPN consumers are very interested in using VPNs to conceal or change their IP address for multiple reasons, primarily streaming, digital safety, and even online dating.
Beyond protecting critical personal data, VPNs enhance privacy by keeping advertisers from snooping on shopping preferences. Though this practice violates the terms of service of some platforms, VPNs allow users to stream entertainment from around the globe. They also can efficiently share large files via torrenting.
By masking geographical locations, VPNs can also circumvent institutional censorship and monitoring. VPNs can create secure portals to the outside world for those living in countries with oppressive regimes (such as Russia, China, North Korea, and Iran). However, new prohibitions against abortion services may soon make online invisibility more critical here in the states.
Even if VPNs have become less important to corporate security, they still offer great utility to individuals on the internet at home and abroad. Given these practical personal uses, providers would do well to emphasize consumer applications and address the issues that prevent more Americans from subscribing.
VPN Resistance: Opposition and Openness
Most Americans who don't use VPNs believe they simply don't need one, but more than 40 percent surf the web without them due to specific reservations.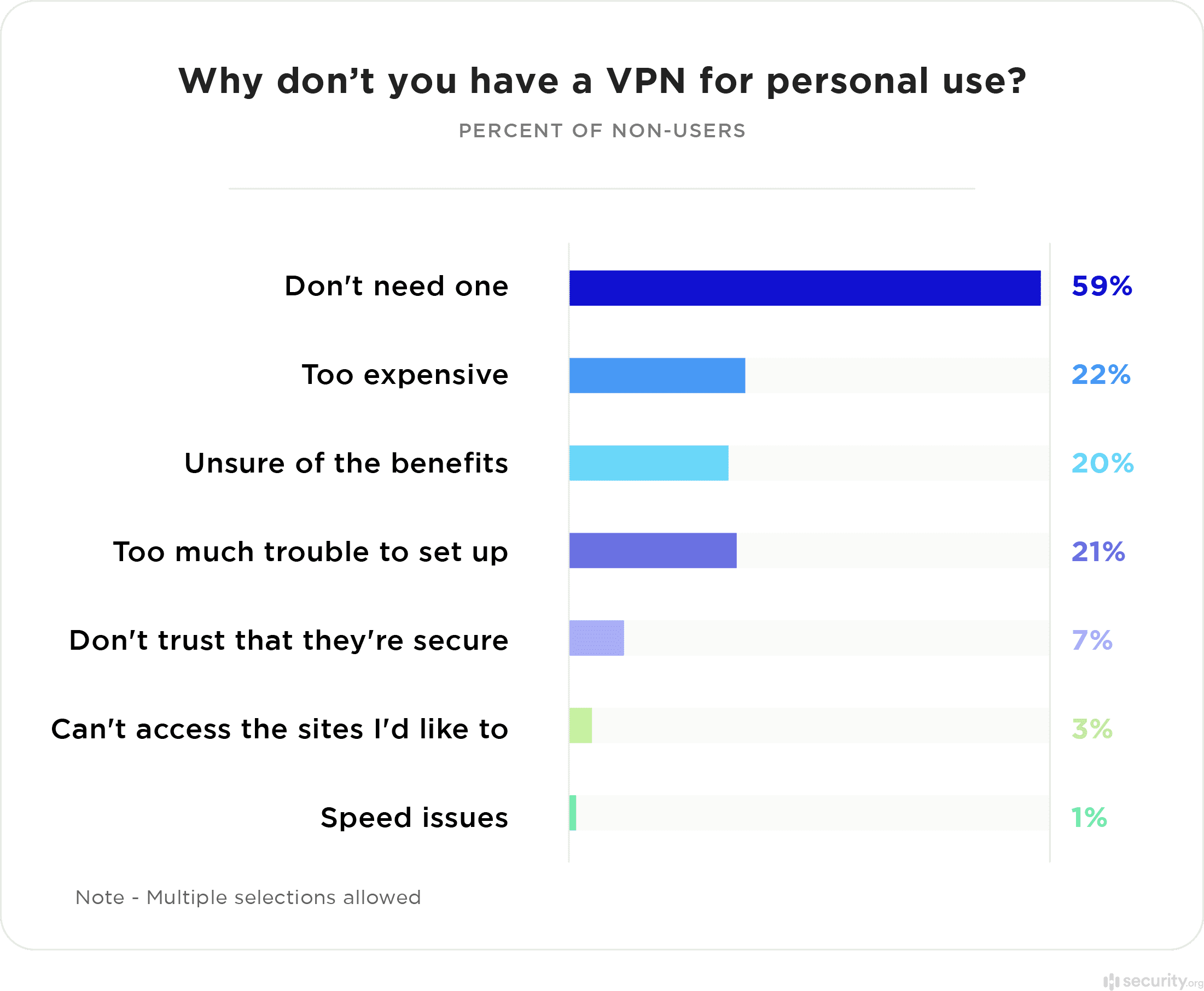 Twenty percent of Americans without virtual private networks say they don't fully understand their benefits. With over one million cases of identity fraud reported to the government each year, security concerns alone might seem enough to justify VPN protection.
Addressing consumer concerns about price, performance, and perception might increase sales. Among those undecided about their VPN need, nearly 60 percent are open to subscribing in the next year.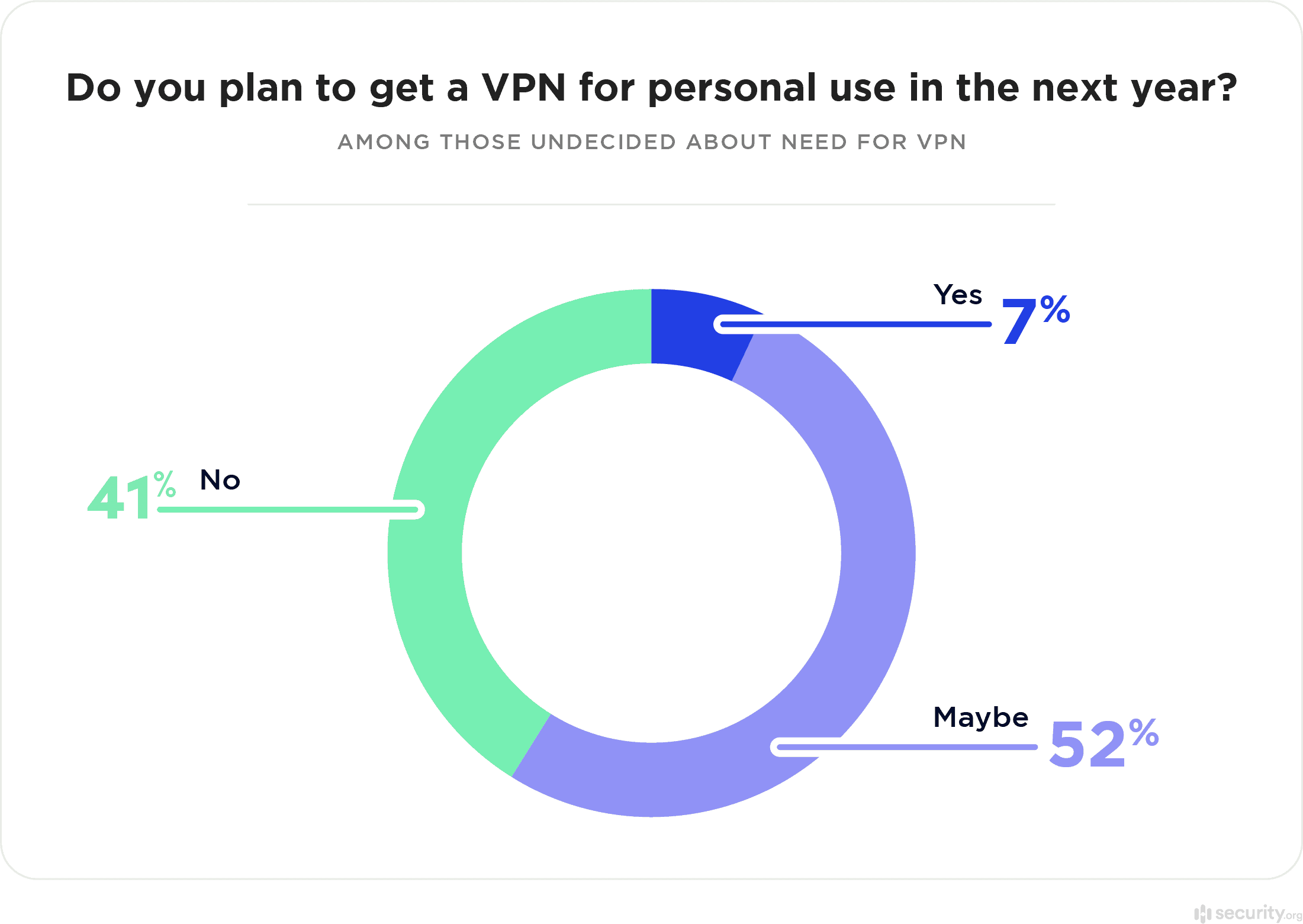 Despite Risks, Consumers are Still Interested in Free VPNs
Over the past year, inflation has gripped the American economy, forcing many to buckle down on their household budgets and even slash subscription services. Given the current economic conditions,  it's easy to see the appeal of free VPNs.
Today, many VPN options are inexpensive or free, and 47 percent of personal VPN users currently pay nothing for their service. Our consumer data confirmed the findings from our study: many people are looking for free, safe VPNs and want guidance on choosing the most secure and affordable VPNs.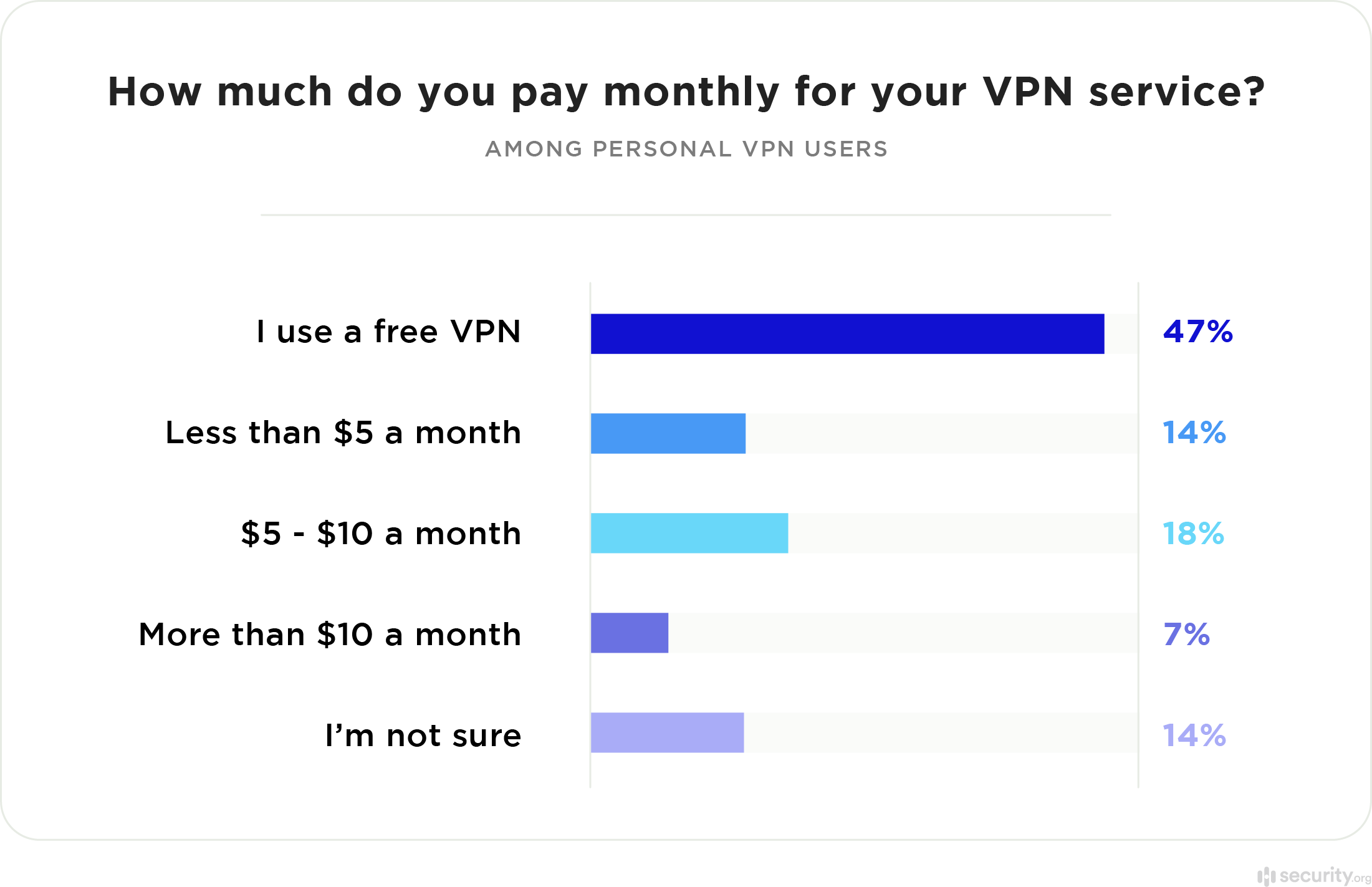 Security.org doesn't typically recommend free VPN services, as they may limit devices, data, servers, or log-on time. Vendors may also harvest personal data in exchange for service or adversely affect your online experience. Remember: when the service is free, you are often the product.
While free VPNs appeal to users on a budget, their performance isn't always reliable or secure. More than 60 percent of those who used free personal VPNs encountered at least one issue with their connection.
| Which issues have you encountered while using free personal VPNs? | Percentage of free users |
| --- | --- |
| Slow internet speed | 39% |
| Ad problems (too many ads or ad glitches) | 13% |
| Difficulty streaming/torrenting | 12% |
| Bugs (software issues) | 10% |
| Battery life problems | 7% |
| Identity theft or privacy concerns | 3% |
| Viruses and malware attempts | 2% |
| None | 48% |
Note: Multiple selections allowed
However, the number of users who suffered slower internet speeds on free VPNs dropped 12 percent from last year, suggesting these free services have improved user experience. This improvement may also relate to the increase in internet speed testing tools. One great site to check your internet speed is BroadbandNow.com. As consumers realize they have a choice in VPN speeds, they have become savvier in selecting services.
If you're committed to saving on your VPN services, one compromise is to evaluate VPN services that offer free trial periods before deciding on a provider or price tag. That way, you can be sure you're getting your money's worth when you commit to a VPN service.
As Google enters the (free) VPN market, some see a conflict of interest
To the average consumer, any tech upgrade can seem a complicated task. Despite imposing impressions, setting up a VPN is a simple chore that any user can handle.
Accessing VPN tech is even easier when providers integrate networks with other consumer technology. Firefox users can pair the popular browser with proprietary Mozilla VPN, several extensions enable VPN surfing with Chrome, and Google now offers free VPN with its cloud storage subscription. It also comes preinstalled on Pixel 7 phones.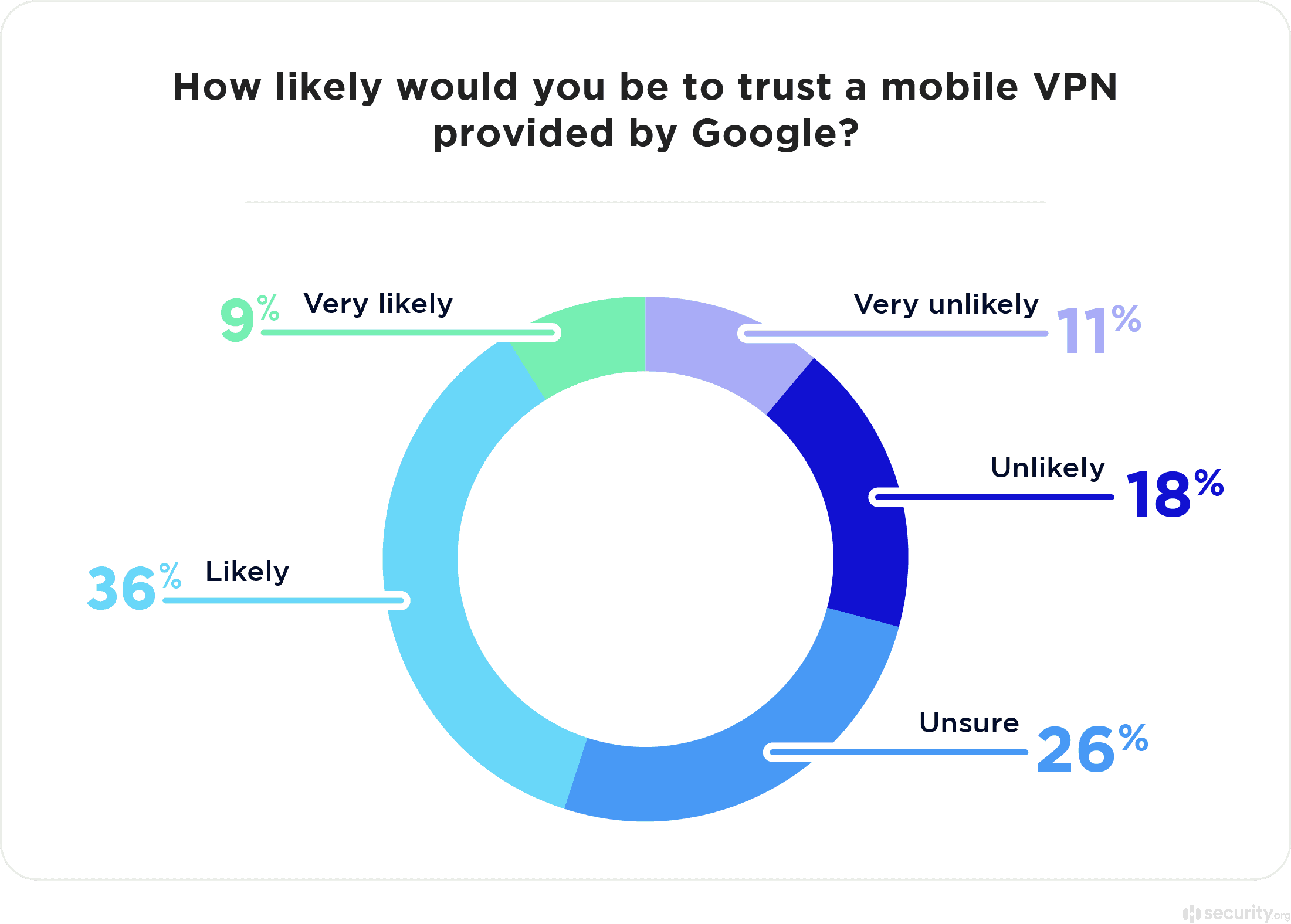 Consumers should be aware that some of these solutions may present a conflict of interest. VPNs are intended to protect our information from Big Tech, so enlisting major data collectors like Google to operate Virtual Private Networks is potentially problematic.
Less than 50 percent of Americans said they'd trust a VPN service offered by Google and would prefer to use a VPN not operated by Big Tech such as Private Internet Access or NordVPN.
Outlook
Internet technology and cybersecurity are constantly moving forward. Where virtual private networks once represented cutting-edge protection, corporations are shifting to ZTNA protocols and cloud databases even as quantum computing and artificial intelligence stand ready to define the future.
Though enterprise systems may be transitioning to newer network solutions, VPNs still offer solid security, utility, and value for small businesses and individuals.
Despite these advantages and overwhelming consumer awareness, VPN use has dipped for the last two years. Many Americans are open to VPNs but remain uncertain of the benefits, wary of the cost, and intimidated by setup perceptions.
If service providers emphasize the personal benefits of VPNs and effectively communicate their simplicity, security, and privacy, next year's survey may depict a bounce back in usage.
Our Data
Security.org researched 1,007 American adults about familiarity, use, and issues concerning virtual private networks. Comparisons to previous years cited data obtained via two polls conducted in October 2021, including 1,995 subjects, and a June 2020 study of 700 similarly screened respondents.
All respondents were representative of the U.S. population regarding age, gender, and race. The online platform used to gather data for this study doesn't allow users to access it using a VPN.
In addition to our study, we analyzed Security.org site visit data (from more than 720,000 visits) to see what interests consumers most about VPNs.