VPN Consumer Usage, Adoption, and Shopping Study: 2021
Awareness of VPNs has increased since 2020, and 41 percent of U.S. adults are using them for work or leisure.
Largely unknown just a few years ago, "VPN" is now a technical term on the tip of most internet users' tongues.
Virtual private network (VPN) protocols emerged 25 years ago to safeguard corporate data transfers, but when internet expansion brought a wave of consumer cybercrime, the technology crossed over to the mainstream.
Adoption expanded further when consumers realized that VPN benefits extend beyond security; these encrypted connections also increase privacy, broaden web access, and enable teleworking possibilities. After pandemic conditions made the internet ever more essential to daily life, the spotlight on VPNs grew brighter still.
To track this evolution, Security.org launched an annual VPN usage study in 2020. This year's research included nearly 2,000 adults and produced some notable results.
KEY FINDINGS:
85 percent of adult internet users are aware of VPNs and what they do, up from 72 percent in 2020.
However, usage is down as many workers remain at home: in 2020, 49 percent of adults used a VPN. This year, just 41 percent said they use a VPN for personal or business reasons.
41 percent of people using VPNs for personal reasons utilize a free service, up from 29 percent in 2020. Two out of three free VPN users reported experiencing technical issues on their networks.
3 percent of VPN users said they depend on VPNs to keep their activism, whistleblowing, or journalism work confidential.
VPN Awareness Is On the Rise
Our 2020 research revealed that an impressive 72 percent of adults knew what VPNs were, and awareness has only grown wider since. This year's research showed that an overwhelming 83 percent of Americans now have a grasp of what virtual private networks can do.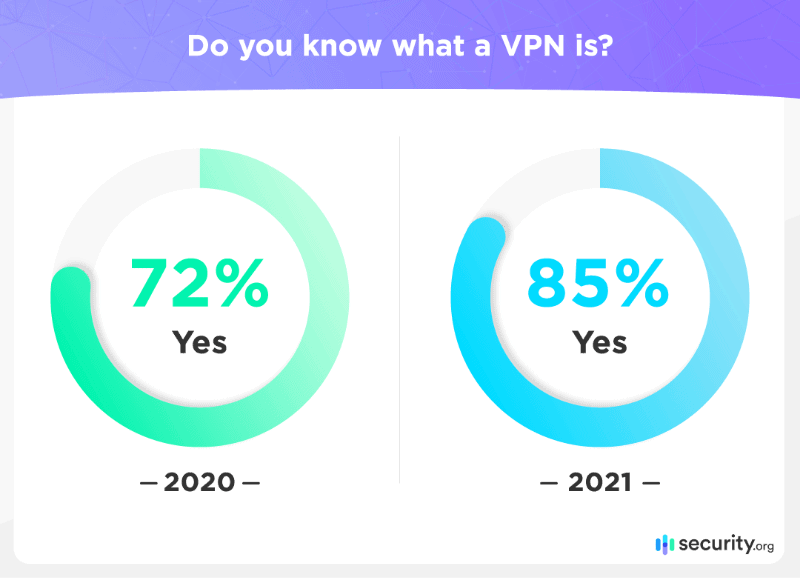 As internet activity and remote working increased during the past year and a half, VPN services have become nearly as well-known as ISPs. Google Trends analysis shows that interest in VPNs has actually doubled over the past eight years. Daniel Markuson, a cybersecurity expert at NordVPN service, believes VPNs may become as widely used as antivirus software.
"Spikes in the demand for VPNs usually concur with important political decisions related to internet surveillance or privacy in general," Markuson said. "As people face dangers or restrictions, they tend to value their privacy, security, and freedom more. And that is why the demand for privacy products is growing."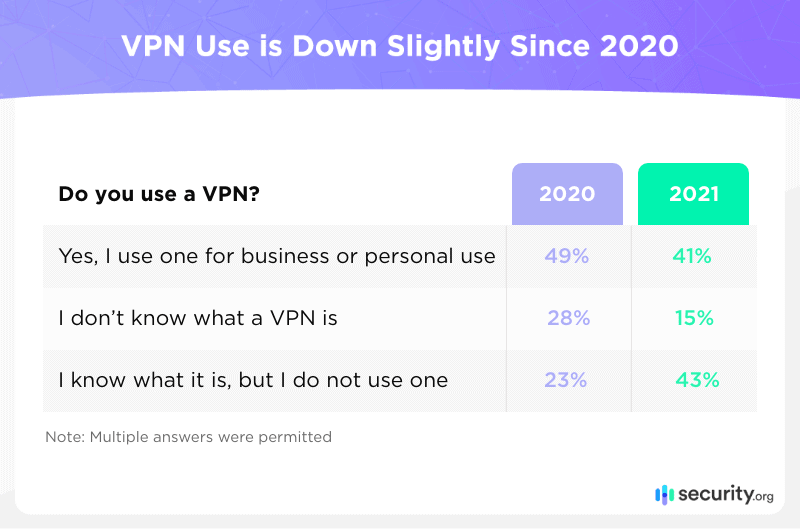 However, not all experts believe that the VPN market will continue to grow rapidly over the next few years, even as awareness has increased. Our research revealed that 41 percent of adults reported using a VPN either at work or at home, down from 49 percent in 2020.
The massive shift to remote work following the Covid-19 pandemic is one possible reason for the apparent decline in usage. "In a corporate environment, a VPN is primarily used to connect remote staff to the company network. However, as more data and applications move to the cloud, there is less need for VPNs because the data and applications are no longer in the corporate network," said Wes Henry, president, and chief information officer at True IT.
Henry also pointed out that VPNs can create vulnerabilities in remote work environments. "Because of the way they connect remote computers to the corporate network, any viruses or malware on the remote computer now have a chance of spreading into the corporate network," Henry said.
Additionally, privacy and security features on most browsers and smartphones have improved over the years. At least 80 percent of all websites use HTTPS secure encryption1, which means there's a lower cybersecurity risk when browsing the web today compared to even a few years ago. This means a growing number of people may feel secure enough online without a VPN.
While usage may be slightly less this year than last year, there is no doubt that VPNs are still widely used for both personal and business reasons. We found that increased security remained the primary motivator for enlisting VPNs. Many others started using VPNs this year to increase their online privacy.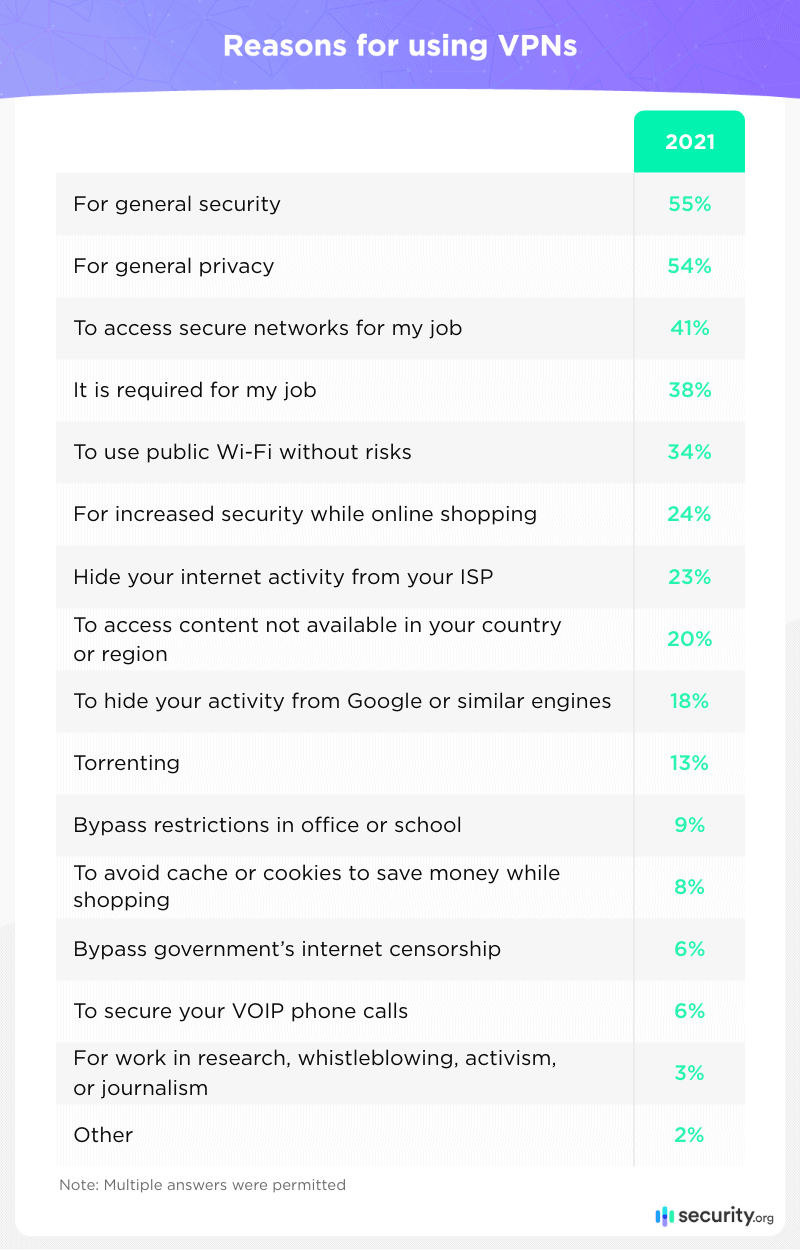 Identifying respondents' specific reasons for using VPNs within each category revealed a clearer picture of the tool's most popular applications. Some people were VPNs for work, and others used VPNs to protect their data while using a public Wi-Fi network. Online shoppers turned to VPNs to improve security while making purchases or even to secure lower prices.
Around one in five VPN users said they use their VPN in order to access content not available in the U.S. For example, some may be streaming their favorite international shows or movies. However, this practice is becoming more difficult as content providers crack down and block VPNs from accessing their sites.
An additional 13 percent supplied other reasons for VPN use, including bargain hunting while shopping online, and providing stability to VoIP phone calls.
VPNs and whistleblowing
VPNs can also create opportunities for confidential duties, such as activism or whistleblowing, to take place privately. Around 3 percent of users in our study rely on VPNs for sensitive work, which is essential in today's society. Journalists can use VPNs to protect their sources living in dangerous places and workers inside unethical companies can share what's happening without fear of retaliation from their employers.
However, not all VPNs are created equally. People who need a VPN in order to protect their life or their livelihoods need to be very discerning when choosing their VPN provider. Once you've installed a VPN, make sure to test for DNS leaks and WebRTC leaks, which will show if the VPN's data encryption is working properly. Testing regularly for leaks will ensure maximum security and privacy online.
Adoption Barriers and the Path Forward
Given the extensive list of uses and heightened awareness of the product, one might expect more widespread adoption, but other information from our study shed light on why overall use of virtual private networks remains under 50 percent.
The acceptance of emerging technology like VPNs is usually a gradual process, requiring the public to understand the benefits and then feel comfortable with implementation.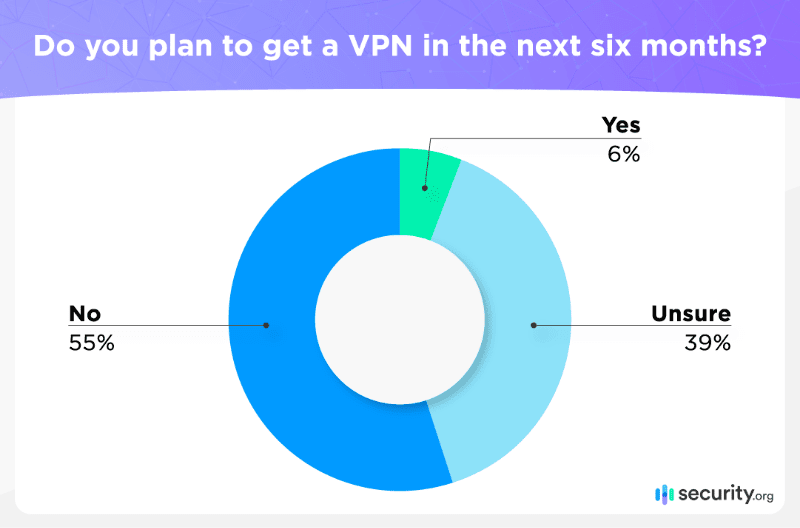 Among those who don't yet use a VPN, we found that nearly 40 percent are open to downloading one within the next six months.
Over half of non-users say they don't have any plans to get a VPN in the next six months. Most say they simply don't need one, and others say they don't understand the benefits. This understanding is essential to making a purchase.
"Before choosing a VPN provider, the user should understand what they need a VPN for. Then they should make sure their future service has all the essential features. It is also important to make sure that a provider does not collect users' data and guarantees full privacy, as well as strong encryption and leak protection," Markuson said.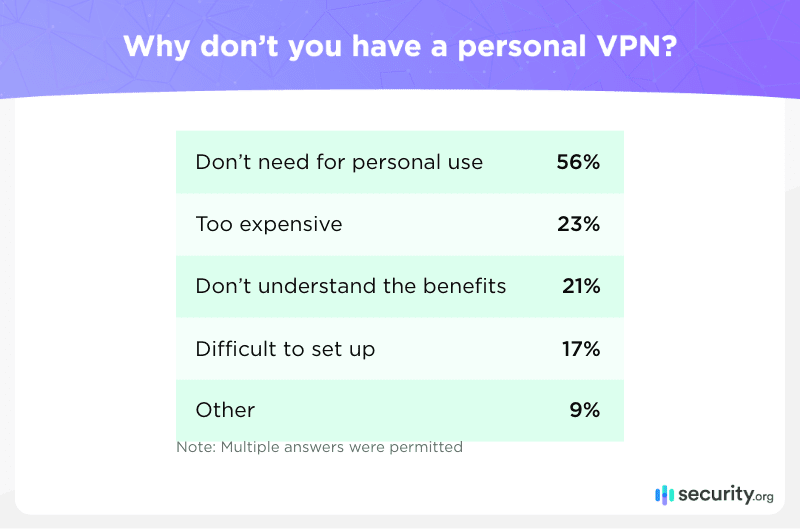 Cost remains the chief barrier to adopting personal VPNs, despite numerous free VPN options. Indeed, our study showed that among those using personal VPNs, 41 percent were currently employing free providers. This is an increase over last year, when just 29 percent of personal users had a free VPN.


However, our study results indicated that those with cost-free networks might be getting what they pay for. Two in three free users reported technical issues with their VPNs, such as slow internet speed and streaming difficulties. It should be noted that some free VPNs can actually make networks less secure and share your personal data with advertisers.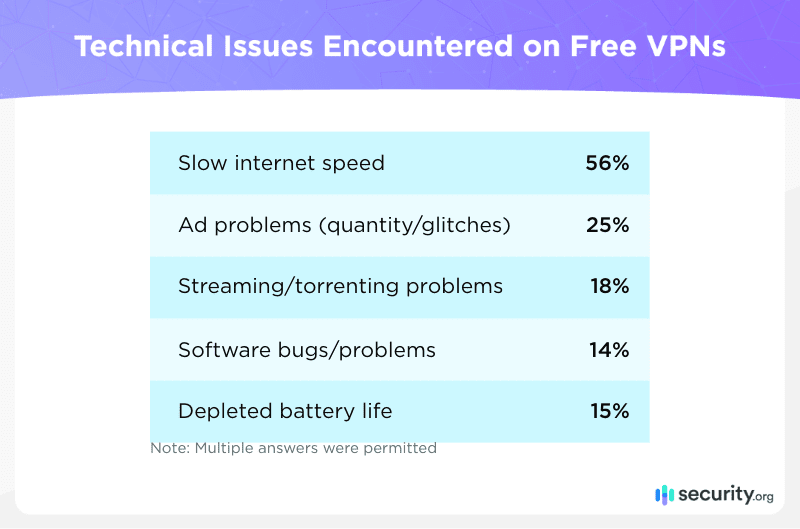 The best VPNs typically aren't free, but VPN services offer great deals for frugal customers; consumers who can afford a few dollars each month should sign up with a premium provider such as ProtonVPN.
Conclusion
America's digital landscape remains in a state of flux and turmoil. Remote working has become the norm, as has cutting the cord on cable television and debuting movies at home, even as cybercrime is on the rise.
All of these conditions make virtual private networks an invaluable tool for internet access at a time when VPNs are both affordable and accessible. However, a rise in remote work may impact the growth of the VPN market into the future.
With the ability to encrypt data, link secure networks, hide online activity, and spoof geo-locations to sidestep regional censorship or content restrictions, VPNs are an ideal solution to many issues of the day. But their technology remains mysterious to many prospective users.
Less than half of all adults on the internet use personal VPNs, with the rest unaware of the benefits, discouraged by perceived costs, or intimidated by misunderstood technical requirements.
An overwhelming majority of the public is already aware of VPNs, but appears unclear about the wide-ranging applications and inexpensive options. As knowledge of VPN utility and affordability spreads, wider adoption is surely ahead.
Our Data
Security.org conducted two online surveys with a total of 1,995 American adults about familiarity, usage, and issues concerning virtual private networks. Comparisons to previous numbers were drawn from data obtained in a June 2020 study of 700 similarly screened respondents.
We have researched the largest VPN providers such as NordVPN, Surfshark, Private Internet Access, and ExpressVPN to determine which features were most common among providers.
References
Need additional insights for a story?
Send our research team an email