Best Wired Security Camera Systems
Sometimes wired is better when it comes to reliability and performance.
5,000+ research hours
100+ cameras tested
250+ simulated break-ins
50+ reviewed devices
4 cameras recommended
It seems like everything requires a wireless connection these days. Door locks, lights, even our dishwashers can be connected to our routers. Maybe that's why it's so hard to find hardwired security camera systems anymore.
Wired systems do have some important advantages over wireless systems, though. For one thing, wired systems offer more reliable signal strength between components. Wired systems are also harder to hack, important in this age of rampant identity theft.
Luckily, there are still a few of these camera systems out there. For those of you who insist on hardwiring, we've put together a list of the very best wired security camera systems available.
Professional Monitoring Options
| Security camera company | 24/7 professional monitoring |
| --- | --- |
| Lorex | No |
| ADT | Yes |
| Swann | No |
| Zmodo | No |
Comparison of Wired Security Camera Systems
| System | Lorex | ADT | Swann | Zmodo |
| --- | --- | --- | --- | --- |
| Ranking | 1st | 2nd | 3rd | 4th |
| Ratings | 9.6/10 | 9.8/10 | 8.1/10 | 7.9/10 |
| Max resolution | 4K | 1080p | 4K | 1080p |
| Max field of view | 160 degrees | 160 degrees | 90 degrees | 140 degrees |
| Night vision | Color | Infrared | Color | Infrared |
| Two-way audio | Yes | Yes | No | Yes |
| Smart device integration | Alexa, Google Assistant | Alexa, Google Assistant | Alexa, Google Assistant | Alexa, Google Assistant |
| Available artificial intelligence | Person detection, facial recognition | Person, package, and pet detection | None | None |
| Read Review | Lorex Review | ADT Review | Swann Review | Zmodo Review |
A Detailed Look at the Best Wired Security Cameras
1. Lorex - Most Wired Camera Options

Lorex offers a whole host of different kinds of cameras, so it's no surprise that you can get wired systems. In the beginning, Lorex focused exclusively on commercial security cameras, so all of its products are top of the line. Many of the company's best models, for instance, feature 4K resolution, a field of view as wide as 160 degrees, and even facial recognition capabilities.

What We Like

160-degree field of view
4K resolution
Facial recognition capabilities
Lots of camera options

What We Don't Like

Relatively expensive cameras
Limited customer service
No professional monitoring options
No professional installation options

Lots of Choices

You won't find a company out there that sells more kinds of security cameras than Lorex. Whether you're looking for indoor or outdoor, bullet-style or dome, floodlights, or 4K resolution, you can be sure they carry it. You can buy Lorex cameras in multipacks of two, four, eight, and more to get big discounts. And, yes, the company offers both wireless and wired models in a variety of styles.

Lorex Camera – Mounted

4K Resolution

Many of Lorex's wired camera systems come with 4K resolution. That's four times the image quality of the industry standard, 1080p. To put that in concrete terms, 1080p resolution has 2 million pixels. That's a lot, although 4K has 8 million.1 For now, that's as good as it gets. Let's just say that we had no trouble reading our Amazon delivery person's name tag the last time they dropped off a package.

The Facts: 4K resolution features 8 million pixels. That's four times the number of pixels for 1080p resolution.

Facial Recognition

Facial recognition is one of the hottest new technologies in home security. It can alert you when someone you know shows up at your house. Better yet, by connecting your cameras to smart home devices like smart locks, your family can get in without a key, even when you're not home. Lorex cameras don't have built-in facial recognition software, but the DVRs that come with their wired camera systems do.

2. ADT - Best Professionally Monitored Wired Security Camera System

ADT is an old-school company. When we say old-school, we mean it. ADT has been in the security business for over 145 years. It makes sense, then, that it would offer one of the best wired security systems out there. In fact, until recently, the company didn't even have a wireless system. In keeping with that old-school ethos, ADT is a full-service home security company. You don't just get some cameras. You get a whole security package, you get 24/7 professional monitoring, and you get professional installation. If you're looking for a company that takes care of you, you can't do better than ADT.

What We Like

24/7 professional monitoring
Professional installation
Person, pet, and package detection
Stellar reputation

What We Don't Like

Limited camera selection
No DIY monitoring option
Relatively expensive
Poor video doorbell resolution

Professional Monitoring

The very best thing about ADT is that every system comes with 24/7 professional monitoring. We always recommend professional monitoring over DIY options because you can't know when someone's going to try to break into your house. You could be at the movies, at the dentist, or just plain asleep. Professional monitoring puts eyes on your home no matter what you might be doing. If you're going to invest in professional monitoring, you might as well go with a company that has over 145 years of experience doing it and the fastest response times in the industry.

ADT Home Security Outdoor Camera

Professional Installation

The thing about wired security camera systems is that they can be complicated to install. You aren't just plugging in equipment and waiting for your app to recognize it. Usually, you have to consider placement, and you'll have a DVR or NVR to set up as well. We're experts on digital technology, but our skills with a tool belt are a bit more limited. Luckily, all ADT systems come with professional installation, so all we had to do was make an appointment.

Wide-Angle Views

ADT offers three cameras: an indoor camera, an outdoor camera, and a video doorbell. All three feature a generous field of view. The outdoor camera's field of view, for instance, is 130 degrees. The indoor camera's field of view is even better, at 145 degrees. We were most impressed, though, with the doorbell camera. Its field of view is 160 degrees. Even better, the camera provides a 3:4 aspect ratio. That meant we could see everyone who knocked on our door, from head to foot.

3. Swann - Most Durable Wired Security Cameras

Swann offers two different hardwired security camera systems: the Enforcer package and the 4K Master-Series. Both come with color night vision, heat sensors, and person detection. In addition, you can count on Swann cameras to protect you no matter what climate you might live in. Both Swann packages feature cameras that are IP rated and built to withstand both high and low temperatures.

What We Like

IP66-rated cameras
Color night vision
Available 4K resolution
Support for both Alexa and Google Home

What We Don't Like

No two-way audio
No person detection
Limited field of view
No professional monitoring

Durability

All of Swann's cameras are built to work both inside and outside. They can withstand temperatures as low as negative 22 degrees Fahrenheit and as high as 131 degrees Fahrenheit. In addition, they are rated IP66. That means they are dust-tight and can withstand powerful water jets.2 Our home has never had to deal with that kind of weather, but you just never know.

Definition: In the world of security cameras, "IP" stands for Ingress Protection. It's a system developed by the International Electrotechnical Commission to classify a camera's ability to withstand dust and water.

Color Night Vision

Security cameras need to see in the dark. After all, thieves don't operate during daytime hours only. Most cameras feature some form of infrared night vision that provides a black-and-white image. Swann cameras take that one step further. They all provide full-color images, even at night. Why does this matter? Full-color night vision eliminates shadows, so potential thieves have no place to hide. Plus, sometimes it's useful to know the exact color of the hoodie that the would-be intruder was wearing.

Swann Camera

Smart Home Integration

Swann cameras are fully compatible with both Alexa and Google Home platforms. That means you can operate your security system using just your voice. No fumbling with your phone app. Say something like "Hey, Google. Show front door on TV2," and it's done. Plus, you can create cool custom routines that connect your cameras to smart devices like smart locks and smart bulbs. Program your cameras to turn on your lights any time they detect motion outside your house, and you can give everyone the impression you're home, even if you're not.

4. Zmodo - Best PoE Wired Security Camera System

We like Zmodo's many unique features, like Power over Ethernet technology and custom motion zones. We especially like Zmodo's prices. You won't get top-tier equipment, and the cameras don't include extras like person detection. If you're looking for a solid security camera at a price you can afford, though, Zmodo fits the bill.

What We Like

PoE camera options
Affordability
Easy DIY setup
Custom motion zones

What We Don't Like

No person detection
No professional monitoring
No 4K camera options
Flimsy equipment

Power Over Ethernet

Most wired security cameras require not one wire but two. One powers the camera. The other connects the camera to a central hub or a local storage device. We like the idea of wired systems, but that's a lot of cords. Zmodo offers an improvement on this system. Zmodo cameras use a technology known as Power over Ethernet (PoE). Cameras are hardwired to one another and to the system's central hub through an Ethernet cable. However, you don't need a separate power cord. The cameras get their power through the Ethernet connection. The result? Reliable connections with fewer cords.

Low Pricing

Zmodo is a good wired security camera system that won't break the bank. Zmodo sells security cameras for as little as $34 apiece. Its eight-channel hardwired 1080p Home and Business Security Camera System includes eight indoor/outdoor cameras, an NVR, a power repeater, and cords for just $449. You won't find another system with that much coverage for less money.

Custom Motion Zones

Zmodo cameras let you set up custom motion detection zones. You decide which areas of the cameras' field of view will trigger alerts. We get a lot of traffic on the sidewalks outside our Brooklyn apartment. This feature definitely cut down on the number of false alerts we got every day.
Methodology
We use a strict methodology when we put together a list like this one. Obviously, for a list of the best wired security camera systems, the very first qualification is that the company offers a hardwired system. In this age of Wi-Fi, it is increasingly difficult to find these. Next, we compare systems in several key categories, including price, video quality, audio, smart integrations, and AI features. We consider additional elements of each system, such as how easily they can be installed and whether they include 24/7 professional monitoring. Only when we've done a full analysis of every system do we feel confident in recommending the best.
We're very picky when it comes to our expectations. For instance, we prefer cameras that feature a resolution of at least 1080p. In terms of field of view, we look for 120 degrees or higher. We like cameras that include two-way audio, especially those that use noise reduction and echo cancellation. Integration with smart platforms like Alexa and Google Home is a plus.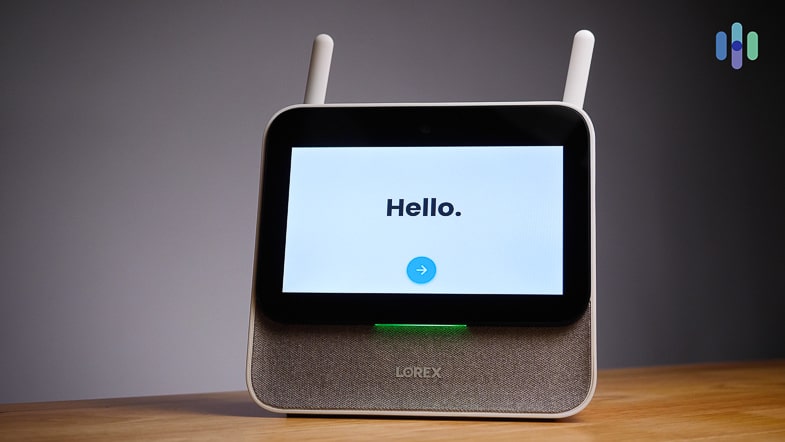 Of course, a security camera system's primary job is to protect us, so we're particularly drawn to security features like motion detection zones, person detection, and facial recognition. We can be swayed by cool extras, though, like PoE capabilities and color night vision.
Finally, we look carefully at the bottom line: price. Ultimately, we don't mind paying a little more for a top-of-the-line system. We find the old saying is usually true: You get what you pay for. Still, we're always on the lookout for good deals. The bottom line is, we like cameras that cost somewhere in the range of $80 to $120.
Recap
Wired security camera systems are getting more difficult to find, but some of the very best home security companies out there still offer them. In other words, you really can't go wrong if that's the type of system you're looking for. The only question is, which one is right for your specific needs?
Lorex, for example, offers high-quality equipment and lots of choices. ADT is a full-service company, so every camera system comes with professional installation and professional monitoring. The Swann system's top selling point is its durability, as its cameras are rated IP66. Meanwhile, Zmodo's systems offer unique features like PoE hookups.
FAQs
We've got even more information about the best wired security camera systems. Keep reading to find our answers to your most commonly asked questions.