Zmodo Security Camera
Zmodo has a number of security cameras to choose from, and our experts tested them all so you don't have to.
Wide-range of camera options
Free basic cloud video storage
60-day money-back guarantee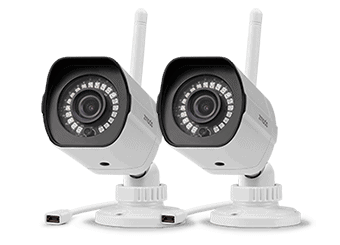 All of our content is written by humans, not robots.
Learn More
By

&

Last Updated
Jan 18, 2022
With over seven million products sold since 2009, Zmodo is quickly reshaping the world of smart home security. Their cameras feature the high-definition video we've come to expect, in addition to some innovative features such as super wide fields of view. And did we mention that some of their cameras cost lower than $40 apiece? Count us in.
On this page, we'll find out if Zmodo security systems have what it takes to compete in an industry dominated by American companies. We'll take a look at each of the devices offered by Zmodo, in addition to recounting our experience with our customized system and how it stacks up to offerings from other companies. Keep reading to find out if Zmodo is the right security solution for your home in terms of pricing.
Favorite Things

There was a lot to love about Zmodo, but here's what really stood out to us.
Competitive Pricing
Zmodo offers competitive price points not only for its devices but also for its monitoring options. Plus, although we eventually paid for a more advanced plan, the free basic plan comes packed with features such as cloud storage and smartphone notifications. The mere visibility of a camera can be enough to deter potential thieves,1, and Zmodo makes it easy to stock up.
Wide Range of Cameras
1080p HD Indoor Camera? Check. Wireless Outdoor Camera? Rotating Camera with a built-in Hub? Check. In terms of cameras, Zmodo provided us with an impressive array of options that we customized to suit our home. Most of these cameras are also backed by Zmodo's one year warranty and a 60-day money-back guarantee, so we didn't feel at risk when we bought a bunch of them.
Smart Features
We were able to control our Zmodo cameras through both Amazon Alexa and Google Assistant, tapping into our notifications with nothing but the sound of our voice. The cameras also offered some advanced features such as customized detection fields, time-lapse video viewing, and the ability to pan and tilt the camera's field of vision, which let us really customize our experience.
DIY Installation
As we expect with any DIY security system, Zmodo provided us all of the tools for a quick and seamless installation. From unboxing our devices to syncing them through the steps provided on Zmodo's app, we had no complaints when it came to set up.
More Security.org Recommendations
Check out more of our favorite security cameras.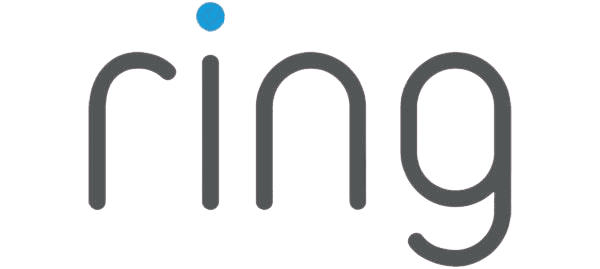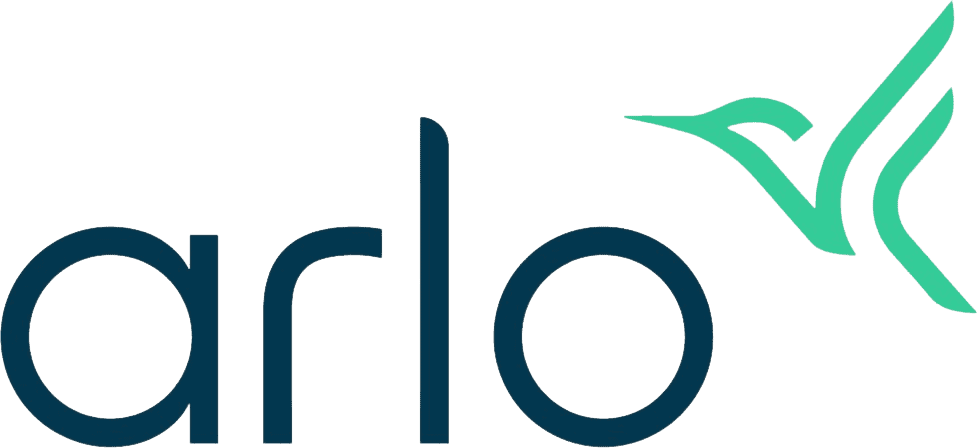 Equipment Pricing
When creating a cost-effective home security system, Zmodo is hard to beat. Its cameras, starting at under forty dollars, require no additional hardware to operate, just a Wi-Fi connection and a smartphone. In terms of indoor cameras, most of them cost well below one hundred dollars. There's the Sight 180 ($79), the Sight 180 C ($55.30), and the Pivot Cloud ($83.99), all of which record in crisp 1080p HD quality, with a minimum 180 degree viewing angle. Plus, all of these cameras can be used wirelessly, meaning we could place these devices anywhere in our home without worrying about the scattered placement of outlets throughout our home.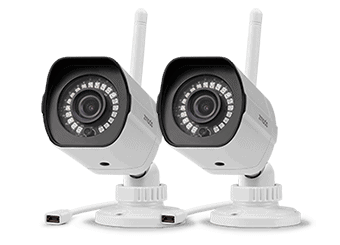 On the higher end is the Zmodo Snap PT ($199), which packs in all of the features listed above in addition to some a full 360-degree range of motion. By using our smartphone, we controlled the rotation and angle of this camera, allowing us to view the entirety of our living room, even from work. Through a similar mechanism, the Pivot Cloud offered a 350-degree range of motion, and we even could use its Bluetooth speaker to jam out to some tunes.
In terms of wired cameras, Zmodo's 720p Indoor Camera shoots in a slightly lower definition of 720p HD with a 115 degree viewing angle; however, at only $41.99 for a two-pack, this camera still offered us bang for our buck. Zmodo also offers an indoor/outdoor camera for a cool $39.99. Although this camera also required a plug-in for power, we used it to shoot 1080p HD video. The night vision on this camera was particularly powerful, and it allowed us to clearly see movement from across the street. With violent crimes more likely to occur at night,2 solid night vision is definitely a plus. Additionally, this camera can be purchased in packs of two, three, or four, all of which came with savings.
FYI: When bought in a pack of three, Zmodo's Outdoor Cameras end up costing about $29.99 a piece.
Rounding out Zmodo's lineup was the Greet Lite video doorbell ($59.99), Greet Pro video doorbell, door/window sensors, and the Torch 360 ($90.99), which functions as a combination HD camera and ambient light.
Equipment and Pricing Breakdown
| Name of Item | Equipment Price |
| --- | --- |
| N-Channel Business Security System | $2,199.99 |
| Zmodo Snap PT | $199.00 |
| 1080p Indoor/Outdoor Camera (4 Pack) | $179.99 |
| Zmodo Torch 360 | $90.99 |
| 1080p Indoor/Outdoor Camera (2 Pack) | $89.99 |
| 1080p Indoor/Outdoor Camera (3 Pack) | $89.99 |
| Pivot Cloud Camera | $83.99 |
| Sight 180 Camera | $79.00 |
| Greet Lite Video Doorbell | $59.99 |
| Sight 180 C Camera | $55.30 |
| Beam Wi-Fi Extender | $49.00 |
| 720p Indoor Camera (2 Pack) | $41.99 |
| 1080p Indoor/Outdoor Camera | $39.99 |
| New Door/Window Sensor (2 Pack) | $39.00 |
| Door/Window Sensor (4 Pack) | $39.00 |
Monitoring Pricing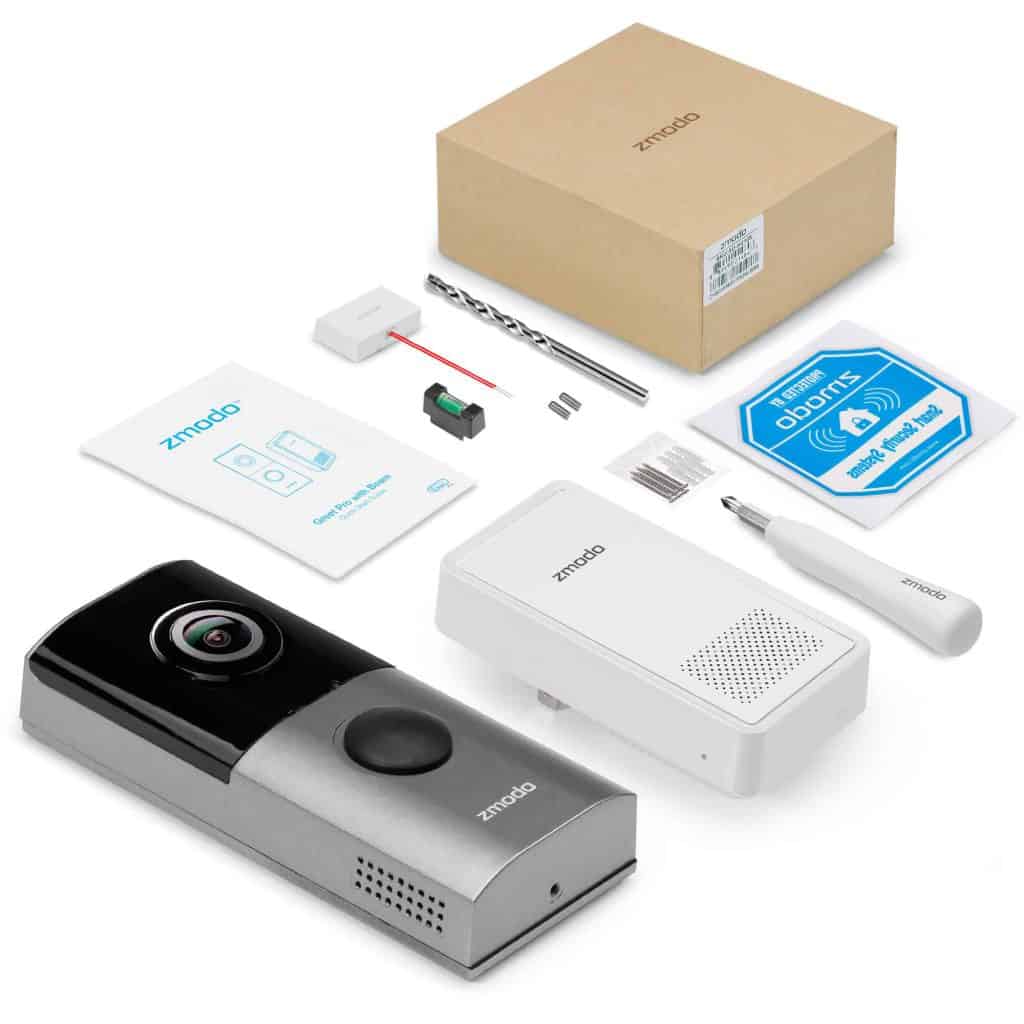 Currently, Zmodo does not offer a professional monitoring plan. What they do have, however, are plans that augment the cloud storage3 of its cameras. With the free basic plan, however, we used the Zmodo app to tap into our video streams, rotate the field of view, and receive alert clips each time a camera detected motion. These clips are automatically stored for twelve hours, a little bit short for our taste. Unless we were constantly on our phone, we often missed alert clips, which were then scrubbed from the cloud.
Savings Tip: For both the seven Day and 30 Day plans, Zmodo offers a 50% discount after the initial camera, making it financially prudent to purchase cloud storage for multiple devices.
We definitely recommend upgrading to either their seven day or 30 day plans, both of which can be tried free for 30 days. After this trial period, these plans cost us $4.99 per month and $9.99 per month, respectively. As the name implies, these plans increase the length of cloud storage from the twelve hours offered by the basic plan. They also unlock some of the more advanced features of Zmodo's devices. We loved being able to customize motion detection zones. For our outdoor cameras, this allowed us to ignore the movement of tree branches and only receive alerts when someone entered our driveway. Another feature we appreciated with these plans was the app's video editor, which allowed us to access long swaths of video and shrink them down to concise clips. For us, this meant capturing videos of our dogs, but it could just as easily be used to catch criminal activity.
Features and Cost Breakdown
| | Basic Plan | 7-Day Plan | 30-Day Plan |
| --- | --- | --- | --- |
| Duration of Continuous Cloud Storage | N/A | 7 Days | 30 Days |
| Duration of Alert Clip Storage | 12 Hours | 7 Days | 30 Days |
| Alert Clip Notifications | Yes | Yes | Yes |
| Zmodo App | Yes | Yes | Yes |
| Motion Detection Zones | No | Yes | Yes |
| Video Editor | No | Yes | Yes |
| Time-Lapse Clips | No | Yes | Yes |
| Single Camera Monthly Cost | $0.00 | $4.99 | $9.99 |
| Single Camera Annual Cost | $0.00 | $49.90 | $99.90 |
Smart Home Integration
Apart from the dome camera and the Torch 360, all of Zmodo's cameras feature support for Amazon Alexa and Google Assistant. Here are some ways we made the most of this functionality.
By saying, "Alexa, show the front door camera," we tapped into the live feed from our Sight 180 camera placed by our entryway and displayed it on our Echo Show. By saying, "Alexa, turn off the hallway camera," we were able to turn off individual devices. These features carried over to Google Assistant as well. "Hey Google, show me my backyard camera," beamed the livestream of our outdoor camera right onto our Nest Hub. With Google Assistant, we were also able to use our voice to turn our cameras on and off. We hope that Zmodo eventually deepens its smart home compatibility, but for now, we have the basics.
Comparing to Competitors
Zmodo's devices really stand out with regard to value. Let's take their Sight 180 camera, for example, which records in 1080p HD, boasts a 180 degree viewing angle, and features two-way audio, all without wires and for only $79. Cameras with comparable features, such as the eufyCam E, cost close to $200. Zmodo's only camera that costs over $100 is the Zmodo Snap PT, which possesses the unique ability to rotate 360 degrees.
One noteworthy shortcoming with Zmodo's cameras is in their smart platform integration. Although we could stream video and activate our cameras through Alexa and Google, those of us with Apple watches might want to check out the Arlo Pro 3, as no Zmodo cameras work with Apple watches currently.
Overall Value
When it comes to DIY home security systems that don't break the bank, it's hard to beat Zmodo. In addition to their simple installation, Zmodo's cameras pack in advanced features such as pan and tilt capability and two-way talk, all at competitive price points.
Sure, we would have appreciated deeper integration with smart platforms, in addition, to support for IFTTT and Z-Wave; however, for the person looking to dip their toes into the world of home security, there's hardly a more simple and cost-effective option than Zmodo.