Blink Indoor Camera Review
This inexpensive camera from Blink features 720p HD video and a year of free cloud storage.
What We Like
1080p HD video resolution: The Blink Indoor delivers solid picture quality with 1080p HD resolution and is backed by infrared night vision and a decent 110-degree viewing angle.
Battery-powered: Blink started off as a brand that offers completely wireless, battery-powered cameras. The Blink Indoor is one of the latest to carry the torch for the brand.
Works with Alexa: Amazon acquired Blink in 2018. Now under the Bezos empire, Blink products work seamlessly with the other popular smart home brand from Amazon: Alexa.
What We Don't Like
Lack of artificial intelligence: Artificial intelligence in the form of person detection and facial recognition could have helped improve the camera's usefulness in notifying owners about activity in their homes. Instead, the Blink Indoor relies on motion detection.
Field of view is a bit narrow at 110 degrees: The Blink Indoor's 110-degree viewing angle could have been improved. While it's not bad, top security camera brands often offer cameras with 130-degree or higher field of view.
Low-rated iOS and Android apps: On the software side of things, Blink overall isn't the strongest brand. Its Android app holds less than a three-star rating, while the iOS app has 3.4 stars.
Bottom Line
Sometimes wires just ruin the aesthetic of a living room, which is why we're so happy with the wireless Blink Indoor camera. Did we mention we didn't have to change its battery for a whopping two years?
Blink, an Amazon company, is a newer player on the security camera market; but with strong products at an affordable price point and no subscriptions required, it's no surprise that the company has quickly gained traction.
In this review, we'll be looking at the Blink Indoor camera, one of the two indoor cameras from Blink. We'll discuss everything you need to know about the camera, from battery life to its picture quality and even the Blink app. We'll also show you a glimpse of how it works with other Blink cameras, particularly the Blink Outdoor and the Blink Mini. Let's get started.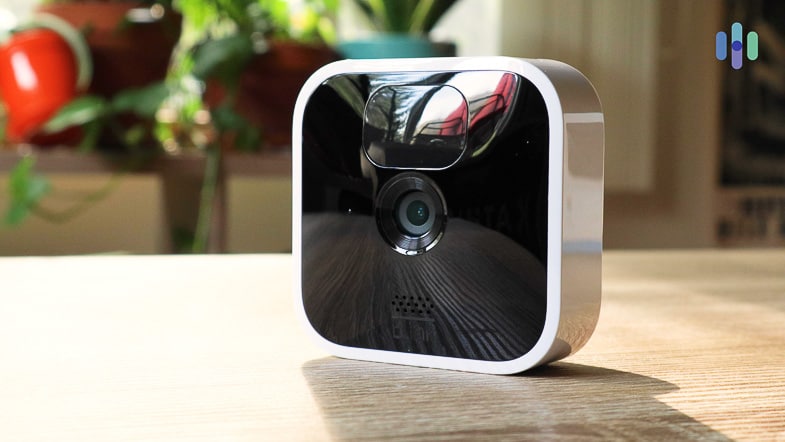 Blink Indoor features
| | |
| --- | --- |
| Default resolution | 720p HD |
| Maximum resolution | 1080p HD |
| Night vision type | Infrared night vision |
| Motion detection | Passive Infrared (PIR) sensor |
| Motion zones | Yes |
Video Review
Want to see what the Blink Indoor Camera looks like up close and personal? Watch us test it out in our video review.
Setting Up the Blink Indoor Camera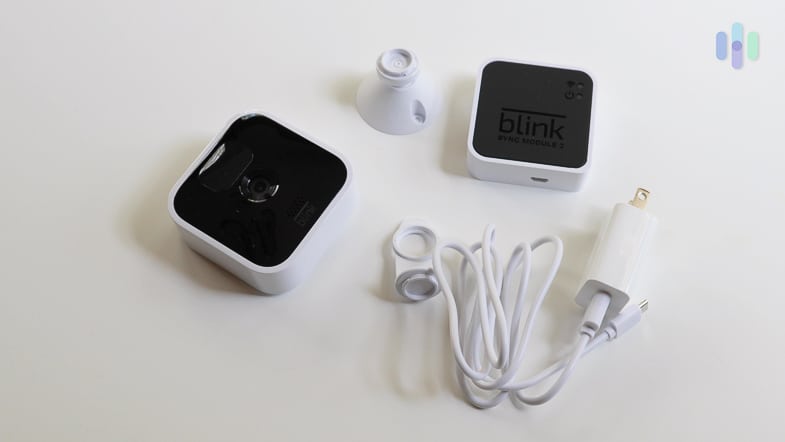 We found the process for setting up the Blink Indoor Camera to be pretty straightforward. It came equipped with the camera itself, two AA lithium batteries, a tool to open the back of the camera, mounting hardware, a USB cable, a power adapter, the Sync Module, and a manual. We didn't need anything else for setup. Since we didn't have an account with the Blink Home Monitor app yet, we started there. The app had a built-in scanner that identified the Sync Module and allowed us to connect to our Wi-Fi. From there we just had to set up the camera. We opened the back easily for battery installation with the included tool. From there, it was just a matter of scanning a QR code on the camera, and voila! We were good to go.
Luckily, we thought the actual installation of the camera was just as easy and required no special tools or expertise. The camera could either be mounted on the wall with the included kit or it could just be placed on top of some furniture. We liked that this flexibility made it possible to play around and see what worked best, and ended up keeping it on top of a bookshelf (looking for ideas? Check out our tips for placing a security camera). But it was nice to know that even if we do decide to mount it in the future, we won't have to worry about taking it down to change the batteries very often. That's because the batteries are meant to last up to two years, and Blink sells a battery expansion pack that brings it up to four.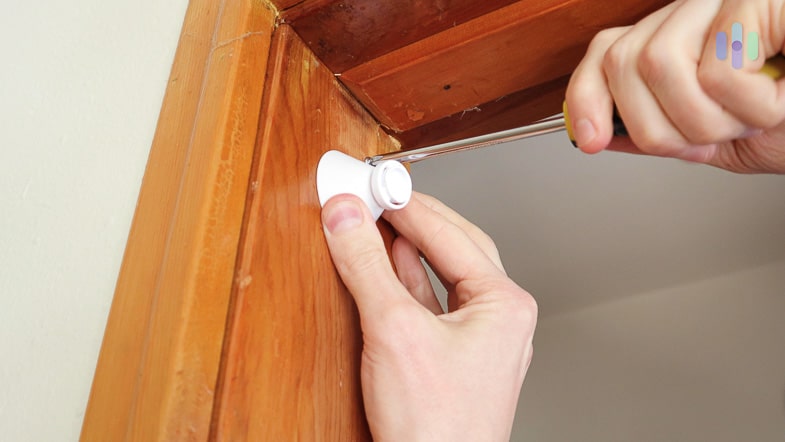 FYI: We've found that we get the widest field of view when we install our indoor camera in a corner above eye level.
Our Experience with the Blink Indoor Camera
The Blink Indoor Camera, like the rest of the Blink system, is clearly geared toward a new security camera audience that places a lot of value on a strong technical experience and less on external support—not surprising considering that the smart home security camera market is expected to grow at a 15.7 percent year over year until 2027.1
While the camera itself doesn't break new ground in terms of style, it's sleek, attractive, and unobtrusive—it's certainly not an eyesore in our home, which we think is especially important in an indoor camera. And, like other Blink devices, its functionality is similarly sleek and effective. If you want to read more about how this camera fits into that ecosystem, be sure to read our review of Blink cameras.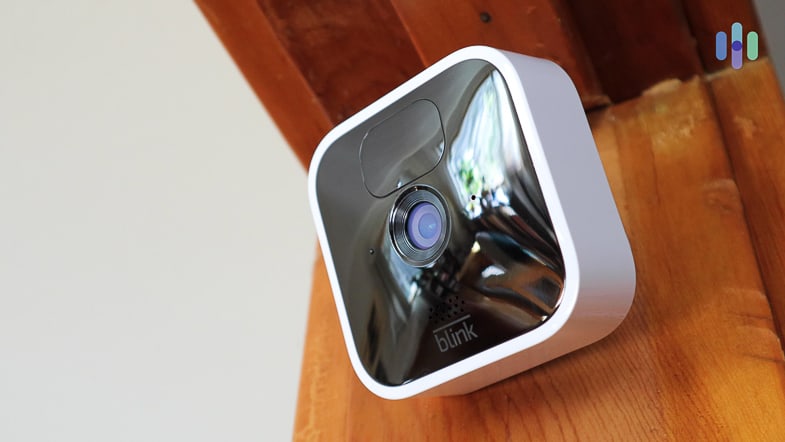 The camera's security value depended mostly on its ability to detect motion, deliver live footage to our smartphones, and record alert videos. We started off by setting up alerts that let us know whenever motion set off the camera's sensors. Ideally, we would check the live footage whenever there's an alert. That's where things got a little wonky, though.
By default, the camera can only stream up to five minutes at a time, with a prompt asking us whether we want to continue streaming every 30 seconds. As frustrating as that was, we understand that streaming eats up power, and the camera needs to conserve its battery to reach the projected two-year battery life. Still, we think the prompt every 30 seconds was a bit much.
Video Quality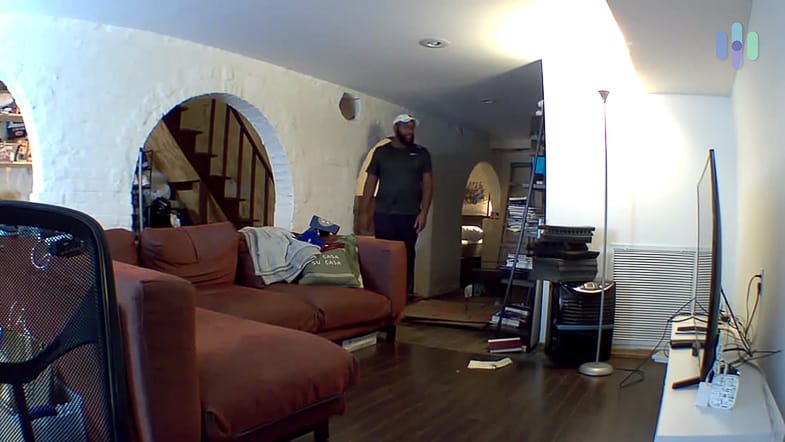 While the video was set to 720p HD out of the box, we configured it to 1080p HD and we found it clear and sharp—we could identify faces at 30 feet away, though the infrared night vision mode left something to be desired. The recording light, which is lit blue for normal recording and red for night mode, can be turned off, but we left it on. While the camera didn't have an optical zoom, the four times digital zoom feature gave us all that we needed. The 110-degree field of view was a bit narrow, though, and we were disappointed that once we placed the camera, we couldn't tilt or pan it remotely.
Motion Detection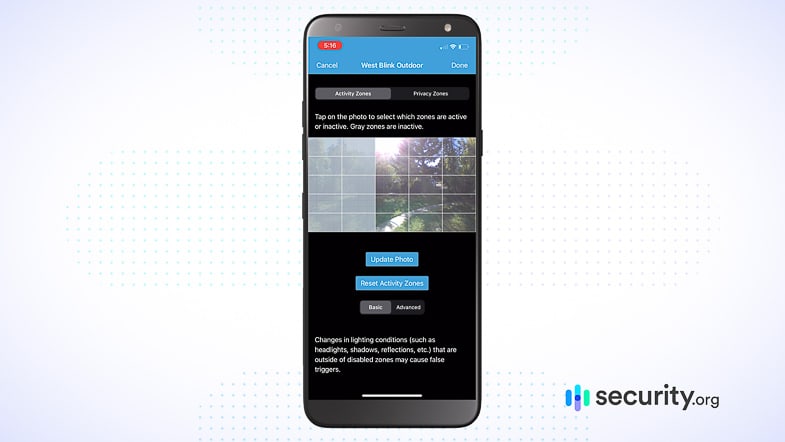 The camera couldn't tell whether the motion in our apartment was caused by people or pets, but we were impressed by the customization options and the fact that the 25-foot range was more than enough for our apartment. We didn't want motion detected everywhere—for one, we didn't need it beeping at us when we snuck to the fridge for a midnight snack—but we were able to set up zones for the detector to skip, which worked well and saved our pride. When the motion detector was activated in the areas we did want to be covered, the app immediately alerted us and sent a video. We could even adjust the sensitivity. Best of all, the motion-triggered recording is designed to have almost no lag, so we didn't miss the action that set it off.
It was easy to save up to 60 seconds of live footage in the app and return to it from the app's timeline. Since that timeline can get long quickly, we found it helpful that each clip had a thumbnail and an indicator that showed us whether or not we'd already viewed it. Downloading and sharing the clips was just as simple. The clips aren't the longest on the market, but in most cases, they did the trick.
Tip: We had some trouble with false motion alerts at first, especially when our dog walked by. We found that both adjusting the motion detector's sensitivity and tweaking the area it scans to just above dog height helped reduce false alerts significantly.
Storage Options
Unlike previous versions, the current Blink Indoor Camera supports local storage through its Sync Module using a 256 GB USB drive, which we purchased separately. The app automatically downloaded the motion clips and live-action clips we recorded daily. We're glad to see this option, which is perfect for users like us who don't want to get sucked into yet another subscription service. But for people who prefer having footage on the cloud, monthly fees remain low.
| | Local Storage | Cloud Storage Basic | Cloud Storage Plus |
| --- | --- | --- | --- |
| Monthly Price | $0.00 (using own USB drive) | $3 | $10 |
| Devices Supported | 10 per Sync Module 2 | 1 | Unlimited cameras at one location |
| Storage Limit | 256 GB (on USB drive) | Unlimited | Unlimited |
| Clip Storage Time | Dependent on USB space | 60 days | 60 days |
It's great that Blink offers both cloud and local options, and that you can have both activated for one camera. With local storage, you can access recordings locally in case there's no internet connection. Plus, there's no time-limit. As long as you don't delete the stored videos and your USB drive doesn't get corrupted, you'll have access to locally recorded videos.
Cloud videos, on the other hand, provide backup access. If, for instance, a burglar finds your Sync Module and destroys it along with your USB drive, you'll still have access to recordings saved on the cloud. There is a small monthly fee to pay, though, but if you opt for the $10 per month plan, you'll be able to connect unlimited cameras, so it's a great deal if you have more than a few Blink cameras around your home.
Blink Home Monitor App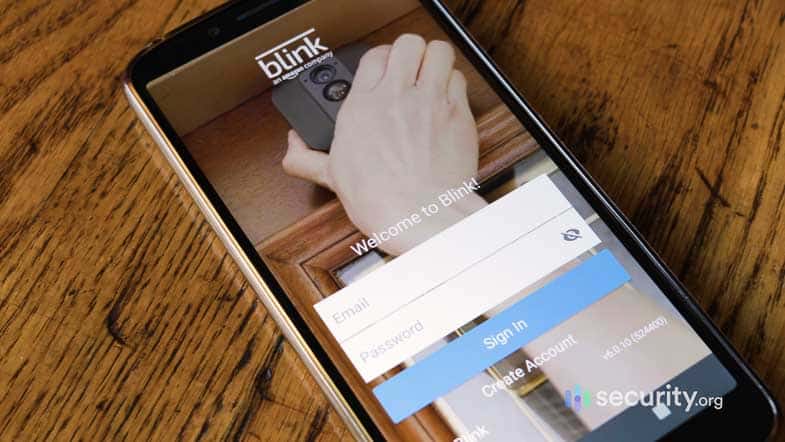 Think of the Blink Home Monitor app as a hub for Blink devices. We adjusted all of our camera's settings from our phones, where we also had access to HD live streams and motion-triggered recordings. If we decided to buy additional cameras, we could have linked them to the same account, even if they were placed on different properties, which would make it a strong option if we wanted to keep an eye on an older family member's place or had a second home.
We were impressed by the amount of features and customizations available from just the app, even from far away. After we left for a weekend trip we realized we'd forgotten to turn up the sensitivity on the motion detector, so we did so from our phone (as soon as we found service at our campsite, that is). And since the two-way audio works through the app, when we'd installed it at our front door we could talk to friends and delivery people straight from our phones.
That being said, the app has its share of flaws. From missing notifications to black screens when attempting to livestream, there are times when the app is simply unreliable. No wonder it has a mediocre user rating on Google Play and the App Store.
Amazon Alexa Integration
Since Blink is an Amazon company, it's not surprising that the camera system is only compatible with Amazon Alexa devices, which may be bad news for Google Home users. But since we're already Alexa users, though, we found the integration helpful and user-friendly. Currently, about 70% of American smart speaker owners use an Amazon Echo, so a lot of people are likely to agree with us.2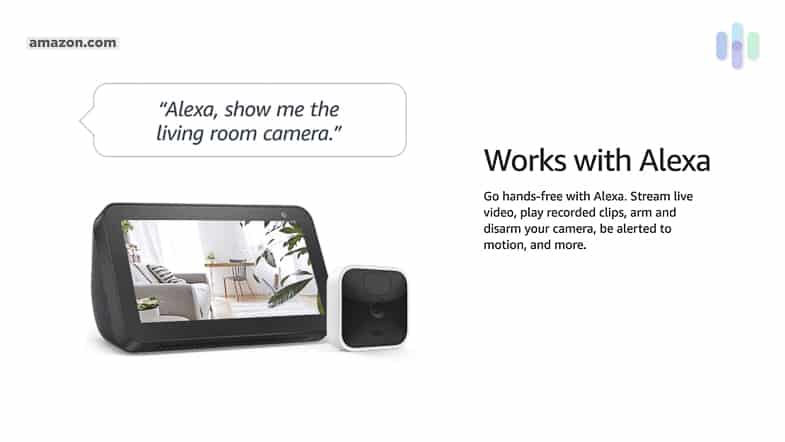 We viewed and recorded clips using our Echo Show, and enabled the Blink SmartHome Alexa Skill. Built-in commands allowed us to ask Alexa to arm and disarm the system, to show us live video, to let us know when the motion detector had been set off last, and more. We could also ask Alexa to confirm the arm/disarm status and get details about alerts we'd missed. Blink also worked with one of Alexa's newest features, Routine Triggers, which allowed us to build patterns of actions by smart devices that are triggered by time or by a user action. For example, we set it up so that when the motion detector over our apartment entryway went off, the lights (connected to a smart switch) went on. Since just turning on the lights might scare away an intruder, this feature made us feel safer at night.
So, Should You Buy It?
Overall, the Blink Indoor Camera is a solid choice for someone looking for an affordable, high-quality camera. The camera offers enough customization options to work in nearly any home, and its local storage capability means no subscriptions are necessary. While it offers most of the same features as other Ring security cameras (another Amazon company), the Blink Indoor offers local storage without a subscription, while Ring requires a monthly fee to save video. Alexa fans and users who don't want to fuss with wires or batteries will want to give the new Blink Indoor a try.