Where to Place Your Home Security Camera
Our experts weigh in on where to place your security cameras for optimal protection.
All of our content is written by humans, not robots.
Learn More
Mapping out your security camera placement is an excellent way to get the most value out of your security cameras.
Installation can be tricky, so take your time and do it right. And head to our step-by-step guide to security camera installation.
Think like a burglar. To find the most critical areas to place security cameras, try to look at your home from a burglar's point of view.
Deciding which security cameras to buy is one thing; picking out the best places to install them is another. Since we've tested out so many cameras over the years, we've come to master the art of choosing where security cameras should go for maximum coverage and optimal home security. And in this guide, we're sharing this knowledge with you.
We have some work ahead of us, so here's all the information you need to get the most out of your security cameras.
Pro Tip: Most security cameras these days are designed for DIY installation, but if you want professional setup, ADT is a good option. Read our ADT home security review and find out why they have the best professional setup available.
First Things First: Choosing The Right Cameras
One common mistake is buying security cameras before deciding where to put them. After all, security cameras are designed for different types of installation, so you need to choose a brand that offers different camera styles and installation methods. And for that, these brands are our best recommendations:
Where To Install Security Cameras
The first question to answer is, where should you install your security cameras? Here's a list, in order ofPlacing and Using Security Cameras importance:
Ground-floor doors and windows: Obviously, burglars can most easily enter homes the exact same way that homeowners do: through doors or windows on the ground floor. It's important to have cameras on all your ground-level doors and windows, both inside and outside.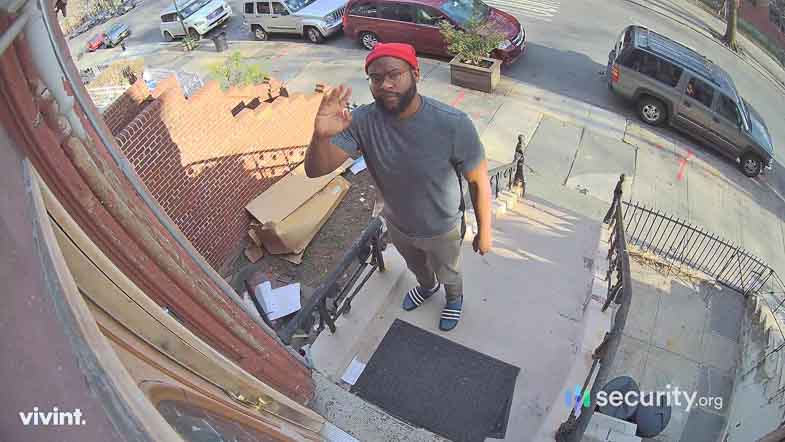 Main stairs or hallway: Any centralized area where burglars would have to pass through to access most of your home should also be surveilled; this is most likely a hallway on the first floor or a stairway leading up.
Common areas: You may also want to secure areas that you commonly use, like a living room or kitchen.
Driveway: If you have a driveway, it's important that you monitor it with an outdoor camera, as this is another common place that thieves will sneak through to enter your home.
FYI: Thinking of monitoring the outside by putting an indoor camera facing the window? Indoor cameras with PIR-sensitive motion detection don't work through glass, so you won't receive any person or motion notifications this way. Rather, use outdoor cameras to monitor your outdoors.
Yard: Secure both your front and back yard with outdoor cameras, as these can be good hiding places for thieves, especially if your landscaping is overgrown.
Second Floor: Do you keep jewelry or other valuables upstairs? While we don't recommend placing cameras in bedrooms or bathrooms for privacy reasons, be sure to secure a main second floor hallway with an indoor camera; it's a great way to provide more video evidence, if you end up involved in a criminal investigation.
Basement: Although it's less necessary to monitor a basement as opposed to the ground level and outside of your home, if you keep valuables there, it may also be worthwhile to add a security camera.
Garages or detached buildings: Especially if your car or other expensive motorized equipment or tools are in there, be sure to have a camera in your garage. If your Wi-Fi zone doesn't extend there, either get a range extender or use a camera that doesn't need Wi-Fi like the Reolink GO (more info on our Reolink GO review).
Where Not To Place Security Cameras
As useful as security cameras are for monitoring your home, there are also places that you definitely shouldn't surveill, for legal and privacy reasons both.
Neighbor's property: Depending on your state's laws, it may or may not be illegal to surveil someone else's property. Make sure your security cameras are focused on your home and not your neighbors'.
Bedrooms: Although you may keep valuables in your bedroom, it's best to leave security cameras out to maintain your privacy.
Bathrooms: The same goes for bathrooms; it's unlikely a burglar would get much out of your bathroom anyway, so there's little to no security risk in leaving them unmonitored.
Other Considerations
Now that you've decided which rooms to secure, we wanted to bring up a few other considerations you should take when thinking about installing your cameras.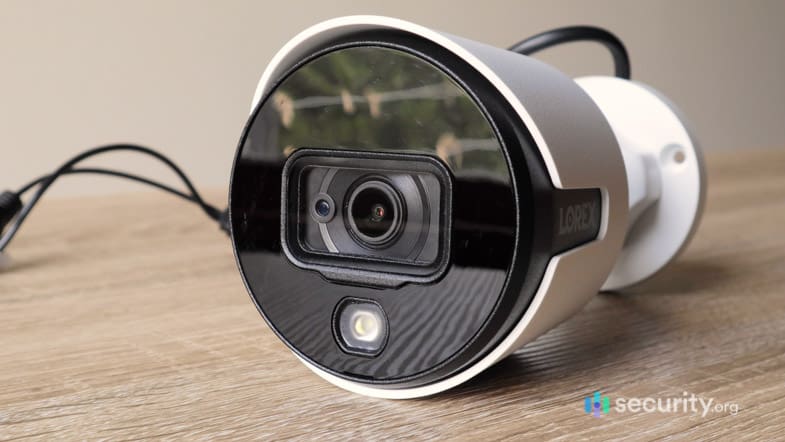 Visible vs. hidden: In the home security space, there's a bit of a debate about whether it's best to keep cameras visible or hidden. In a survey of 86 inmates serving time for burglary, the burglars themselves had differing opinions on whether seeing a security camera was a deterrent to robbing a house or not. While some said they would avoid homes with visible security cameras, some considered them a sign that a home had valuables.

1

Unfortunately, there's no perfect answer here, so you'll have to decide yourself how conspicuous your cameras should be.
Durability: For outdoor cameras, it's important to consider what weather conditions the cameras will face, especially if they're not covered at all. Make sure your uncovered outdoor cameras have sufficient temperature ranges and high IP ratings protecting them against solids and liquids; for a list of our most durable cameras, check out the best outdoor cameras of 2023.
Reflection and glare: Particularly in sunny rooms, rooms with mirrors or any space outside, keep reflection and glare in mind, as these can seriously impede the quality of your cameras' footage. For outdoor cameras, we recommend getting a camera with HDR or High Dynamic Range, which reduces the effect of glare from the sun. Read our Arlo Pro 3 review or our Nest Cam IQ Outdoor to learn about some awesome outdoor cameras with HDR. For indoor cameras, point the camera at spaces with indirect sunlight rather than direct sunlight; more on this in a bit.
Total number of cameras: Especially if they all use Wi-Fi, consider how the number of cameras you have will affect your Internet speed. It may be worth it to get a second router just for your security cameras (and trust us, your teenage kids will thank you).
Proximity to valuable objects: Of course, burglars are looking for the most valuable objects, so your home's most valuable objects should be tantamount in deciding where to place your security cameras. What's considered to be the most valuable? No, it's not your old wedding dress from the 1980's, despite how much it means to you. Rather, according to the Bureau of Justice Statistics about 34 percent of burglars took household appliances or portable electronics like TVs while another 31 percent took more personal portable objects, including keys, jewelry, watches, furs, luggage, briefcases, and clothing.

2

According to the surveyed inmates, the most attractive items to steal were electronics, cash, jewelry and credit cards, as well as guns and collectibles.
Tip: You have locks on the doors to your home, but why don't you lock up your valuables? For some items, it may be best to store them in a safe, or it may be worth it to put locks on closets or rooms with valuable items.
Out of reach of criminals: Above all, if it's possible, try to place your cameras somewhere where they can't easily be stolen. We have some tips on how to accomplish that, which leads us to our next section…
Tips for Placing and Using Security Cameras
In our years of testing all the latest home security cameras, we've had a lot of failures: cameras blinded by glare or just pollen, blind spots that left our valuables up for grabs, and even cameras that were out of our Wi-Fi zone that we had already mounted on the ceiling. We've made all those mistakes so you don't have to. Our tried and true best practices are as follows: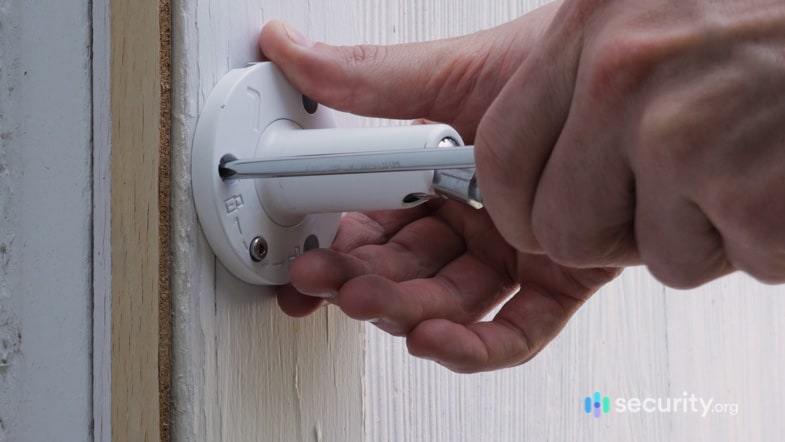 Placing and Using Security Cameras
Secure all points of entry: It's important to put cameras on any place that burglars could access your house, which typically translates to all of the doors and windows on the ground level of your home. Yes, even the ones on the side of your house behind the bush!
Monitor the inside and outside: Some people get so wrapped up in putting indoor cameras around their home that they completely forget to monitor the outside as well. But outdoor cameras are essential in preventing crime before it happens; think of them as the defense players in a soccer team. You know what they say: the best offense is a good defense!
Place cameras high: It's important to place cameras eight to 10 feet off the ground for a couple of reasons. One, this will give you the most visibility for your entire room, and two, placing cameras high up makes them harder to steal. Especially if your camera has local storage only, make sure to put your cameras high enough so that they're out of reach for most burglars.
Use outdoor lighting: Although infrared cameras can provide great night time coverage, you can add visibility by utilizing outdoor lighting; this will be even more helpful if you have a camera with a spotlight, as the night vision will be in color. For some affordable outdoor lighting, check out the options from Ring, available on Amazon as well as their website.
Utilize corners indoors: Corners are another easy way to maximize your camera's field of view. Putting cameras high up and in the corner is the double whammy you need to get the most out of your camera.
Look for indirect sunlight: Avoid pointing cameras towards the sun; rather, capture the indirect light that won't cause glare.
Test cameras before mounting: We've made this mistake before. Before you mount your camera, test it out to make sure it's connecting properly with your mobile application. We recommend doing a few motion tests to see that it's working well with little to no lag.
Avoid blind spots: Just as you have blind spots when you're driving, many homes have blind spots that may be a bit harder to capture on camera. So don't discount that weirdly shaped nook in your living room!
Clean outdoor cameras: From dirt to pollen, there's a lot that can get on an outdoor camera's lens and make it difficult to see. Clean it periodically with a disinfectant wipe or spray so your footage can remain as crystal clear as its video resolution.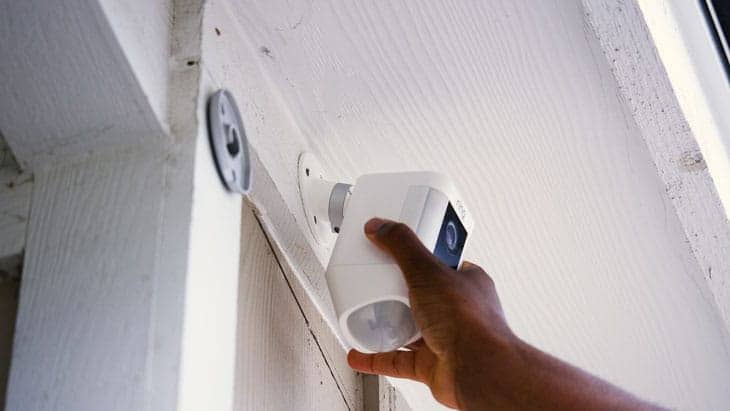 Should I Get My Security Cameras Professionally Installed?
These days, most security cameras have DIY installation, and they're designed so that anyone can get them up and running in minutes. With step-by-step instructions from the apps themselves, we didn't have too much trouble installing the majority of our home security cameras. However, some companies like ADT and Vivint require professional installation; check out our ADT pricing and our Vivint pricing page to see how much it'll cost you. Other companies like SimpliSafe and abode have professional installation as an option, both through third-party providers; again, look at our pages on SimpliSafe's costs and abode's costs for more information.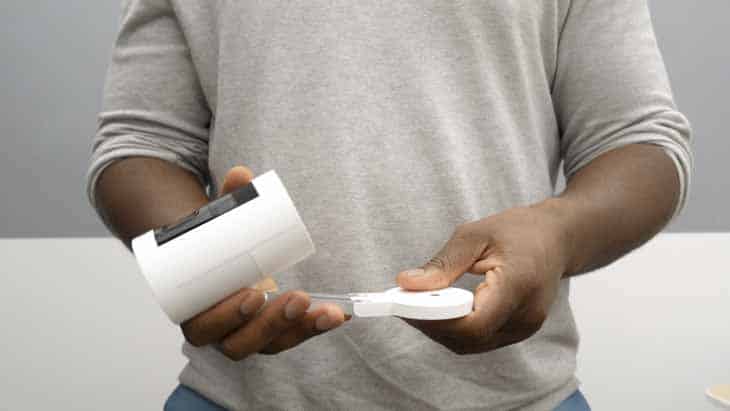 But for the most part, most security cameras can be installed by non-professionals, although hardwired cameras are certainly harder to install than wireless cameras. If a company doesn't offer professional installation, you can always go with a third-party installer from sites like HomeAdvisor or Angie's List, but we don't think it'll be a problem.
Security Camera Placement Laws
Our Chief Editor, Gabe Turner, is also an attorney, making him incredibly well-qualified to speak on the federal and state laws surrounding the placement of security cameras. Here's what we have for you:
Federal
We're about to take you on a trip down memory lane, right to your middle school U.S history class. Remember the U.S Constitution? We're sure you had to memorize its amendments at some point. Well, the Fourth Amendment, if you recall, says that people have a right to a reasonable expectation of privacy, but what does this mean, exactly? That question was asked in the 2001 Supreme Court case Kyllo vs. the United States. In a nutshell, someone had installed a security camera on a public street that pointed at a private home, raising privacy issues.
After careful deliberation, the court decided that the home is protected under the Fourth Amendment, so it's illegal to surveil someone else's property,3 even from a public location or another privately-owned location. Again, make sure you aren't pointing your cameras at other people's houses, even if it's not intentional.
State
Security camera placement laws differ state by state, so we recommend looking into your state's statutes before placing your security cameras. You may also want to check in with your city or municipality laws, as well.
Where Do Most Break-Ins Occur?
Live in a single-family, detached home? Unfortunately, as these homes have more access points, they're the most likely to be burglarized when compared to attached homes or apartments. If you live in the center of your block as opposed to a corner, you're also more likely to be burglarized, as there's less visibility from the street.4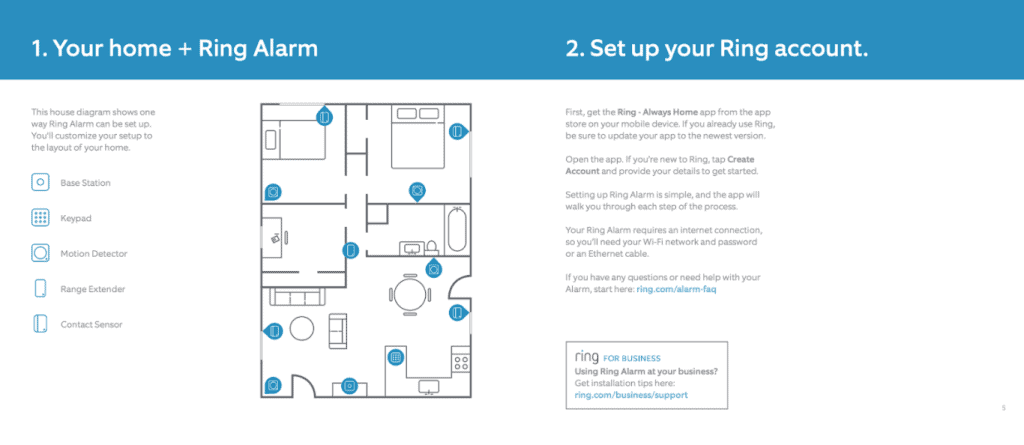 The inmates serving time for burglary also shed some light on which areas of homes they like to pursue. After breaking in, mostly through unlocked doors or windows, many burglars started at the master bedroom to look for valuables before continuing on to the rest of the house. As far as which homes to burgle in the first place, they preferred homes with large fences, overgrown trees or bushes, cheap wooden doors or old window frames.
Conclusion
As you can see, home security doesn't just mean buying and placing a bunch of security cameras, although that's essential. It also means locking up your valuables, trimming your hedges and cleaning your outdoor cameras periodically. Home security isn't a one-stop-shop… even after you install your security cameras.