Blink Mini Camera Review
Blink's indoor plug-in smart security camera, all for a low price of $34.99.
What We Like
Affordable: With a $35 price tag, the Blink Mini is the most affordable Blink camera.
Core features: Blink Mini has live streaming, motion detection with recording, two-way audio, and infrared night vision.
Video Quality: It has 1080p HD video quality that we're looking for in security cameras.
What We Don't Like
Storage: Blink Mini no longer has access to free cloud storage for new accounts, and also has no local storage.
Features: Doesn't have smart features (person detection and facial recognition).
Bottom Line
Blink's newest camera, the Mini is a compact smart camera with 1080p HD and infrared night vision. We loved commanding it using Alexa and showing our footage on our Fire TV!
Blink is best known for its line of battery-powered security cameras that can last for up to two years on a single charge. So what better to complement Blink's battery-powered cameras than an inexpensive yet feature-rich plug-in security camera?
That's exactly what Blink launched recently. The camera, aptly named the Blink Mini, is a compact indoor camera. It pairs up with other Blink cameras easily, but it can also work on its own, making it a viable entry-level device for a Blink security camera system. Amazon, which bought Blink in late 2017,1 had just started shipping the camera when we purchased ours. And after living with the Blink Mini for a month, we're finally ready to share what we learned. Wondering about the camera's features, video storage, and mobile app? We covered all those, so let's get right to it.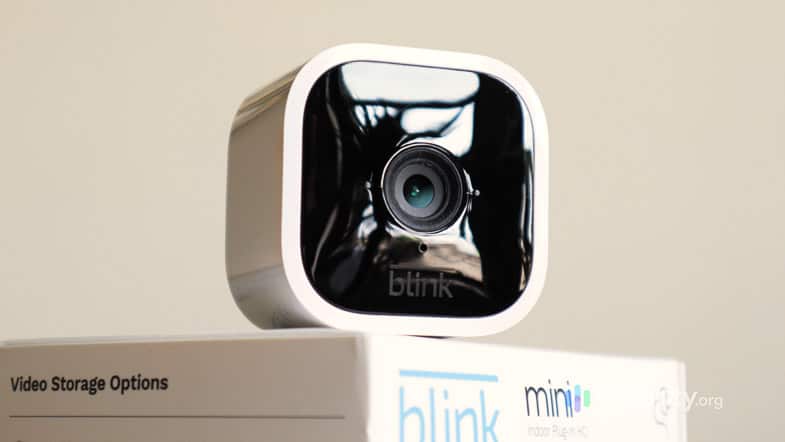 Blink Mini features
| | |
| --- | --- |
| Video resolution | 1080p HD |
| Viewing angle | 110 degrees |
| Night vision | Infrared |
| Live streaming | Yes |
| Motion recording | Yes |
Editor's Rating
Low price point at $34.99
Alexa and IFTTT integrations
Activity zones for more specific notifications
The Pros & Cons
Let's start with the pros and cons. With a $35 price tag, the Blink Mini is the most affordable Blink camera. Still, it packed quite a punch. It had all the core functions of more expensive cameras like live streaming, motion detection with recording, two-way audio, and infrared night vision. It also gave us that 1080p HD video quality that we're looking for in security cameras, and it integrated nicely with our Amazon Echo Show as well. As for its design, we liked the Blink Mini's minimalist look. Its compact design made it discreet, which was just perfect for our little apartment. Our guests mostly missed the camera even when it was staring right at them, so we imagine it would be the same for burglars.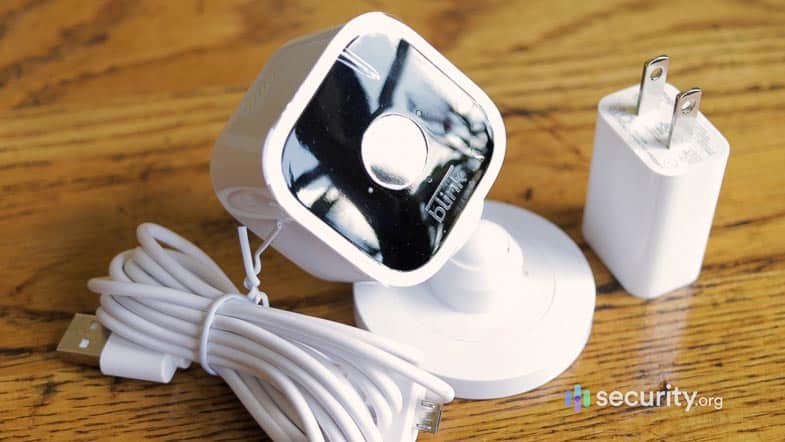 Our biggest concern was that the Blink Mini no longer has access to that free cloud storage we've come to love about Blink, unless you already had a Blink account before April 15, 2020. Fortunately, we have a Blink account, but for those who don't, cloud storage will cost $3 per month. Another option is to shell out $35 for the Sync Module 2 coming out later this year, which will provide local storage for the Blink Mini. Either way, the camera's video storage isn't free.
The Bottom Line On The Blink Mini
From a high-level, the Blink Mini is a nifty little camera that complements Blink systems well but lacks features that we normally like to see. It's nothing more than a simple indoor camera, which isn't bad depending on what you're looking for. That said, we did see some great indoor camera options while testing the brands below: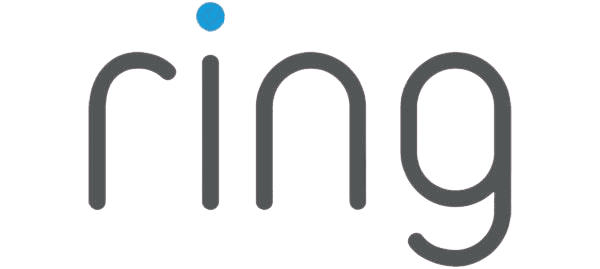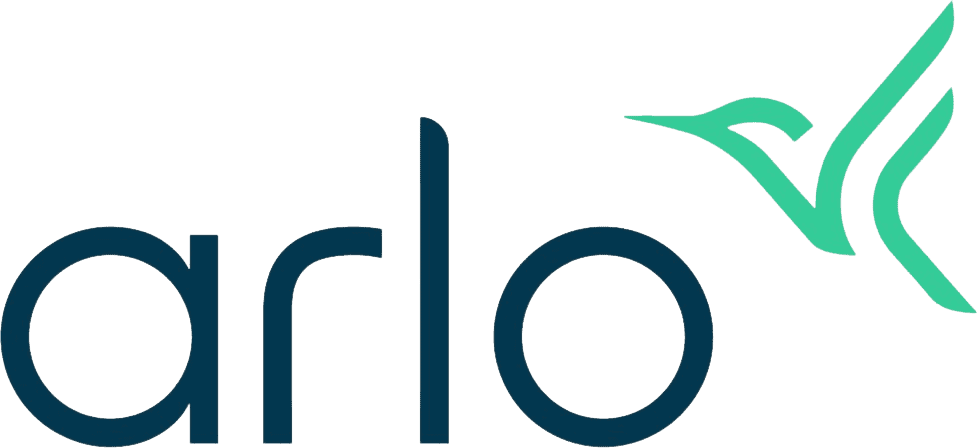 The Key Features Of The Blink Mini
Despite its affordable price and small design, Blink managed to jam-pack the Blink Mini with tons of useful features. We tested each feature to see how well they work, and here are our findings.
| | Blink Indoor w/ Sync Module | Blink XT2 w/ Sync Module | Blink Mini |
| --- | --- | --- | --- |
| Learn More | View on Amazon | View on Amazon | View on Amazon |
| Price | $79.99 | $99.99 | $34.99 |
| Sync Module required? | Yes | Yes | No |
| Plug-in or battery? | Battery | Battery | Plug-in |
| Indoor or outdoor? | Indoor | Indoor/Outdoor | Indoor |
| Video Resolution | 720p | 1080p | 1080p |
| Viewing Angle | 110 degrees | 110 degrees | 110 degrees |
| Night Vision | Low-light illumination | Infrared LED | Infrared LED |
| Live Streaming | Yes | Yes | Yes |
| Two-Way Audio | No | Yes | Yes |
| Motion Recording | Yes | Yes | Yes |
| Customizable Motion Zones | No | Yes | Yes |
| Mobile Alerts | Yes | Yes | Yes |
| Cloud Storage | Free | Free | Paid |
| Local Storage | No | No | Yes; Sync Module 2 is required ($35) |
Minimalist Design
Right out of the box, the first thing that stood out for us about the Blink Mini was its minimalist and compact design. It's shaped like a small cube with smooth edges, and its black faceplate made it less conspicuous. It's also the first Blink camera to come with a stand, which allowed for flexible placement. We both set it on a shelf and mounted it on a wall, and it worked great both ways. The ball-and-socket joint stand twisted and turned freely, which proved useful as we were finding that ideal viewing angle. And when we wanted to make the Blink Mini even more compact, we simply detached it from its stand.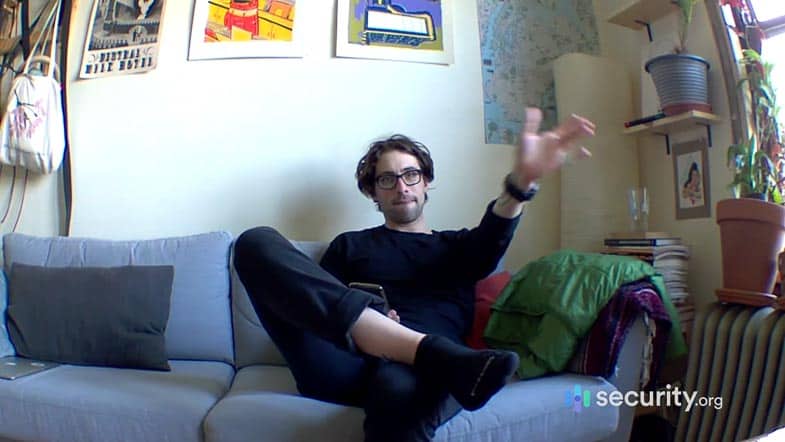 1080p Video Quality
Our Blink Mini captured highly detailed, 1080p HD videos that looked rich and clear even when we blew it up on our Fire TV. It was reminiscent of the video quality we got from the Blink XT2. On top of that, the 110-degree viewing angle provided decent coverage of our living room. Although we wish it offered a slightly wider view (we usually go for 120 degrees or higher), we managed to position the camera so that there weren't any significant blind spots. The key was to place the camera high up and in a corner. In a very wide room though, we think adding a second camera is the best solution.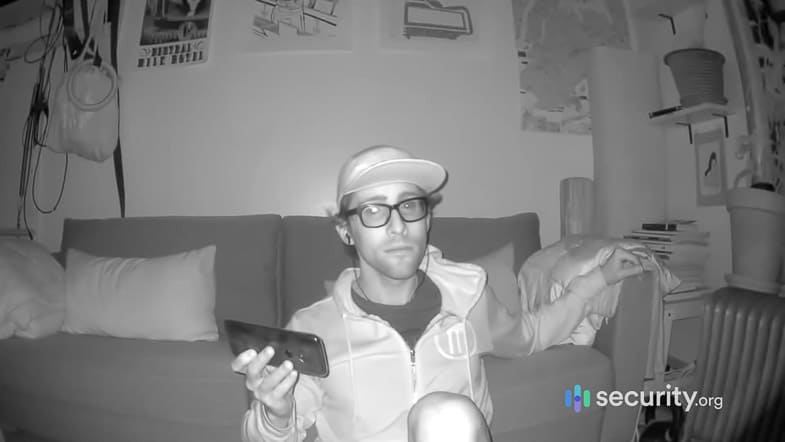 Infrared Night Vision
Whenever it got too dark, the Blink Mini automatically turned on its infrared LED lights that enabled the camera to see in total darkness. The night vision turned nighttime videos into black-and-white, but the level of detail remained almost the same as daytime videos. We really liked that the intensity of the infrared light was adjustable to low, medium, and high. The low setting worked best for us because we have a small living room and objects close to the camera produced too much glare in the medium and high settings. We found the medium and high settings best for illuminating wider rooms for monitoring objects that are farther away from the camera.
Live Streaming
Live streaming is a staple feature of most security cameras, including the Blink Mini. We mostly streamed to our smartphone via the Blink Home Monitor app to check on our apartment while we were away, but we also watched on our Echo Show and smart TV. And because the Blink Mini was plugged in, we didn't have to worry about draining the battery like we did when we tested the XT2. Still, the Blink Home Monitor app limited our viewing time. You know the "Are you still watching?" button that pops up on Netflix? It was like that but every 30 seconds. Pretty annoying, in our opinion.
Two-Way Audio
Our Blink Mini also provided us clear two-way audio while streaming. We were able to hear the camera's surroundings clearly and the audio quality was better than regular phone calls when the Wi-Fi signal was strong. And if we wanted to speak to whoever was near the camera, we simply held the two-way talk button on our phone's screen, much like a walkie-talkie. Although we used the two-way audio feature mostly to communicate with our family, we knew we could also use it to yell at an intruder if there ever was one.
Motion Alerts
The primary security feature of the Blink Mini was motion detection. It alerted us of movements and at the same time, recorded the events so that we could play them back afterward. The notifications went straight to our smartphones through the Blink Home Monitor mobile app. Our only gripe was that our phones needed to be online in order to receive alerts. It wasn't a huge issue for us as we're always connected either to Wi-Fi or cellular data, but we thought you should know.
When we tested the Blink Mini, it didn't catch any thieves in action (thankfully), but it did manage to capture who had been leaving cookie crumbs on the couch. Our kid cousins weren't thrilled when we showed them the evidence.
Activity Zones
Having kids over is one thing, but if you live with pets, we'd like to note that the Blink Mini isn't exactly pet-immune. We learned that the hard way when our phones started blowing up with alerts while we were pet-sitting Buddy, a 45-pound Poodle. Fortunately, we found ways to avoid excessive false alarms without compromising our home security. First, we reduced the sensor's sensitivity. After we did that, the camera still detected Buddy, but not as often as before.
Next, we used activity zones to mask off the areas where he frequently hung out. The camera considered those masked off zones inactive, so it didn't bother us even if Buddy moved within those areas. After implementing those workarounds, the number of Buddy-related false alerts was cut down to less than five per day. That's a lot better than the alternative, which was turning off the motion detection altogether. Still, the Blink Mini may not be a great choice for those with pets. If you're a pet-owner looking to up your home's security, check out our list of the best home security systems for pet-owners.
FYI: The motion detection feature can be customized using the Blink Home Monitor mobile app. There, you can adjust the sensitivity, set activity zones, customize the length of event clips, and set a timeout period in between motion alerts.
Arming & Disarming The Blink Mini
The Blink Mini uses the same app as the other Blink cameras, so we were able to arm and disarm it along with our other Blink cameras. Manually, we controlled the Blink Mini using the arm and disarm button on the app's home screen. But we're somewhat forgetful, so whenever we had a solid schedule, we opted to make the process automatic with the help of schedules. Found within the app, it let us set different times and days for arming and disarming the camera. We only had to set the schedule once for the whole week and it armed and disarmed our Blink Mini on time and without a miss.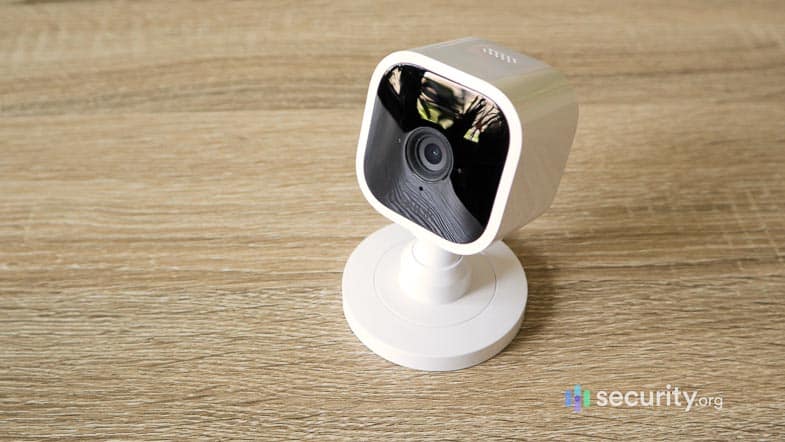 Third-Party Integrations
We also found that the Blink Mini easily integrates with third-party smart home products.
First on the list is Alexa, which wasn't surprising because, well, Amazon owns Blink. We loved the Alexa integration as it allowed us to do a number of things with voice commands, such as:
Arm/disarm the Blink Mini
Show a live feed or the latest motion event on our Echo Show
State the arm/disarm status of the camera
Check our arm/disarm schedule
Retrieve details about unread motion events
Smart Home Tip: The Blink Mini is best used with an Alexa smart speaker with a screen. However, voice commands such as arming and disarming, checking the status, and retrieving details about motion events also work with screenless Alexa-enabled smart speakers.
Blink also worked with IFTTT,2 an automation engine driven by "if this, then that" recipes called Applets. The Applets activate a custom action whenever the defined trigger occurs. For instance, one Applet we used turned on our living room lights whenever our camera detected motion. We know that installing motion-activated lights,3 even makeshift ones made with the help of IFTTT, are effective burglar deterrents. Even the authorities recommend using motion-activated lights, so we're confident that our IFTTT setup would have made a great deterrent if someone broke into our apartment.
Lastly, Blink somewhat worked with Ring's Neighbors feature. Ring, another Amazon-owned security camera company, launched Neighbors as a virtual neighborhood watch.4 It sent us real-time, local alerts from other Ring and Blink users in our neighborhood, local law enforcement, and the Ring news team. Although we live in a generally safe neighborhood, we appreciated getting safety-related reminders.
Was The Blink Mini Easy To Install?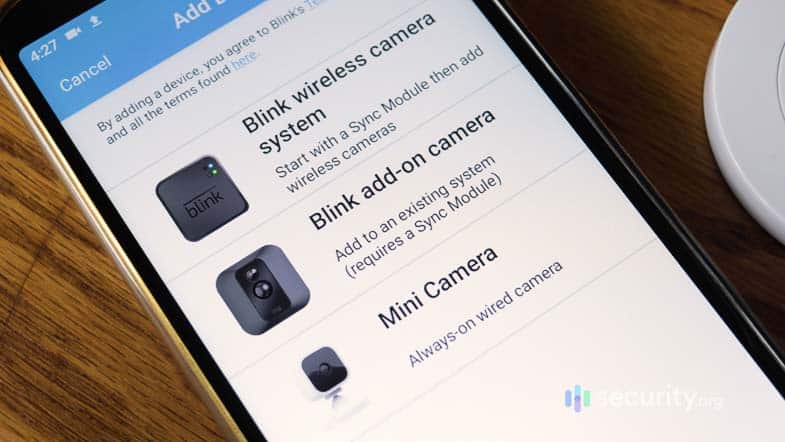 Now that we've explained what the Blink Mini is and what it offers, it's about time we talk about our actual experience installing and using it.
The Blink Mini is for indoor use only. It can't withstand the elements, so we placed it away from direct sunlight, where the humidity level doesn't get too high. The camera also wasn't battery-powered, so we had to keep it close to a wall outlet. Fortunately, the power cord was 6.5 feet long, so it gave us a little bit of wiggle room in deciding where to place the camera.
Pro Tip: Although the Blink Mini was designed to be plugged into a wall outlet, it can also be plugged into any device that can power a USB port, such as a computer.
All in all, it took us only around seven minutes to install the camera, including placement. That's because everything we needed to install it was provided in the box, which included:
One power cord (6.5 feet)
One power adapter (USB)
One ball-and-joint socket stand
Screws for mounting
When it came to the installation process itself, we had two options. First, we could connect the Blink Mini to our Wi-Fi router directly, unlike the older Blink cameras that required a Sync Module. This option is best for new Blink users who don't have an existing Sync Module. The second option was exclusively for those who already have a Blink camera system. It followed the same process as the installation of our Blink XT2, which connected the camera to the Sync Module. Whichever of the two methods we used though, the camera's features remained the same.
Cloud & Local Storage
Along with the Blink Mini, Blink launched a new cloud subscription. This new subscription now requires a monthly fee for the Blink Mini to get any sort of cloud storage space. Before this, Blink's cloud service was free. Needless to say, we weren't thrilled about the change, but fortunately, Blink will only start charging for the subscription by January 2021. It's free until the end of this year, so we guess we just have to enjoy it while it lasts.
| | Free | Basic | Plus |
| --- | --- | --- | --- |
| Monthly Price | $0 | $3 | $10 |
| Mobile Alerts | Yes | Yes | Yes |
| Live Streaming | Yes | Yes | Yes |
| Motion Recording | No | Yes | Yes |
| Cloud Storage in Days | 0 | 60 | 60 |
| Video Sharing | No | Yes | Yes |
| Supported Cameras | Unlimited | 1 | Unlimited |
| 10% Discount on Blink Products | No | No | Yes |
| Warranty Coverage in Years | 1 year | 1 year | As long as the subscription is active |
Now, for some more good news, if you had an existing Blink account prior to April 15, 2020, cloud storage for the Blink Mini will still be free. We've had our Blink account for several years now, so we were really happy to learn about this.
There's actually another video storage option coming out later this year. This option is for local storage. It won't require a monthly fee, but you'll need to purchase a Sync Module 2 and use your own flash drive. The new Sync Module is set to launch before the end of this year and has a $35 price. We'll update this review once it's ready.
The Blink Home Monitor Mobile App
When it came to controlling our Blink Mini, the Blink Home Monitor mobile app was our best friend. The app, available to Android, iOS, and Fire OS devices, was where we streamed live feeds, accessed recorded clips, set our schedules, and fumbled with our camera's settings.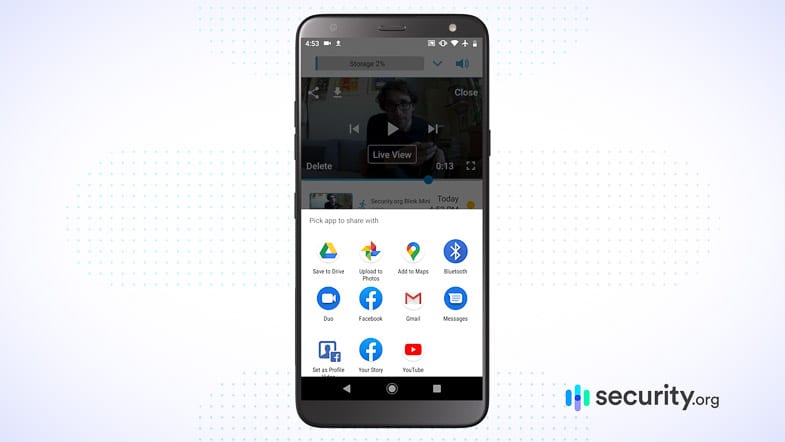 We found the app's interface to be clean. The home page showed us a thumbnail of our Blink Mini and it's also where we armed and disarmed the camera. There's a separate tab for schedules, settings, and recordings as well. As for the recordings page, there's a bar that showed us how much cloud storage space we had left, so we knew exactly when it was time to download and transfer our clips.
Overall, we were pleased with the app's performance, and we knew other users were, as well, because of its 3.8 star rating on the App Store and its 3.6 rating on the Google Play store.
The Blink Mini In Action
We can only tell you so much about the Blink Mini; if you want to see it in action, our security experts put together a video review that shows what this little camera is capable of. If you want to see samples of the Blink Mini's daytime and night vision videos, app interface, and more, check out this video.
See how Blink stacks up against the competition
For a closer look at how Blink performs, we compared it with other popular security cameras.
To Whom Do We Recommend The Blink Mini?
After testing the Blink Mini, here's what we thought of it.
Use the Blink Mini if you want these features:
Plugged in (no battery replacements)
Small and discreet design
Affordable
Local and cloud storage
Alexa and IFTTT integration
However, look somewhere else if you want:
Smart features (person detection and facial recognition)
Free cloud storage
Built-in local storage
The Blink Mini is quite frankly one of the best indoor cameras released this year so far. Its affordable price coupled with its strong set of features (1080p resolution, two-way talk, motion detection with activity zones, etc.) is one of its greatest assets. We think it complements other Blink cameras well, but it's also a good entry-level camera if you want to establish a Blink security camera system for your home. And at only $35, it won't break the bank, so it's surely worth a try.