Blink vs Ring
We put these Amazon-owned smart home companies head to head.

Best HD Image Quality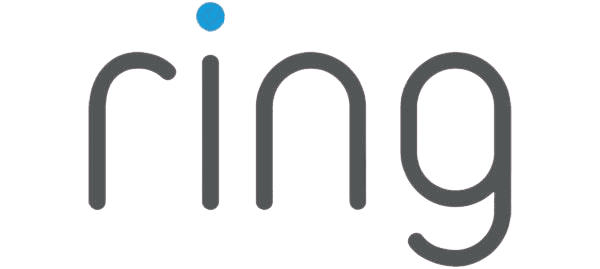 Two-way talk feature
Crisp HD image quality
Smart home Integrations
Most Affordable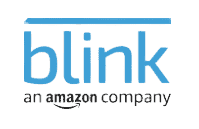 No long-term contracts
Impressive two-year battery life
Affordable home security
The Blink and Ring rivalry is just like any other sibling rivalry we enjoy seeing in TV dramas. Both security camera companies are owned by Amazon, which is why they are sibling companies, but Ring garners more attention. Meanwhile, Blink cameras are more affordable, but they don't enjoy the same fanfare as Ring.
If you're looking to compare Blink and Ring — and you're willing to look past the fact that Ring is the more popular choice — then this review will tell you which of the two is actually a better brand for you.
Overview
How about a little introduction to our contenders before we start?
Ring's crowning achievement is its popular line of video doorbells, but over the years, Ring has ventured into the world of security cameras as well. There's the Ring Indoor Cam, which is an affordable albeit simplistic indoor camera, the Ring Stick Up Cam which is an indoor and outdoor camera, and the smart light-equipped Ring Spotlight Cam and Floodlight Cam lines. Ring offers security systems as well in the form of the Ring Alarm and Ring Alarm Pro.
On the other hand, Blink focuses more on security cameras. Its flagship products are Blink Outdoor and Blink Indoor, both battery-powered cameras, and the Blink Mini, which is an ultra-affordable indoor camera costing just $35. Other than those, Blink also offers video doorbells, a wired floodlight camera, and mounting accessories that can up the game of its existing cameras. There's the Pan-Tilt accessory for the Blink Mini, for example, and the floodlight mount for the Blink Outdoor.
Key Similarities
No Contracts: Monthly subscriptions are not obligatory for either Blink or Ring, but if you do choose to sign up for a cloud recording plan like we did, you won't need to sign a contract and you can cancel anytime.
Easy DIY Installation: We installed both our Blink and Ring cameras within an hour. The how-to videos each brand provided helped make the processes quick and smooth.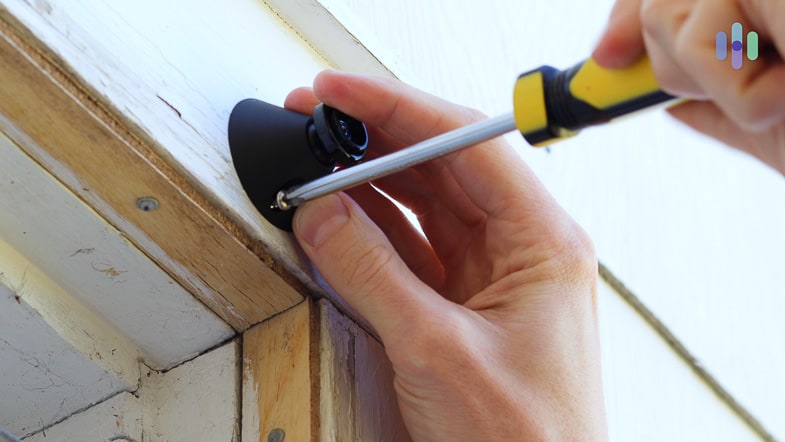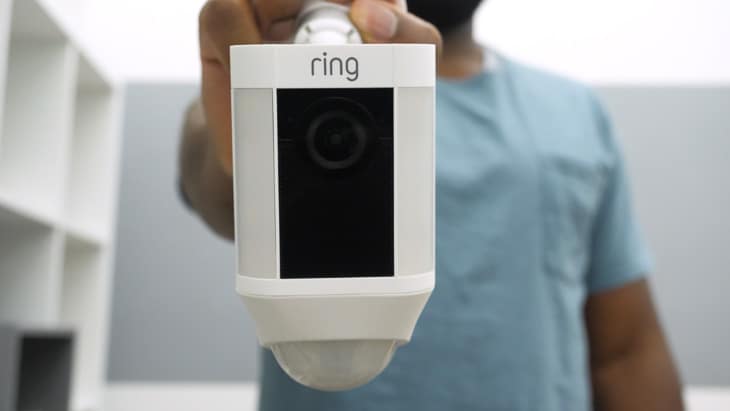 Remote Connectivity: Each system offers remote connectivity through their respective mobile apps, allowing you to check on your home whenever needed whether you're at home or roaming around.
Key Differences
Professional Monitoring: Although Blink and Ring both allow for self-monitoring, only Ring offers 24/7 professional monitoring. This monitoring, however, only covers the Ring Alarm security system and not the cameras and doorbells.
Cloud-Based vs. Local Storage: While both companies include cloud storage subscriptions, only Blink offers local storage, up to 265 GB through the Sync Module 2.
Power Supply: All Blink cameras are wireless, except the Blink Mini, which requires an outlet. Ring has cameras powered by batteries (with up to one year of use), cords, and even solar power. Some Ring cameras even have the option to switch power modes.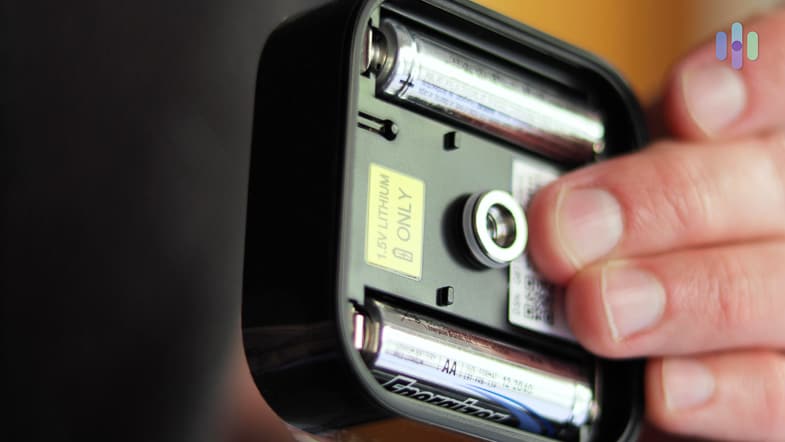 Camera Selections
Now that we have a high-level overview of how Blink and Ring compare to each other, let's talk about our experience using both. Of course, you can head over to our Ring camera review and Blink review for a more close-up look at each brand, but this section focuses specifically on how our experience with both compares.
We chose our assortment of Blink equipment based on our home's specific needs. First, we purchased a Blink Sync Module 2 for $34.99, which acts as a base station and local storage for up to 10 Blink cameras. We then selected our combination of Blink cameras, which included:
One Blink Indoor (gen2) for $79.99
One Blink Outdoor (gen2) for $99.99
Two Blink Minis at $34.99 each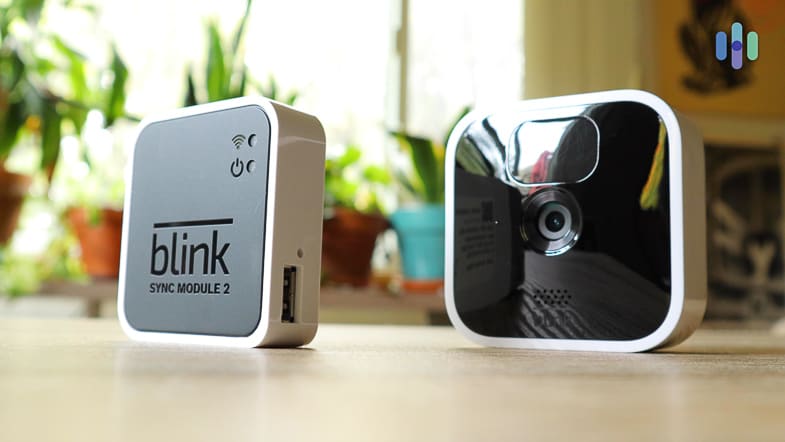 For Ring, we decided on:
One indoor camera for $59
One Stick Up Cam (both indoor and outdoor) for $99
One Spotlight Cam for $199.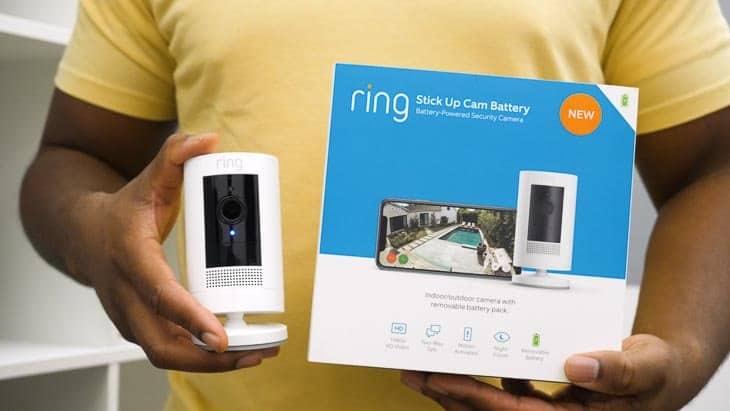 We liked that if we ended up wanting more coverage, we could incorporate our Ring cameras into a full security system called Ring Alarm, complete with a base station, keypad, contact sensor, motion detector, range extender, and more. Considering that security cameras deter home burglaries and that the average home burglary costs homeowners an average of $2,800,1 we liked the affordability of both Blink's and Rings cameras.
In the end, it all boils down to your security needs. Blink is definitely more affordable, but it has a much more limited product catalog. Does it have all the types of cameras you need? If yes, then the more affordable products from Blink may be more appealing to you. Otherwise, go with Ring for slightly more expensive equipment but a wider selection of products.
Installation
Blink and Ring are both designed for simplicity. Each system comes with detailed installation instructions, and setup took us less than an hour for each system. With Ring, professional installation is available, as well.
Blink
Setting up our Blink cameras requires no special tools or expertise, but one caveat is that we needed to set up a Sync Module 2 for our Blink Indoor and Blink Outdoor.
The Sync Module 2 is like a router specifically for Blink's battery-powered cameras. They don't connect to Wi-Fi directly because that would drain their batteries faster, so they need a bridge.
Fortunately, the Sync Module 2 was easy to set up. We did everything through the Blink app, and in mere minutes, we were able to connect the Sync Module 2 to Wi-Fi.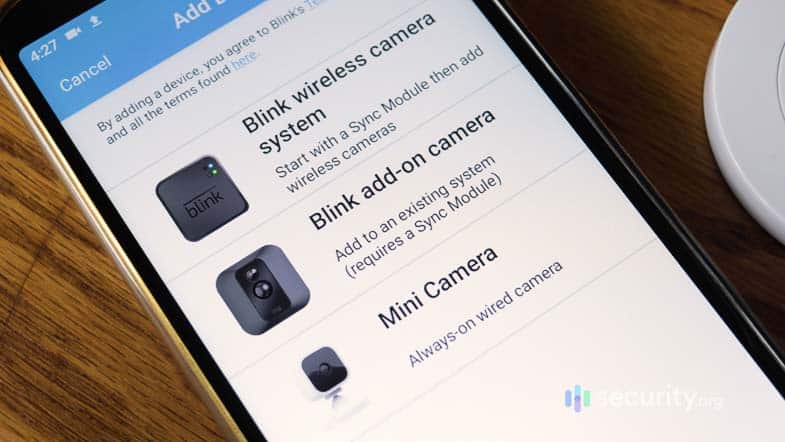 Next, we set up the cameras. We added the provided batteries to our Indoor and Outdoor cameras by opening their backs with the included tool. From there, we scanned each camera's QR code to connect it to our Sync Module. Once the app notified us that the process was complete, we returned to the home screen and renamed our cameras, which were originally listed as serial numbers, based on where we planned to place them.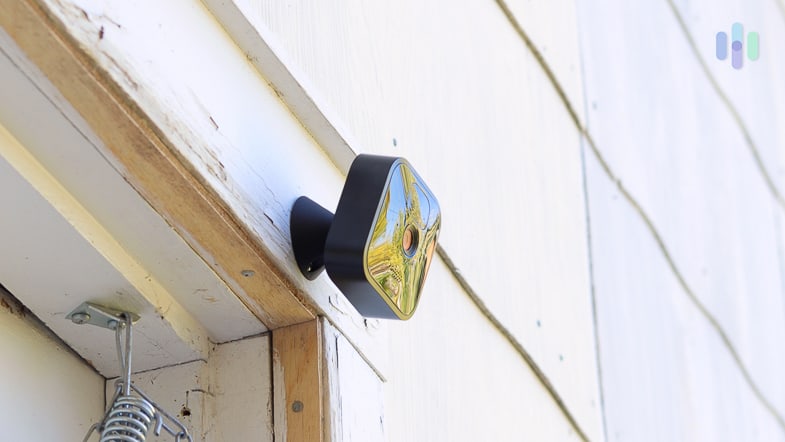 While all Blink cameras are built capable of resting on a table or shelf, the Blink Indoor and Outdoor cameras can also be mounted on the wall. We placed our Minis on an end table and a bookshelf. Since the majority of burglars enter through a first-floor door or window,2 we used the mounting instructions and kit provided to secure our Blink Indoor on the wall near our back door and our Blink Outdoor at the front of our porch.
Ring
Our installation for the Ring cameras was somewhat similar to that of Blink. Once we downloaded the Ring app, we selected "set up a device" and "security cameras." Then, all we had to do to connect our cameras to the app was to scan the QR code on the back or in the battery compartment of our cameras. It was somewhat easier since we didn't need a base station like the Sync Module. Next, we decided where we wanted to place each camera. We used the mounting tools included to mount our Spotlight Cam and Stick Up Cam. Mounting only took us an extra 10 minutes for each camera, and the only additional tool we needed was a Philips Head screwdriver. In total, we spent just slightly over half an hour installing our cameras.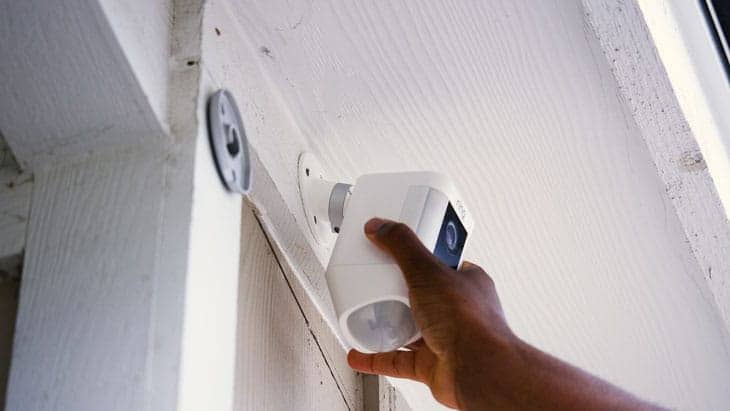 Professional Installation
We found both DIY installation processes to be a breeze but appreciated knowing that we always had a backup plan with Ring. If something went wrong or we just didn't have time to worry about installation, Ring would send out one of their experts to install our new cameras for $99.
Savings Tip: Keep the savings coming! Ring offers a 20 percent discount on all Ring.com purchases for military, teachers, students and first responders.
Features
At Security.org, we evaluate cameras by comparing them against the industry standards for video, audio, night vision, storage, and more. Below, we've detailed our comparison of Blink and Ring for these key features.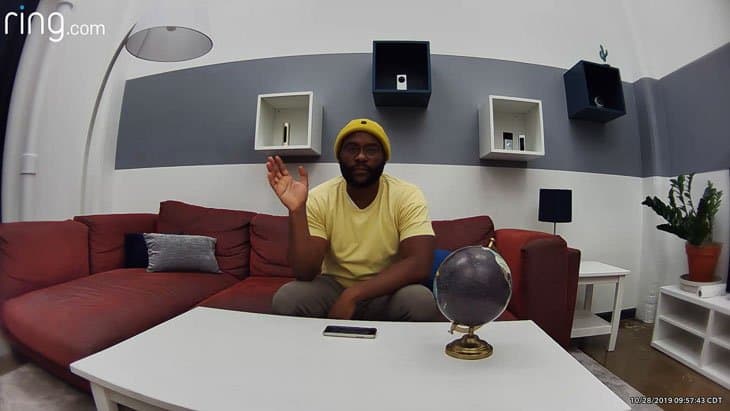 Video Resolution
All Ring security cameras we tested recorded at 1080p HD, the current industry standard. Blink's Indoor, Outdoor, and Mini cameras also include 1080p HD resolution.
Audio
Cameras in Ring and Blink systems offer two-way talk, which allowed us to speak with whoever was in view of our cameras.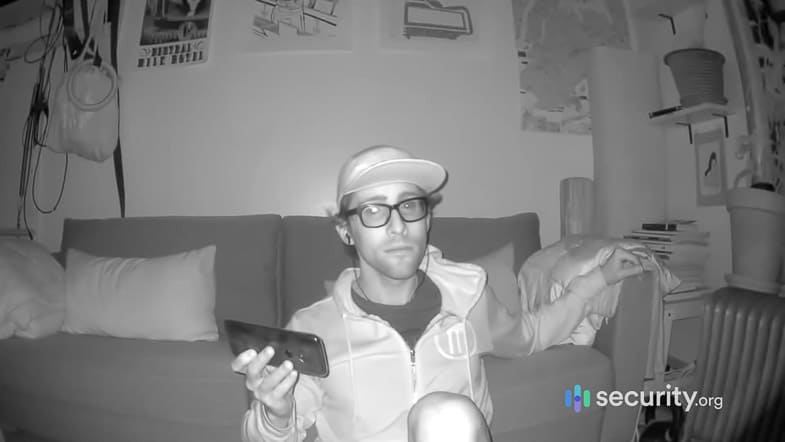 Night Vision
All Blink and Ring cameras provide infrared night vision. Some Ring cameras, such as the Floodlight Cam, the Spotlight Cam Wired, and the Stick Up Cam Wired, also include color night vision.
Smart Platform Integration and Home Automation
As products of Amazon companies, we didn't find it too surprising that Blink and Ring cameras are all Alexa-enabled. When our arms were full while heading out the door, we could set our alarm by simply saying,"Alexa, ask Blink to arm 'My Home'." To view our livestream video feed, we commanded Alexa to "Show me my outdoor camera on our Fire TV." Ring cameras offered the same options, In addition to Alexa and IFTTT, Ring is compatible with Google Home, Apple HomeKit, Samsung SmartThings, and more.
Ring's compatibility with so many smart products stood out to us against Blink's limited smart integrations. Despite not choosing to add them to our home's security this time around, we enjoyed the idea of adding more of Ring's smart home integrations in the future, such as:
Smart locks (Yale, Kwikset, and Schlage)
Smart outlets and lights (Leviton and GE)
Keyless entry (Yale and Schlage)
Light dimmers (Leviton and GE)
Remote garage door capability (Chamberlain).
Storage
Both Ring and Blink offer cloud storage options, but only Blink comes with local storage.
Artificial Intelligence
By selecting a cloud storage subscription, we added artificial intelligence to our Ring cameras, specifically person detection and Ring's new stay threshold. Person detection, available on all Spotlight, Flood and Stick Up Cams, helps us limit the false alarms we receive by identifying whether the motion our camera catches is from a human. The new stay threshold made sure we only got notifications if the person in our camera's view remained in a certain motion zone for more than 10 seconds, or whatever amount of seconds we decided.
Although Ring continues to expand its use of artificial intelligence in its security cameras, Blink has still yet to incorporate any artificial intelligence into its cameras.
Cloud Storage Subscription
Let's start with cloud storage. We got 60 days of cloud storage for only $3 a month for both Blink and Ring cameras. As Amazon owns both companies, we seriously doubt this is a coincidence. Add more cameras to either subscription and the cost goes up to $10 a month.
| | Free | Ring Basic | Ring Plus | Blink Basic | Blink Plus |
| --- | --- | --- | --- | --- | --- |
| Monthly Price | $0 | $3 | $10 | $3 | $10 |
| Yearly Price | $0 | $30 | $100 | $30 | $100 |
| Mobile Alerts | Yes | Yes | Yes | Yes | Yes |
| Live Streaming | Yes | Yes | Yes | Yes | Yes |
| Motion Recording | No | Yes | Yes | Yes | Yes |
| Cloud Storage in Days | 0 | 60 | 60 | 60 | 60 |
| Video Sharing | No | Yes | Yes | Yes | Yes |
| Professional Monitoring | No | No | Yes | No | No |
| Supported Cameras | Unlimited | 1 | Unlimited | 1 | Unlimited |
Blink's Local Storage
Priced at $34.99, the add-on Sync Module 2 supports local storage of up to 256 GB through a removable USB (sold separately) for the Blink Outdoor, Indoor (gen 2), or Mini cameras.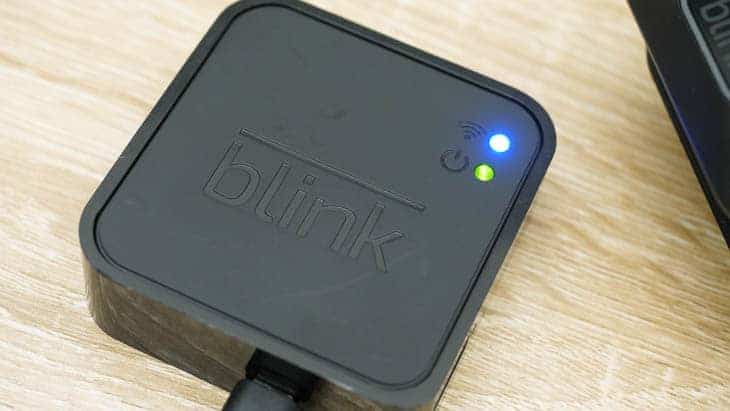 Monitoring
Blink and Ring both have the capability for self-monitoring, but only Ring offers the option for professional monitoring.
Self-Monitoring
Blink's inexpensive HD cameras are specifically designed for self-monitoring through the Blink Home Monitor mobile app. The cameras include motion detection and sent us mobile notifications if the movement was detected while our cameras were armed. Upon receiving the message, we could log in to view our livestream or view our recorded clips to see what occurred when the motion detection was triggered. We also viewed recorded video from our Ring cameras and received motion-triggered notifications via Ring's mobile app.
Professional Monitoring
For $20 per month, Ring offers professional monitoring, which means Ring's partner monitoring center can call the cops on your behalf in case of a home security breach. That said, professional monitoring doesn't apply to cameras and doorbells. Ring only monitors Ring Alarm and Ring Alarm Pro security systems. It's definitely nice to know that if you need a professionally monitored system, you can count on Ring to offer a system that works seamlessly with its cameras and doorbells.
Green Tip: Want to avoid spending more on electricity or batteries? Ring's Stick Up Cam can be entirely solar-powered.
Apps
User-friendly mobile applications are critical to the success of connected devices like security cameras. It's these apps that we use to livestream camera footage, employ two-way audio, play back recorded clips, and more, so they must also be free of viruses and bugs. Here's what we thought of Ring and Blink's apps.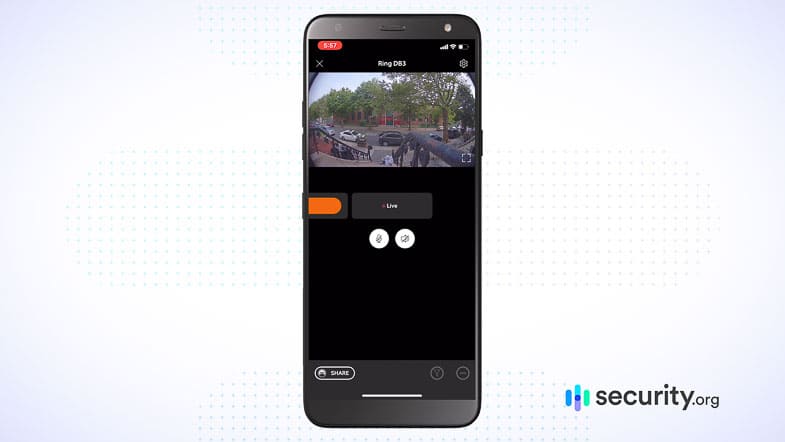 The Ring Always Home App
The Ring— Always Home mobile app has a rating of 4.1 out of five on the Apple store and four on the Google Play store. With both forms of the app, we noticed that when our phones were synced to the Ring Alarm System, the words "disarmed," "home, " and "away" appeared at the top of our screen. We found this tool to be extremely helpful since we had a number of users in our household that could arm or disarm our cameras. We also liked that the app allowed us to look at a history of events. As we browsed the recorded clips from our outdoor cameras, we discovered the identity of the porch pirate who had been stealing our packages.
Other features we appreciated about the Ring Always Home app included the opportunities to set privacy zones and change the sensitivity of our motion detector. Once we made that motion sensor adjustment, we no longer had to put up with annoying notifications about our pets exploring our home or yard.
What Does Your Pet Do All Day? Monitor your pets (and potential intruders) with ease using one of the Best Pet Cameras of 2023.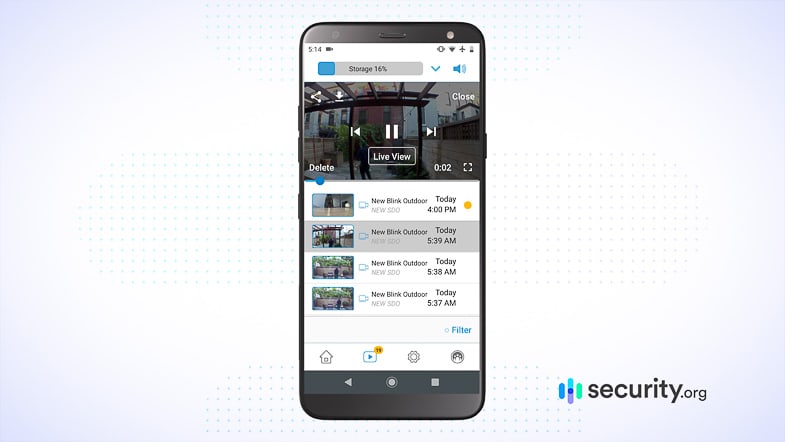 Blink Home Monitor App
The Blink Home Monitor app is rated 3.3 in the Apple store and four in the Google Play Store.
We mostly used the Blink app to live-stream footage from all our security cameras, but we also set it up so that we received notifications if any of the cameras detected motion while they were armed. We loved how user-friendly the app was and that it allowed us to adjust for motion sensitivity, create activity zones, customize the length of event clips, and more. Our only complaint was that the app kept asking if we were watching.
Our Take: Blink vs. Ring
Since both Blink and Ring offer high-quality and affordable cameras that are easy to use, we concluded that the company with the most suitable cameras will be determined by the user's specific needs and circumstances.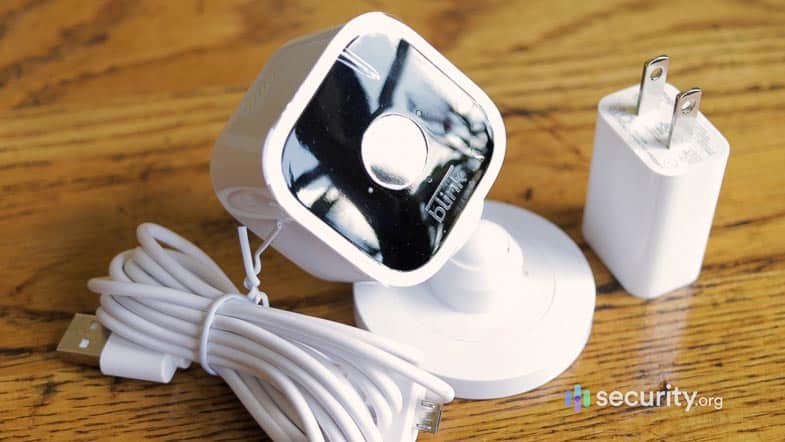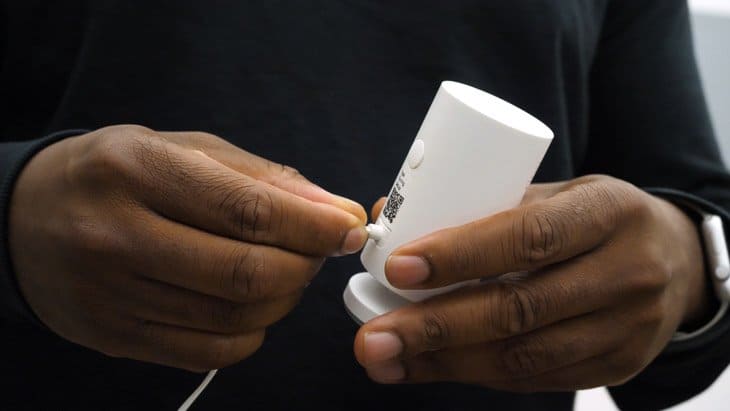 To learn about our recommendations for brands other than Blink and Ring, check out our best home security camera review page.