SimpliSafe vs. Blink: Comparing Two Contract-Free Security Systems
An in-depth look at how these DIY security systems stack up.

Best Professional Monitoring

Monthly subscription plans
Fast and easy DIY installation
Reliable professional monitoring
Professional monitoring costs $19.99 or $29.99 per month
Camera recording on five cameras costs as little as $9.99 per month
Packages range from $250 to $700
Best No-Contract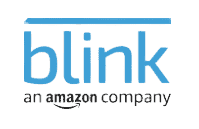 No long-term contracts
Impressive two-year battery life
Affordable home security
SimpliSafe and Blink are two of the most popular options for contract-free DIY home security, but the two companies approach home security differently.
SimpliSafe offers security systems powered by sensors and cameras to detect intrusions and other possible home dangers. Blink, on the other hand, is camera-centric. It has a line of wireless and wire-free cameras that work together to keep burglars out. Which approach works better for your home?
In this comparison, we'll break down SimpliSafe and Blink security systems for you, comparing them every step of the way to see which is superior.
A Side-by-Side Comparison of SimpliSafe and Blink
Before we dive into the details, let's start with a side-by-side comparison of what SimpliSafe and Blink offer for a better understanding of each company.
| Does it offer… | SimpliSafe | Blink |
| --- | --- | --- |
| Entryway sensors | Yes | No |
| Environmental-hazard sensors | Yes | Yes |
| Indoor cameras | Yes | Yes |
| Outdoor cameras | Yes | Yes |
| Doorbell cameras | Yes | Yes |
| Cloud storage plans | Yes | Yes |
| Professional monitoring | Yes | No |
| Smart-home integrations | Yes | Yes |
From this table, you can see that SimpliSafe offers a more robust security system. But the table doesn't tell the whole story. It doesn't say, for example, that Blink offers a wider range of security camera variations or that it has more affordable cloud recording plans than SimpliSafe. To get the full picture, let's dive into our detailed comparison.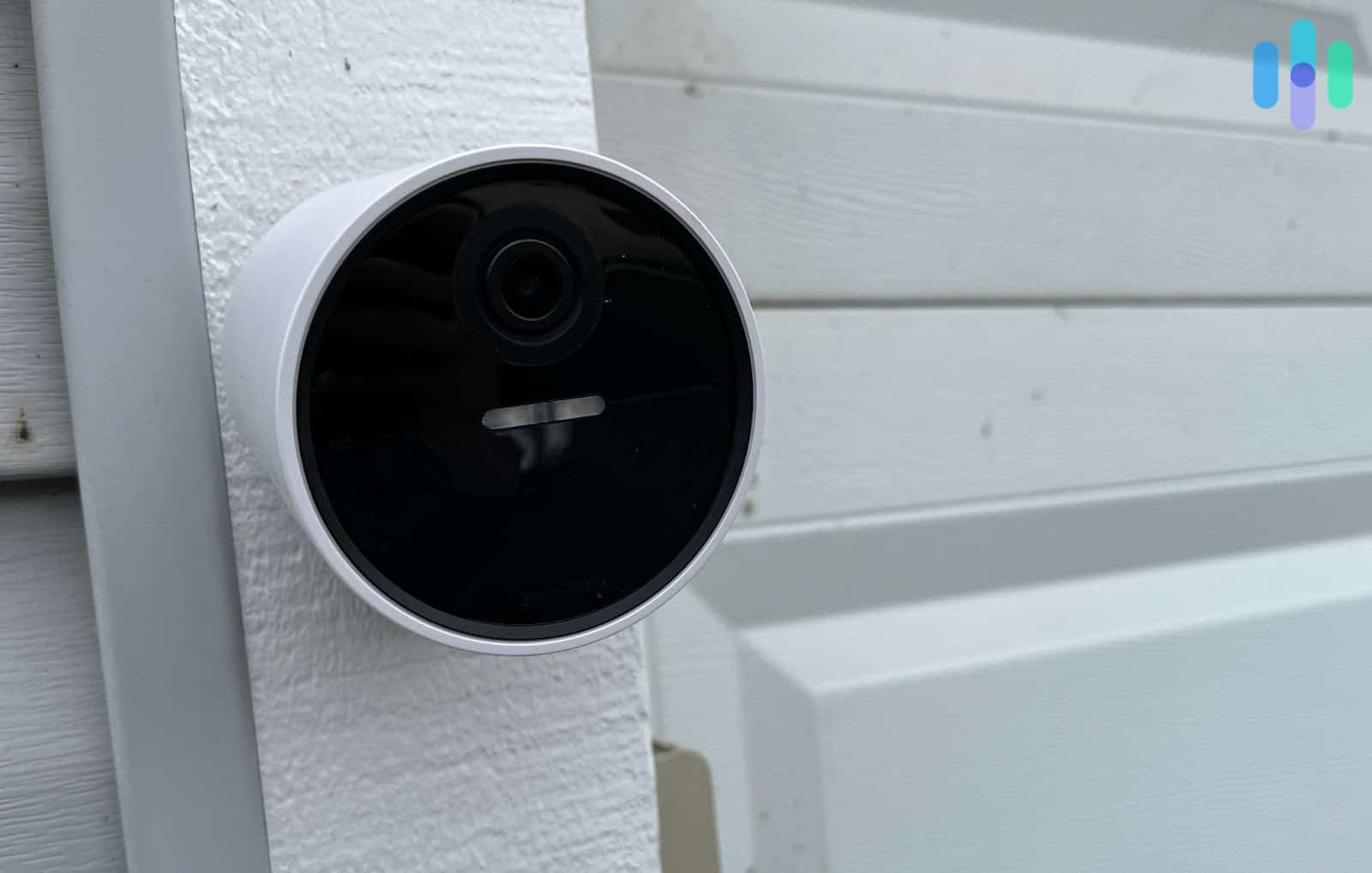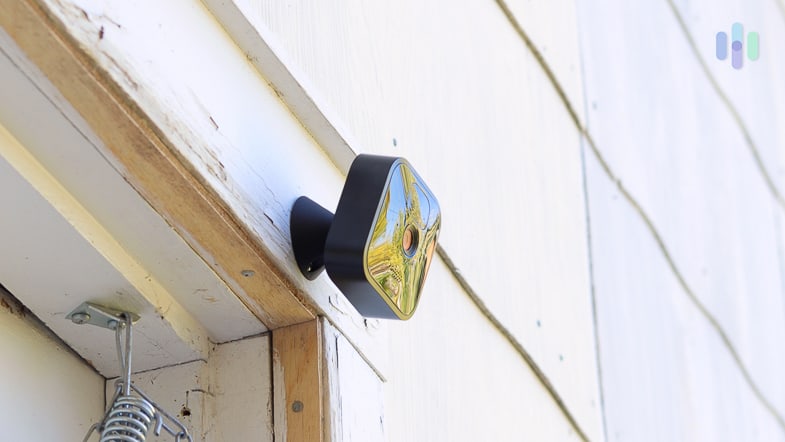 Round 1: Equipment Options
To get started with a SimpliSafe system, you'll need a base station — the central device that facilitates the controls and monitoring of every SimpliSafe system. The base station pairs with SimpliSafe sensors, security cameras, and control devices such as keypads and key fobs. It also links the system to SimpliSafe's online portal, making it possible to control and monitor your system through an app. If you purchase a monitoring plan, the base station will also be responsible for sending alerts to the monitoring center.
SimpliSafe offers dozens of sensors, including motion sensors, door sensors, and glass-break sensors. It also offers environmental-hazard sensors such as smoke alarms and freeze sensors. To round out its home security system, SimpliSafe has an indoor camera, a wire-free outdoor camera, and a doorbell camera.
You don't need a base station with Blink, but you'll need a Sync Module for some of the cameras it offers — particularly those that are battery-operated and wire-free. You can read our Blink security camera review for a full overview of every Blink camera available. Essentially, though, these are your options:
Blink Mini (indoor camera)
Blink Indoor (battery-powered indoor camera)
Blink Outdoor (battery-operated outdoor camera)
Blink Video Doorbell (wireless doorbell camera)
Blink unfortunately lacks security sensors, so you'll have to rely mainly on the cameras' motion and sound detection to catch intruders. Because of that, SimpliSafe is the winner for equipment options.
Further Reading: To learn more about SimpliSafe's equipment, head to our SimpliSafe review, where we discuss each component in detail.
Round 2: Installation
Both companies offer simple, DIY installation, mostly thanks to their wireless — and sometimes wire-free — components. Let's zoom in on both companies and discuss our experiences installing them.
SimpliSafe is one of the best DIY security systems because of its streamlined installation process. The several times we've installed a SimpliSafe system, it took less than 30 minutes to set up the base station, sensors, and cameras. Even the wired SimpliSafe Video Doorbell we reviewed proved easy to set up.
We started by setting up the base station, and then we paired the sensors and other peripherals using the wireless keypad. Next we mounted the sensors and the cameras. To finish, we set up the app for easy control and monitoring.
With Blink, each camera is a stand-alone device, which means we had to set them up one by one. The Blink Mini was the easiest we've installed by far, as you can see in our Blink Mini review. We simply plugged it in and connected it to our Blink app.
The Blink Indoor and Blink Outdoor, on the other hand, required a sync module. Once we got the cameras to pair with the sync module, they connected to our smartphone immediately. The Blink Video Doorbell, which works as a wireless doorbell, didn't require any hardwiring at all.
SimpliSafe provided a smoother setup experience, edging out Blink by a hair. Both are great security systems for renters because of their DIY installation process.
Round 3: Monitoring
SimpliSafe and Blink can both be self-monitored, which means they are contract-free security systems you can use without monthly fees. Both companies offer paid plans, however, in case you want to upgrade your experience.
SimpliSafe's paid plans are either cloud plans, professional monitoring plans, or both.
The cloud recording plan, which is $9.99 per month for five cameras, includes 30 days of cloud storage. You'll still self-monitor the system, but your cameras will also record if they detect movement. For $29.99 per month (for the Interactive plan), you'll get the same cloud storage but for 10 cameras, and you'll also unlock professional monitoring among other upgraded features such as home automation. Right in the middle is the $19.99 Standard plan, which doesn't offer any cloud storage but includes professional monitoring.
| SimpliSafe plans | Camera Plan | Standard Plan | Interactive Plan |
| --- | --- | --- | --- |
| 30-day cloud storage | Up to 5 cameras | No | Up to 10 cameras |
| Professional monitoring | No | Yes | Yes |
| Extras | n/a | n/a | Video verification, home automation, Secret Alarms, etc. |
Blink's paid plans are all for cloud storage. You can either pay $3 per month for each camera or $10 per month for unlimited cameras. Either way, you'll get 60 days of unlimited video history.
What's great about Blink's plans is that you'll get discounts if you pay ahead one year at a time. A year of cloud storage for one camera is only $30, saving you $6; one year of cloud storage for unlimited cameras is $100, saving you $20.
In the end, though, home security is the most important. SimpliSafe's professional monitoring option ensures optimal protection from burglary, intrusion, and other home hazards such as fire and gas leaks. With Blink, you have no option but to self-monitor. Even though having video recordings would help tremendously in case of a break-in, there's little it can do to prevent intrusions in the first place unless you catch the intruder in the act through your Blink cameras.
Round 4: Cost
Price is always one of the determining factors when choosing a home security system, but the cheapest systems don't always come out on top. It's usually about which security systems are affordable, but offer the best features for their price.
With SimpliSafe, you can get started with an equipment package worth about $250, but keep in mind that a system of this price includes the bare minimum components. It has a base station, keypad, motion sensor, and door or window sensor. The good news is you can expand it, and SimpliSafe sensors range in price from $15 to $40 each. It's a different story if you want to add cameras, since the indoor camera costs $99 and the outdoor and doorbell cameras cost $169 each.
From there, you can use the system without monthly fees, but adding professional monitoring and cloud storage requires a monthly fee up to $29.99. In your first year using SimpliSafe, you'll spend about $120 to $340 in monthly fees depending on your monitoring plan.
With Blink, the most affordable camera — the Blink Mini — costs just $35. It's small and affordable, but it's one of the best indoor security cameras. You can place several Blink Minis for indoor coverage without spending more than $200.
For outdoor coverage, go with the $99 Blink Outdoor. You can add a solar mount to it or a floodlight mount for extra features, but it's an effective outdoor camera even on its own. The Blink Video Doorbell costs just $50, so you'll probably spend $300 to $500 if you want full coverage.
The most you'll pay each month is $10, which covers cloud storage for unlimited cameras. You also have the option not to pay a monthly fee, but keep in mind that your Blink cameras will not record without a cloud plan.
Blink is more affordable than SimpliSafe, especially if you compare security cameras from both brands head to head. SimpliSafe indoor cameras cost $99, while Blink's cost $35 to $80. The SimpliSafe Outdoor camera costs $169, while Blink's costs $99. SimpliSafe's video doorbell costs $169, while Blink's video doorbell costs only $50.
Pro Tip: For even more savings, time your purchase to coincide with holidays and sale events such as Prime Day, Black Friday, and year-end holidays. In 2022, for example, shoppers enjoyed discounts of up to 60 percent on both SimpliSafe and Blink equipment.
SimpliSafe, however, offers more options for both equipment and monitoring plans. If Blink's equipment and plan options aren't for you, SimpliSafe is a great and affordable alternative. For SimpliSafe's full pricing, head to our page on SimpliSafe equipment and plan costs.
Round 5: Apps
For the final piece of the puzzle, let's talk about SimpliSafe's and Blink's respective apps. Both systems are app-centric, which means you'll mostly rely on an app to control and monitor your home security.
The SimpliSafe Home Security App is your one-stop shop for all system functions. From there, you can arm or disarm your sensors, receive alerts, sign up for or opt out of professional monitoring, stream camera footage, and play back recordings.
The app is as streamlined as the rest of the system. It has easy-to-access controls, and the system is very responsive to the app's commands. It's not completely bug-free though. There are times, for example, when the indoor camera's privacy shutter stays open after we close it from the app. Generally speaking, however, it's one of the best apps for home security.
Pro Tip: The SimpliSafe app requires an internet connection both on the system's end and on your smartphone's end. If you sign up for a professional monitoring plan (Standard or Interactive), your system will gain cellular backup, allowing it to communicate even if your Wi-Fi is down. That's one of the reasons SimpliSafe is among the best cellular security systems.
Blink, on the other hand, offers an app designed to complement security cameras well. The Blink Home Monitor App does exactly what its name implies: It monitors your home. Upon opening the app, the home page will present to you a quick view of your cameras' video feeds. Tapping any of the previews will take you to the livestream.
You can also play back recorded videos from the app, with time-stamped thumbnails so you can go to the time and date you want to review. You can manage your security camera settings from the Blink Home Monitor app, from selecting arming modes to setting up schedules for automatic arming and disarming of motion detectors.
We've had great experience with both the SimpliSafe Home Security App and the Blink Home Monitor App. The SimpliSafe app has a slight leg up because it supports more features and the experience is smoother than the Blink app. Other users seem to agree, since SimpliSafe's app has a 4.5-star rating on both iOS and Android, while Blink's app has less than four stars on both platforms.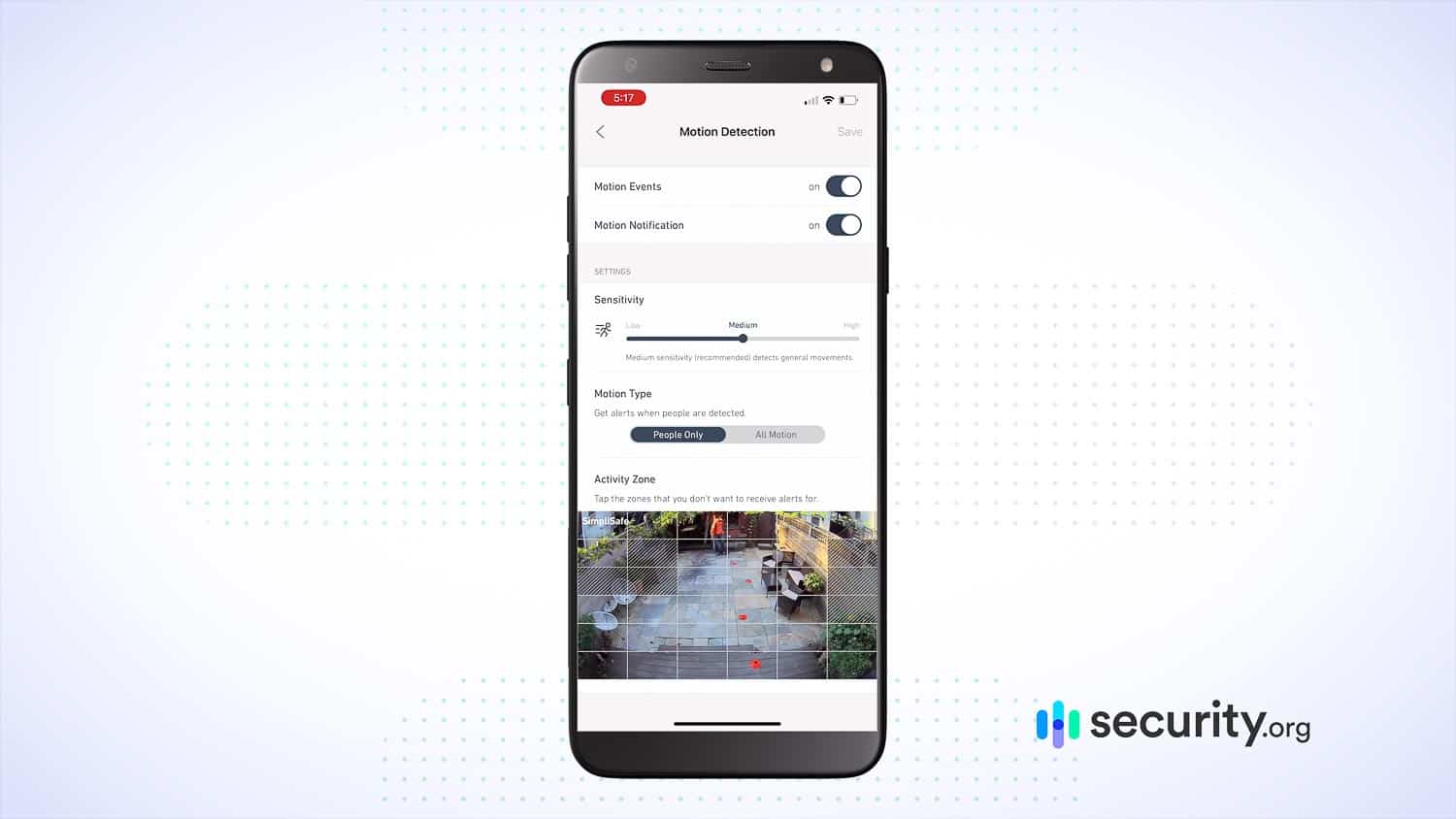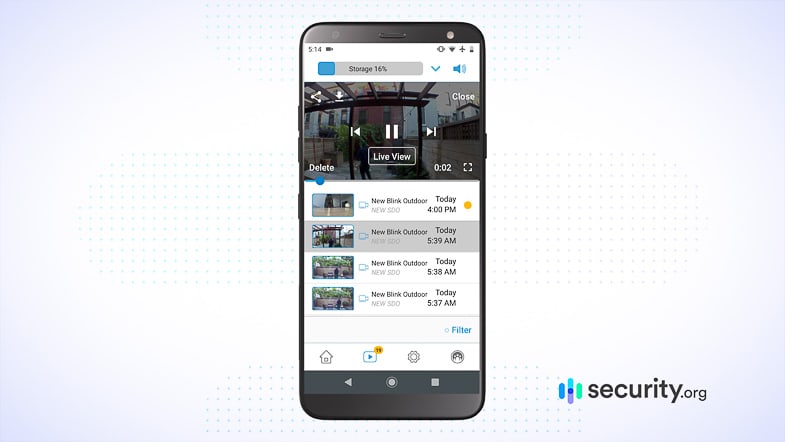 Our Final Verdict
Comparing SimpliSafe and Blink is like comparing apples to oranges. They are two different breeds of home security system. SimpliSafe uses sensors primarily to protect homes, with security cameras playing a supporting role. Blink, on the other hand, uses security cameras as primary protection with no entryway sensors.
We're giving the crown to SimpliSafe because it's simply the more robust system, capable of protecting your home from the inside out. Security cameras prove useful in keeping intruders out or catching them in the act, but proactive monitoring offers the best protection — and that's exactly what you'll get from SimpliSafe.
SimpliSafe and Blink aren't necessarily rivals though. In fact, you can combine both systems. SimpliSafe can monitor your home with security sensors and professional monitoring, while Blink provides security camera coverage. Home security is a puzzle, and sometimes two different systems can create formidable protection for your family and home.
FAQs
To cap off this comparison, let's answer some frequently asked questions about SimpliSafe and Blink.