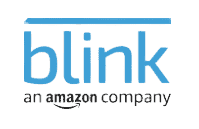 Blink Security Camera System Costs and Pricing
Blink's lineup of security cameras includes the Indoor, Outdoor, and Mini.
No long-term contracts
Impressive two-year battery life
Affordable home security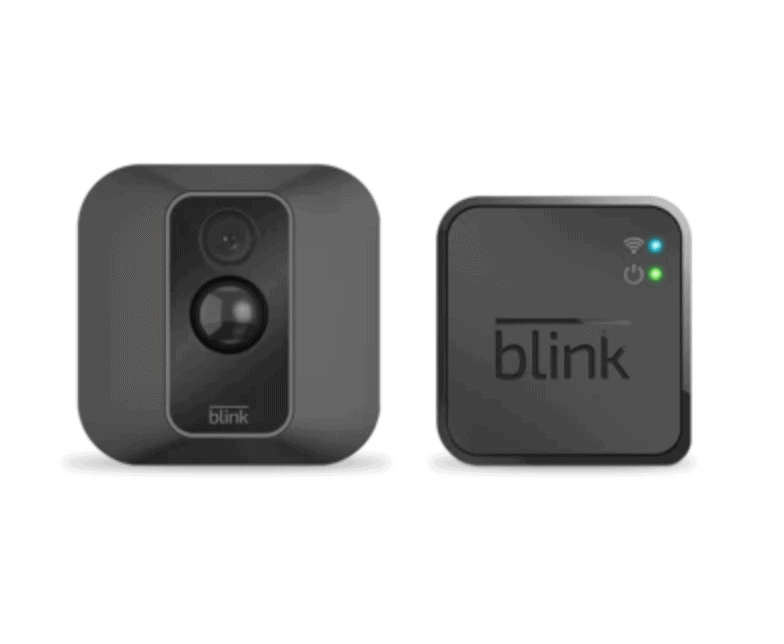 All of our content is written by humans, not robots.
Learn More
By

&

Last Updated
Mar 24, 2023
Recent Update: 4 days ago
The Blink Floodlight Camera is here. Announced in 2022 during Amazon's hardware event, the Blink Floodlight Camera is an affordable outdoor camera with two built-in floodlights that double as motion-activated lights and smart lights. It currently sells for $99.99.
Blink's journey began as a startup security camera company with affordable battery-powered cameras. It has matured as a brand since then and is now a well-rounded security camera option that offers both indoor and outdoor options. It's also under Amazon now, which means you can buy its cameras easily from the retail giant.
In our Blink review, we tested each Blink camera's video, audio, night vision, and other essential features. Here, our goal is to determine if it's worth buying. How do its prices compare to other options on the market? What packages are available? How much is cloud storage? We've got those answers and more.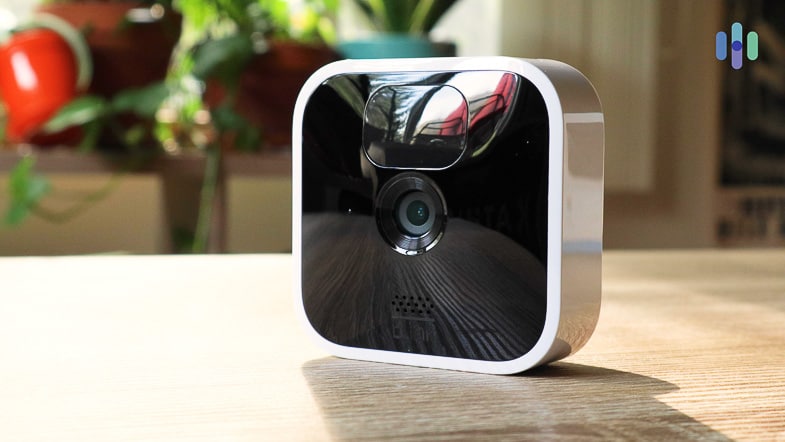 Does Blink Offer Enough Options?
Blink offers several types of cameras, but we've tested other brands that offer a wider variety of options, such as cameras with facial recognition, continuous recording, and built-in smart lighting. Check out how Blink cameras compare to options from top brands in our Blink vs. Ring and Blink vs. Arlo comparison guides. And see our top picks that edge out Blink in various categories: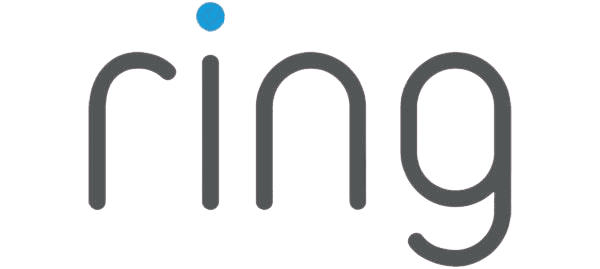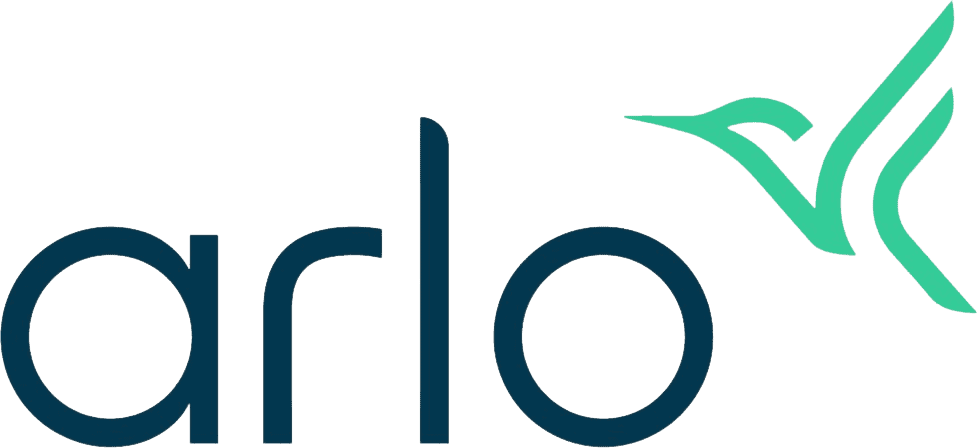 Blink Equipment Pricing and Packages: How It Compares
Blink makes it pretty simple when it comes to its offerings, with three cameras and a few accessories to choose from. Want to learn more about what we thought of each Blink camera? Read our full Blink camera review.
In the meantime, let's break down how much it will cost you for a one-camera Blink system.
| One-camera starter kit | Price |
| --- | --- |
| Blink Indoor | $79.99 |
| Blink Outdoor | $99.99 |
| Blink Mini | $34.99 |
| Blink Wired Floodlight Camera | $99.99 |
One crucial thing to note about Blink is that the Outdoor and Indoor cameras both require Sync Modules to work. Now, Blink offers the Sync Module 2, a nice improvement over the brand's original Sync Module.
The Sync Module 2 is a simple hub that connects the cameras to the app, allows them to access cloud storage, and includes a USB hard drive for local video storage. It's worth noting that we could add up to five Blink cameras per Sync Module 2, so we didn't need to buy a new one every time we scaled our system.
Although we prefer cameras that don't require hubs, like the Wyze Cam (read our Wyze camera review here), we appreciate that Blink offers discounted prices for multiple cameras. Plus, requiring a hub isn't uncommon; packages from Arlo and packages from eufy also include these devices, so although connecting to a hub can be a disadvantage, we still think Blink is worth its relatively low prices.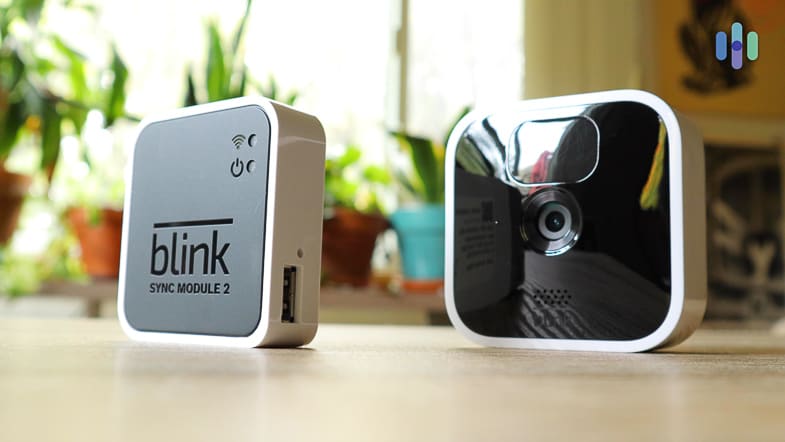 In particular, the Blink Mini is one of the most affordable cameras in the industry at less than $35. It doesn't require a Sync Module, so all we had to do with the Blink Mini camera was plug it in and set it up to connect to our home Wi-Fi network. We also had the option to set up the Mini with our Sync Module 2, which would have granted us the same access to local and cloud storage as the Blink Indoor and Blink Outdoor.
At only $34.99, the Mini makes more sense than the Blink Indoor camera, which costs $79.99. Note that the Blink Indoor is still cheaper than most indoor cameras, which cost around $100. With the Indoor camera, you can either buy the one-camera package with a Sync Module 2 for $79.99, or buy the camera individually for $69.99.
The Blink Outdoor is also really affordable compared to other outdoor cameras, at $99.99. The Nest Cam Outdoor, for example, costs $199, although it has more advanced features like person detection. However, for those looking for basic smart security cameras, Blink's pricing is more than fair.
Perhaps the best-valued product on Blink's lineup is the $99.99 Wired Floodlight Camera. It's an outdoor camera equipped with two bright LED floodlights, much like the Ring Floodlight Cam. Unlike the Ring version that costs over $200, however, the Blink floodlight camera costs only about $100. That's a huge difference in price!
Blink also offers multi-camera kits containing up to five cameras. Here's more detail on Blink's kits:
| | Add-On Camera Price | 1 Camera Kit Price | 2 Camera Kit Price | 3 Camera Kit Price | 5 Camera Kit Price |
| --- | --- | --- | --- | --- | --- |
| Blink Indoor | $69.99 | $79.99 | $139.99 | $189.99 | $279.99 |
| Blink Outdoor | $89.99 | $99.99 | $179.99 | $249.99 | $329.99 |
| Blink Mini | $34.99 | $34.99 | $64.99 (without cloud/local storage) | n/a | n/a |
When you choose Blink for your security cameras, you'll save a ton of money compared to other top brands. See price information on Amazon.
Blink Pricing: Monitoring and Storage
With the Blink Wired Floodlight Camera, Outdoor, Indoor, and Mini, we chose from one of two subscription plans: the Basic plan for $3 per month, or the Plus plan for $10 per month.
Both offer 60 days of cloud storage, which is quite generous in our view. That 60-day cloud storage means the cameras will record every motion event and keep the clips in the cloud for 60 days. During that time, you can download or share important clips.
Technically, we could have skipped the subscription option and paid nothing after the initial equipment costs. By not signing up for a subscription, we still got motion alerts and access to live footage. But we wouldn't have been able to store, share, or download video.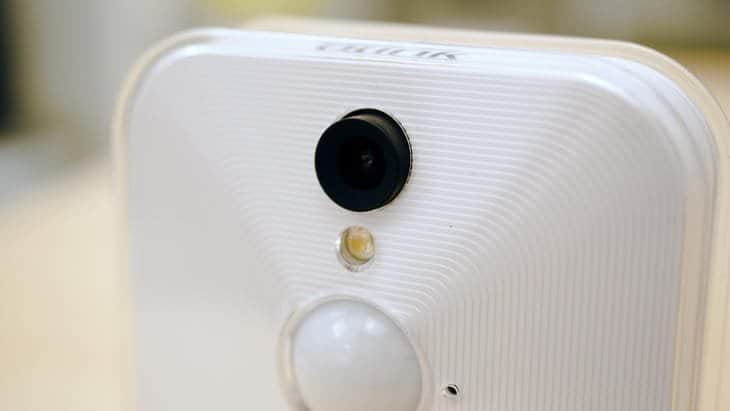 Alternatively, we had the option of inserting a USB flash drive into the Blink Sync Module 2 and storing our video footage locally. But we like that Blink still keeps cloud video storage costs low. Blink's Basic plan costs the same per month as the Ring Protect Basic plan for Ring cameras.
As Amazon owns both companies, we doubt this is a coincidence. Add more cameras, and the cost goes up to $10 a month, again, the exact same prices as Ring.
| Package Features | Basic | Plus |
| --- | --- | --- |
| No. of devices supported | 1 | Unlimited |
| Motion-activated notifications | Yes | Yes |
| Live streaming | Yes | Yes |
| 60-day video history | Yes | Yes |
| Video sharing | Yes | Yes |
| 10% discount on Blink products | No | Yes |
| Warranty coverage | 1 year | As long as subscription is active |
| Monthly price | $3 | $10 |
While we wish Blink gave us at least some free cloud storage without a subscription, with Blink, local video storage is still an affordable and convenient option. Plus, users can get a 30-day free trial of the Blink Plus subscription with the purchase of a Blink Mini, Blink Outdoor, or Blink Indoor camera.
Accessories
In addition to its three cameras, Blink also offers mounting brackets, silicone skins, and USB flash drives as separate accessories. Take a look at our Blink accessories breakdown:
| Product | Price |
| --- | --- |
| Blink Sync Module 2 add-on | $34.99 |
| Blink USB flash drive | $14.99 |
| Blink Outdoor camera protective cover and mounting bracket | $19.99 |
| Blink Indoor/Outdoor mount (pack of 3) | $18.99 |
| Blink yard sign and 2 window decals | $30 |
| Blink window decals (pack of 3) | $8.99 |
| Blink silicone camera skin for Indoor and Outdoor cameras – Black | $9.99 |
| Blink silicone camera skin for Indoor and Outdoor cameras – White | $9.99 |
THE MORE YOU KNOW: Security signs can deter burglars from choosing a house to rob, along with the proximity to other people and dogs.1 In other words, they're an affordable way to up your home's security in a flash.
Blink's Best Features
We think that Blink cameras are worth their prices, and here's why:
1080p HD video quality: All three Blink cameras record video in 1080p.
Two-way audio: The Blink Mini, Blink Indoor, and Blink Outdoor cameras have two-way audio, letting us speak to whomever we were looking at, which could have come in handy during an intrusion.
Infrared night vision: Blink cameras come equipped with infrared LED sensors, which let us see clearly in black-and-white at night.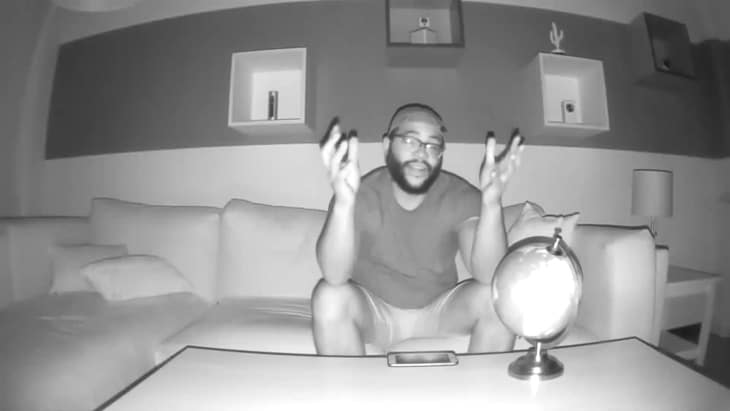 Alexa integrations: All of the cameras work with Alexa, which lets us control them with our voices.
Long battery life: The wireless, battery-powered Blink Indoor and Blink Outdoor cameras have two-year battery lives, which is the longest we've seen from wireless home security cameras.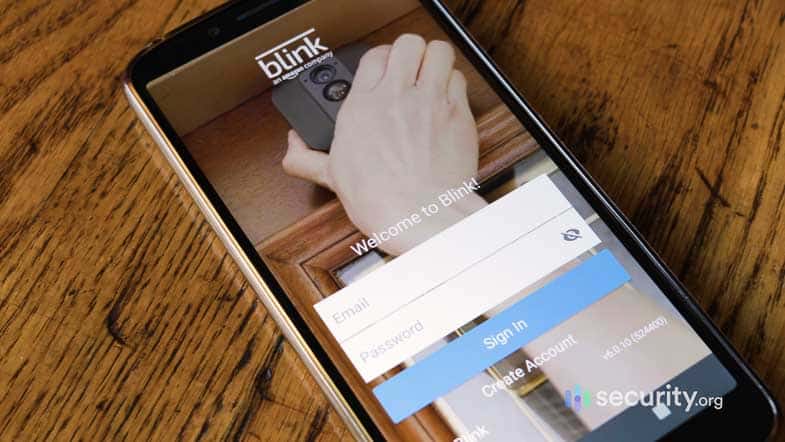 Free app: We used the Blink Home Monitor app with all of our Blink cameras to live-stream footage and receive motion detection alerts, all without paying monthly fees.
Tip: The Blink Mini is the only camera in Blink's trio that requires a power cord. Be sure to consider proximity to power outlets when you're deciding where to install the Blink Mini.
Alexa, IFTTT, and Blink
Since Amazon owns Blink, the fact that all of Blink's cameras work with Alexa makes perfect sense. We downloaded the Blink SmartHome skill on our Echo Show 8 because sometimes our smartphones are just too far away. Using our voices alone, we could have Alexa show our cameras' footage on different Echo devices and hide it when we were done.
We could also tell Alexa to show us the cameras' last activities, arm or disarm the camera system (the latter of which requires a PIN for security), and tell us when the latest motion alert was, the number of motion clips, our arming/ disarming schedule, or our current system status. Alexa even told us when the batteries were getting low and helped us to reorder new ones so that we never missed a day without our Blink cameras. That's where that whole "being owned by Amazon" thing really comes in handy!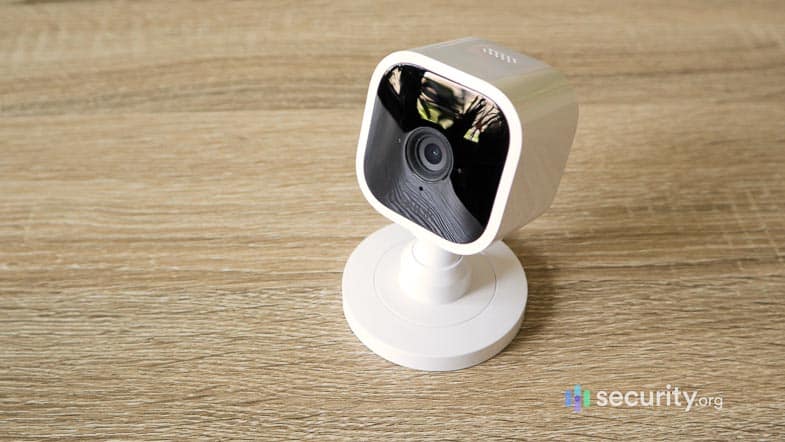 On top of that, we set our Blink cameras so that our Echo devices, including our Echo Dot with Clock and Echo Flex smart speakers, told us whenever our cameras detected motion. For us, this meant that even if we left our phones downstairs overnight, our alarm clock would let us know if our downstairs cameras detected motion while we were sleeping. This capability gave us the added assurance that if someone broke into our home, we'd know as soon as possible.
Taking it a step further, since we have smart lights downstairs, we set up a routine that had our lamps turn on as soon as the Blink cameras detected motion, making the would-be burglar very conspicuous.
All three Blink cameras work with IFTTT,2 which means that they could trigger or be triggered by a whole slew of Internet of Things devices. The IFTTT compatibility expanded our voice commands to even our Google Home Hub, so although there isn't a direct Google action for Blink, the cameras can still work within a Google smart home ecosystem.
Recap
All in all, Blink provides decent home security at affordable prices. Blink's Indoor, Outdoor, and Mini cameras are all reasonably priced and perfect for folks on a budget. Without a subscription, users can still access live video and turn on motion alerts from the Blink Home Monitor app. With monthly cloud storage fees as low as $3, Blink's subscriptions are inexpensive compared to rivals in the industry.
However, if Blink doesn't seem right for you, we recommend checking out our list of the most affordable security cameras, which includes Blink, among other fantastic options.