Canary Pro Camera Review
This is the only camera we've ever tested with climate monitoring built-in.
What We Like
Features: Includes features like 1080p HD video display, two-way audio, and person detection.
Setup: The Canary Pro is convenient to set up.
Cost: Good value, especially with a monthly membership.
What We Don't Like
Storage: Only one day of free cloud storage and no local storage included.
Reviews: The Canary Pro has poor app reviews.
Fees: Two-way audio only available for a monthly fee.
Bottom Line
Formerly called the Canary All-In-One, the Canary Pro is an indoor camera with 1080p HD video, a wide, 147-degree field of view, plus amazing infrared night vision from 12 LED lights. Plus, it's one of the only cameras we've tested with climate monitoring built-in, so no more depending on that inaccurate iPhone weather app.
We always say that security cameras are our eyes and ears when we're away from home, but the Canary Pro (formerly called Canary All-In-One) takes things a bit further. Equipped with climate sensors, the Canary Pro security camera can detect temperature, humidity, and air quality. It can even alert you when things start to get out of hand so you can adjust the temperature, turn your humidifier on or off, or change filters if necessary.
The Canary Pro is clearly more than just a security camera. So today, we'll take you on a tour around its video, audio, night vision quality, smart features, integrations, and artificial intelligence, as well as its value, convenience, and app. Let's get started.
Canary was founded in 2012 in New York City by experts in robotics, security, design, and software. They wanted to make a camera at the top of its class in terms of both technology and user experience. Previously, we've talked about the Canary Flex, their indoor/ outdoor camera, but today, we're going to talk about the Canary Pro, previously called the Canary All-In-One, which is an indoor camera with environmental monitoring. Yes, you read that right. We'll talk about the camera's video, audio, and night vision quality, its smart platform integrations, and artificial intelligence features, as well as its value, convenience, and mobile app. Let's get started with this Canary camera review!
Canary Pro features
| | |
| --- | --- |
| Resolution | 1080p HD |
| Field of view | 147 degrees |
| Zoom | 3x digital zoom |
| Night vision | Infrared night vision |
| Free cloud storage | 1 day video history |
Video Review
Promised Features
While I'm impressed with the camera's promise of 1080p HD video, the industry standard, what really gets me is the built-in climate monitoring. This is the first camera I've seen that has any environmental capabilities, so I'm pretty excited about that. I'm also not mad about the 90-decibel siren, desktop streaming, 30 days of cloud storage, and two-way audio- but we'll see how these all work in practice.
First Impressions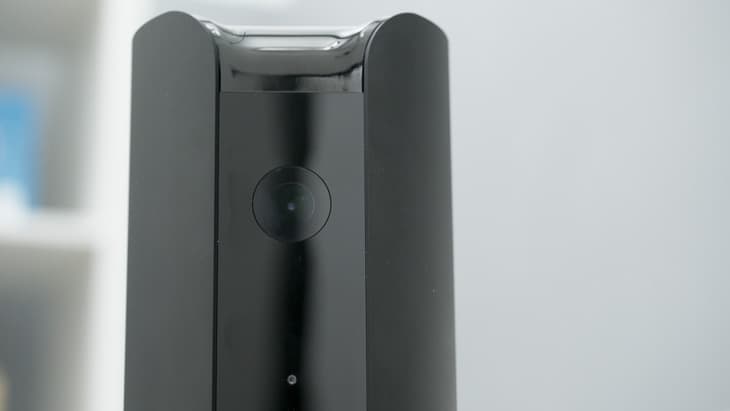 My first thought in looking at the camera is the movie 2001: A Space Odyssey. The Canary Pro definitely doesn't look like your typical camera, making it a bit clandestine. I love the black matte combined with the glossy finish of the base, lens, and camera. I can also see an indicator light and microphone, speakers, and an LED light, cables for ethernet, micro-USB, and audio, along with vents at the top for measuring the home environment. Very cool so far, but let's see if these features are up to snuff.
Necessary Features
You know I'm not just going to trust what Canary's website says about the All-In-One! Like every other camera, I'm going to put it through the necessary features test, starting…now!
Video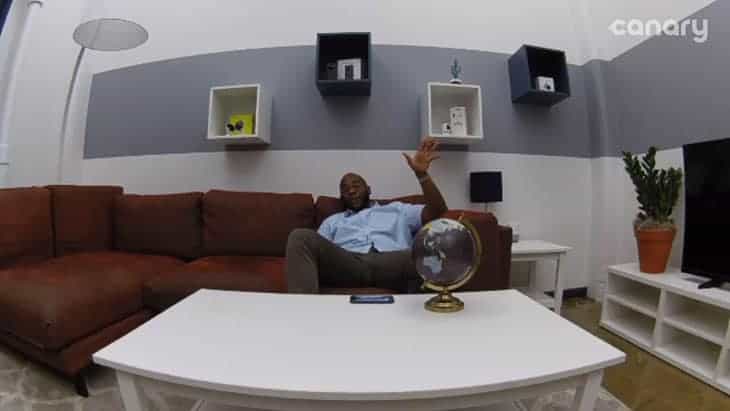 With a 1080p HD resolution, 147-degree field of view, and three times digital zoom, the Canary Pro was ahead of its time when it first launched in 2015 under the name Canary All-In-One. These days, though, those specs are now typical of home security cameras. Still, across the board, the video quality matches the industry standards. It's nothing to write home about, but it's still quite impressive.
Night Vision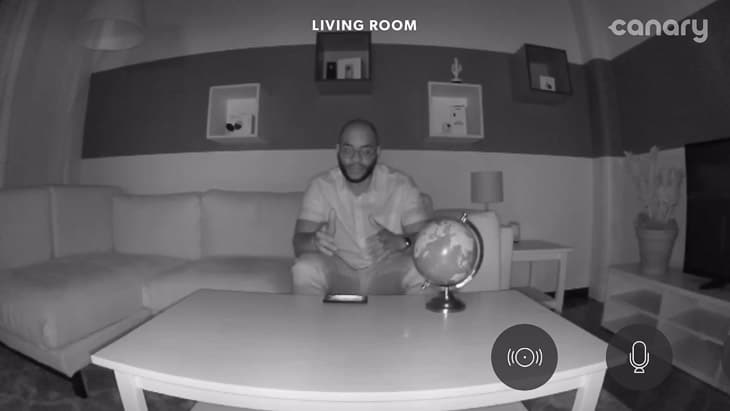 I was impressed with the night vision, which is no surprise considering the camera has 12 infrared LED lights! I much prefer LED lights to bright white lights for my night vision because the person being recorded will be completely unaware of the camera. LED lights are not visible at night, unlike bright white lights which make it very clear that you are being recorded. I'll take the inconspicuous option for my security camera's night vision, thank you very much.
Audio Quality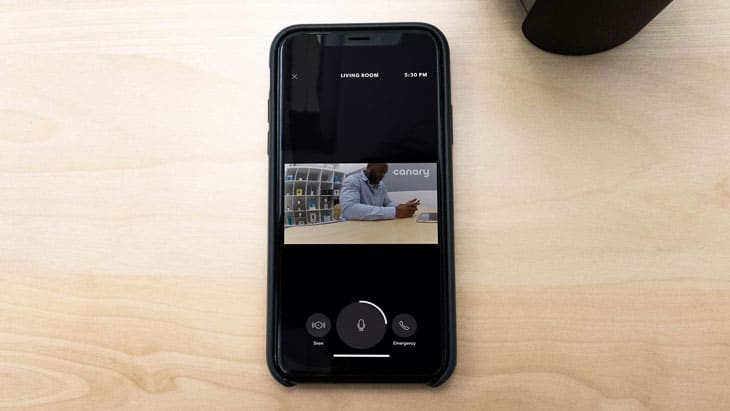 The good news? The Canary Pro offers two-way audio. The bad news? Note how I used the word "offers". The camera is capable of two-way audio, but the feature isn't included for free. You'll need a monthly subscription package for $9.99 per month to use two-way audio and other features such as cloud recording. I'll discuss the subscription package (Membership) more below, but for now, I'll be generous and give the Canary Pro a thumbs up for audio.
Storage
Frankly, the Canary Pro isn't much without a subscription. The Membership offers 30 days of cloud storage for motion-triggered recordings, but it's optional so you can opt not to get it. Without it, however, the Canary Pro only records Video Previews that are essentially 10-second clips of motion events. What's more, you only have 24 hours to view the Video Previews before they're permanently removed from the cloud.
The Canary Pro also lacks local storage. There is no microSD card slot, and it doesn't connect to any DVR or NVR systems. Because of that, we highly suggest buying the camera only if you're willing to pay the $9.99 per month Canary subscription or if you can make the short Video Previews work.
Smart Platform Integration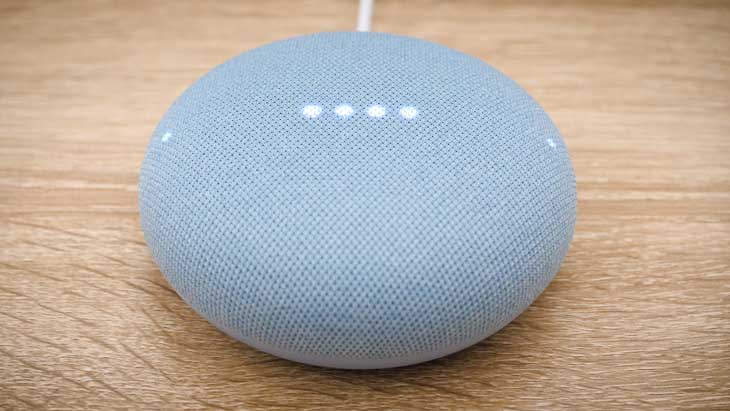 I'm pleased to say that the Canary Pro integrates with both Amazon Alexa and Google Assistant. That means that you can tell Alexa to start recording, watch your footage through Chromecast, and a lot more awesome features.
Artificial Intelligence

Currently, the only artificial intelligence that the All-In-One has is person detection, meaning it can differentiate between people and other moving objects. This feature is included with all of Canary's cameras.
Convenience
As Canary is one of the more modern camera companies around, it's no surprise that the setup was so easy. Since I already had the Canary app downloaded from my Canary Flex review, all I had to do was follow the app's step-by-step instructions to get the All-In-One up and running. The entire process, from taking the camera out of the box to viewing a livestream, only took about 15 minutes.
Value
I think the camera is definitely worth its price, although it becomes a lot more valuable with the monthly subscription. I know, I know- I've been referencing this mysterious "monthly subscription" throughout this entire review, so next, I'm going to talk about what it entails.
Extras
A monthly membership with Canary will cost you either $9.99 a month or $99.99 for the first device. Each additional camera will cost you $2.99 per month or $29.99 per year. With the membership, you'll receive:
Livestreaming
Full-length videos as opposed to video clips
30 days of cloud storage
Safety button that will let you contact the police from your Canary app
Unlimited video downloads
Two-way audio
Desktop streaming
Advanced detection, which means automatic arming/ disarming your camera, smart notifications, and privacy mode
Activity zone masking, which means that you can select activity for the camera to record so you receive fewer notifications
An extended warranty of two years, an extra year over free access
Incident support services, meaning that you'll have a team of people to help you if you have a security issue
To me, the most important of these features are the cloud storage, two-way audio, person detection, and the safety button. At these prices, I think the paid membership is definitely worth your while.
I also want to talk a little about the camera's Home Health Technology. Remember those vents at the top of the camera?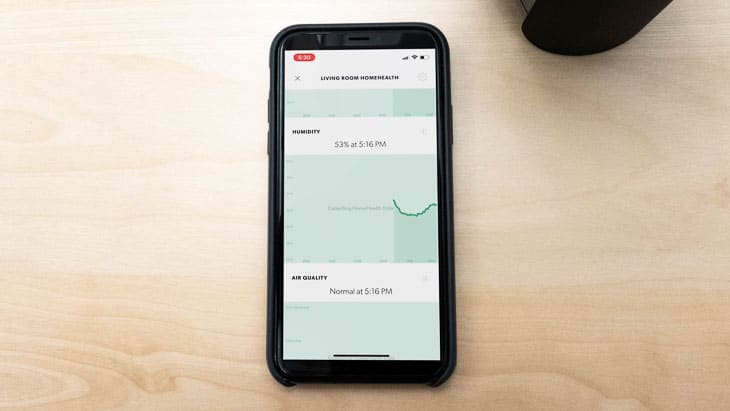 They can detect your air's quality, humidity, and temperature, all visible through the Canary app. Pretty cool, right? That brings me to my next point…
Mobile Application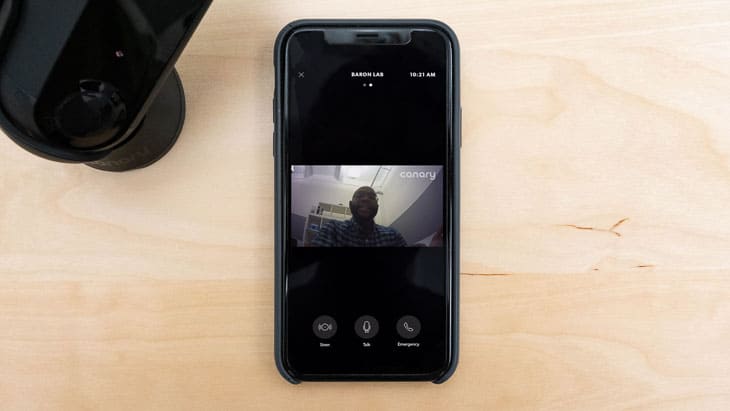 Unlike other camera apps, I found the Canary app to be pretty user-friendly and not at all overwhelming. Through the Canary app, I can livestream footage, review my history, and receive notifications about my home. If I buy the membership, I can set up geofencing so my camera arms or disarms depending on my location. I can also turn on privacy mode, which turns my camera and mic completely off, or I can contact law enforcement using the safety button. Finally, I can use the app to monitor my indoor air quality, temperature, and humidity. Pretty smart for a camera.
Comparisons
You've learned a lot about the Canary All-In-One, some of it good, some of it not-so-good, but let's talk about how it compares to its competitors – the Nest Cam IQ Indoor Camera and the Amazon Cloud Cam.
Nest Cam IQ Indoor Camera
Who could forget the Nest Cam IQ Indoor Camera? It has pretty similar strengths and weaknesses as the Canary Pro, so the difference is going to come down to the details. For video, it's hard to call —  both cameras have 1080p HD, and while the Nest Cam IQ can zoom nine more times than the All-In-One, it's field of view is 17 degrees less at 130. The Nest Cam IQ wins for audio, as two-way audio is included with the camera. Shockingly, the Nest Cam IQ also has more infrared LED lights than the All-In-One at a whopping 16, so it wins for night vision as well.
Both cameras don't have local storage, but the Nest Cam IQ wins the cloud storage battle because subscriptions are cheaper. A Nest Aware subscription costs $6 per month for all your cameras, whereas Canary's $9.99 monthly price only covers one camera.
Both cameras have awesome integrations with Amazon Alexa and Google Assistant, no surprise as Google owns Nest. The Nest Cam IQ wins by a hair over the Canary Pro, however, for its integration with Philips-Hue lightbulbs. Like the Canary Pro, the Nest includes person detection with its camera, but it takes it a step further offering "familiar face alerts" with its monthly subscription. Of course, the Canary Pro has climate monitoring, which Nest doesn't offer.
These are both great cameras and very convenient to set up, so the choice will really hinge on your personal preferences. To learn more, read our full review of the Nest Cam IQ.
Amazon Cloud Cam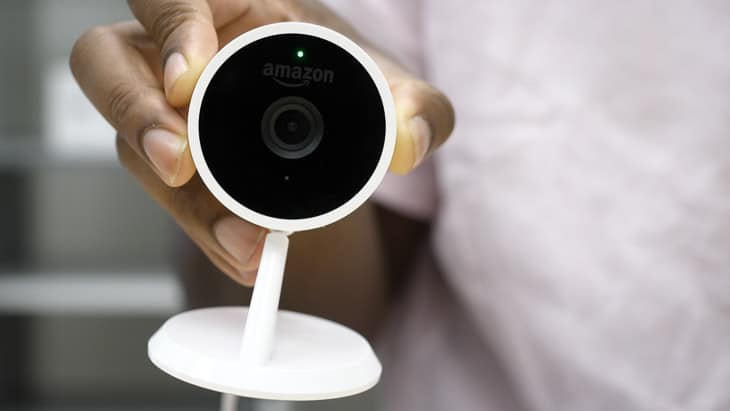 Update: The Amazon Cloud Cam has been discontinued.
Finally, we'll talk about the Amazon Cloud Cam, Amazon's iteration of the indoor camera. It's no surprise that it has a 1080p HD video display, and it goes above and beyond with the ability to zoom in eight times. The field of view is a bit narrow, however, at 120 degrees.
The Canary Pro has superior night vision, with 12 infrared LED sensors as opposed to the Cloud Cam's eight. However, the Amazon Cloud Cam wipes the floor when it comes to audio, with two-way audio included. Unfortunately, neither camera includes local storage, and both only offer 24 hours of free cloud storage. However, the Canary wins because of its low prices- only $9.99 for a month of cloud storage, compared to $20/month with the Cloud Cam. Also, while the Canary All-In-One comes with person detection, you'll have to buy a membership to get it on the Cloud Cam. In terms of smart platform integration, the Canary is my pick, as the Amazon Cloud Cam only integrates with the Amazon ecosystem.
Overall, I'd say the Canary All-In-One is a better value than the Amazon Cloud Cam, mainly due to its superior audio, night vision, storage options, and smart platform integrations.
Still haven't found your perfect match? Read our review of the best home security cameras.
Recap
Clearly, the Canary All-In-One is a top of the line camera, with:
1080p HD video display
A field of zoom of three times
A field of view at 147 degrees
Stellar night vision with 12 LED lights
Two-way audio available
Integrations with Amazon Alexa and Google Assistant
Person detection
Convenient to set up
Good value, especially with a monthly membership
HomeHealth Technology
However, nothing's perfect, and the Canary All-In-One is no exception. Its flaws include:
Only one day of free cloud storage and no local storage included
Poor app reviews
Two-way audio only available for a monthly fee
Got more to say about the Canary All-In-One? Contact us and we'll get back to you.
Canary FAQs
Is Canary a good security system?

Canary only makes security cameras, so you'll probably need to buy motion, entry and glass break sensors elsewhere for full security coverage.

Can Canary record continuously?

The Canary cameras don't record continuously. Rather, they only record when they detect motion or other activity.

How much is a Canary subscription?

A monthly membership with Canary will cost you either $9.99 a month or $99.99 a year for the first camera, and $2.99 per month or $29.99 per year for each additional camera.