Ring Indoor Camera (2nd Gen) Review 2023
Ring's most affordable camera offers Alexa and Google Assistant integrations with optional person detection and up to 180 days of video storage.
What We Like
1080p HD video with color night vision: Not shockingly, like the Ring Doorbell Camera, the Ring Indoor Camera shoots high-quality video that's clear even in low-light conditions.
Affordable price: At only $60, the Ring Indoor Cam is a much lower-priced security option than the majority of its competitors.
Alexa and Google Assistant integrations: Again, this doesn't come as a shock as Amazon owns Ring, but I'm glad that the camera also works with Google Assistant.
What We Don't Like
No person detection without a video storage plan: Unfortunately, if you don't subscribe to Ring Protect, the Ring Indoor Cam can't tell a person apart from any other moving objects (like pets), so you may receive some unnecessary notifications.
No free cloud storage: Although Ring has affordable cloud storage, I wish it had a free option. More on this below.
Narrow field of view: At 115 degrees (horizontal), the Ring Indoor Cam's field of view is slightly narrower than I wanted.
Bottom Line
Ring's most affordable camera is the Ring Indoor Cam, available for only $59.99 with no mandatory monthly fees. We loved using the Ring— Always Home app to check in on our living room from anywhere with Internet!
Ring is a well-established home security camera brand with a wide range of quality home security products, including some pricier, flashier cameras like the Ring Stick Up Cam. The no-frills Indoor Cam is one of Ring's more popular models, not because it's bursting with special features or power, but because it's easy to use and gets the job done at a price point that's hard to beat — $60 plus shipping.
I'm no stranger to Ring cameras. I've been reporting on the Ring Indoor Camera since it dropped back in 2019. This time around I installed and tested a brand new 2nd Gen Ring Indoor Cam, running it through the proverbial gauntlet for a few weeks at home.
It was good timing, too. The new Ring Cam sports a handful of video and audio upgrades I'd been looking forward to for a while. Color night vision and enhanced audio were the biggies. That's what the folks at Ring was claiming, at any rate. It was time to find out if the experience lived up to the hype.
Editor's Rating
Most affordable Ring camera
Motion zones for smarter notifications
Integrates with Alexa and Google Assistant
Is A Simple Indoor Camera Good Enough?
It seems out of character for Ring, a top security camera brand, to offer an indoor camera as simple as the Ring Indoor Cam. That said, even the other top security camera brands we've tested (listed below) offer simplistic indoor cameras. Lorex has dozens of plug-in type indoor cameras, Arlo has the Essential Indoor, and Blink has the Blink Mini, for example. So yes, a simple indoor camera can be good enough for home security.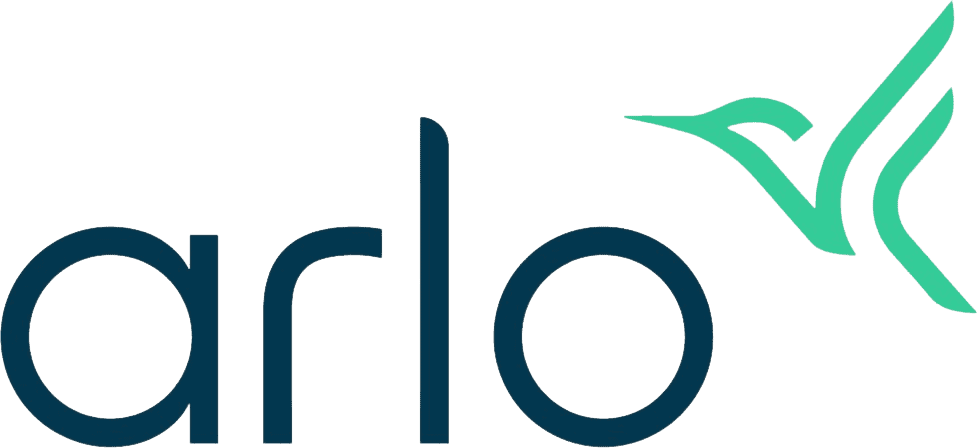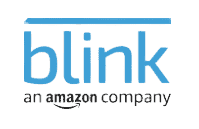 First Impressions
Honestly, when the UPS man dropped off my 2nd-gen Ring Indoor Cam, it reminded me a lot of the Ring Stick Up Cam: a white cylinder attached to a base. FYI, if this is your first Ring, the Ring Indoor is tiny (2 inches wide by just under 4 inches tall), which is a plus in my book. This camera doesn't take up a lot of shelf or counter space and it's inconspicuous.
Like the Stick Up Cam, the Ring Indoor Cam is a plug-in model, meaning I didn't have to worry about any tricky installations or expensive and frequent battery replacements. On the other hand, I did have one more wire to look at in my living room. Unlike the first-gen Ring Cam, the newer model came with a "privacy cover." You twist the cover to the side to block the camera and mic. Pretty neat, but honestly not a feature I saw myself getting a ton of mileage out of.
More practically, the 2nd-gen Ring Cam boasted color night vision with improved overall video clarity. In my experience, color night vision can make a substantial difference in low-light situations when you're struggling to get clear views of people on your property, so I was really looking forward to seeing if the new Ring Indoor actually delivered here.
Aside from that, the design of the Ring Indoor Cam is fairly straight-forward, with no fancy extras like a spotlight or siren, which may explain its lower price tag.
Key Features
The best security cameras don't have to do everything under the sun, but to earn high marks around here, they've got to cover the basics and get them right. Personally, I've tested dozens of quality home security cameras, so I have pretty high standards. Given my past experiences with Ring cameras, my expectations for the new Ring Indoor Cam were particularly high. So how did the 2nd-gen Ring Cam perform? Here's a roundup of my results.
Video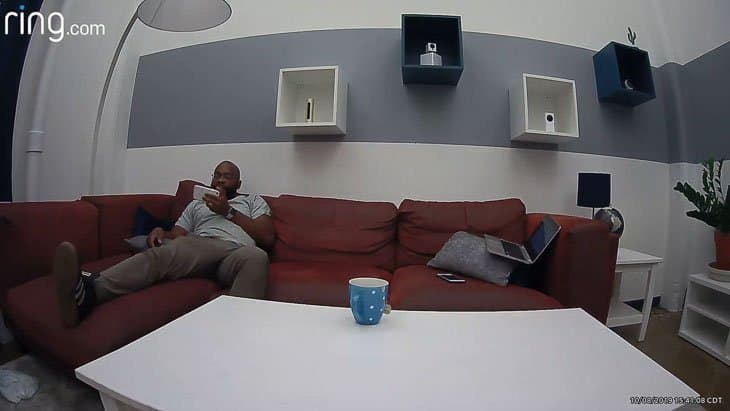 The Ring is a handy indoor camera that shoots good, but not earth-shattering 1080 HD video. It doesn't have the 4K processing power of the more expensive (and stylish) Google Nest Cam, for instance, or the monster Lorex 4K Spotlight. I was happy to see that the 2nd-gen Ring Cam's slightly higher frame rate (24 fps) did help a bit with the performance issues plenty of users were reporting with the lag-prone 20-fps 1st-gen Ring.
On the other hand, I wasn't over the moon with the Ring's field of view. At 115 degrees (horizontal), the FOV was a bit narrow and fisheyed. Despite this, I'm still giving the Ring Indoor Cam full marks for video because overall quality is quite good and it's packed into a $60 lens.
Night Vision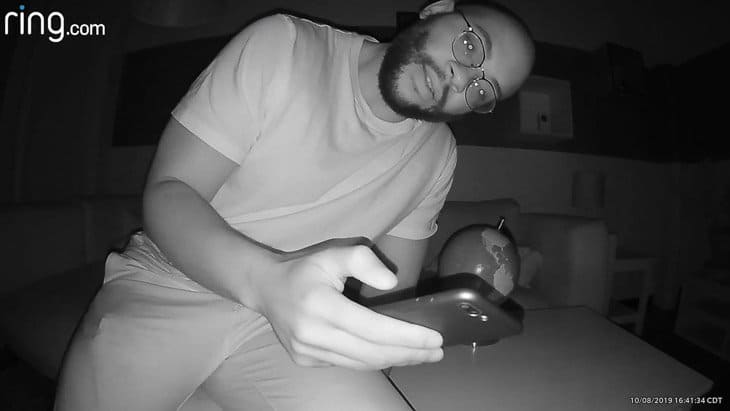 If you're familiar with the old Ring Indoor, you already know that the Ring's 1080p video camera doesn't shoot IMAX-quality interiors at night. But I think most Ring users will appreciate the 2nd-gen Ring's new color night vision mode. While picture quality isn't head-and-shoulders better than the 1st-gen Ring's black-and-white video, images are more vibrant and the Ring performs surprisingly well in the near dark.
Audio Quality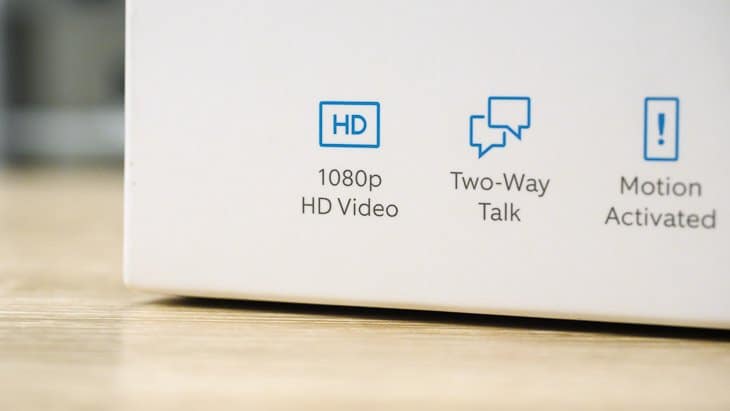 Audio is one area where the new Ring got it absolutely right. Sound quality is simply a lot better on the 2nd-gen than on its predecessor. If you've never test-driven the 1st-gen Ring Indoor, the audio tends to sound like teachers in a Charlie Brown Holiday Special.
Granted, this isn't your front porch, where decent audio is a must. Still, you never know how you'll end up using your camera's mic — to say hello to the family pet from work or to help the kids out with homework  —  so audio is a factor to consider on the day-to-day.
Storage
Ring's video storage plans haven't changed much since I tested my first Ring Indoor Camera in 2019. Without a paid plan, I had my live video feed, motion notifications, and two-way audio, but that's about it. That meant zero storage — not even for a few hours. For comparison, Google gives you 3 hours of footage for free with the Nest Cam.
To be clear, I'm not saying you need oodles of storage. Plenty of folks don't. But if you do want to review your Ring footage, even an hour later, it will cost you.
Disappointingly, my new Ring also hobbled person detection, which meant my Indoor Cam was detecting blanket motion but wouldn't send me a specific alert when it spotted a person in my home. For all the bells and whistles — and Ring offers a bunch of them, including cellular backup — you'll need a Ring Protect plan.
On the plus side, Ring Protect plans start cheapish at $3.99 per month per camera with video storage for up to 180 days. Compare that to Wyze's plans, which start at $3.33 and only give you 14 days of storage. For my experience testing the latest Wyze Cam v3, another workhorse budget security camera, read my complete WyzeCam review.
FYI: Don't confuse Ring's video storage plans with the monitoring plans that come with quality home security systems. They aren't the same thing. Storage plans are just like Google Drive or Dropbox. You park your video footage there temporarily in case you need it. Home security systems with professional monitoring connect you to emergency response teams in the event of a security episode on your property.
Smart Platform Integration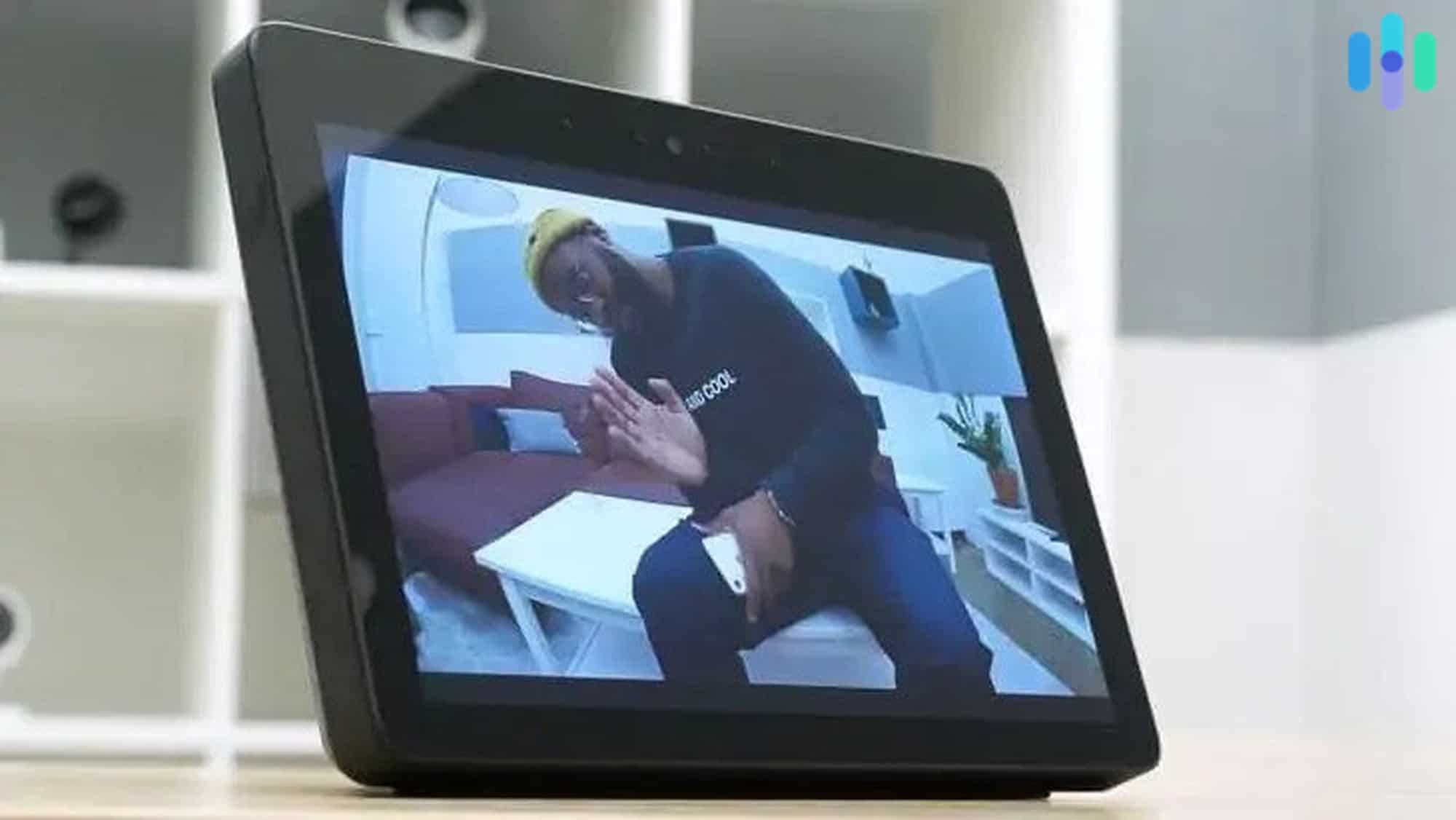 Amazon owns Ring, so naturally the Ring Indoor Cam works with Alexa. For Alexa users, that means you can set routines easily via voice commands, which is neat. Alexa will also tell you whenever your camera detects motion. If you've got an Amazon Echo Show, she'll even show you live video.
Personally, we're a Google household. If you are too, don't worry. The Ring also works with Google Assistant via the Google Home App.
For Apple families, I'm sorry to say that after nearly four years of testing Ring cameras, I still haven't found any way to make the Ring work natively with HomeKit. You'll need a bridge for that. For now at least. As Matter-enabled smart devices (and firmware fixes) hit the market over the next few years, my home security spidey sense tells me bridgeless Ring-Apple connections will be happening.
Did You Know? Matter (capital M) is a new, open-source language all our devices will be using to communicate with each other and with our smart home platforms before too long. The name of the game is "interoperability." In the future, in other words, you'll be able to use your Samsung phone to control your Ring camera while it's connected to your Apple HomeKit.
Artificial Intelligence

Some top-rated indoor cameras with artificial intelligence can tell you exactly when your camera detects a person, as opposed to less relevant moving objects such as cars, pets, or leaves falling from a tree. The Canary Pro is one of the best I've reviewed. The Arlo Pro 3 is another. Tweak any of these cameras properly and you'll only receive relevant notifications, which is good. If you're like me, you probably don't need to be alerted every time your cat saunters across the living room.
While the Ring Indoor Cam does have a person-detection feature, it's only available with a Ring Protect Plan (see above). Considering that, I'm going to have to give the Ring Indoor a B- for AI. If you're a Ring household and want the full AI experience, consider the pricier Ring Stick Up. For a side-by-side Ring Stick Up, Ring Indoor comparison, read on.
Convenience
Setting up the Ring Indoor Cam took me no more than five minutes tops. I plugged my camera in, added it to devices on my Ring app, and I was good to go. In terms of placement, the sky's the limit as long as you've got an electrical outlet nearby. If you choose to mount your Ring on the wall or ceiling, you'll need to use the mounting plate. Overall, the Ring Indoor Cam is one of the easiest installs going, so full marks here.
Value for Money
The new Ring Indoor Camera isn't a new dawn in image quality. But for a bargain $60, the 2nd-gen Ring offers excellent video, audio, and night vision, plus full integration with Alexa. If you're already in the Ring ecosystem, this camera will also integrate seamlessly with your smart home.
Like the 1st-gen Ring, the latest Ring Indoor isn't going to win any beauty pageants either, but it's cute and durable. My original Indoor Cams are still going strong nearly four years later.
Pro Tip: The Blink Mini is about half the size of the pretty puny Ring Indoor, and at $35, it's considerably cheaper. But does the Lilliputian Blink have the video quality to match? Read our complete Blink Mini review to find out.
Extras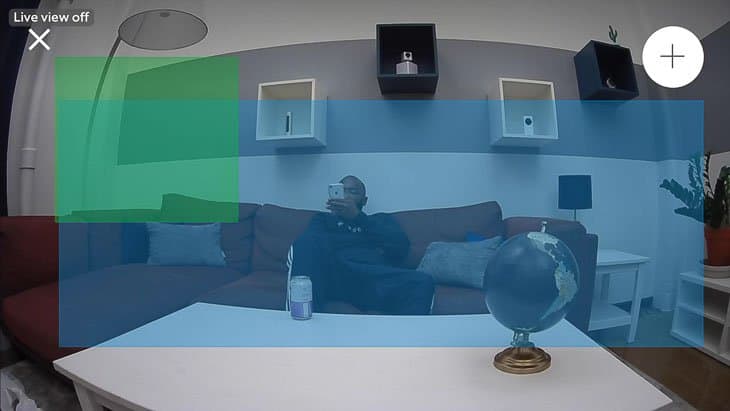 We've covered the Ring's basic features. Now let's touch on the single "bell" you get without a Ring Protect subscription: activity zones. Ring calls them "motion zones."
Basically, motions zones let you divide the area your camera views into different sections so that you can get notifications that are slightly more specific. For example, you can get notified of motion in the living room as opposed to the kitchen. This feature might be more useful on an outdoor camera, where you can program it to ignore the street or your neighbor's yard, for example. Still, it does make notifications more precise, so it could definitely come in handy.
Video Review
Check out our video review of the 1st-gen Ring Indoor Camera.
Ring's most affordable security camera doesn't skimp when it comes to 1080p HD video and infrared night vision. Pinpoint your package now on Amazon.
The Ring — Always Home App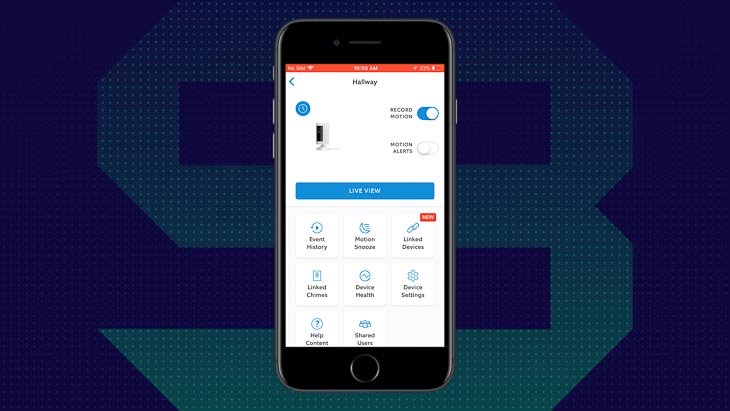 The Ring – Always Home app is where you'll livestream footage, view cloud storage (if you've got a Ring Protect plan), speak through two-way audio, change any camera settings, and receive notifications.
If you've been following Ring products for a while, you probably know that the Always Home app hasn't always been a crowd-pleaser. I'm not talking bottom of the barrel bad, but nothing you'd confuse with a bundle of joy. The last time I'd checked before reviewing the new Ring Indoor Cam, for example, iPhone users had given the Ring a measly 3.2 out of 5 stars. Android users were even harsher, awarding the beleaguered Always Home app a pitiful 2.9 out of 5. Yikes!
Fortunately for Ring diehards, that's all changed. Today, the new and improved Always Home app has shot up beyond 4 out of 5 stars on both platforms. In fact, on the Apple Store, the Ring app gets a solid 4.6 — a turn-around story if I've ever heard one.
There are plenty of reasons I can think of — cleaner user interface, fewer crashes, and better overall responsiveness. But I think Android user David M. probably sums it up best when he says: "Works as it should, I haven't had any issues with it functioning thus far! The only downside is the yearly cost! While not bank draining, it's really ridiculous that we even have to pay for this."
We hear you, David! But unless we all move to DVR set-ups where we're storing our own video locally, we're going to be at the mercy of paid subscriptions for the foreseeable future.
Comparisons
Speaking of Google users, let's take a quick look at two competitors that give the budget Ring Indoor Cam a run for its money. The first is the sleeker, pricier Nest Cam Indoor. If you're a Google household, the Nest Cam is probably the first indoor camera that crossed your mind. Google also happens to be Amazon's biggest competitor. The second is the feature-packed Ring Stick Up Cam.
So what's the deal here? Which is the better camera for your home? Here's what I think.
Ring Indoor Cam vs. Nest Cam Indoor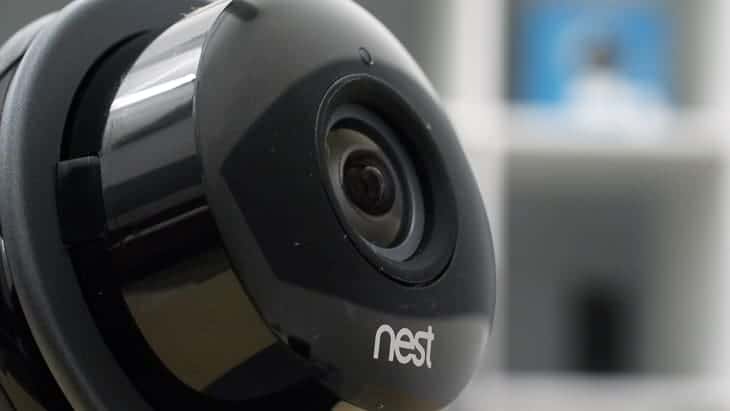 At $199, the Nest Cam Indoor costs over three times as much as the Ring Indoor Cam, which is pretty wild, but it definitely beats the Ring in a few areas. For example, it shoots in 4K and then packages clips in 1080p, so video is crisper and takes up less space. At 130 degrees across, the Nest Cam's field of view is also 15 degrees wider than the Ring Indoor Cam's.
Plus, the Nest Cam works as easily with Alexa as it does with Google Assistant. But the real kicker is that the Nest Cam Indoor comes with person detection. You don't have to pay to unlock this feature like you do with the Ring Indoor. If you purchase a Nest Aware subscription ($8 per month), you also get facial recognition, which should make for super useful and specific notifications.
Unfortunately, when it comes to free storage, the Nest Cam Indoor is as lacking as the Ring. It has no local storage and only gives you three free hours of cloud storage. If you want more than three hours, it's going to cost you a pretty penny, unlike Ring which has incredibly affordable options.
Bottom line? Both cameras have capable 1080p HD video, infrared night vision, and two-way audio. If person detection is a must-have, or you're building a smart home with Google products, go with the snazzier Nest Cam Indoor. Otherwise, if it's just a no-frills camera you need, save your money and buy the Ring Indoor Cam.
Ring Indoor Cam vs. Ring Stick Up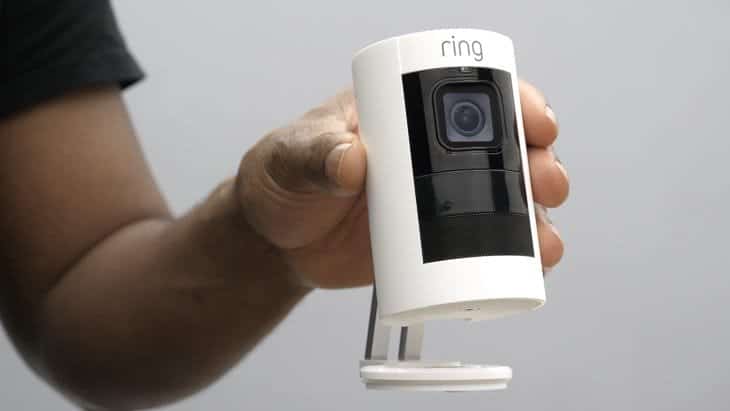 The first thing you're going to notice about the Ring Stick Up (3rd gen) after its bigger size is its heftier $99 price tag. Would I shell out the extra $40? Maybe not for inside my home. Here's why.
The plug-powered Ring Indoor uses camera-based motion detection, so it's quicker to detect motion. In fact, the Ring Indoor starts recording three seconds before motion events, so you'll never see an UHI (unidentified home intruder) magically popping up in the middle of a room. You'll see them creeping in from wherever they came. Awesome, right? Sure, just keep in mind you need a plan for this. The Ring Indoor doesn't record clips without one.
The Stick Up, on the other hand, was designed as a battery-powered camera and uses a passive infrared (PIR) sensor, so it's not as quick to react. In terms of picture quality, it's kind of a toss-up. They're both very good, though I'd go so far as to say that the Ring Indoor might even shoot just a tad crisper than the more expensive Stick Up.
So why would you invest in the Stick Up at all? Simple. Ring is pushing the Stick-Up as an outdoor camera these days, so you can use it on the porch or in the backyard, too. At $99, the Stick Up is simply not that expensive for a quality outdoor camera.
Find out how Ring compares to other security cameras
It's good to have options. See how Ring compares to these top security camera picks.
Recap
Overall, the Ring Indoor Cam delivers excellent image and audio quality at a price that's way under the industry average. Especially if you already own Ring products or are in the Alexa ecosystem, adding a Ring Indoor Cam to your smart home security arsenal is a good choice. Of course, that doesn't mean it's right for every home, so let me break down who I think it would be best for.