Canary Flex Review
This indoor/ outdoor camera costs only $169, much less than the industry average, but is it worth it?
What We Like
Affordable: At $169, Canary Flex is an affordable, battery-powered outdoor security camera.
Flexible mounting and installation options: With several mounts sold on Canary's website, and with its wire-free design and rugged hardware, you can place Canary almost anywhere.
Artificial intelligence: Canary Flex has artificial intelligence that helps it distinguish between people and moving vehicles and pets — a useful feature for an outdoor camera.
What We Don't Like
Lack of local storage: You'll have to make-do with Canary's paid 30-day cloud subscription to record any footage captured by Canary Flex. Subscriptions start at $9.99 per month.
Limited one-year warranty: Canary Flex comes with a one-year device warranty, which is short considering that security cameras are expected to last more than a year.
Not the best outdoor night vision: While we were impressed by the camera's night vision when used indoors, we're not confident it's enough in an outdoor setting. It can be difficult, for example, to make out details 30 feet away from the camera.
Bottom Line
Flexibility is one of Canary Flex's best assets. It's small and simple enough to use indoors, but it's also rugged enough to work outdoors. You can set it up wirelessly, or you can run a charging cable to the camera for continuous power. It's also smart enough to know the difference between movement caused by humans and inanimate objects. It's not the best outdoor camera there is, but its flexibility makes it a good camera for many folks.
I can't lie: I'm excited to try the Canary Flex Camera. After the Canary All-In-One more than surpassed my expectations, I have high hopes for the Flex. Best case scenario, it's the Frasier to the All-In-One's Cheers, but worst-case scenario? The Joey to the All-In-One's Friends. But, as usual, I remain cautiously optimistic.
The Canary Flex Camera is an indoor/ outdoor camera that promises a magnetic 360-degree swivel base, night vision in HD, clear audio, and more. This camera isn't a fair-weather friend- Canary claims that the camera works in temperatures ranging from 4 to one hundred and thirteen degrees Fahrenheit. As most cameras require that you buy an extra piece to convert an indoor camera into an outdoor camera, I'm impressed by the Flex's range. Let's see if the Flex, like the box says, is indeed "the world's most versatile HD security camera." This Canary camera review starts now!
Canary Flex AI features
| | |
| --- | --- |
| Person detection | Yes |
| Package detection | Yes |
| Vehicle detection | No |
| Pet detection | No |
| Facial recognition | No |
Editor's Rating
Wireless or plug-in options
Person detection and package detection available with Canary membership
Alexa and Google Assistant integrations
Video Review
From its 1080p HD video to its weatherproof design, we loved monitoring our front stoop with the Canary Flex. Learn more here.
What It Promises
They say that you shouldn't judge a book by its cover, but reading the Flex's box is already getting me riled up.
The box promises a number of things, including:
1080p HD video for beautiful footage
Clear audio, whether it is indoor or outdoor
Wifi setup with no hubs required
Weatherproofed for outdoor use, and able to withstand snow, rain, heat, or cold
Magnetic 360-degree swivel base for more viewing flexibility
HD night vision, for super clear video even in the dark
Smart alerts so you'll know when someone enters your home
This all sounds pretty great to me- but let's take it out of the box and see for ourselves.
First Impressions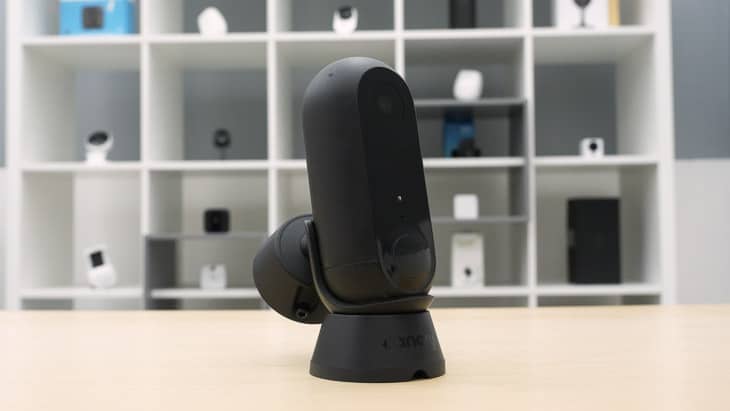 At first glance, I'm liking the look of the Flex. With its capsule shape, it resembles a large pill, and it comes in both black and white. I love that the base is magnetic, as it makes secure mounting foolproof. The face of the camera is glossy, while the rest is matte, with a matte backing.
At less than 5 inches tall, this camera blends in perfectly with most homes and is definitely not an eyesore. If aesthetics are important to you, this camera might be a good option. Whether you want to put it in a formal living room or out by your pool, the Flex won't be an eyesore. It also weighs slightly over half a pound, which I like because I can easily move it when I want to. Let's leave the weight-lifting at the gym, shall we?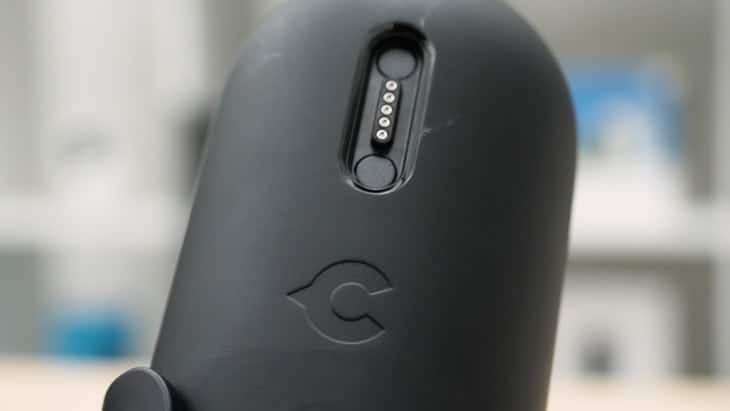 The speaker is at the top of the camera, while the charging port and Canary insignia are below. The camera has a battery in it and also a charging port. That's a good thing because the camera can work either wire-free through a charger or plugged in. A single charge allows the camera to go wire-free due to its extended life rechargeable lithium-ion batteries. The Canary Flex Camera typically has a battery life of 2 to 3 months under normal use.
The cord-free option is nice for anyone concerned with interior design, while the cord-option works for the Utilitarian more concerned with the Canary Flex Camera's battery life. Anyone who reads my reviews knows that I love flexibility as much as the next person who does not actually practice, but loves the idea of being a yoga person, so the more options, the better.
One thing that is a bit annoying about this camera is that the battery does not have a micro USB cord- you need the canary adapter. Of course, the Canary Flex comes with the adapter, but if I lose it, I'd have to special order a new one. Poor me, right?
Despite this, I like the design overall and am ready to see how it works.
Necessary Features
Where would we be as a society without some objective standards to adhere by? That's why I put all of my products through our Necessary Features test, and the Canary Flex is no exception. Let's see how it stacks up.
Canary Flex Camera Video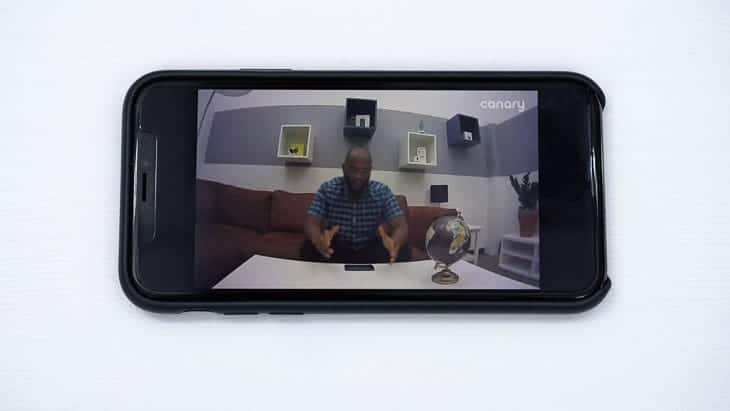 At the risk of being called a Negative Nancy, I will say that the video on the Flex is lacking. While it claims that it has 1080p HD for optimal viewing, the camera defaults to 720p, based on the user's streaming capabilities, and there is no way to change the quality within the Canary Flex app. As 1080p HD is the industry standard, I'm not thrilled with the Canary Flex's video quality.
Similarly, the field of vision disappoints. At 116 degrees, the Flex has a field of vision 30 degrees narrower than its sister the All-In-One. While it's not the narrowest field of vision I've ever seen (95 degrees, if you're wondering), it still does not seem wide enough, particularly for outdoor use.
However, the camera does come with digital zoom, so overall I will give the Flex full marks for video.
Canary Flex Camera Two-Way Audio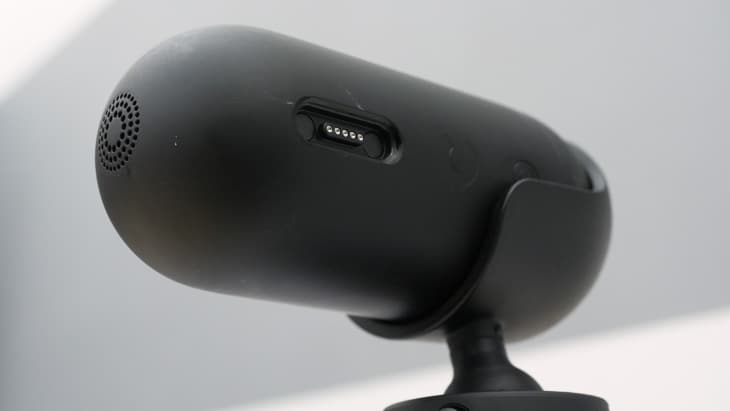 The audio on the Flex is crystal-clear, which I love. You'd be surprised how many intruders up and leave the scene when a disembodied voice shouts at them!
Unfortunately, the audio can only be used if you pay for a Canary membership, which clocks in at either $9.99 a month or $99 a year. Given that the audio works well, despite the extra cost, I give the Flex full marks on this category.
Canary Flex Camera Night Vision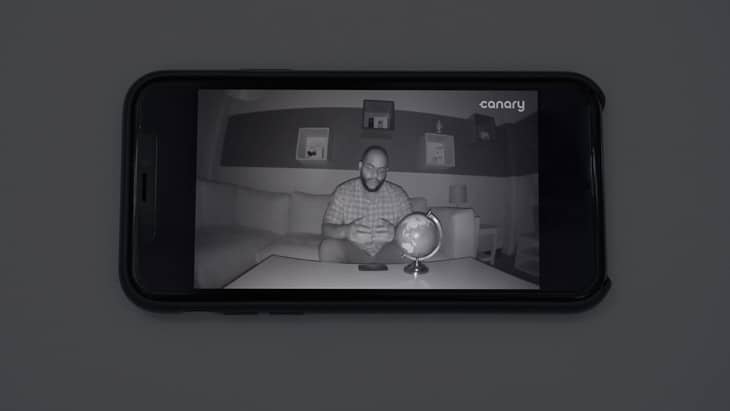 I was super impressed by the night vision on this camera. When I tested it out, I could see the scene perfectly, despite the fact that the Flex has fewer infrared LED lights than the All-In-One.
Additionally, the night vision is automatic, which saves you the trouble of having to manually switch it on and off twice a day. As good outdoor night vision is hard to come by, I'm definitely giving the Flex full marks for night vision.
Canary Flex Camera Storage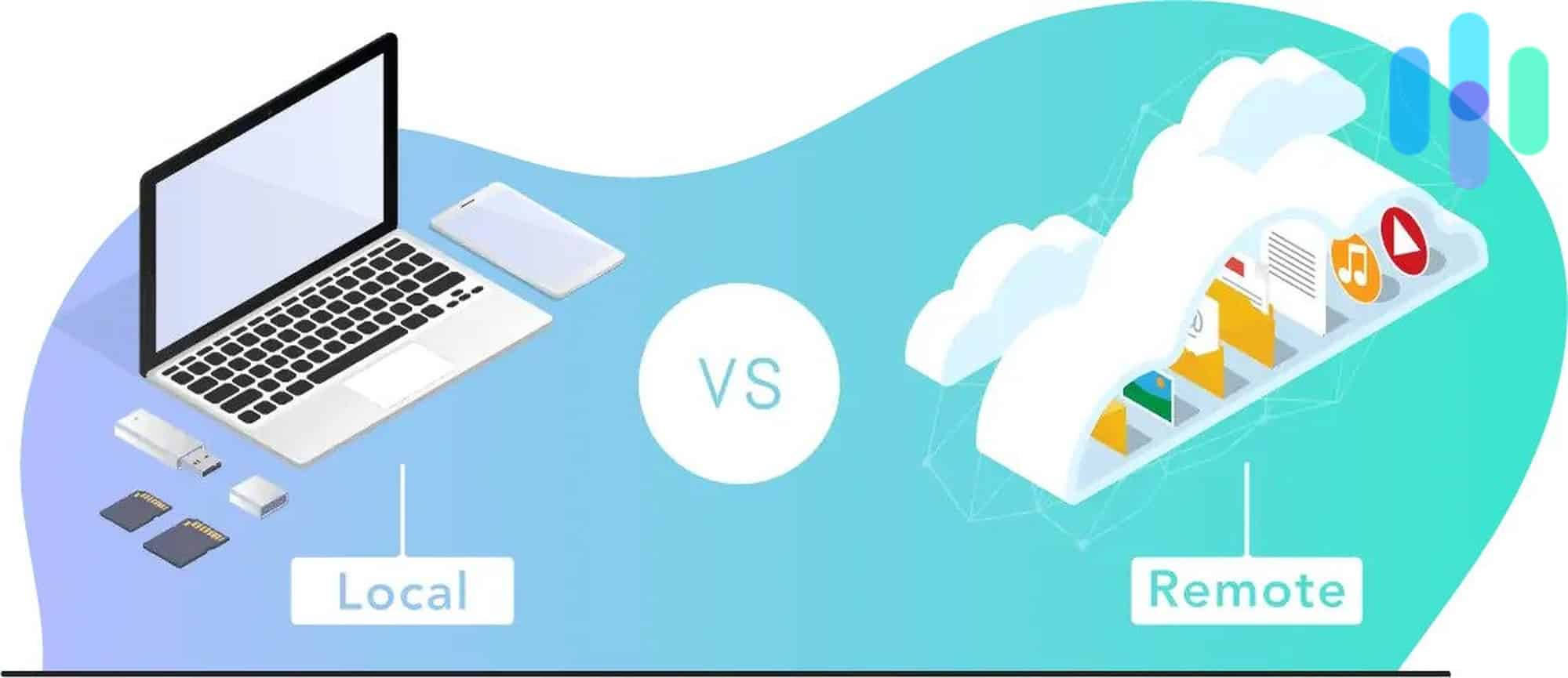 Like the All-In-One, the Flex has no local storage options. This is a problem for someone that wants to be in complete control of their footage. What I do appreciate, however, is that the camera offers 24 hours of clip storage and unlimited live streaming. If you pay for the membership that I mentioned earlier, you unlock an unlimited saving of clips plus 30 days of cloud storage.
This is a pretty good deal, considering some camera companies charge up to $30 a month for 30 days of cloud storage. Plus, the data is encrypted through the cloud, making it secure. Cloud storage is nice because it is way more secure than local storage- footage can't be stolen physically or digitally, even if a thief steals the camera itself.
However, like I've said before, I'm a man of flexibility. As there is no local storage option, I have to give the Flex half marks on this category.
Canary Flex Camera Smart Platform Integration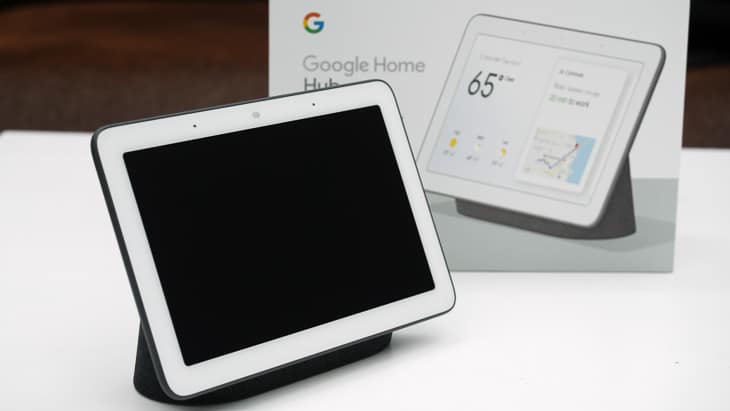 I believe it was James Madison who once said "A device is only as good as its smart platform integration," (a joke, for those of you who lack a finely-tuned sense of humor). For this category, the Flex kills it.
I love that the Canary Flex Camera is integrated with both Amazon Alexa and Google Assistant because it gives the user the flexibility to choose their preferred platform. Wondering how much battery life you have left? Just ask Google for the Canary's battery life. Did you remember to plug the camera in before you left the house? Ask Google if your Canary is plugged in. The Internet of Things, in general, makes it super easy to monitor devices, right from the palm of your hand.
The Flex isn't integrated with Apple Home, but then again, most cameras aren't either. For smart platform integration, I give the Flex full marks.
Canary Flex Camera Artificial Intelligence

I try not to believe everything I hear, but I've heard reports that the Flex does not learn fast enough, making me skeptical of its artificial intelligence capabilities. However, in my experience, I was impressed by the incremental strides that the device takes over time. It's not immediate, of course, but over time the device learns to detect people and packages precisely to prevent false alarms. I like that the Flex takes the time to learn my habits and adjusts accordingly.
In terms of artificial intelligence, the Canary Flex boasts both person and package detection. While person detection has become a standard for most security cameras of this caliber, package detection is a rarity. I love the idea that my packages are accounted for even if I'm not home when they're delivered.
It's also important to note the difference between person detection and facial recognition. Person detection can only tell when a person is in the camera's line of vision, while facial recognition learns exactly who the person is. This becomes super helpful in identifying who are your friends and family, and who is an intruder. Facial recognition is not super common on comparable security cameras, but if it's important to you, then the Flex is not for you. Overall, I give the Canary Flex full marks for artificial intelligence.
Canary Flex Camera Value
At $169, this camera is on the expensive side, and that's not even including the optional membership. No one wants to spend money, of course, but I understand the value in the Canary Flex.
A nice feature that Canary is currently offering is cheaper bundles when you buy the membership. 1 membership can be applied to up to five devices at 1 location. While the camera alone is currently priced at $169 on the Canary website, the camera and a 1-year membership, costs $139, a savings of $60. Buy the camera and a 2-year membership for only $99. Just make sure you do it through the Canary website, as these deals are web exclusives. There's even free shipping on orders over $50.
The Canary Flex is available in one, two or three packs. Check out your choices.
The camera comes with a 1-year limited warranty (purchased by Canary and its authorized retailers, of course). I am not super impressed with this warranty, as most people would expect a security camera to last them way more than a year. Ultimately, however, I do believe in the quality of the camera, making the warranty almost a moot point. In addition to that, the warranty doubles to 2 years when you purchase the Canary membership, which can be applied to your first 5 devices.
Because the camera does have such impressive indoor/ outdoor capabilities, and almost all of the features of the All-In-One camera, I think it's worth the price. Full marks for value!
Canary Flex Camera Convenience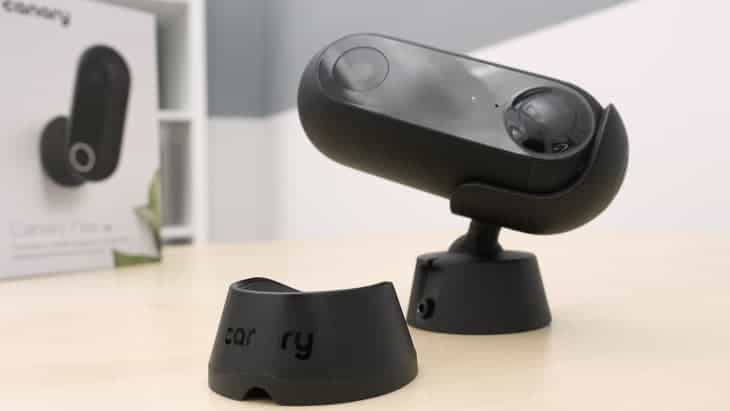 Not to brag, but for me, the setup of the Canary Flex Camera took ten minutes. Confession: it wasn't due to my stellar technical abilities. This camera is just super easy to set up, particularly if you already have the All-In-One. The majority of the set-up occurs through the Canary Flex app, discussed below.
All you have to do to set up the camera itself is stick it on a flat service and twist it to cover whatever field of vision you would like. Overall, I give the Flex full marks for its convenience.
Canary Flex Camera Mobile App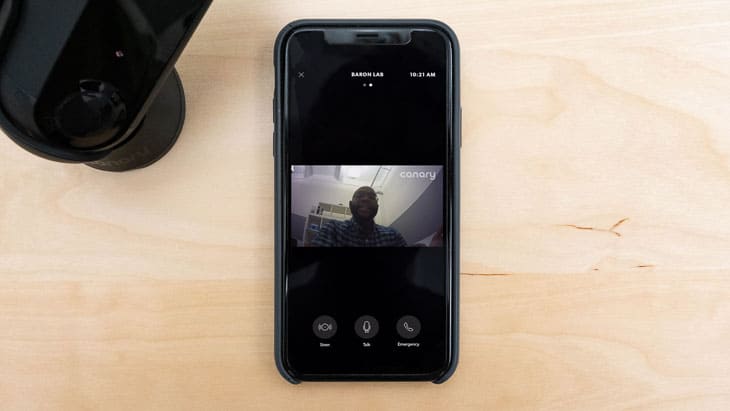 The mobile app is super user-friendly and has a lot of great features. Where do I begin?
From the Canary Flex app, you can control the siren to scare intruders (or whoever you feel like scaring, although we don't recommend scaring your loved ones).
You can also arm or disarm the camera, and schedule everything right through your smartphone. The camera has 2 modes to choose from: away, which will make the camera record when you're out of the house, and night, which will make the camera record when you're sleeping. I like that the camera doesn't record when you're home and awake, as it gives the user some much-needed privacy.
The app is where you'll be able to access the 2-way audio, where you can live-stream the footage your camera collects, and where you can alert the proper authorities if you see any crimes. A safety button automatically dispatches your message to authorities, a much better alternative to manually calling 911. Can you imagine if a burglar discovered you as you were telling the dispatcher you were being robbed? Talk about speak of the devil. Again, the 2-way audio and the safety button are only available with the Canary membership.
The app also includes a timeline, which basically summarizes what happened during the camera's recording. This feature would definitely come in handy if, god forbid, you needed to put together a timeline for the police. You can also access easily access Incident Support through the app, a team trained to help you after an incident with your security.
Comparisons
So sure, the Flex is a great camera. But how does it compare to competitors? As these cameras all have similar features, I'm stacking the Flex up against its sister, the Canary All-In-One, as well as the Arlo Pro 2 and the Blink Indoor Camera. As they're all effective security cameras, your choice might have to come down to the nitty-gritty. Let's dive in.
Canary All-In-One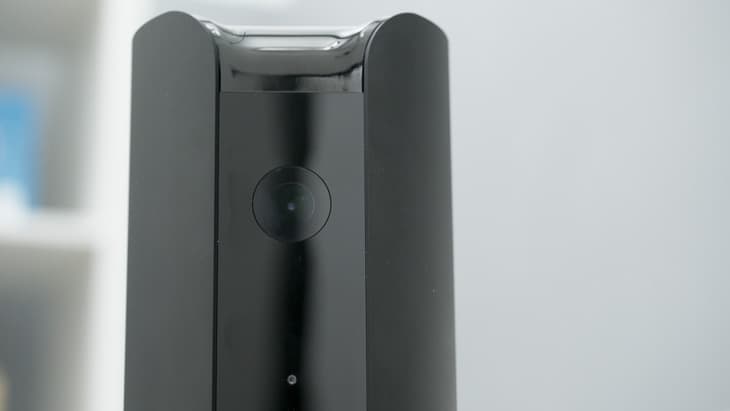 What better camera to compare the Canary Flex to than the Canary All-In-One? The main difference between the 2 cameras is that the All-In-One is only indoor, while the Flex is both indoor and outdoor. Like the Flex, the All-In-One has great video and audio quality, night vision, smart platform integration, and artificial intelligence. It also comes with a feature that the Flex does not have- HomeHealth technology. HomeHealth technology is a climate monitoring system measuring things like temperature, humidity, and air quality. If that's important to you, then the All-In-One might be a better choice than the Flex.
Both cameras lose points for storage, with no local storage options and 24 hours of free storage. For 30 days of storage, you have to pay $9.99 a month for a membership. Again, memberships include 2-way audio, activity zones, and the Safety button to contact law enforcement. The good news is that multiple cameras can be under the same membership. Overall, both products have great value and convenience, but if you're looking for a camera with indoor and outdoor capabilities, then the All-In-One isn't for you.
For more info, check out our full review of the Canary All-In-One.
Arlo Pro 2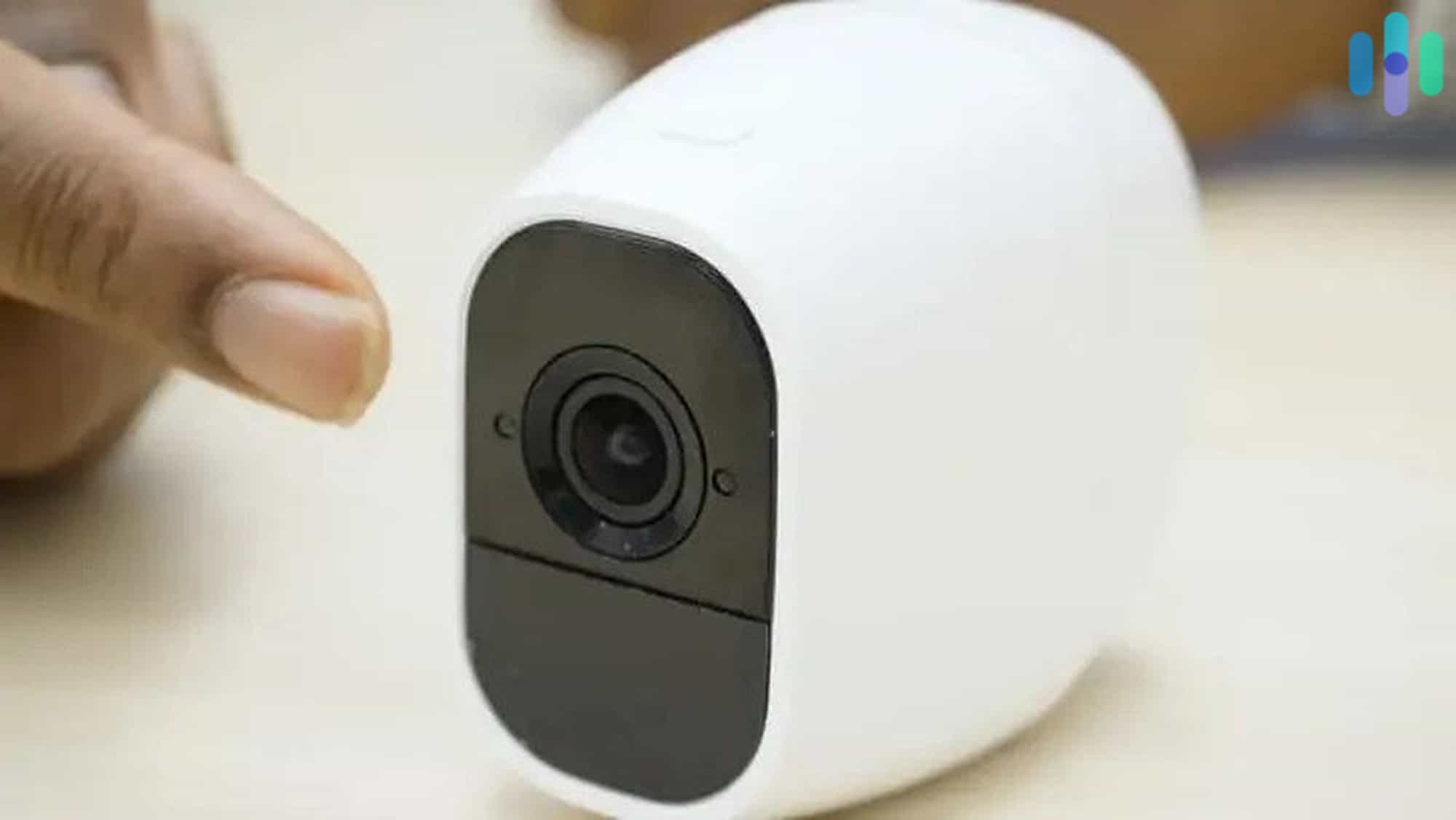 Like the Canary Flex, the Arlo Pro 2 is another great indoor/ outdoor camera. The Arlo Pro 2 has slightly better video quality than the Flex, with a field view of 130 degrees, 14 more than the Flex. Similarly, while the Flex claims it has 1080p HD while defaulting to 720p, the Arlo Pro 2 consistently uses 1080p HD. The Arlo Pro 2 does lose points, however, on its night vision. If night vision is a priority for you, then the Arlo Pro 2 is probably not for you.
Storage-wise, the Arlo Pro 2 wins, with both cloud and local storage options. This camera even provides storage for up to 7 days for free, while the Flex only provides you with storage for 24 hours before having to pay for a membership. Both options have 2-way audio but again, this only comes with a membership for the Canary Flex.
The 2 cameras are integrated with Amazon and Alexa and Google Assistant, but the Arlo Pro 2 is also integrated with Apple HomeKit, IFTTT & Stringify. If either of these are essential to you, then the Arlo Pro 2 is the way to go. Another difference is the artificial intelligence. While the Flex boasts person and package detection, the Arlo Pro 2 does not have any person or facial recognition software. Both cameras are worth their prices and easy to set up. Overall, I would recommend the Canary Flex over the Arlo Pro 2 due to its excellent night vision, which I believe is an essential quality to any great security camera.
To learn more, check out our review of the Arlo Pro 2.
Blink Indoor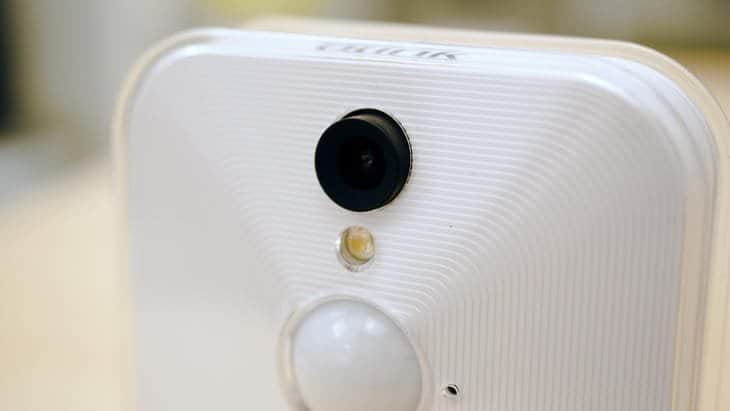 The last camera I'll be comparing the Canary Flex to is the Blink Indoor, which, like its name suggests, is solely an indoor camera. When it comes to video, audio, and night vision, the Canary Flex wins hands down. The Blink Indoor only has a video quality of 720p HD, less than the industry standard. In addition to that, the Blink Indoor does not have 2-way audio. Anyone who reads my reviews knows what I feel about 2-way audio- it's an awesome way to stop a crime from happening in real-time.
The Blink Indoor does have the Canary Flex beat, however, when it comes to storage. Blink provides free local and cloud storage, while the Flex does not have a local storage option. As Amazon owns Blink, the indoor camera is only integrated with Amazon Alexa, while the Canary Flex integrates with both Alexa and Google Assistant. If you're looking for artificial intelligence, the Blink Indoor is definitely not right for you- it has no person detection or facial recognition features. Unless you're extremely passionate about having a local storage option, I would definitely recommend the Canary Flex over the Blink Indoor camera.
Want more information? Read our review of the Blink Indoor camera.
If you want to learn more, read our review of the best home security cameras.
Recap
Overall, the Canary Flex is a great camera, but it's not for everyone.
If you require constantly 1080p HD streaming or a field of vision wider than 116 degrees, then congratulations, this is not the camera for you. If you are a local storage fiend, I will say the same thing- pass on the Flex.
However, if you need a trustworthy indoor/ outdoor camera, the Flex fits the bill. I especially recommend the camera to people who already own the All-In-One, as these products supplement each other nicely. I love the easy set-up of the camera, plus its integration with both Amazon Alexa and Google Assistant.
I think it's definitely worth it to invest the $9.99 a month of $99 a year in the Canary membership. That will get you the 30 days of cloud storage, 2-way audio, activity zones, person and package detection, as well as the ability to contact a first-person responder through the app. In sum, the Canary Flex is a trustworthy camera that allows you to easily monitor what is going on in or out of your house.
We had fun controlling the Canary Flex using Alexa and Google Assistant. Get yours today.