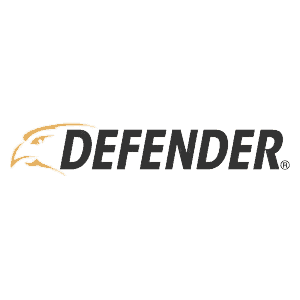 Defender Security Cameras: 2023 Review and Pricing
Defender has three camera models to choose from. Is one of them right for you? Let's find out.
Up to 4K video resolution
Three cameras to choose from
Prices starting at $39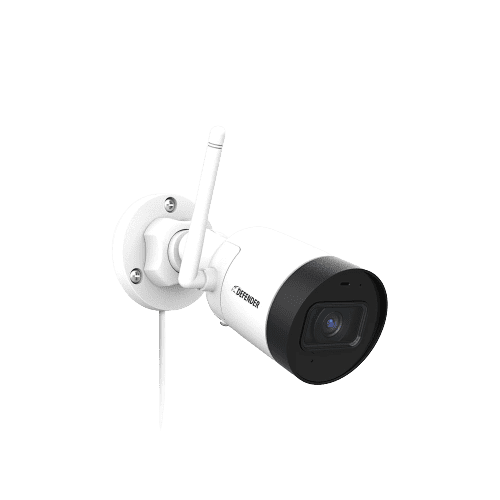 All of our content is written by humans, not robots.
Learn More
By

&

Last Updated
Jan 10, 2023
There's really no excuse these days to have a home security system without cameras. While door sensors and smoke alarms are important, you also need to be able to see what's happening in and around your home. And with camera prices getting more affordable all the time, it's easy to find good-quality cameras that won't break your budget.
Defender cameras certainly qualify as affordable. You can get a 2K model for as little as $39, and none of the company's cameras cost more than $131. All those prices put Defender right in line with the cameras on our list of most affordable security cameras. Here's the question, though: What kind of quality are you getting for that price? After all, cheap, unreliable cameras aren't worth $40. Heck, they're not even worth $20!
Below, you'll find all you need to know about Defender cameras. We take a close look at all three of the company's offerings, checking out their image resolution, breaking down their features, considering setups, and comparing prices. By the time we're done, we promise you'll know whether you should invest in a Defender camera or look elsewhere.
Pricing Defender Cameras
We know, we know. You want to hear about the price of Defender security cameras right up front. So let's get to it.
Defender offers three different camera options: the 4K Sentinel, the 2K Guard, and the Phoenix M2. All three are reasonably priced, so choosing the camera that's right for you will likely come down to deciding which one fits your particular security needs best.
| Camera | Main features | Price |
| --- | --- | --- |
| 4K Sentinel | 4K resolution and DVR/NVR recording | $69 (plus $249 for DVR/NVR unit) |
| 2K Guard | 2K resolution and on-board recording | $39 – $126 |
| Phoenix 2M | Wi-Fi free with on-board recording | $131 |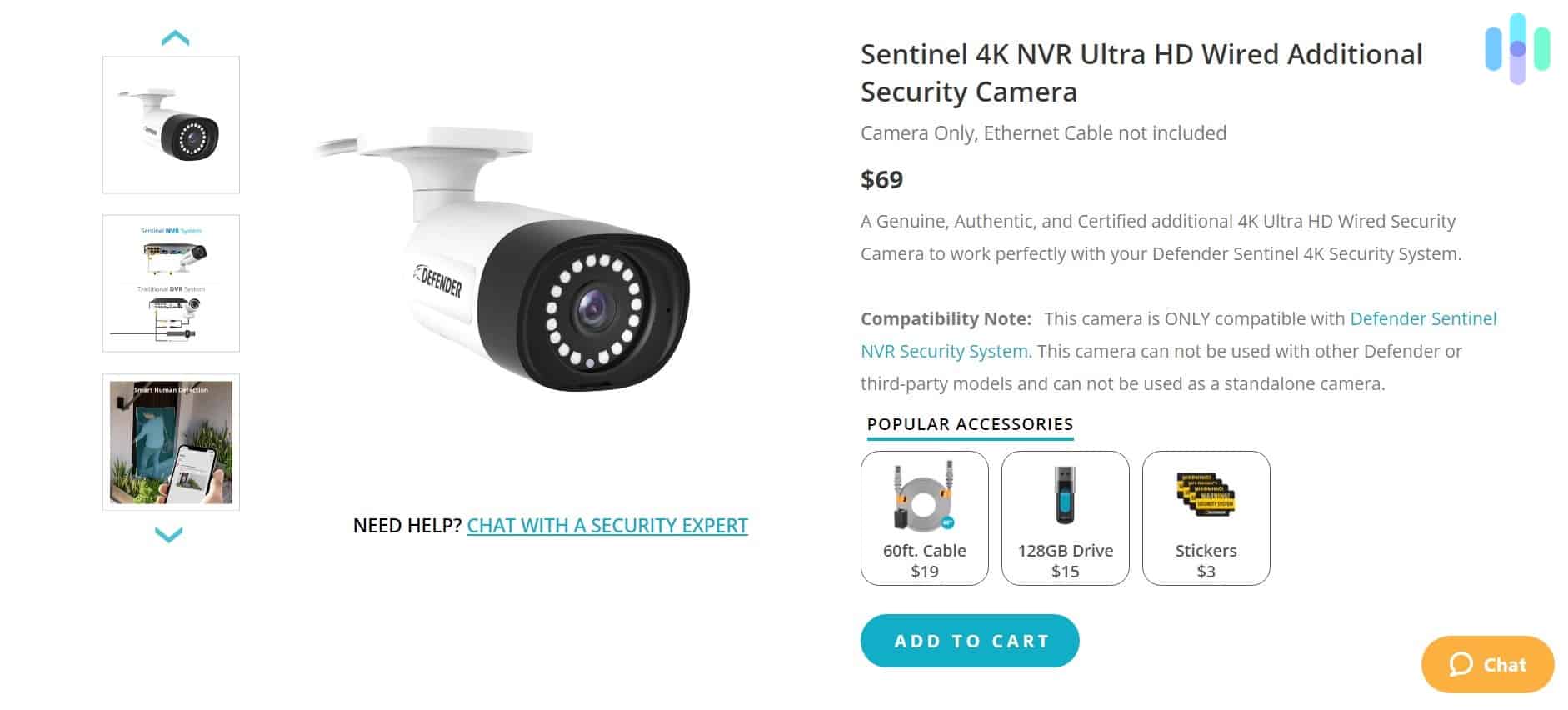 No matter which model you choose, you'll pay a one-time fee for equipment and that's it. All of Defender's cameras utilize local recording, so you never have to pay storage fees. The Defender app gives you access to live and recorded footage so that you don't have to pay monthly subscription fees for alerts or monitoring. Of course, the downside to no subscription fees is that you don't have the option to purchase professional monitoring of any kind. In other words, you're on your own when it comes to keeping up with what's happening at home.
We prefer to have a monitoring option, especially for when we go on vacation and don't want to be bothered constantly checking our feeds. If that's not an issue for you, though, it's certainly always good to be able to save a little extra money each month. You can find more examples of subscription-free security systems on our no-monthly-fee home security page.
Pro Tip: Want to save even more money? Check out one of Defender's many camera bundles. For example, you can get four Sentinel cameras, a 1 TB DVR or NVR, and Power over Ethernet (PoE) cord for $350. You get an entire security system for one low price. Or you can purchase four Phoenix M2 cameras, two 128 GB micro-SD cards, and a hub for the same price.
Right now, all Defender products are on sale for an additional 20 percent off. The company also offers a great price-match guarantee. If, within 45 days of purchase, you find a Defender camera for a lower price at any authorized dealer, Defender will refund the difference.
Finally, Defender also has a 45-day return policy. You should know that you're responsible for any shipping fees, but it is some comfort knowing you won't be on the hook for the full purchase price if you decide Defender isn't right for you.
Three Cameras
Given that all three of Defender's cameras are reasonably affordable, the real question is, which one is right for you? Let's talk about what you get with each one.
4K Sentinel
The central features of the Sentinel camera are its 4K Ultra HD image quality and its DVR/NVR recording capabilities.
4K, of course, means you get sharp images. The industry standard for cameras these days is 1080p. 4K provides four times the number of pixels as 1080p, for a total of 8 million pixels. That's sharp enough to read the labels on the packages left on your doorstep.
The advantage of a DVR/NVR system is that you always have access to your video recordings on-site. You don't have to spend money on cloud storage, and you can review footage any time you want. You get a full 1 TB of storage, enough to record up to 500 hours of HD video before you have to erase footage.
Know the Difference: An NVR, or network video recorder, records video just like a DVR does. Where DVR systems process the footage at the DVR itself, NVR systems process the footage at the camera.

The 4K Sentinel has a number of other great features as well:
Three recording options: All Defender cameras allow you to record using motion detection, set recording timers, or record continuously. You decide which one gives you the most peace of mind.
Smart human detection: Set your camera to capture human movement and only human movement. That way, when leaves, cars, and squirrels happen by your front door, you won't get all those false alerts.
PoE wired connection: With PoE, you don't have to worry about plugging your camera into a wall outlet. The Ethernet cord, included in most Sentinel packages, provides all the power your camera needs. Note: Only the NVR comes with PoE. The DVR system requires you to plug cameras into an outlet.
Audio recording: Defender's 4K Sentinel doesn't just record video; it also records audio. Unfortunately, this Defender model doesn't include two-way audio.
Real-time alerts: Any time your 4K Sentinel picks up human movement, it records that movement, but it also sends you a real-time alert. Pull up the app and check out what's happening on the live feed.
IP66 rating: 4K Sentinel cameras are secure from dust and protected from strong water jets. As an added bonus, they're rated for temperatures between 4 degrees below zero and 122 degrees Fahrenheit. Looking for other great cameras with high IP ratings? Check out our list of the best outdoor security cameras.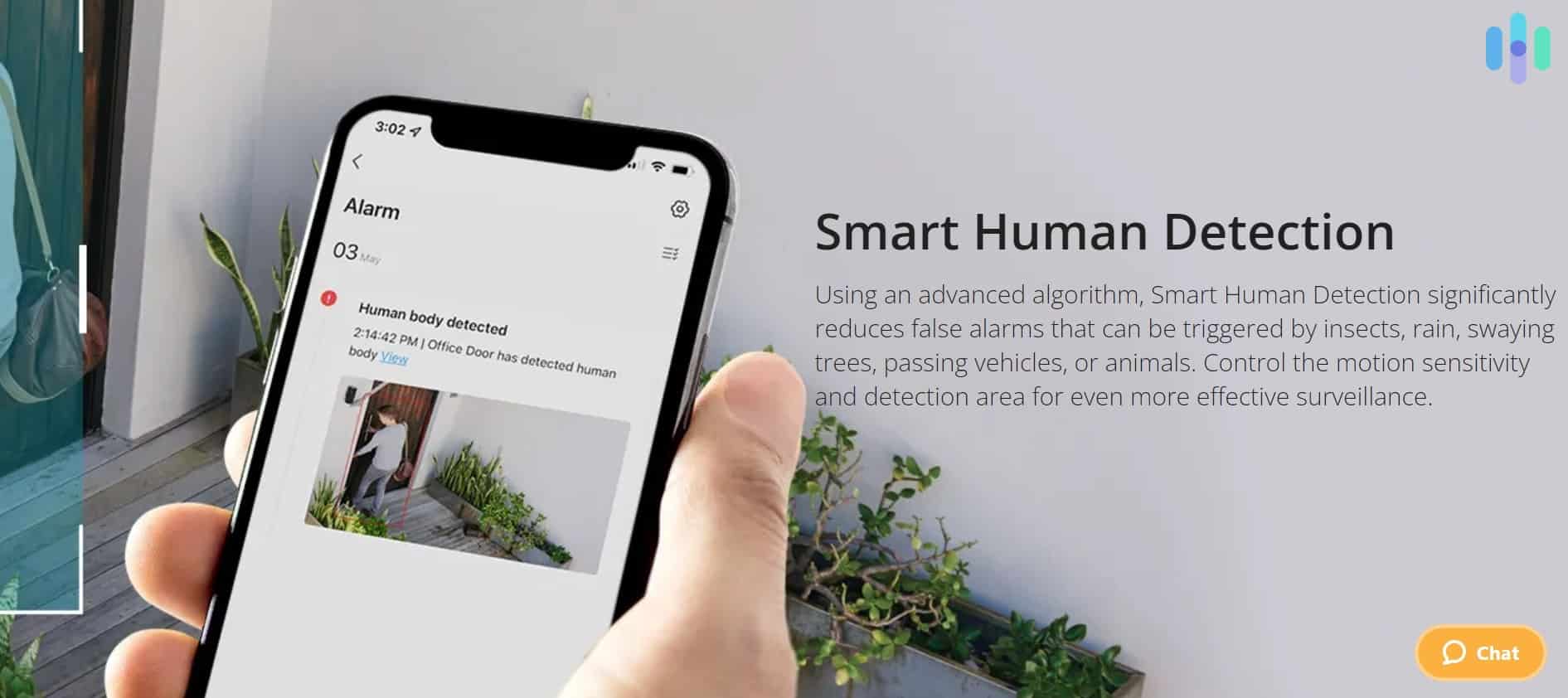 FYI: PoE stands for Power over Ethernet. It means you don't have to connect your device to a separate power source. As long as it's connected to the internet via an Ethernet cord, you have power.
2K Guard
As the name implies, the 2K Guard camera from Defender is defined by its 2K recording. While 2K isn't quite as impressive as 4K, it's still an improvement on the industry standard 1080p. 2K provides a wider image and more clarity than 1080p. The 2K Guard actually features a 123 degree wide-angle field of view.
The other prominent feature of the 2K Guard is that it utilizes onboard recording through a micro-SD card. You don't have to purchase an extra storage device, and you don't have to bother with Ethernet cords.
Like the 4K Sentinel, the Guard features audio recording. In addition, it has an IP67 rating, which means it's dust tight and can withstand short immersion in water.
Finally, the 2K Guard is also available in a Pro form for $126. The 2K Guard Pro includes several additional features, such as:
Two-way talk
Smart human detection
Color night vision
Spotlight
Siren
Phoenix M2
The advantage of the Phoenix M2 over Defender's other cameras is that it doesn't rely on Wi-Fi. This adds a layer of protection for anyone who might be especially worried about someone hacking into the system. Instead, the Phoenix uses 2.4 GHz wireless, a technology made specifically for short-distance communication between devices.
The Phoenix M2 also requires purchase of a hub monitor for $109.
Of Defender's three cameras, the Phoenix is the least robust. It does include:
Micro-SD card
Two-way audio
IP67 rating
However, image resolution on the Phoenix is just 480p, well below the industry standard of 1080p. In addition, the field of view is just 64 degrees. With a price tag that's some $60 more than the Sentinel and $90 more than the 2K Guard, this camera really is aimed at those who want wireless without traditional Wi-Fi.
Side-by-Side Comparison
| Features | 4K Sentinel | 2K Guard | 2K Guard Pro | Phoenix 2M |
| --- | --- | --- | --- | --- |
| Image resolution | 4K (3840 pixels x 2160 pixels) | 2K (2048 pixels x 1080 pixels) | 2K (2048 pixels x 1080 pixels) | 480p (800 pixels x 600 pixels) |
| Field of view | 75 degrees | 124 degrees | 124 degrees | 64 degrees |
| Storage | DVR or NVR | Micro-SD card | Micro-SD card | Micro-SD card |
| Video transmission | Ethernet | Wi-Fi | Wi-Fi | 2.4 GHz wireless |
| Power supply | PoE or wall outlet | Wall outlet | Wall outlet | Wall outlet |
| Real-time alerts | Yes | Yes | Yes | Yes |
| Live video feeds | Yes | Yes | Yes | Yes |
| Two-way audio | No | No | Yes | Yes |
| Night vision | Black and white or color | Black and white | Black and white or color | LED |
| IP rating | IP66 | IP67 | IP67 | IP67 |
| Price | $69 | $39 | $126 | $131 |
Defender Downsides
Defender cameras have a lot going for them. With IP ratings of 66 and 67, they're rugged and durable. They don't require a monthly subscription, and they all make use of local storage, so there's no need to pay for cloud storage.
Of course, there are differences between them. The Sentinel's 4K image resolution, for example, is levels above the Phoenix's 480p resolution. On the other hand, the Sentinel doesn't include two-way audio.
Ultimately, though, we found only two serious downsides to Defender cameras across the board.
No Monitoring
We get it: Defender is a security camera company, not a security company. They don't offer devices like door sensors, smoke alarms, or smart locks, and they don't offer any sort of professional monitoring services.
We preach professional monitoring on all our pages. Here's the thing: You just can't know when an emergency is going to happen. If you're in the dentist's chair when someone tries to break into your house, you're just going to miss it. Even if you can check your real-time alerts most of the time, you're still going to want to go on vacation every once in a while. Who wants to check their camera feeds from the beach? At least with subscription monitoring, you can sign up for a month while you're away and then go right back to self-monitoring if you choose. With Defender, you don't even have that option.
Of course, Defender is focused on cameras, and that means they make some darn good ones. Of course, you're going to save money if you don't have to pay for professional monitoring. But you have to be willing to be the sole person responsible for keeping eyes and ears on your property.
Limited Power Options
Defender offers two basic power setups: You either plug your camera into a wall outlet or use the NVR system with its PoE option. Now don't get us wrong: Lots of security cameras have to be plugged in. Given that Defender cameras are all rated for outdoor use, though, we'd love to see the company offer a truly wire-free model, one that doesn't require power or Ethernet cords. Yeah, battery-powered cameras require you to change the batteries periodically, and maybe that's not your thing. It's always nice to have options, though.
By the way, if you're looking for a truly wire-free camera, you might want to check out our review of Blink cameras.
Definitions: Wireless security cameras communicate through Wi-Fi but must be plugged into a power source. Wire-free security cameras communicate through Wi-Fi and are powered by batteries, so they require no wires.
The Defender Experience
When it comes to security cameras, talking about customer service isn't nearly as fun as talking about image resolution. Trust us, you're going to want another human on the other end of the line when you can't get one of your cameras to focus properly.
Defender lets you submit support tickets any time you have a problem or question about the service. In addition, if you need to make that human connection, the Defender site features chat help. That feature is available Monday through Friday, between the hours of 8 a.m. and 4 p.m. ET, so try not to run into any problems overnight or on the weekend (we kid).
As for the Defender HD app, it does give you access to your video feeds and recordings. We found the interface straightforward and simple to use. However, we were accessing it through our Android phone and sometimes had trouble getting it to connect to our system quickly.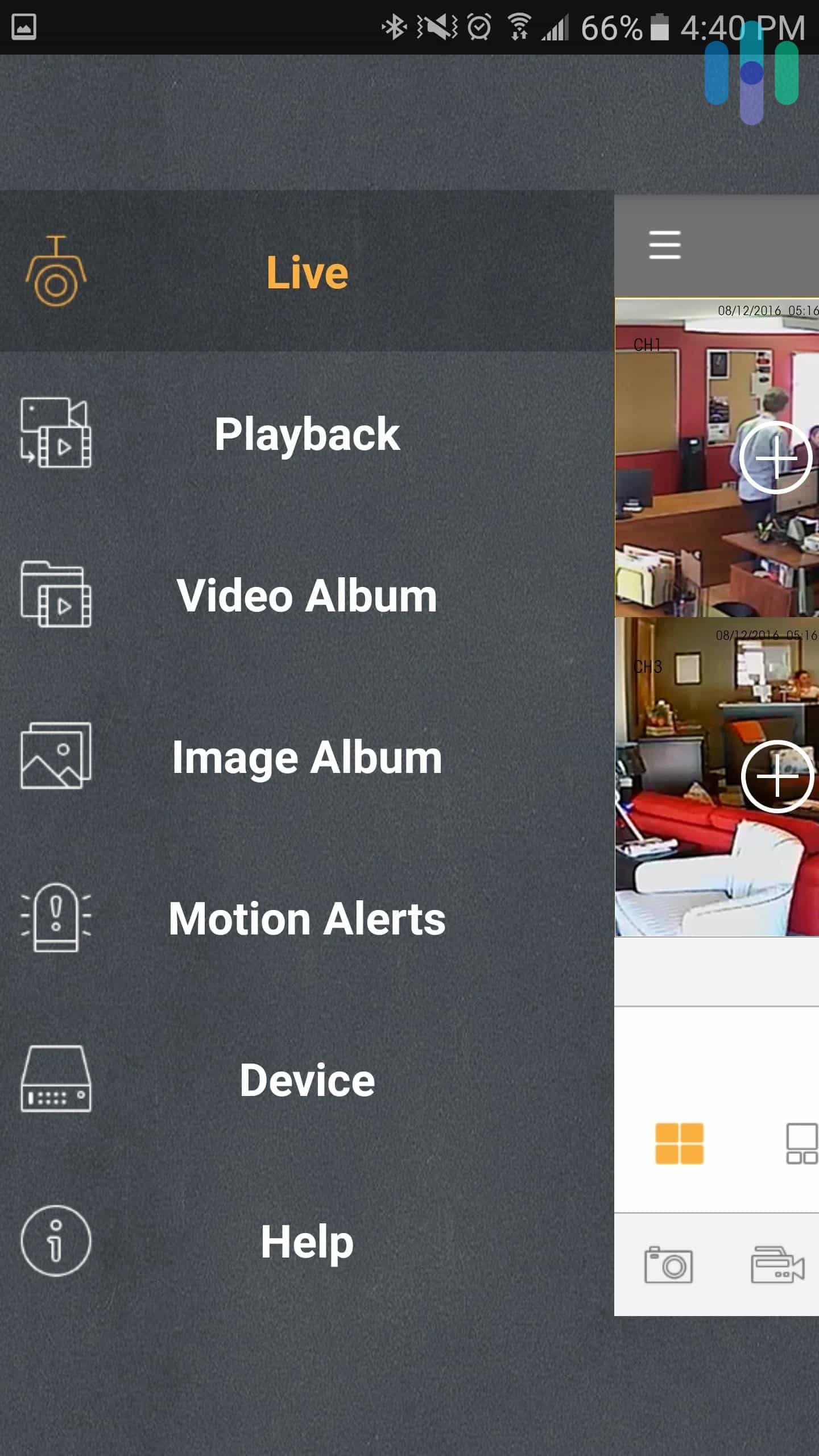 Recap
Overall, we liked Defender cameras, particularly the 4K Sentinel with its crystal-clear picture. We're fans of local storage, so we appreciated that all of Defender's models utilize either DVR, NVR, or micro-SD onboard recording. We were still able to choose between motion-triggered recording, scheduled recording, and continuous recording. In addition, we were impressed with all the cameras' high IP ratings.
Of course, every security situation is different, and what may work for one homeowner may not work for another. So, as you're making your final decisions, keep these tips in mind:
Defender Security Cameras FAQ
Want to know even more about Defender cameras? Check out our FAQ below.