How To Change Location on Pokemon Go
Catching them all has never been this easy.
All of our content is written by humans, not robots.
Learn More
You've been stuck in your hometown, chasing after the same Pokemon day after day on Pokemon Go, and your travel calendar is empty. What are your options? While software development company Niantic, which developed Pokemon Go along with Nintendo, doesn't like users to change their locations artificially, sometimes, you have no other choice. We'll walk you through how to change your location on Pokemon Go so you can focus on playing the game from your changed location.
How Changing Virtual Locations Usually Work
There's more than one way to change your virtual location, not all of which will work with Pokemon Go. The most popular option is by using a VPN, which connects you to a server located elsewhere so you can use that server's location as yours. The three VPNs below are our favorite picks for changing location.
How To Change Location on Pokemon Go
Changing your Location on Pokemon Go
Choose a VPN service. If you're not sure which one, check out our list of the best VPN services. Make sure the VPN has servers in your preferred location.

Sign up for a VPN subscription.

Download the VPN app.

Sign in.

Connect to the VPN server(s) of your choice.

Start playing Pokemon Go to see if the location change worked.
However, Pokemon Go uses many sources besides IP addresses to determine a user's location, so we have a few other workarounds, one of which is downloading and installing another third-party GPS app.
GPS Apps
Aside from setting up a VPN on your iPhone with one of the best iOS VPNs or setting up an Android VPN with one of the best Android VPNs, you can use a free GPS changing app called Dr.Fone on either operating system.1 This app doesn't change your IP address, but your actual GPS location, which could fool your Pokemon Go app.
On Androids only, you can use a VPN and a GPS app in one with Surfshark, which we tested in our Surfshark review. This is the only app we've tested that changes both your GPS data and your IP address. Dive deep into Surfshark's plans.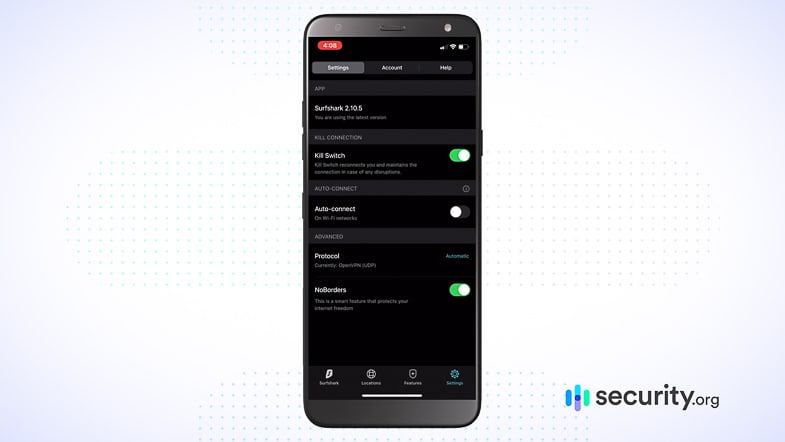 Android Account Region
Google lets you change your account region on Androids, meant for people moving to a different country who want to access that country's Google Play Store (content varies by country). However, you can only change your region once a year, and you'll lose your current balance on the Google Play Store and access to some content, so consider that before you change your region willy-nilly.
To change your account region on your Android directly:
Go to the Google Play Store.
Click on your profile icon.
Click "Settings."
Click "General."
Click "Account and Device Preferences."
Click "Country and Profiles."
Click the country you want to add.
Add a payment method from that country. Your update should be complete within 48 hours.
You can also change your Android account region from your computer if you prefer:
Open a web browser.
Go to Pay.google.com.
Click "Settings."
Scroll to the Payment Profile.
Next to "Country/Region," click "Edit."
Click "Create New Profile."
Follow the instructions to add payment methods. Changes could take up to 48 hours.

2
NOTE: To set up a new account region, you'll need a payment method from the country you're changing your region to.
No Jailbreaking
Jailbreaking your phone, your iPhone in particular, may be a tempting option, as it lets you download apps outside of the App Store and tweak the iOS. However, as far as digital safety goes, jailbreaking is a terrible idea.
One, Niantic doesn't support jailbroken devices, so you most likely won't be able to access Pokemon Go if you jailbreak your phone.
Two, you'll lose the security of the App Store, which screens all of its apps for malware; that's why iPhones and iPads don't need antivirus protection. Jailbreaking makes it easier to hack into an iPhone, even if you download third-party antivirus software. In other words, try a VPN and a GPS changing app before you jailbreak your phone, if ever.
To learn more, read about how to change your iPhone location.
Why Change Your Pokemon Go Location?
The main reason why someone would want to change their location on Pokemon Go is to generate new Pokemon, which differ by location. Changing your Pokemon Go location also lets you access special events and gym-specific battles.
FYI: Niantic, the company behind Pokemon Go, doesn't want users to change their locations falsely, so to avoid getting banned, try not to do it too often.
Why Can't I Access My Pokemon Go Location?
Did you get a notice that you're experiencing location accuracy issues? It may be an issue with your GPS. The device knowing your location is essential to playing Pokemon Go, so troubleshoot possible culprits with us below.
Unsupported Devices
Not all devices work with Pokemon Go, such as tablets that lack GPS sensors. See the list of supported devices below.
| Features | Android | iPhone |
| --- | --- | --- |
| Version | 6 or above | 6s or above |
| Preferred resolution | 720 x 1280 | N/A |
| Internet connection | Wi-Fi, 3G, 4G | Wi-Fi, 3G, 4G |
| GPS/location services | Yes | Yes |
| Unsupported devices | Rooted devices | Jailbroken devices |
Weak Signals
If many people are on the same Wi-Fi network or you are in a moving vehicle, a weak Wi-Fi or cellular signal may prevent the app from seeing your location data.
Tall Buildings
Tall buildings can also block signals, particularly in urban areas.
Location Accuracy Not Enabled
To get the most accurate location data from your Android device, it needs to use a combination of GPS, Wi-Fi, sensors, and mobile networks, which Google calls Location Accuracy. Without Location Accuracy enabled, your Android will only use GPS data, which tends to be slower and less accurate than the above sources.
To turn on Location Accuracy on your Android:
Swipe down on your Android screen.
Touch and hold "Location."
Click "Advanced."
Click "Google Location Accuracy."
Turn on "Improve Location Accuracy."

3
Mock Locations Enabled
If your notice says something like "failed to detect location," you may need to turn off a setting called Mock Locations. To disable the Mock Locations app:
Go to Settings.
Click "Systems."
Click "Advanced."
Click "Developer Options."
Disable "Select Mock Location App."

4
Recap
Changing your Pokemon Go location is a bit like cooking: You never know exactly how it'll go, but with some tinkering, you should be able to accomplish what you want. We recommend trying a VPN first, then a GPS changing app. If that doesn't work, Android users can change their account regions once a year. Have fun playing Pokemon Go!
FAQs
Still tinkering with your Pokemon Go location? We're here to help.