Living in a city, we're constantly switching public Wi-Fi networks, using our iPhones to look up directions, search for tasty bakeries, and find out the latest news. But this Wi-Fi jumping isn't great when it comes to our digital security, which is why we always use a VPN. In this article, we'll tell you everything you need to know about using a VPN on iPhones, from setup to connection.
How to Use A VPN on iPhones
The first step to using an iPhone VPN is to find one that's compatible; a good place to start is our list of the best VPNs for iPhones. Once that's done, you're ready to set it up.
How to Set up an iPhone VPN
We recommend downloading a VPN app rather than configuring your VPN manually, as it's much easier, but we've provided instructions for both options.
VPN app:

Download the iOS app of the VPN, either from the Apple App Store or from the VPN's website.
Create an account, again, either in the app itself or on the website.
Log into the app.
Choose your server.
Connect.

Manual configuration:

In your iPhone's Settings, click General.
Click VPN.
Add VPN Configuration.
Click on Type.
Then select your protocol, choosing from:

L2TP: The Layer 2 Tunneling Protocol generates the tunnel through which your web traffic passes, but it's only secure with IPSec. While L2TP generates the actual tunnel, it doesn't include encryption, which brings us to our next point.
IPSec: IP Security creates the encryption, either encrypting only the message of the data packet in transport mode or the entire data packet in tunneling mode.
IKEv2: Finally, the Internet Key Exchange version 2 re-establishes the VPN connection when it's lost, ideal for bouncing between public Wi-Fi networks.

Once you've selected your protocol, fill in your server name, account credentials, and remote ID or pre-shared key, which you'll get from your online VPN account.
Click Done to connect.

1
Note: To manually configure either L2TP or IPSec, you'll need a preshared key, while IKEv2 requires a remote ID.
How to Change the Region on an iPhone VPN
To change your region in your iOS VPN:
Go into the app.
Pick another server to connect to.
How to Uninstall an iPhone VPN
To remove a VPN from your iPhone:
Go to your home screen.
Touch and hold the app.
Tap the minus button to remove it.
Click on Delete App.
Confirm that the VPN has been removed.

2
What Is a VPN?
VPNs stand for virtual private network. VPNs create encrypted tunnels between a user's device (an iPhone, in this case) and the internet so that the internet service provider (ISP) can't see what the user is doing online.
How iPhone VPNs Work
When you connect to a VPN on your iPhone, your web traffic won't go directly to the internet network. Rather, it will be routed through an encrypted tunnel, hiding the websites you visit. Additionally, iOS VPNs will replace your iPhone's IP address, making it seem like you're in a different place.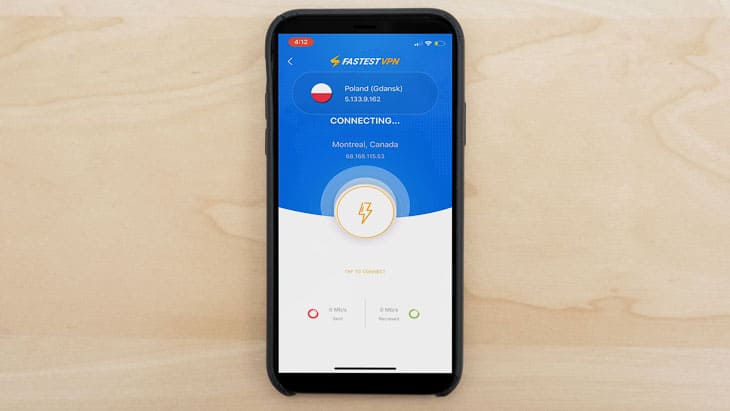 What to Look For in an iPhone VPN
While this isn't a comprehensive list, pay attention to the following features on your buying journey.
iOS VPN Features
With any iOS VPN, expect the following standard features:
Logging policy: The VPN shouldn't log your web traffic or your iPhone's IP address; rather, it should only hold minimal information needed to uphold your account.
Kill switch: Nearly all VPNs come with kill switches that shut down all of your web browsers and apps if they fail; think of them as a Plan B.
Streaming access: Many VPNs support streaming, allowing you to access other countries' libraries by changing your iPhone's IP address. To learn more, read about how to change your region on Netflix.
Torrenting access: There are VPNs for torrenting (non-copyrighted content, of course).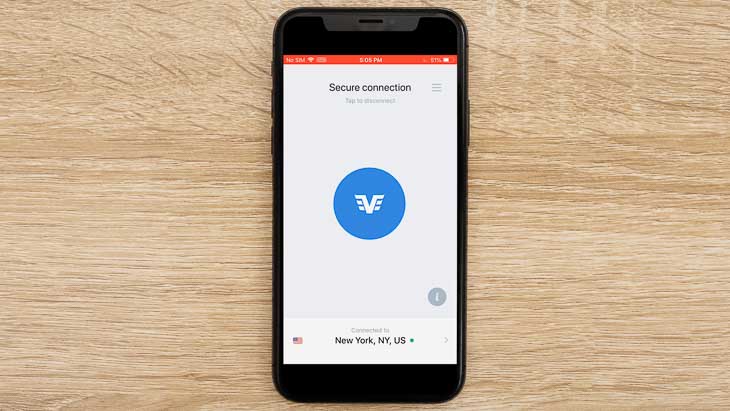 Did You Know: The Digital Millennium Copyright Act prevents copyright infringement;3 in other words, even if no one can see that you're torrenting copyrighted material, it's still illegal in the U.S.
Encryption methods: Look for VPNs that use AES-256 as their encryption method, the highest standard available today.
Internet protocols: Aside from encryption methods, VPNs also use internet protocols to transmit your data across the network. We don't want to get too nitty-gritty into current protocols, as there are many; our VPN guide goes into more detail.
IP addresses: All VPNs replace your IP address, but it could be either static or dynamic. Static IP addresses are the same every time you connect, and they are typically shared by thousands of users. Dynamic IP addresses change each time you connect. Some VPNs allow users to pay extra for a dedicated IP address. We prefer dynamic addresses, but this is a personal preference.
Pricing: Usually, VPNs cost around $5 to $10 a month. There are free VPNs, as well as VPNs with free trials, but they usually have limits on data usage, speed, the servers you can connect to, and most importantly, the amount of time you can use the VPN. If you want an iOS VPN for the long term, it's best to pay for a subscription.
iOS apps: Although it goes without saying, look for a VPN with a strong iOS app based on customer reviews in the App Store, as well as the reviews on this site.
iOS VPN Extras
While the following features aren't strictly necessary, they're great ways to optimize your iPhone VPN:
Split tunneling: Rather than turning your VPN on and off, split tunneling lets you route some traffic to the VPN and some directly to the public network, saving bandwidth.
Multihop: Multihop means that the VPN encrypts your traffic more than once through various tunnels; for someone prioritizing privacy, multihop could be a godsend.
Digital security bundles: Finally, many larger digital safety companies bundle VPN services with things like antivirus software and identity theft protection. For the most protection, take advantage of these discounted bundles when you buy your VPN.
Why Should I Use A VPN on my iPhone?
As we found in our VPN usage research, people have several reasons for using VPNs, from general security to protecting sensitive journalistic work. The truth is that, like anything else, iPhone VPNs have their pros and cons, although we believe that the former outweighs the latter.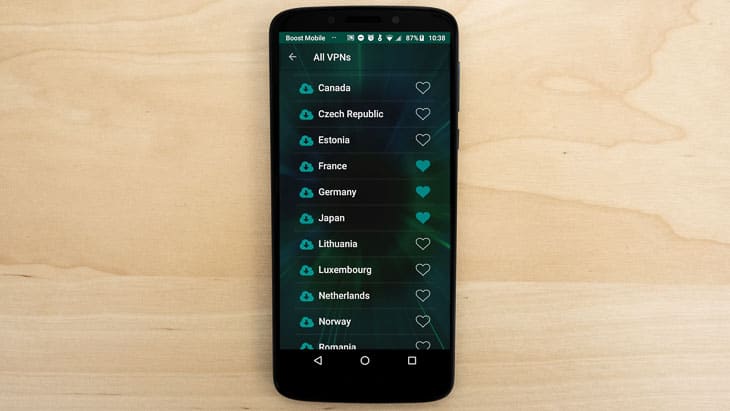 Pros
Privacy: By hiding your web activity and iPhone IP address, VPNs give you privacy from ISPs, digital advertisers, and anyone else who's curious about your online doings.
Security: VPNs also make you less susceptible to hacking, especially if you're using your iPhone on a public Wi-Fi network.
Streaming: VPNs let you access streaming libraries from around the world, opening up new movies and TV shows not available in your home library.
Cons
Costs: To avoid limits on devices, servers, data, speed, and more, more than likely, you'll need to pay for a VPN, although there are both free VPNs and free trial VPNs available if that's a deal breaker.
Slowdowns: VPNs will slow down your iPhone at least a little bit, which could make streaming or torrenting hard, depending on the download and upload speeds.
Logging: Depending on the VPN, your data may or may not be secure; while most VPNs don't log web activity or IP addresses, some do, and if it's a free VPN, that's all the more likely.
How to Test VPN Performance on iPhones
There are two specific elements you want to test with the VPN on your iPhone: speed and security.
Speed
Test your speed with one of the several free speed tests online.
Run the test without the VPN connected.
Calculate the difference in terms of a percentage.
Stream or torrent with the VPN on to see how it impacts speed.
Pay attention to download speed, upload speed, and (especially if you want to use your iOS VPN for gaming) latency.
Security
We test iOS VPNs' security in two ways:
DNS leak test:

Use the tool on DNSLeakTest.com.
Note a change in IP address with the VPN connected.
If there's no change, then your DNS is being leaked.

WebRTC leak test:

Check to ensure that your IP addresses aren't being leaked through a process called WebRTC, which lets browsers communicate with each other directly. Although there are a bunch of online options, we recommend that you:

Use the WebRTC leak test from ExpressVPN's website.
Note a change in IP address with VPN connected and not connected. No change indicates a leak.
Are iPhone VPNs Safe to Use?
Not all iPhone VPNs are safe to use, but if you got it from the Apple App store, it's unlikely that it will give your phone a virus. That's because iOS devices don't need antivirus software, which is why there's no antivirus for iPads or iPhones. As long as you don't jailbreak your iPhone, you are safe from viruses. However, viruses aren't the only worry we have when it comes to our precious iPhones. VPNs carry their own risks, which is why it's important to pay attention to the service's:
Privacy policy: Again, make sure that the VPN isn't keeping track of any information beyond your name, email, payment information and the like. There's no reason for a VPN to log what you do online or your iPhone's IP address.
Privacy jurisdiction: Where a VPN company is headquartered matters, as that will affect their privacy jurisdiction. For example, countries like the U.S. are members of Five Eyes, an international surveillance alliance that legalizes spying on citizens. For the most privacy, look for a VPN based in a nonmember country like Panama or the British Virgin Islands.
Encryption methods: Strong encryption is a must, ideally AES-256.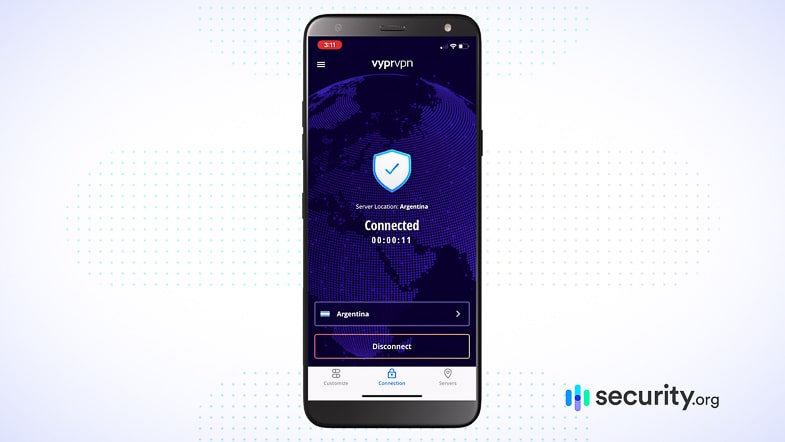 Recap
Choosing, installing, and connecting to a VPN on your iPhone is a straightforward process, but it could have a huge impact on your digital security. Make sure that you're keeping your privacy in mind, which is the point of the VPN in the first place.
Commonly Asked Questions
Hold the (i)phone! We're not done answering your iPhone VPN-related questions just yet.