The Best VPN for iPhone in 2023
We tested these VPNs on our iPhones, taking speed and security tests.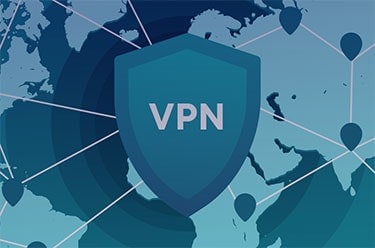 Most of our team has iPhones, and we are always on the go. In Brooklyn, that means weaving in and out of public Wi-Fi networks and potentially putting our digital privacy at risk. That's why we were so excited to figure out what the best VPNs are for iPhones, specifically. We'll go through what we found and how to make sure that us Apple enthusiasts are staying safe and secure as we use the Internet.
What We Look For
| | |
| --- | --- |
| Streaming service access | Netflix, Hulu, Prime Video |
| IP addresses | Dynamic |
| Encryption | AES-256 |
| Customer service | 24/7 phone support |
The Best VPNs for iPhone in 2023
Comparing the Top VPNs for iPhone
| System | NordVPN | Surfshark | Private Internet Access VPN | ExpressVPN | IPVanish | ProtonVPN | CyberGhost |
| --- | --- | --- | --- | --- | --- | --- | --- |
| Ranking | 1st | 2nd | 3rd | 4th | 5th | 6th | 7th |
| Ratings | 9.7/10 | 9.5/10 | 9.4/10 | 9.1/10 | 9.3/10 | 8.8/10 | 8.9/10 |
| Minimum Monthly Cost | $3.99 | $2.49 | $2.19 | $6.67 | $3.99 | $0 | $2.29 |
| Contract Length | 1 to 24 months | 1 to 24 months | 1 to 24 months | 1 to 12 months | 1 to 12 months | 1 to 24 months | 1 to 36 months |
| Netflix | Yes | Yes | Yes | Yes | Yes | Yes | Yes |
| Torrenting | Yes | Yes | Yes | Yes | Yes | Yes | Yes |
| IP Addresses | Dedicated, static | Dynamic, static | Dedicated, dynamic | Dynamic | Dynamic | Shared | Static, shared |
| Five Eyes, Nine Eyes and 14 Eyes Member | No | No | Yes | No | Yes | No | No |
| Read Review | NordVPN Review | Surfshark Review | Private Internet Access VPN Review | ExpressVPN Review | IPVanish Review | ProtonVPN Review | CyberGhost Review |
What are the Best iPhone VPNs?
1. NordVPN - Best Overall

NordVPN is a popular option for VPNs and it's no different for the iPhone. It offers an impressive combination of AES-256 encryption and double-VPN, meaning that our information was encrypted through multiple servers. NordVPN also assigned us a unique IP address so that we didn't have to share with other users who might be up to no good. Ultimately, NordVPN accomplished exactly what VPNs are meant to do: maintain our privacy when using the Internet.

What We Like

Superior customer service
Torrenting permitted
Strict logging policy
Strong encryption

What We Don't Like

Kill switch doesn't turn off all apps within iOS
No split tunneling
Static IP addresses
Subpar customer support

Strong Encryption

NordVPN leverages multi-hop encryption, meaning that our web traffic was encrypted through multiple servers. It's common for VPNs to only encrypt our traffic through one server, so this was highly valuable, especially if our jobs entailed conducting sensitive research or participating in a confidential activity on the Internet.

NordVPN Logging Policy

Minimal Logging

While NordVPN did take note of our email and payment information, it did not log when we used their VPN, how long we used it for, the servers we used, the websites we visited, or any files that we downloaded. Hallelujah!

Located in Panama

NordVPN being headquartered in Panama means that they are not part of any international surveillance alliances. This makes it extra appealing to us from a privacy perspective and we can sleep better at night knowing they'll never be forced to hand over our information.

2. Surfshark - Best for Netflix

Downloading the Surfshark iOS app onto our iPhones took seconds, and a few seconds later, our IP addresses were hidden and our internet traffic encrypted. Other Surfshark customers seem to agree with us, as the iOS app has a 4.4 out of five-star rating.

What We Like

Streaming on Netflix, Prime Video, and more
Five Eyes non-member
Split tunneling
Torrenting

What We Don't Like

Slow to connect at times
No support over the phone
Somewhat pricey monthly plan
Only students get year-round 15 percent discount

Netflix and Chill

Is it weird that we watch entire movies on our iPhones? You've got to entertain yourself on your commute somehow! When we were connected to Surfshark and typed in Netflix, we were pleasantly surprised that they didn't block us, as Netflix blocks many VPN IP addresses. And when we ran out of things to watch on Netflix, we used Surfshark on Prime Video, Hulu and other top streaming services. Aside from general security, Surfshark is great for entertainment.

AES-256

If the U.S military says something is secure, it's secure, and that is true of AES-256 bit encryption. It's how Surfshark hides our web activity and private IP addresses from sight and currently, it's the industry standard. Shout to Surfshark for doing their homework!

Surfshark Browser

Low Prices

We only signed up for Surfshark on a month-to-month basis, but if we needed a longer subscription, we would've signed up for an entire year. The one-year subscription costs $47.88, or about $3.99 per month if we average out the cost. Even better, we could've signed up for two years and paid only $2.49 a month, billed once as $59.76. Basically, with Surfshark, it pays to commit.

3. Private Internet Access VPN - Best Value

What We Like

24/7 live chat support
Minimal logging
Seven-day free trial on iOS
Consistently good app ratings

What We Don't Like

No split tunneling on iOS
Requires a long-term (three-year) subscription to enjoy best prices
iOS app has had persistent connection issues in the past
Based in the United States

A Great Value VPN

What stands out the most about Private Internet Access is its pricing in relation to the privacy and digital security it provides. Starting at just $2.19 a month, PIA's subscriptions provide both necessary and additional features. Its core features include a kill switch, split tunneling (although this isn't available on iOS), and strong encryption and VPN protocols. In addition, it has a bevy of useful extras, like VPN snooze, IPv6 leak blocking, and port forwarding.

Network Customizations

Unlike most iOS VPNs, PIA offers a wide range of network customizations. You can choose your VPN protocol between OpenVPN and WireGuard, adjust the strength of data encryption, set which local ports to use, change your DNS settings, and a ton more. As long-time iPhone users, we're itching to have access to as many VPN customizations as Android users usually get, and PIA offered us just that.

User-Friendly

Of course, not everyone wants to tinker with network settings. Some folks just want a simple VPN that can unblock geo-restricted websites or hide their internet traffic. If that's you, you'll appreciate PIA's easy-to-navigate app. The app can connect you to the VPN in two simple steps: First, launch the app, then tap the large power icon. Now, PIA isn't a perfect VPN, but it's one of the best options for iPhone users.

4. ExpressVPN - Best User Experience

With minimal logging, high speeds and split tunnelling, ExpressVPN was the strongest contender for VPNs for iPhones. We were also impressed with its app ratings and our ability to access Netflix.

What We Like

Netflix access
Stellar app ratings
Outside of Five Eyes, Nine Eyes, and 14 Eyes territories
Over 2,000 servers in 148 locations

What We Don't Like

More costly than competitors
Can only connect five devices simultaneously
No phone support for customer service
Slow on a Mac

Rotating IP addresses

Every time we logged on to ExpressVPN, our IP address rotated. This makes it even harder for hackers, or others who might be surveilling us, to track us down.

ExpressVPN App

Headquartered in British Virgin Islands

ExpressVPN is headquartered in the British Virgin Islands. That's a huge plus because it means that it's not subject to Five Eyes, Nine Eyes, or 14 Eyes jurisdiction and cannot be forced to hand over logged data to the government.

FYI: Even though the British Virgin Islands are technically a territory of the United Kingdom, they are self-governed, and therefore don't have to comply with Five Eyes, Nine Eyes, and 14 Eyes.

Split Tunneling

If we needed to toggle back and forth between public and private networks, we could still leave ExpressVPN connected, because it enables us to use both connections simultaneously. This was super convenient since we didn't have to pay any attention to what was on or off at any given moment and could browse freely and safely.

5. IPVanish - Best Encryption

IPVanish enabled us to connect up to ten of our devices at the same time and met our torrenting needs perfectly. The widespread availability of servers meant that we had fast Internet wherever we wanted. Sure, their price was slightly higher than average, but in our opinion, IPVanish is worth it.

What We Like

Split tunneling
Can connect 10 devices at once
Fast downloading speed
Ability to torrent

What We Don't Like

Has shared customer logs in the past
U.S. based
Netflix doesn't always work
Slow on Windows

Impressive Customer Service

IPVanish has a full suite of customer service options: 24/7 live chat, email support, a robust online FAQ section, and even a phone line. Whenever a VPN offers a phone line, we know they take their customer service seriously. When we reached out via email to ask about their IP addresses, they answered us promptly.

IPVanish Desktop App

Highly Rated in App Store

The IPVanish iOS app is super intuitive to use which is important since we often find ourselves on public Wi-Fi networks walking the streets of New York or stopping to work at our favorite coffee shop. The app also boasts a 4.5-star rating on the app store from over 45,000 ratings, so we're not the only ones who are satisfied.

Global Coverage

IPVanish has over 40,000 IP addresses and servers in more than 75 locations. We're always glad when we know that our Internet will remain fast and safe regardless of where we are.

6. ProtonVPN - Best for Torrenting

ProtonVPN served us well, whether we were trying to watch Netflix or just make sure our browsing activity was safe. They've got 560 servers in over 40 countries and are based in Switzerland, so we always found ourselves with a fast connection and didn't have to worry about too much of our data being logged.

What We Like

No data logging
Torrenting permitted
Based in Switzerland
Kill switch

What We Don't Like

Confusing pricing options
Limited customer support
IP addresses shared with other users
Slower on Macs

Kill Switch

ProtonVPN features include a kill switch. This would have come in handy for when we might have been torrenting big files and the VPN disconnected, even for a split second. Instead of our activity being exposed to our Internet Service Provider and potentially getting us in trouble, the kill switch would shut down all our web traffic automatically, so we'd still be protected.

ProtonVPN Privacy Policy

Minimal Logging

ProtonVPN didn't log our web browsing activity and only kept track of information like our email and payment information. Additionally, ProtonVPN offered transparency reports, so we knew exactly what they're keeping track of.

Torrenting Permitted

ProtonVPN allows torrenting with either a Basic or Plus subscription, and when we opted for the Plus option, we were able to stream ultra-fast on our Windows, making for a very positive experience bingeing our favorite shows. Their servers are also designed specifically for P2P file downloading.

7. CyberGhost - Best Customer Support

CyberGhost is a great cost-effective option that gave us solid features like stellar customer support and access to Netflix. With over 5,500 servers across 90 countries, we were never without a fast secure connection, and with their headquarters in Romania, we never worried about our information being surrendered to the government.

Heads Up: CyberGhost doesn't offer split tunneling, so we were only able to access private networks separately from public networks.

What We Like

Great Customer support
Affordability
Non-member to Five Eyes, Nine Eyes, and 14 Eyes
Servers across the globe

What We Don't Like

No split tunneling
Slow on Windows
Static IP addresses
Logging policy

Affordability

We had the option of choosing a month-to-month subscription for $12.99 per month. If we subscribed for a year, that would've cost us only $51.48 or about $4.29 monthly. The longer the subscription, the lower the monthly cost. There are two-year and three-year plans, as well, with the latter offering three months of free service. The two-year plan costs $78 (about $3.25 per month), while the three-year plan costs $89.31 (about $2.29 per month).

Strong Customer Service

While CyberGhost doesn't have a phone line, their 24/7 live chat was highly responsive when we reached out to ask about torrenting. We easily searched their database of frequently asked questions to find most of the information we needed.

CyberGhost App

Netflix Access

For us, Netflix is a way of life, so we love it when we're able to browse and stream to our heart's content. There was one snag in that we weren't able to access some UK content without having to pay more. However, we also accessed Hulu, Amazon Prime Video, ESPN, and Crunchyroll, so overall we were happy with the streaming options at hand.
Video Review
In our video review, we go through each VPN in-depth. We show you the interface of each of the iPhone VPN apps so that you'll know exactly what you're getting before having to make any decisions for yourself.
How We Test VPNs: Methodology
We've got testing VPNs down to a science and want to tell you all about our methods. That way, you'll know exactly how we can confidently rate and rank all the VPNs we look at. We start by taking a close look at all the different features a particular VPN offers (like encryption standards for security, IP addresses for privacy, etc.) to make sure it covers the bases of what a VPN should provide. Then, we put each VPN through our own speed and security tests, which we'll go into detail about below!
Speed
Most of our VPNs get tested out of our Brooklyn office, where we have a private Optimum network; however, we occasionally test VPNs while traveling to the Philippines, as well. Our Internet speed without a VPN serves as an objective control, and we only connect one device at a time. We know our readers use all different devices, so we make sure to test on a Macbook Air and a Windows Vivobook. We use the website SpeedTest.net.4 to test download speed, upload speed and ping (latency). First, we perform tests with the VPN, and then, without. Download and upload speed are measured in megabits per second, while latency is measured in milliseconds. Once we gauge these two measures, we identify the difference in terms of a percentage to account for discrepancies between the greatly varied natural speeds of Macs and Windows computers.
Distance to the server, operating system and device all impact speed, but it's ideal that VPNs have no more than a 40 percent difference in any of our categories, ping, download speed or upload speed.
Security
A main motivator to use a VPN is to protect our web traffic, like our domain names (website names) and their IP addresses. It's also important for us to know that users' IP addresses aren't being leaked due to WebRTC, which allows browsers to communicate directly with each other. It's also the default on browsers like Chrome, Microsoft Edge and Opera, and since we're Chrome-users, this was particularly relevant.
We test for DNS leaks by using DNSLeakTest.com. By comparing our computer's IP address with the IP addresses that the website shows, we can tell if there was a DNS link while using the VPN or not. Then, we test for WebRTC leaks by leveraging a tool available on ExpressVPN's website. We use a similar tactic where we look at the local and Public IPv4 IP addresses to see if there were any WebRTC leaks.
We also make sure to take a close look at companies' privacy jurisdiction and data-logging policies. We take note of where a company is headquartered, because it dictates if they are members of Five Eyes, Nine Eyes and 14 Eyes. Those are international surveillance alliances that have the potential to legally force companies to surrender customer data. It's the best-case scenario for a company to not be located in a country impacted by such agreements, but it's also ideal if they log minimal user account information. We find things like name, email and payment information acceptable and don't see why VPNs would log additional data, like when customers use their VPNs, how long they use it for, how much data they've transferred, what servers they use, what websites they visit and more.
We also conduct a full analysis of a VPN's encryption methods and Internet protocols to make sure they meet the industry standards. You can find that information in our full, individual reviews. We prioritize VPNs with AES-256 encryption and OpenVPN, which are some of the highest standards of security on the market.
We check out how a company handles IP addresses because it impacts our likelihood of being tracked. It's best if a company offers dynamic addresses that change each time we log on, making it even harder to track what we are doing. Static IP addresses stay the same and that makes them less desirable and easier to track. Finally, we make sure that each VPN has a kill switch. This function shuts down Internet browsers in the unlikely event that a VPN fails.
Torrenting and Netflix
VPNs are also used to watch movies and television. We make sure to keep track of which VPNs offer torrenting and have access to Netflix. The Netflix part can be a bit of a toss-up, as it is always updating its code to block torrenting, a big reason why VPNs are popular. Even though we test our ability to access Netflix, we can't guarantee that it will always work for everyone.
Split Tunneling and Encryption
We also keep an eye out for split tunneling. This feature allows us to use both the VPN, as well as a public network at the same time. The lower bandwidth can create faster speeds. We prefer double or multi-hop VPNs, because this means that data is encrypted multiple times through multiple servers.
Subscriptions
We boil subscription information down to the basics so that our readers can easily compare VPNs to each other. We also spend a lot of time looking at VPNs, so we're able to spot good value when we see it. Some VPNs are super cost-effective, with monthly fees of less than a dollar if you sign on for a long-term commitment. On the flip side, certain companies offer subscriptions as expensive as $15 per month. We like it when a company offers several options in their pricing structure, like the ability to pay month-to-month or pay less monthly for a longer-term contract. We also look for the option to give a VPN a test run through a free trial or money-back guarantee period. Finally, we specify what actually comes in a subscription in terms of how many servers the company offers and how many devices can be connected simultaneously. Typically, a VPN will allow unlimited server switches and devices.
Customer Support
Once our readers choose a VPN, we want to make sure that they have ongoing support from the company. We check what resources are available in the event that issues pop up. It's most common for companies to offer a live chat option and an online help center. Lots of companies will also compile a database of FAQs where you can search through past users' questions. It's uncommon for a company to offer a phone service, so if a VPN we're reviewing has one, it's a big plus.