FastestVPN Cost & Pricing Plans
$40 lifetime plan with 2TB of cloud storage
Company based in the Cayman Islands, which means they aren't obligated to turn over any data due to international intelligence alliances.
Included ad blocker and anti-malware in addition to a full suite of VPN features.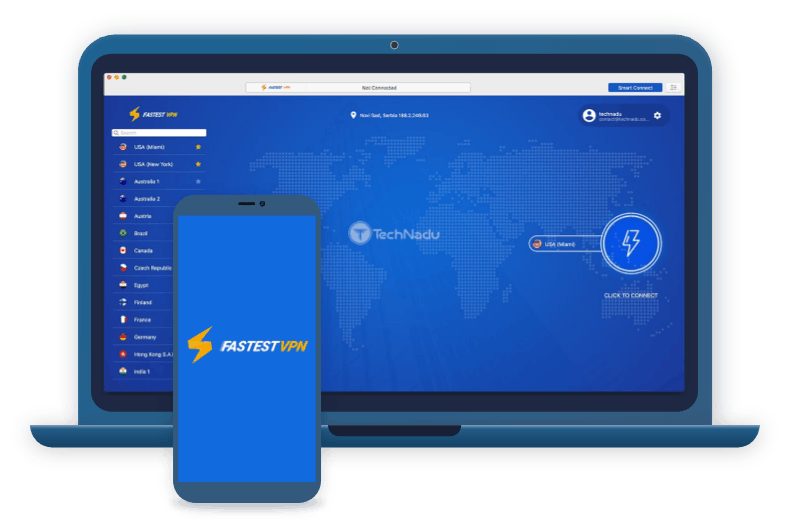 All of our content is written by humans, not robots.
Learn More
By

&

Last Updated
Jul 20, 2023
One of the things we really value in a VPN is comfort in knowing that our information is secure, and won't be turned over to governments or law enforcement. FastestVPN is headquartered in the Cayman Islands, which puts it outside of the jurisdiction of far-reaching international intelligence alliances, meaning that we could trust our data was in safe hands. But knowing our data is secure is only one part of the VPN picture. On this page we're going to look at the other aspects of FastestVPN—its subscription plans, its features, and some other background information surrounding the company—to see where it stands in the VPN landscape.
Plan details
| | |
| --- | --- |
| Monthly plan cost | $5 |
| Annual plan cost | $24.95 ($2.08/month) |
| Number of devices per subscription | 10 |
| Customer support options | 24/7 live chat |
| Encryption | AES 256-bit |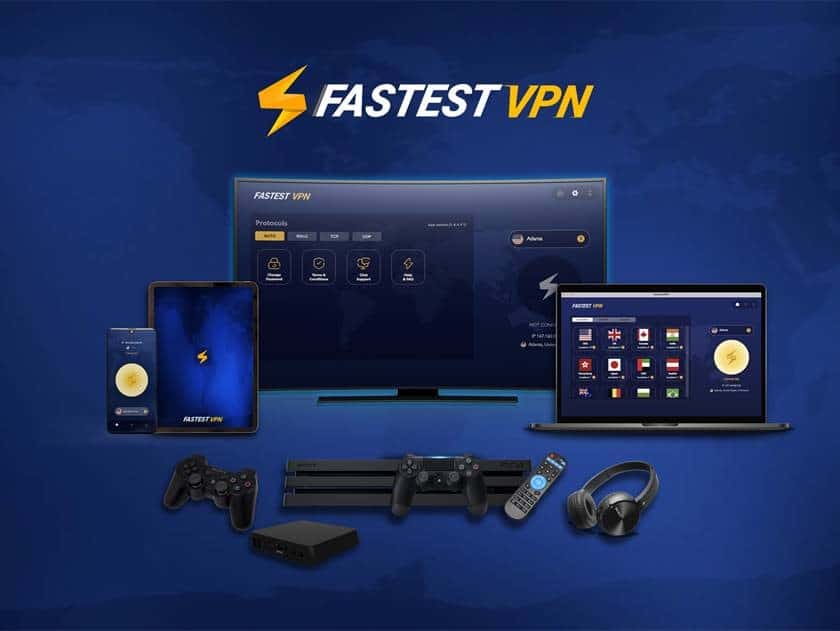 Our Data and FastestVPN
As we mentioned, FastestVPN is based in the Cayman Islands, a British overseas territory best known for its role as a tax haven for corporations and the wealthy elite.1 While the Caymans are notorious for their tax benefits, they also hold standing as an outlier in international intelligence alliances, meaning that no matter what our online activity entails, FastestVPN won't be compelled to share it with more intrusive government agencies and law enforcement. Right off the bat, this fact goes in the plus column.
As far as the data FastestVPN collects are concerned, the company is adamant about not storing any of our online activity, which is another assurance we can get behind. Their easy-to-read privacy policy is forthcoming, stating clearly, "Any information or logs related to your browsing history—the websites you visit, the content you download or stream, your traffic destinations, or your DNS queries—stays with you and you alone." With this type of policy and their location, we felt confident that our data was on lock.
FastestVPN has also proven that they stand behind the words on their privacy policy. They recently completed an independent audit by Altius IT, a California-based firm. FastestVPN passed the audit, which indicates that their privacy policy, especially the "no-logs" policy, is accurate.
The only information FastestVPN kept was the email address we used on sign in. Beyond that, our payment information, IP address, our bandwidth usage information and more weren't kept for later use with advertisers or other third parties. They even provided us with an assurance that if we cancelled our account, our email would be deleted from their database, leaving it without a trace.
Encryption Protocols with FastestVPN
We encourage you to check out our FastestVPN review for a full breakdown of their encryption protocols and other features, but generally speaking, we're impressed with how they work to protect the data we used. The VPN uses an Advantage Encryption Standard of 256 bits, which is the industry standard, and a level of data encryption that banks and government agencies rely on to guard even the most sensitive data. It also offers some of the most trusted VPN protocols, namely, OpenVPN, WireGuard, and IKEv2.
FastestVPN: Is It The Fastest?
With strong privacy features and affordable subscriptions, FastestVPN attracts a lot of attention. However, if it piqued your interest because of its name and what it implies, we're sorry to break this to you: It's not, in fact, the fastest VPN we've tested. That distinction belongs to these three: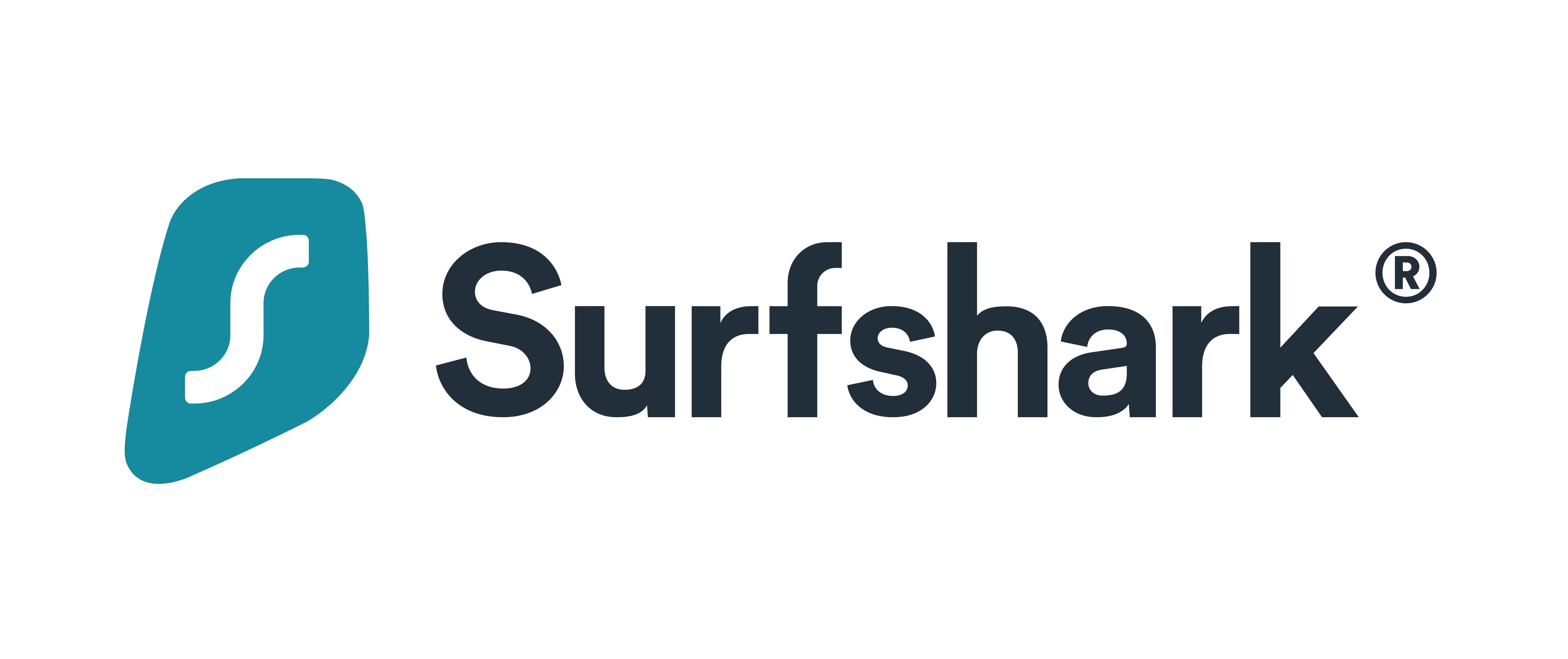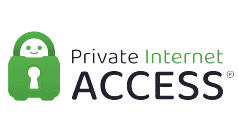 FastestVPN's Server Base
One of the keys to a successful VPN is their server count and the reach of those servers. When we use a VPN, our data is routed through another server, which masks our source location. The greater the distance our data has to travel, the slower the connection. So, when a VPN offers a high server count, especially in close proximity to where we're using data, it typically means
faster speeds.
FastestVPN is on the lower end of the server count, offering approximately 250 servers spread across 31 countries and 39 locations. When compared to some top-of-market VPN server counts—check out our NordVPN review for a service that features more than 5,000 servers spread across 62 countries—FastestVPN doesn't necessarily stack up. But, the speeds we encountered using FastestVPN were generally competitive in the market, so overall the limited server count shouldn't be seen as a huge negative.
Quick Note: One interesting thing about FastestVPN is their website features a "Request A VPN Server Location" form, which demonstrates that they're committed to expanding to best serve their customers.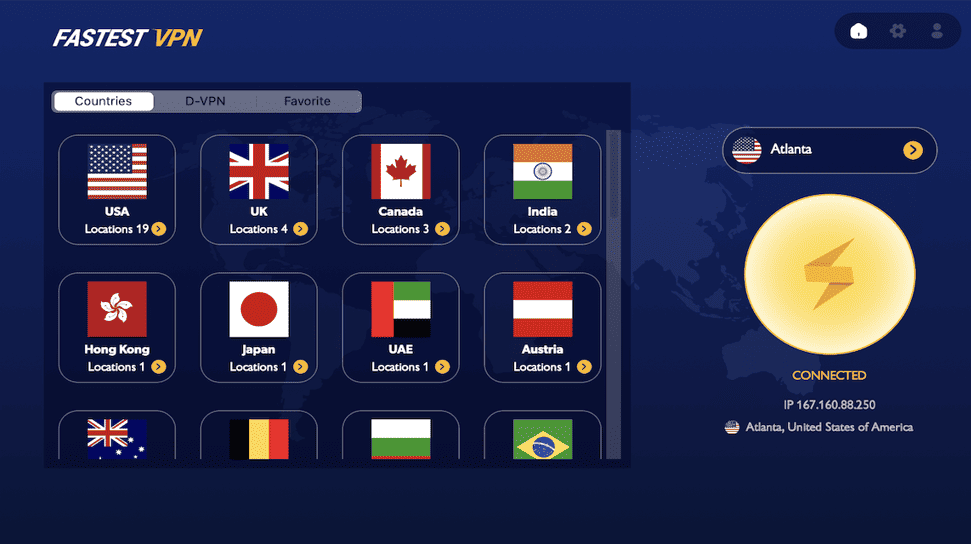 How Much Does FastestVPN Cost?
Now that we've gone over some of the higher-level aspects of what FastestVPN is bringing to the table, let's take a closer look at their prices. There are three tiers to their service, beginning with a standard monthly plan. Interestingly, it's one of the few VPNs that offer lifetime access in exchange for a one-time payment of $40.
One aspect of FastestVPN's service that we really appreciated was that their full suite of features was available at every subscription point. Some VPNs tier their service based on the type of subscription we signed up for, so having one universal service really made the process uncomplicated. Let's take a look at the plans and how they stack up.
| | Monthly | Annually | Lifetime |
| --- | --- | --- | --- |
| Monthly Cost | $5 | $2.08 | N/A |
| Total Cost | $5 | $24.95 | $40 |
All of the subscription plans include capacity for up to ten devices, which we felt to be sufficient enough to cover our entire household. Another great aspect of their pricing model is additional devices could be added to our plan for one dollar per device.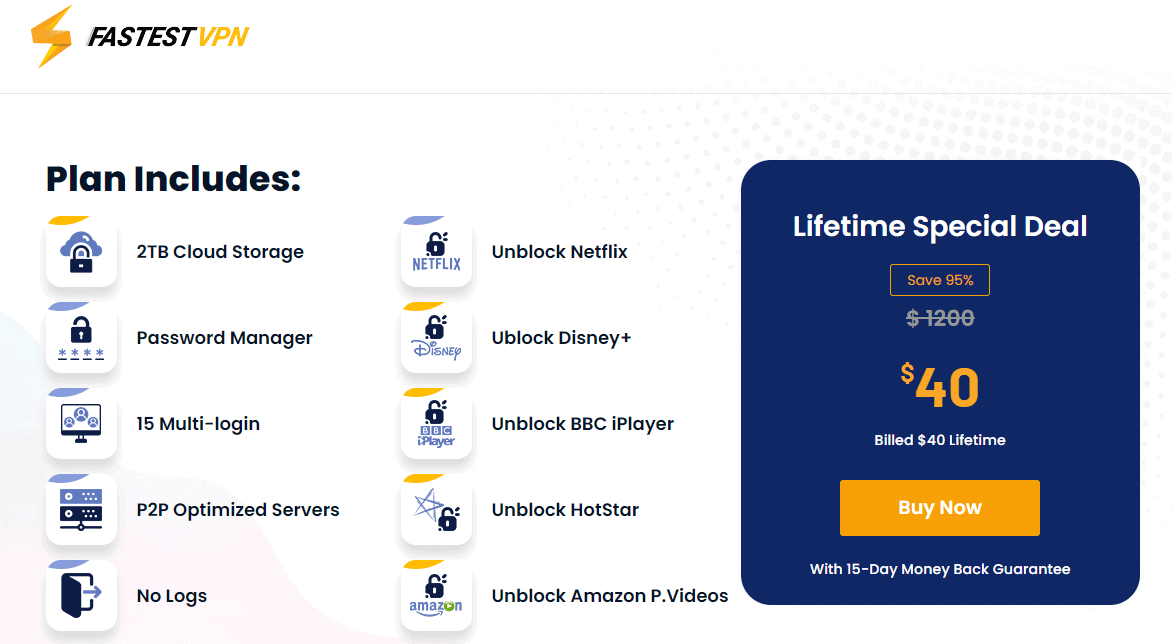 Is There a Free Version of FastestVPN?
Unfortunately, there isn't a free version of FastestVPN, which is sort of a disappointment as we like being able to test out full versions of a service before buying in, just to ensure that we are on board with its feel and function. While a free version doesn't exist, each subscription plan comes with a 15-day money-back guarantee.
Having a money-back guarantee was beneficial because it allowed us to try out the VPN before we were locked into a full commitment. But having to enter payment information and go through the cancellation process is always a barrier when it comes to trying services out. In almost all cases, we prefer a free trial version of a VPN, even if it has limited features (check out our ProtonVPN review for a good example of a free trial VPN) to get hands-on experience with the VPN before committing.
How Does the Payment Process Work?
As we mentioned earlier, FastestVPN doesn't require very much personal information to sign up. All we were required to fill in were a name and email address. From there, the secure checkout process enabled us to pay by credit card, PayPal, or Amazon Pay. While overall we would prefer a few more payment options—for example, some VPNs allow for their subscriptions to be paid in Bitcoin—we found the checkout process to be unobtrusive and convenient.
Savings Tip: FastestVPN also offers a 20 percent subscription discount through a partnership with Student Beans.
How Do I Cancel My Service?
Since there isn't a free trial version of the VPN, we'd hope that the cancellation process would be simple; this was far from the case. When we went to cancel the service within the VPN, we were given a notification that the service couldn't be canceled because it was an active subscription, which seemed ironic; how would we cancel anything if it wasn't active?
From there, we consulted their refund policy, which told us to send them an email within the 15-day window and our service would be suspended immediately; from there, a refund would be reflected after 15 days. The whole process left us feeling a little shaken, and brought into question the legitimacy of the operation a bit. The long and the short of it is, make sure you are satisfied with the service before the 15-day money-back guarantee is up. Canceling the service after that point will essentially mean eating whatever you paid.
FastestVPN Customer Support
Given the issues we ran into with their refund policy, it may be best to give a little background on FastestVPN's customer support. They do offer a 24/7 live chat, which is a great resource if you're having issues with your service. But beyond live chat, the rest of their customer support is done via email, which felt a bit impersonal and slow to us. Additionally, their online resources and FAQs felt a bit lacking, and it was difficult to get the answers we were looking for with regards to their service.
Some of Our Favorite Features of FastestVPN
Despite the disappointing customer support and cancellation policies, overall, we were satisfied with FastestVPN's service, especially at their price point when we opted for a longer service agreement. Let's take a look at some of the features we liked the most:
Data Security: The company's Cayman Islands headquarters coupled with their data collection policies (or lack thereof) left us feeling confident in using their service no matter what our Internet activity may be without fear of the company turning our data over to government agencies or law enforcement.
Data Security, Part Two: In addition to jurisdictional and privacy protections, FastestVPN also protected our data through high-grade encryption on security protocols. We also didn't find any DNS or WebRTC leaks in the service, giving us further confidence in the VPNs efficacy.
Ad Blocker and Anti-Malware: The VPN also included ad blocking and anti-malware services which helped protect us from endless streams of annoying ads and potentially hazardous viruses infecting our computer. Both of these services ran automatically, which gave us an extra layer of protection in our Internet usage.
Kill Switch: FastestVPN includes a kill switch, which essentially means that our Internet activity would be terminated in the event that our VPN service was lost, ensuring protection even if we weren't protected by the VPN.
Low Cost: When we decided to opt into a long-term agreement with the company, the monthly rates were some of the lowest we encountered. Less than a dollar a month? Yes, please.
Torrenting and Streaming: FastestVPN offered support for P2P BitTorrent downloading as well as streaming support for Netflix (U.S. only) and Disney+. Though it is important to note that Netflix and other streaming services have a long history of cracking down on VPNs,

2

so this support could change over time.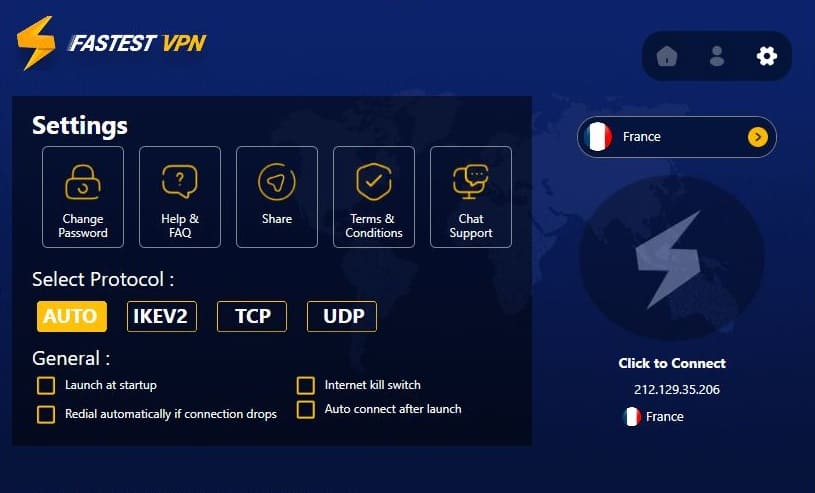 FastestVPN Recap
While FastestVPN may not be the most polished addition to the VPN landscape as evidenced by their tough-to-navigate website and general lack of customer support, we found their service to speak for itself, offering a full range of features at bargain prices. While they don't offer a free trial, with a $40 lifetime subscription or a yearly plan that costs just $2.08 per month, we were impressed by what we got from the service. Hopefully, given the company's openness to adding servers, in time FastestVPN will improve its speed and service to become a top-tier VPN.