X-VPN Review and Pricing 2023: Can It Deliver on Its Promises?
With over 8,000 servers, Hong Kong–based X-VPN promises a powerful VPN with secure connections and access to streaming websites.
Up to five simultaneous connections
Monthly and yearly Premium subscriptions
Supports multiple operating systems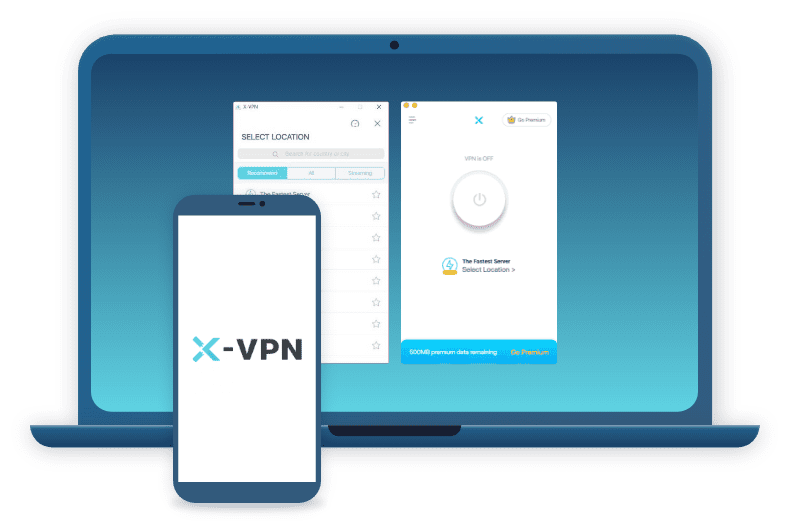 All of our content is written by humans, not robots.
Learn More
By

&

Last Updated
Nov 21, 2023
X-VPN is one of the lesser-known virtual private networks, but it makes claims that — if true — could propel it to the top of the industry. In this post, we'll separate the truth from the marketing hype regarding X-VPN's pricing, features, apps, and performance based on our firsthand experience.
X-VPN Costs
Cost is one of the main factors when choosing a VPN, so that's where we'll start. X-VPN has a simple pricing format: You can pay monthly or yearly, and you'll get the same features either way.
| Pricing information | Monthly | Yearly |
| --- | --- | --- |
| Total billed amount | $11.99 | $71.88 |
| Cost per month | $11.99 | $5.99 |
| Money-back guarantee | 7 days | 7 days |
If you go with the monthly plan, then you'll pay $11.99 per month. If you go with the yearly plan, then X-VPN will charge you $71.88 up front and yearly after that. The yearly plan costs the equivalent of $5.99 per month, which is half the monthly plan. That's consistent with the VPN market trend, where longer subscriptions are rewarded with discounts. NordVPN costs $11.99 per month, for instance, but the price goes down to $4.99 per month if you pay yearly and $3.49 a month if you pay every two years.
Our Expert Advice: When subscribing to a VPN, start with a monthly plan so you can test how it works for you. If you like it, then consider switching to a yearly subscription to save some money.
There's nothing noteworthy about X-VPN's pricing. It's not expensive; the $11.99 monthly price is consistent with many top VPNs. But it's also not as affordable as the best cheap VPNs, which cost as little as $2 per month but still offer great features. Below we'll cover whether X-VPN holds enough value for its price, but first let's talk about the free version.
Connections Matter
X-VPN has an impressive number of servers, makes use of AES-256 encryption, and provided us with access to Netflix and several other popular streaming sites. That said, it limits users to just five simultaneous connections. If you've got more than five devices, that could be a deal-breaker. If you're looking for VPNs with more connections, you might try starting with our three top VPN recommendations below: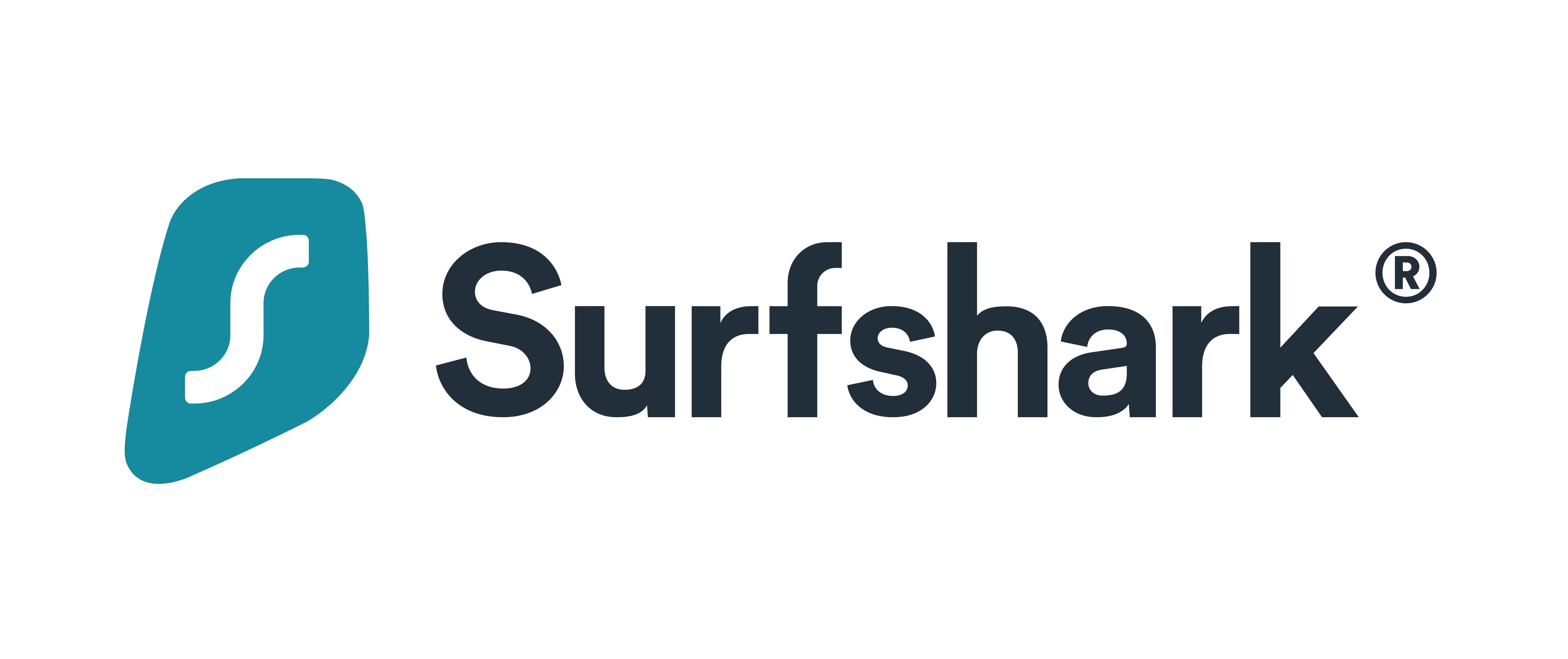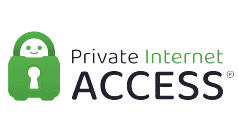 What You'll Get From X-VPN Free
X-VPN advertises itself as a "free, secure, and fast VPN service." We'll cover security below, but the "free" and "fast" parts are true. As with any free VPN, though, there's a catch.
When we signed up, we started with a free account on Windows, which gave us 500 MB of free premium data. We were able to connect to any server we wanted and watch streaming sites such as Netflix and Prime Video. Once the premium data ran out — which didn't take long — X-VPN locked us out. We couldn't connect to any servers anymore.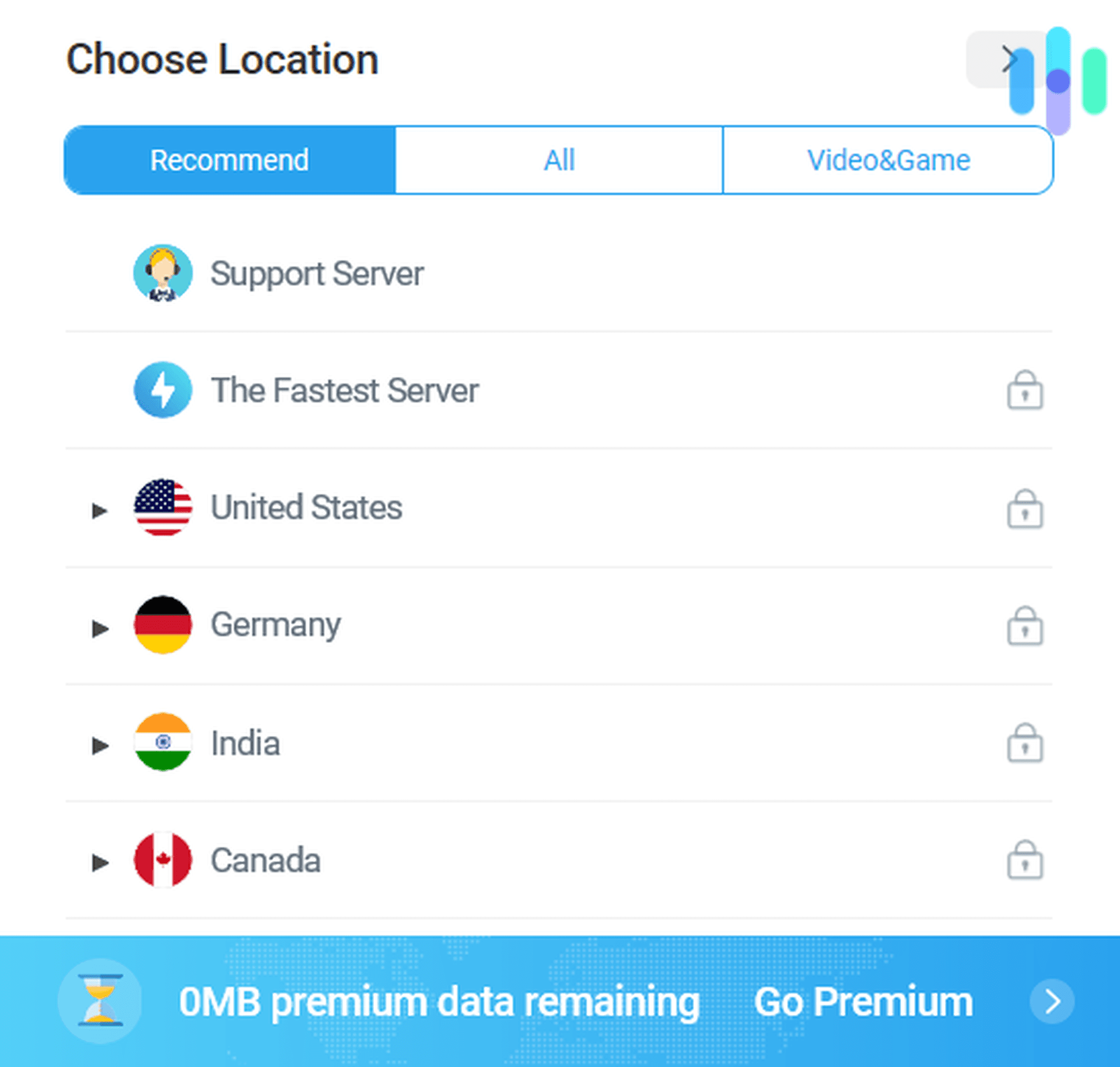 The mobile free version was more generous. Even when our account ran out of premium data, we were able to connect to the free servers. X-VPN selects the fastest available free server automatically, though, so we couldn't choose a location. The connections were fast, but the catch is that the free mobile version is ad-supported.
Was the free version of X-VPN worthwhile? Certainly not on Windows and Mac, since there's a 500 MB data limit that doesn't refresh. If you're on Android or iOS and you want to secure your browsing data on a budget, then you may be able to live with X-VPN Free's limitations.
X-VPN Features: Testing Its Claims
After spending some time with X-VPN Free, we sprung for a Premium subscription. Did X-VPN fare well? Read on for the full details.
Is X-VPN Private?
We're part of the 79 percent of Americans concerned about how much data companies collect,1 so the first thing we looked at was X-VPN's privacy policy. The policy2 claims the company:
Does not log how you use your VPN connection
Does not store your original IP address or the server IP address you connect to
Will not sell, use, or disclose any personal data to third parties
That's reassuring, but we have no way to know if the company is telling the truth without independent third-party audits to back up its claims. We would have more peace of mind with VPN companies that submit their privacy policies to independent audits.
NordVPN, one of the best VPNs, has twice had its privacy policy audited and deemed honest by PricewaterhouseCoopers Switzerland. You'll find the details in our NordVPN review. Until X-VPN decides to get a third-party auditor to look at its privacy policy, we'll just have to take the company's word for it.
Does X-VPN Have a Kill Switch?
A kill switch is a VPN feature that every privacy-minded user needs. VPNs are not 100 percent reliable, and they can sometimes disconnect unexpectedly. When that happens, even momentarily, your internet provider or the website you're viewing will be able to see your real IP address. A kill switch prevents that from happening by instantly blocking your online traffic as soon as your VPN disconnects. That's exactly what X-VPN's kill switch did on our iPad, but there's no mention of a kill switch on the Windows app.

Does X-VPN Support Split Tunneling?
Split tunneling is not a privacy or security feature, but it's a nice feature for multitaskers. Essentially, it lets you choose which apps or websites go through the VPN tunnel and which go through your normal network. It's particularly useful for apps and sites that don't allow VPN connections. Unfortunately, neither X-VPN's Windows nor mobile apps offer split tunneling.
Can X-VPN Multi-Hop?
The short answer is no, X-VPN can't multi-hop. Multi-hop refers to a type of VPN connection that routes your traffic through two or more VPN servers for extra encryption and security. This is a nice feature, but X-VPN's lack of it isn't a dealbreaker.
Can X-VPN Stream Netflix?
One of X-VPN's claims is that it can provide access to Netflix and other streaming and social media sites if they're blocked in your country or by your network administrators. We live in the United States, where we can freely access social media, but we tested X-VPN's ability to unblock Netflix's geographical content restrictions.
We heard from a colleague that "Friends" is on Netflix Taiwan. We were missing Joey and Chandler's funny antics, so we hopped onto a Taiwan server. Needless to say, our weekend was booked.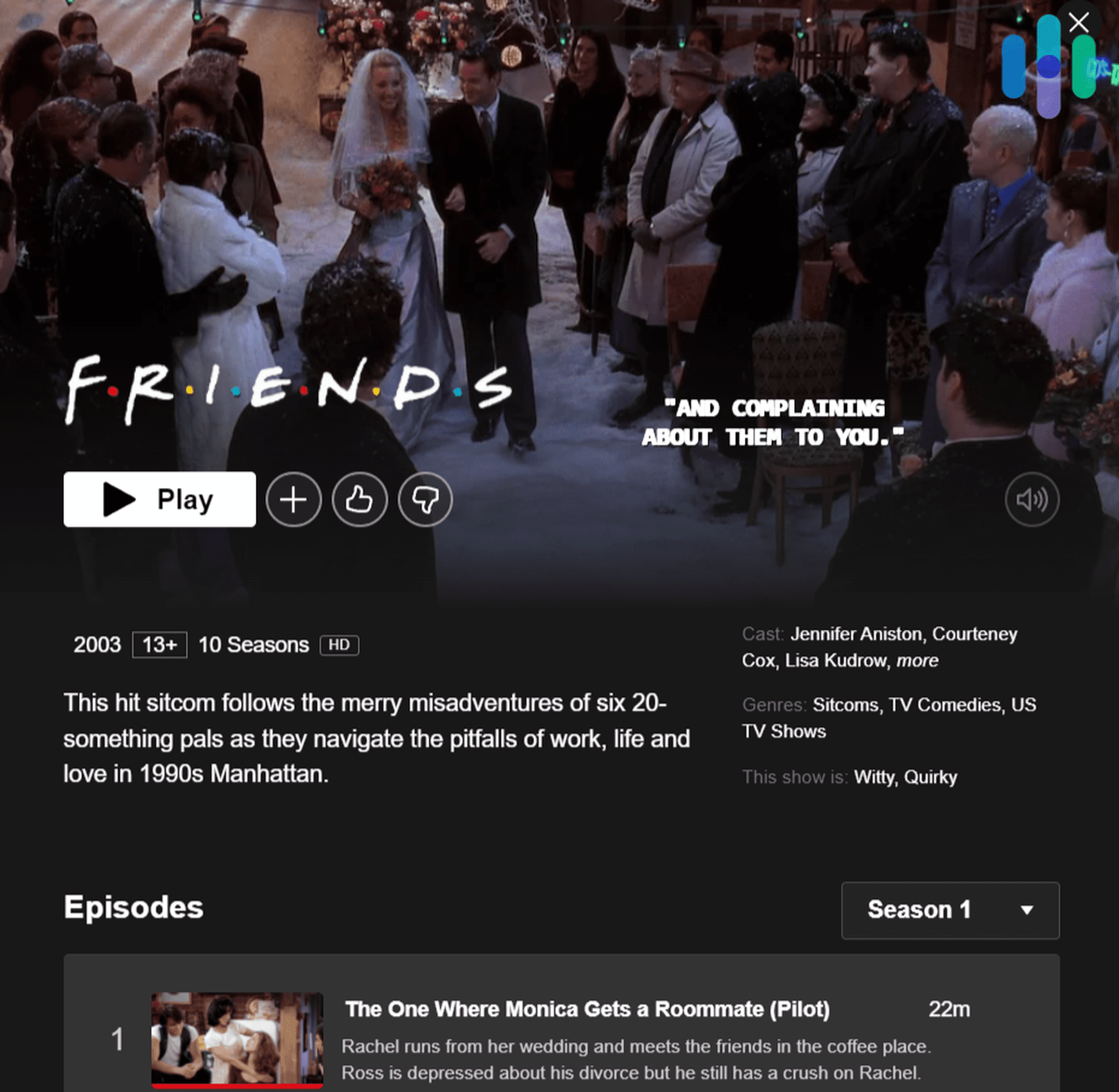 Pro Tip: There are designated servers for Netflix, Prime Video, Hulu, Disney+, Roblox, and other streaming websites and video games in most countries. Taiwan isn't one of those countries, but the regular Taiwan servers worked with Netflix.
Can X-VPN Torrent?
Unless you want to receive copyright-infringement notices from your ISP, we recommend using a VPN when torrenting even if you're torrenting legal content. That said, we tested X-VPN's ability to torrent.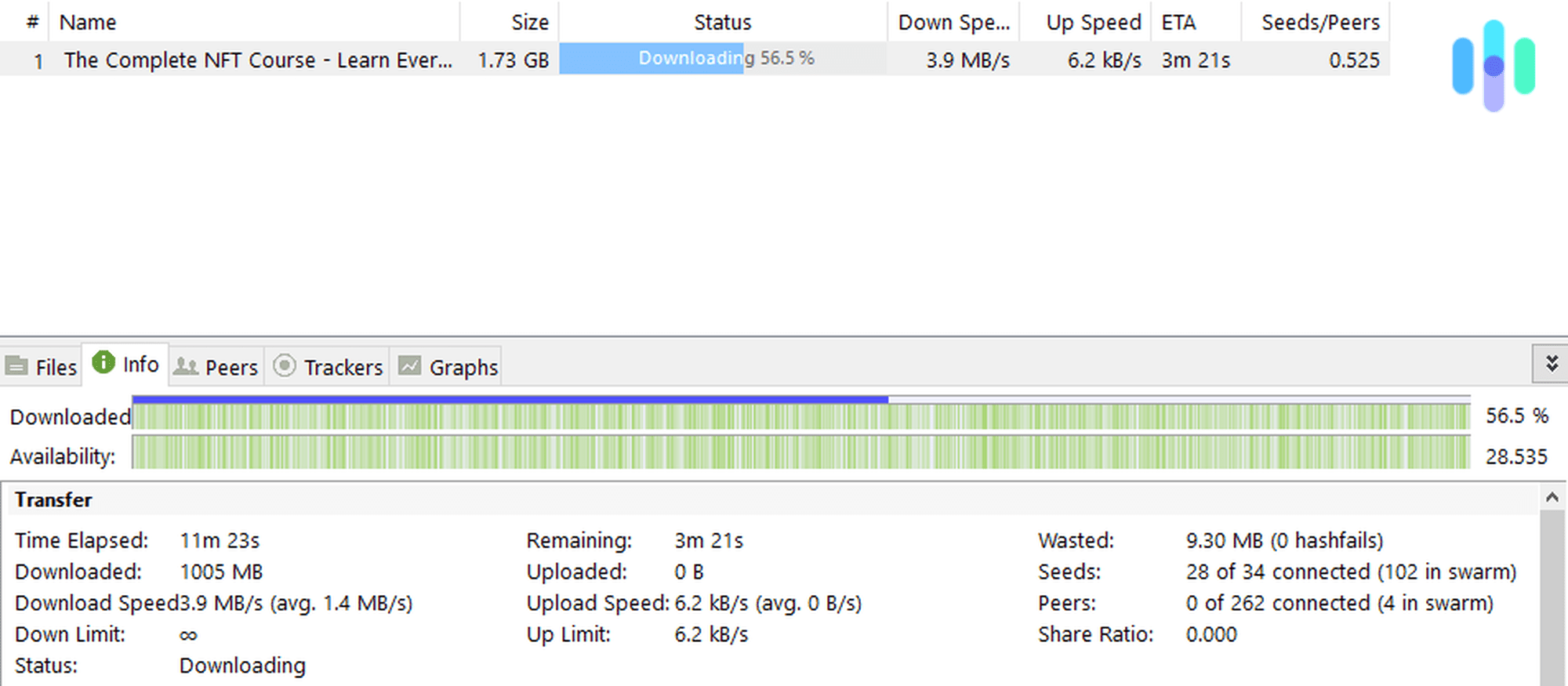 X-VPN doesn't have designated servers for torrenting, but the fastest server on the list did just fine. The download speed suffered a bit though. It took us about 15 minutes to download a 1.7 GB file, with an average download speed of about 4 Mbps. That's pretty good for torrenting.
FYI: Torrenting copyrighted content is illegal, even if you're connected to a VPN. We highly suggest you download noncopyrighted files only.
What VPN Protocols Does X-VPN Use?
This is where it gets a little tricky. A VPN protocol is a set of rules and routes your VPN follows to get your internet data safely to its destinations. Over our years of testing VPNs, we've tried many protocols and obviously we have our favorites: OpenVPN and WireGuard.
VPNs typically have two to five protocols in their arsenals, but X-VPN claims it has 11. On the Windows app, we saw four protocols: Protocol A, Protocol C, Protocol D, and Protocol E. There were 11 on our iPad, from Protocol A to Protocol K.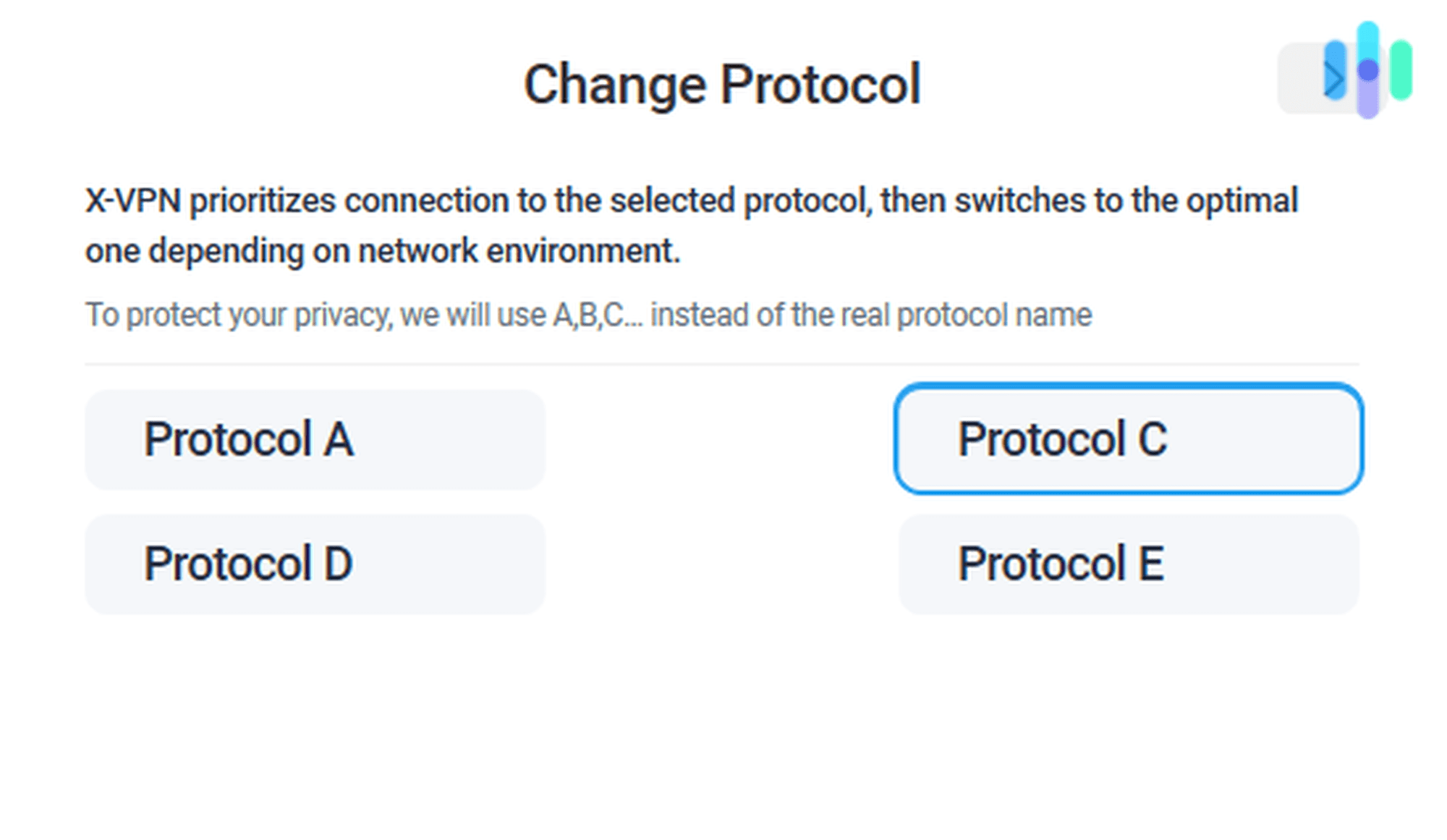 X-VPN claims it doesn't use the real protocol names to protect its users' privacy, but the problem with that is protocols have specific strengths and weaknesses. We use OpenVPN or WireGuard when we want to prioritize security over speed, for instance, and IKEv2/IPSec when we want a fast connection. Without knowing which protocols X-VPN uses, we can't customize our connection as much as we could with other VPNs. We hope X-VPN reconsiders its decision to hide its protocols' names.
What Type of Encryption Does X-VPN Use?
Not to be confused with VPN protocols, encryption is simply the process of locking up your online data so no one else sees it — much like putting valuables in a vault. There are many encryption methods, but they are not all equal.
X-VPN uses 256-bit AES encryption, which, in our opinion, is the best encryption method in existence. We often liken it to a fireproof, waterproof, blast-proof vault. When you see the terms "bank-level" or "military-grade" encryption, it usually means 256-bit AES because even the U.S. government uses it to encrypt top-secret information.
Putting X-VPN's Performance to the Test
X-VPN looks great on paper, but that doesn't necessarily mean it delivers on its claims. For this part of our test, we looked at how X-VPN performs in terms of speed and security.
X-VPN IP Address Leak Tests
The main job of a VPN is to hide your IP address, but there are vulnerabilities others could exploit to discover your real IP address even when you're using a VPN. WebRTC and DNS leaks are two of those vulnerabilities.
As we detailed in this WebRTC leak explainer, WebRTC is a useful browser feature. Since it requires you to use your real IP addresses, however, third parties with malicious intent could exploit WebRTC to obtain your IP address. You could turn off WebRTC on your browser, but if you really need the feature, getting a VPN that can block WebRTC leaks is the next best option.
DNS leaks happen when DNS requests breach the encrypted tunnels of VPNs. Instead of using a VPN's private DNS servers, requests go to ISP-assigned DNS servers. As a result, your ISP, as well as others monitoring your DNS requests, will be able to see your real IP address and what you're doing online.
Both types of IP address leak are worrisome. Was X-VPN able to squash them? Below is the result of our DNS leak test.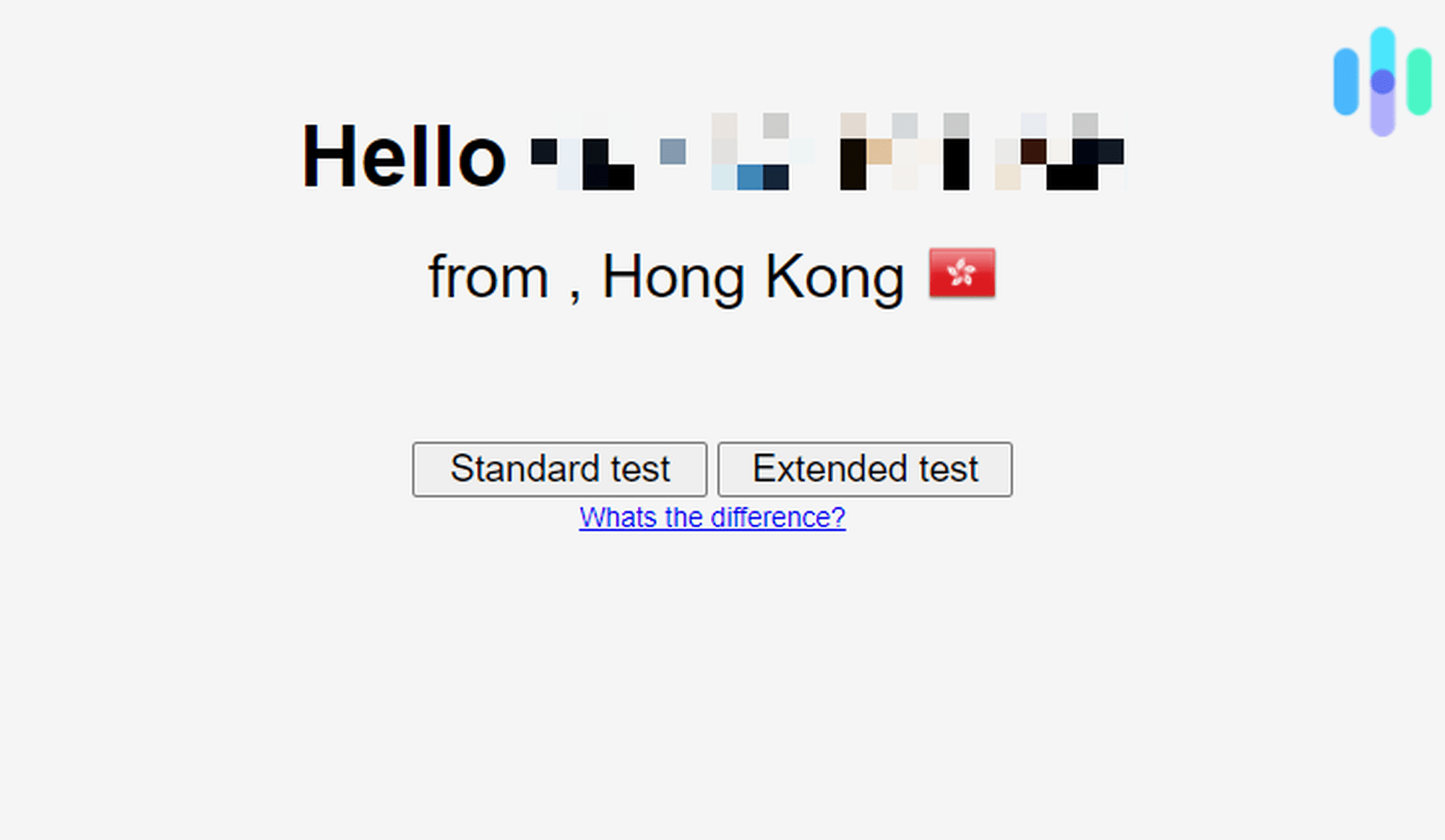 The tool we used detected an IP address from Hong Kong, and we were nowhere near Hong Kong at the time. We were in our office in Brooklyn. The IP address you're seeing is X-VPN's server, which means there are no DNS leaks. Our WebRTC leak test mirrored the results, which means X-VPN is leak-free.
X-VPN Speed Test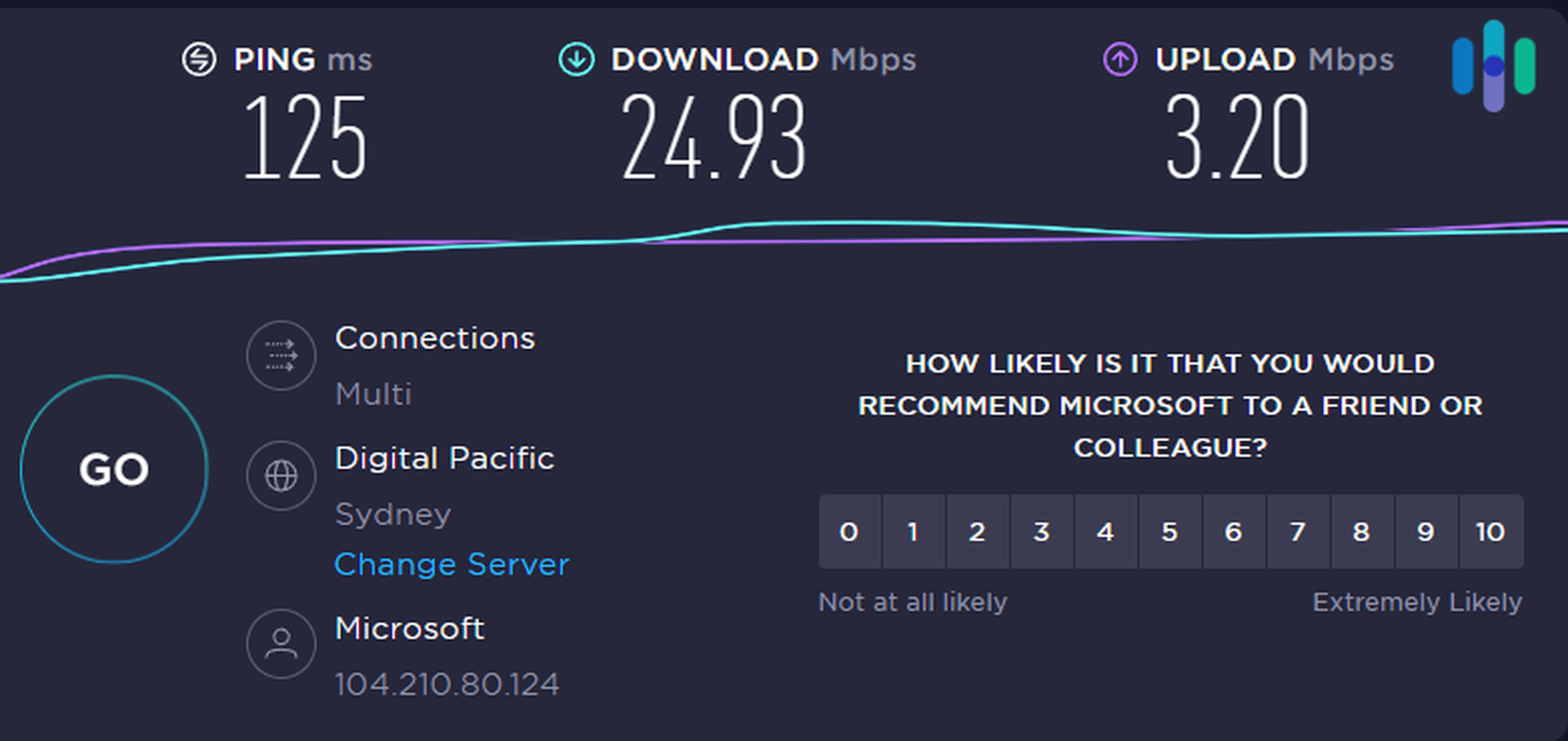 The next thing we tested was X-VPN's speed. A little disclaimer here: A lot of things can affect your internet speed when connected to a VPN, including network and server congestion, your distance from the VPN server, your current internet speed, and even the VPN protocol you're using. For the sake of this review, however, we tested X-VPN's speed at three separate times, each time connecting to a server in Australia. We compared the results to our current internet speed at the time of our tests.
| Tests | Upload (in Mbps) | Download (in Mbps) | Latency (in ms) |
| --- | --- | --- | --- |
| First test without VPN | 36.67 | 45.53 | 4 |
| First test with VPN | 4.84 | 24.42 | 124 |
| Second test without VPN | 37.21 | 44.14 | 7 |
| Second test with VPN | 3.2 | 24.93 | 125 |
| Third test without VPN | 41.08 | 49.82 | 4 |
| Third test with VPN | 2.91 | 20.72 | 273 |
For reference, we consider a VPN fast when it affects our current internet speed by no more than 40 percent. In all three tests, X-VPN slowed down our download speed by more than 40 percent but less than 60 percent. That's decent, but not fast enough.
X-VPN's performance was disappointing regarding upload speed and latency. We even tried the fastest server on X-VPN's list, but the results remained largely the same.
Our X-VPN User Experience
Finally, let's talk about X-VPN's claim that it's hassle-free and easy to use.
Signing Up With X-VPN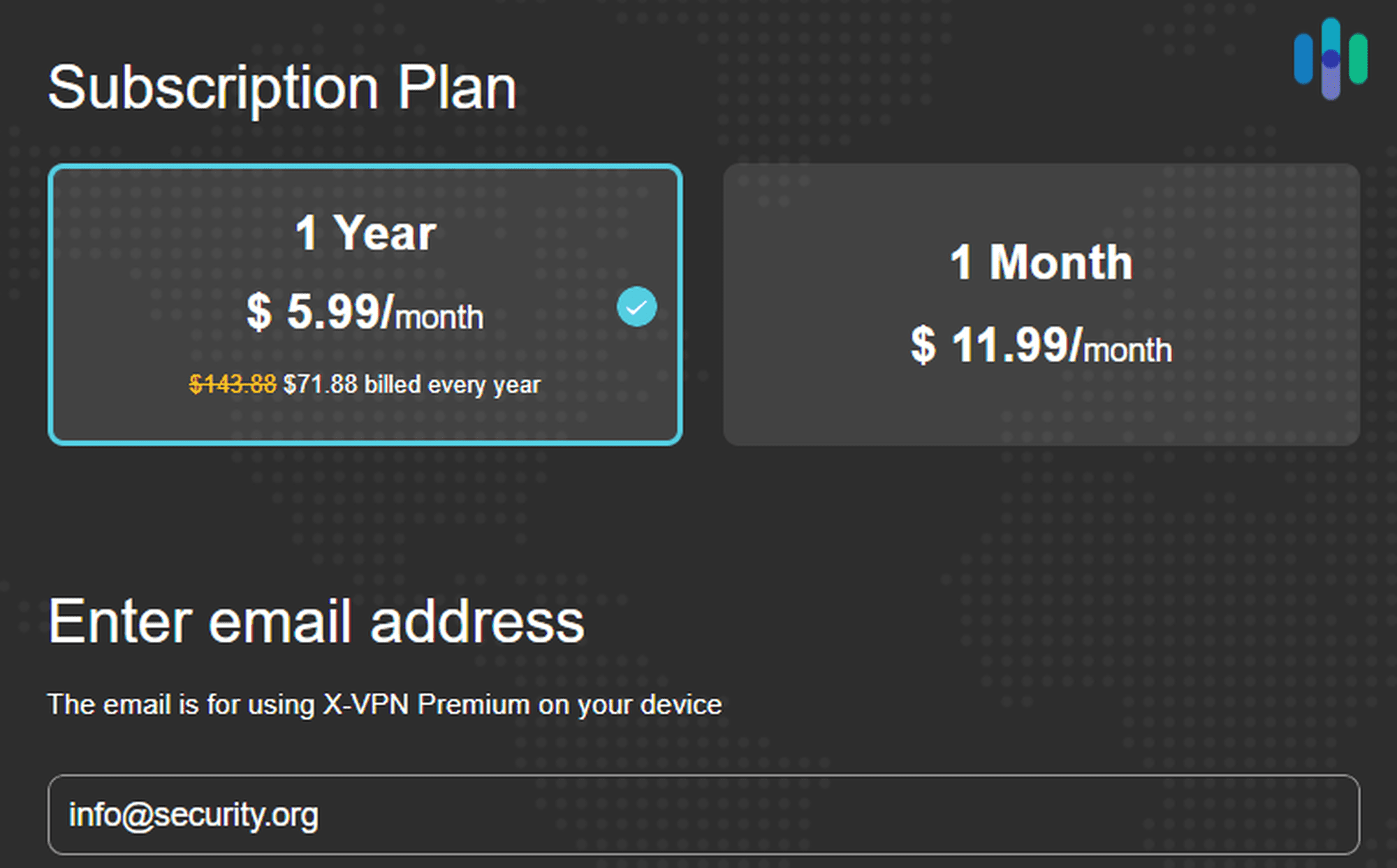 Signing up with X-VPN was quick and easy. Here's the process:
Go to X-VPN's pricing page.
Select a subscription, either monthly or yearly.
Enter your email address and create a password.
Choose your payment method.
Check out and complete your payment.
X-VPN supports several payment methods, including credit cards, PayPal, gift cards, and even cryptocurrencies. If you want to take advantage of the seven-day money-back guarantee, then you'll need to pay via credit card or PayPal. Otherwise, your payment is nonrefundable.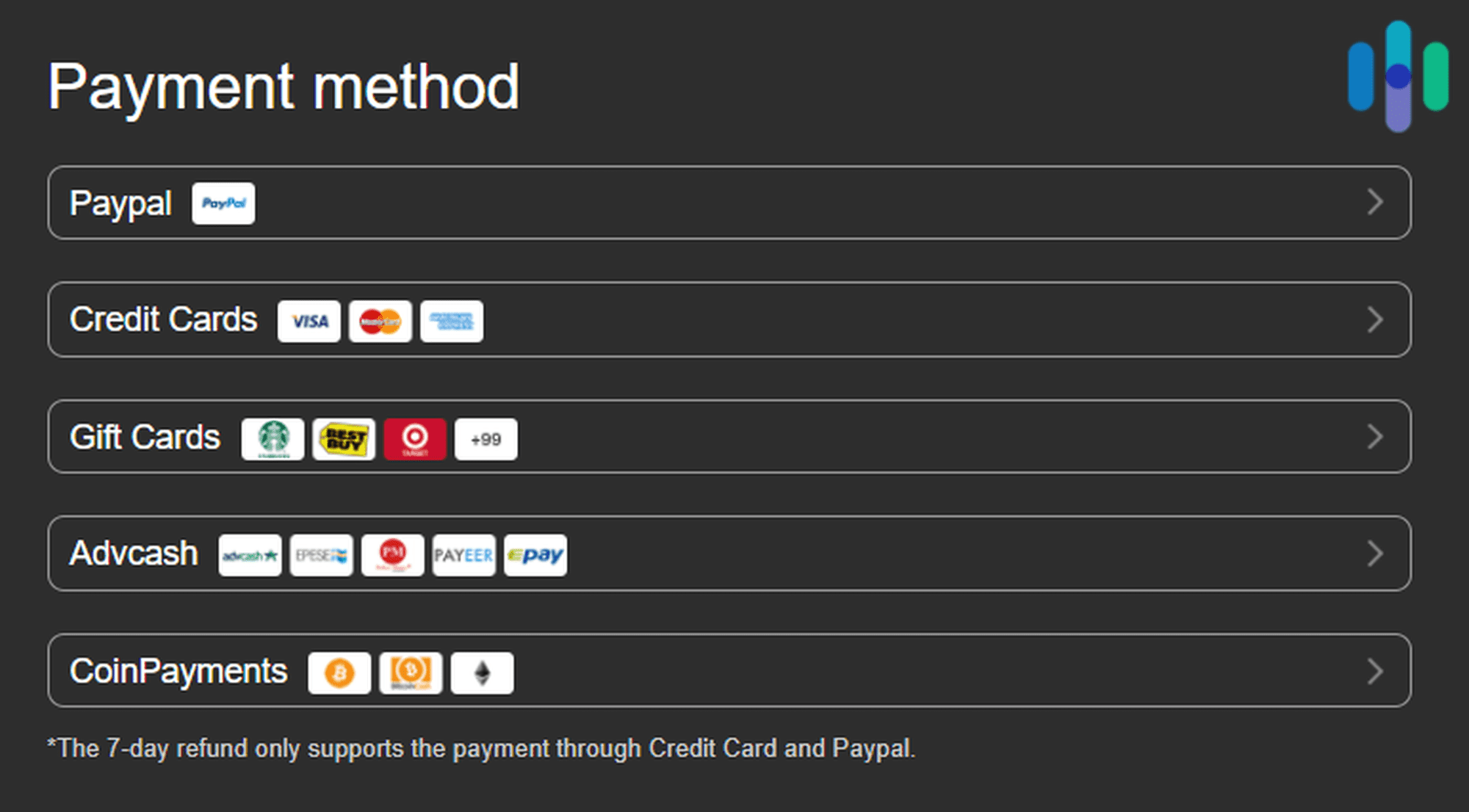 The X-VPN App
Once we got a subscription, we downloaded the X-VPN app on our Windows computer and iPad.
The Windows app's main panel contains a large power button that connects you to the VPN. Below it are two buttons that open the server list and let you choose a VPN protocol. What we liked most about the app is that it connects almost instantly to the VPN. Other VPNs take 30 seconds to connect, but it takes X-VPN only about two seconds most of the time. On the flip side, we didn't like how oversimplified the app is. It doesn't offer much room for customizations, so it may not be the best app if you like to tinker with your VPN's settings.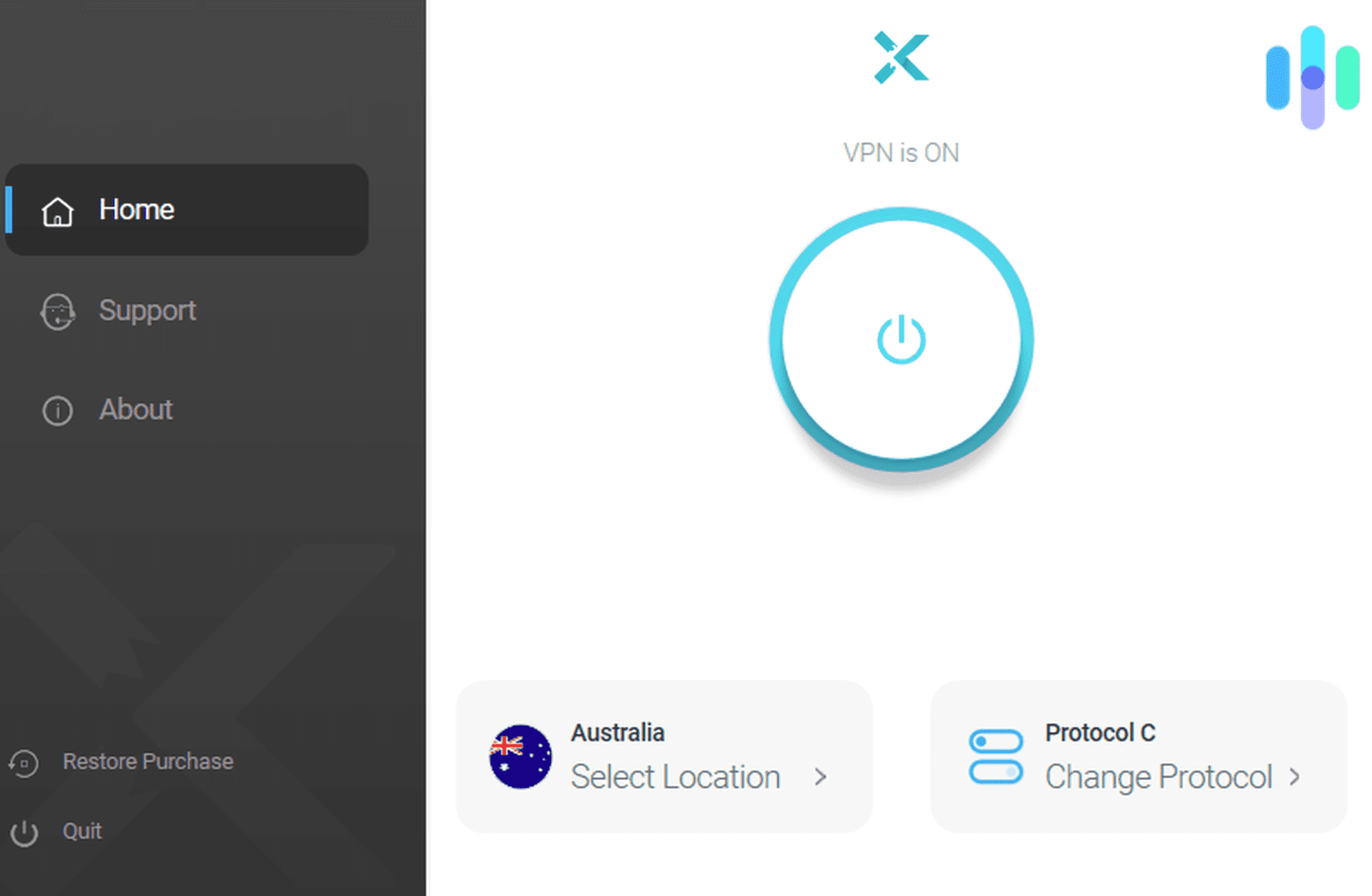 The features of the iOS app are largely similar to the Windows app, but the iOS version has a section called Advanced Features where you can turn the kill switch on and off, see your connection log, and enable or disable the app's dark mode. Because of its lack of features such as split tunneling, X-VPN is far from becoming one of the best VPNs for iPhones.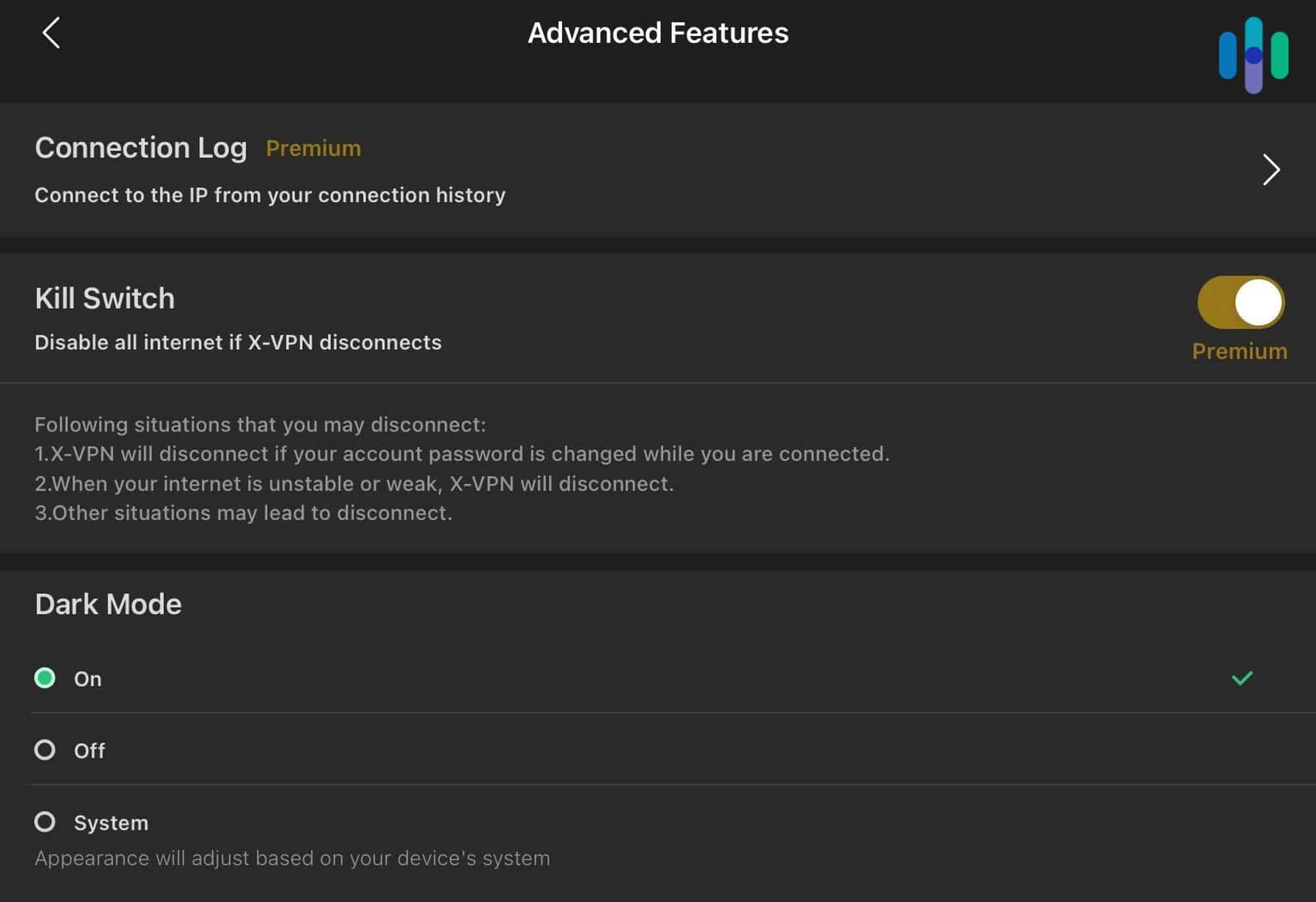 Our Final Words: Is X-VPN Worth It?
Overall, X-VPN is nothing to write home about. It claims to offer great features, but we found it lacking in speed, transparency, customizability, and features. Don't get us wrong: It's a good VPN, just not as great as it makes itself out to be. But is it the right VPN for you?
X-VPN is a solid VPN if you want:
Netflix and streaming access. It has servers optimized for use with Netflix, Prime Video, Hulu, Disney+, and other streaming websites.
Many server locations. X-VPN has servers all over the world, but the majority of its servers are in Asia Pacific and Europe.
A set-and-forget VPN. You don't have to tinker with X-VPN's settings; just turn it on and go back to browsing.
A free mobile VPN. Without time and data limits, the X-VPN free mobile VPN can provide some extra privacy to your smartphone.
Choose a different VPN if you want:
Advanced features. X-VPN is a simple VPN without advanced features such as split tunneling and multi-hop.
Fast speeds. Our upload speed and network latency suffered when we tested X-VPN.
A customizable VPN. Although they have simple interfaces, X-VPN's apps are not as customizable as other VPNs we've tested.
Affordability. X-VPN costs $5.99 per month if you pay for a full year in advance. We've tried good VPNs that cost as little as $2 per month.
Only you can tell if a VPN is right for you, so check out our VPN resource guide as you look for the best VPN to see what features you should be looking for.
FAQs
Take a couple of minutes to read our answers to the most common questions about X-VPN.