Kaspersky VPN Review
Banned from use in the U.S government, Kaspersky has to be the most controversial VPN we've ever tested, but with some objective testing, we found out whether it's dangerous or not.
What We Like
Streaming access to Netflix, Hulu, and Prime Video
Never logs names, email address, IP addresses, or browser activity
Offers a completely free VPN service
What We Don't Like
Limit of five devices per subscription
Banned on U.S. government devices
No split tunneling available
Bottom Line
This Russia-based VPN won't be forced to share customer data with any foreign governments, so you can feel safe connecting to any of its 2,000 plus servers.
Kaspersky may be a name you recognize from the evening news. Banned from the U.S government, we didn't let this stop us from testing out their VPN. But can we really trust a VPN that's legally banned from government devices? Keep reading to find out.
Fast on Macs
| | |
| --- | --- |
| Upload speed difference | 82% |
| Download speed difference | 38% |
| Latency difference | 20% |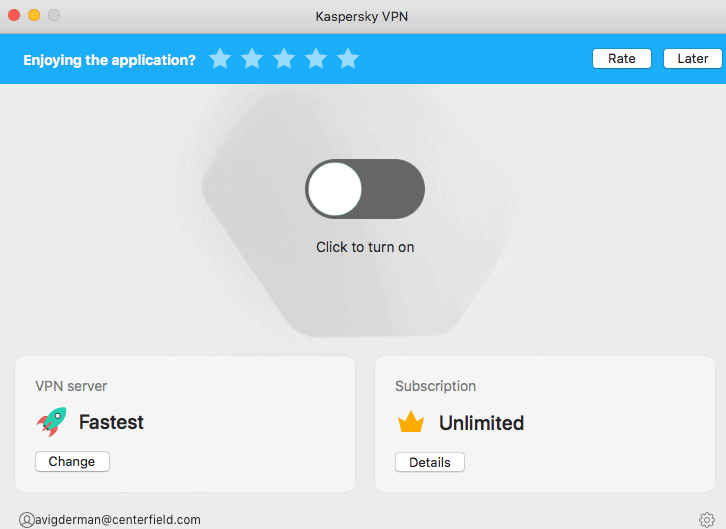 Editor's Rating
Monthly or yearly packages available
VPN available bundled with antivirus software
Free app available with 200 MB daily data limit
Kaspersky Alternatives
Let's address the elephant in the room first. The U.S. government banned its computers from using Kaspersky products in 2017 due to allegations that Kasperksy has ties to the Russian government. There's no conclusive proof to those allegations, but if you want to stay on the safer side, here are some VPN options we recommend instead of Kaspersky.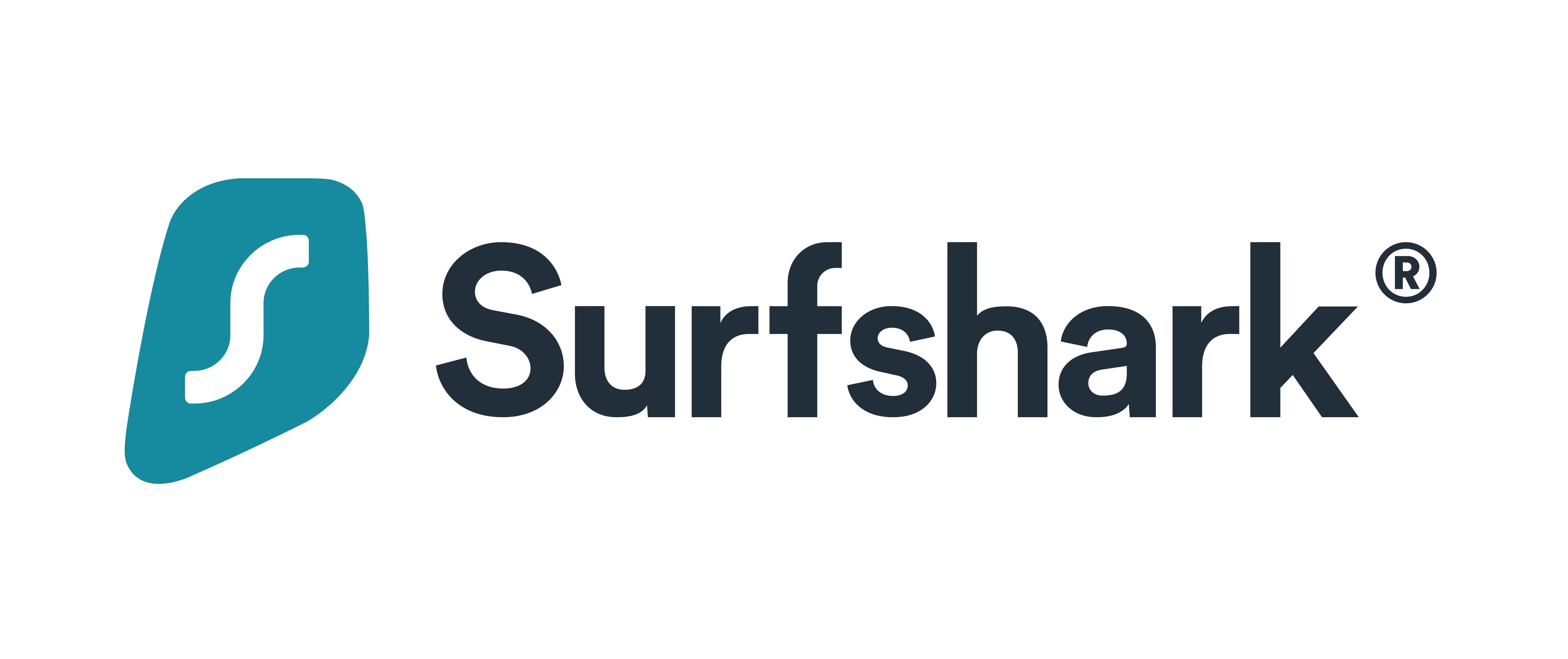 Why You Should Use Kaspersky VPN
Let's start with the positives, the things we liked most about Kaspersky VPN after testing it extensively.
Streaming
After a recent update, the Kaspersky VPN works with:
Netflix (U.S. and U.K. only)
Hulu
Disney+
Prime Video
BBC iPlayer
Learn more about the best VPNs for Netflix, the best VPNs for Hulu, the best VPNs for Disney+, and the best VPNs for Prime Video.
Large Network of Servers
Kaspersky's more than 2,000 servers span 49 countries including France, Germany, Hong Kong, and Japan.1 While this isn't the absolute largest network of servers that we've ever seen, it's pretty impressive.
Based In Non-Member Country To Five Eyes
Although it has brought up several political issues, which we discuss in detail below, Kaspersky's headquarters in Russia mean that it's outside of Five Eyes jurisdiction. That means that Russia, or any country's government, for that matter, can't make Kaspersky give them customer's data. If you want a VPN for privacy, this non-membership is a necessity.
Won't Log Web Activity
Did you know that 86 percent of people would be fairly or very likely to cut off all ties with an organization if they used data in an unethical manner?2 Despite this, it's highly unlikely that most people actually read the organization's privacy policy on their website, but we're not most people. Here's the info of ours that Kaspersky kept:
Technical info to analyze crashes and connect to VPN
Installation ID (stored for a month and then deleted)
Token (deleted after 24 hours)
Login event (stored for a month)
Encrypted user and device ID
VPN session statistics
But fortunately for us, Kaspersky did not keep the following data:
Web activity
Email
Name
IP address beyond session
In a nutshell, Kaspersky kept our web activity and device IP addresses private, which was the main thing we were hoping for from their privacy policy. Check one!
Kill Switches on All Paid Plans
While their free subscriptions are a little different, which we'll get into more detail about soon, all of Kaspersky's premium plans include kill switches. If the VPN fails, it's the kill switch that will shut down all web-related browsers and apps so that your ISP still can't see your online activity.
Torrenting Access
One reason why people use VPNs is to torrent files, whether they're of copyrighted material legally or of non-copyrighted material, which is illegal. Now, we're not about to tell you to use Kaspersky VPN to torrent illegal files, but we can tell you that it will work, from a technological standpoint.
Netflix on Paid Plans in U.S and U.K
Although Netflix didn't work for all of Kaspersky's servers, it worked well for us on their U.S and U.K servers. So, if you're all binged out and have run out of your country's Netflix, hop on over to the U.S or U.K servers to unlock huge libraries of content, different from your home country's server.
256-bit Encryption
If you think of our data as treasure, then 256-bit encryption is like a nearly indestructible lock on a treasure chest, the encrypted VPN tunnel. Fortunately, Kaspersky is up to date when it comes to encryption methods with AES-256, which governments and militaries around the world consider to be the best of the best.
Static and Dynamic IP Addresses Available
Personally, we prefer to use dynamic IP addresses, meaning that every time we connect to Kaspersky VPN, we get a new one. This makes it much harder for hackers to trace our online activity, but some people may want to get a static IP address, the same one every time. No matter; Kaspersky allows for both options.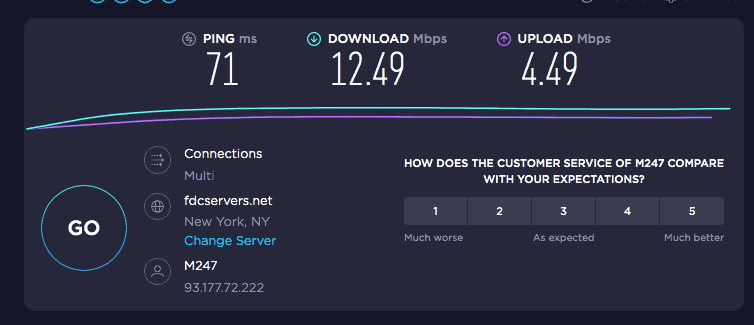 Fast on Mac
When we tested out Kaspersky on our Macbook Pro, we found only a 20 percent increase in latency, a 38 percent decrease in download speed and an 82 percent decrease in upload speed. While it's certainly not the fastest VPN we've ever tested on Mac, we think that Kaspersky is a good VPN for Mac-users in general.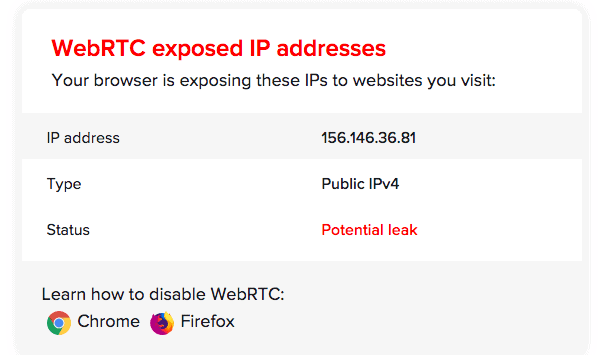 No DNS or WebRTC Leaks
We approach the world with a healthy amount of skepticism, so when Kaspersky's website says that the VPN will hide our web activity and IP address, we knew we had to test it out for ourselves. Fortunately, after tests to find our DNS (domain name) and WebRTC leaks (private IP addresses), there were no leaks whatsoever. Learn more about how we test in our guide to VPNs.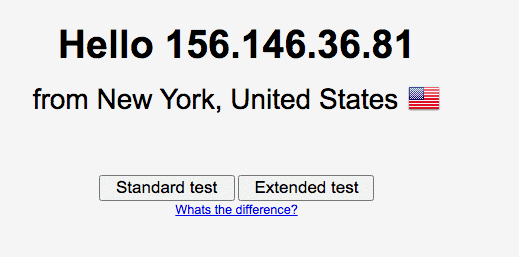 Unlimited Server Switches
Did you know that the average person in the U.S has visited four different countries? This number is even higher elsewhere, with the average U.K citizen hitting 12 different countries.3 Wherever you are, you'll probably want to connect to a VPN before dipping your toe directly into a foreign and random public Wi-Fi network. And for those with tons of frequent flyer miles, you'll be happy to hear that Kaspersky let us switch servers as many times as we wanted. This was also ideal when we were checking out streaming sites in other countries, because sometimes the U.S version of Netflix just doesn't cut it.
Solid Mobile Apps
While the Fast Free VPN— Kaspersky Secure Connection app for Android has a 4.3 rating, the Secure VPN & Proxy— Kaspersky iOS app is even better with a 4.7 out of five stars. We didn't run into any issues connecting to Kaspersky on either app, and their Mac and PC apps worked seamlessly as well.
Free Options
It was nice to be able to try out Kaspersky's premium VPN for seven days without paying, but if you never want your free trial to end, Kaspersky also has a separate, free VPN app that you can use forever. However, it comes with some limitations, which we'll cover below.
Low Prices
Our Kaspersky VPN costs page goes over the nitty gritty of their payment options, but in sum, you won't be paying much, either $2.50 or $4.99 a month after the free trial of the premium version runs out. Of course, you can always use the completely free app indefinitely, if you're okay with its limitations!
| Contract Length In Weeks | None | 4 | 52 |
| --- | --- | --- | --- |
| Access To Premium Servers | No | Yes | Yes |
| Daily Data Limit in MB | 200 | None | None |
| Kill Switch | No | Yes | Yes |
| Maximum Number of Devices | 1 | 5 | 5 |
| Netflix Access in U.S and U.K Servers | No | Yes | Yes |
| Knowledge Base Access | Yes | Yes | Yes |
| Phone Support Access | No | Yes | Yes |
| Chat Support Access | No | Yes | Yes |
| Cost Per Month | n/a | $4.99 | $2.50 |
| Billed Amount | $0.00 | $4.99 | $29.99 |
Note: Although it's billed at once as $29.99, Kaspersky VPN's one-year option is the most affordable, breaking down to $2.50 a month compared to $4.99 a month with the flexible subscription option.
Why You Shouldn't Use Kaspersky VPN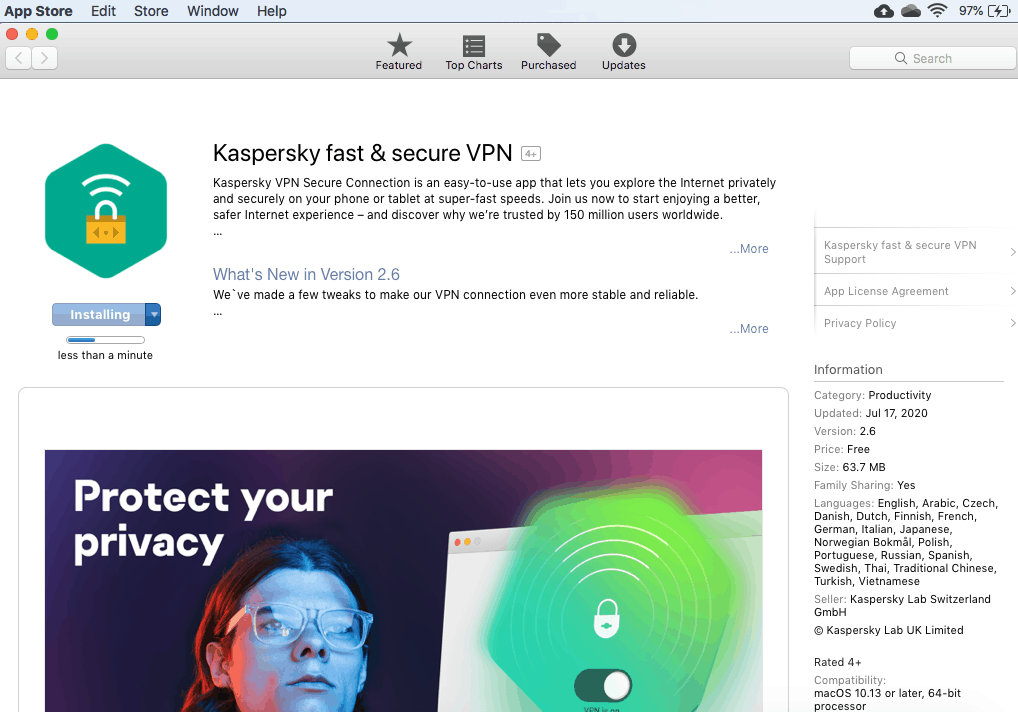 That's it for Positive Polly. Bring out Negative Nancy, her evil sister who just wants you to be really well-informed about the Kaspersky VPN. Really, who can blame her?
No Split Tunneling
A lack of split tunneling isn't going to be a dealbreaker for most people. However, if you need to access your VPN and the public Wi-Fi network directly at the same time, then Kaspersky is definitely not for you.
No Multi-Hop
Also not a dealbreaker for most, Kaspersky only encrypted our data once through a single server, whereas some encrypt it multiple times through multiple servers, a process called multi-hop.
Latency on Windows
Looking for a VPN for Windows? Or, more specifically, maybe you're a Windows-user who wants a VPN for gaming. If that's the case, we'd steer clear of Kaspersky. In our speed tests, our latency increased 3,100 percent from four ms to 128, certainly a large jump indeed.
Only Five Devices Allowed
Unfortunately, we could only connect five devices total to Kaspersky, and there was no way to increase this number, either. While that may be enough in terms of simultaneous connections, we wish the overall limit wasn't this small.
Free Trial Limits
| | |
| --- | --- |
| Free Trial | Premium Service |
| Can only access slower servers | Can access all servers |
| 200 MB per day limit | No daily limit on data |
| No kill switch | Kill switch |
| No Netflix access | Netflix access in U.S. and U.K. |
| 1 device | 5 devices |
| Knowledge Base | Knowledge Base, phone, chat support |
Kaspersky is a bit confusing when it comes to their free trials versus the free version of their app. While their VPN with a free trial is the premium service with all of the features for seven days, their totally free VPN had limits on:
Accessible servers: Although it wasn't immediately clear exactly which servers are considered "premium", we only got to access the slower servers with the free app.
Data: Our VPN data usage was limited to 200 MB per day, while we had no limit with the paid version.
Kill switch: Shockingly, the free version didn't include a kill switch, so we wouldn't have been covered if the VPN failed.
Netflix access: We couldn't get Netflix to work with the free version, either.
Number of devices: The free version is limited to one device, not five.
Customer support access: We couldn't actually contact customer support if we needed anything; rather, we had to stick to their online Knowledge Base, while paying customers can access phone and chat support, as well.
Despite these limits, you can get a pretty good idea of Kaspersky's service with the free trial or the free version.
Public Controversy
Kaspersky is one of the more controversial digital security companies, and although they haven't been convicted of a crime in the U.S, that doesn't change their public perception. Of course, the company is innocent until proven guilty in the eyes of the law, but we thought we'd give you all of the basic information so you can decide for yourself.
Alleged ties to Russian government: Since Kaspersky is a company based in Russia, some media outlets have alleged that they are using Americans' data for political purposes. In response, President Donald Trump banned their products from use in the U.S government starting in 2016.

4

However, Kaspersky has consistently denied these claims.
Want to Learn More?: Kaspersky's Wikipedia page is a great source of information about the company, but make sure to check the actual primary sources linked in the footnotes to learn more.
Personally, we don't consider either of these events to be deal-breakers but again, that's for you to decide yourself.
The Bottom Line
We certainly recommend the Kaspersky VPN overall, as it gets the job done in terms of protecting our data and not keeping it for themselves. The only people we wouldn't recommend it to are Windows-users or gamers, given the large amount of latency on Windows. However, be sure to test it out yourself by taking advantage of the free trial or the free app.
FAQ
This review pretty much covers everything you should know about our experience with Kaspersky, but should you have additional questions, check out our answers to these frequently asked questions.