VIPRE Antivirus Cost and Pricing Plans
Prices start at $29.74 for protection against viruses and malware
Packages available with VPNs
One-time fees available for all devices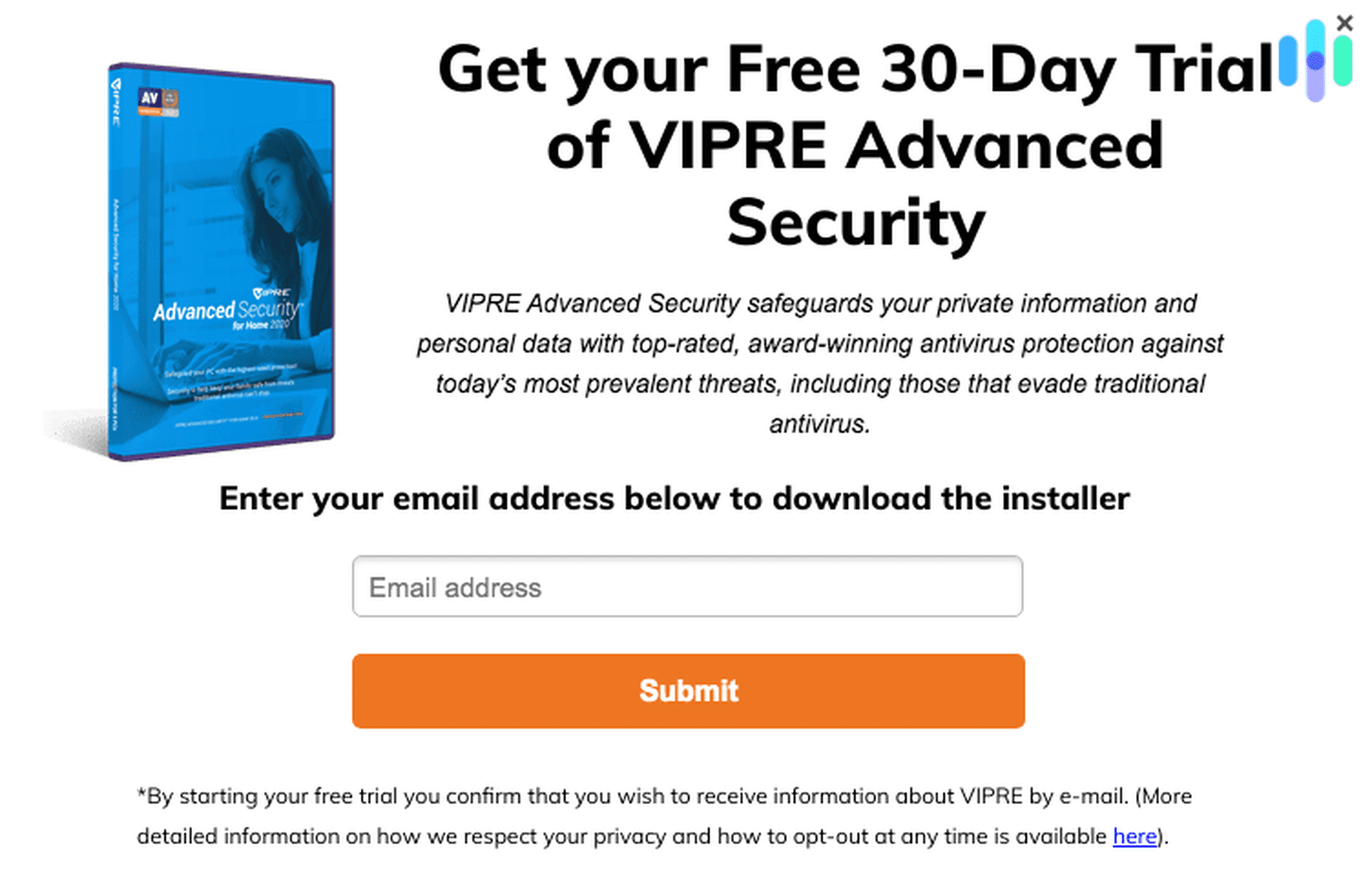 All of our content is written by humans, not robots.
Learn More
By

&

VIPRE, which is an acronym for Virtus Intrusion Protection and Remediation Engine, is one of the most popular software for antivirus, but what'll it cost you? We focused on the bottom line not only on their antivirus software, but on everything you'll need to protect your home devices from malware, ransomware, and other online threats. It turns out you can put a price on digital security, and on this page, we'll prove that to be the case.
Pricing
Compared to other antivirus software, VIPRE works pretty differently. While most plans require minimum commitments of one year, VIPRE doesn't require any commitment whatsoever, not even monthly. Rather, we paid one-time fees for all of their antivirus products, meaning those payments weren't recurring. When you consider the fact that other companies charge the same amounts for a year versus forever, VIPRE quickly becomes one of the most affordable solutions on the market today.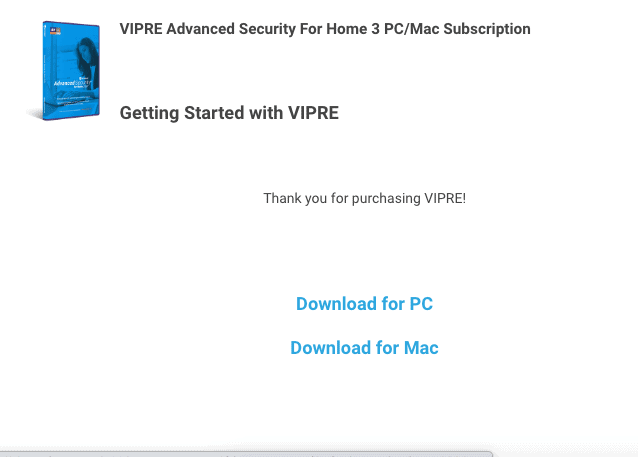 Antivirus
Another way VIPRE differed from its competitors? Their antivirus plans were straightforward and clear, ranging in cost from around $30 to $70. Again, considering these are one-time and not recurring fees, VIPRE will save you a lot of money in the long-term, so it's a great choice for those that know they want antivirus protection for the long-haul.
| Features | Antivirus Plus | Advanced Security | Ultimate Security |
| --- | --- | --- | --- |
| Compatibility | PCs | PCs, Macs | PCs |
| Essential Protection | Yes | Yes | Yes |
| Advanced Protection to Stop Newest Malware Threats | Yes | Yes | Yes |
| Protection Against Threats that Evade Traditional Antivirus for PCs and Macs | No | Yes | Yes |
| Internet Shield VPN | No | No | Yes |
| 1 device, 1 year | $34.99 | $54.99 | n/a |
| 1 device, 2 years | $69.99 | $109.99 | n/a |
| 1 device, 3 years | $104.99 | $164.99 | n/a |
| 4 years | n/a | $219.99 | n/a |
| 3 devices, 1 year | $44.99 | $64.99 | n/a |
| 3 devices, 2 years | $89.99 | $129.99 | n/a |
| 3 devices, 3 years | $134.97 | $194.99 | n/a |
| 3 devices, 4 years | n/a | $259.99 | n/a |
| 5 devices, 1 year | $54.99 | $74.99 | $139.99 |
| 5 devices, 2 years | $109.99 | $149.99 | $265.98 |
| 5 devices, 3 years | $164.99 | $179.99 | $377.97 |
| 5 devices, 4 years | n/a | $299.99 | n/a |
| 10 devices, 1 year | $69.99 | $99.99 | $189.99 |
| 10 devices, 2 years | $139.99 | $199.99 | $360.98 |
| 10 devices, 3 years | $209.99 | $299.99 | $512.97 |
| 10 devices, 4 years | n/a | $399.99 | n/a |
Android Security: For whatever reason, the antivirus software for Androids worked a little bit differently. Rather than buying individual subscriptions for one device, VIPRE offers one, three, five or 10 device subscriptions for one-time fees, which start at $9.99 for one Android device. Not too shabby!
| Number of Devices | Price |
| --- | --- |
| 1 | $9.99 |
| 3 | $17.49 |
| 5 | $24.99 |
| 10 | $34.99 |
Other Software
Aside from antivirus software and packages, VIPRE has a few services that you can choose from individually. If the software is a frozen yogurt shop, think of these products as different flavors and toppings that you can customize.
Internet Shield VPN: Not to be confused with the similar-sounding VyprVPN, VIPRE's Internet Shield VPN will hide your web activity and IP address for either one, two or three years. Unlike their antivirus subscriptions, there's no way to buy a lifetime license to the VPN, unfortunately.
| Contract Length | Price |
| --- | --- |
| 1 year | $42 |
| 2 years | $79.80 |
| 3 years | $113.40 |
FYI: Breaking it down on a monthly basis, you can buy the Internet Shield VPN for a year for $3.50 a month, two years for $3.33 a month or three years for $3.15 a month.
Privacy Shield: Ever been paranoid that your computer's camera or microphone is spying on you? Privacy Shield blocks hacking and it removes all personal information from your computer. Like the VPN, Privacy Shield isn't a one-time fee but is available as a one, two or three-year subscription.
| Number of PCs | Contract Length | Price |
| --- | --- | --- |
| 1 | 1 year | $14.99 |
| 1 | 2 years | $29.99 |
| 1 | 3 years | $44.99 |
| 3 | 1 year | $19.99 |
| 3 | 2 years | $39.99 |
| 3 | 3 years | $59.99 |
| 5 | 1 year | $24.99 |
| 5 | 2 years | $49.99 |
| 5 | 3 years | $74.99 |
| 10 | 1 year | $29.99 |
| 10 | 2 years | $59.99 |
| 10 | 3 years | $89.99 |
Pro Tip: If you want the lowest price per device, sign up for the longer-term periods. As the contract length increases, the prices per device decrease.
More Security.org Recommendations
Check out more of our favorite antivirus softwares.


Canceling
One thing that we don't love about VIPRE is its lack of money-back guarantees, which are usually a feature for antivirus companies. However, that doesn't mean that you can't get a refund, just that it's not guaranteed. To request a refund, you have a few options:
Email customerservice@VIPRE.com
Call 888-688-8457 between nine AM and six PM EST weekdays
For users outside of the U.S, call 1-727-562-0101 and press extension 700
Free Trial
Now, even though they don't have a money-back guarantee, we are okay with that because, for the Advanced Security, Android Security, and Antivirus Plus packages, plus the Privacy Shield, VIPRE gave us 30 days to try them out with paying. That should be more than enough time to cancel if we don't like the service, which of course, you can read about in our review of VIPRE antivirus.
Favorite Features
To get all of the smallest details, you'll want to read our full VIPRE review above, but for those that are short on time, here's a summary of what we found during testing that we liked the best.
Squeaky Clean History
The world of antivirus software, we've learned, is surprisingly controversial. From security vulnerabilities that have exposed the data of thousands of customers to begrudged employees leaking business information, most of the software we look at has a past that's more than a little messy. But that wasn't the case for VIPRE, which may have something to do with the fact that they've only been in business under their current name for seven years, as opposed to decades-old companies like AVG and McAfee. Still, no leaks or lawsuits makes us trust VIPRE that much more.
100 Percent Malware Detection
You know how they say that nothing in life is every 100 percent? Well, technically that's not true, as VIPRE detected 100 percent of all widespread malware as of August 2020. This was also the case the previous month, and we're hoping it remained true in September and October, as well, although AV Labs hasn't released this information yet.
30-Day Free Trial
It was nice to be able to try out VIPRE's software for free for a month, especially because it wasn't guaranteed that we could get a refund. For those concerned about the money, be sure to mark 30 days after your purchase date on your calendar so you're alerted when the trial period ends!
One-Time Licenses
In 2020, you don't just go to a store and buy things; rather, there seems to be a subscription service for everything under the sun, from entertainment options like Netflix to food delivery programs like Blue Apron, and even toothbrushes from Quip. While these subscriptions are super convenient, they can really add up. In 2019, for example, the average American spent $640 on these types of recurring subscriptions,1 which comes out to $53.33 a month. So the last thing we want is to add on to our monthly bills, which is why we really liked that VIPRE offers its antivirus programs for one-time license fees. While you may pay more up front than other antivirus software, depending on the service, you'll save money in the long term with VIPRE.
Company Background
So just where exactly does VIPRE come from, exactly? Well, the company has only been in business as VIPRE since 2013, which is relatively short compared to veterans like Kaspersky or AVG. Based in Clearwater, Florida, VIPRE is a product of J2 Global which also produces brands like the VPNs IPVanish, StrongVPN and Encrypt.me. But it's true past started long before 2013, in 1994 when it was originally founded as Sunbelt Software. 16 years later, in 2010, a company called GFI Software acquired Sunbelt2 before selling it to J2 Global in 2018.
Now, there is one thing that's a bit shady about J2 Global, and that's the fact that it owns PCMag.com, which reviews not only VPNs but also, you guessed it, antivirus software. And when we Googled it, sure enough we found a review of VIPRE antivirus on PCMag. This sounds like a pretty big conflict of interest to us, but don't worry about it; Security.org is not owned by J2 Global, so you can trust that our reviews are legit.
Customer Support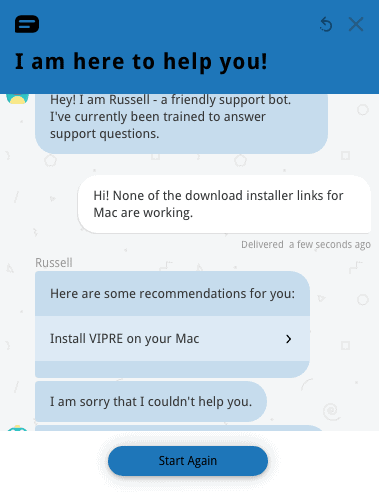 Don't be like a stereotypical Dad on a road trip, refusing to ask for directions. If you need help with anything VIPRE, here's how you can contact support:
Create a support ticket
Do a search on their online support portal
Business users can call 1-877-757-4094 Monday through Friday, nine AM until nine PM Eastern Standard Time.
Home users can call 1-877-673-1161 Monday through Friday, nine AM until nine PM Eastern Standard Time.
Privacy Policy
Since VIPRE is based in the United States, a founding member of the surveillance alliance Five Eyes, we wanted to check to see what information of ours they keep. That's because, under very specific circumstances, the company could be forced to give customer data to the U.S federal government. So, if that was the case, what would they have to give?
Email
Phone
Public data from social media
App data
Site data
Registration details
Content and advertising information
Third party information
We also looked into how they share this information with third parties, which includes legal authorities, any professional advisors they use like accountants, as well as advertisers that use their sites and apps. You may be able to opt out of such usage on your mobile device, or visit these two websites to opt out of advertising for certain companies in particular:
Of course, we always want a company that logs the minimal amount of data possible and ideally doesn't share this data with third parties, especially advertisers. But unfortunately, this isn't uncommon for antivirus companies, so we can't really knock VIPRE too hard for keeping up with the rest of the industry. Still, we wish that you could completely opt-out of this third-party sharing with all of their advertisers, not just some. If privacy is a huge concern of yours, VIPRE may not be the antivirus software for you.
Summary
We really appreciated the fact that VIPRE doesn't conform when it comes to pricing, offering one-time licenses that'll cost you a lot less in the short term. However, if these prices weren't to your satisfaction, you may be interested in the best free antivirus software, but keep in mind that, as they say, there's no such thing as a free lunch.
Final Questions
We're not done just yet. Here are the answers to the questions we hear nearly daily from Security.org readers just like yourself.

New York Times. (2020). How Much Are We Paying for Our Subscription Services? A Lot.
nytimes.com/2020/01/29/technology/personaltech/paying-subscription-services.html

Tampa Bay Business Journal. (2010). GFI Software buys Clearwater tech company Sunbelt Software.
bizjournals.com/tampabay/stories/2010/07/12/daily10.html