Encrypt.me VPN Review
One subscription, monthly or yearly, will get you unlimited server switches and 12 simultaneous connections.
What We Like
Flexible payment plans: With the family plan option and five users, encrypt.me's prices hit rock bottom (in a good way, of course).
Unlimited number of devices: You can connect to Encrypt.me no matter how many devices you have.
Highly-rated app: Ratings were positive from both the Android and iPhone apps.
What We Don't Like
No Netflix: Encrypt.me themselves say Netflix with a VPN, they are not right for you.
No torrents: Expect a bad time if you're trying to torrent with Encrypt.me.
Harsh data logging policy: Sure, they delete your data after 16 days, but why collect it in the first place?
Bottom Line
Whether you're an individual or an entire family, Encrypt.me can hide your web activity on as many devices as you have. There's even a user-friendly app for your mobile device, available on both iOS and Android phones.
FYI: Please note that encrypt.me is now StrongVPN. To learn more, read our StrongVPN review and our StrongVPN pricing page. Or, if you want to learn more about this old VPN, keep reading below.
Just like ice cream, VPNs come in different flavors. Some VPNs are better for watching Netflix and some are better for providing network security. Likewise, the right VPN for you depends on what your priorities are. Encrypt.me, the VPN I'm reviewing today, was made for one reason: to solve the problem of privacy on public networks. So when you're out and about and connected to an untrusted network, you can connect securely and be confident your private information is safe. Let's find out if Encrypt.me succeeded and how their VPN compares to the rest.
Now I'm going to give you the full scoop (ba dum ch) on Encrypt.me— it's features, performance, subscription plans, customer support, and the Encrypt.me app. Next, I'll compare it to NordVPN, one of the behemoths in the VPN space. Finally, we'll decide together if Encrypt.me is the right VPN flavor for you. Let's get started with our Encrypt.me VPN review!
Features
| | |
| --- | --- |
| Kill switch | Mac app only |
| Split tunneling | Android app only |
| Netflix | No |
| Torrenting | Yes |
| IP addresses | Dynamic |
Editor's Rating
Kill switch on Mac app
Torrenting
Split tunneling on Android app
Encrypt.me to StrongVPN: Should You Make The Switch?
Before everything else, we'd like to note that Encrypt.me has merged into StrongVPN, another VPN we've tested. And while joining forces made the two stronger on paper, StrongVPN still lacks some necessary VPN features, such as the ability to change Netflix regions and create split tunnels. Rather than make the switch, we recommend looking into these top VPN options.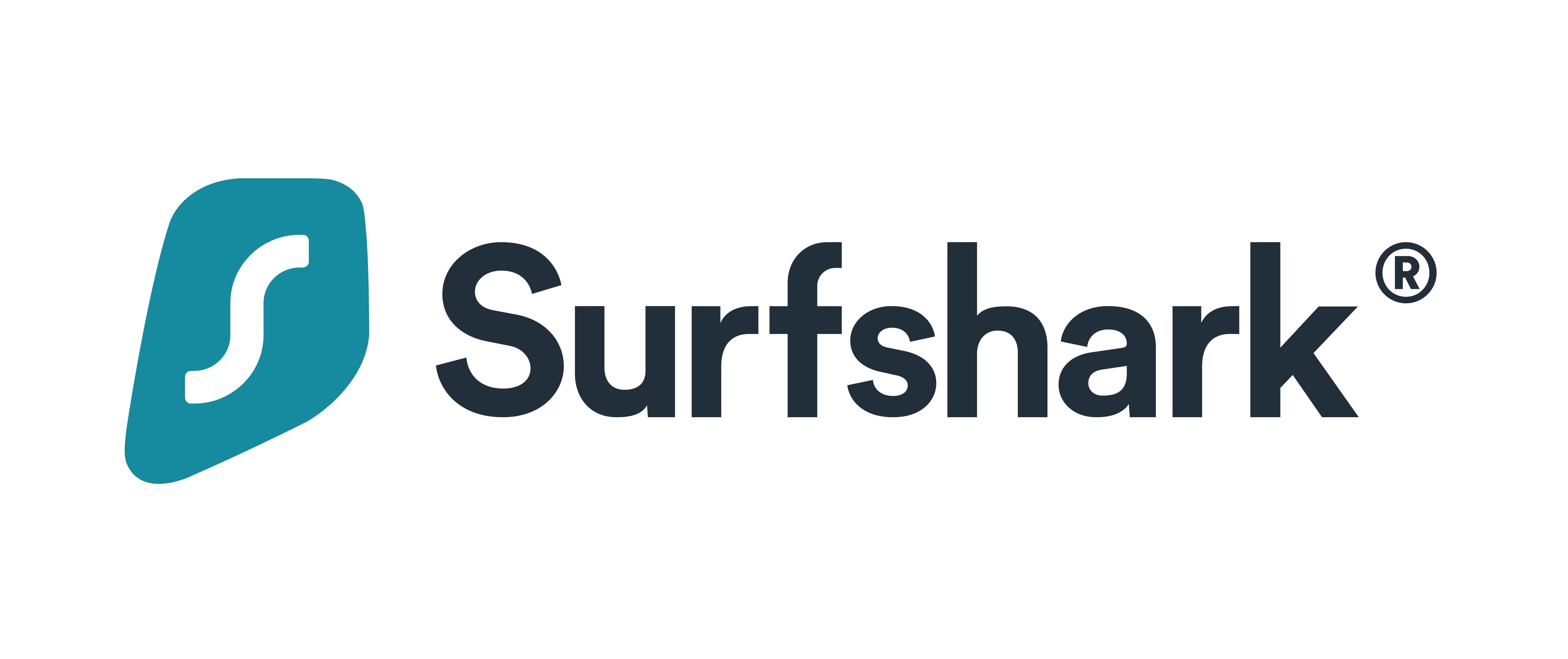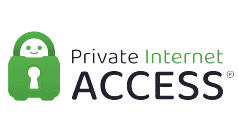 About Encrypt.me
Encrypt.me was founded in 2011 as Cloak VPN. They are based in the US with offices in Seattle, Dallas, Orlando, and also one in Guadalajara. In 2017, they changed their name to Encrypt.me. They have over 100 servers in around 60 locations around the world. You might be thinking that isn't very many. Well, you'd be right. Other VPNs, like ExpressVPN, have over 2,000 servers globally. And typically when it comes to VPNs, the more servers the better as your proximity to a server influences your internet speed.
Like I mentioned above, Encrypt.me is based out of the US, which is a part of the Five Eyes international surveillance agreement. This means data could be legally requested from Encrypt.me and they would be forced to comply. Edward Snowden described the Five Eyes alliance as "some sort of a supra-national intelligence organization that doesn't answer to the laws of its own countries". Yikes. As someone who believes in a right to privacy, I would prefer my VPN to be based from just about any other country than one in a Five Eyes, Nine Eyes, or Fourteen Eyes country.
Encrypt.me Features
Will Encrypt.me Log My Data?
The little secret in the VPN world is that every VPN says they don't log any data, but surprise surprise…every VPN logs at least some data. Of course, some of this data is required to run a VPN service. If a VPN wants to recommend you the fastest server, it needs to know at least your general location. If a VPN wants to charge a subscription, they need your payment information. Past this basic information is when VPNs start to differ. So what kind of data some Encrypt.me log?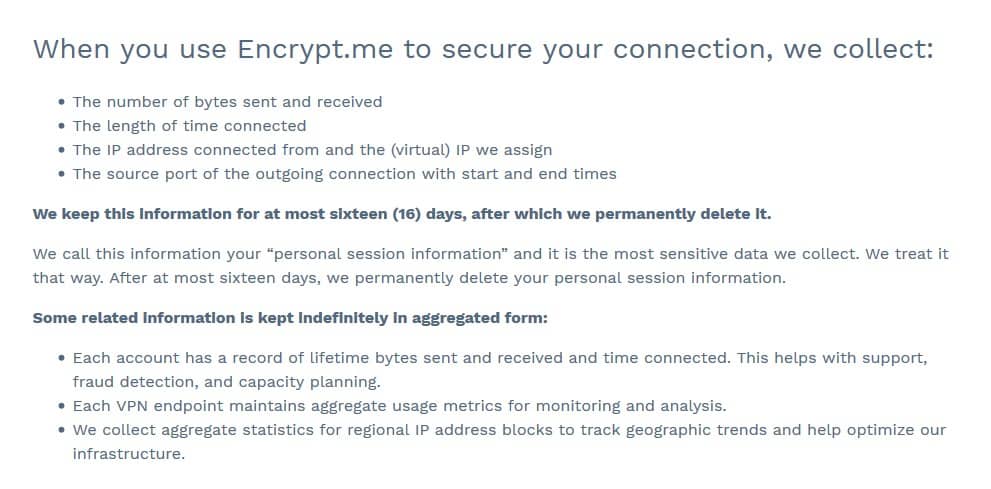 Well, as you can see above, Encrypt.me logs your "personal safety information". This includes:
the number of bytes sent and received,
the length of time connected,
the IP address connected from and the (virtual) IP we assign, and
the source port of the outgoing connection with start and end times.
While they do permanently delete your "personal session information" after 16 days, this is more data collected than some VPNs. If you are a political activist and wouldn't like your government to know your web activity, then I wouldn't use Encrypt.me. If on the other hand, you are a regular Joe Shmoe then this level of privacy might be enough.
Does Encrypt.me Have A Kill Switch?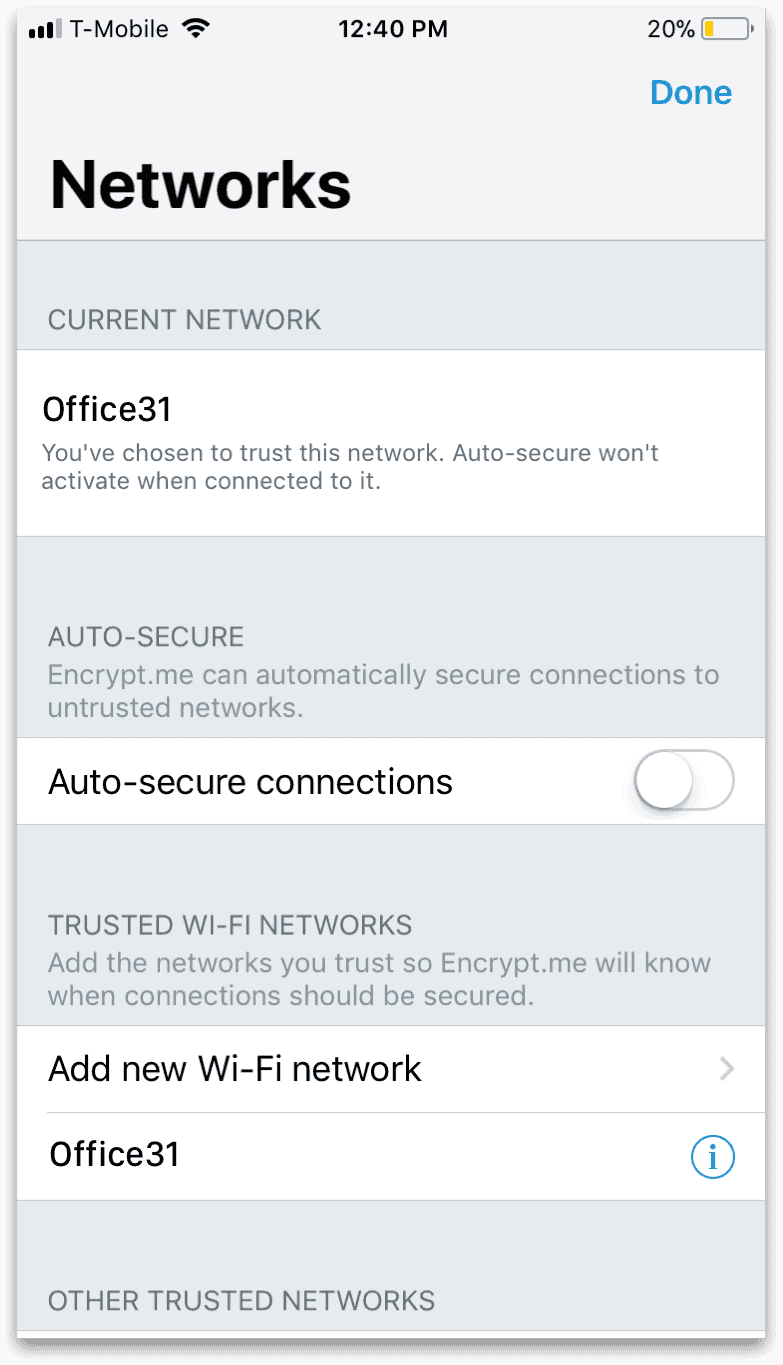 What happens if your VPN server goes down for a split second? Would your computer connect via your private IP address, compromising your privacy? Well, with Encrypt.me it depends on what device you're using. A kill switch (or "auto-secure" as Encrypt.me calls it) is a feature that ensures you only connect to the internet using the VPN server. Encrypt.me's Mac, iOS, and Android applications offer this network locking function. If you use a PC though, you are out of luck; a kill switch is not currently available on Windows.
Does Encrypt.me Offer Split Tunneling?

Split tunneling is a fancy word for the ability some VPNs have to route some of your traffic through the VPN tunnel and some through your regular internet service provider. For example, this feature would give you the flexibility to watch Netflix in your home country, and surf the web with your VPN at the same time. For Encrypt.me, this feature is only available on Android.
Can I Use Netflix with Encrypt.me?
This same question is asked in Encrypt.me's FAQ and their reply: "Short answer is no." If you're trying to bypass Netflix's geographical restrictions or watch your Netflix shows while traveling abroad, Encrypt.me is not for you. If you are prone to binging one too many shows on Netflix, I would recommend NordVPN.
Can I Torrent Files using Encrypt.me?
Technically, you are allowed to torrent when using Encrypt.me, but to use an analogy: it would be like swimming in jeans. Yea, no one is stopping you, but you're not gonna have a good time. Listen to what Encrypt.me says about torrents on their website:
"We allow BitTorrent traffic — we love tools like BitTorrent Sync and think they're essential. But we block access to a number of well known piracy websites, trackers, and common seeders. If you want to download copyrighted content, Encrypt.me is absolutely not the right tool for you."
I like their transparency, but at the end of the day if you're looking for a VPN to torrent files I would choose a different VPN.
Encrypt.me Encryption
With all your data running through a VPN tunnel, you might be wondering how secure that tunnel is. I am happy to report that Encrypt.me uses 256-bit AES encryption through all their applications. You'll often hear 256-bit AES (Advanced Encryption Standard) called "military-grade encryption" on the web. Despite sounding cheesy, it is true that top-secret information in the United States government uses AES-256 as the standard for encryption. Your encrypted data is then transported using VPN protocols. The specific VPN protocol used will depend on the device you're using Encrypt.me on.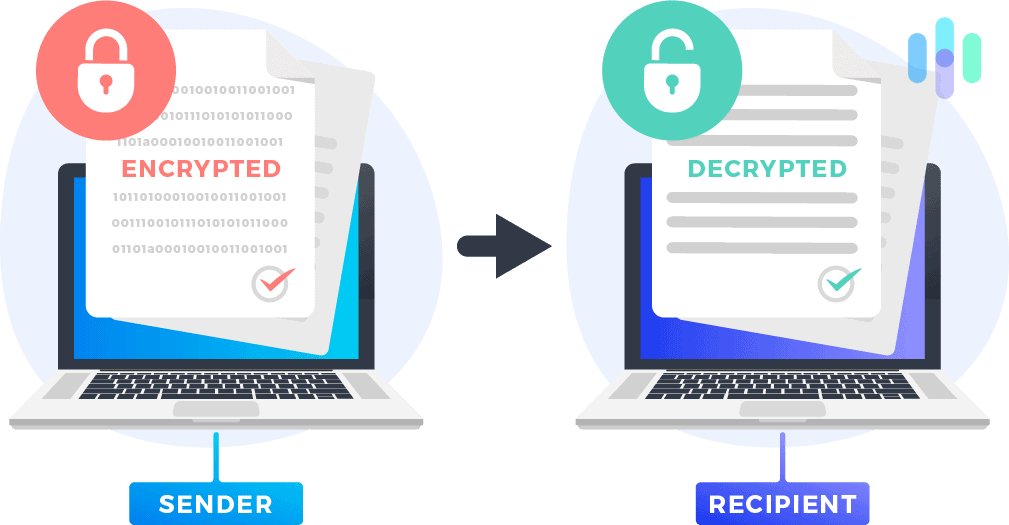 Encrypt.me Protocols
Internet protocols determine how data packets are dispatched across a network. On Mac and Android, Encrypt.me is built using OpenVPN. DHE key exchanges are used by default, which provides perfect forward secrecy. On iOS and Windows, Encrypt.me uses the IKEv2/IPSec VPN protocol.  Both are considered secure (although OpenVPN a little more so). You can find more information below on what these VPN protocols provide.
OpenVPN
OpenVPN is an open-source VPN protocol used to make secure tunnels for your web traffic. OpenVPN is sometimes referred to as the gold standard when it comes to VPN protocols, and rightly so because it offers a good balance of speed and security. It offers up to 256-bit encryption using the Open SSL library and many other security features that can be configured as desired with protocols such as PPTP, L2TP, IKEv2/IPSec, SSTP, and more.
IKEv2
Internet Key Exchange version 2 is a widely used VPN protocol that automatically re-establishes your connection with your VPN after you're disconnected from the Internet. This comes in handy when you would like to switch between Wi-Fi and mobile hotspots, which happens all the time when you're on a mobile phone.
Testing Encrypt.me
Now that we know Encrypt.me is secure, the next question is: Does it work? I'm looking for a VPN that is fast and won't leak my IP address no matter what. Let's see how well the Encrypt.me software performs.
Speed Test
Whichever VPN you choose, you'll have to accept the fact that your internet speed will decrease. The extra protection from VPN security protocols comes at a price. If you have fiber internet, maybe losing some speed doesn't matter. But if you're one of us mortals without lightning-fast internet, choosing a VPN that won't dramatically slow you down is critical. I want to see how Encrypt.me's speed compares to the rest of the pack.
Please note that internet speed is determined by many factors— time of day, location, internet service provider, software, hardware, VPN server distance, and of course the VPN service provider. I'm testing Encrypt.me in Poland on a Macbook Pro running Mac OS Catalina and my trusty Lenovo ThinkPad T430 running Windows 10 Pro.
Download Speed Tests
Mac
Without VPN
70.43 mbps
With VPN
29.44 mbps
Windows
Without VPN
68.31 mbps
With VPN
20.17 mbps
First, I measured the difference in download speed in megabits per second (Mbps). Encrypt.me was really slow for me in terms of download speeds as you can see from the above picture. My Mac slowed down by about 58% and my Windows by 70%.  My internet was noticeably slower, such that even surfing the web felt more sluggish.
Upload Speed Tests
Mac
Without VPN
26.6 mbps
With VPN
24.47 mbps
Windows
Without VPN
28.46 mbps
With VPN
5.17 mbps
Next, I tested the difference in upload speeds with and without the VPN. This time, Encrypt.me performed well on my Mac, but abysmally on my Windows. The upload speed decreased 8% on the Mac, and 82% on the Windows.
Ping Speed Tests
Mac
Without VPN
17 ms
With VPN
68 ms
Windows
Without VPN
13 ms
With VPN
65 ms
Finally, I tested the ping, or latency in milliseconds. For this category, both the Windows and Mac computers were moderately slowed down. The latency increased by around 50 milliseconds for Windows and Mac.
Overall, I'm disappointed by how much Encrypt.me slowed down my Mac and Windows computers. The only positive result was the upload speed test on the Mac. If these are the speeds Encrypt.me consistently provides, then it will be hard to recommend regardless of Encrypt.me's other features.
DNS Leak Test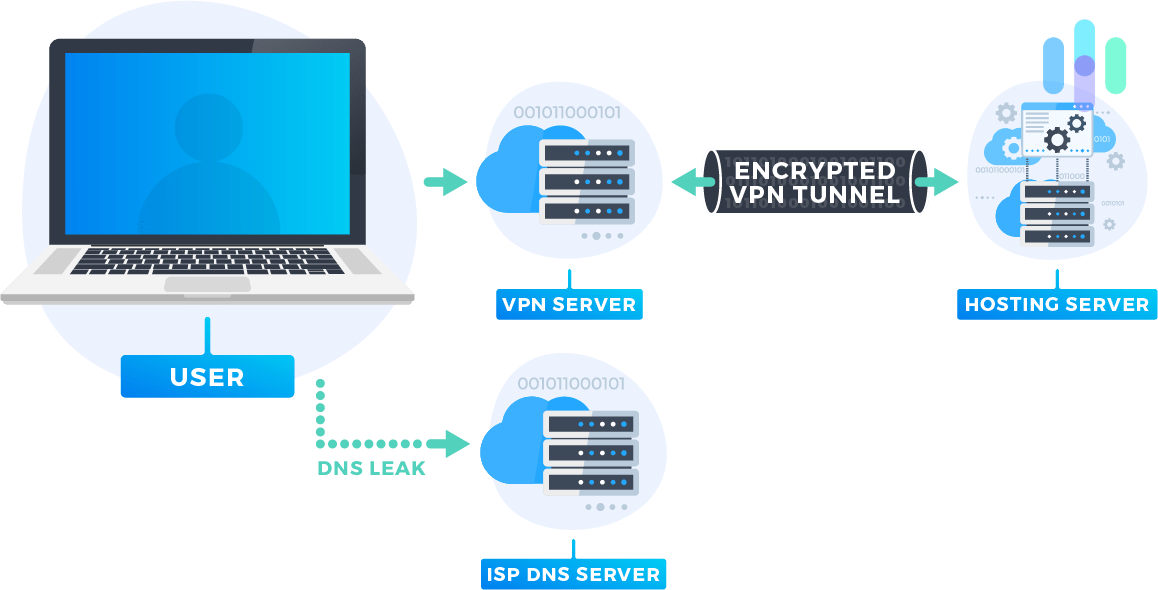 DNS leak tests are important to do because a device might either send DNS traffic outside of the VPN's tunnel, or it might use the VPN tunnel but connect to a third-party server. Luckily, Encrypt.me offers DNS leak protection. You just need to make sure the "Enable DNS Leak Protection" feature is selected inside the application.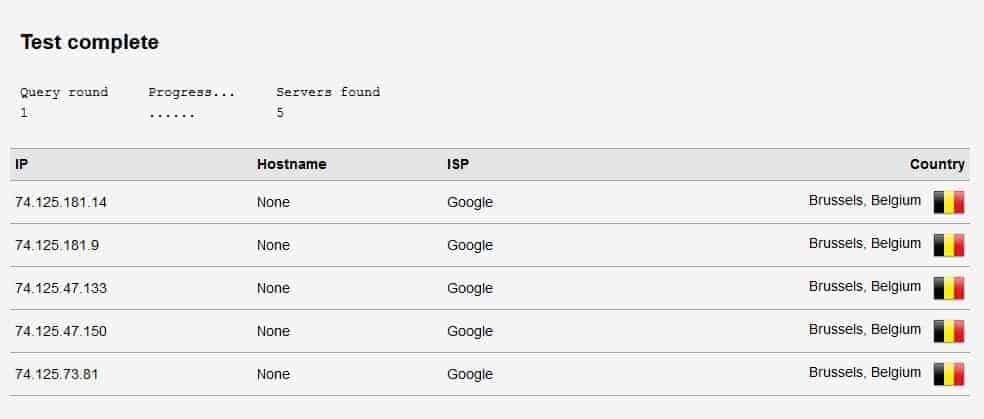 As you can see above, the only IP addresses detected from my connection were in Belgium. This means my real IP address wasn't leaked, so Encrypt.me passes DNS leak tests. The next question you might be wondering is: Will Encrypt.me allow me to download Belgian waffles? As far as I know, the answer is no.  Are we really living in the future?
WebRTC Leak Test
Are you going to use your VPN with Chrome, Firefox, Microsoft Edge, or Opera? Then you need to know about WebRTC leaks.
WebRTC, otherwise known as Web Real-Time Communication Test, is a collection of standardized technologies that allow web browsers to communicate directly with each other rather than going through an intermediate server. WebRTC allows for faster speeds for video chat, live streaming, and file transfers. OK, so what's the problem?
Well, any two devices that are communicating with WebRTC need to know each other's IP addresses. So theoretically, a website or third party could use WebRTC to detect your real IP address. No bueno. Some VPNs have software that automatically blocks WebRTC leak tests, while others ask you to disable WebRTC in your browser manually. I tested Encrypt.me and thankfully, Encrypt.me protected me from WebRTC leaks.
Encrypt.me Subscriptions
Now let's talk about dollar bills. Will Encrypt.me cost you an arm and a leg? Your firstborn child? Thankfully, no.
Encrypt.me has some interesting payment options. To start, they offer a free two-week trial so you can try out Encrypt.me and see if it floats your boat. Then once you've decided you can't live without it, you have a couple of different options. I really appreciate free trials where you don't have to provide any credit card information, so if you're considering Encrypt.me I would encourage you to try it out.
Individual Subscription Options
| | Mini | Unlimited | Annual |
| --- | --- | --- | --- |
| Amount of Data | 5 GB | Unlimited | Unlimited |
| Total Amount Billed | $2.99 | $9.99 | $99.99 |
| Monthly Cost | $2.99 | $9.99 | $8.33 |
| Annual Savings | $0 | $0 | $19.89 |
| Billing Period | 1 Month | 1 Month | 1 Year |
First of all, you can choose the normal monthly and yearly subscriptions. These are pretty standard. Honestly, it's not a big drop off in price for the one-year commitment. So I would pay monthly for a while before committing. What is more out of the ordinary is their Mini Plan, which gives you up to five GB of data a month. If you're just using Encrypt.me like the founders intended (only when you're on untrusted networks), this may be enough for you.
Family Subscription Plans
| | Monthly Plan | Yearly Plan |
| --- | --- | --- |
| Total Amount Billed | $12.99 | $149.99 |
| Monthly Cost | $12.99 | $12.50 |
| Annual Savings | $0 | $5.89 |
The next category of plans Encrypt.me offers are family plans, which work for up to five users. If you can max out this plan with five users, the monthly price drops to down to around two and a half dollars a month per user. And that's without any long term commitment. It depends on your situation, but this option could be a game-changer.
Payment Passes
| | Week Pass | Month Pass | Year Pass |
| --- | --- | --- | --- |
| Price | $3.99 | $9.99 | $99.99 |
The last category of plans are what Encrypt.me calls passes. They are the same as subscriptions, except you won't be automatically billed for another cycle when your term runs out. I think I can speak for everyone when I say it sucks be automatically charged when you don't want to renew a service, so I love that Encrypt.me has this option.
Keep in mind that Encrypt.me offers a 30-day money-back guarantee, so if Encrypt.me isn't cutting the mustard, you can get a full refund. I would recommend trying the service for a month before investing in a lower cost, longer-term plan.
Options
With any subscription, you'll be able to switch between an unlimited number of servers. You can also use an unlimited number of devices with your subscription. They do ask that you use one account per user though. Overall, I really like the flexibility Encrypt.me offers in their payment plans. If you decide to use their VPN, I am confident they have a plan for you.
Manual Configurations
Encrypt.me requires you to use one of their client applications to connect. It's not possible to manually configure Encrypt.me on unsupported devices. This means you can't use Encrypt.me on Linux.
Browser Extensions
Unfortunately, Encrypt.me doesn't offer any browser extensions.
Encrypt.me Customer Support
Undoubtedly if you're using a VPN for long enough, you're going to need to contact customer support eventually. Let's see what kind of customer support Encrypt.me has.
Features
You can contact Encrypt.me for customer support only via email. I would have liked to see a live chat or phone support option. Communicating back and forth through email is just about the slowest form of support possible. When I contacted customer support for questions to write this review, their response took two hours. As far as email support goes, that's not bad. Let's see how their other users rate the Encrypt.me customer support experience.
Customer Support Ratings
If you are buying Encrypt.me through Amazon, you'll see that they have an overall customer rating of 3.2 from over 27 customer reviews. The only reviews that mentioned customer support were positive. The one-star reviews mentioned poor speeds and disliking their data logging policy. So although 3.2 out of five is pretty average, I would say Encrypt.me does well in terms of customer support.
The Encrypt.me App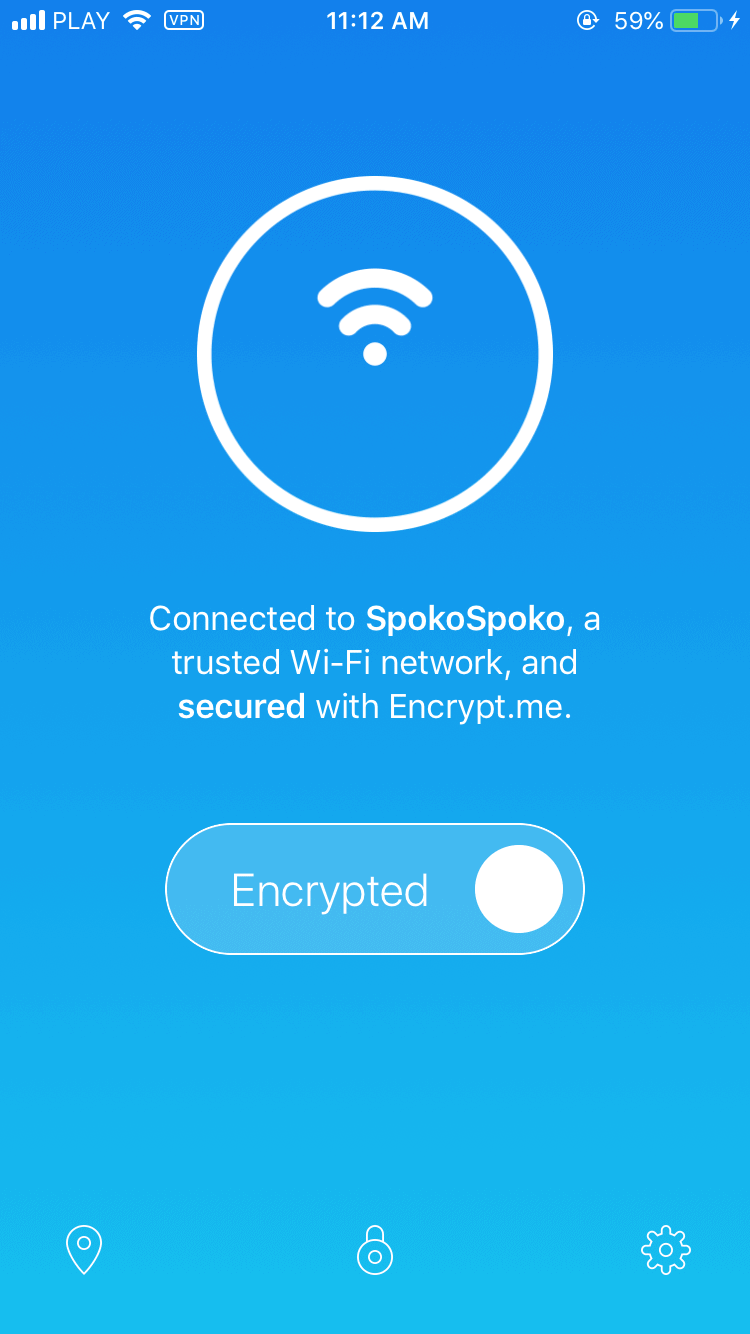 Most of the time you spend dealing with a VPN will be on their apps so a good user experience can make or break them. Let's talk about the Encrypt.me app – which devices are supported, what it offers, and whether it has good functionality.
The Encrypt.me app is supported on Windows, Mac, iOS, Android, and Amazon FireOS. Inside their apps, you will find a big button or bar to turn on the VPN service. It's a simple user experience that will be intuitive for everyone. And it seems that most of their users think highly of their apps as well. Encrypt.me has a stellar 4.5 rating from the Apple store and a not too shabby 4.1 rating from the Google Play store.
Encrypt.me Vs. NordVPN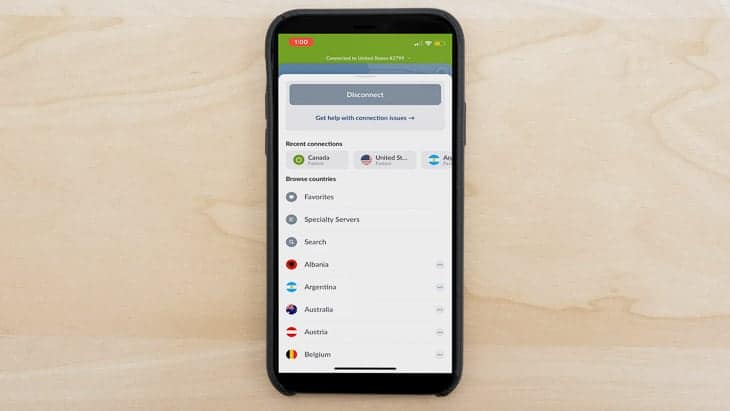 NordVPN is another popular VPN so let's see how it compares with Encrypt.me. While Encrypt.me has over 100 servers in more than 60 countries, NordVPN has a whopping 5,246 in 62 countries. Talk about David and Goliath. With 50 times more servers, NordVPN has a much better chance of connecting with a server in your part of the woods.
NordVPN is also not part of an international surveillance alliance or subject to data retention laws, as they're based in Panama. As I mentioned above, Encrypt.me is based in the United States which is a part of Five Eyes. This means that NordVPN is significantly less likely to pass your data along to the government.
| | Encrypt.me | NordVPN |
| --- | --- | --- |
| Log Data | No | No |
| Kill Switch | Yes (Except Windows) | Yes |
| Split Tunneling | Android Only | No |
| Netflix | No | Yes |
| Torrenting | No | Yes |
| IP Addresses | Dynamic | Static, shared w/other NordVPN users |
In terms of data logging, Encrypt.me logs your personal session information and then deletes it after 16 days, while NordVPN just doesn't log this personal session information. Both offer kill switches, except on Windows for Encrypt.me.  Only NordVPN lets you stream on Netflix or torrent files.
While both VPNs offer anonymous IP addresses, NordVPN will give you the same IP address each time, which isn't great for privacy. At least your IP address will be shared with other NordVPN users, so you should blend in with the crowd. Encrypt.me regularly rotates its IP addresses, so this makes it harder for third parties to track you.
Now that we've gone over how NordVPN and Encrypt.me's features compare, let's talk about their performances. NordVPN was significantly faster on both my Mac and Windows computers. It wasn't even close. Neither system had any DNS or WebRTC leaks. Overall, I'd recommend NordVPN to pretty much any user, except if you're on Android and really value split tunneling.
Recap of Encrypt.me
In summary, I wouldn't recommend Encrypt.me. To be frank, I don't like their data logging policy, and I don't like that they don't allow you to watch Netflix. There are some things I do like though, so let me go through the pros and cons to see if Encrypt.me will work out better for you than it did for me.