Vipre Antivirus Review
VIPRE Advanced Security offers protection against viruses and malware in files and email, but our tests showed mixed results.
What We Like
Reasonably priced subscriptions between $2.91 and $5.42 per month
Easy-to-use interface with many customizable options
Free 30-day trial with no credit card required
What We Don't Like
Company gives some customer data to advertisers
Poorly organized support and no direct phone support
Mac versions of the software are sub-standard
Bottom Line
With behavior-based scanning, Vipre can detect malware even if it's not in its database.
Antivirus software is more important than ever, but sorting through the options can be tough. That's why we're taking a close look at VIPRE's Advanced Security antivirus subscription, which offers protection against traditional viruses as well as emerging threats like malware, Trojans, rootkits, and more. In fact, we tested out the software ourselves to see how well it really worked on our 2014 Lenovo ThinkPad. With information both from our testing and our experience as users, we bring you an honest review about whether or not this antivirus software is worth it.
Vipre Antivirus Features
| | |
| --- | --- |
| Price per month | $2.91 – $5.42 |
| A.V. Labs malware detection rate, August 2020 | 100% |
| Includes firewall | Yes |
| Blocks suspicious websites | Yes |
| App versions | MacOS, Android, iOS |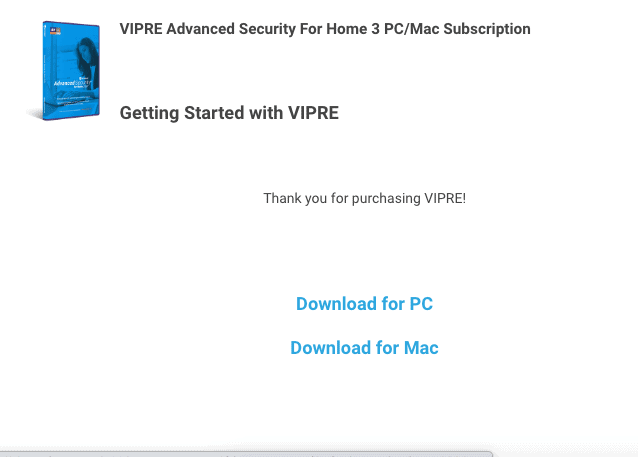 Editor's Rating
Prices start at $29.74 for protection against viruses and malware
Packages available with VPNs
One-time fees available for all devices
More Security.org Recommendations
Check out more of our favorite antivirus softwares.


Purchase and Setup
VIPRE currently offers four different subscription software options: Advanced Security, Antivirus Plus, Privacy Shield, and Android Security. We tested Advanced Security because it's the only antivirus offering that is compatible with both Macs and PCs. We appreciated that VIPRE offers a 30-day free trial (no credit card required!), which we tried before paying for the project—but how to activate it wasn't clear. It prompted us to enter an activation key, which we didn't yet have, and it was only by clicking "enter" anyway that we learned we didn't need one for the trial.
That being said, once we decided to go ahead and buy the program, putting in our payment information only took a few seconds. Once we clicked purchase, we got an email with a key to enter on the PC app. VIPRE provides fairly detailed instructions for downloading and running the installer, so we didn't have any problems there—though we heard from a colleague that she'd had trouble running the program on her Mac.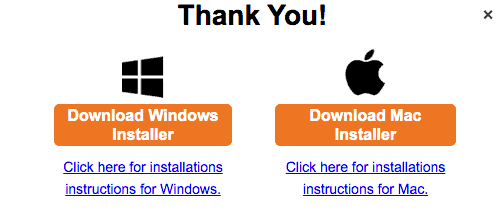 The installation itself took longer than expected—about 12 minutes—since it included a download of current threats and the first scan of our computer, which was a little unusual compared to other programs. While it showed a green progress bar throughout this process, its movement was erratic and there was no time estimate provided for the process like some software includes. We would have preferred to simply install the program and then set the scan to run at a time when we didn't need to do other tasks on the computer since it slowed down the machine's performance significantly.
NOTE: If you download a free trial, just click "continue" when it prompts you to enter an activation key—you'll then be able to select the free trial option to bypass that step.
Using and Testing VIPRE
The installation process is important, but it's in actually using the software that the rubber meets the road. So how did VIPRE Advanced Security perform?
Our Tests
When we downloaded five different viruses onto our poor old computer, we found that VIPRE only detected one out of five, which was quite disappointing. VIPRE even missed an EXE file that 66 percent of the 40 software we tested had found, making it actually the most commonly detected out of any of our viruses. And if we had clicked it, this virus would have found our computer's IP address, something we normally like to keep private, and then would have harvested our web history, password, and session information.
It's an important fact that information is power, and identity theft is much more possible when hackers have this sensitive data. With only a 20 percent success rate, we weren't happy with how VIPRE detected our viruses, although we admit that five is a pretty small sample size.
A.V Lab Tests
Fortunately, things turned around when it came to detecting malware. In an AV Labs test in August 2020, VIPRE's Advanced Security software detected 100 percent of the malware that was widespread that month. When it came to zero-day malware attacks1 that included email and web threats, that number dipped down slightly to 99.1 percent, which is still pretty good, as the industry average stands at 97 percent for this category. So while in our virus tests VIPRE disappointed, they performed better when paired with hundreds of different types of malware, a larger sample size that we consider trustworthy.
User Experience
While the test findings were mixed, the usability of the program is also an important factor. Once VIPRE is up and running, the program displays a fairly simple home screen. It includes a status bar showing when the computer was last scanned, that the threat definitions are up to date, and whether the firewall protection is active. From there, simple settings allowed us to choose to run a scan immediately or schedule a scan. On installation, VIPRE defaulted to scheduling a full scan on Sundays at 10 p.m. and every day at 10 a.m., which we felt offered a reassuring level of protection—but the schedule was easy to change if we desired.
By clicking on "antivirus," "updates" or "firewall," we could access specific settings that allowed us to decide whether we wanted VIPRE to handle threats automatically and quarantine dangerous files (the answer for us was yes). The program defaulted to including web filtering to block websites that could be dangerous, though it allowed us to enter specific websites to never block. Firewall protection was also on by default, though allowed programs could be added. We were especially happy to see that VIPRE offers email virus protection, spam filtering, and anti-phishing settings—we missed that in some other antivirus softwares we tested. However, the spam filtering is only available to Microsoft Outlook users. The virus protection can be set up with other email clients, like Gmail (which we use), but it required a little digging around to find the settings to enter.
All in all, the interface is fairly intuitive and easy to use, in part because the default settings seemed fairly standard and didn't need much tampering with. We were pleased that we didn't get any annoying pop-ups or upsells, and though the app isn't the most modern-looking, that didn't affect its functionality. We found the customization options especially useful so that we could allow certain websites and apps past the firewall, and were happy to be able to protect our inbox with anti-phishing and anti-virus settings.
TIP: The left hand navigation on the app appears to be labels, rather than links, but by clicking on "antivirus," "updates," or "firewall" you can reach specific settings.
VIPRE's Privacy Policy
Online privacy is a tricky thing. We wouldn't allow most software to log our IP address or collect certain information, but antivirus programs really do need that data to protect us from viruses on fraudulent sites or in dangerous files. However, the question of what they do with that information is still important. That being said, here's what VIPRE keeps, according to their privacy policy:
Data we give them: Email, phone number, or any other information from when customers contact them
Public data: Data from social media if you make a public post about VIPRE
Data from application: Any personal data you give them when you download or use an app from VIPRE
Data from website: Any personal data they get when you visit their site
Registration information: Any data you give them when you use their app, sites, etc.
Relationship data: Purchase information, etc.
Data from third parties: Data from law enforcement, credit reference agencies, etc.
Data related to content and advertising: Interactions with any third-party content or advertising in their site or app.
This list is far less specific than we'd prefer, but one thing that stood out to us was the word "advertising." While we understand that antivirus software needs a lot of our personal information in order to properly protect us from viruses and the like, what they don't need to do is sell our data to advertisers. And looking a little closer into their section on third-party disclosures, VIPRE did admit to sharing our data with advertisers if we interacted with them on the VIPRE app or website. That's something that we're not a fan of in a paid product. But is there a way that users can opt out?
While you can't opt out of VIPRE giving your data to advertisers on their app, you can opt out of some of their cookies' advertisers through the Network Advertising Initiative2. And while you won't be able to stop all third-party sharing, you can opt out of sharing with certain companies. We wish this practice wasn't so common, but unfortunately, it is, with nearly 80 percent of websites tracking users' personal data3. Your best bet is to opt out, but if you're not a fan of this sort of disclosure, we recommend looking at an antivirus software other than VIPRE.
Pricing
Again, we went with the Advanced Security Package for three devices for one year, which cost us $64.99. However, these prices were all heavily discounted, so while we displayed the regular pricing below, you can expect to pay less. Check the website to see which discounts are live, or learn more in our VIPRE costs page.
| Maximum Number of Devices | Term Length | Antivirus Plus (PCs only) | Advanced Security (PCs, Macs) | Ultimate Security (PCs only) |
| --- | --- | --- | --- | --- |
| 1 | 1 year | $34.99 | $54.99 | n/a |
| 1 | 2 years | $69.99 | $109.99 | n/a |
| 1 | 3 years | $104.99 | $164.99 | n/a |
| 1 | 4 years | n/a | $219.99 | n/a |
| 3 | 1 year | $44.99 | $64.99 | n/a |
| 3 | 2 years | $89.99 | $129.99 | n/a |
| 3 | 3 years | $134.97 | $194.99 | n/a |
| 3 | 4 years | n/a | $259.99 | n/a |
| 5 | 1 year | $54.99 | $74.99 | $139.99 |
| 5 | 2 years | $109.99 | $149.99 | $265.98 |
| 5 | 3 years | $164.99 | $179.99 | $377.97 |
| 5 | 4 years | n/a | $299.99 | n/a |
| 10 | 1 year | $69.99 | $99.99 | $189.99 |
| 10 | 2 years | $139.99 | $199.99 | $360.98 |
| 10 | 3 years | $209.99 | $299.99 | $512.97 |
| 10 | 4 years | n/a | $399.99 | n/a |
Compared to other antivirus software we've looked at, VIPRE is at an average price. However, we wish all of the plans worked with Macs rather than just the Advanced Security plan. Sure, Macs only account for one in 10 personal computers4, but we still want options that can work across a household that uses a mix of PC and Apple devices.
Apps
While we tested out the Windows app for PCs, VIPRE also has apps for MacOS, iOS and Android. However, the iOS app is only available for the VPN software, not the antivirus software, and is called Internet Shield VPN by VIPRE in the App store. That app has a 4.2 rating, while the VIPRE Android Security app is antivirus software and has a 3.9 in the Google Play store. It's unclear why VIPRE doesn't support their antivirus software for iPhones, but it's safe to say that VIPRE isn't the best antivirus for iPhone.
Customer Support
We found VIPRE's customer support online help center to be pretty lacking. There is a "Knowledge Base" for the PC version that contains a wide range of pages, but tips on areas like installation and running scans was buried under release notes and specific announcements that didn't seem useful to most users. For Mac users, the picture was even bleaker. There were only three help articles, none of which addressed how to actually use the software after it's installed:
Installing VIPRE on Mac
Allowing VIPRE in Security Preferences
Uninstalling VIPRE on Mac.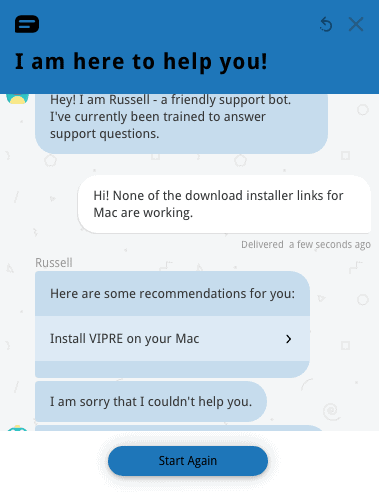 There is also a forum to turn to, but it doesn't appear to be terribly active. While VIPRE's business solution has a support team you can call, the support options for home users like us leave a lot to be desired. The main way to get support appears to be to support a ticket, which is a little frustrating since you then need to wait for VIPRE to email or call you. Besides the support ticket form, we saw an email address, but no phone number—not the best if you're in a pinch and need a timely response.
FYI: As far as we could tell, answers in the forum are few and far between—if you need help, we'd recommend going straight to submitting a ticket.
Recap
Between its failure to detect viruses, policy of sharing customer data, and lack of compatibility with Macs, we definitely had some issues with VIPRE. But, the A.V. Lab tests did show an exemplary performance with malware—so if that's your main concern, VIPRE might be a good choice.
However, VIPRE isn't a good fit for people who worry about their information being shared with advertisers. And in our opinion, Mac users should likely look elsewhere for antivirus protection, since it seems like the MacOS version of the software was an afterthought.
Looking for other options? We've rounded up the best antivirus software. In this day and age, digital security should be a major priority—and we want consumers to have all the information they need for an informed decision.