SkyBell Doorbell Camera
SkyBell offers two video doorbells, the HD and the Slim Line.
Attractive modern design aesthetic
Smart home automation integrations
Mobile alerts and mobile access/controls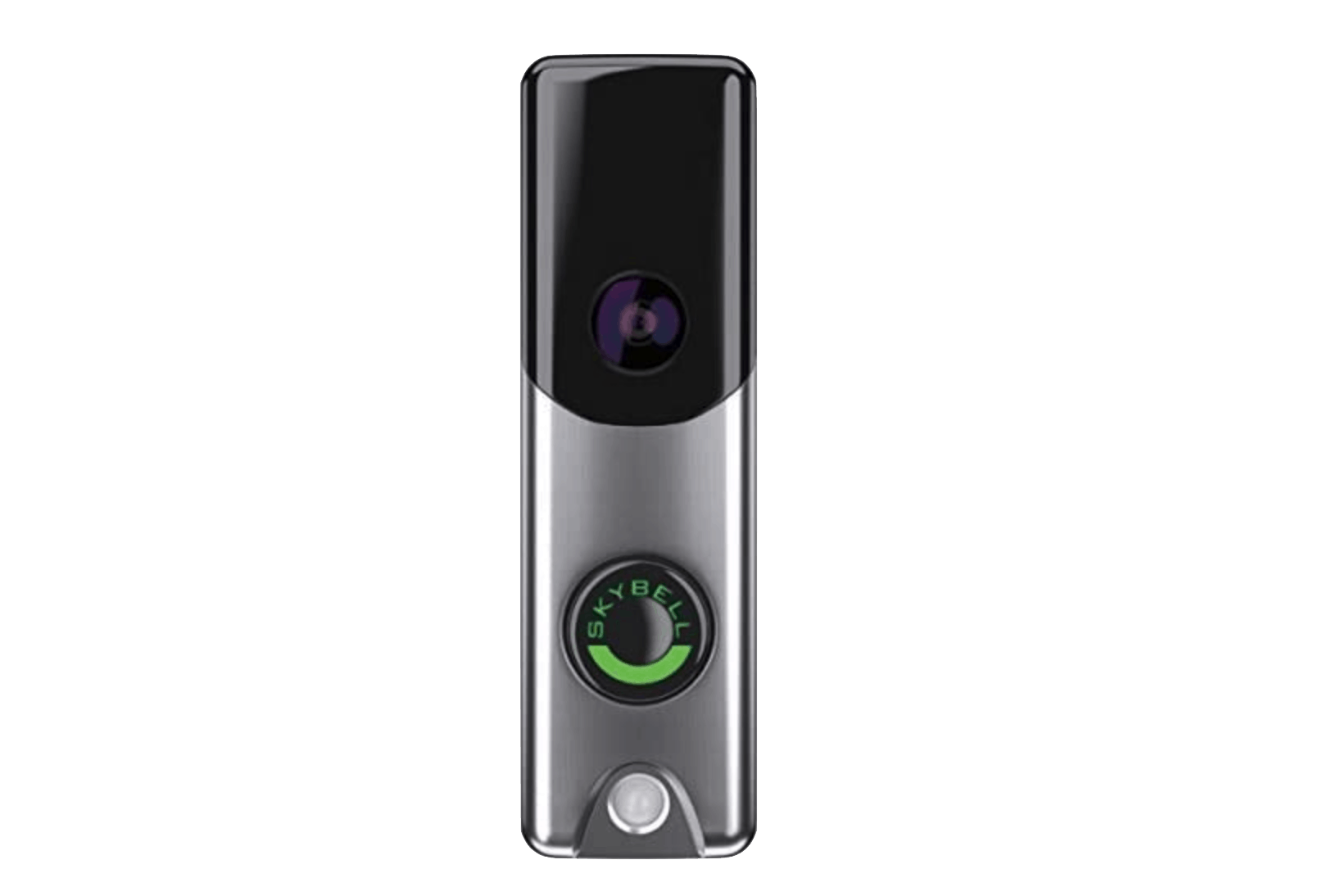 All of our content is written by humans, not robots.
Learn More
By

&

It's wild to think that a scant 20 years ago, the most advanced technology in doorbells was the simple novelty of a music bell that would play "La Cucaracha" when a guest would arrive. Nowadays, with the rise in online shopping, and the resultant rise in package theft, an estimated 54% of online shoppers are worried about their orders being stolen1 from their doorsteps. It's no surprise that concerned consumers are turning to video doorbells to combat this imminent threat.
For early adopters such as ourselves, you might remember SkyBell as the brand that almost gave Ring a run for its money. SkyBell released its first doorbell shortly after Ring started taking off, and at the time, it was one of Ring's fiercest competitors.
However, a few years later, SkyBell changed course and began concentrating on its business-to-business relationships. Although it continued to create and enhance new doorbells, it no longer marketed them directly to consumers. Instead, it made them available as components of some of the most widely used security systems.
If your home security company is offering you a SkyBell doorbell, this review will help you decide whether to go for it or go for a video doorbell from a third-party brand. Specifically, this review focuses on the SkyBell HD and the SkyBell Trim Plus.
Where SkyBell Stands in the Market
Before we start, we'd like to point out that you can no longer buy SkyBell directly, so you'll have to buy from either a smart home brand that offers SkyBell products or your home security provider. If that doesn't work for you, check out these alternatives that we've personally tested. They all have video doorbells available for purchase, and as a bonus, they offer top-notch features like package detection: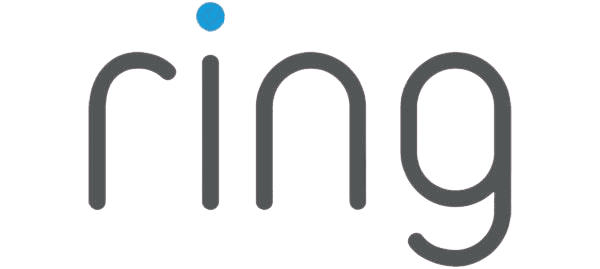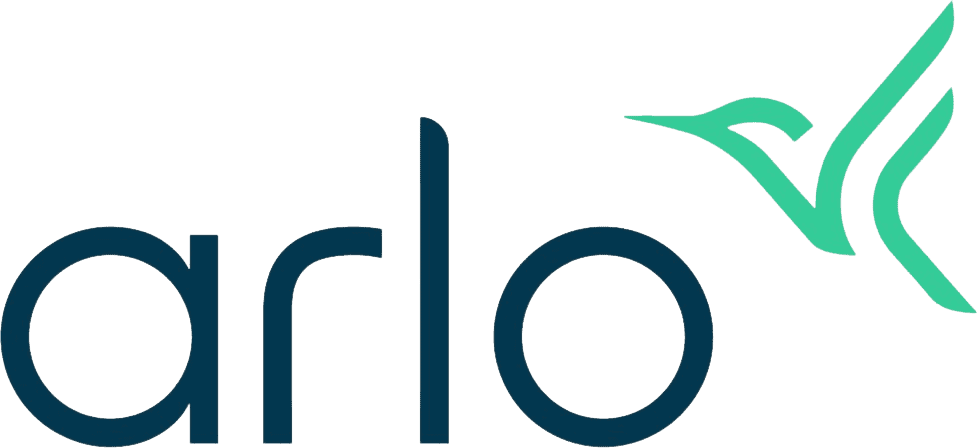 What We Like About SkyBell
As we said, SkyBell is primarily a hardware company, and it's no surprise that that's the arena at which they excel. Differences between the two SkyBell models are relatively minimal (which we'll dig into a bit more later on). Right off the bat, let's talk about some of the broad positives we loved about the company.
High-Quality Video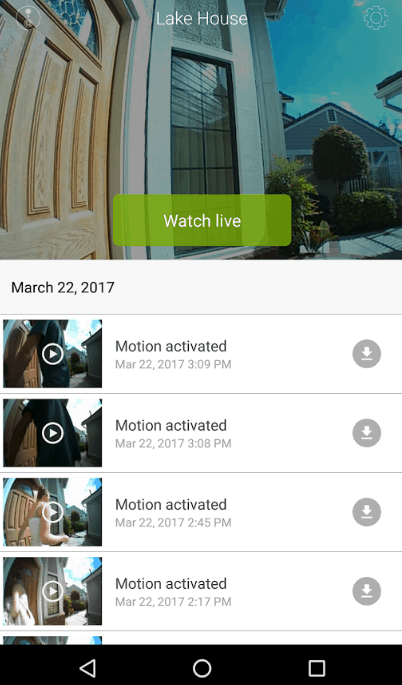 Both models of the SkyBell offer full-color 1080p HD video, which we found crisp and clear. Not only that, but both cameras offer a 180-degree field of view, in addition to color night vision. In short, the cameras deliver everything we've come to expect from high-quality surveillance equipment.
Two-Way Audio
SkyBell's video doorbells come with omnidirectional microphones that provide high-quality two-way audio, making it effortless for us to converse with anyone who approached our door or to deter potential intruders. This is a crucial characteristic for a video doorbell, and one where SkyBell outshone its competitors for a considerable period. For instance, Ring did not introduce noise suppression until approximately 2020, and even now, few video doorbells provide audio quality that rivals SkyBell's.
Simple Integrations
SkyBell integrates with multiple home automation and voice assistant products, including Alexa and Nest. We loved being able to control the system with simple voice commands, including silencing the device when we didn't want to be disturbed.
No Monthly Fees
SkyBell as a product requires no monthly fees to function. Though there are some complicated conditions to the product on this front that we'll dive more into later, the product itself is foundationally built on a lack of fees; the only purchase we had to make was the initial hardware investment. From there, everything else was taken care of. The app is free, the service is free, and we were even given seven days of cloud-stored recording that we could review and save as we deemed necessary.
A Word to the Wise: SkyBell is a wired camera, meaning it needs to be wired to your home's power to function. While it can be installed DIY, for those that aren't very handy, it may be beneficial to hire a professional to handle the installation. Keep in mind that getting a doorbell installed may cost anywhere from $284 to $441, so that should be factored into the cost as well.2
A Closer Look at Component Pricing
Some Disclaimers on SkyBell's Offerings
In recent years, SkyBell has moved from a standalone provider to folding their offerings into the larger security ecosystems of Alarm.com and Honeywell, who are both leaders in the security industry. Alarm.com and Honeywell aren't necessarily designed as direct-to-consumer security companies, which means that to install one of their systems you'll likely be working with a local dealer, installer, or security provider that works with one of those two companies. We know, that's a bit confusing.
SkyBell can also be purchased individually from leading third-party sellers like Amazon. But, because Amazon doesn't work on a fixed-price scale-like direct-to-consumer brands or retailers, there can be some variance in pricing. Also, keep in mind that purchasing from Amazon means selecting between Alarm.com or Honeywell-branded SkyBell cameras.
Alarm.com-branded SkyBell cameras are designed to be used within the Alarm.com system, and may require additional monthly fees depending on your installer agreement. The Honeywell-branded SkyBell cameras can function within the broader Honeywell security platform, but they can also be used individually through the SkyBell app. Again, it's all pretty complicated. Just keep in mind the brand differences and take special note when shopping with third-party sellers. Here are the current prices we found on Amazon:
SkyBell Component Pricing Snapshot
| Component | Price |
| --- | --- |
| SkyBell HD Device | $220 |
| SkyBell Trim Plus Device | $175 |
| Chime™ SkyBell Digital Doorbell Adapter (Works for Both Models) | $17.95 |
| SkyBell HD Wedge Mount | $9.95 |
| SkyBell Trim Plus Wedge Mount | $9.95 |
You don't have to spend thousands to get smart home security with SkyBell. View on Amazon.
SkyBell Devices
SkyBell HD
The SkyBell HD is the more "professional-grade" of the two cameras offered by SkyBell. The round-design device features a more advanced night vision system of the two cameras and a higher image resolution. When we purchased the SkyBell HD, we received the device, a wall mount, and a screw pack for mounting. All in, the package costs around $220.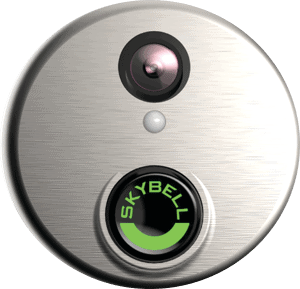 SkyBell Trim Plus
The SkyBell Trim Plus is a vertically designed, rectangular-style doorbell camera that has slightly less impressive specs on its video output than the SkyBell HD, but compensates with an internal lithium-ion polymer battery backup as well as a lower price point, coming in at around $175.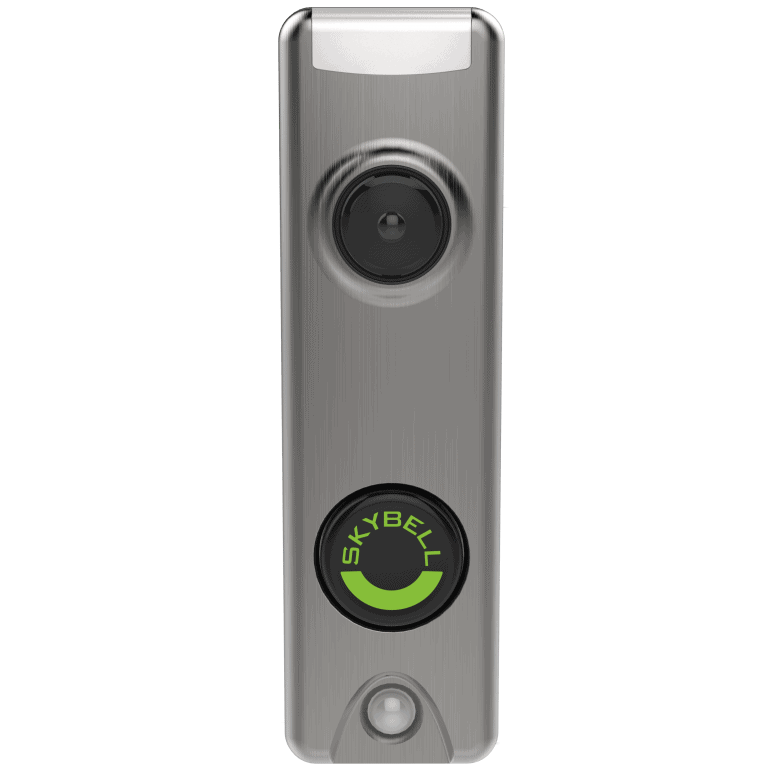 A Quick Note: SkyBell Trim Plus cameras come in Alarm.com and Honeywell-branded versions, but the SkyBell HD only comes in an Alarm.com-branded version.
Accessories
Wedge Mounts
SkyBell makes wedge mounts for both versions of their doorbell cameras, which we found to be a big help in positioning the camera to get a better angle and field of view on our porch and front of the house. The mounts can be purchased individually for $9.95 each.
Chime™ SkyBell Digital Doorbell Adapter
This simple adapter is designed for those with a digital doorbell looking to install a SkyBell by regulating power levels. The adapter is only needed for those with digital doorbells and costs about $20.
Monitoring Pricing With SkyBell
SkyBell as a product unto itself doesn't come with any monthly monitoring fees, which is one of the things we loved most about the product. Included in the SkyBell baseline service is unlimited live streaming of video and seven days of cloud storage for our footage. The out-of-the-box pricing is relatively bare bones, and doesn't include enhanced features like cellular backup, so if your power is out, the SkyBell doorbells won't be able to connect to your app. Despite this, overall, we found Skybell products to be great deals, especially considering their relatively low costs and high video quality.
There are some caveats with SkyBell's lack of monthly fees, however, and those caveats are linked to the brand of SkyBell you settle on. SkyBell doorbell cameras can be tied into broader home security systems powered by Alarm.com or Honeywell, with each of those systems typically being purchased through local security providers, dealers, or installers. If you're purchasing SkyBell through a certified dealer, the cost of the system can vary by the arrangement your installer has with the security provider, which can wind up costing you a wide range of monthly fees.
How SkyBell Integrates to a Smart Home
It goes without saying that if you purchase an Alarm.com or Honeywell-branded SkyBell that the camera will integrate into those individual home security and smart home systems.
Beyond that, we were able to get SkyBell to integrate into a number of smart home hubs, including Amazon Alexa, Google Assistant, and Nest. The truth of the matter is, SkyBell cameras are relatively simple devices, which makes them the perfect candidates for voice-controlled integrations.
One of our favorite features with Alexa integration was being able to silence the system with a simple voice command. When we had something going on in the house and didn't want to accept deliveries or entertain drop-in guests, this easy-to-use "do not disturb" setting could be implemented in seconds.
Another basic function we were able to do via voice command was taking snapshots of whatever the SkyBell camera was seeing. This command saved us the trouble of navigating the app, which was significantly quicker. Even though we were just taking a photo of a friend coming over, we could imagine the immediate benefit of capturing a lightning-fast snapshot of a would-be burglar or package thief.
The voice command integrations through Google Assistant were as, if not more robust than the Alexa controls. We were able to set commands such as "Talk to SkyBell" which allowed us to activate the two-way audio to speak to our visitors. And we could have our videos displayed on our Nest Hub with a simple "Ask SkyBell to take video" command.
With integrations to Nest cameras, Nest Protect, and other Nest smart home devices, we were able to set up multiple unique triggers. For example, we set up interior security cameras to begin recording when the SkyBell began recording, so when someone entered the house we were able to track them instead of leaving them at the door. Other interesting integrations were setting the SkyBell's LED to blink red in the event of a smoke or CO2 emergency trigger, which helped us inform guests that it wasn't a good time. Overall, we were really happy with how well SkyBell integrated with our existing IoT devices.
SkyBell Versus the Competition
From a hardware perspective, SkyBell really brings it in comparison to some of the best doorbell cameras on the market. For wired cameras, the installation was relatively user-friendly and, once installed, the cameras provided clear footage with a wide field of view, even at night. Advanced motion detection sprung the cameras to life when we needed them most, two-way talk made communication with guests a breeze, and simple integrations to smart home hubs made voice commands super convenient. However, as the Skybell doorbells lack person detection, we received a lot of unnecessary notifications. In contrast, with a video doorbell like the Nest doorbell, we were only notified when our video doorbell detected a human, resulting in fewer, more important notifications.
In contrast, a video doorbell with person detection, such as the Google Nest Doorbell (wired) or the Google Nest Doorbell (battery), triggers an alarm only when a person is seen moving. It ignores passing vehicles, animals, and other unimportant inanimate objects. That results in fewer false positives.
The lack of monthly fees when the cameras were used through the SkyBell app really set them apart from the competition as well. We loved the free seven days of cloud storage of our video, with the option to save the footage locally. The buying experience, however, is a real process when it comes to SkyBell. Navigating the different brand iterations on the product and trying to conclude which product works as a standalone device and which needed to be used with a separate home security system was a headache. Additionally, support for the products was difficult to decipher, and the corresponding apps were buggy and confusing, a pretty big drawback.
So How Does SkyBell Sound?
As a pure piece of hardware, SkyBell has everything we'd look for in a video doorbell. But these days, doorbell cameras need to be more than just good pieces of hardware. From the confusing buying experience to the buggy apps, to the lack of support, SkyBell is a tough sell for everyday consumers looking to bolster their home security system and stop package thieves.
That said, for those that already have a Honeywell or Alarm.com security system, SkyBell is an excellent addition to that ecosystem, and we would highly recommend that any customer with one of those systems add a SkyBell device to monitor their front doors. With sales of smart doorbells expected to more than double3 in the next five years, it's never been a better time to join a growing movement. If SkyBell doesn't seem right for you, be sure to check out our top video doorbells of the year.
One of our favorite things about SkyBell was its lack of monitoring fees. View on Amazon.
C+R Research. (2020). 2019 Package Theft Statistics Report.
crresearch.com/blog/2019-package-theft-statistics-report

Porch. (2020). How much does it cost to install a doorbell?
porch.com/project-cost/cost-to-install-a-doorbell

MarketWatch. (2020). Smart Doorbell Market Size 2020, Trends, Industry Share, Growth Drivers, Business Opportunities and Demand Forecast to 2026
marketwatch.com/press-release/smart-doorbell-market-size-2020-trends-industry-share-growth-drivers-business-opportunities-and-demand-forecast-to-2026-2020-04-08