Nest Doorbell Battery Review: Solid Wireless Option?
Want a wireless doorbell camera from Nest? It's your lucky day.
What We Like
Wireless installation
Affordable price
Intelligent alerts for person, pet, vehicle, and package detection
What We Don't Like
Facial recognition only available with Nest Aware
Doorbell chimes only available when wired, not wire-free
24/7 video history only available with Nest Aware Plus
It's been a while since Nest released a new video doorbell. Ever since we tested out the original Nest Hello, now called the Nest Doorbell Wired, we've been itching to try out another video doorbell from Google's smart home company.
Well, our dreams have come true with the Nest Doorbell Battery. Naturally, we got our hands on it as soon as possible. What was it like, and is it worth its $179.99 price tag?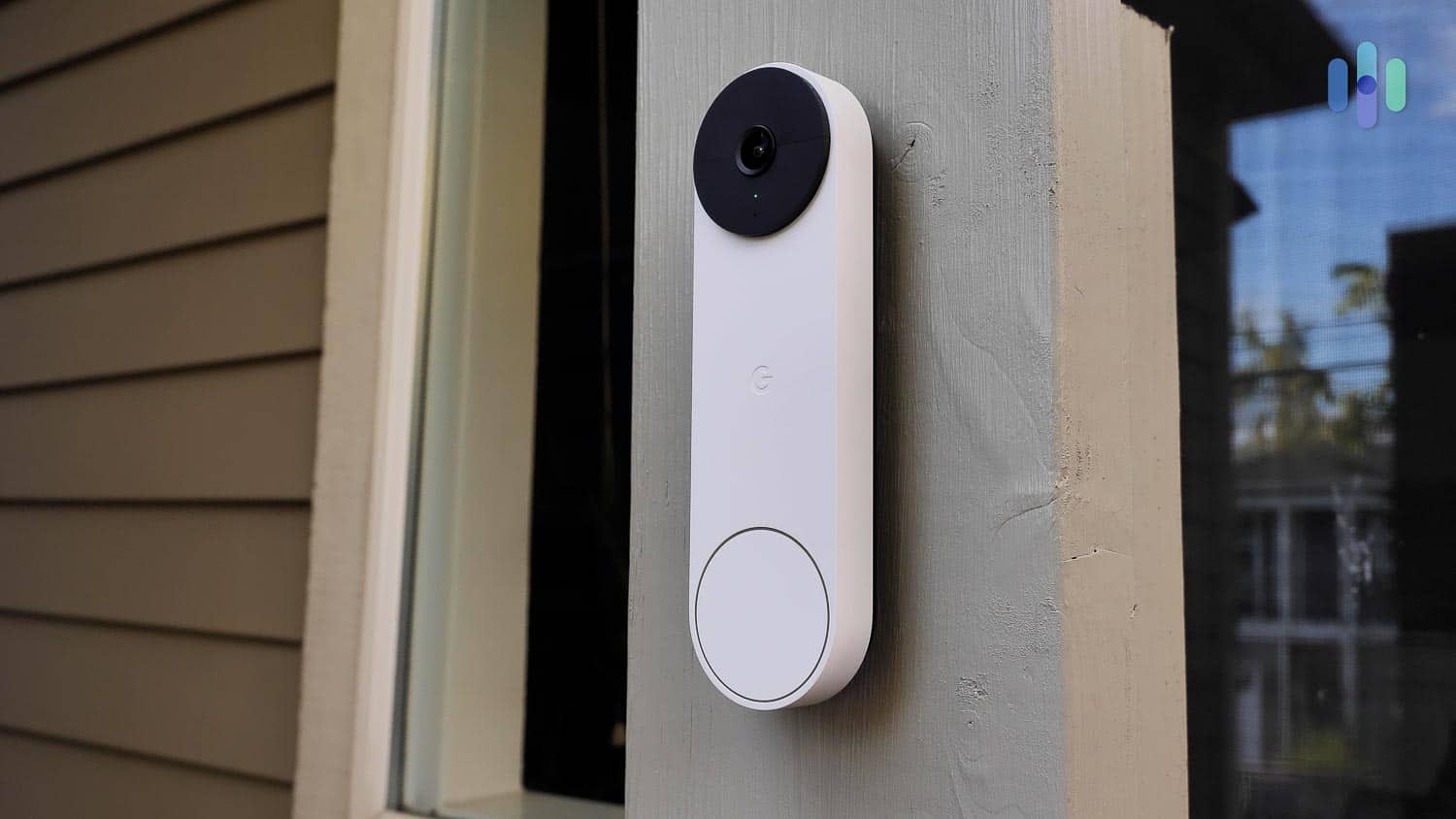 Editor's Rating
Oversized viewing screen for full picture
Integrates with Google and Nest products
Optional facial recognition technology
Nest Doorbell Battery Video Review
Before we begin with our detailed review, we thought you might want to watch our video review first. Check it out if you want to see the Nest Hello in action, but note that Nest no longer sells Nest Secure, their security system.
In this video, our Chief Editor Gabe Turner unboxes and installs the Nest Doorbell Battery, step-by-step.
What's Included
Once we got the Nest Doorbell Battery in the mail, we ripped off its packaging and found these components:
Doorbell
Base plate
Release tool
Anchors and screws
Wire connector
20-degree wedge and wedge screws
Spacers
3-foot charging cable
Quick-start guide
Now, let's get this doorbell up and running.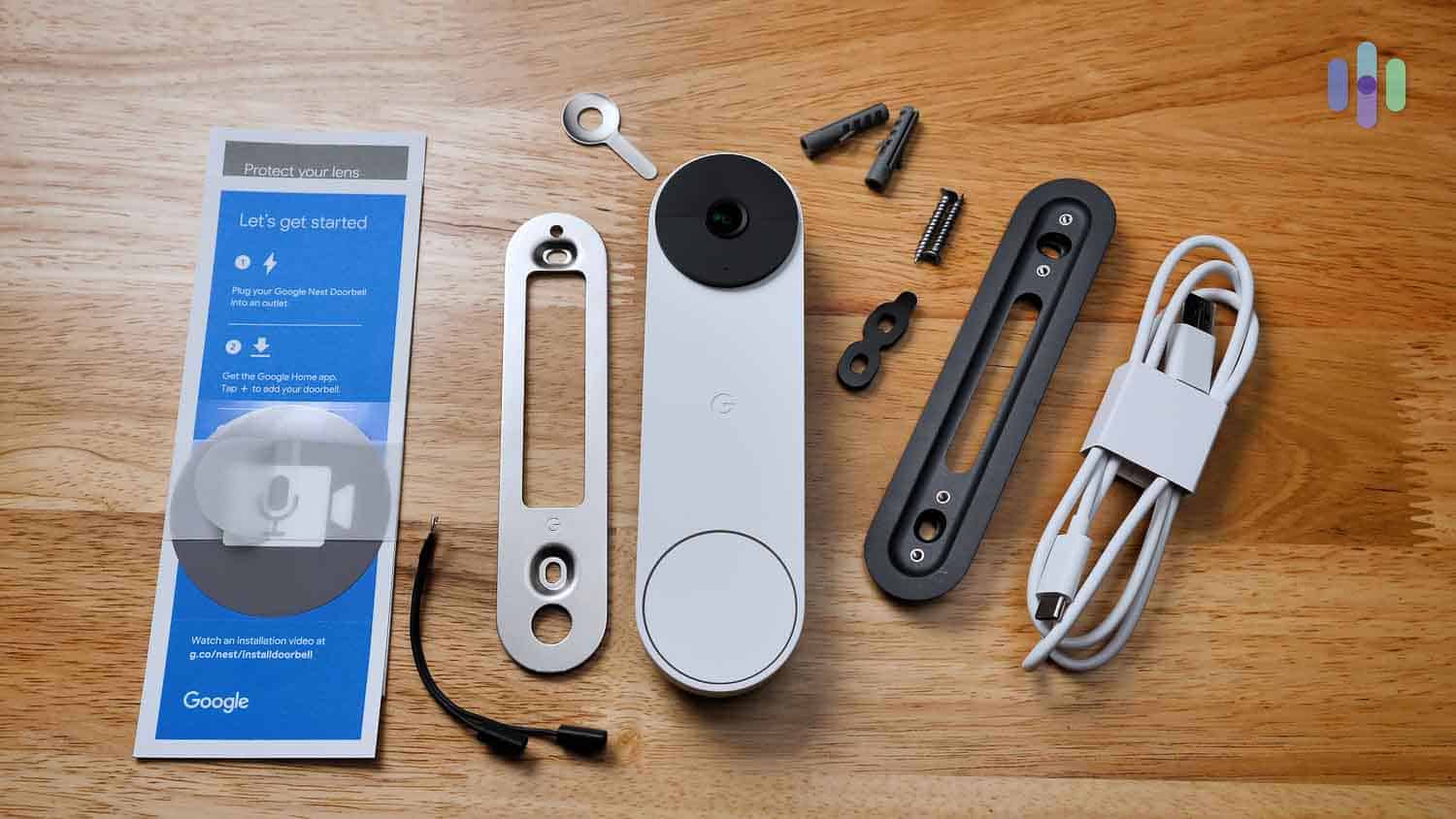 Installing the Nest Doorbell Battery
We could've paid Nest $99 to install our Nest Doorbell Battery for free, but instead, we decided to save money and install it ourselves. Here's how it went.
Since we've already tested the Nest Doorbell, we already had a Google account set up and the Google Home app downloaded on our phone. We used to use the Nest app to control our Nest video doorbells, but it seems to have been phased out. Google Home app it is!
Next, we scanned the Nest Doorbell Battery's QR code to add it to our app.
We plugged in the Nest Doorbell Battery via its USB cord and connected it to our Wi-Fi network.
Now for the physical installation. We mounted our Nest Doorbell Battery 4 feet high after testing that it was close enough to our router for high speeds. If you need help mounting, the wedge will come in handy here.
We mounted the base plate using spaces for uneven surfaces.
We attached the Nest Doorbell Battery to the mounting plate, waiting until we heard a click and then touching the release tool.
Using our Nest Hub as a chime, we set up quick responses. Learn more about Nest's smart displays in our Nest Hub review or our Nest Hub Max review.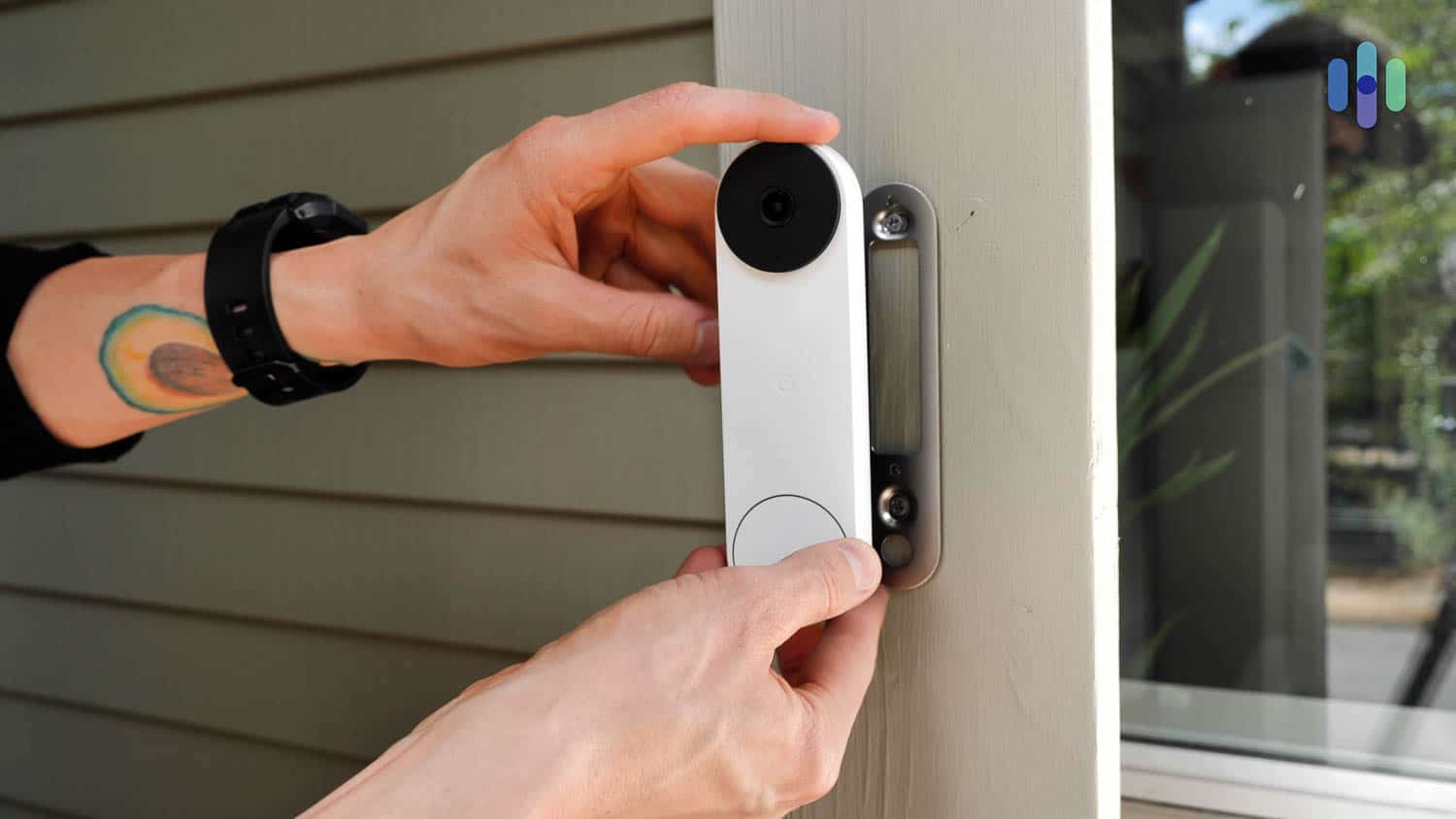 NOTE: The Nest Doorbell Battery takes about five hours to charge fully, so make sure you charge it before you mount it wirelessly.
Performance and Features
Now that we got the Nest Doorbell Battery up and running, just how well did it work?
Weather Resistance
Most people will use the Nest Doorbell Battery outside, so naturally, it needs to be water-resistant. The Nest Doorbell Battery works in temperatures from -4 to 104 degrees Fahrenheit and has an IP rating of 54. What does that mean? While the Nest Doorbell Battery isn't completely dust-tight or waterproof, it's protected against most solids and low-pressure water jets.1
This is enough durability for most people who live in climates like we do — in New York City — but if you have hurricanes often, it may not stand the test of time. Most video doorbells we've tested have IP ratings of 65, meaning they're dust-tight and resistant to high-pressure water jets, so this was a bit surprising coming from an established company like Nest.
Video
On a brighter note, the Nest Doorbell Battery has a 960 x 1280 resolution, with a nice 145-degree field of view. With a 3:4 aspect ratio, we could see our visitors from head to toe, plus any packages that were delivered. Finally, with HDR, we avoided shadows and glare, even when the sun was directly overhead. We could see over 20 feet away, even with the highest sensitivity!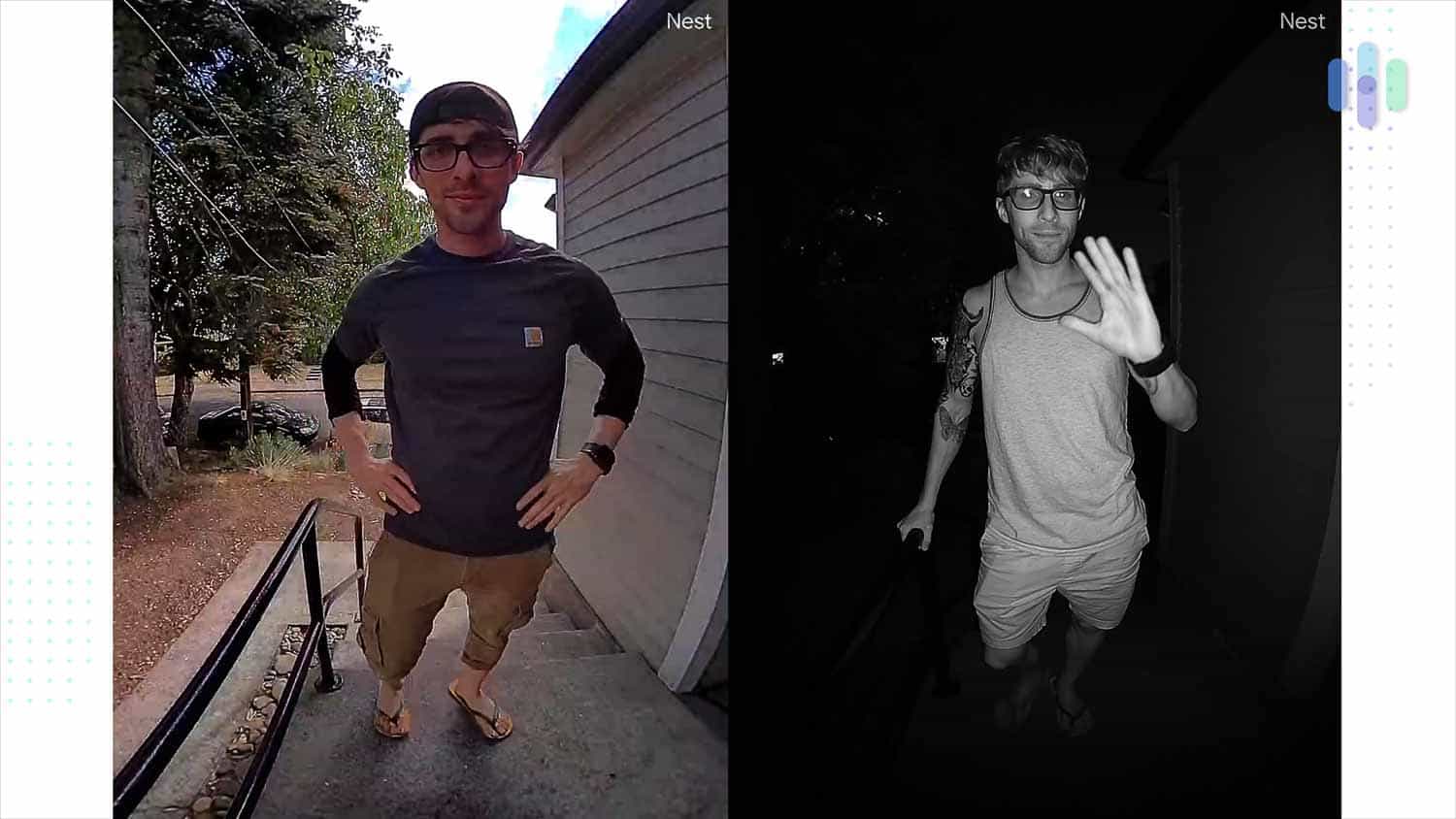 Night Vision
We also saw clearly at night with infrared night vision via four infrared LEDs. With PIR motion and proximity sensors, we knew if someone was creeping around our apartment, even in the middle of the night. As long as they were within 10 feet of our camera, we could spot them.
Two-Way Audio
Not surprisingly, the Nest Doorbell Battery had a speaker and microphone for two-way audio, meaning we could talk to our guests remotely through the Google Home app. But Nest took it a step further than most with noise cancellation, leading to super-clear audio.
But while the audio itself was above average, we noticed that when we tested our camera at night, it was a bit out of sync with the video. Of course, this could be due to our internet connection, so take our experience with a grain of salt.
Ringing the Doorbell
We got alerted whenever anyone approached our Nest Doorbell Battery, not just when they rang the actual doorbell. In either case, our chime let us know of their presence, along with our Nest Hubs and Nest Mini smart speaker. When we signed up for Nest Aware Plus, our Nest Mini even announced who was at the door with Familiar Faces alerts, which brings us to our next point …
Intelligent Alerts
Without us paying a dime extra after we bought our Nest Doorbell Battery, it could differentiate between people, animals, vehicles, and packages. Since package theft is such a pervasive problem in our neighborhood, these alerts came in handy when we ordered some new bedding. Instead of being alerted to every single car that drove past our Brooklyn brownstone (and believe us, there's a lot), we only got notified of people and packages.
If we had sprung for Nest Aware Plus, we would've gotten Familiar Faces alerts, otherwise known as facial recognition. Say our friend Jordan came over. After the first time our Nest Doorbell Battery scanned her face, we would've named her in the Google Home app. Then, the next time she came over, we'd be notified of her presence, including her name. Pretty cool, right?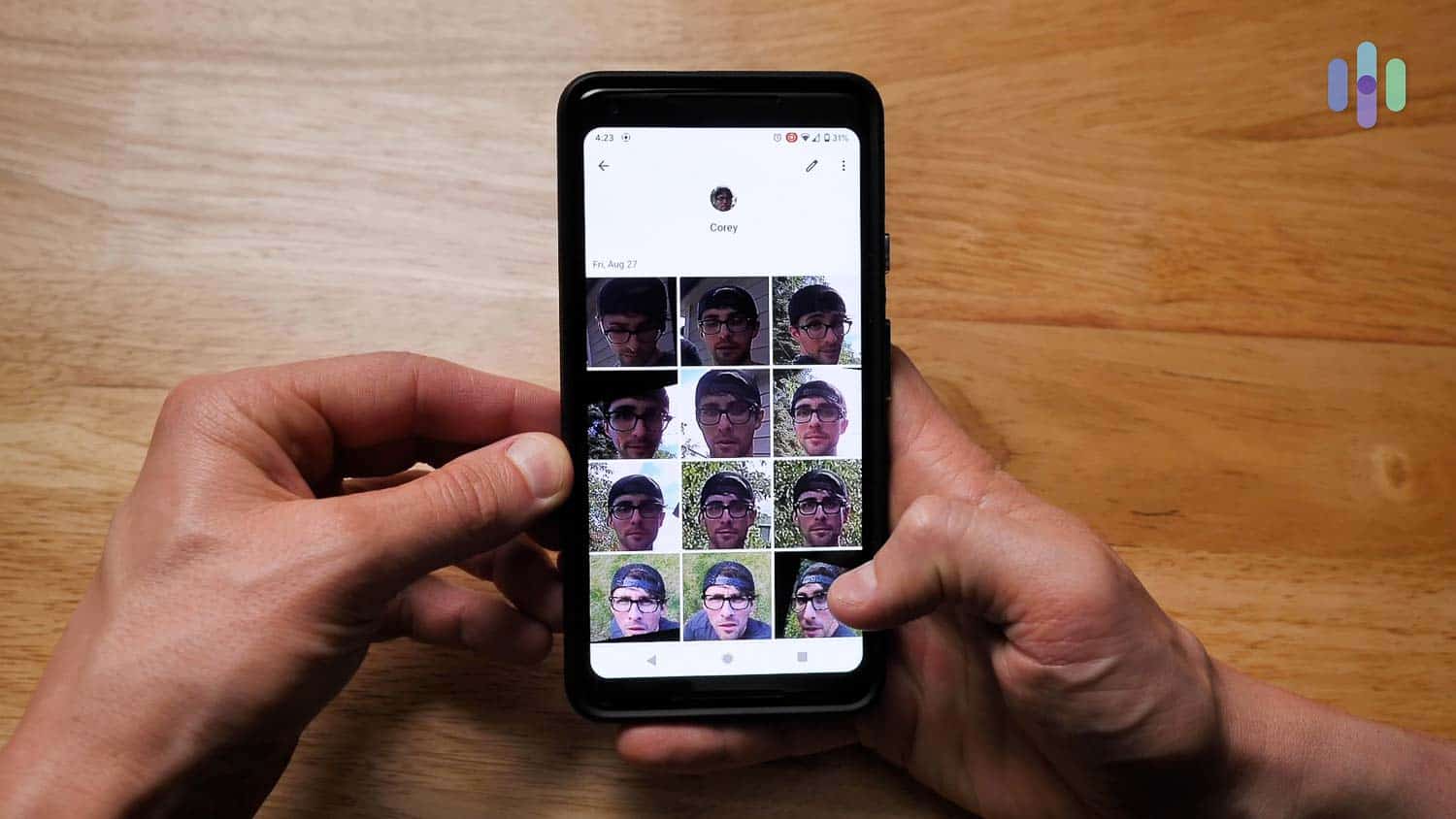 Motion Zones
On top of Familiar Faces alerts, we created motion zones, otherwise known as activity zones, so that we only got notified of activity on our property rather than the street. As for the speed of these notifications, they were nearly immediate, so whether we were just upstairs watching a movie or traveling across the globe, we knew of visitors and packages instantly.
Storage and Recordings
In past tests, we've lamented how much the Nest Doorbell costs, the Nest Aware subscription options in particular. However, unlike with its predecessors, we got three hours of video history for free. On top of that, if our Nest Doorbell Battery had lost Wi-Fi connection, the footage still would've been recorded onto local storage, which is a new feature of all Nest cameras and video doorbells. Without Nest Aware, clips were up to three minutes long (less if we had adjusted the duration).
TIP: To improve your Nest Doorbell Battery's battery life, lower your video quality or "wake-up sensitivity," also known as motion detection sensitivity.
More on Nest Aware in a bit.
Smart Home Integrations
Google owns Nest, so it didn't shock us to find out that we could command the Nest Doorbell Battery using Google Assistant. But it also worked with Alexa, Amazon's voice assistant. Here are the commands we used through each virtual assistant.
Alexa:
Alexa, show me my front door.
Alexa, show me the feed from the backyard camera.
Alexa, hide the backyard camera.
Google Assistant:
Hey Google, show me who's at my back door.
Hey Google, show the back door on the Nest Hub Max.
OK Google, show the front yard on Chromecast.
OK Google, turn off the backyard camera.
Hey Google, turn off the backyard camera.
Hey Google, is the backyard camera on?
As you can see, we could do more with Google Assistant than we could with Alexa, making the Nest Doorbell Battery better home security for Google Home versus Alexa-compatible home security.
Works With Nest
Our smart home integrations didn't stop with the voice assistants. Nest products, including the Nest Doorbell Battery, work with a ton of other smart home devices, including these:
Tile Mate and Slim Bluetooth trackers
Netatmo indoor cameras
Schlage smart locks
Kasa Spot camera
LIFX smart bulbs
Philips Hue smart lighting

2
If Nest security camera pricing is too high for you, for example, you could replace the Nest Cam Indoor and the Nest Cam Outdoor with some more affordable cameras from Swann or Netatmo. You could also create home automation triggers like we did, having our smart lights turn on when our Nest Doorbell Battery detected motion from a person.
Pricing
We've already said how the Nest Doorbell Battery costs only $179.99, which is pretty affordable compared to some of the best video doorbells on the market. We could've stopped there, but we decided to pay more for a Nest Aware subscription.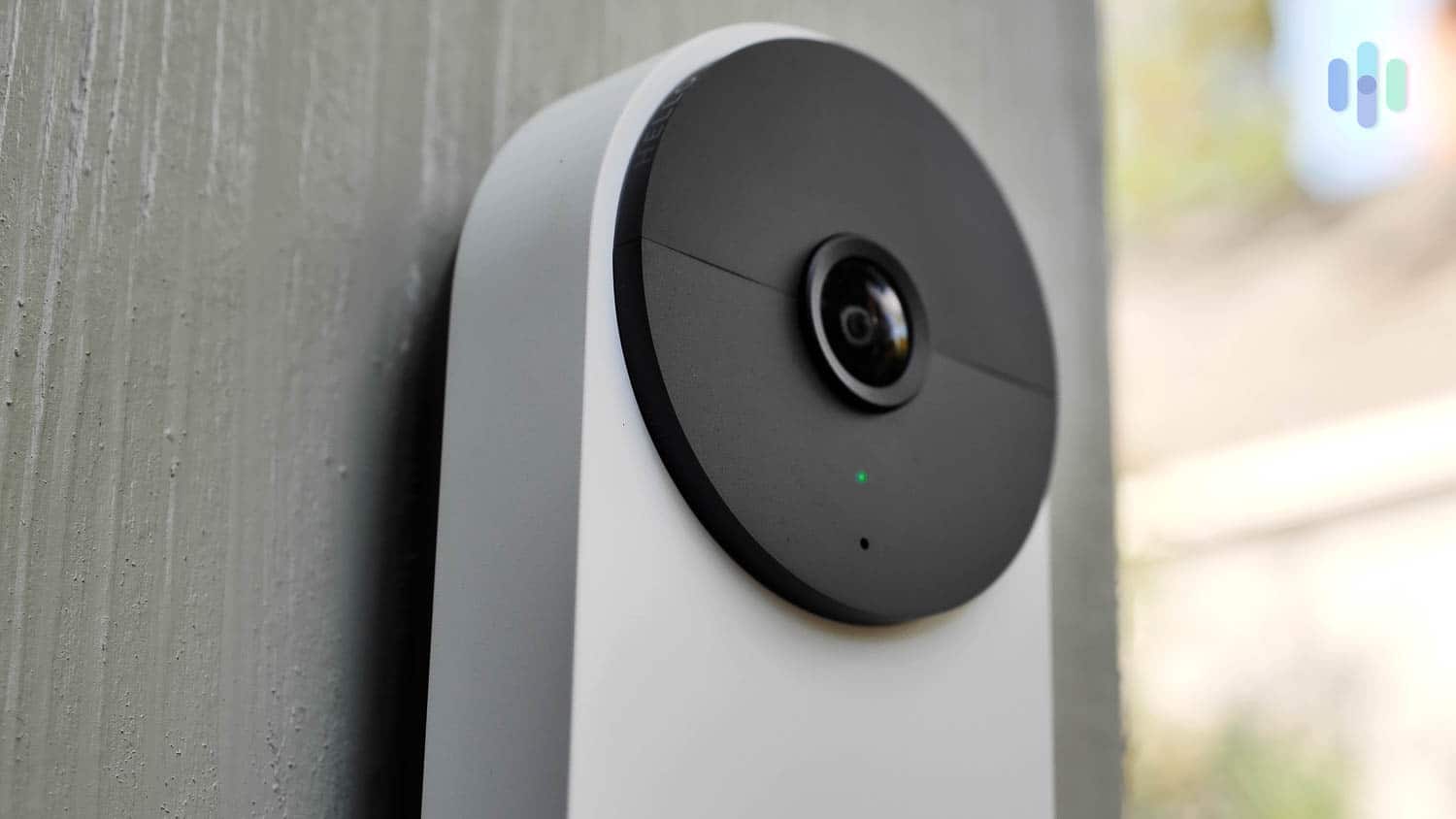 Nest Aware
Because we wanted our video storage to last more than three hours, we paid $12 a month for Nest Aware Plus. This added on Familiar Faces alerts as well as e911, which connected us to the nearest call center for emergency services in the event of home invasions.
| What it includes | Free plan | Nest Aware | Nest Aware Plus |
| --- | --- | --- | --- |
| Event video history length | 3 hours | 30 days | 60 days |
| 24/7 video history in days | 0 | 0 | 10 |
| e911 | No | Yes | Yes |
| Person detection | Yes | Yes | Yes |
| Pet detection | Yes | Yes | Yes |
| Vehicle detection | Yes | Yes | Yes |
| Package detection | Yes | Yes | Yes |
| Familiar Faces alerts | No | Yes | Yes |
| Smoke alarm alerts | No | Yes | Yes |
| Carbon monoxide alerts | No | Yes | Yes |
| Glass-breaking alerts | No | Yes | Yes |
| Monthly cost | $0 | $6 | $12 |
| Annual cost | $0 | $60 | $120 |
| Savings with annual plan | N/A | $12 | $24 |
Although it's not the absolute lowest price on the market, as Ring video doorbell costs start at $3 a month for twice as much cloud storage, Nest's prices have lowered significantly since the Nest Hello first came out. And compared to more traditional security companies like ADT, which charges up to $60 a month, Nest is on the low end for both equipment and storage costs.
The Google Home App
As we said before, the Nest app is no more. Enter the Google Home app, which we've used to control everything from the now-discontinued Nest Secure to our Nest thermostats. As far as the Nest Doorbell Battery was concerned, we used the Google Home app to:
Receive notifications when someone was at our door.
Check in our live video footage.
Review our old footage.
Set up automated triggers with other IoT devices.
Speak through two-way audio.
We tested out the Google Home app on our iPhones, where it has a 4.5 rating, and rightfully so: The app isn't buggy and made the setup process very straightforward. The app didn't fare quite so well on Google Play, but with a 3.9 rating, it's still easy to use in general. In sum, you shouldn't have any issues controlling the Nest Doorbell Battery with the Google Home app.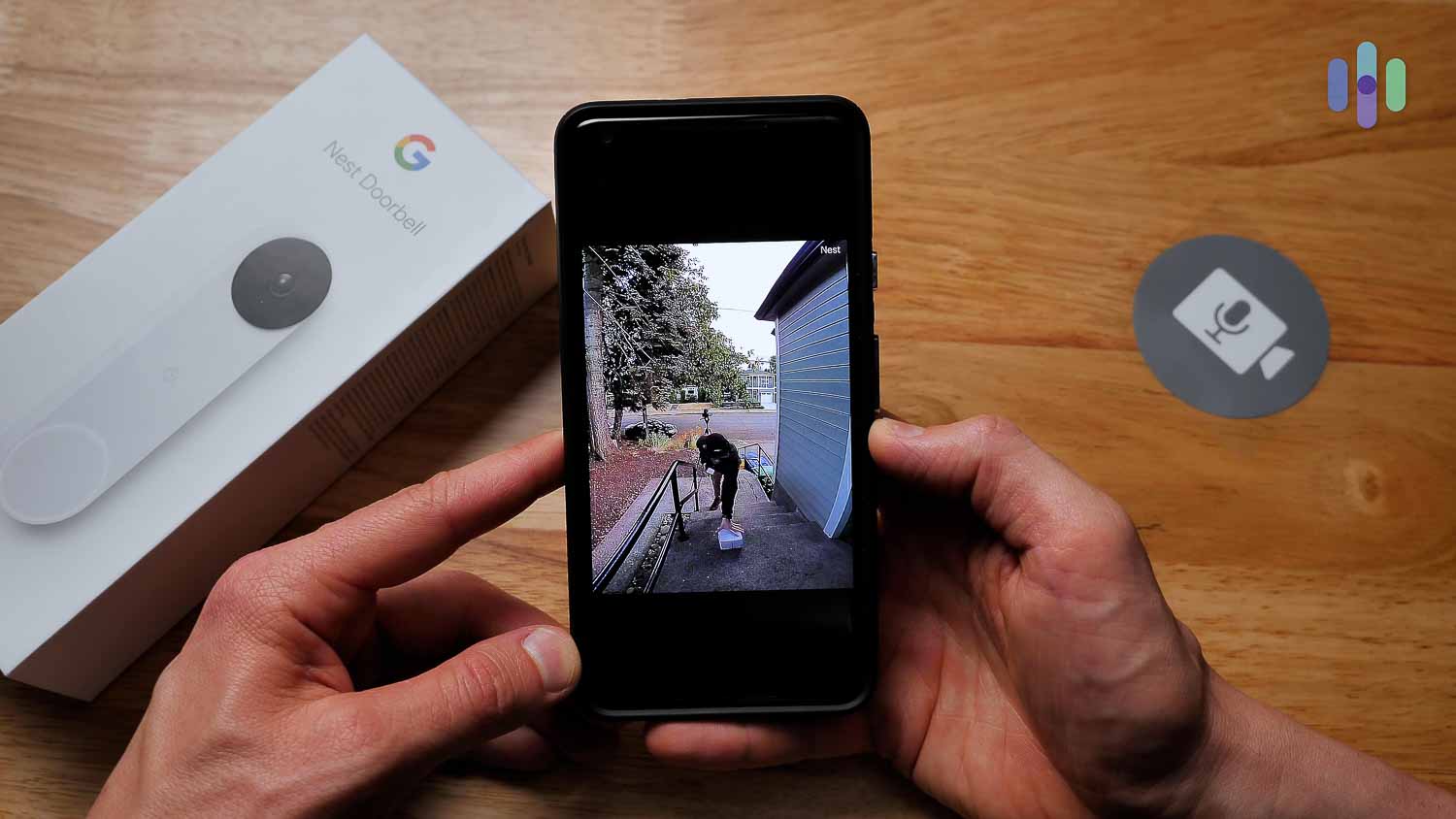 Can Nest stand toe-to-toe with other brands? Find out below.
It's good to have options. See how Nest compares to these top doorbell picks.
Recap
Overall, we were really impressed with the Nest Doorbell Battery in terms of performance, features, and affordability. This versatile option is perfect for defending your home against package thieves, burglars, or just door-to-door salespeople. Whatever's coming your way, your Nest Doorbell Battery will let you know ASAP.
But is it right for your home? Let's break it down even further.
To learn more about how to shop for a video doorbell, read our complete doorbell camera guide.