abode vs Nest Secure
In this review, our experts put abode and Nest Secure head to head.

Best Installation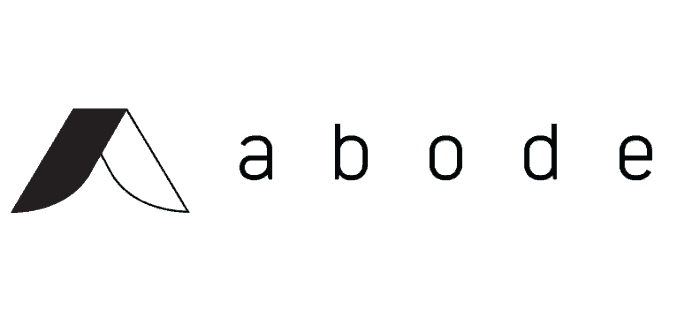 Flexible monitoring options
All-in-one CUE home automation
Extensive equipment offerings
Best Customer Support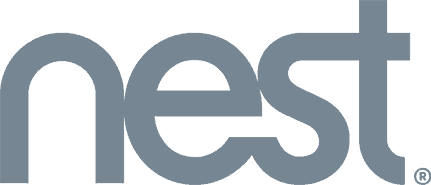 No longer sold by Nest
Google Home automation features
A range of no-contract plans
On our quest to identify incredibly minimalist smart security systems, we found two companies — abode and Nest. We then had the privilege of conducting a full-fledged comparison to see how the two stacked up side by side. Lucky we did, because as mentioned above, Nest Secure is no longer available. The information we share here comes from a time when Nest Secure was still around.
Nest Secure was developed by Nest, a company that started in 2010 as a smart thermostat company. Ultimately, in 2014, Google bought Nest for a cool $3 billion, and three years later, Nest Secure made its market debut.
Nest's competitor in our side-by-side standoff, abode, is also an interesting company. Founded in 2014 by a former ADT executive, abode created systems intended to give users, like us, total control of our security. Abode is a DIY security system with lots of equipment options and flexible monitoring choices. However, if you're not so comfortable with such a new company and want something more established, read our ADT review.
Which company came out on top after an evaluation of both their products, abode's Essentials Starter Kit and Googe's Nest Secure? Keep reading to find out.
Key Similarities of abode vs. Nest Secure
To make sure both systems met our needs, we first looked at what abode and Nest Secure had in common.
Minimalist systems: Each system had only a few components, but we could add on extras if we wanted.
DIY installation: We installed both the abode and Nest Secure systems on our own, but we could have chosen to pay for professional installation for our abode system.
We had the option to integrate both systems with tools like Amazon Alexa, Google Assistant, Philips Hue, Yale, LIFX, Apple HomeKit, and more. With so many integration options, which made it possible to use voice commands and home automation, we weren't the least bit surprised to learn that both systems were known for their plethora of smart platform integrations.
Key Differences of abode vs. Nest Secure
We also discovered tons of differences between abode and Nest. We noted some of the most important ones here:
Monitoring costs: abode had more affordable monitoring options when we signed up for a year ($100) compared to Nest (a minimum of $228). Learn more about Nest Secure's pricing and abode's pricing 
iPhone app ratings: While the Nest app had a 2.1 rating on the Apple store, the abode app was slightly better at 3.1.
abode vs. Nest Secure System Components
| | abode Essentials Starter Kit plus extras | Nest Secure plus extras |
| --- | --- | --- |
| Base Station | Yes | Yes |
| Entry Sensor | Yes | Yes |
| Motion Sensor | Yes | Yes |
| Key Fob | Yes | Yes |
| Indoor Camera | Yes | Yes |
The abode Essentials Starter Kit and Nest Secure were both pre-packaged kits that we added indoor cameras to. The abode Starter Kit costs $279 by itself, and $391 in total, when we added the abode Cam. The Nest Secure system was $399 plus around $199 for the camera, which made a total of $600. It was clear that abode was the more affordable choice. After diving into costs, we looked closely at each system's components.
abode Essentials Starter Kit System Components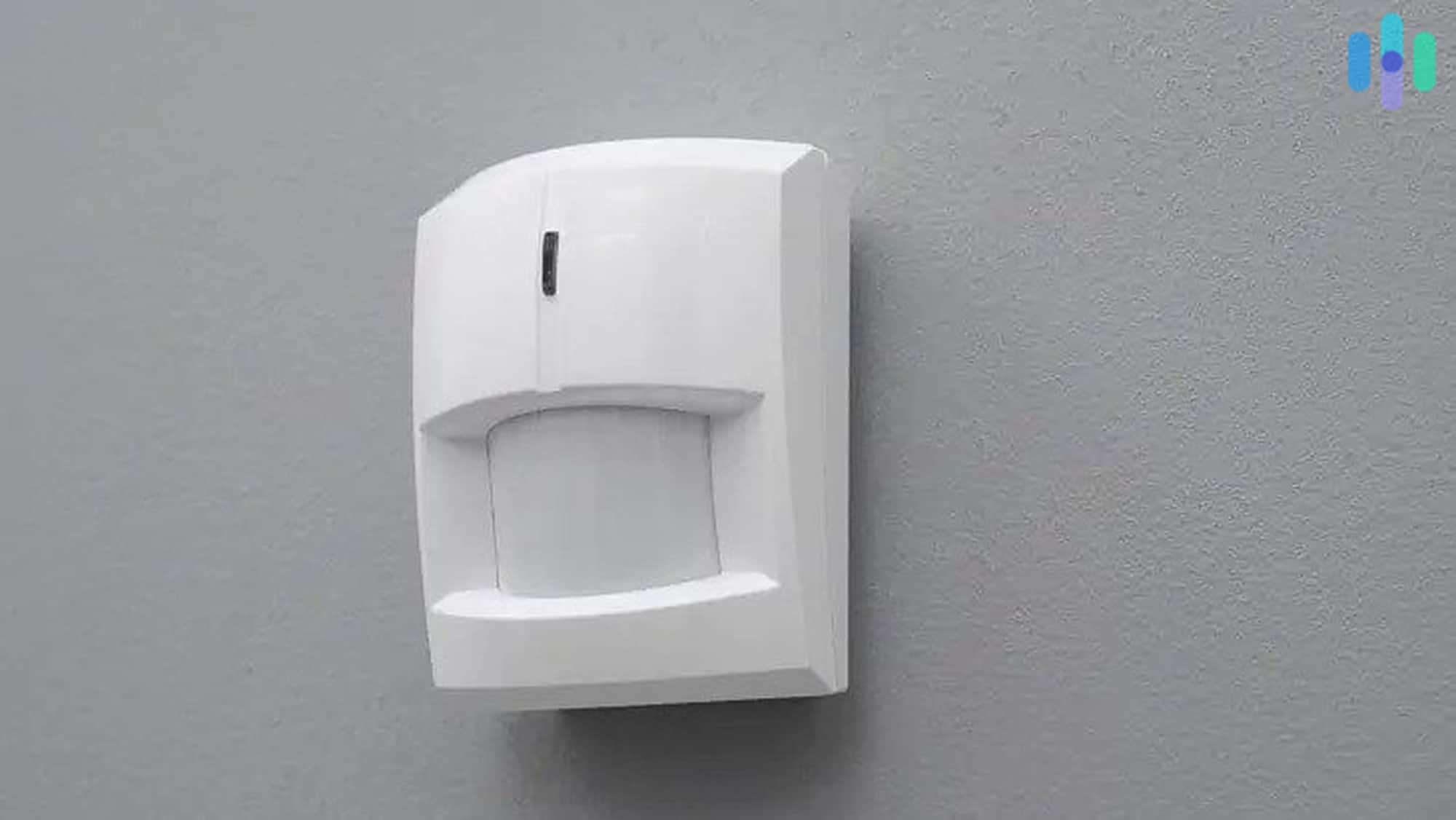 The abode Essentials Starter Kit included a Gateway, otherwise known as a base station, a mini door/ window sensor, a motion sensor and a key fob. We also added the abode Cam, as we felt no security system was complete without an indoor camera.
Nest Secure System Components
Nest Secure included a Nest Guard, which was a base station, two Nest Detect Sensors, and two Nest Tags (a.k.a key fobs). We also used the Nest Cam Indoor with our system, although we had the option to choose the Nest Cam IQ Indoor, the Nest doorbell, or any other Nest products with my security system as well.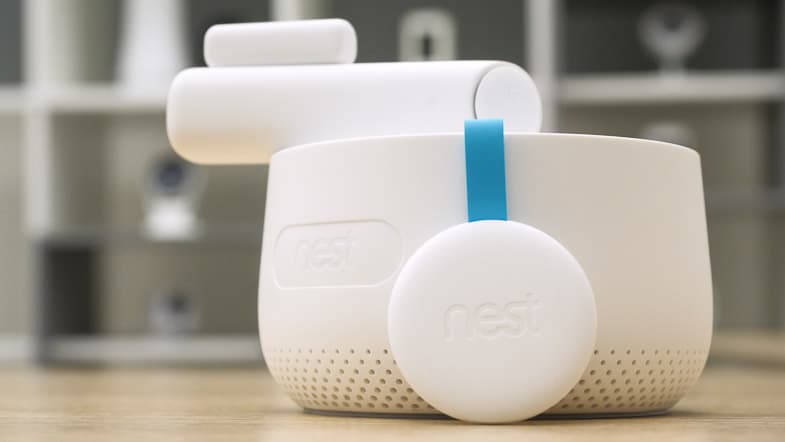 Installing abode vs. Nest Secure
While Nest Secure only offered DIY installation, abode offered both DIY and professional installation for an extra fee.
Installing abode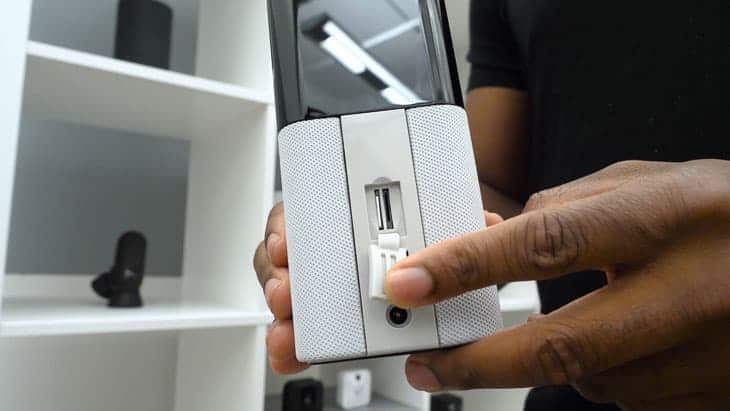 We installed the Essentials Starter Kit ourselves, but abode did offer professional installation through HelloTech, which started at $99. However, for our circumstances, we thought professional installation was unnecessary, as the system wasn't all that difficult for us to install.
First, we installed the Gateway. We used the abode app for step-by-step instructions, and the web app worked just as well. After we plugged in the Gateway with power and ethernet adapters, we peeled off the adhesive backings from the sensors and stuck them on the walls. Then, we installed our camera by plugging it into the ethernet adapter and connecting it to Wi-Fi. It was a simple process from start to finish, and we saved our $99 for something more fun!
Installing Nest Secure
Nest Secure was also very easy to set up. The first thing we did was plug in our Nest Guard, which lit up its edges. Next, we scanned the Guard's QR code into the Nest app, which prompted step-by-step instructions. Then we tested our motion detectors, created a password, added several users, and attached all our Nest Detect Sensors and Tags. The process took about ten minutes from start to finish.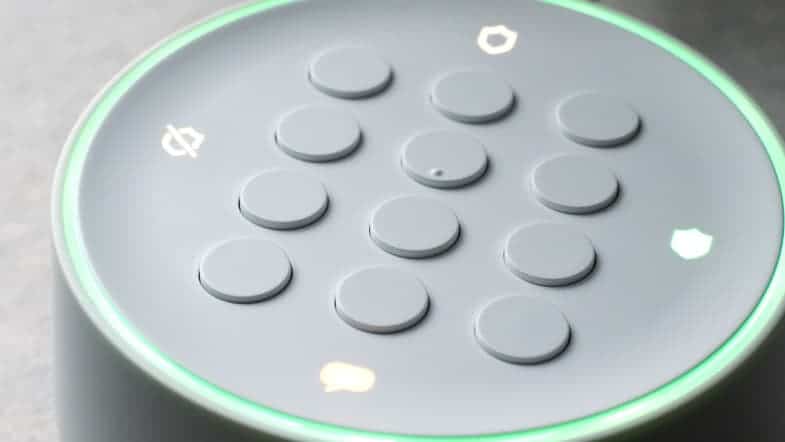 Top System Installation
For installation, we gave the win to Nest, as it didn't require an ethernet adapter to install. Nonetheless, both systems had easy DIY installation.
abode vs. Nest Secure Professional Monitoring
abode (Monitoring and Storage Combined)
Nest Secure (Monitoring and Storage Separate)
Basic
Standard
Pro
No fees
Nest Aware
Nest Aware Plus
Monthly Monitoring
Three Year Monitoring
24/7 Professional monitoring
N/A
N/A
Yes
N/A
N/A
N/A
Yes
Yes
Timeline and media storage (in days)
0
7
30
N/A
30
60
N/A
N/A
Cellular Backup
N/A
Yes
Yes
N/A
N/A
N/A
Yes
Yes
Yearly Price of Plan (First Year)
$0
$6
$20
$0
$60
$120
$29
$19
Monthly Price of plan
$0
$60
$100
$0
$6
$12
$348
$228
Both abode and Nest gave us the option to self-monitor our system through their respective apps, which allowed us to avoid paying monthly or yearly fees if we wanted. However, we still signed up for 24/7 professional monitoring, as our experience had taught us it was worth having.
With professional monitoring, we were notified through our mobile app if we were out of town when one of our motion sensors went off. If we weren't available to check on a situation through our livestream and contact the police, if necessary, the monitoring team checked in on our home security, day or night for us. We didn't have any serious issues, but if we did, the monitoring team would have they verified our emergency and then contacted emergency services for us.
We learned the importance of having cellular backup during the aftermath of a few big storms during which our power went out. Cellular backup, which we originally only bought as "insurance," kept our system on despite power outages.
abode vs. Nest Secure Monitoring Options
Cellular backup and professional monitoring cost us $20 per month or $100 per year with abode for the first year. (The cost went up to $180 per year from the second year on). With Nest, professional monitoring was $19 or $29 a month (or $228 or $348 per year), depending on whether we selected a monthly or three-year plan. All Nest's monitoring was outsourced to Brinks Home Security.
Altogether, our cheapest option was paying $20 monthly for 24/7 professional monitoring with abode. That cost also covered 30 days of cloud storage, which we had to pay for separately with Nest. Overall, abode was cheaper, and we liked that they combined monitoring and storage into one cost.
abode vs. Nest Secure Contracts
While all of abode's plans were flexible and month-to-month unless we signed up for a year, Nest offered a monthly plan and a discounted three-year plan, if we were ready to make that commitment.
abode vs. Nest Secure Moving Policies
Since both systems offered DIY installation, we picked them up and moved them to our new place all on our own. Of course, we could have used a professional with abode.
Top System for Monitoring
We decided to award points for the monitoring category to abode due to lower monitoring costs and greater flexibility. But, at the end of the day, both systems had affordable and flexible professional monitoring and cellular backup, which we greatly appreciated.
abode vs. Nest Secure Customer Support
If we needed help with our abode or Nest security system, we could contact both companies by phone or email. We also checked out their online support centers. Nest offered a live chat function and help over Twitter as well. To see what other abode and Nest customers had to say about their support experiences, we turned to Amazon and Google.
On Amazon, the abode Essentials Starter Kit had a 4.3 rating, which was really good. When we looked at reviews that mentioned customer support specifically; however, we saw that two-thirds of them were negative, with many people saying that support was near impossible to reach. Of course, abode recently changed its customer support policies to give support to everyone across all plans, so we hoped the reviews we saw would not be an indicator of future service.
Nest had a 4.3 rating on Google, but out of the 25 reviews that mentioned customer support, about half of them were negative. In our experience, the representative had a lot of trouble answering fairly basic questions. But, of course, our experience varied based on the representative we spoke with, so it was really a toss-up.
Top System for Customer Support
Overall, Nest had better customer support than abode, although neither company was really killing it in this category. At this point in our review, it was a score of two (Nest) to one (abode), so it all came down to the apps.
The abode vs. Nest App
| | The abode App | The Nest App |
| --- | --- | --- |
| Features | Livestream footage, receive notifications, control connected devices | Arm and disarm system, event history, notifications, send email invitations to guests, livestream footage |
| Google Play Rating | 4.2 | 3.8 |
| Apple Store Rating | 3.1 | 2.1 |
Finally, we compared the apps. These served as our mobile command centers for home security. Which system had a more user-friendly app? Read to see what we discovered!
The abode App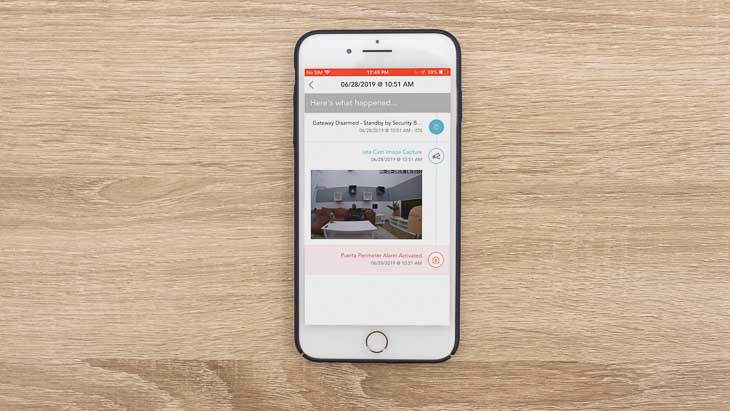 On the abode app, we livestreamed footage, received notifications, and controlled any connected devices we had. We also set up smart platform integrations with Google Assistant, Amazon Echo, Apple HomeKit, Nest, Philips Hue lightbulbs, ecobee, LIFX, Yale, Kwikset, Z-wave, First Alert, and IFTTT. The app had ratings of 3.1 on the Apple store and 4.2 on the Google Play store, which we thought was decent.
The Nest App
In the Nest app, we armed and disarmed our system, checked our event history, received notifications, livestreamed footage, and more. While the app had a good 3.8 star rating on the Google Play store, Apple-users only gave it a more concerning rating of 2.1.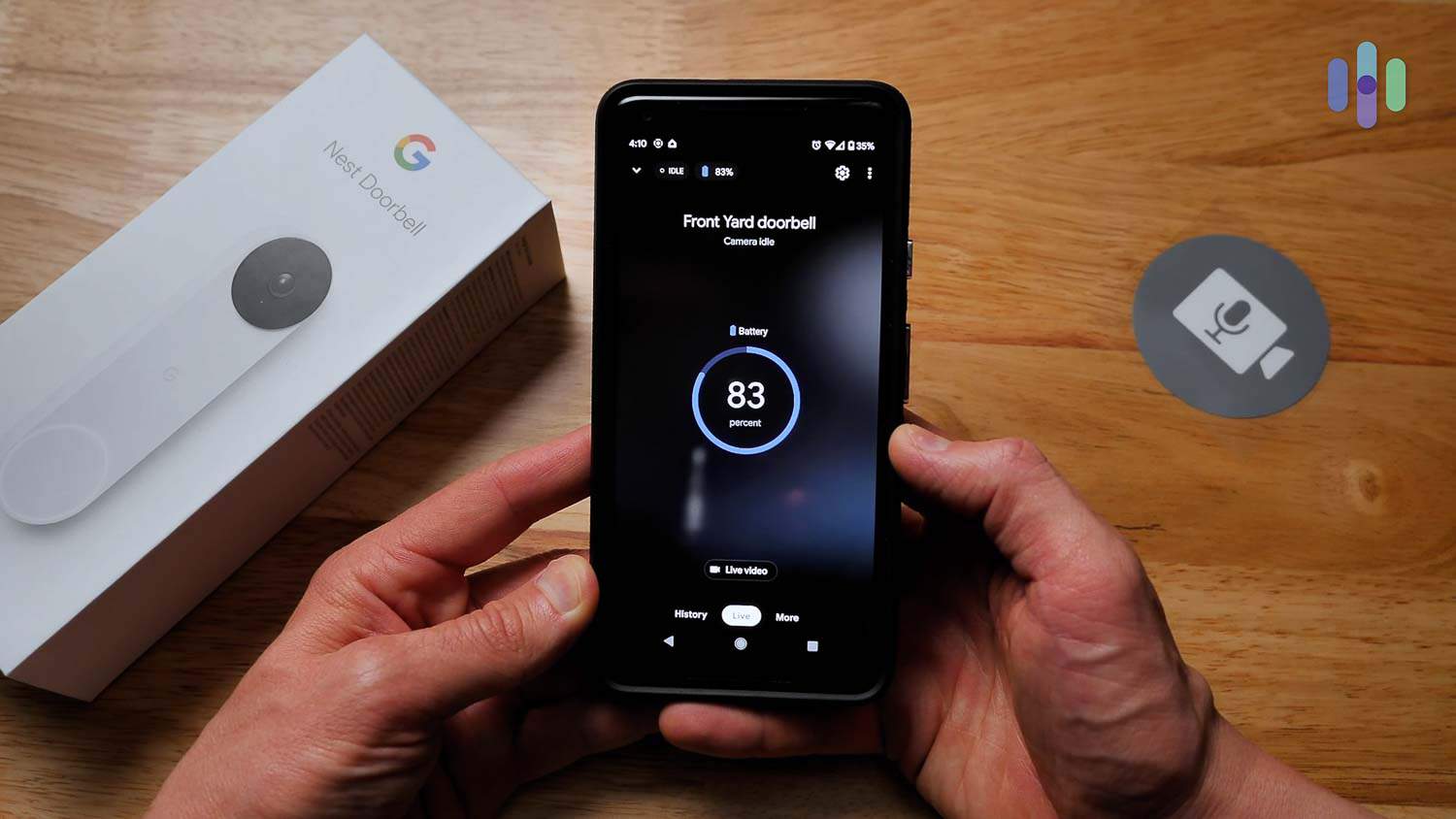 Once we read some of its reviews, we realized many people were angry that they couldn't turn off the status light on their Nest cameras. This issue didn't bother us, but it was something we told other potential buyers to keep in mind. Bryan Meyer, an iPhone user, wrote in a recent one-star review:
"I don't understand why Alphabet, also known as Google, also known as Nest decided to remove a much desired feature that existed on the originally purchased cameras. The feature I am talking about is the ability to turn off the status light on the front of Nest cameras."
Top System App
It was no contest. Abode, most definitely, had a better app for both Google and Apple users.
Recap of abode vs. Nest Secure
While both had their strengths and weaknesses, abode was cheaper and had more flexible options, along with a better app. However, Nest was better for installation and customer support. Of course, we knew our readers' purchase decisions would differ based on what they desired in a home security system, so we broke our findings down even further below.
Learn more about these systems or others on the market by reading our full abode review and Nest Secure review or scrolling through best security systems of 2023.