abode Security Review
No-contract home security and automation with a modern twist
What We Like
Easy installation: You don't need to be tech-savvy whatsoever to setup this system. Plus, you save money installing it yourself as opposed to having it installed professionally!
Good app for Android users: the abode app received a rating of 3.3 from the Google Play store.
Tons of smart platform integrations: many options for vocal commands and CUE home automations.
What We Don't Like
Professional installation not included: Unlike Vivint, which offers free professional installation, we had to pay $99 to get our iota installed; that's why we opted for DIY installation.
Bottom Line
A newer security company on the block, abode's iota system has the most smart platform integrations we've seen from a security system. Not only could we command our system using Alexa, Google Assistant, or Siri, but we could also have it trigger a slew of IoT devices from companies like Nest, Philips Hue, ecobee, and more.
Ever since I can remember, I've been a minimalist. Sure, I didn't know the word at age five, but I've always gravitated towards solid colors, sleek designs, and anything that looks like it would be at home in the Apple store. That's why I'm so excited to review abode's new iota system. Founded in 2014 by a former ADT executive, abode disrupts traditional security companies in many ways. Their systems feature innovative design and they don't force you into a monthly subscription plan or a long-term contract, unlike the subscriptions with ADT. Plus, they have every smart platform integration you can imagine and more. I loved abode's Essentials Starter Kit, so I'm ready to see how iota stacks up.
abode iota Features
| Feature | abode iota |
| --- | --- |
| Smart home hub | Yes |
| Camera | Yes |
| Motion detector | Yes |
Editor's Rating
Affordable option at only $279.99 for equipment
Integrations with Alexa, Google Assistant, Apple HomeKIt, Nest, Philips Hue lightbulbs, and a lot more IoT devices
DIY installation or professional installation available starting at $99
How Abode Compares
As a brand, abode offers a frills-free experience with DIY equipment, optional professional monitoring, and contract-free subscriptions. It's actually very similar to SimpliSafe, one of our top security systems, and if you want, you can see how the two brands compare in our SimpliSafe vs abode comparison. When it comes to smart security, though, abode is pretty similar to ADT and Vivint, two other top security brands. That makes abode a very strong competitor to these top brands.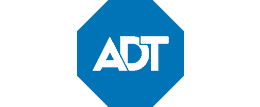 What's in the abode iota System?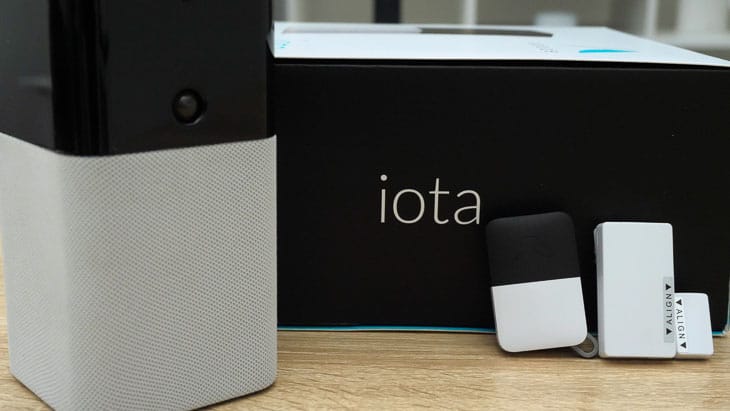 The basic iota system comes with an iota, a key fob, and a mini door/ window sensor. However, if you're looking for more sensors, cameras, motion sensors, or smart home devices, abode has other add-on options on their website.
iota
The iota is your gateway, motion sensor, and security camera built into one. You can also use it to connect with devices using Z-wave or Zigbee, and you can control it with your voice via Google Assistant or Amazon Alexa. Your iota will connect to your mobile app through Wi-Fi, so I hope your network is stable! Now let's talk more about the camera
Video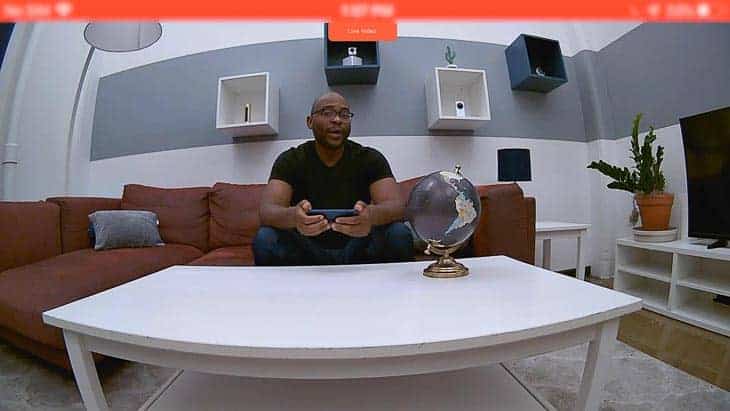 The camera shoots in 1080p HD, the industry standard. I'm also satisfied with the camera's field of view of 127 degrees. The only thing I'm slightly disappointed with is that the camera can't zoom in at all. Overall, however, the iota has solid video quality.
Night Vision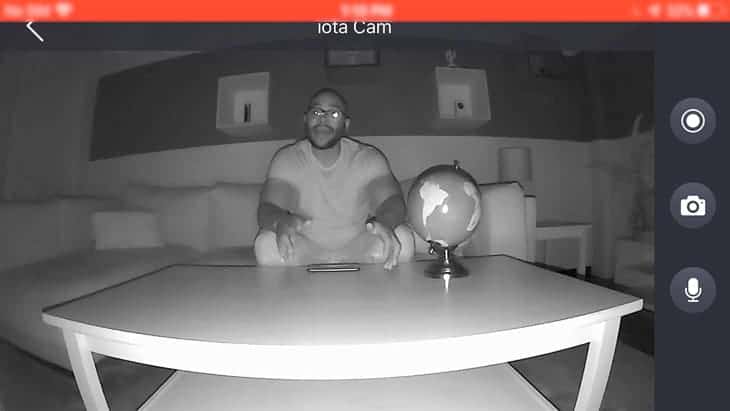 As you can see, the camera has a pretty clear infrared night vision, as well. It's not as sharp of a picture as you'd get from a 2K or 4K camera from Arlo, for instance, or from a Vivint Outdoor Camera Pro (though Vivint cameras are built for Vivint's security packages exclusively and aren't necessarily the best choice for folks on a budget).
Audio
I'm pleased to say that the iota has two-way audio, which will enable you to speak to whomever you're recording. This is definitely a useful feature for scaring away intruders or just scaring your children for laughs. I consider it a must-have especially for outdoor cameras, as you never know when an unexpected or suspicious person might be lurking. As far as audio quality, you might encounter some signal interference, but that's to be expected.
Storage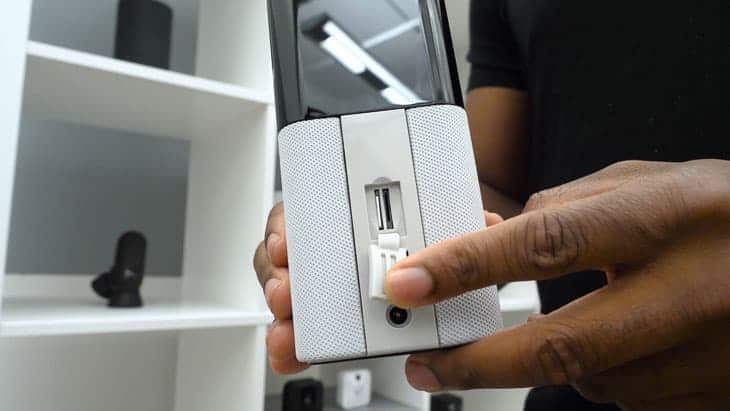 If you want local and cloud storage, you're in luck— the iota comes with a slot for an SD card and cloud storage is available for three to 90 days, depending on what plan you choose (see the chart under professional monitoring below).
Smart Platform Integration

Are you ready? The iota integrates with Google Assistant, Amazon Amazon Alexa, Apple HomeKit, Nest, Philips Hue lightbulbs, ecobee, LIFX, Yale, Kwikset, Z-wave, First Alert, and IFTTT. That means that you can use your voice to command your iota through your smart home, or link it up with other connected devices for some convenient home automation. For example, you could have your Philips Hue lightbulbs turn on as soon as your iota starts recording. The possibilities are endless (not literally, as you get a maximum of 100 CUE home automations, but you know what I mean).
Artificial Intelligence

Unfortunately, the iota doesn't have any artificial intelligence features. When it comes to home security cameras, A.I typically refers to person detection or facial recognition, giving the user highly specific notifications. Instead of just being notified when your camera detects movement, A.I cameras can tell you when a person has entered your living room, or even who that person is. The iota, on the other hand, will only give you a broad notification when it detects motion. If you're interested in a camera with more A.I features, check out our review of the best indoor cameras for artificial intelligence.
Key Fob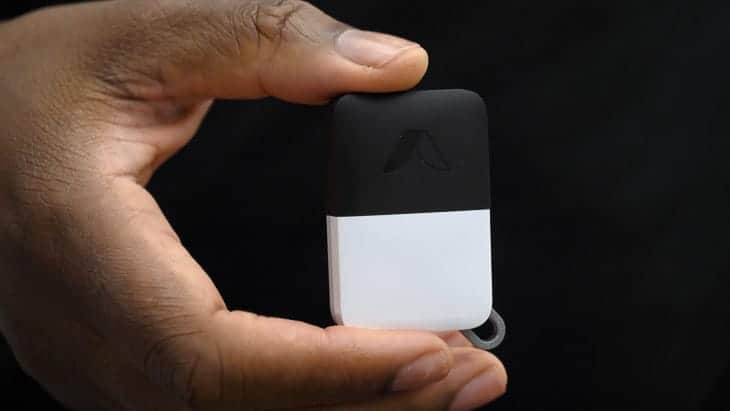 If you're looking to arm or disarm your security system in the easiest way possible, just click on your key fob. You can either put your system on home or away mode, standby, or you can press the panic button to activate an alarm. Key fobs are great if you have multiple people living in your home, as you can assign a key fob to each member. You can even customize your key fob's buttons for easier access to your connected devices. For example, you could set one of the buttons to turn your living room lights off. Now you don't even have to get off the couch to create a movie theater vibe while you watch Rush Hour for the hundredth time! The fobs will work within a hundred-foot range of the iota, and have replaceable batteries. I recommend putting the key fob with your regular keys, as it has a keyhole for the occasion.
Mini Door/ Window Sensor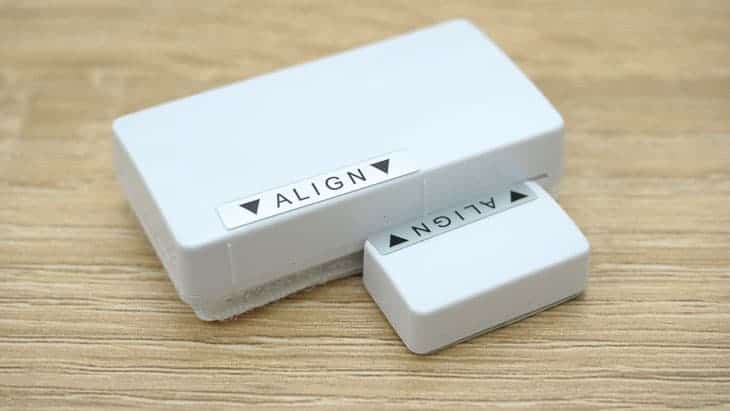 Your mini door/ window sensor will let you know when a door or window has been opened or closed. As you can see, these sensors are small so they won't be an eyesore. With a battery life of up to four years, you don't have to worry about changing the batteries often, plus, you get the advantage of wireless equipment— easy set up. You can use these sensors on any door type— all you need to do is peel and stick the sensor and its magnet.
Video Review
Want a virtual tour of abode's security system? Check out this video review.

One of the freshest companies in home security, we had a ton of fun fitting abode into our smart home. Learn more here.
Installing the abode iota Security System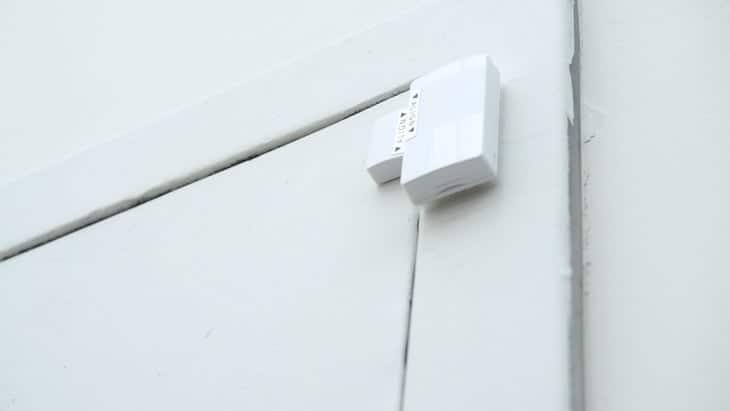 Setting up my iota security system took about 15 minutes. First, I placed the iota near my router and a power outlet, plugging it in. I also connected the iota and the router via an ethernet cable, then activated battery backup by shifting the tab on the bottom of the iota. Next, I downloaded the abode app and it walked me through the rest of the setup, inputting a six-digit activation code, pulling out the battery tab for the mini door and window sensor, then sticking it on the door frame (large part goes on the frame, smaller part goes on the door itself). Then I just had to name each device and I was done! Overall, the process was really straightforward and simple.
Professional Monitoring with abode
Who among us can say that we're available 100% of the time? If you can, you're probably a hermit crab or maybe just a highly anti-social human being. I digress. My point is, most of us aren't around to deal with a home security emergency 24/7. That's where professional monitoring comes in.
How monitoring works
With abode, you can either monitor your system yourself through your mobile app or sign up for professional monitoring. That means that a team of people will be monitoring your system 24/7 for alerts and issues. If you do have a security or environmental emergency, the team can contact the proper emergency services for you. With abode's Pro plan, you can pay as little as $20 per month for 24/7 monitoring, which is cheaper than the majority of security systems on the market. A package from ADT, for example, could end up costing users $60 per month for professional monitoring, so abode could be an excellent pick if you're on a tight budget. Let's see how abode does professional monitoring and whether or not it's right for you.
Options
| | Basic | Standard | Pro |
| --- | --- | --- | --- |
| Livestreaming | Yes | Yes | Yes |
| One-touch arm/ disarm | Yes | Yes | Yes |
| Smart home integrations | Yes | Yes | Yes |
| Push notifications | Yes | Yes | Yes |
| Email notifications | No | Yes | Yes |
| Customizable notifications | No | Yes | Yes |
| Unlimited users | No | Yes | Yes |
| Amount of Cloud Storage in Days | 0 | 7 | 30 |
| Timeline | No | Yes | Yes |
| Home automation | No | Yes | Yes |
| Geofencing | No | Yes | Yes |
| Premium support | No | Yes | Yes |
| Cellular backup | No | No | Yes |
| 24/7 professional monitoring | No | No | Yes |
| Free shipping in continental US | No | No | Yes |
| Access to deals and discounts | No | No | Yes |
| Unlimited device warranty | No | No | Yes* annual only |
| Discount on homeowner's insurance | No | No | Yes |
| Monthly Price | $0 | $6 | $20 |
| First Year Annual Price | $0 | $60 | $100 |
| Second Year On Annual Price | $0 | $60 | $180 |
Since abode's systems are minimalist and multi-functional, you won't have to spend a ton on equipment. Check it out here.
In order to receive professional monitoring and cellular backup, you'll need to buy the Pro plan. Cellular backup means that your security system will stay on even if the power in your neighborhood goes out. I recommend getting cellular backup, as power outages are a fantastic time to commit a burglary.
All the plans allow you to connect to 160 connected devices like smart thermostats, locks, and more. You'll also be able to make up to 100 CUE home automations regardless of your plan and add unlimited user accounts. I really like the flexibility of abode's monitoring plans.
Contract Rules
You can either sign a month-to-month or yearly contract. Again, I'm loving the flexibility here. If you sign up for a month-to-month contract, you won't have to worry about cancellation fees, and it's a great way to get your feet wet if you're unsure about professional monitoring.
abode Customer Support
Customer support tends to be pretty standard across security companies in terms of features. Whether it's FAQ's, a frustrating phone call, or an online form, companies usually give all their customer support options to all of their customers. But abode does things very differently.
How abode's Customer Support Works
Like most security companies, abode offers email and online support along with phone support. In my experience, getting in touch with abode was straightforward. The company provided a phone number displayed prominently on its home page. It's not too different from the customer support I experienced when I tested Frontpoint, another popular security system that I rated highly for customer service. Frontpoint offers one plan, with a flat monthly fee (not including equipment) of $49.99 that covers 24/7 professional monitoring and 24/7 customer support.
Abode, on the other hand, has two plans, one for self-monitoring and one for professional monitoring. Both happen to offer, among other things, 24/7 support from a dedicated customer service team (read: live humans). I liked knowing that no matter which plan I chose with abode, I got the same level of customer service and direct access to a live agent. Now let's see what abode customers have to say about the company's support.
The abode App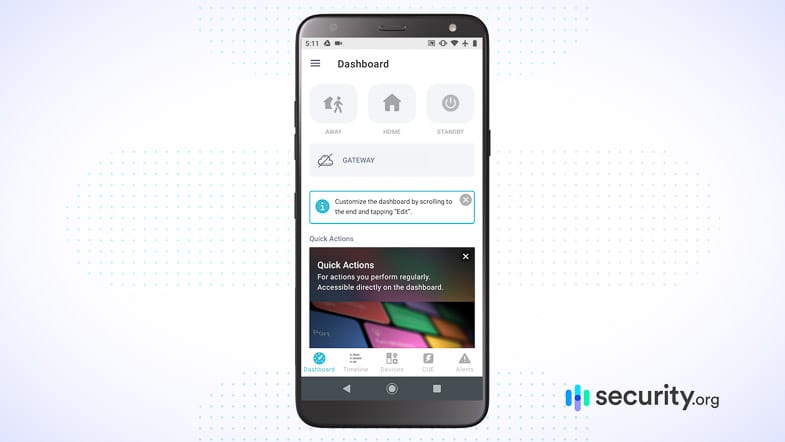 If a smart security system exists but there's no app for it, does it really exist at all? Frankly, the answer is no. I want to talk about the abode app— its features and of course, how customers feel about it.
Features
On the abode app, you'll be able to livestream footage, control up to 160 connected devices, create up to 100 CUE home automations, add user accounts, and receive notifications.
Reviews
| abode App | Rating |
| --- | --- |
| iOS | 3.8 |
| Android | 3.3 |
Let's be honest: iPhone users and Android users are about as different as the Capulets and the Montagues. To find out what both camps thought, I looked at reviews from the Apple and Google Play stores, respectively.
Apple Store
The abode app's rating has improved recently, going from a 2.5 to a 3.8 rating. In general, we found it easy to control our system and integrate it with other smart platforms on our iPhones.
Google Store
Android users liked the abode app, giving it a 3.3 rating. That's not as high as the ADT reviews, which average 4.8, but it's decent. Many of the reviews were a perfect five stars, although a few people mentioned that the app drained their phones' batteries.
Recap of the abode iota Security System
Want to learn more? Check out our best DIY home security systems, or feel free to contact us. We'd love to answer your questions!
Our favorite thing about abode was how it put us in the driver's seat, with customization at every step. Begin your journey with abode now.
FAQ
Now, no review is complete without answering some of the frequently asked questions about the product, abode. Let's have at it.