abode Security Review
No-contract home security and automation with a modern twist
What We Like
Easy installation: You don't need to be tech-savvy whatsoever to setup this system. Plus, you save money installing it yourself as opposed to having it installed professionally!
Good app for Android users: the abode app received a rating of 3.3 from the Google Play store.
Tons of smart platform integrations: many options for vocal commands and CUE home automations.
What We Don't Like
Professional installation not included: Unlike Vivint, which offers free professional installation, we had to pay $99 to get our iota installed; that's why we opted for DIY installation.
Bottom Line
A newer security company on the block, abode's iota system has the most smart platform integrations we've seen from a security system. Not only could we command our system using Alexa, Google Assistant, or Siri, but we could also have it trigger a slew of IoT devices from companies like Nest, Philips Hue, ecobee, and more.
Ever since I can remember, I've been a minimalist. Sure, I didn't know the word at age five, but I've always gravitated towards solid colors, sleek designs, and anything that looks like it would be at home in the Apple store. That's why I'm so excited to review abode's new iota system.
Founded in 2014 by a former ADT executive, abode disrupts traditional security companies in many ways. Their systems feature innovative design and they don't force you into a monthly subscription plan or a long-term contract, unlike the subscriptions with ADT. Plus, they have every smart platform integration you can imagine and more. I loved abode's Essentials Starter Kit, so I'm ready to see how iota stacks up.
abode iota Features
| Feature | abode iota |
| --- | --- |
| Smart home hub | Yes |
| Camera | Yes |
| Motion detector | Yes |
Editor's Rating
Affordable option at only $279.99 for equipment
Integrations with Alexa, Google Assistant, Apple HomeKIt, Nest, Philips Hue lightbulbs, and a lot more IoT devices
DIY installation or professional installation available starting at $99
How Abode Compares
As a brand, abode offers a frills-free experience with DIY equipment, optional professional monitoring, and contract-free subscriptions. It's actually very similar to SimpliSafe, one of our top security systems, and if you want, you can see how the two brands compare in our SimpliSafe vs abode comparison. When it comes to smart security, though, abode is pretty similar to ADT and Vivint, two other top security brands. That makes abode a very strong competitor to these top brands.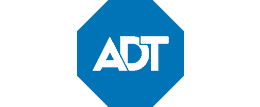 Home Security Options From Abode
I've mentioned that this review is about iota, but if you're new to abode, you're still probably curious about the significance of that. Well that's normal; since 2014, abode has released three different home security options and even I get confused about these options from time to time.
Abode's first security system launched in 2014. It was built around the Smart Security Hub (which was called the Gateway Hub back then), which is a hub that connects to abode equipment, as well as Z-Wave, Zigbee, and Apple HomeKit products. An improved version was released in 2019, which enabled 4G cellular backup and a newer Z-Wave chip, but everything else remained the same.
In 2018, abode also released the iota Hub, which is a more advanced device compared to the Smart Security Hub. I say that because the hub itself has a built-in camera and motion sensor, and it's also Wi-Fi-ready unlike the older hub that requires an ethernet cable. In terms of everything else, it's just like the Smart Security Hub.
Lastly, in May 2023, abode introduced the Security Hub. You would think that because it's the newest, this is their most advanced system yet. It's the opposite. It goes back to the basics. Feature-wise, it's similar to the Smart Security hub, but without Apple HomeKit, Z-Wave, and Zigbee compatibility. Instead, for home automation, it relies on partnerships with Alexa and Google Assistant.
The beauty of all this is that even though there are three different systems, they all use the same components except for the hub. So really, all we're comparing here are the central devices. And in that sense, the most advanced option is the iota Hub, which is what I tested.
| Features | Smart Security Hub (2019) | Security Hub (2023) | Iota Hub (2018) |
| --- | --- | --- | --- |
| Works with abode sensors | Yes | Yes | Yes |
| Alexa | Yes | Yes | Yes |
| Google Assistant | Yes | Yes | Yes |
| Apple HomeKit | Yes | No | Yes |
| Zigbee | Yes | No | Yes |
| Z-Wave | Yes | No | Yes |
| Wi-Fi-ready | No | Yes | Yes |
| 4G/LTE-ready | Yes | Yes | Yes |
| Built-in camera | No | No | Yes |
| Built-in motion sensor | No | No | Yes |
What's in the abode iota System?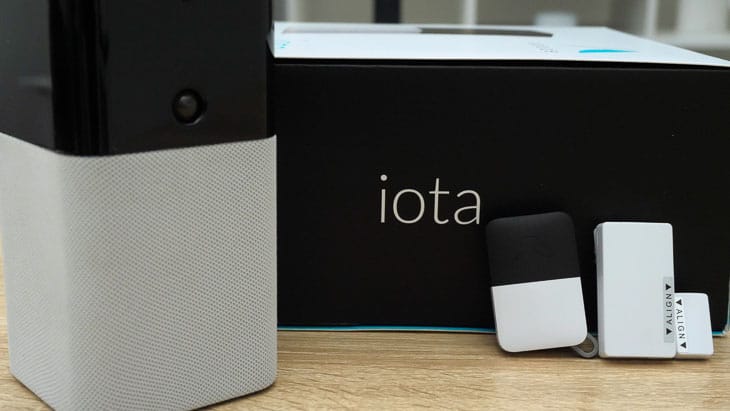 The basic iota system comes with an iota, a key fob, and a mini door/ window sensor. However, if you're looking for more sensors, cameras, motion sensors, or smart home devices, abode has other add-on options on their website.
iota Hub
The iota is your gateway, motion sensor, and security camera built into one. You can also use it to connect with devices using Z-wave or Zigbee, and you can control it with your voice via Google Assistant or Amazon Alexa. Your iota will connect to your mobile app through Wi-Fi, so I hope your network is stable!
What really sets the iota Hub apart is the camera. The towering unit itself is about an inch shorter than the SimpliSafe base station in our SimpliSafe review, but within its relatively small frame, abode managed to include a security camera. And by the way, the iota Hub also has a motion sensor and 93 dB siren.
| Hub features | iota Hub | SimpliSafe base station |
| --- | --- | --- |
| Dimensions | 7.01 x 3.06 x 3.06 inches | 8.25 x 4 x 4 inches |
| Wireless | Yes | Yes |
| Built-in camera | Yes | No |
| Built-in motion sensor | Yes | No |
| Siren | 93 dB | 95 dB |
| Z-Wave/Zigbee | Yes | No |
| 4G cellular backup | Yes | Yes |
| Battery backup | 72 hours | 24 hours |
It's clear that the iota Hub is not just any hub, so let's talk more about that fancy camera that it boasts. Does it pass as a good indoor camera?
Video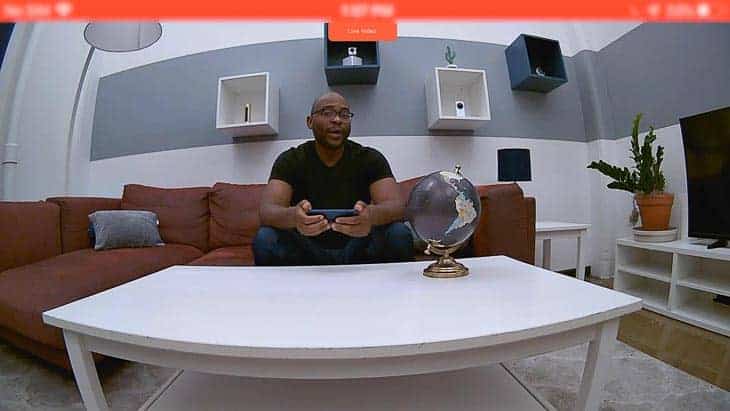 The camera shoots in 1080p HD, the industry standard. I'm also satisfied with the camera's field of view of 127 degrees, although the view is not particularly wide. Remember that it's also the system's hub, so it will probably end up next to your router, on a bookshelf, or on your entertainment rack. You can't use security camera placement tricks here to maximize its coverage. I'm also slightly disappointed that the camera can't zoom at all.
Overall, in terms of video quality, it works as a supplemental indoor camera, but you'll still probably need separate indoor cameras for full coverage. That is, if you live in a single family home. If you live in an apartment, the iota Hub is a really great piece of tech. It saves space and money (since you get a camera and hub in one), while giving you decent video and security coverage.
Night Vision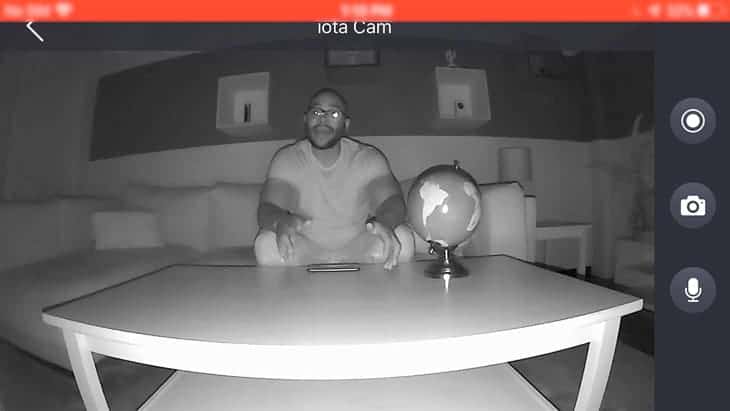 As you can see, the camera has a pretty clear infrared night vision, as well. It's not as sharp of a picture as you'd get from the color night vision of a 2K or 4K camera from Arlo, for instance, or from a Vivint Outdoor Camera Pro (though Vivint cameras are built for Vivint's security packages exclusively and aren't necessarily the best choice for folks on a budget).
Still, as sort of a free camera that comes with the hub, the night vision works great. In the screenshot above, you can even see South America clearly in the globe sitting about six feet from the camera. That's with all the lights turned off in my living room.
Audio
I'm pleased to say that the iota has two-way audio, which will enable you to speak to whomever you're recording. This is definitely a useful feature for scaring away intruders or just scaring your children for laughs. I consider it a must-have especially for outdoor cameras, as you never know when an unexpected or suspicious person might be lurking. As far as audio quality, you might encounter some signal interference, but that's to be expected.
Storage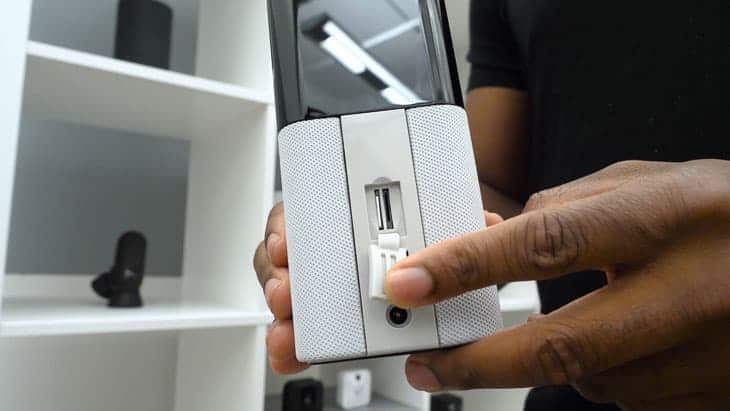 If you want local and cloud storage, you're in luck— the iota comes with a slot for an SD card and cloud storage is available for three to 90 days, depending on what plan you choose (see the chart under professional monitoring below).
Artificial Intelligence

Unfortunately, the iota doesn't have any artificial intelligence features. When it comes to home security cameras, A.I typically refers to person detection or facial recognition, giving the user highly specific notifications. Instead of just being notified when your camera detects movement, A.I cameras can tell you when a person has entered your living room, or even who that person is.
The iota, on the other hand, will only give you a broad notification when it detects motion. If you're interested in a camera with more A.I features, check out our review of the Google Nest (battery). This one has person detection, and if you purchase a subscription, you'll even get alerts for familiar faces via facial recognition. Google Nest is one of the best in the industry when it comes to camera A.I.
Smart Platform Integration

Are you ready? The iota integrates with Google Assistant, Amazon Amazon Alexa, Apple HomeKit, Nest, Philips Hue lightbulbs, ecobee, LIFX, Yale, Kwikset, Z-wave, First Alert, and IFTTT. That means that you can use your voice to command your iota through your smart home, or link it up with other connected devices for some convenient home automation. For example, you could have your Philips Hue lightbulbs turn on as soon as your iota starts recording. The possibilities are endless (not literally, as you get a maximum of 100 CUE home automations, but you know what I mean).
If you're like me who's into smart home and home automation, then you're going to really like this aspect of the iota Hub and abode in general. Of all the DIY security systems we've tested, abode has the largest number of smart home partners. I can't list them all here, but I'll give you a few examples.
Integrations with Abode
If you already have a smart home ecosystem in place, you'll love that abode works with Alexa, Google Assistant, and Apple HomeKit. That means you can control iota using smart speakers or displays from any of those ecosystems.
As for products that the iota Hub can connect with and control, you can look to brands like Nest, Philips Hue, LIFX, Yale, and Kwikset. Those brands offer smart thermostats, lights, locks, and more.
You can also connect Z-Wave and Zigbee devices to the iota Hub directly, so if you have smart home gadgets that use those wireless standards, you may be able to integrate them. Right now, there are over 4,000 Z-Wave certified products, so you have a wide range of options.
This is an area where abode really stands out, particularly the Z-Wave and Zigbee compatibility. Most DIY systems work with select smart home brands. For example, SimpliSafe works with Nest and Philips Hue. However, without Z-Wave and Zigbee compatibility, your options are really limited.
And then there are systems that do offer compatibility, but they limit the types of products you can integrate. For example, the Ring Alarm base station uses Z-Wave, but you're limited to connecting smart locks and smoke and CO alarms. With abode, you get compatibility as well as the ability to integrate with thousands of smart home products.
Cue CUE, Abode's Automation Engine
It's not just that abode can connect with other products; it can control and orchestrate them in meaningful ways that makes life easier for the user. That's the whole point of a smart home system anyway.
The iota Hub does that using CUE, an automation engine you can find in the abode app. It allows you to create automated recipes, mostly in the "if this happens, then do that" format. First, you set a trigger. This can be a sensor getting tripped, a time of day, or your phone's location. Next, you set an action. This can be turning on smart lights, adjusting the thermostat, locking doors, and many more.
For example, since I want my iota Hub to deter burglars, I created a rule that, if my front door is opened between 11 p.m. and 6 a.m., all the lights in my living room will turn on while my Alexa speaker blares a disorienting siren sound.
You can really be creative with these CUE automations, and you can create up to 100 different rules. Sky's the limit here.
Key Fob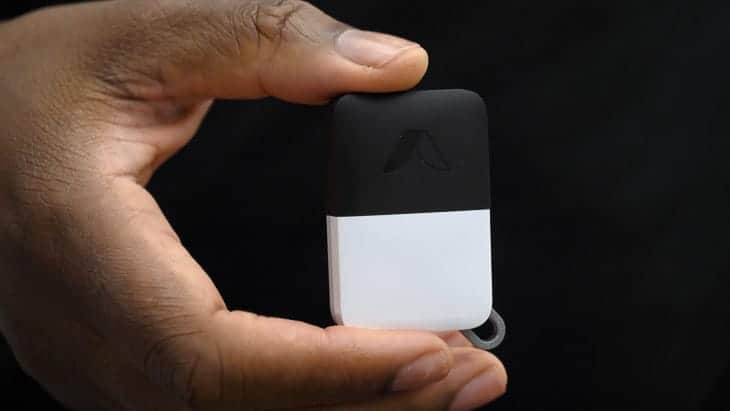 Now that we've discussed the iota Hub, its built-in camera, and its smart home integrations, let's take a look at the other components that came with my iota Hub package.
If you're looking to arm or disarm your security system in the easiest way possible, just click on your key fob. You can either put your system on home or away mode, standby, or you can press the panic button to activate an alarm. Key fobs are great if you have multiple people living in your home, as you can assign a key fob to each member. It's especially useful if you're living with older adults who struggle to use a smartphone, as the key fobs are quite literally just like car alarm remotes.
You can even customize your key fob's buttons for easier access to your connected devices. For example, you could set one of the buttons to turn your living room lights off. Now you don't even have to get off the couch to create a movie theater vibe while you watch Rush Hour for the hundredth time! The fobs will work within a hundred-foot range of the iota, and have replaceable batteries. I recommend putting the key fob with your regular keys, as it has a keyhole for the occasion.
Mini Door/ Window Sensor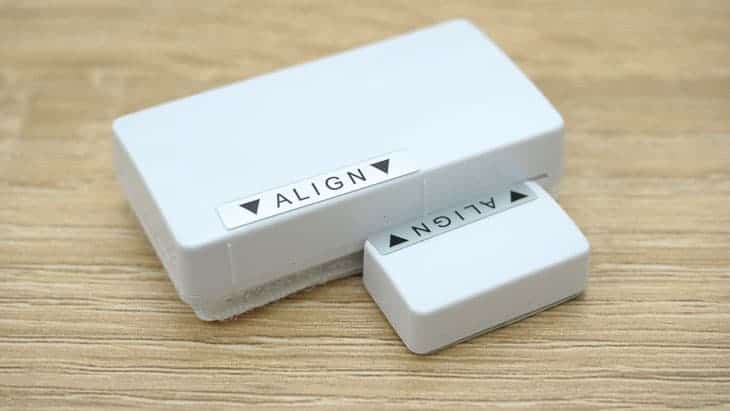 Your mini door/ window sensor will let you know when a door or window has been opened or closed. As you can see, these sensors are small so they won't be an eyesore. With a battery life of up to four years, you don't have to worry about changing the batteries often, plus, you get the advantage of wireless equipment— easy set up. You can use these sensors on any door type— all you need to do is peel and stick the sensor and its magnet.
As a side note for minimalists like me, abode offers a second type of entry sensor called the recessed door sensor. It got its name from the fact that it's installed flush to a door frame, which means when the door is closed, it's completely invisible. If you want to keep your door free from having any piece of equipment sticking to it, this is a great option for you.
Overall Equipment Rating
Overall, abode's equipment options are outstanding. It doesn't offer a lot, but the fact that it connects with a wide range of third-party products was a huge factor. We also liked abode's style, design-wise, and the amount of thought that went into creating its products. In particular, I loved the hub's built-in extra features, so I'm giving abode a nine out of 10 score here.
Video Review
Want a virtual tour of abode's security system? Check out this video review.

One of the freshest companies in home security, we had a ton of fun fitting abode into our smart home. Learn more here.
Installing the abode iota Security System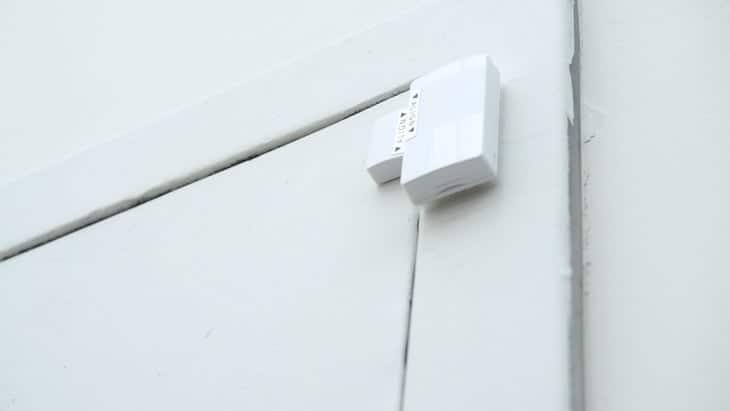 Setting up my iota security system took about 15 minutes. Yes, it's that fast, and the experience was about as smooth as when I installed my SimpliSafe system. It took me about 20 to 30 minutes to install SimpliSafe, but only because I got a larger system with more pieces of equipment.
First, I placed the iota near my router and a power outlet, plugging it in. I also connected the iota and the router via an ethernet cable, then activated battery backup by shifting the tab on the bottom of the iota. Next, I downloaded the abode app and it walked me through the rest of the setup, inputting a six-digit activation code, pulling out the battery tab for the mini door and window sensor, then sticking it on the door frame (large part goes on the frame, smaller part goes on the door itself). Then I just had to name each device and I was done! Overall, the process was really straightforward and simple.
When it comes to the installation, I give the iota Hub system a solid nine out of 10. It would have been a perfect score, but the fact that I had to connect it to my router via an Ethernet cable during the setup process dinged away that one extra point. The process would have been more streamlined without that step.
Professional Monitoring with abode
Who among us can say that we're available 100% of the time? If you can, you're probably a hermit crab or maybe just a highly anti-social human being. I digress. My point is, most of us aren't around to deal with a home security emergency 24/7. That's where professional monitoring comes in.
How monitoring works
With abode, you can either monitor your system yourself through your mobile app or sign up for professional monitoring. That means that a team of people will be monitoring your system 24/7 for alerts and issues. If you do have a security or environmental emergency, the team can contact the proper emergency services for you.
With abode's Pro plan, you can pay as little as $20 per month for 24/7 monitoring, which is cheaper than the majority of security systems on the market. A package from ADT, for example, could end up costing users $60 per month for professional monitoring, so abode could be an excellent pick if you're on a tight budget.
That said, comparing abode's monitoring with ADT's monitoring is really not fair. ADT has one of the best monitoring services in the market, with nine fully-redundant monitoring facilities. Abode's professional monitoring center may be "award-winning" (abode's words, not mine), but it's not the industry gold standard that ADT is.
Still, I found abode's monitoring service to be reliable, and again, if you're on a budget, it's worth considering. Let's see how abode does professional monitoring and whether or not it's right for you.
Options
| | Basic | Standard | Pro |
| --- | --- | --- | --- |
| Livestreaming | Yes | Yes | Yes |
| One-touch arm/ disarm | Yes | Yes | Yes |
| Smart home integrations | Yes | Yes | Yes |
| Push notifications | Yes | Yes | Yes |
| Email notifications | No | Yes | Yes |
| Customizable notifications | No | Yes | Yes |
| Unlimited users | No | Yes | Yes |
| Amount of Cloud Storage in Days | 0 | 7 | 30 |
| Timeline | No | Yes | Yes |
| Home automation | No | Yes | Yes |
| Geofencing | No | Yes | Yes |
| Premium support | No | Yes | Yes |
| Cellular backup | No | No | Yes |
| 24/7 professional monitoring | No | No | Yes |
| Free shipping in continental US | No | No | Yes |
| Access to deals and discounts | No | No | Yes |
| Unlimited device warranty | No | No | Yes* annual only |
| Discount on homeowner's insurance | No | No | Yes |
| Monthly Price | $0 | $6 | $20 |
| First Year Annual Price | $0 | $69.99 | $149 |
| Second Year On Annual Price | $0 | $69.99 | $219.99 |
Since abode's systems are minimalist and multi-functional, you won't have to spend a ton on equipment. Check it out here.
In order to receive professional monitoring and cellular backup, you'll need to buy the Pro plan. Cellular backup means that your security system will stay on even if the power in your neighborhood goes out. Remember that abode primarily relies on your internet connection, and with the power out, your internet won't work as well. I recommend getting cellular backup, as power outages are a fantastic time to commit a burglary.
If you decide to skip professional monitoring, however, we recommend at least the Standard plan to take full advantage of abode's features. Without it, you won't be able to use CUE, see a timeline of events in the app, or capture videos with any abode camera. Still, I really like the flexibility of abode's monitoring plans.
Contract Rules
You can either sign a month-to-month or yearly contract. Again, I'm loving the flexibility here. If you sign up for a month-to-month contract, you won't have to worry about cancellation fees, and it's a great way to get your feet wet if you're unsure about professional monitoring. If you sign up for a year, on the other hand, you get discounts. It's even better if you purchase a plan together with your system to enjoy bigger savings.
| Yearly subscription prices | Standard | Pro |
| --- | --- | --- |
| Annual plan if purchased with a system | $69.99 | $149 |
| Annual plan if purchased later on | $69.99 | $219.99 |
Overall, I give abode's monitoring pricing an eight out of 10 score. I loved the affordability, but I'm not in total support of having a paid self-monitoring plan. Other DIY security systems I've tested over the years usually don't charge anything if you self-monitor your system – unless of course you add cloud storage for your cameras, which is the case for both SimpliSafe and Ring Alarm.
abode Customer Support
Customer support tends to be pretty standard across security companies in terms of features. Whether it's FAQ's, a frustrating phone call, or an online form, companies usually give all their customer support options to all of their customers. But abode does things very differently.
How abode's Customer Support Works
Like most security companies, abode offers email and online support along with phone support. In my experience, getting in touch with abode was straightforward. The company provided a phone number displayed prominently on its home page. It's not too different from the customer support I experienced when I tested Frontpoint, another popular security system that I rated highly for customer service. Frontpoint offers one plan, with a flat monthly fee (not including equipment) of $49.99 that covers 24/7 professional monitoring and 24/7 customer support.
That said, I'm not a big fan that abode gives priority support to Pro and Standard subscribers. Everyone paid for the equipment, so everyone deserves equal treatment in terms of customer support. It may make sense to have a separate line for calls about monitoring and urgent matters, but priority support for subscribers may not be the best move. For that, I'm giving abode an eight out 10 rating.
The abode App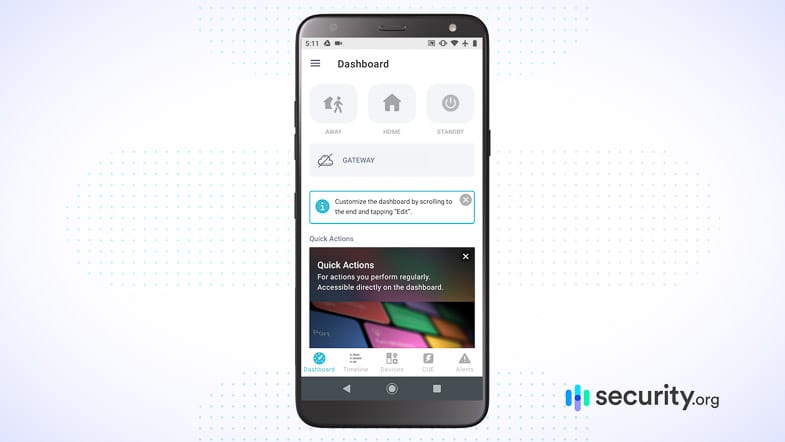 If a smart security system exists but there's no app for it, does it really exist at all? Frankly, the answer is no. I want to talk about the abode app— its features and of course, how customers feel about it.
Features
On the abode app, you'll be able to livestream footage, control up to 160 connected devices, create up to 100 CUE home automations, add user accounts, and receive notifications.
For the most part, abode's app was bug-free except for the occasional delay in security camera livestreams. That's kind of expected from security apps. As for the design, the app was intuitive. However, because abode packs so many features, it can get a little confusing to navigate, especially when you start personalizing it with automations. It's a decent 8.5 out of 10 from me.
How about from other users?
Reviews
| abode App | Rating |
| --- | --- |
| iOS | 4.2 |
| Android | 3.6 |
Let's be honest: iPhone users and Android users are about as different as the Capulets and the Montagues. To find out what both camps thought, I looked at reviews from the Apple and Google Play stores, respectively.
Apple Store
The abode app's rating has improved steadily, and it now holds a 4.2 rating. The general consensus is that the app is easy to use and that it works, but there's just a few features that need ironing out every now and then, especially after updates.
Google Store
Android users liked the abode app, giving it a 3.6 rating. That's not as high as the ADT reviews, which average 4.8, but it's decent. Many of the reviews were a perfect five stars, although a few people mentioned that the app drained their phones' batteries.
Find out if abode can protect your home like other security systems
Wondering if abode is right for you? We squared it up with the best systems available to help you make a smart decision.
Recap of the abode iota Security System
Want to learn more? Check out our best DIY home security systems, or feel free to contact us. We'd love to answer your questions!
Our favorite thing about abode was how it put us in the driver's seat, with customization at every step. Begin your journey with abode now.
FAQ
Now, no review is complete without answering some of the frequently asked questions about the product, abode. Let's have at it.