Notion Security System Review
At less than $150, this security system is one of the most affordable on the market, but how well does it work?
What We Like
Smart, multifunctioning sensor design
Wide bridge range to cover larger properties
You can get a free Notion system with the purchase of a Lemonade home insurance policy
What We Don't Like
No included cameras or video monitoring elements
Limited number of integrations
No cellular backup for bridges (relying solely on Wi-Fi connection)
Bottom Line
Notion may not be the best-known security system around, but what they lack in reputation they make up for in ingenuity. Their multi-purpose sensors could detect everything from sound, temperature, and water to acceleration and orientation, a.k.a movement.
Editor's Note: Right now you can get a free Notion home security system when you sign up with Lemonade home insurance. So if you're buying a home soon, or you're looking to change insurance providers, be sure to keep this deal on your radar.
While many of the big names in home security demand large investments in hardware and service fees, Notion combines function and flexibility through smart, simple design. This DIY upstart didn't ask much from us in terms of components, requiring just three simple elements—sensors, bridges, and their app—to keep us connected to our home no matter where we went. And, unlike some other DIY security systems, Notion offered us full 24/7 professional monitoring in an affordable way, which allowed us to turn the service on and off as we saw fit. Even though Notion has some shortfalls in their offerings, they do their best to cover their blind spots through a small assemblage of integrations.
Monitoring Features
| Contract | Month-to-month |
| --- | --- |
| Professional monitoring | Yes |
| Sensors monitored | Customizable |
| Smart platform integration | Nest, IFTTT |
| Smartphone access | Yes |
Editor's Rating
Minimalist systems with multi-functional sensors
Integrations with Nest, IFTTT and HomeAdvisor
Professional monitoring for only $15 a month
Spoiler: Not Your Average Security System
As you could already probably tell, Notion is not your average security system. It's not the type of system that offers a wide variety of equipment, security cameras, and smart home components. It prefers to keep things simple. Is that good? Well, we'll discuss the pros and cons later on; what we can tell you right now is that there are alternatives that are just as simple as Notion but take a more conventional (proven) approach. Check them out below: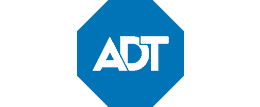 Notion: The Good and the Bad
There's a lot that we liked about what Notion brings to the table, especially for those who don't want to spend too much time fussing over their security system. We were impressed with what Notion could do with just three core elements, as they found a way to make those elements do the work of multiple devices in comparable systems. And the main elements that impressed us were Notion's sensors and bridges. The sensors acted as the eyes and ears of the system, with the bridges connecting us seamlessly to the system via the app.1 What sets the sensors apart is their multipurpose functionality; with the ability to read five distinct environmental changes, they handled the workload of five sensors in other systems that we've tested out previously. Once we paired those with bridges with an insane 5,000-foot range to sensors, we found a recipe for a great DIY system that covered our whole house with only a few components.
Even though there are some elements we'd hope to see in a system, like a video monitoring option, for a sleek, bare-bones DIY option, Notion more than delivers.
Installing Notion: How Easy Was It?
We found the actual setup and configuration process with Notion to be about as painless as a DIY system can be. We simply downloaded the app, plugged in the bridge, configured the bridge to our Wi-Fi network, and then placed the sensors on anything that needs monitoring, which, for us, was our ground floor windows and doors. The sensors attached to the wall using adhesive backing, which was a relief for us. We'd rather not drill if we can avoid it. Once everything was in its place, we were able to complete the rest of the setup process within the app itself.
Because the sensors monitored five environmental variables in our home (sound, heat, water, acceleration, and orientation), we got a whole lot of information with very few components, which meant more bang for our buck. Using the app, we set which home elements we wanted to monitor using each sensor. For example, we set one sensor on our living room wall to monitor the temperature, and one on a door to monitor motion, so we only received alerts when the door opened or closed while our system was armed. The app was intuitive in its customization, and we were able to set alerts to trigger when the door was opened. It couldn't have been easier.
With a system this cut-and-dry, it's imperative that the core elements function at the highest level. We found each of the components to be reliable, easy to install, and configure.
Let's Go a Little Deeper on the Components
As we mentioned, Notion is a triumph of simple design. With just four basic blocks (including the app and a magnetic accessory), we built an entire DIY home monitoring system. Let's break down these main components.
Bridges
The Notion bridge lets our sensors and our Notion app communicate. We plugged these simple white cubes into standard outlets and connected them to our Wi-Fi network. But what impressed us most about the bridges is their ranges. These bad boys can reach 5,000 feet between them and a sensor, which is ample enough to cover most properties, including our relatively small apartment. Another great thing about the bridges is their capacity. A single bridge can accommodate up to 15 sensors, which allowed us to add to our system as time went on.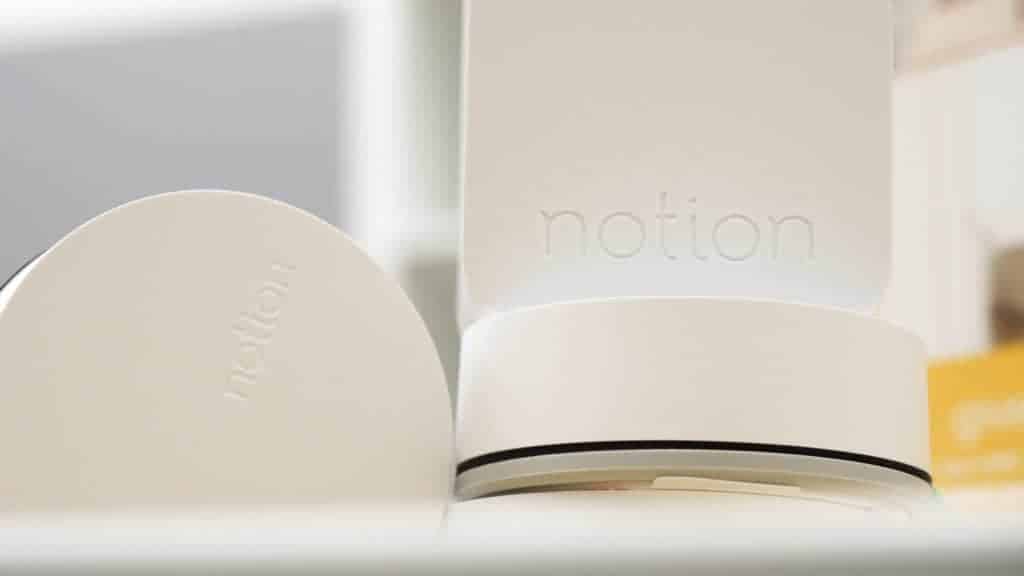 There is a downside to the bridges: they don't have a cellular or landline backup to their connection. If the bridge is installed outside of the Wi-Fi range or if our Wi-Fi connection went down, which isn't exactly uncommon, the system did not function. We experienced this during a Wi-Fi outage, but for those that don't care about cellular backup, it may not be a huge problem.
Important Tip: Doors, walls, and other obstructions can affect range, so if you're planning to install Notion on multiple floors of your home, we recommend having a dedicated bridge for each floor.
Sensors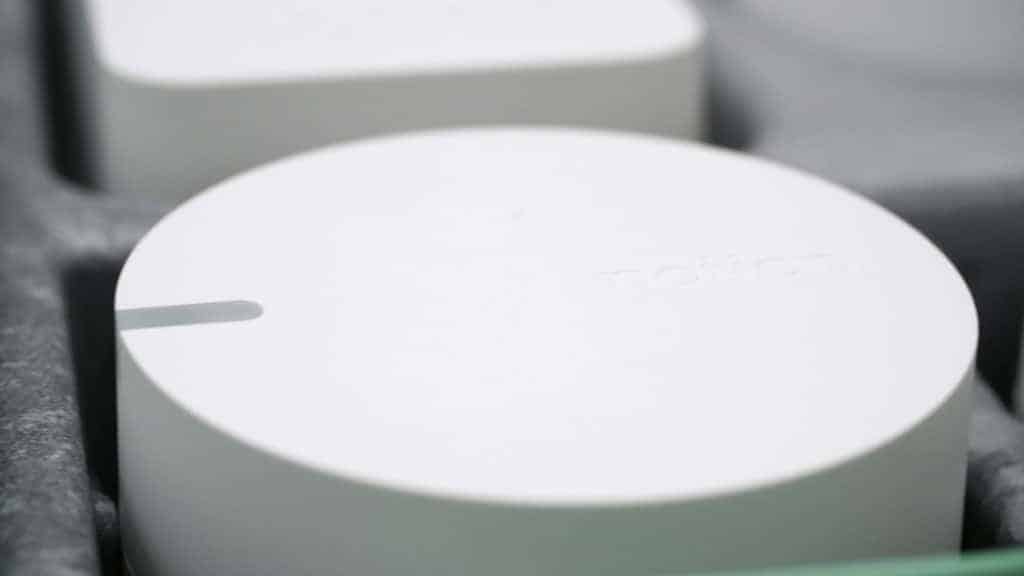 The sensors are where things got cool when it came to the Notion system. Unlike other systems that rely on dedicated sensors for everything from glass break detection to smoke alarms, Notion's sensors monitored five environmental changes and worked in tandem with preexisting sensors and alarms in our home. The Notion sensors monitored sound, temperature, water, acceleration, and orientation, which enabled them to do everything from report our home's temperatures changing, to our doors opening, to our basement flooding, much to our dismay. The sensors ran on two replaceable AAA alkaline batteries and stuck to surfaces using a simple adhesive. Installing them was as easy as placing a sticker on a notebook, a relief to anyone that's not the handiest, or a renter concerned with damaging the walls.
Sliding Door/Window Accessories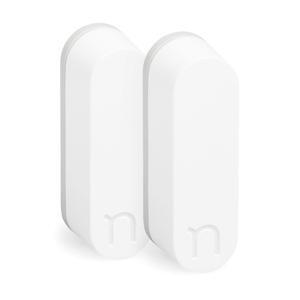 A basic component of our Notion starter kit, these magnetic accessories allowed us to monitor sliding doors and windows, alerting us whenever they were opened or closed. These accessories don't work on their own as monitoring devices, but work in conjunction with mounted sensors that we had installed in the same room.
FYI: Notion's security system is now in its third generation. While generation two bridges and sensors are still available, they're mainly there for existing users to expand their systems without upgrading completely, and they don't work with generation three products. As you're selecting your system, remember that starter kits all include generation three hardware.
Installing the System
We found the installation process for Notion to be about as simple as it can get for a DIY system (no professional installer needed!). When you factor in that professional security system installation can cost about $1,000 on average,2 the savings of a do-it-yourself system can be more than worth it. Fortunately for us, Notion's basic starter kit only included a handful of elements: three sensors, a bridge, and a magnet accessory, as well as the app that integrates all the hardware. Fewer components meant less work for us, which, in turn, meant more time to stream our favorite TV shows. You know, more time to focus on the important things in life!
We installed the Notion system in a matter of minutes. Once we received the kit, we downloaded the Notion app and made an account. Next, we found a centrally-located outlet to plug in our bridge, and then we signed it onto our home's Wi-Fi network. From there, we found the right locations for the sensors and provisioned them in the Notion app. We recommend installing the sensors on your ground floor as we did, as that's where intruders are most likely to enter. Like we said before, the sensors come with adhesives on the back, so installing them was as easy as peel and stick.
Pro Tip: Because the sensors are reactive to environments rather than set for specific purposes like a smoke detector, you can put a sensor in the proximity of a smoke or carbon monoxide detector to be triggered when the alarm goes off, so you get notified.
Once the sensors were in place, we provisioned and configured them in the Notion app. Through the app, we set which functions caused the sensor to react. For example, if we wanted a sensor to be used mainly for monitoring flooding, we'd configure it to trigger only when water is detected (which we did in our basement). The installation process was about as streamlined and intuitive as it could be for a DIY system.
Upgrading to Professional Monitoring
Notion keeps their costs competitive in the market by not forcing us to pay any monthly fees; self-monitoring through the Notion app was completely free. That said, through a partnership with security company Noonlight, Notion offered us a professional monitoring service called NotionPRO. For only $15 a month, one of the lowest costs on the market, we were able to get full 24/7, professional monitoring. We received bills on a month-to-month basis, and we activated the service in a few minutes. In summation, Noonlight is a flexible option for those who may not want professional monitoring year-round, although we recommend it as additional security.
One thing that set NotionPRO apart from other fully monitored systems that we've tested was the customization of the service. We chose which specific sensors we wanted professionally monitored with a simple switch through the app. For example, we wanted all of our sensors monitored while we were on vacation, but we could figure out if the basement flooded on our own if we were home. We haven't seen such customizable monitoring from any other security system we've reviewed, so this level of modification is a huge plus to Notion. And, at a $15 per month price point, it's definitely on the lower end when it comes to price. When the sensors we chose to be active for professional monitoring were triggered, we received an automatic push notification that directed us to the app to either cancel the alert or escalate it. Escalation put us in touch with an operator that helped us assess the situation and cancel the alert, though if instructed, they would have contacted the proper response teams.
Simple Smart Home Integrations
While Notion didn't exactly dazzle us with a massive list of IoT and smart home integrations, the integrations they do feature impressed us with how they filled in blind spots that the system has.
IFTTTT
If This Then That is a rules-based service that gets connected devices to communicate with one another. By integrating with IFTTT,3 Notion made it easy to trigger supplementary security devices in the event Notion sensors are activated. Using a smart security camera we previously integrated into IFTTT, we used the notion app to set it to activate whenever the front door opened. But there are many other imaginative ways we could have used the system. IFTTT speaks to the broader DIY aspect of Notion. Through these custom integrations, we could build an ad hoc security system with just a little creativity. Some brands that work with IFTTT include abode and Blue by ADT. Learn more in our abode analysis and ADT Self Setup analysis.
HomeAdvisor
Notion also partners with HomeAdvisor specifically to help with flood protection. Because we set our sensors to detect the presence of water, Notion recognized when we had a water-based alert, and connected us with a HomeAdvisor-screened plumber within 60 seconds. With an estimated 500,000 plumbers4 in the United States alone, having HomeAdvisor do the hard work of sourcing and screening labor was a huge help. All we had to do was fill out some contact information, and the app provided the necessary information for available plumbers in the area. We wish everything could be this simple!
See Notion in Motion
Interested in seeing the Notion system in action? Our video review breaks down the components and takes a hands-on, in-depth look at the Notion app. Watch the video below.
Customer Service and Support
While Notion doesn't have the most exhaustive customer service portal, we found the options they have available for support to be robust and responsive. We contacted Notion through an online form and called them directly. We also explored their wide range of support documents. The support documents offered us an extensive record of customer questions with expert answers, and we found that most of what we were looking for was available there.
Getting in touch with Notion was quick and responsive, given their form system basically amounts to sending them an email. When we reached out for some questions, we found that they got back to us in a couple of hours, which is pretty impressive given that one study showed average company response time to customers tops 12 hours.5
The Notion App
Notion has applications available for both Apple (where it's known as Notion – Home Awareness) and Android, with each providing us a way to check in on the status of our sensors as well as set monitoring tasks and notifications. In general, the app was intuitive and easy to understand.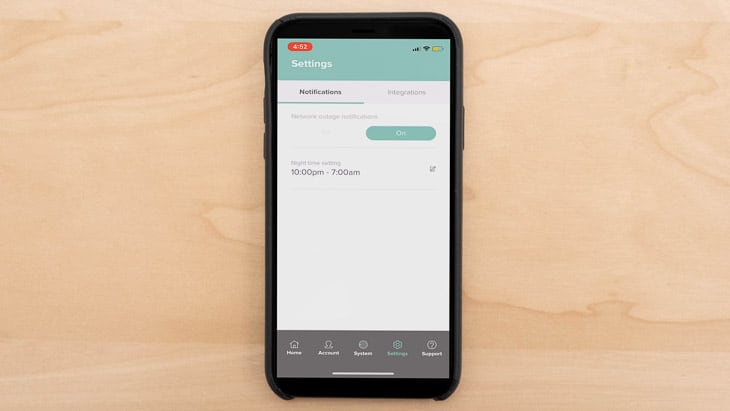 When we opened the app, we were met with a displayed list of our connected sensors, and from there, we toggled which activities they would perform. For example, we set one of the sensors to monitor temperature, and another to watch for the presence of water. This simple customization let us determine the function of each of our sensors, which made the entire system feel more specialized as opposed to having multipurpose sensors that would alert us to all the motion and activity in the house.
Custom notifications allowed us to turn off alerts when we were at home, which was a nice feature that limited unnecessary alerts. In general, the notification system provided the right amount of control without overburdening us with messages.
It should be said that, currently, Notion has a relatively low 2.7 rating in the Google Play Store, but, to Notion's credit, the company has reached out to many of the negative reviews in an attempt to help customers fix their issues.
Can Notion stand toe-to-toe with other brands? Find out below.
It's good to have options. See how Notion compares to these top security system picks.
Final Thoughts About Notion
There's a lot to like about Notion's sleek, modern approach to DIY home security. We found the simple design of the multifunctional sensors to be a major plus. It meant not only could each sensor do the job of multiple sensors in comparable systems, but it also meant that expanding the system was simple. All we had to do was add more sensors. The wide range of the bridges held up when tested even in a large space, and we found that upgrading to professional monitoring was easy and flexible. On the downside, we were concerned that the lack of cellular backup for the system meant that losing power or reliable Wi-Fi would render the system useless. Overall, though, we would recommend Notion as a great option for those who value simple design and have a flair for the more techie side of home security, as the system can be customized and integrated into a broader home monitoring system with a little know-how and elbow grease.
Notion FAQs
Notion is a lesser-known home security system, so we get a lot of the same questions over and over. Here, we're providing answers.