Kangaroo Security System Review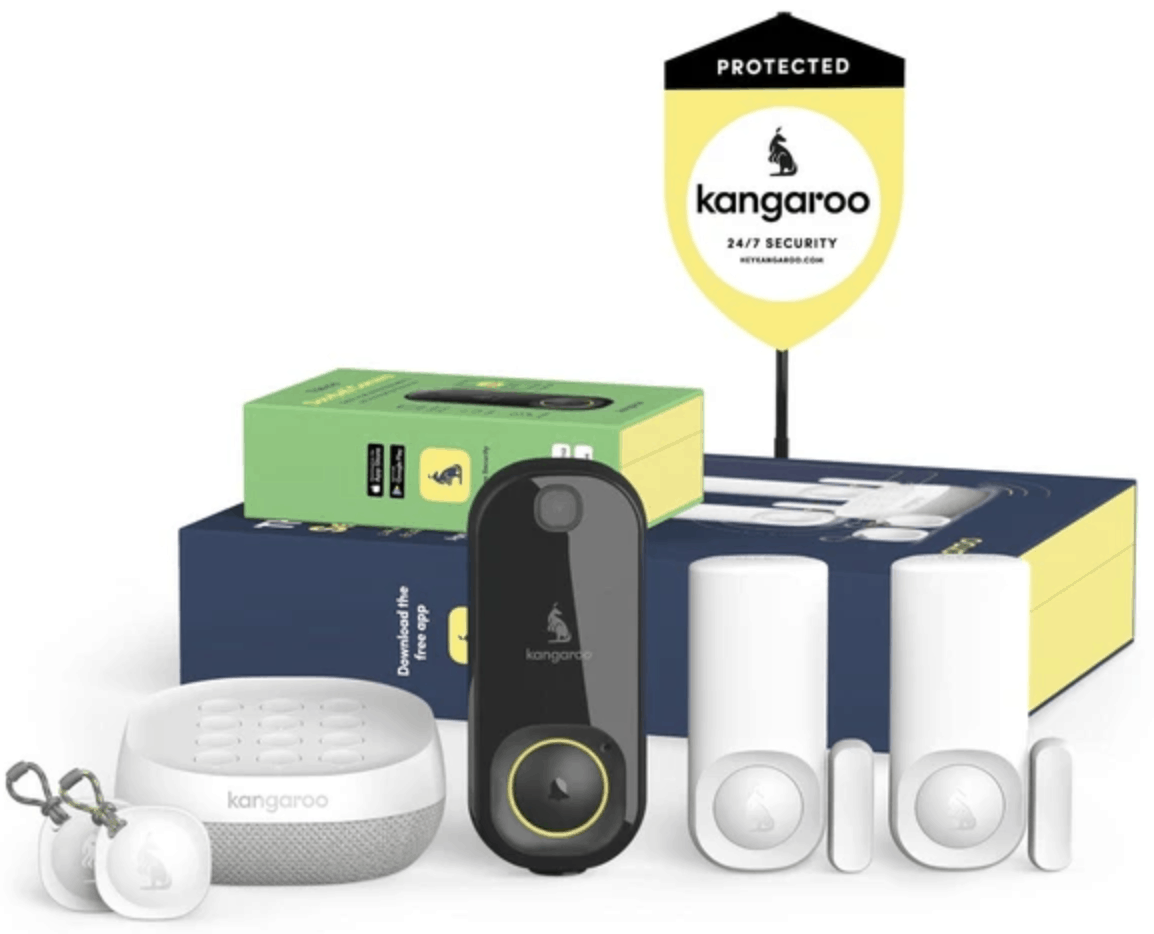 What We Like
Wireless system: We generally lean toward wireless security systems, aka WiFi-based security systems.
24/7 professional monitoring or free self-monitoring: Kangaroo hops on the bandwagon of providing monthly subscriptions, one of which includes 24/7 professional monitoring.
Easy installation: We just had to pull tabs from the motion and entry sensors, sync the devices, and remove their adhesives to stick them in place.
What We Don't Like
Lack of settings customization: For the Kangaroo security system, we couldn't customize the settings like adjusting arming times or scheduling arming and disarming.
Overly sensitive sensors: Yes, it does sound a little silly given the purpose of sensors, but the Kangaroo motion sensors were too sensitive.
Arming and disarming is a bit of a hassle: We noticed that the system took three minutes to arm.
Before you jump to conclusions, no, this is not an Australian-based security company. Kangaroo is a newcomer to the industry and is headquartered in New York City. Kangaroo's small team focuses on simplicity, affordability, and reliability for their home security products. The question is, do they actually deliver in those aspects? In this review, we're taking a look at the Kangaroo security system. Let's jump into it!
Starter Kit Components
| | |
| --- | --- |
| Motion + entry sensor | 2 |
| Siren + keypad | 1 |
| Roo tags | 2 |
| Window decals | 5 |
| Yard sign | 1 |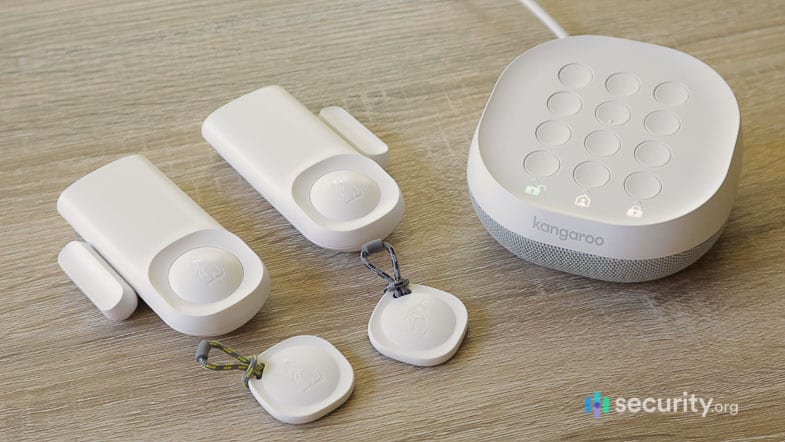 Editor's Rating
Kangaroo offers easy DIY installation
Alexa and Google Assistant integrations available
Contract-free options are available. But read about our best no-contract home security systems if you want to go month-to-month.
Kangaroo's Unique Take On Home Security
Kangaroo stands out because of its uniquely affordable and simple security system, but not without sacrificing performance. From finicky notifications to its limited equipment options, we find Kangaroos take on home security a bit lacking in some areas. We recommend checking out more complete security solutions from our top-rated brands instead: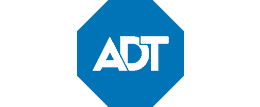 What's Included?
We ordered Kangaroo's five-piece starter kit. Priced at $79, the system was actually free for us because we signed up for Kangaroo's subscription plan, Kangaroo Complete, which costs $10 per month or $99 per year. Unlike other home security systems like SimpliSafe, which you can read more in our SimpliSafe security system review, the Kangaroo security system is WiFi-based, so no hub or base station was required. For an overview of Kangaroo's equipment lineup and costs, check out our Kangaroo pricing page.
Here's what we found in our starter kit:
Two motion and entry sensors: We placed these babies up on our bedroom door and kitchen window. Whenever activity occurred in the bedroom or kitchen, the motion sensor picked up the movement and the entry sensor alerted us whenever the door or window was opened.
One siren and keypad: We had several options for arming and disarming the security system: the mobile app, the PIN number on the keypad, and our Roo tags. As for the siren, we were startled by how loud it was — loud enough to get our neighbor's dog barking (which is another siren in itself).
Two Roo tags: Cute as the name is, the Roo tags were alternatives to arming or disarming the Kangaroo security system. We liked that it was just a quick tap — no sweating bullets when we forgot the PIN number for the keypad.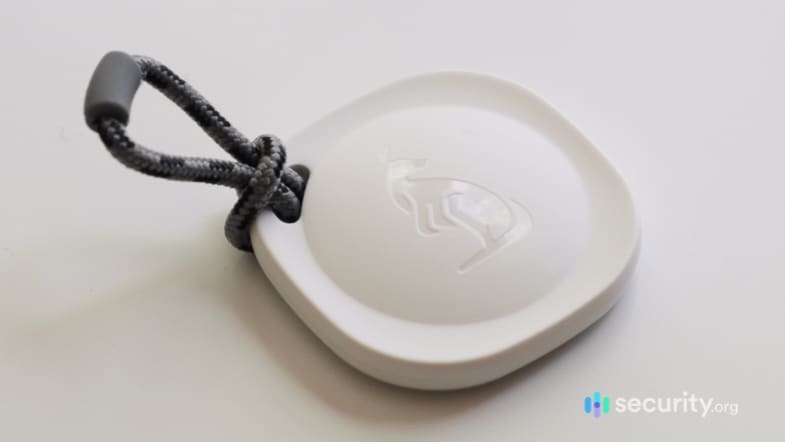 Five window decals and one yard sign: While it'd be nice to advertise for the company, we didn't bother putting up the decals or the yard sign. We live in an apartment, so there wasn't room for us to stick the yard sign in the ground outside. Anyone who likes the bumblebee, black and white aesthetic will like Kangaroo's decals and yard sign, though.
Tip: We don't recommend putting up the Kangaroo window decals and yard sign. If you do, burglars could be able to figure out how to tap into your system based on the brand. A report revealed that 83% of burglars look to see if a home has a security system before deciding whether to break in or not.1 If you have a different yard sign from another security company, we recommend putting that up instead to throw off burglars.
Overall, the Kangaroo security system is pretty robust. We could do without the window decals and the yard sign for something more practical, though.
Favorites and Flaws
As we tested out the Kangaroo security system's features, we picked out some of our favorite things as well as some flaws.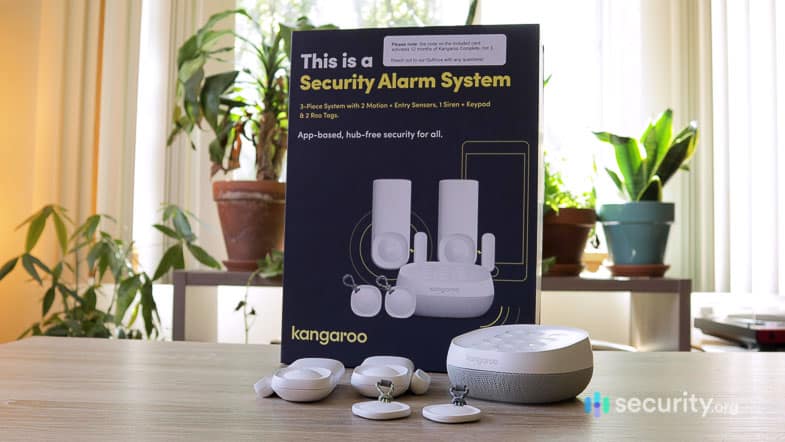 Tip: Avoid setting up your motion and entry sensors where the slightest draft could trigger them. We recommend turning off any fans or the AC when you're not home.
To sum it all up, we were left wanting more from the Kangaroo security system features. There were certainly some features that we loved, but the system still lacked in performance when it came to the delayed notifications, overly-sensitive sensors, and lack of customization.
Video Review
For all the action, check out our video review of the Kangaroo security system below. We cover the same topics with helpful demonstrations.
Setting up the Kangaroo Security System
When we began setting up our Kangaroo security system in our apartment, we just needed to plug the siren keypad cord in an outlet. We decided to place the siren keypad on our console table in the hallway leading to the front door. After that, we downloaded the Kangaroo: Simple Home Security app, which walked us through the rest of the setup process. We added our devices and then pulled the yellow tabs from the motion sensors, which automatically synced with the system. To sync our Roo Tags, we simply tapped them against the siren keypad.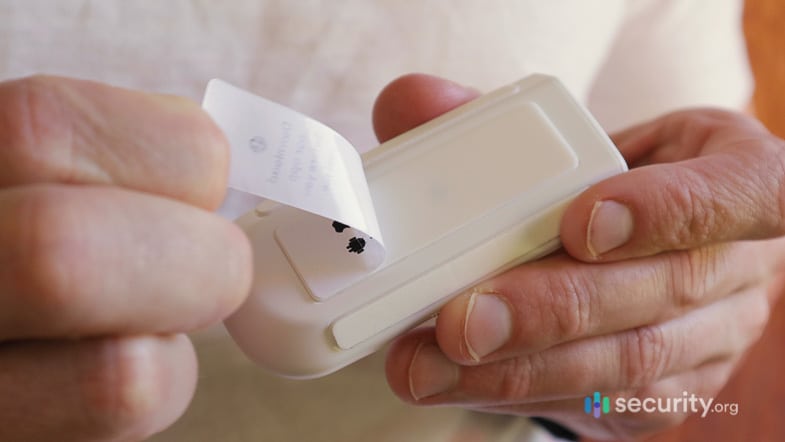 Like we mentioned earlier, we placed the motion and entry sensors on our bedroom door and kitchen window. We peeled and stuck the sensors against the flat surface, and it stayed! Even when we slammed the bedroom door, the sensors didn't budge or fall off. All in all, we were pleased with how effortless the installation process was.
Tip: Don't forget to test the motion and entry sensors right after you sync them! Sometimes the sensors don't sync right away so you'll have to re-sync, swap out the batteries, or, worst case scenario, contact Kangaroo's customer support for replacements.
Using the Kangaroo Mobile App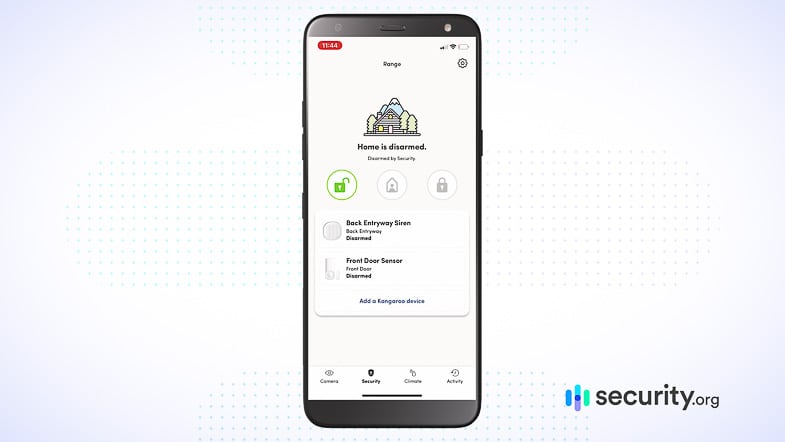 Most if not all home security systems have a companion mobile app that makes arming, disarming, and monitoring our home so much easier. From our experience with the Kangaroo: Simple Home Security app, we enjoyed the cute and colorful illustrations of our "home." There were four tabs on the bottom to tap: Camera, Security, Climate, and Activity. The Security tab was where we armed and disarmed the Kangaroo security system. An animation of a glass dome encasing the house illustration on the app played out whenever we armed the apartment. When we disarmed, the glass dome disappeared.
On the Activity tab, we reviewed a list of events that occurred throughout the day or the week based on motion detection. There were icons for each type of event like when we armed the apartment or when water leaks were detected. In short, the app was a breeze to use, and it helped that there were illustrations.
Integrating Alexa and Google Assistant
| Voice assistant integration | Kangaroo Protect plans that include it |
| --- | --- |
| Alexa | Complete only |
| Google Assistant | Complete only |
Our Kangaroo Complete plan included Alexa and Google Assistant integrations, but without the plan, we wouldn't have been able to use them. We scratched our heads over this because most security systems already include smart home integrations without a monthly subscription. For both Alexa and Google Assistant, the commands were pretty basic: arming and disarming the entire apartment's system or just the doors and window sensors.
Recap: Is Kangaroo Is A 'Roo-se?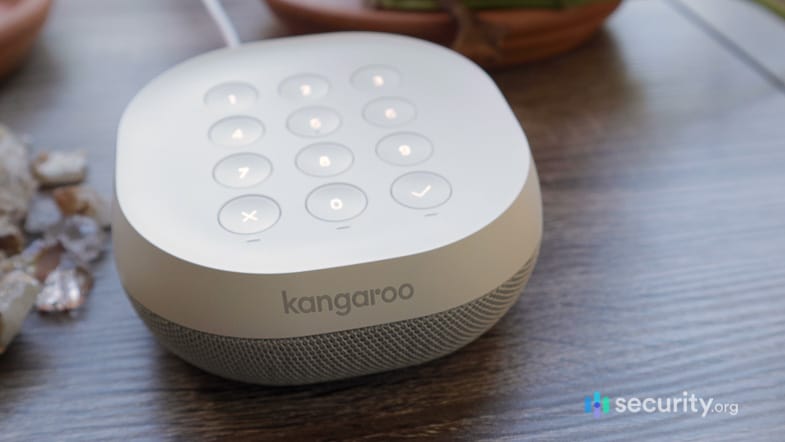 We tried to be a little soft on the company as they're fairly new to the scene, but when it came to protecting our home and easing our concerns, there was a lot to be desired. Our main issue was the security system's performance, whether it was the sensitive sensors or inconsistent notifications. However, we did like that the monthly subscription was pretty affordable with prices that are comparable to Ring Protect plans, which you can read more about in our Ring Alarm review.
We recommend the Kangaroo security system for:
Anyone who wants a minimalist system
Someone who doesn't want to mess around with sensors' and siren settings
Anyone who wants an affordable system with professional monitoring for $10 per month
We don't recommend the Kangaroo security system for:
A person who wants customizable settings for their security system
Anyone who doesn't want to pay extra for smart home integrations
Someone who doesn't mind delayed notifications
It's always a pleasant surprise when we come across a new security brand, as we look forward to testing out their products and seeing how they either improve upon or fall back on the current industry standards. North America is the largest and fastest-growing market for home security systems,2 so Kangaroo has some major competition and definitely has room for improvement. Kangaroo could easily become one of the best affordable security systems, but only if and when they improve its features.
Frequently Asked Questions
Kangaroo is one of the newest names in smart home security, so it's no surprise that people have a lot of questions about this startup. After testing their systems extensively, here are our best answers.