SimpliSafe Frequently Asked Questions
Our SimpliSafe experts answer your most pressing questions.
Monthly subscription plans
Fast and easy DIY installation
Reliable professional monitoring
Professional monitoring costs $19.99 or $29.99 per month
Camera recording on five cameras costs as little as $9.99 per month
Packages range from $250 to $700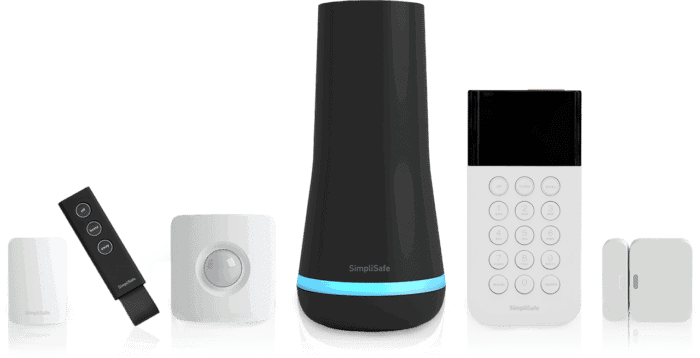 All of our content is written by humans, not robots.
Learn More
By

&

SimpliSafe may be a fairly new company, especially compared to industry stalwarts like ADT, but their growth in popularity has been nothing short of epic. And even in the past year alone, the company has made a lot of changes, from adding a self-monitoring option to providing professional installation, although DIY is still available. Well, our experts are here to answer the most pressing questions about SimpliSafe.
What pricing does SimpliSafe offer?

SimpliSafe Security System

You pay for the monitoring every month and the equipment upfront. SimpliSafe is a DIY friendly security system so you can add on equipment as your needs change. If you want a good starting point, SimpliSafe offers more than a dozen pre-made equipment packages ranging in price from $229.96 to $509.86. The base package, called the Foundation, provides a base station, wireless keypad, motion sensor, and entry sensor. SimpliSafe also offers refurbished systems, which can bring your equipment expenses down 25 to 30 percent.

SimpliSafe Base Station

You have two choices with monthly monitoring fees. The Standard plan is $19.99 and includes professional monitoring. The Interactive Plan is $29.99 and adds SMS/email notifications and gives you the power to arm and disarm your SimpliSafe system remotely.

What type of equipment does SimpliSafe have?

SimpliSafe creates its own home security equipment and offers a base station and keypads, motion sensors, entry sensors, smoke detectors, stand-alone sirens, keychain remotes, panic buttons, water sensors, freezing sensors, indoor security cameras, glass break sensors, and CO detectors.

Where is SimpliSafe based?

SimpliSafe is located in Boston, MA, and services many areas around the United States.

Does the SimpliSafe system have professional monitoring?

SimpliSafe has an optional professional monitoring service, which is overseen by the C.O.P.S. Monitoring center. You receive 24/7 monitoring with these packages.

Can I use SimpliSafe equipment without professional monitoring?

You are not required to keep professional monitoring for your SimpliSafe system. Your hardware functions properly without the monthly service, but you're responsible for alerting the authorities yourself.

What's the installation process for SimpliSafe?

SimpliSafe has a DIY-friendly installation process that doesn't require any special tools. You plug in the base station, use the included adhesive strips on the sensors, and you're ready to go.

What's the range of the SimpliSafe system?

The base station can reach sensors up to 400 feet away. However, all keypads need to be within 100 feet of the station to work properly.

Does SimpliSafe support third-party equipment?

SimpliSafe has limited support for third-party home automation equipment and works with Alexa, Nest and Google Home. Since the company's primary focus is on offering a simple to use home security system, the supported third-party devices list is smaller than is typical for the market.

Does SimpliSafe have security cameras?

SimpliSafe Video Doorbell Pro Footage

SimpliSafe offers an indoor home security camera that includes a motion sensor. The wide-angle view helps you see more of the room or hallway that it's located at.

Can I use voice controls with SimpliSafe?

If you have Google Home or Alexa, you can use these devices to add voice control to your SimpliSafe. SimpliSafe supports integration with these third-party devices, so it's a seamless setup process.

Can I control the SimpliSafe system with a mobile app?

The SimpliSafe App

Much like the rest of the SimpliSafe security system, the mobile app is simple and straightforward. You get control over all the devices that are part of the system, can remotely arm and disarm it, and can instantly set up security PINs for guests and family members. If you have video cameras, this is the way that you access the live streams.

Does SimpliSafe support moving equipment to a new home?

This system is incredibly friendly for renters. Just take all your equipment with you, and you can set it up within minutes at your new place.

Does SimpliSafe have a contract?

You are not under a contract with SimpliSafe. All your equipment gets bought upfront, and the monitoring service is billed as a month-to-month payment that can be canceled without penalty.

Can SimpliSafe work without a Wi-Fi connection?

SimpliSafe Video Doorbell Pro

You can use SimpliSafe without Wi-Fi if you choose a monthly monitoring plan that includes cellular service. However, you would need Wi-Fi to support any video cameras on the home security system. If you're in a location with poor cellular service, then you would also need to depend on the Wi-Fi connection.

What does SimpliSafe protect?

The majority of SimpliSafe equipment protects the inside of your home, but the company does have a video doorbell that shows you an outdoor view.

Does SimpliSafe work with home automation devices?

SimpliSafe is very limited in the home automation platforms and devices it supports. Currently, only Amazon Alexa, Nest, and Google Home are supported.

What customer support options does SimpliSafe offer?

Emergency operators are always available when you have an alarm go off, no matter what time of night or day it is. For regular customer service requests, you can get in touch with SimpliSafe over the phone, through email, and at their social media profiles. You also get access to extensive tutorials and documentation on the website.

What return policy does SimpliSafe offer?

You get a full refund within 60 days of purchase if you return the system. This return policy is one of the more generous ones in the home security market.

Does SimpliSafe have environmental sensors?

Yes, the add-on equipment has freeze, water, smoke, and CO sensors. You receive notifications that help you respond quickly in emergency situations.

Does SimpliSafe offer equipment bundles?

SimpliSafe systems offer extensive customization options, and you can choose one of the many pre-made equipment bundles to create the foundation of your home security solution.

Do I need a landline for the SimpliSafe home security system?

No, this home security system uses your home's Wi-Fi connection rather than a phone's landline.

Do SimpliSafe security cameras offer a privacy mode?

The SimpliCam has a steel privacy shutter in place that prevents recording, unless you give the system permission to do so.

Is the SimpliSafe system secure?

SimpliSafe uses end-to-end encoding, 256-bit encryption, and SSL security certification to keep your data safe. These industry-leading security measures are robust and designed to stop hackers from using home security data for malicious purposes.

What power source does SimpliSafe equipment use?

The base station plugs into an outlet, but the rest of the SimpliSafe equipment uses batteries for power.

Does SimpliSafe offer a financing plan for equipment costs?

No, you must pay for SimpliSafe products upfront. Their product pricing is reasonable and you can get a good basic home security setup without a massive investment.