Frontpoint Frequently Asked Questions
Here are the questions we get most commonly about Frontpoint, a smart security brand.
Fast and easy DIY installation
Smart home features and integrations
Industry's best customer service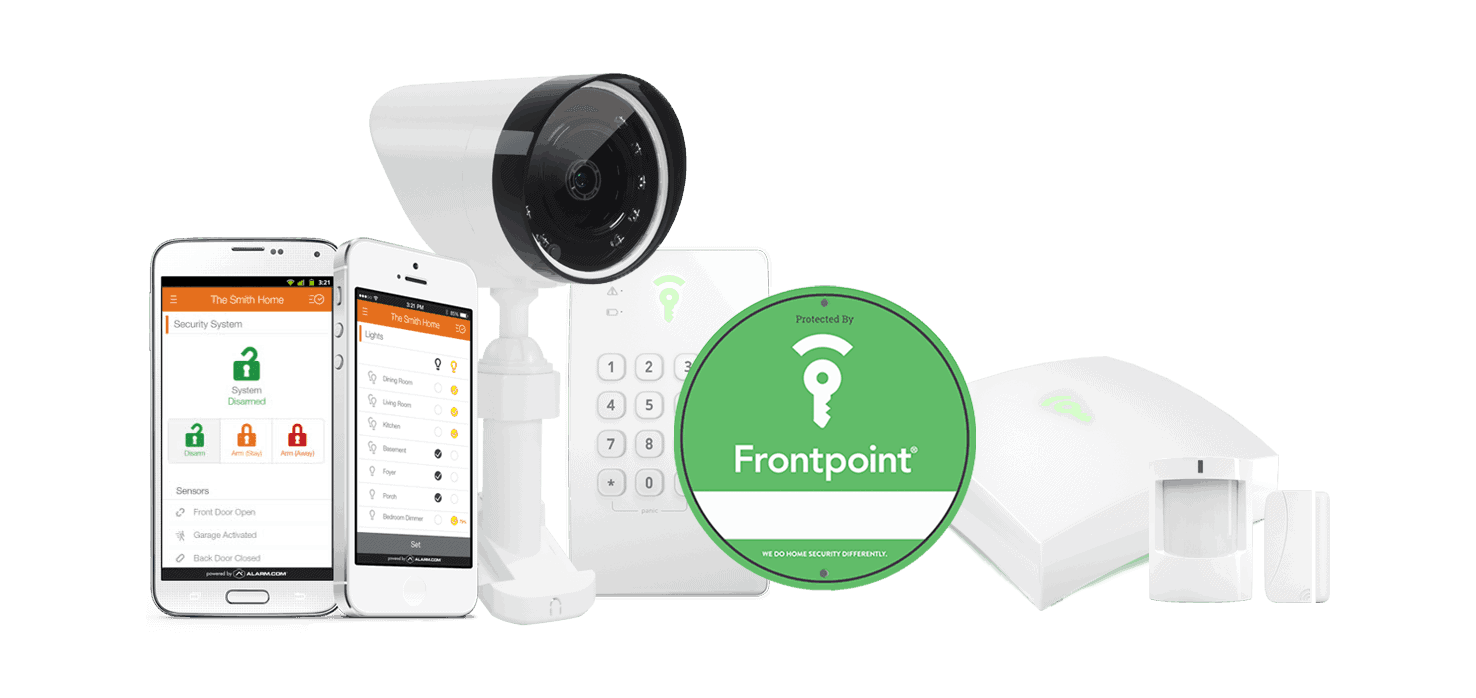 All of our content is written by humans, not robots.
Learn More
By

&

Last Updated
Aug 10, 2021
When it comes to choosing a home security system, there are a ton of factors to consider; how much does it cost? What components do you get? How do I monitor it, and what happens if there is an emergency? Well, our experts have tried and tested out Frontpoint's home security system, and here we're answering the questions that we receive most frequently.
What are the costs of the Frontpoint home security system?

Frontpoint Security System

You pay for Frontpoint equipment packages and a monthly monitoring fee.

Frontpoint has six product packages and many add-ons so you can customize your home security system. The lowest promotional price for one of these packages is $100, and the high-end costs are over $1,000.

Frontpoint offers one monitored plan (the Interactive plan and Protection plan are no longer available). The Ultimate plan is $49.99 and, as you might expect, gives you smart home features, live video camera streaming, motion-triggered recording, and a comprehensive history of your video clips and photos in addition to 24/7 professional monitoring and cellular backup.

Do I need to sign up for a contract to use Frontpoint?

As of a recent change, you only need to sign up for a monthly contract to use Frontpoint. However, if you financed your equipment, you'll have to sign a three-year contract.

NOTE: If you sign up for a 36-month contract with Frontpoint, you won't have to pay any equipment costs upfront.

Do I need an active subscription to use Frontpoint?

Yes, Frontpoint will not function without an active subscription. However, if you added third-party home automation devices to your system, these can function through the manufacturer's software.

Does Frontpoint offer refunds?

You get a 30-day risk-free trial with Frontpoint. You're able to cancel your home security service and send back the equipment within that time frame without a penalty. If you want to cancel your contract after this point, you have to pay for the rest of your contract.

What home security equipment does Frontpoint offer?

Frontpoint Base Station

Frontpoint has an extensive range of equipment, along with integration with Z-Wave third-party products.1 The company's in-house equipment includes indoor cameras and outdoor video cameras, motion detectors with still image cameras, a glass break sensor, entryway sensors, smart thermostats, a keychain remote, environmental sensors, a touchscreen control panel, light sensors, LED smart bulbs, video doorbells and smart locks, all accessible on Frontpoint's mobile apps.

Did You Know: Frontpoint also protects small businesses; request a quote for a custom system.2

Is Frontpoint monitoring compatible with other home security systems?

No, you need to use Frontpoint's own equipment to take advantage of its professional monitoring services.

Does Frontpoint have home security cameras?

Frontpoint Day Vision

Frontpoint has indoor camera, outdoor camera and doorbell camera options. It also has motion sensors that can take still images when they sense movement.

Does Frontpoint support home automation equipment?

Frontpoint is one of the best home security systems on the market when it comes to smart home automation support. Z-Wave devices have support through this system, so you have plenty of opportunities to expand your smart home ecosystem.

How does the installation process work with Frontpoint?

Frontpoint has a DIY-friendly installation process, allowing you to set everything up yourself. Customer support can direct you to professional installers if you would prefer that option.

What are Frontpoint scenes?

Scenes are a combination of home security and home automation settings that allow you to have the ideal configuration for a particular situation or time of day. For example, you can have the system adjust the lighting levels and temperature and disarm motion detectors when you wake up in the morning. You need either an Amazon Alexa device or a Google Home device for this functionality.

How many home security cameras can I use with my Frontpoint system?

Frontpoint allows you to connect and monitor an unlimited number of cameras as long as your service plan supports video surveillance.

Where can you purchase Frontpoint home security systems?

Frontpoint handles home security sales directly. If you know what you want already, it's easy to go through the website and place your order in a few minutes. If you need some help figuring out the best equipment for your home, call in and they'll work with you to find the perfect solution.

Does Frontpoint offer a trial period?

You can test the system out for 30 days and can cancel your contract within that period if you're unhappy with the products or the service.

Do I get a warranty with my Frontpoint system?

You get a limited lifetime warranty with Frontpoint if you have a three-year contract with the company.

Is Frontpoint compatible with Z-Wave?

Yes, Frontpoint supports smart home devices using Z-Wave technology. These third-party devices add a lot of functionality to your system, from smart locks to automated garage doors.

Can I set up delayed entry with the Frontpoint home security system?

You can set up the Frontpoint system to give you more time to get to the keypad and disarm the system. Avoid the keypad rush by adjusting the timing based on how long it actually takes you to get in the door.

Do third-party sensors work with Frontpoint?

If the third-party sensors use Z-Wave technology, then they can connect to the Frontpoint home security system. Otherwise, they would not function properly.

Does Frontpoint offer a panic button?

Panic buttons are available as an add-on option for your home security system. The panic button gets you in contact with the monitoring center with a single press.

How do I control the Frontpoint system?

Frontpoint App

You can arm and disarm the Frontpoint home security system through the touchscreen control panel, through your mobile devices with the app, or with a key fob.

Does Frontpoint offer environmental sensors?
Does Frontpoint offer privacy features on its cameras?

Frontpoint cameras have a privacy button that stops video streaming and recording. You can use this during times that everyone is at home and awake, or during other private moments.

Can multiple people use the Frontpoint home security system?

Yes, you can set up multiple users on your Frontpoint system. This feature makes it easy for your family and guests to come and go.

Can I add more equipment to my Frontpoint home security system?

Yes, Frontpoint makes it easy to add new equipment to your home security system. You can purchase add-ons through Frontpoint or through manufacturers and retailers of supported third-party devices.

Does Frontpoint require a landline for connectivity?
Is the Frontpoint home security system pet-friendly?