Vivint vs ADT Comparison
Here's how much you'll pay for ADT and Vivint, two of the top security companies.

Best Monitoring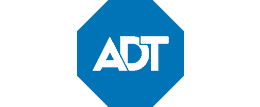 Professional installation on all systems
24/7 monitoring centers nationwide
145+ years of home security innovation
Best Customer Support

Advanced smart home capabilities
Professional installation
Cellular monitoring
ADT and Vivint are top players in the home security market, but which one is better suited for you?
On one hand, ADT is the most well-established home security brand in the country, having been around since the days of the telegraph. In fact, when ADT started its home security journey, it used telegraph to provide alarm monitoring.
On the other hand, Vivint is much younger, but it has a technological edge over most of the home security industry, offering state-of-the-art home security systems with smart home features.
In this comparison, I'll go over the two systems' key similarities, key differences, system components, installation processes, professional monitoring options, customer support systems, and apps. By the time you're done reading this review, you'll have decided whether ADT or Vivint is the right system for you. Let's get it started!
Key Similarities of ADT vs. Vivint
Being two of the top contenders in home security, ADT and Vivint share a lot of similarities. Here are some of them:
System components: The ADT Video package and the Basic Security System from Vivint have most of the same components.
App ratings: The ADT Control app and the Vivint Smart Home app have good ratings from both iPhone and Android users, not to mention smart home and security capabilities.
Long-term contracting: Most customers are required to sign a long-term monitoring contract, especially those who sign up for equipment financing.
Key Differences of ADT vs. Vivint
Now of course, outside those similarities are a ton of differences that set ADT and Vivint apart. Here are a few examples:
Who gets access to the app: Even today, ADT offers basic security equipment that doesn't support smartphone app access, particularly for technologically-challenged users. With Vivint, all users use the same base equipment, and all users have access to the app.
Installation: While not a part of ADT's main product line, there's a DIY installed ADT system called ADT Self Setup. All Vivint systems, on the other hand, require professional installation.
Communication: If you so choose, ADT will let you purchase a security system that uses a landline for communication. This is useful for homes with no internet and weak cellular coverage.
Let's move on to the systems themselves.
ADT vs. Vivint System Components
| Feature | ADT Video Package | Vivint Basic Security System |
| --- | --- | --- |
| Keypad | Yes | No |
| Motion Sensor | Yes | Yes |
| Entry Sensor | Yes | Yes |
| Glass Break Sensor | Yes | Yes |
| Key Ring Remote | Yes | No |
| Smart Lock | Yes | Yes |
| Alarm | Yes | No |
| Indoor Camera | Yes | Yes |
| Video Doorbell | Yes | Yes |
| Panel | No | Yes |
| Smoke and CO Monitor | No | Yes |
As you can see, the ADT Video Package and the Vivint Basic Security System have a lot in common. Both systems include motion, entry, and glass break sensors, smart locks, indoor cameras, and video doorbells. The ADT package also comes with a keyring remote so you can arm or disarm your system without the app, while Vivint throws in an alarm, panel, and smoke and C.O monitor. Three cheers for environmental monitoring!
ADT vs. Vivint Installation
ADT and Vivint are actually quite the same in terms of installation: Both will send out a trained technician to your home for the setup process.
Installing ADT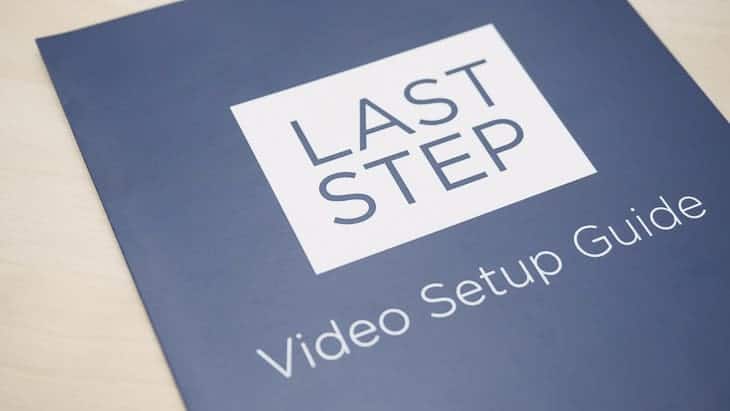 ADT's installation is quick and efficient. We even had the option to get same-day service.
It all started with a walkthrough of the house. The technician highlighted the key areas that needed protection, and then proceeded to install our sensors there. After that, they tested that the system was working, and then explained how the system works.
That last part is important, especially if it's your first time having a smart security system installed. With ADT, you're never in the dark. You'll know exactly what the system can do, how to perform basic functions like arming and disarming, and how to access advanced features like home automation.
All in all, we paid $99 for the installation service.
Installing Vivint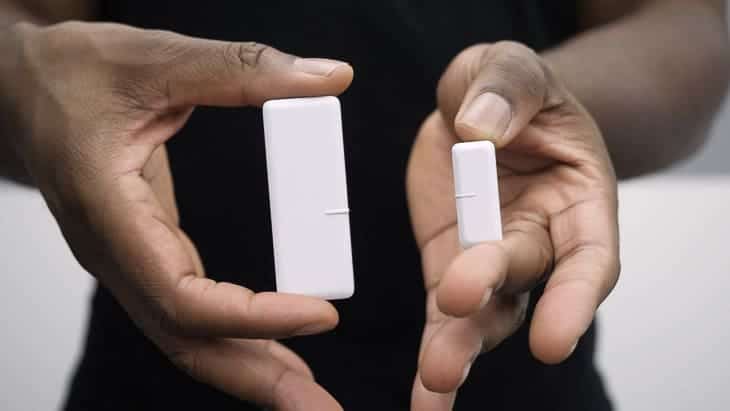 Vivint provides professional installation for free! Well, sometimes. Typically, the installation service costs $199, but there are deals on Vivint's website occasionally that can waive that installation fee.
The process was mostly the same as ADT. The technician walked us through the setup process, scouted our house for weak spots that needed the most protection, and then proceeded with the installation. After that, he showed us a quick welcome video and then gave us a few moments to ask questions.
I must say that I was impressed with my technician. He knew what he was doing with the system, and he even wore booties around his shoes to prevent tracking dirt into my home! Much appreciated, Vivint Technician John C.
Top System Installation
ADT and Vivint are best for those looking for a professionally installed security system, and while their services were comparable, we're giving ADT the edge because of the cheaper installation fee.
Professional Monitoring with ADT vs. Vivint
Now that your system is hypothetically set up, you're probably wondering who's actually going to monitor it. When it comes to home security monitoring, there are two options available: self-monitoring or professional monitoring. Both are pretty self-explanatory. Self-monitoring occurs between the user and their app, while professional monitoring brings a whole team of people to monitor your home's security. In the event of an emergency, they will always be available to contact the police, hospital, or fire department for you, so someone will always have your back.
As for Vivint and ADT? Both systems are professionally monitored.
ADT vs. Vivint Monitoring Options
Vivint Smart Home Video Service
| Number of Cameras | Monthly Price |
| --- | --- |
| Two | $49.99 |
| Three | $54.99 |
| Four (Maximum on One Account) | $59.99 |
Your Vivint monitoring plan will be based on the number of cameras you have. Keep in mind that since you're not paying for anything up front, you'll have a monthly fee from Vivint no matter what; professional monitoring would be on top of that.
ADT also requires that you do professional monitoring of some sort. ADT's pricing ranges from about $45 to $60, but if you go with a simpler system, you can get monitoring for as low as $29 per month.
Of course, if you have indoor and outdoor cameras, the monitoring cost rises to about $60 to accommodate cloud storage costs and video verification.
Professional monitoring from either ADT or Vivint offers features beyond just monitoring, such as cellular backup. Cellular backup ensures your home security system stays on if the power in your neighborhood goes out. Both ADT and Vivint include cellular backup with all of their systems, so no need to worry— even in the darkest of power outages, your home will stay secure.
One area where ADT has a clear edge is the monitoring facilities from where its in-house monitoring operators work. It goes without saying that monitoring facilities operate 24/7, but ADT walked the extra mile by setting up more than a handful facilities around the U.S. It has nine buildings spread out around the country, ensuring non-stop operation come hell or high waters.
ADT vs. Vivint Contracts
If you're looking for flexible contracts, then look elsewhere. ADT requires at least a three-year contract (two-year in California), while Vivint requires four- to five-year contracts. With Vivint, though, you can cancel anytime without a fee, but you'd still need to pay for your equipment in full, of course.
ADT vs. Vivint Moving Policies
Another benefit of DIY installation is that if you move, you can just pack up your system and reinstall it in your new house. That's the case for ADT, and it certainly lifts a weight off my shoulders. Moving with Vivint, however, will require you to pay a $129 moving fee that covers the installation service.
Top System for Monitoring
Overall, ADT is more flexible. Its monitoring plans are more affordable, plus contracts are shorter. ADT has one other advantage: It has nine monitoring facilities total. No matter what happens, and even if some of those facilities shut down, ADT's monitoring service will always stay up.
Customer Support with ADT vs. Vivint
| | ADT | Vivint |
| --- | --- | --- |
| Features | Live chat, phone, Facetime, online help center | Phone, live chat, online database |
| Google Rating | 2.5 | 3.8 |
WINNER: Vivint
If you need help with your ADT or Vivint security system, you can contact customer support through phone or live chat, or check out their websites for some helpful hints. ADT also offers support through Facetime, which, if you feel comfortable enough, could possibly come in handy if you're having a problem with your physical system.
What do real customers think of ADT and Vivint's customer support? I looked at each company's Google reviews. Google reviews are a great resource because they combine reviews from many places on the Internet, so I can get a really good idea of how tons of customers feel really quickly. While ADT has a dismal Google rating of 2.5, Vivint has a more respectable 3.8 star rating. But what do people think of each company's customer support specifically?
Unfortunately, ADT only had 11 reviews, and the one that mentioned customer support was negative. One person complained that ADT renewed their contract without their permission and did not process their cancellation, a bit shady. Vivint, on the other hand, has over 800 reviews. People had mixed things to say about customer support, and many people complained about the aggressive sales team. Overall, it seems like neither company exactly kills it when it comes to customer support.
Top System for Customer Support
Vivint has better customer support than ADT, although support is neither company's strong suit. For some of the best customer support in the business, check out Frontpoint.
ADT vs. Vivint Apps
| | ADT Control App | Vivint Smart Home App |
| --- | --- | --- |
| Features | Arm or disarm your system, control any connected devices, livestream footage, & receive push notifications | Arm/disarm, control connected devices, speak to visitors & see them with doorbell camera, get notifications, livestream footage |
| Google Play Rating | 3.9 | 4.6 |
| Apple Store Rating | 4.8 | 4.5 |
WINNER: Vivint
Finally, I want to go over each company's mobile app. Think of the app as the mobile command center– it's gotta be easy to use, free of bugs, and it should put you in the driver's seat when it comes to your home security.
The ADT Control App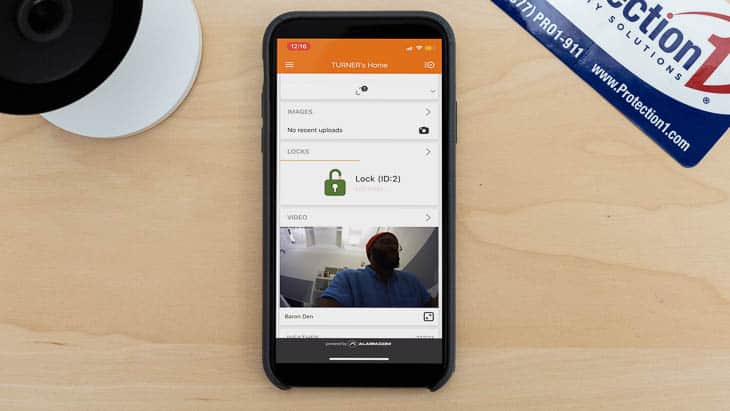 From the ADT Control app, you can arm or disarm your security system, control any connected devices you may have, livestream footage, and receive push notifications. The app has awesome ratings— over four stars on both iOS and Android.
The Vivint Smart Home App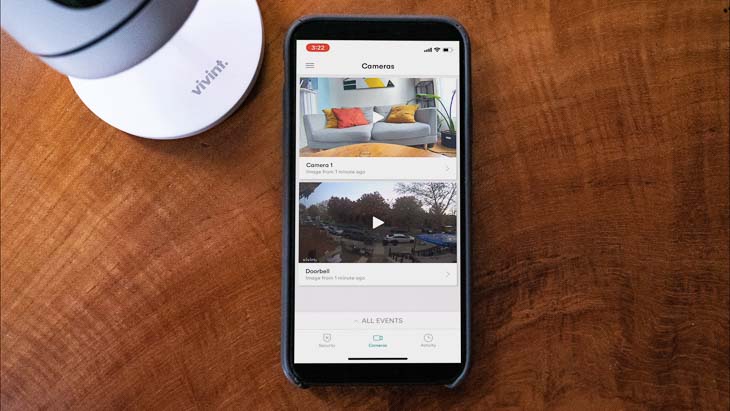 Vivint's app has the exact same capabilities as the ADT app, but it also allows you to see and speak to your visitors through your video doorbell. The Vivint Smart Home app has incredible ratings, a 4.6 from Android users and a 4.5 from iPhone users.
"Great app and Vivint is an amazing system! From being able to unlock the door from my phone to getting notified when the power is out at my business, Vivint has come through for me time and time again!"
wrote a Google user in a five-star review.
Top System App
The numbers don't lie: Vivint has the superior app over ADT, although they're both pretty good.
Recap of ADT vs. Vivint
Ladies and gents, this is a tough one. While ADT has better professional monitoring than Vivint, Vivint wins for customer support and its app. So, the choice is truly going to come down to your personal preferences.
Still undecided? Read our full review of the Vivint security system or our review of the ADT security system.  As always, feel to let us know if you have any questions.
Commonly Asked Questions
Over 21,000 people have viewed our video comparison of Vivint vs. ADT, and with those tens of thousands of views came a whole lot of questions. We're answering the ones we got the most below.