Frontpoint vs Vivint
How much will Vivint cost you, and is Frontpoint more affordable? Our experts weigh in with key pricing information, plus, how well each system fits into the smart home.

Best App

Advanced smart home capabilities
Professional installation
Cellular monitoring
Best Monitoring

Fast and easy DIY installation
Smart home features and integrations
Industry's best customer service
Did you know that Frontpoint is the first nationwide alarm company to include smart security in all of their systems? Although they're one of the most popular security companies around, they were only started a decade ago, and boast amazing customer reviews. They're a pretty formidable force, and today, I'm comparing them to Vivint.
Vivint was founded in 1999, and they have more than 1.3 million customers in the U.S and Canada. Clearly, competition is going to be tough.
Today, I'm going to compare Frontpoint and Vivint— their system components, installation processes, professional monitoring options, customer support, and finally, their mobile apps. Let's jump in and help you decide on that age-old question— Frontpoint or Vivint?
Key Similarities
In this comparison, we'll be putting Frontpoint head to head with Vivint, but first I want to tell you what these two systems have in common:
Positive app ratings: both the Frontpoint app and the Vivint Smart Home app have good reviews on both the Apple and Google Play stores.
Cellular backup: both systems include cellular backup which means your system won't go off even if your power is out.
Monthly contracting: All Frontpoint plans are monthly, while Vivint's plans are monthly if you pay for your equipment upfront.
Key Differences
The systems' differences are ultimately going to determine your buying decision. Right off the bat, you should know about Frontpoint and Vivint's differences in:
Installation: while Frontpoint has DIY installation, every Vivint system is professionally installed.
Professional monitoring: Frontpoint's systems include professional monitoring and cellular backup, while Vivint allows you to self-monitor if you prefer.
Customer support: While Frontpoint has great customer support reviews, Vivint's are less than stellar.
Now let's see what you actually get with a home security system from Frontpoint or Vivint.
System Components
| Feature | Customized Frontpoint Package | Vivint's Basic Security System |
| --- | --- | --- |
| Keypad Panel | Yes | Yes |
| Door/Window Sensors | Yes | Yes |
| Motion Sensors | Yes | Yes |
| Glass Break Sensors | Yes | Yes |
| Smoke/Heat Sensor | Yes | Yes |
| Carbon Monoxide Sensor | No | Yes |
| Smart Lock | Yes | Yes |
| Video Doorbell | Yes | Yes |
| Indoor Camera | Yes | Yes |
| Radio | Yes | No |
| Keychain Remote | Yes | No |
I ordered a customized system from Frontpoint and a Basic Security System from Vivint. Vivint's packages aren't listed on their website, which makes things pretty confusing— clearly, the company would like you to call their somewhat aggressive salespeople. But don't worry, I made it easy for you.
Both of the packages I bought included keypad panels, entry, motion, glass break, and smoke/ heat sensors, smart locks, video doorbells, and indoor cameras. Vivint also comes with a carbon monoxide sensor, while I purchased an additional radio and keychain remote from Frontpoint. Be sure to negotiate with your salesperson— you can even pretend you're on Shark Tank!
Installation
Frontpoint and Vivint have very different installation processes. While you install your Frontpoint security system yourself, Vivint systems are left up to the professionals.
Installing Frontpoint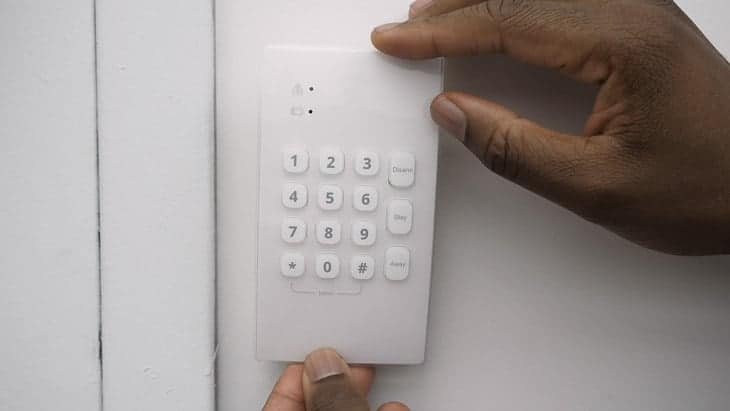 Most of Frontpoint's system components are wireless, which made set-up a breeze. The sensors and keypad are peel-and-stick, which could not be any easier to install. The only mildly complicated part was installing the camera, which needs to be plugged in with ethernet and power cables, added on the Frontpoint website, and connected to home Wi-Fi. Overall, the process was very straightforward and took me no more than an hour.
Installing Vivint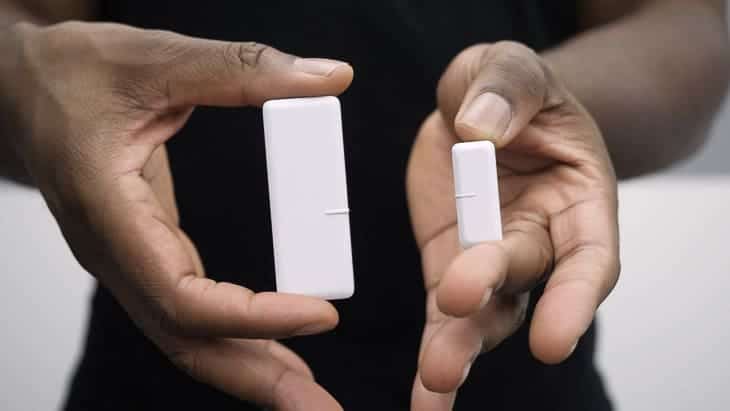 In contrast to Frontpoint, Vivint's security system requires professional installation. Your system won't even arrive until the technician comes, killing two birds with one stone. In fact, when you initially buy your Vivint security system, you'll plan a time for the technician to bring it over and set it up. My technician was very professional and did a great job installing my system— he even wore booties around his shoes so as not to track in dirt! Plus it's free, which you can't really beat.
Top System Installation
To be honest, deciding between DIY and professional installation is like apples and oranges— I can't really compare them, and it's going to come down to your personal preference. Therefore, I'm declaring a tie for this category.
>> Learn More: See our pick for the Best Home Security System
Professional Monitoring
Professional monitoring means that you'll have a team of people making sure your home is safe 24/7. In the event of an emergency, they can contact emergency services for you if needed.
Monitoring Options
Frontpoint and Vivint have completely different pay structuring. With Frontpoint, professional monitoring and cellular backup are included with your system. You can choose from three monthly subscriptions based on services offered.
Frontpoint Plans
| Feature | Protection (34.99/month) | Interactive (44.99/month) | Ultimate (49.99/month) |
| --- | --- | --- | --- |
| 24/7 Professional Monitoring | Yes | Yes | Yes |
| 100% Wireless & Cellular | Yes | Yes | Yes |
| Automated System Check | Yes | Yes | Yes |
| Expandable and Portable | Yes | Yes | Yes |
| Unique User Codes | Yes | Yes | Yes |
| Crash and Smash Protection | No | Yes | Yes |
| Geo-location Services | No | Yes | Yes |
| Mobile Alert and Notifications via Email and Text | No | Yes | Yes |
| Remote Access and Control and Text | No | Yes | Yes |
| Sensor History | No | Yes | Yes |
| Live Video Streaming | No | No | Yes |
| Video and Image History | No | No | Yes |
| Motion Triggered Alerts | No | No | Yes |
| Night Vision Enabled | No | No | Yes |
| Light Control | No | No | Yes |
| Smart Lock Control | No | No | Yes |
Now, I've reviewed a lot of security systems, and I must say that Frontpoint has some pretty interesting features that aren't glaringly obvious to the average reader. Let's talk about these features in more detail.
Automated System Check
What if there's a glitch or your Aunt Rhonda accidentally bumps your indoor camera off the wall? No need to worry- all of Frontpoint's systems check themselves hourly to make sure everything is online and working correctly. If something is not right, you'll be alerted immediately via mobile.
Unique User Codes
You shouldn't have to bear the weight of your home's security alone. On top of professional monitoring, Frontpoint allows you to add unique user codes so that other people can access your account. As they say, it takes a village. Unique user codes are included with all Frontpoint systems.
Crash and Smash Protection
It doesn't matter how great your home security system is if a burglar breaks it. Burglars often smash systems' panels, cutting off all communication between sensors, cameras, and base stations. With any Frontpoint plan, your professional monitoring team will be alerted the second a thief breaks your panel. That way, they can get you help, even if your physical system has been decimated.
Geo-location Services
Maybe you have a child or an elderly family member who you'd like to track. If that's the case, you might be interested in geo-location services, available with Frontpoint's Interactive and Ultimate plans. Geo-location services hook up cell phones with the Frontpoint security system, so you'll be able to track family members by location. Whether you're in or out of your house, Frontpoint has got it covered.
Sensor History
Your video camera keeps its history, so why shouldn't your sensors? In the Frontpoint app, you'll be able to see exactly what sensors have gone off and when. This could be especially useful if need evidence for a police report. Sensor History is available with Frontpoint's Interactive and Ultimate plans.
Unlike Frontpoint, Vivint makes professional monitoring optional. Remember that you already have to pay a monthly fee for Vivint, which depends on what equipment you get.
Vivint Package Offerings
| Eligible Products | Smart Security Service ($29.99/month) | Smart Home Service ($39.99/month) | Smart Home Video Service ($49.99/month for first two cameras) |
| --- | --- | --- | --- |
| SkyControl Panel | Yes | Yes | Yes |
| Glance Display | Yes | Yes | Yes |
| Google Home | Yes | Yes | Yes |
| Google Home Mini | Yes | Yes | Yes |
| Smart Sensor | Yes | Yes | Yes |
| Motion Sensor | Yes | Yes | Yes |
| Recessed Door Sensor | Yes | Yes | Yes |
| Glass Break Sensor | Yes | Yes | Yes |
| Smoke Detector | Yes | Yes | Yes |
| C.O. Detector | Yes | Yes | Yes |
| FireFighter | Yes | Yes | Yes |
| Flood/Freeze/Heat Sensor | Yes | Yes | Yes |
| Panic Pendant | Yes | Yes | Yes |
| Key Fob | Yes | Yes | Yes |
| Smart Lock | No | Yes | Yes |
| Garage Door Controller | No | Yes | Yes |
| Nest Thermostat E | No | Yes | Yes |
| Nest Learning Thermostat | No | Yes | Yes |
| Vivint Element Thermostat | No | Yes | Yes |
| Lamp Module | No | Yes | Yes |
| Doorbell Camera | No | No | Yes |
| Ping Camera | No | No | Yes |
| Outdoor Camera | No | No | Yes |
| Smart Drive | No | No | Yes |
Vivint forces you to choose a plan when you buy your system. After your system is installed, you can cancel your plan, but you won't have remote control of your system, live streaming, or notifications. You literally won't be able to see, save, or download any of your footage without this monthly fee, so it's very necessary that you stick with it.
If you want professional monitoring, you'll need to pay an additional monthly fee based on your number of cameras.
Vivint Smart Home Video Service
| Number of Cameras | Monthly Price |
| --- | --- |
| Two | $49.99 |
| Three | $54.99 |
| Four (Maximum on One Account) | $59.99 |
Vivint's pricing is definitely expensive, which seems a bit ridiculous on top of the already steep monthly fee. See our Frontpoint pricing page for a more in-depth look at their complete breakdown
Contracts
Both Vivint and Frontpoint offer monthly contracting (although with Vivint, it's only if you pay for your equipment upfront). If you finance your Vivint system, the contract will be equal to the timing of your loan.
Moving Policies
As Frontpoint is self-installed, you can just pick it up and go if you have to move. Just call Frontpoint first— they'll send you some more double-sided adhesive, make sure they have a cellular signal where you're moving, and activate your system. Don't worry— it's extremely rare that Frontpoint doesn't have cellular coverage, as they use AT&T, T-mobile, and Verizon.
If you're trying to move a Vivint system you have two options. Either move the panel, get new starter equipment, or move your entire system. Either way, you'll need to pay a $129 installation fee.
Top System for Monitoring
Clearly, Frontpoint has superior monitoring over Vivint. Their options are more affordable and moving is completely free. When it comes to professional monitoring, Frontpoint is David and Vivint is Goliath— I'm sure you remember how that story ended.
Customer Support
| | Frontpoint | Vivint |
| --- | --- | --- |
| Features | Online FAQs, Phone | Call, Livechat, Online Database |
| Amazon Rating | N/A | N/A |
| BBB Overall Rating | A+ | B |
| BBB Customer Rating | 4.5 Stars | 1.5 Stars |
| Google Rating | 4.5 | 3.8 |
WINNER: Frontpoint
If something goes wrong with your system, you'll want a customer support team that knows what they're doing. There's nothing more frustrating than speaking to a clueless customer support representative when your home's security is at risk. Which company supports their customers better, Frontpoint or Vivint?
Frontpoint's nearly perfect 4.5 star reputation on Google speaks volumes, as Google reviews are aggregated from many sources.
"Customer service is fantastic – we've only had one interaction that was less than what we expected, and we think the person was just new; they were as nice and polite as can be,"
wrote Brittany Goodwin in a four-star review. Although being polite to customers might seem like a given for any customer support team, anyone who's ever called a help line knows that this isn't always the case.
Vivint's customer support reviews are less positive. Many people complained that they weren't able to get in touch with customer support while their systems were malfunctioning.
"My mother has been without the system being connected and working for 6+ months, regardless of calls into customer service. She has always had connection issues for the entirety of the 5 year contract,"
wrote a woman named Angela in a one-star review. Unfortunately, many of the reviews matched her experience.
Top System for Customer Support
Frontpoint has much better customer support than Vivint. They have fantastic ratings from the Better Business Bureau and Google, while Vivint's ratings range from average to poor. If you're looking for some of the best customer support around, Frontpoint is the clear winner over Vivint.
App
An app is what turns a regular old security system into a smart home security system. You'll be able to monitor your home from anywhere and take action if necessary.
The Frontpoint App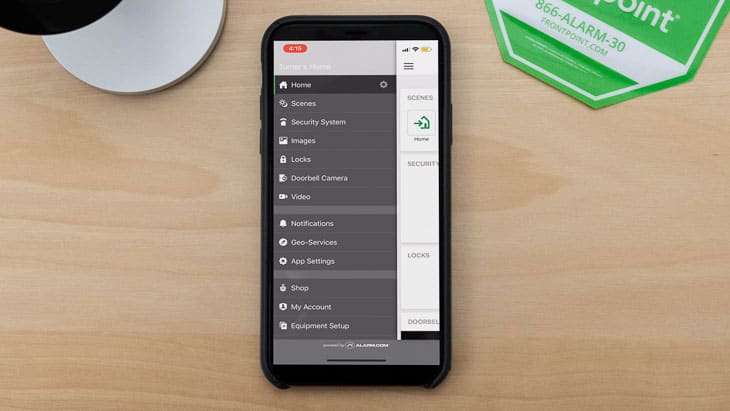 On the Frontpoint app, you'll be able to arm and disarm your system, receive notifications, livestream footage, review video history, and control any connected devices you may have.
The app is rated highly, with ratings of 4.1 and 4.5 from the Google Play and Apple stores, respectively.
The Vivint Smart Home App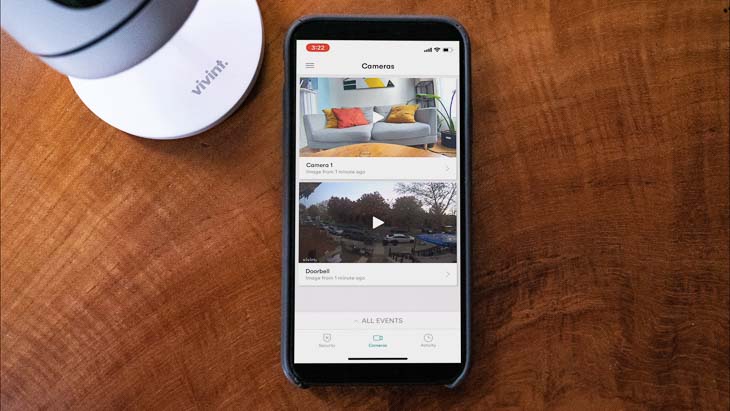 Through the Vivint Smart Home app, you can arm or disarm your system, control your home's temperature, if you have a smart thermostat, see and speak to your visitors through the Doorbell Camera, control your smart lock, get notifications, and live stream your camera footage. The app received stellar ratings of 4.6 from the Google Play store and 4.5 from the Apple store.
Top System App
Vivint has the superior mobile app to Frontpoint— it's actually one of the highest-rated security apps around. Frontpoint also has a great app, but Vivint's is superior, particularly for Android users. They deserve good apps, too!
Recap of Frontpoint vs. Vivint
Overall, I believe that Frontpoint offers a better security system than Vivint. With easy, DIY installation, affordable professional monitoring, and great customer support, Frontpoint is a fantastic security system. The only area where Vivint beats Frontpoint is their mobile app, which is clearly not as important as the aforementioned three categories.
However, your choice will ultimately come down to what you're looking for in a security system, and that's going to be different from everybody. Let's break it down.
To learn more, read our full review of the Frontpoint security system or our full review of the Vivint security system.
FAQs
Since Frontpoint and Vivint are two of our best security systems, competition is tight, so we're here to answer all of your detailed questions.