Xfinity Home Security Cost and Pricing
You don't need to have Xfinity provide your internet or cable to use their smart security system.
Highly-rated iOS and Android apps
Person, vehicle, and pet detection available with Home Security Plus
Professional monitoring and cellular backup for $30 or $40 a month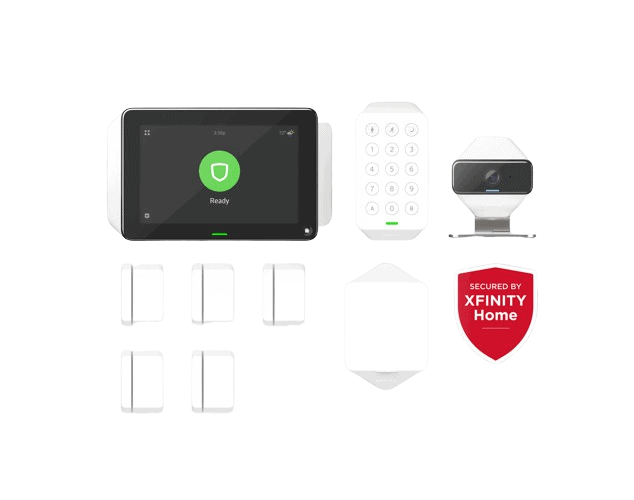 All of our content is written by humans, not robots.
Learn More
By

&

Last Updated
Oct 12, 2023
You probably recognize Xfinity as one of the largest internet service providers in the United States, so what are they doing on Security.org? Unbeknownst to many, you can actually get more than just internet service from Xfinity. The company has expanded into other avenues as well, including home security systems. The system is called Xfinity Home, and it's one we've tested (and approved).
For those of you who've never used Xfinity in any way, have no fear: Xfinity Home works by itself, so you don't need to be a current customer to purchase a security system. However, as Xfinity internet and cable TV subscribers ourselves, we've found that bundling Xfinity Home with our existing subscription unlocked some unique benefits. Here, we analyzed the value of Xfinity Home as a standalone security system and as a part of an Xfinity ecosystem. If you're eager to find out what Xfinity Home offers and how much it costs, keep on reading.
The Things We Liked About Xfinity Home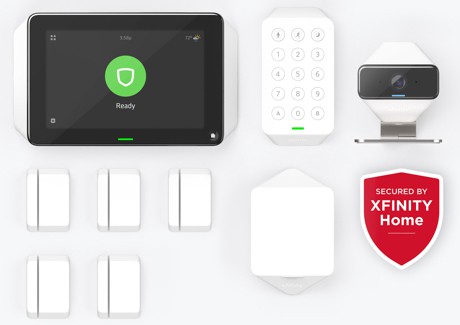 We couldn't pass up the opportunity to experience Xfinity Home ourselves, so we purchased a Base Home System, which is the cheaper of the two starter packages offered by Xfinity. Here's a summary of what we liked about the system:
Flexible Payment Plans: We had two options: pay full price for the system upfront or make monthly payments for the next 24 months. We chose the former, and as a reward for paying upfront, Xfinity didn't make us sign a long-term contract.
Professional or DIY Installation: Although we paid the fee for professional installation, which was around $100, you can actually install most of the components yourself. Professional installation was required only for motion sensors, door/window sensors, and smoke detectors, great news for your wallet!
24/7 Professional Monitoring: You can pay $30 to $40 a month for professional monitoring, if you don't want self-monitoring. For us, though, it's a valuable feature. We took comfort in knowing that Xfinity can call the cops on our behalf in case we're unable to respond to an alert.
Internet of Things Integrations: Xfinity partnered up with IoT brands

1

to create smart home integrations. We used a few IoT devices with our Xfinity Home setup, including August smart locks, Philips Hue lighting, ecobee thermostats, and Yale locks.
Voice Control with X1: Although Xfinity Home lacked integrations with Alexa and Google Assistant, it's possible to control the system with your voice if you have an Xfinity X1 subscription. You can also pull up a live feed from security cameras on your TV. How cool is that?
Internet, Cable, and Home Security Bills in One: As current Xfinity customers, using Xfinity Home made paying easy, as we could pay for our internet, cable, and home security bill at once, rather than paying three different companies for the same services.
Of course, there were also things we didn't like as much about our Xfinity Home system. Our in-depth Xfinity Home review is based on our hands-on experience that highlights both the pros and cons of using Xfinity Home. If you get the chance, we highly recommend giving it a read.
An Overview of Xfinity Home
The Xfinity Home security system is high-tech, with equipment that feels like it came out of a sci-fi movie. The system also does its job considerably well. That said, there are times when it becomes obvious that Xfinity isn't a home security-focused company, especially when it comes to customer support. For other home security options, check out our favorite brands below, and read our Xfinity vs ADT comparison for additional context.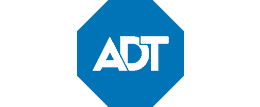 Breaking Down the Equipment Cost
We got our security system straight from Xfinity. After explaining to a sales rep that we needed a basic system to try out Xfinity Home, Xfinity offered us a Base Home System with one touchscreen controller, one pet-friendly motion sensor, three door/window contact sensors, and a yard sign, for a total of $360, or $15 per month for 24 months.
The Base Home System is the cheaper of the three packages offered by Xfinity. The other package is called Complete Home System and it includes a touchscreen controller, five door/window contact sensors, one pet-friendly motion sensor, one wireless keypad, one HD indoor/outdoor Xfinity Camera, and one yard sign. This package costs $480. Finally, the Ultimate package has the most door/window sensors, 10, plus an extra camera for either $25 a month for two years or $600 upfront.
Additionally, if you prefer video monitoring, you can opt for a Self-Protection Plan, which supports up to six Xfinity cameras for $10 per month or $120 upfront per camera. You can control the cameras from your Xfinity app, and the camera is plug-in only, which means no batteries to fuss with.
| Xfinity home security packages | Base | Complete | Ultimate |
| --- | --- | --- | --- |
| Xfinity Home app access and remote control | Yes | Yes | Yes |
| Number of touchscreen controllers | 1 | 1 | 1 |
| Number of door/window sensors | 3 | 5 | 10 |
| Number of pet-friendly motion sensors | 1 | 1 | 1 |
| Number of wireless keypads | 0 | 1 | 1 |
| Number of HD indoor/outdoor Xfinity cameras | 0 | 1 | 2 |
| Number of yard signs | 1 | 1 | 1 |
| Battery and cellular backup | Yes | Yes | Yes |
| Monthly price with 2-year financing | $15 | $20 | $25 |
| One-time payment cost | $360 | $480 | $600 |
Financing Option
Now, just because Xfinity's financing option is interest-free doesn't mean there aren't any catches. First of all, you'll need to go through a credit check to apply for financing. If you're having trouble getting approved by other alarm companies, then Xfinity's financing option might work for you either. Second, you'll need to sign a two-year contract with Xfinity, which means if you cancel your subscription before the contract expires, you'll need to pay a cancellation fee. Luckily for us, we'd saved up enough cash to pay upfront, so we didn't have to sign a long-term contract and we were able to easily cancel our subscription after we conducted our tests.
Security systems with lengthy contract terms and financing options are pretty common in this industry, and Xfinity is no different.
Vivint's smart home packages, for example, include a convenient option to pay off equipment over a five-year period, but it requires signing a contract. With prices starting at $39.99 for monitoring and going all the way up to $120 or more per month, once we'd factored in the costs of financing the equipment, Vivint was much more expensive than Xfinity in terms of both equipment and monitoring.
Add-On Equipment
Although the components included in each package were pre-determined by Xfinity, you can customize your system by purchasing add-on equipment. Here's how much each device costs according to Xfinity.
| Product | Cost |
| --- | --- |
| Indoor/Outdoor camera | $120 |
| Zen thermostat | $120 |
| Smoke detector | $70 |
| Outlet controller | $50 |
| Motion sensor | $40 |
| Wireless keypad | $40 |
| Door/window sensor | $20 |
Installation Fees
On top of the equipment cost, we paid close to $100 for the installation. Although we could have installed the system ourselves thanks to our years of experience setting up DIY security systems, we had to leave it to the pros this time as professional installation is required for door/window sensors, motion sensors, and smoke detectors.
The installation fee depends on several factors, including the number of your system components, your location, and the type of products you are installing. In general, the price will be at least $100 per visit.
Hot Tip: Avoid unnecessary installation fees by buying all the components you need and having them all installed at once as opposed to having a pro come over every time you purchase new equipment. Xfinity charges an installation fee every time they visit your house.
Breaking Down The Monitoring Cost
If you've been keeping track, we've already spent close to $500 for the equipment and installation alone. On top of that, we chose to pay Xfinity a monthly fee for professional monitoring. That may seem like a lot, but bear in mind, security systems are investments. By simply having one, you can decrease your chances of becoming a victim. After all, the estimated average loss from a burglary in the U.S. is $2,799,2 which is way more than what a monitored security system costs. It's simple math!
Fortunately, Xfinity's monitoring plans are plain, simple, and easy to understand. Here's a breakdown of the features included in each of the three plans offered by Xfinity Home:
Xfinity's Monitoring Plan Costs Snapshot
| What you get | Self Protection | Home Security | Home Security Plus |
| --- | --- | --- | --- |
| Motion-activated notifications from the Xfinity camera | Yes | Yes | Yes |
| Set rules for real-time alerts | Yes | Yes | Yes |
| Control your TV with the Xfinity Voice remote (sold separately) | Yes | Yes | Yes |
| No long-term contract required | Yes | Yes | Yes |
| 24/7 professional monitoring | No | Yes | Yes |
| Cellular and battery backup | No | Yes | Yes |
| Review up to a week of continuously recorded video and motion clips in cloud storage | Yes | No | Yes |
| Search footage by people, vehicle, and pet activity | Yes | No | Yes |
| Minimum cost per month | $10 | $30 | $40 |
As you can see, the only difference between the Home Security Plan and the Home Security Plus Plan is video recording. With the Home Security Plan, cameras can only live stream to your phone or TV if you also have an X1 subscription. With the Home Security Plus Plan, cameras can record 24/7 based on motion events and use Xfinity's artificial intelligence algorithm to distinguish humans, pets, and vehicles, meaning more specific notifications and less false alerts.
FYI: If you sign a two-year contract with Xfinity, there's a cancellation fee for ending your subscription before the contract expires. You can avoid the penalty by paying upfront for the equipment.
In a new feature, Xfinity offers self-monitoring, but you still have to pay $10 a month. Unfortunately, there's no way to escape monthly fees with Xfinity's home security system.
Xfinity Home Integrations and Smart Home Features
There's one feature in particular that intrigued us, and that is Xfinity Home's smart home capabilities. We learned three things about the feature:
Xfinity Home is well-connected thanks to Xfinity's partnership with third-party smart home brands.
Xfinity Home works with Xfinity's high-end TV service called X1, making it possible to control the security system with your voice using the X1 Voice Remote.

3

X1 can control not only the security system but also the third-party products connected to Xfinity Home.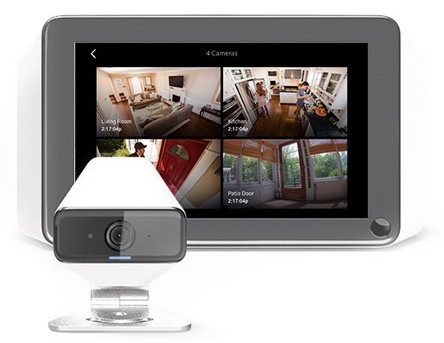 Third-Party Integrations
Integrations and smart home features do more than just make life easier. Smart homes also offer unprecedented means to provide safety and security,4 as proven by Xfinity Home's integration with other smart home brands. Besides being able to control compatible third-party products using our Xfinity Home app5 and touchscreen controller, we had the chance to automate our home for better security. For instance, we set our August lock to engage whenever we arm Xfinity Home. This kind of automation protects us from accidentally leaving our doors unlocked while we're at work, which would defeat the purpose of the security system in the first place.
We were surely impressed by the number and variety of smart home brands that work with Xfinity Home, which included:
Caséta lighting
August smart locks
Chamberlain garage door openers
Sengled lighting
Hue lighting
Kwikset locks
GE lighting
ecobee thermostats
Cor thermostats
LIFX lighting
Yale locks
Tile Bluetooth trackers
If you own products from these brands, you can easily integrate them into Xfinity Home. However, integrations with Alexa and Google Assistant were notably missing, so we were a little bit disappointed that we couldn't use our favorite voice assistants to control Xfinity Home.
For optimal control and voice communication with Alexa, take a look at our review of Ring Alarm. Since Amazon is Ring's parent company, Ring Alarm's packages include straightforward integrations with Amazon Echo Show smart speakers and the Amazon Fire TV Stick. They also work with Ring's indoor and outdoor cameras as well as Ring's video doorbells. This capability is appealing, especially if you're a fan of the Amazon and Google smart home ecosystems.
Voice Control with Xfinity X1
Fortunately for X1 subscribers, Xfinity Home's lack of voice assistant integrations is made up for by the fact that the X1 Voice Remote can control Xfinity Home.
Using the X1 Voice Remote, you can use voice commands like "Xfinity Home, arm stay" or "Xfinity Home, tell me my arm state." The catch is that it's not a hands-free experience. You have to press the mic button on your remote before giving the voice command. Luckily for us, that wasn't too strenuous.
Another nifty feature made possible by the X1 integration is live camera streaming straight to your TV. If you're like us, and you hate getting up from the couch to see who's at your door while you're binging your favorite Netflix show, you can simply say, "Xfinity Home, show me my front door camera" to your X1 Voice Remote and the live feed will instantly pop up on your TV screen. Now you can decide whether to get the door or not without ever getting up.
Finally, we learned that the X1 Voice Remote could even control the IoT devices connected to the security system. Not sure if you turned off your lights after taking a quick break? Just say, "Xfinity Home, is my bathroom light on?" If it's on, simply issue another voice command to turn it off. Let's be honest: if Xfinity is your TV provider, you probably have the remote with you anyway, so why not take advantage of its voice command technology? In our experience, it works really well and can understand what we're saying 99 percent of the time, which is not always the case, believe us!
Comparing Xfinity To Competitors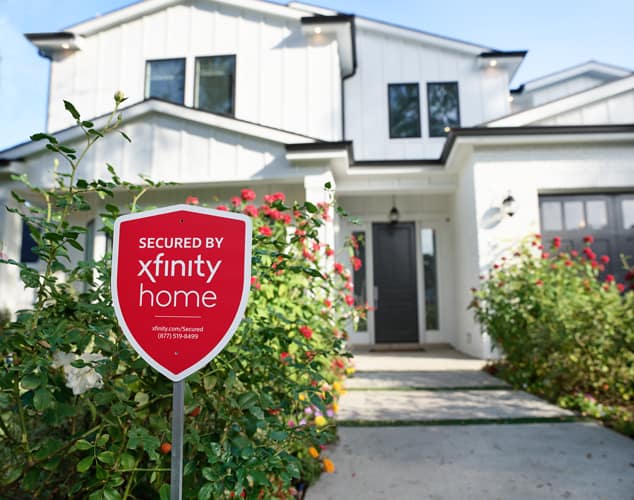 All the features we tested worked great, but we're also curious to see how Xfinity Home fared against its competitors. Xfinity specializes in internet and cable services, so can it hold up against companies that focus on home security? We compared Xfinity Home's pricing to ADT and found that depending on what features you're seeking, Xfinity Home might be cheaper or more expensive. If you're looking to get basic features — professional monitoring, home automation, smartphone control — ADT is friendlier to your budget. You can get a monitoring package within the $40 to $60 per month range, and that already includes a basic security system for free. However, if you plan on adding video recording features as well, Xfinity Home's $50 per month Home Security Plus Plan makes more sense. To help compare plans, visit our guide to the general costs of buying a security system.
Xfinity also fared well against other hybrid security systems or those that can both be self-monitored or professionally monitored. When compared to SimpliSafe, for example, Xfinity's equipment and monitoring costs are higher, but thanks to the financing option, Xfinity customers can get started without shelling out hundreds of bucks upfront. Most hybrid security systems require a full upfront payment for the equipment, on the other hand.
Find out how Xfinity compares to other security systems
We tested Xfinity and compared it side-by-side with other brands to give you the full picture.
Is Xfinity Home Worth It?
If what you're looking for is a solid security system with professional monitoring, cellular backup, IoT integrations, and video recording, we can honestly say that Xfinity Home is worth it. Their rates are reasonable and competitive. They also offer a financing option with a two-year contract to ease the initial cost, but still flexible enough to offer month-to-month contracts to those who are willing to make a larger upfront investment. If you're an existing Xfinity customer, the convenience of paying your internet, cable, and home security bills all in one place is an added bonus.
We have to warn you, though, Xfinity Home isn't perfect. You have to be fully aware of the added fees, like installation and cancellation fees, as well as taxes, so you don't end up getting surprised by your bills. Xfinity is also not the perfect choice if you're looking for a company with great customer service, or home security with no monthly fees. If you are not 100 percent sure feel free to check out who we pick as our top home security systems. The result may surprise you!
All in all, we were pleased by the security system and its features, so if that's what you're after, Xfinity Home might just work for you.
Xfinity Home Security FAQs
Most people aren't even aware that Xfinity offers home security, so when they find out about their systems, they usually have a ton of questions.