Xfinity vs. ADT: Comparing Two High-Tech Security Systems
Let's find out which of these reliable security systems is right for you.

All of our content is written by humans, not robots.
Learn More

ADT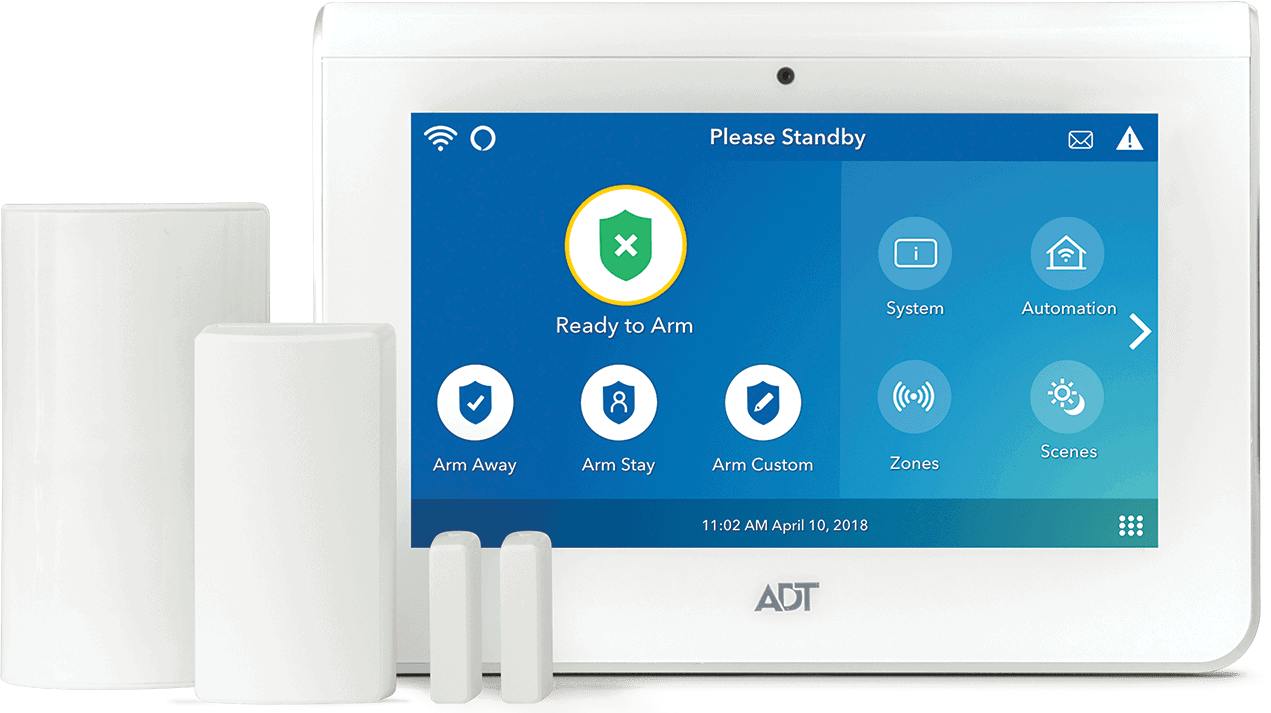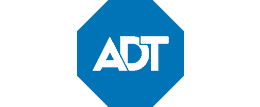 Professional installation on all systems
24/7 monitoring centers nationwide
145+ years of home security innovation
Xfinity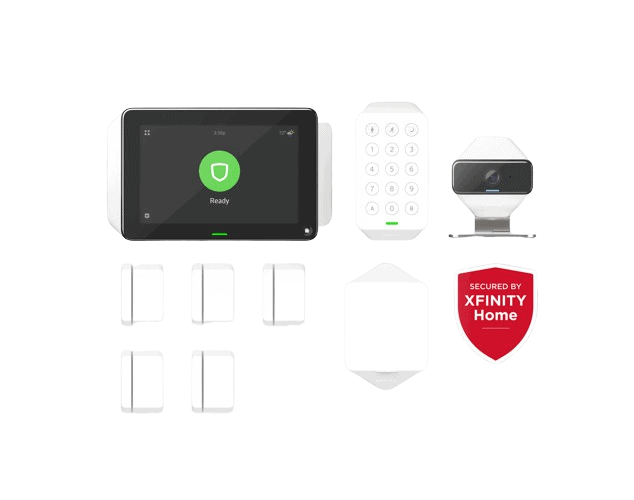 Highly-rated iOS and Android apps
Person, vehicle, and pet detection available with Home Security Plus
Professional monitoring and cellular backup for $30 or $40 a month
There's a stark difference between Xfinity and ADT. ADT is a security specialist that offers a range of services related to security, including residential security, business security, and even cybersecurity. Xfinity is a jack-of-all-trades of home services that offers products related to everything from internet to cable TV to streaming to home security.
Each approach can be beneficial. With ADT, you can be sure you're getting top-notch security service because that's its specialty. With Xfinity, you can bundle multiple home services together to enjoy savings and the convenience of paying for all those services in one place.
But what would happen if we took each brand's home security system and compared them pound-for-pound? Let's forget for a minute that ADT is the oldest and one of the most trusted home security brands and that Xfinity can offer you multiple services in one go. Let's just focus on their security equipment, features, pricing, and monitoring. Who will come out on top?
An Overview of Xfinity Home
The Xfinity Home security system is high-tech, with equipment that feels like it came out of a sci-fi movie. The system also does its job considerably well. That said, there are times when it becomes obvious that Xfinity isn't a home security-focused company, especially when it comes to customer support. For other home security options, check out our favorite brands below, and read our Xfinity vs ADT comparison for additional context.
The Key Similarities of Xfinity and ADT
When you remove all the other factors and just focus on their home security offerings, Xfinity and ADT are actually quite alike. Take a look at these key similarities between Xfinity and ADT security systems:
Expert installation: Both brands offer expert installation so you can kick back and relax as your system is installed for you. After the installation, you will get a one-on-one tour of your new system.
Professional monitoring: You can also count on both Xfinity and ADT to watch over your home. Through professional monitoring, both brands will respond to alerts 24/7.
Home automation: ADT and Xfinity are both home automation experts. With ADT, you can link up your home automation devices via Z-Wave and integrations with Alexa and Google Assistant. With Xfinity, you can control your security system with your TV remote thanks to X1 smart remote.
Security cameras: Xfinity and ADT both offer security cameras to further boost your home security. Their cameras can stream live to your phone, record and playback important events, and store footage in the cloud.
App access: Lastly, both security systems are app-centric. You can use an app to arm and disarm your system, set up custom alerts, control home automation devices, and so much more.
The Key Differences of Xfinity and ADT
But Xfinity and ADT aren't all that alike. They have some differences, too, and you might want to pay attention to these differences as they are the biggest factors that can sway your decision:
Monitoring options: Although Xfinity recommends professional monitoring (as do we), you can self-monitor a security system from it. This is not possible with an ADT system.
Availability: ADT offers security systems and monitoring pretty much everywhere in the United States, but with Xfinity, home security products and services are not available in some areas.
Contract: ADT typically requires a two- or three-year contract for its monitoring service. Xfinity's contracts are month-to-month, which means you can cancel anytime without extra fees or penalties.
Cellular monitoring: ADT uses cellular monitoring, currently the most reliable type of monitoring. Cellular-based security systems send alerts through cellular signals, the same type of signal our phones use to send texts. With Xfinity, your security system will rely on your Wi-Fi signal and internet connection.
Continuous video recording (CVR): Not a lot of security cameras record continuously, but Xfinity's cameras do if you're on the highest-tier monitoring plan or Xfinity's paid self-monitoring plan.
Do any of these features stand out for you? If not, don't worry, because we're zooming in on the smaller details to give you a side-by-side comparison of Xfinity and ADT.
Equipment Comparison
If a high-tech, wireless security system is what you're after, you have options from both Xfinity and ADT. That being said, their equipment options differ slightly.
Xfinity Equipment
With Xfinity, your security system starts with a Wi-Fi router. Yes, you read that right: a router. The xFi Gateway is at the heart of every Xfinity system. Besides connecting you to the internet, this router connects your security system to Xfinity's monitoring network.
You'll still get a touchscreen keypad, though, which will serve as your security system's control panel. You'll also receive an extra pushbutton keypad with some bundles.
When it comes to sensors, Xfinity's options are a bit limited. You can get entry sensors, pet-friendly motion sensors that can ignore pets up to 80 pounds (making it a good security system for pet owners), and smoke detectors. Other than those, the rest of Xfinity's equipment consists of security cameras and smart home devices.
Head over to our Xfinity review for a closer look at Xfinity's equipment options.
ADT Equipment
ADT security systems also come with a touchscreen control panel, and this panel serves as the brain of the system. It's called the ADT Control, and it connects to the internet and has a cellular chip for communication. It also wirelessly pairs with all ADT sensors and components. You can learn more about it in our in-depth ADT security system review.
Along with the ADT Control, ADT offers a wire range of sensors that can detect intrusion and home hazards. These include motion sensors (which are also pet-friendly), entry sensors, glass break sensors, smoke detectors, carbon monoxide detectors, and flood sensors.
Additionally, ADT offers security cameras for indoor and outdoor use, as well as video doorbells. And when it comes to home automation, ADT offers smart thermostats, smart locks, smart appliance modules, and smart lights, among others.
Equipment Winner
Although Xfinity's equipment looks more modern than ADT's, we like the variation of ADT equipment. ADT offers more types of sensors, and when it comes to securing your home, more options means more ways to detect intrusion.
Monitoring Comparison
Aside from security equipment, both ADT and Xfinity offer monitoring options. Let's check out what monitoring services you can get from both companies.
Xfinity Monitoring
Xfinity offers three different paid monitoring plans: the Self Protection Plan, Pro Protection Plan, and Pro Protection Plus Plan.
| Features | Self Protection Plan | Pro Protection Plan | Pro Protection Plus Plan |
| --- | --- | --- | --- |
| Professional monitoring | No | Yes | Yes |
| Real-time alerts | Yes | Yes | Yes |
| 7-day continuous video recording | Up to 6 cameras | No | Up to 6 cameras |
| Home automation via the Xfinity Voice Remote | Yes | Yes | Yes |
| Price per month | $10 | $30 | $40 |
The Self Protection Plan is a self-monitored plan, which means your Xfinity system will not be linked to a monitoring center. However, it has a monthly fee because it stores up to seven days of continuous video from up to six cameras.
The Pro Protection and Pro Protection Plus plans, on the other hand, are professionally monitored plans. The difference between them is that like the Self Protection Plan, the Pro Protection Plus plan comes with cloud storage for continuous videos. The Pro Protection Plan doesn't have this feature.
All three plans are month-to-month, which means there's no contract and you're not locked into the service. You can upgrade or downgrade your plan anytime, and you can also stop paying altogether.
ADT Monitoring Options
With ADT, there is no self-monitoring option. You will have to sign up for a professional monitoring plan to use your security system. The available options are Essential, Essential + Smart Home, and Essential + Smart Home + Video.
| Features | Essential | Essential + Smart Home | Essential + Smart Home + Video |
| --- | --- | --- | --- |
| Professional monitoring | Yes | Yes | Yes |
| App remote access | No | Yes | Yes |
| Home automation | No | Yes | Yes |
| Video monitoring (cloud storage, playback, streaming) | No | Streaming only | Yes |
| Price per month (with Quality Service Plan at $7.99 monthly) | $45.99 | $49.99 | $59.99 |
The Essential plan is a barebones monitoring service with nothing but professional monitoring. You can add $4 to the monthly fee to access the ADT Control app and home automation features. If you want to add video security as well, add another $10 and you'll get cloud video storage and the ability to play back videos and stream to your smartphone.
ADT plans also come with a contract for either two years or three years. This contract locks you into the service, so while it's active, you can't cancel your subscription. Otherwise, ADT reserves the right to charge you for the remaining months of your contract.
Did You Know: Contracts are a normal part of signing up for a security system, especially if you're going with a brand with a more traditional business style. If you're renting, however, or if you see the prospect of moving in the near future, signing a long-term contract may not be ideal. Here are the best no-contract security systems for you.
Monitoring Winner
Like we mentioned earlier, we like having options. And this time around, Xfinity offers more choices. You can choose between self- and professional monitoring, and you can even switch subscription plans as needed because there are no long-term contracts involved.
Installation Comparison
It's pretty much a tie between ADT and Xfinity in terms of installation. With both brands, experts came to our home to install the system for a fee. This service is required, and the fee is about $100 for both companies.
We'd like to give ADT a special shoutout, however, for the quality of service we received. We didn't have any qualms with Xfinity's installation technician; ADT's service was simply top-notch. They arrived on time, walked our home for the best places to install our sensors, answered our questions about the system without fail, and then patiently walked us through the features of the system. And here's the kicker: We ordered our ADT system just a day before they arrived. ADT promptly set us up with a working security system. We guess that's why ADT is one of the best professionally installed security systems around.
Did You Know: There are security systems that you can install yourself. These DIY security systems come with wireless sensors designed for quick and easy installation, and in our experience, it takes no more than an hour to set up a basic system.
Cost Comparison
Next comes one of the biggest deciding factors most people consider when choosing which security system to buy: cost. We'll be comparing the costs of Xfinity and ADT equipment, monitoring, and installation.
Equipment Cost
Xfinity has prepackaged equipment bundles available for interest-free installments. These bundles are the Base Home, Complete Home, and Ultimate Home systems. Xfinity's pricing for these sets range from $360 to $600.
| Bundle details | Base Home | Complete Home | Ultimate Home |
| --- | --- | --- | --- |
| Total cost | $360 | $480 | $600 |
| Controller | 1 touchscreen controller | 1 touchscreen controller, 1 keypad | 1 touchscreen controller, 1 keypad |
| Sensors | 1 motion sensor, 3 entry sensors | 1 motion sensor, 5 entry sensors | 1 motion sensor, 10 entry sensors |
| Cameras | N/A | N/A | 2 indoor/outdoor cameras |
| Monthly installment (24 months) | $15 | $20 | $25 |
You can also buy add-on sensors and components, but again, there aren't many options.
With ADT, you can choose from three fully customizable packages. These packages are Secure Home, Smart Home, and Video and Smart Home. You can pay for these packages upfront, or you can choose a flexible payment plan to pay in installments for 24, 36, or 60 months.
| Bundle details | Secure Home | Smart Home | Video and Smart Home |
| --- | --- | --- | --- |
| Total cost | $419.30 | $594.30 | $810.60 |
| Controller | ADT Touch panel | ADT Touch panel | ADT Touch panel |
| Sensors | 1 motion sensor, 3 entry sensors | 1 motion sensor, 3 entry sensors | 1 motion sensor, 3 entry sensors |
| Cameras | N/A | N/A | 1 Nest Cam Battery, 1 Nest Doorbell |
| Smart home device | N/A | 1 smart door lock | 1 smart door lock |
| Monthly installment (24 months) | $17.47 | $24.76 | $33.77 |
You can add a wide range of devices to your system, and these add-ons can be included in your financed equipment cost as well. For example, you can add extra entry sensors for $35 each or, if you choose the two-year financing plan, an additional $1.46 to your monthly installment.
Monitoring Cost
As discussed earlier, both Xfinity and ADT offer three monitoring options. With Xfinity, professional monitoring starts at $30 per month (the $10-per-month plan is a self-monitored plan). With ADT, however, the cost starts at $45.99 per month. That's a $16 difference. Moreover, Xfinity's $30 plan comes with smartphone app access and basic home automation. To get those features from ADT, you'll need the $49.99 per month plan.
If we compare the highest subscription tiers from both brands, Xfinity comes out as the more practical option as well. At $40 per month, the Pro Protection Plus plan offers seven days of continuous video recording for up to six cameras. With ADT, the Video plan, which costs $59.99 per month, records only when motion is detected.
One caveat of Xfinity's low pricing is that in order to get the rates mentioned above, you have to sign up for autopay and paperless billing. If you don't, the rates increase by about $10 per month, which puts Xfinity's pricing close to that of ADT.
Installation Cost
As for the installation cost, the standard service fee for both brands is around $100, but it's worth mentioning that ADT often has deals that could waive the installation fee. There are online deals that can save you a percentage of your equipment cost, free equipment offers, and more. In the end, you could end up not paying for installation if you take advantage of these ADT deals.
Cost Winner
If we're talking about cost and cost alone, Xfinity is the more practical option. Equipment costs range from $360 to $600, and professional monitoring ranges from $30 to $40 per month if you meet the right conditions. That being said, we have to give kudos to ADT for its flexible payment options. If you're on a budget, and as long as you're willing to sign a contract equivalent to your payment term, you can pay your equipment fee over the course of five years.
Who Wins Overall?
In the end, the best security system for you is the one that can meet your security needs with the right equipment, solid and reliable monitoring, quality installation, and pricing that falls within your budget. Xfinity and ADT can both be that.
However, we're giving the overall win to ADT because, after all, ADT security systems are superior. Besides offering more equipment options, ADT delivers one of the most reliable monitoring services in the whole country. It has nine monitoring facilities across the United States that watch over the security systems of its millions of customers. In comparison, most security companies have only one or two monitoring centers.
ADT is not a perfect system, of course, especially if you're on a budget or if you see yourself moving within the next couple of years. ADT is a tad more expensive than most options, and the contract can really be a deal-breaker for some. If you think neither Xfinity nor ADT is right for you, you can explore other options mentioned in our list of the best home security systems.
FAQ
As much as we want to cover everything about Xfinity and ADT, time doesn't permit us. So instead, we answered some of the most frequently asked questions about the two alarm companies here.