How Much Does IdentityForce Cost?
IdentityForce offers a full suite of services at a reasonable price for both its plans.
Monthly plans cost between $17.99 and $23.99
Yearly plans cost between $179.90 and $239.90
Save almost $50 with the annual plans compared to the month-to-month plans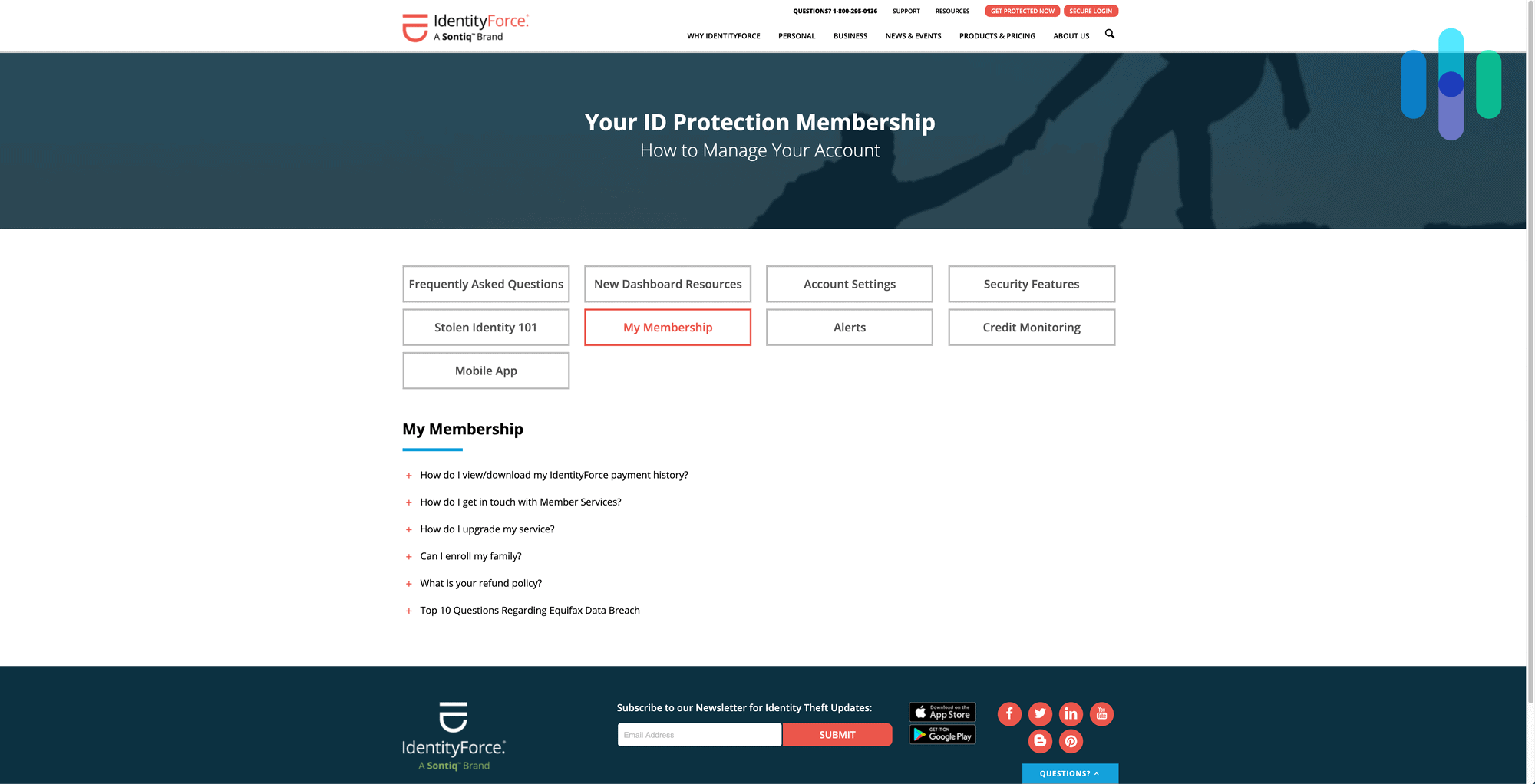 All of our content is written by humans, not robots.
Learn More
By

&

Last Updated
Nov 15, 2023
With regards to identity theft protection services, there's a constant battle between quality and price. Services with the most comprehensive protections often come with a steep price tag, while those that are affordable often lack some necessary features.
When we tested IdentityForce, though, we found a good balance between quality and cost. It casts a wide net when it comes to protecting your identity and credit, but the pricing is more than reasonable. Let's take a closer look at the service to see exactly what we mean by that.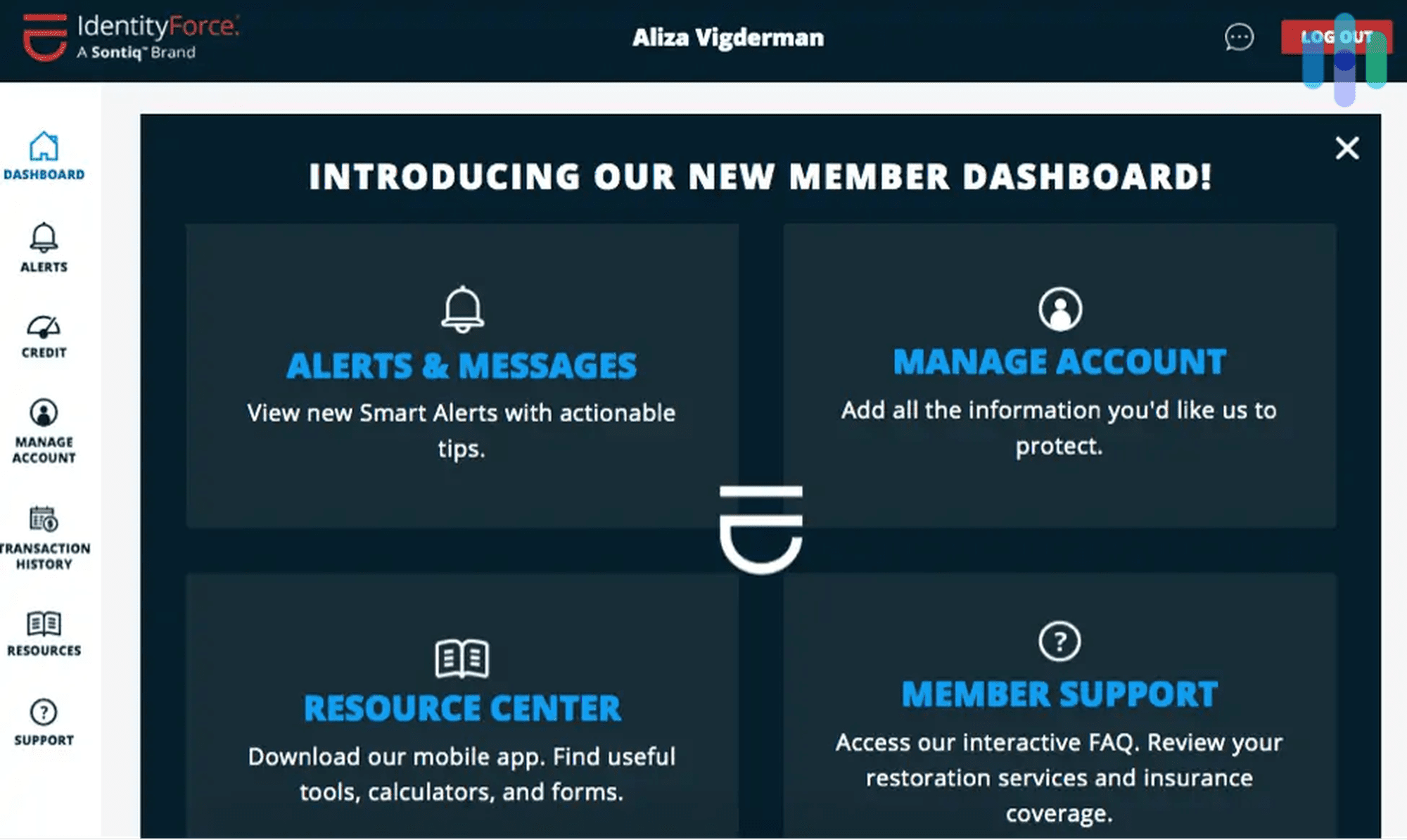 IdentityForce's Subscription Options
First, let's take a look at IdentityForce's pricing options. The lower level plan, named UltraSecure, is cheaper, but doesn't include credit monitoring. The higher level, aptly named UltraSecure + Credit, is more expensive, but includes credit monitoring. When we say it's more expensive, though, we're talking about just $6 more per month, so the price difference isn't really that big.
Now, both levels of service come in either monthly or yearly subscriptions. Much like most identity theft protection services, the IdentityForce's yearly plans include discounts. Basically, the yearly plans are 10 times the cost of the monthly plan. Another way to look at this is if you pay for 10 months of service in advance, you'll get two months free. That's a savings of around $40 to $50 over the course of the year, depending on the plan.
Lastly, both levels of service come in individual and family options. The individual option protects only one adult, while the family option protects two adults and an unlimited number of children under 18 years old living in the same household.
So how do you decide on a plan? Here's what we suggest you do. First, pick out a plan that works for you. Next, choose whether you want coverage just for you or for your family. Finally, decide on a payment plan, whether yearly or monthly.
We recommend going with an identity protection service that guarantees identity theft insurance, so much to our delight, IdentityForce includes up to $1 million in ID theft insurance at both account levels. Dive deep on the subscription breakdowns below and check out our IdentityForce review for a full user experience.
| Features | UltraSecure plan | UltraSecure + Credit plan |
| --- | --- | --- |
| Address change notification | Yes | Yes |
| Advance fraud | Yes | Yes |
| Court record monitoring | Yes | Yes |
| Mobile attack control | Yes | Yes |
| Dark web monitoring | Yes | Yes |
| Payday loans | Yes | Yes |
| Sex offender registry monitoring | Yes | Yes |
| Social media | Yes | Yes |
| Triple-bureau credit scores and reports | No | Yes |
| Credit score tracker and simulator | No | Yes |
| Online PC protection tools | Yes | Yes |
| Medical ID fraud protection | Yes | Yes |
| Two-factor authentication | Yes | Yes |
| Lost wallet assistance | Yes | Yes |
| Mobile phone app | Yes | Yes |
| Bank, credit card activity monitoring | Yes | Yes |
| Investment account monitoring | Yes | Yes |
| Social Security number monitoring | Yes | Yes |
| Junk mail reduction | Yes | Yes |
| $1 million identity theft insurance | Yes | Yes |
| Fully managed restoration (even for household members) | Yes | Yes |
| Toll-free customer service | Yes | Yes |
| Monthly price for individuals | $17.99 | $23.99 |
| Yearly price price for individuals | $179.90 | $239.90 |
| Monthly price for families | $24.90 | $35.90 |
| Yearly price for families | $249.00 | $359.00 |
Tip: We recommend monitoring your three-bureau credit score either through an identity protection service or your bank.
As we learned very quickly, it's advantageous to go with a yearly individual subscription as IdentityForce offers two months of free service or $47.98 in savings for the UltraSecure and Credit package. Once you do the math on that, it shakes out to only $19.99 per month for the full suite of IdentityForce's services plus credit monitoring. Of course, the downside of that is that you have to sign on and pay for a whole year of service. But if you're in it for the long haul, why not save your hard-earned cash with the annual plan?
Outside Your Budget? Try These Alternatives
One thing we learned from testing over a dozen identity protection services is that price isn't always an indicator of quality. In fact, our three highest-rated services offer subscriptions more affordable than IdentityForce. Aura has options starting from $12 per month; Identity Guard offers plans as low as $6.67; LifeLock has subscriptions as low as $7.50. Check them out below: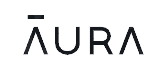 IdentityForce Pricing — Is The Spend Worth It?
Continuing the thread we started above, with the savings of an annual deal, the monthly price for IdentityForce comes out to $14.99 for the UltraSecure package and $19.99 per month for the UltraSecure+Credit package.
Compare that to packages from companies like PrivacyGuard (learn about PrivacyGuard packages here) which costs up to $24.99 per month for higher-end packages, and it's easy to see that IdentityForce is a great deal. When compared to some other competitors like Zander Insurance and Credit Sesame, however, IdentityForce pricing ends up falling right in the middle of the pack. To learn more, read our Zander Insurance review as well as our Credit Sesame review.
According to Diana Nichols, president and founder of Gold Key Credit Consulting, "These days, it's important [to] take computer security seriously and monitor your credit diligently. It's no longer an option whether or not you need to make the time to do so; it's a prerequisite."1
For that reason, we recommend choosing to monitor all three credit bureaus if offered, which is why we opted to go with the UltraSecure+Credit package from IdentityForce. With that package, IdentityForce gave us access to one of the most comprehensive identity monitoring packages on the market. We try to look for services that give us the best of both worlds; supreme coverage and a fair price. IdentityForce checks both of those boxes.
IdentityForce's Security Standards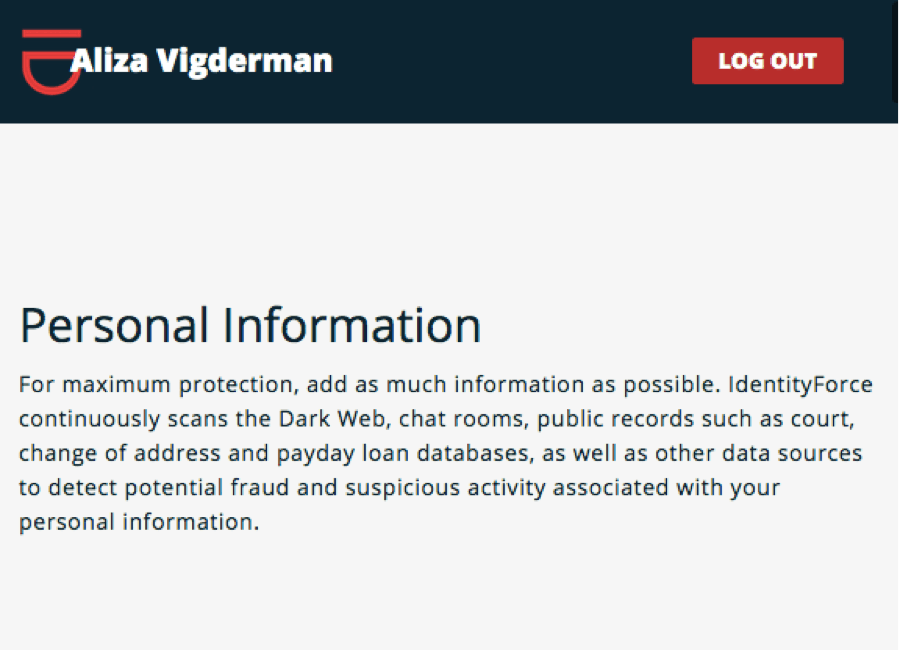 Securing our personal data is always the highest priority, so we like to make sure all identity monitoring providers take good care of our information once we trust them with it. First off, here's a list of all of the personal information IdentityForce collects:
Name
Address
Email
Phone number
Bank account information
Credit card information
This is all very standard, if not a little less than average for the identity protection industry. However, IdentityForce is based in Nottingham, Maryland, which means they are subject to the jurisdiction of Five Eyes, Nine Eyes, and 14 Eyes. These are international surveillance alliances that mandate that legally, the federal government can force companies to disclose customers' data. This is super rare, and only occurs during cyber criminal investigations, but it's something all users should be aware of.
To counterbalance that, IdentityForce uses AES-256 to secure client's data, an encryption method so robust that even the U.S military uses it to protect its data.2 Once we heard that, we decided our info was quite safe with IdentityForce and dove into its features.
Our Favorite IdentityForce Features
We decided to break this section down into four parts based on IdentityForce's offerings, Monitoring, Control, Alerts, Recovery. There's a lot to take in, so we highlighted some of the really good stuff.
Monitoring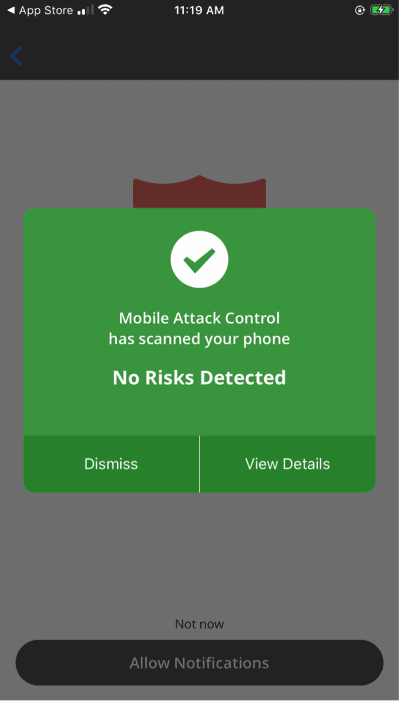 Tracking is the backbone of any identity monitoring service, and it's something that IdentityForce takes very seriously. Here's a list of everything it monitored for us:
Mobile attack control: As a couple of millennials, we're pretty glued to our phones. That's why IdentityForce's ability to scan our phones for unsecured websites, spyware, and even fake Wi-Fi networks is vital to our security. This is a really unique mobile security feature and we're thrilled IdentityForce included it in their package.
Change of address: If anyone (including us) made a request through USPS to change our address, we'd be notified.
Court records: Across the country, there are thousands of court and criminal records in systems that would be nearly impossible if not incredibly arduous to track on our own. Thankfully, if our identities were included in any of them, IdentityForce would have us covered.
Advanced fraud: Whenever heavy hitters in the credit industry like car dealerships, mortgage lenders, or government agencies requested our credit scores or reports, we were alerted. That meant if anyone was trying to make a big purchase using our identities, we would be able to stop them in the act.
Payday loans: The same would go for payday loans. On the chance that someone uses our Social Security Number to get a quick cash loan, we'd be able to stop it in its tracks.
Sex offender: A sex offender registry is one of the worst places our identities could ever end up. If a sex offender website used our information, we would be able to dispute the claim. On top of that, IdentityForce tracks how many registered sex offenders live near us.
Social media: A useful addition, IdentityForce is able to track your Youtube, Instagram, Twitter or Facebook accounts, for any hate speech, cyberbullying, or other unseemly content.
Credit scores and reports: Although this is only available to UltraSecure+Credit account holders, it was enlightening and convenient to see our scores from all three bureaus in one place. Fortunately, our credit is doing pretty well right now, despite our student loans!
Credit score simulator and tracker: Sometimes your credit scores will just look like numbers on a page and it's difficult to see which direction you're trending in. IdentityForce makes it easy to track our progress (or lack thereof) over time.
Dark web: The dark web is a difficult-to-access, fully anonymous part of the internet where scammers trade stolen information and credentials. That's why it's so important to us that IdentityForce scanned the dark web for all of our information. You know what they say: the best defense is a good offense.
FYI: The best way to keep yourself safe while searching the web is to use both a VPN and a browser that blocks tracking like Tor.
Control
IdentityForce also offers:
Medical ID fraud monitoring: One of the more common, but less understood forms of identity theft is medical ID fraud. In the past year, 162 data breaches occurred in the healthcare sector, making it the industry most impacted by breaches and data exposures. That's especially concerning considering the sensitive information exposed; we wouldn't want people knowing our medical history, and it's safe to say that you don't, either. Fortunately with IdentityForce, if anyone uses our medical benefits to access medical care, we'd be alerted immediately.
Online PC protection tools: PC protection isn't something we thought of having with an identity protection service, but with IdentityForce's roots in cybersecurity, it seems like a no-brainer. Considering the FBI's Internet Crime Complaint Center reported that people lost more than $54 million to phishing schemes in one year, having protection on our PC could be a lifesaver.

4

Two-factor authentication: We opted to enter a passcode sent to our phones whenever we logged into IdentityForce. That means, even if someone had our credentials, they wouldn't be able to access anything unless they had our phones on either mobile or desktop apps. We're happy to see IdentityForce using this step to protect us.
Lost wallet assistance: Ok, we'll admit it, we've lost our wallets a few times. The most recent time, we were lucky enough to have IdentityForce to get all of our membership cards back and even help us dispute a charge at Best Buy for…get this…two refrigerators! Seriously? Who needs two refrigerators?
Alerts
And with the IdentityForce app on our phones, we got different kinds of alerts, such as:
Bank and credit card activity: After we set a minimum dollar amount, IdentityForce alerted us every time a purchase exceeded that amount.
Investment accounts: IdentityForce monitored all of our investment accounts, from 401(k)s to brokerages, keeping our retirement fund on track and protected.
Social Security number tracking: If anyone used our SSN, we would get an alert.
Junk mail opt-out: This is another super unique feature from IdentityForce. It took care of 90 percent of our trash and junk mail by contacting marketing and credit card companies on our behalf! In our opinion, this alone was worth the price of admission. Our recycling bin feels lighter already.
Identity threat: It seems like you can't even turn on the news these days without seeing a story about a major company's data breaches. In the past year we've seen breaches from companies like Ring, Wyze, and NordVPN (Want to learn more about each? Read our Ring camera review, our Wyze camera review, and our NordVPN review). Thankfully, IdentityForce took a proactive approach by alerting us any time our credentials might be compromised.
Fraud: In the case of a fraudulent incident, IdentityForce would alert us and prevent people from opening credit lines in our names. A full package!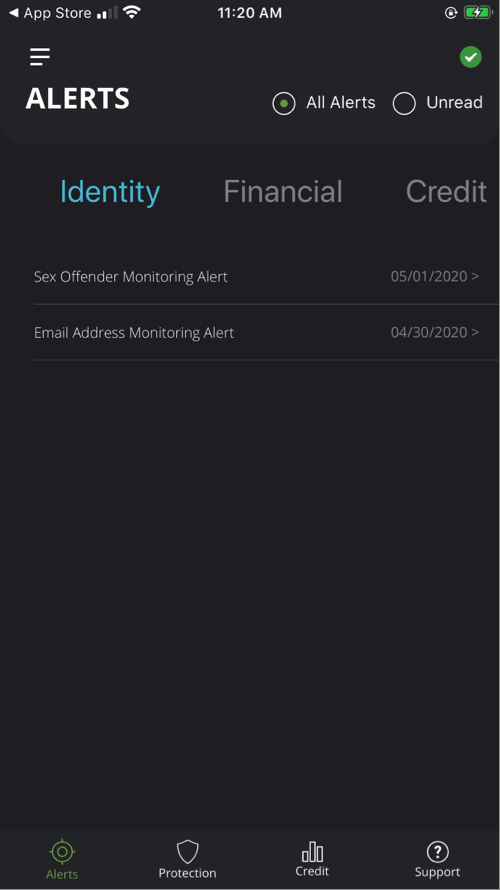 Recovery
Even with all of these precautions in place, there's still a chance our identities could be stolen. Thankfully, IdentityForce has a 100 percent recovery rate and a solution at the ready if we ever lost our precious information.
Identity theft insurance: The golden ticket for coming back after identity theft is to be properly insulated and recover any monetary damage. IdentityForce would have protected us up to one million dollars, so we could sleep easily.
Fully managed restoration: In the case of an identity breach, IdentityForce offered a 24/7 Certified Protection Expert who would have helped us restore our identities.
Customer service: Just in case we hit any hiccups with the app, programs, or our account in general, we contacted IdentityForce support to answer any and all of our questions. When we had issues finding the app on the Apple store, IdentityForce answered our questions over the phone within a few minutes, although we could've also consulted its extensive online help center. Sometimes you just need that human connection!
Canceling IdentityForce- Everything You Need to Know
IdentityForce made it surprisingly easy for us to cancel our account. Most services will force you to call and listen to a sales rep's pitch of why you should stay. However, because we purchased our membership on their website, we canceled our membership from the Manage Account section of our member dashboard. Some folks prefer to give companies a call just to be sure, so you can reach the customer service line at +1 508-788-9400 from 8:00 AM until 5:30 PM EST.
See how IdentityForce measures up in the industry
We tested IdentityForce and compared it side-by-side with other brands to give you the full picture.
Recap
Point blank: you could do a lot worse than IdentityForce when searching for an identity protection service. It hit the nail on the head with its offerings and a perfect record of identity recovery to boot. Our favorite features are its mobile attack control, junk mail opt-out, and $1 million in identity theft insurance.
But does IdentityForce have any downsides? Sure, it does. The UltraSecure plan, for instance, is pricey considering that it doesn't include credit monitoring. We've seen similar identity protection packages go for less than $10. However, overall, IdentityForce is a solid identity protection service, and if you want a more comprehensive package, you can always go with the UltraSecure+Credit package. In our opinion, that's the best deal IdentityForce has to offer.
FAQs
We get recurring questions when it comes to IdentityForce, so here are a few of them (with answers, of course).