Zander Identity Theft Protection Review
Refreshingly affordable ID theft protection from a trusted brand
What We Like
Comprehensive identity monitoring: The Essential plans monitor for all types of identity theft, with the addition of account takeover and new account fraud monitoring with the Elite plans.
Low prices: Starting at only $6.75 a month, Zander Insurance provides the lowest prices we've seen for identity monitoring and restoration.
Monthly plans: We also like that you can sign up for a month and cancel without any fees.
What We Don't Like
Credit monitoring: If you use Zander Insurance, you'll have to either check your credit reports manually or sign up for another service. Credit monitoring is not one of the services Zander covers.
Bank and card activity monitoring: While Zander Insurance checks the web for your bank and card numbers, it won't monitor your account or card transactions for fraudulent activity.
Bottom Line
If you're looking for affordability, Zander Insurance is the identity monitoring service for you. Plans start at just $6.75 a month, the lowest price we've seen from an identity monitoring service so far.
In this digital world, it's easy to find out people's sensitive credentials and use them for identity theft, whether by filing fraudulent tax returns or taking out loans in other people's names. That's where identity monitoring services come in to oversee the safety of your personal information across different channels.
In this Zander Insurance identity theft review, we'll discuss everything you need to know about the company's identity theft protection service, from what exactly it covers to pricing and everything in between. Let's get started!
Zander Plans
| | |
| --- | --- |
| Essential plan: individual | $6.75 per month ($75 annual price) |
| Essential plan: family | $12.90 per month ($145 annual price) |
| Elite plan: individual | $9.99 per month ($110 annual price) |
| Elite plan: family | $19.49 per month ($215 annual price) |
Editor's Rating
Affordable plans start at just $6.75 per month
Up to $2 million in stolen funds reimbursement
Unlimited recovery services with no time or monetary limits
Need More than ID Monitoring?
Zander offers a great low-cost plan for monitoring your identity, but the company doesn't provide any type of credit monitoring. If you're in the market for an ID theft service that does, we might suggest one of these alternatives: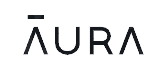 Zander Insurance Features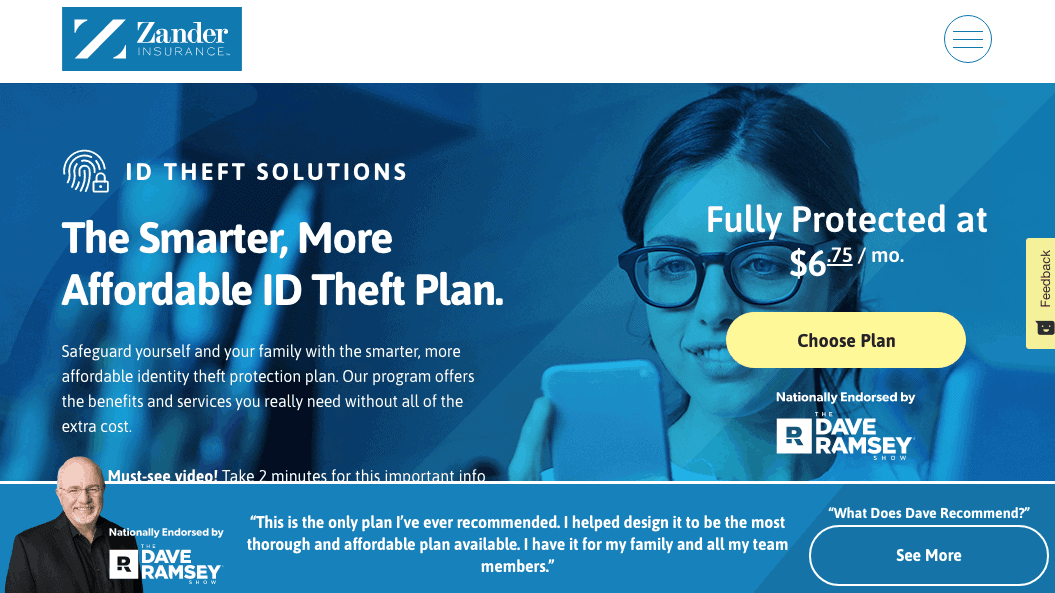 Now, one thing that sets Zander Insurance apart from all of the other identity monitoring services we've reviewed is that it won't monitor your credit score or report. Typically, companies bundle credit monitoring with identity monitoring. So why doesn't Zander Insurance do the same?
It believes that adding credit monitoring will jack up the cost of its services, while in fact, anyone can get free credit reports and scores from the three credit bureaus once every year.1 The company wants to lower the cost of its services while giving its customers the same high-quality restoration services and insurance coverage. So if you want to monitor your credit scores and reports, Zander Insurance expects you to do your due diligence, which might not be what everybody wants.
Really, what Zander Insurance monitors are your credentials on the internet, which includes the dark web. If you're not familiar, the dark web is an area of the internet only accessible through special software where all of the users are anonymous, making it a hotbed of cybercrime. Here's what Zander Insurance is looking for:
Financial fraud
Medical ID theft
Tax fraud
Criminal ID theft
Social Security fraud
Child ID theft
Benefits and employment fraud
Title fraud
Despite the lack of credit monitoring, Zander Insurance's coverage is comprehensive. If it finds your credentials anywhere online, Zander Insurance will alert you via email and app notifications. Of course, like any other identity monitoring service, it can't prevent identity theft completely.
If you happen to become a victim of identity theft, Zander Insurance will reimburse up to $1 million in stolen funds and expenses, including legal fees and lost wages. However, for family plans, the limit is actually two million, one million for each adult individual covered. Zander Insurance plans also include professional identity recovery services with no monetary or time limits, so the company will be with you through the whole ordeal.
Zander Insurance Privacy and Security
In order to monitor your identity properly, Zander Insurance needs some personal information from you, including your:
Driver's license number
Social Security Number
Phone number
Medical insurance number
Debit and credit card numbers
Bank account numbers
If that information falls into the wrong hands, it could result in identity theft, defeating the purpose of the service in the first place.
Another issue is that since Zander Insurance is a U.S.-based company, government agencies could force it to hand over customer data legally. That's because the U.S. is a member of the Five Eyes, Nine Eyes, and 14 Eyes international surveillance alliances. Quite honestly, that worried us a little bit, so to ease our minds, we went through the company's privacy policy to see what data it collects and how it uses it.

Aside from the personal information you give Zander Insurance when you use its services or request a quote, here's what data of yours Zander Insurance keeps whenever you visit its website:
Traffic data
Communications data
Information about your computer and internet, including your IP address, operating system, and browser type
Non-identifiable information like your username, password, job title, and employer name
Third-party content that syncs with your profile like your email contacts, mobile contacts and calendars
Responses to surveys, if you contact the company
Transaction details and financial information
Search queries on the website
Data from cookies
This may seem like a lot, but it's actually pretty standard for websites to keep all of this information. And believe it or not, we've seen identity monitoring services that keep a lot more data, including biometrics such as fingerprints and DNA.
Additionally, we checked to whom Zander Insurance discloses the information it collects from its users, and we've found that the company provides information to:
Subsidiaries and affiliates
Contractors and service providers that support the company's services
Buyers or successors in the event of mergers or company restructurings
Third-party advertisers, although you can opt-out without affecting your website or service usage
Government agencies to comply with any court order, law, or legal process
Third parties such as collection agencies, to enforce the company's terms of use
Anyone when the company deems it necessary to disclose information to protect the company, its properties, and its customers
Overall, we're happy with Zander Insurance's privacy policy, although we'll admit that the company collecting information and sharing it with third parties doesn't look great. However, we know for a fact that these practices are standard— necessary, even— for identity theft protection services. These services can't protect what they don't know, so if you want Zander to protect your personal information, the company has to know who you are.
Using Zander Insurance

Setting up and using ID monitoring was easy with Zander Insurance.
First, we picked out the Essentials plan for individuals.
Since this was an individual plan, we entered the name, email, birthday, phone number, and billing information of one of our team members who volunteered for the test.
Zander Insurance gave us a membership ID number, which we used to activate the account.
After entering the Social Security number and creating a username and password as well as a security question and answer, we were in.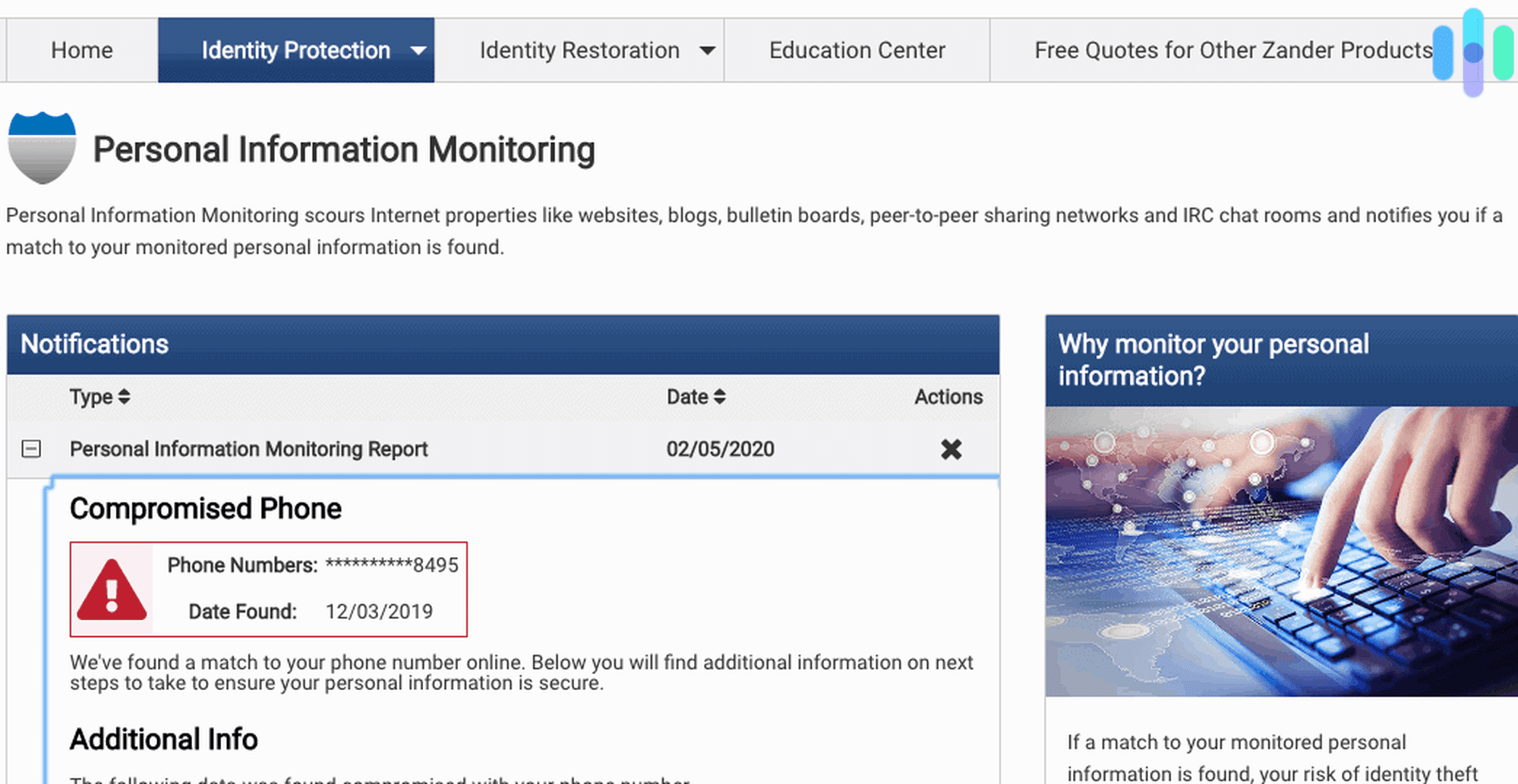 Next, Zander Insurance prompted us to add more information, like credit and debit card numbers, passport numbers, driver's license numbers, any retail store membership cards, and medical ID numbers. Zander Insurance needed these details so it could monitor if they appeared anywhere on the internet or the dark web. Keep in mind that while you don't need to provide all the details that Zander Insurance asks, the more information you give, the better protection you'll receive.
By the way, you can have Zander Insurance monitor multiple identifications of the same type. For instance, our test subject held dual citizenship, so Zander Insurance monitored both his passports. Here's the maximum number of identifications Zander Insurance can monitor for each type:
| Type of identification | Individual plans | Family plans |
| --- | --- | --- |
| Social Security Number | 1 | 2 adults, 10 children |
| Bank account numbers | 10 | 20 |
| Credit and debit cards | 10 | 20 |
| Phone numbers | 10 | 20 |
| Driver's license numbers | 1 | 2 |
| Passports | 5 | 10 |
| Retail store card numbers | 10 | 20 |
| Medical insurance ID numbers | 10 | 20 |
After providing all the information Zander Insurance requested, we checked the Personal Information Monitoring Report. Alarmingly, we already had a few hits, including our test subject's credentials from a forgotten Poshmark account. He says he doesn't remember making that account, but his designer belt says otherwise. Either way, we're just glad that Zander Insurance caught it before anyone could use the account for any fraudulent activities.
Aside from accessing the information monitoring report, you can access Zander's education and restoration centers or get quotes for other products such as home and auto insurance. The setup process was really easy, and the dashboard was simple to navigate in general.
Zander Insurance Identity Theft Coverage
Luckily, we haven't had any identity theft incidents while testing the service, but since Zander Insurance is an insurance company primarily, we looked into its insurance policy. Now, we all know that each company treats every claim differently. However, should you need to make identity theft insurance claims to Zander Insurance, these are the steps you need to take generally.
File a duly sworn proof of loss within 60 days after the discovery of loss.
Take reasonable steps to mitigate further losses, including requesting waivers for applicable fees, loan application fees, and credit bureau fees.
Submit to examination by Zander Insurance.
Cooperate with Zander Insurance in enforcing legal rights against anyone who may be liable to the losses. This includes attending depositions, hearings, and trials, when applicable.
Forward any summons and legal notices you'll receive to Zander Insurance.
Produce all pertinent records, as requested by Zander Insurance.
Cooperate with Zander Insurance in all matters pertaining to loss or claims.
These are reasonable steps to take, especially considering that Zander Insurance's identity restoration services have no time or monetary limits.
Zander Insurance Subscription Options
| Inclusions | Essential plan for individuals | Essential plan for families | Elite plan for individuals | Elite plan for families |
| --- | --- | --- | --- | --- |
| Monthly cost | $6.75 | $12.90 | $9.99 | $19.49 |
| Yearly cost | $75 | $145 | $110 | $215 |
| Savings for yearly plans | $6 | $9.80 | $9.88 | $18.88 |
| Number of individuals covered | 1 | 2 adults, up to 10 children | 1 | 2 adults, up to 10 children |
| Unlimited recovery services | Yes | Yes | Yes | Yes |
| ID theft insurance coverage maximum | $1 million | $2 million | $1 million | $2 million |
| Monitoring and alerts | Yes | Yes | Yes | Yes |
| Coverage against all types of identity theft | Yes | Yes | Yes | Yes |
| 24/7 customer support | Yes | Yes | Yes | Yes |
| VPN and antivirus | No | No | Yes | Yes |
| Experian CreditLock | No | No | Yes | Yes |
| Account takeover monitoring | No | No | Yes | Yes |
| New account monitoring | No | No | Yes | Yes |
When it comes to subscriptions, Zander Insurance keeps it very simple, with plans for individuals and families. The two Zander Insurance subscriptions are the Essential plan and the Elite plan. Both plans provide full coverage against all types of identity theft, as well as identity theft insurance and restoration services.
What sets the two plans apart is that the Elite plan offers to monitor for two other types of fraud: account takeover and new account fraud. Aside from those, the Elite plan includes access to UltraVPN and UltraAV, a VPN and antivirus software, respectively, as well as Experian CreditLock. The CreditLock account lets you lock and unlock your Experian credit file to block credit checks and openings of new accounts that might affect your credit reports and thus, your credit score.
Now, for both the Essential and Elite plans, you can choose an individual account or a family account. Individual accounts cover one user only, while family accounts cover two adults and up to 10 children.
That's a lot of coverage for plans that cost less than $20 a month, which is why Zander made our list of the best identity theft protection for families. As is typical with identity monitoring services, signing on for a year unlocks savings. For instance, we got a one-year subscription to the Essential plan for individuals for $75. That's $6 cheaper in total than if we paid $6.75 monthly.
Compared to some of its competitors, Zander Insurance is one of the most affordable identity monitoring services around. We also love that you can pay monthly and don't have to sign a long-term contract, although discounted yearly plans are available. We've seen similar services charge up to $50 a month, locking you into a year, so Zander Insurance is winning when it comes to subscriptions!
Zander Insurance Customer Service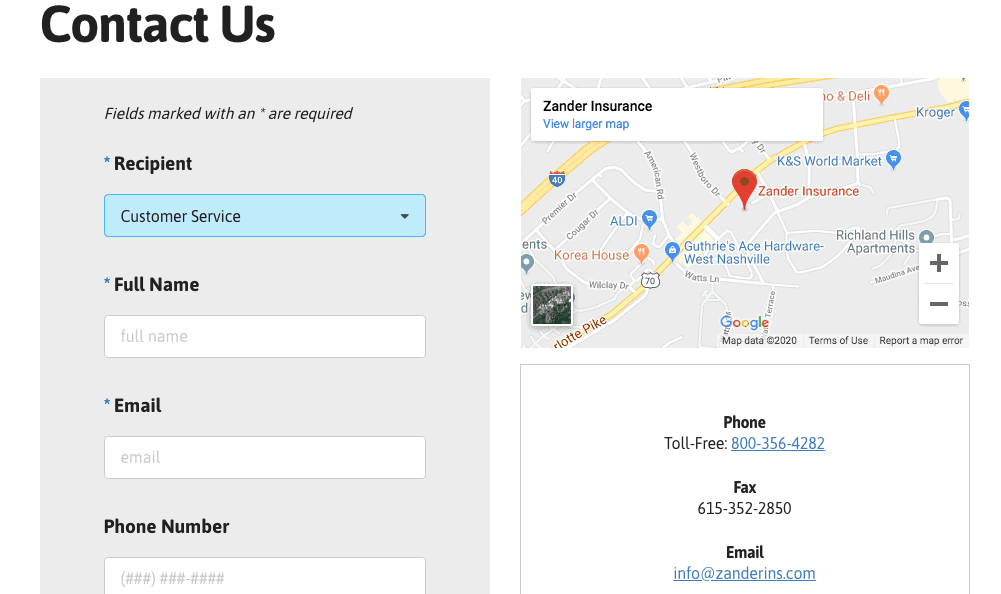 If you need help with Zander Insurance, you can call, fax, or email the company, as well as fill out a form on its website or check its online help center. Of all those options, we recommend calling Zander Insurance for the fastest results.
When we emailed the company with a few questions, it took about a week to get a response. By then, we had already lost our patience, given the company a call, and got our answers. In terms of quality, though, we got the same satisfactory response from Zander Insurance's email and phone support.
If you're looking for faster, more comprehensive customer support, our review of Privacy Guard and our review of IdentityIQ are good places to visit.
The Zander Identity Theft Protection App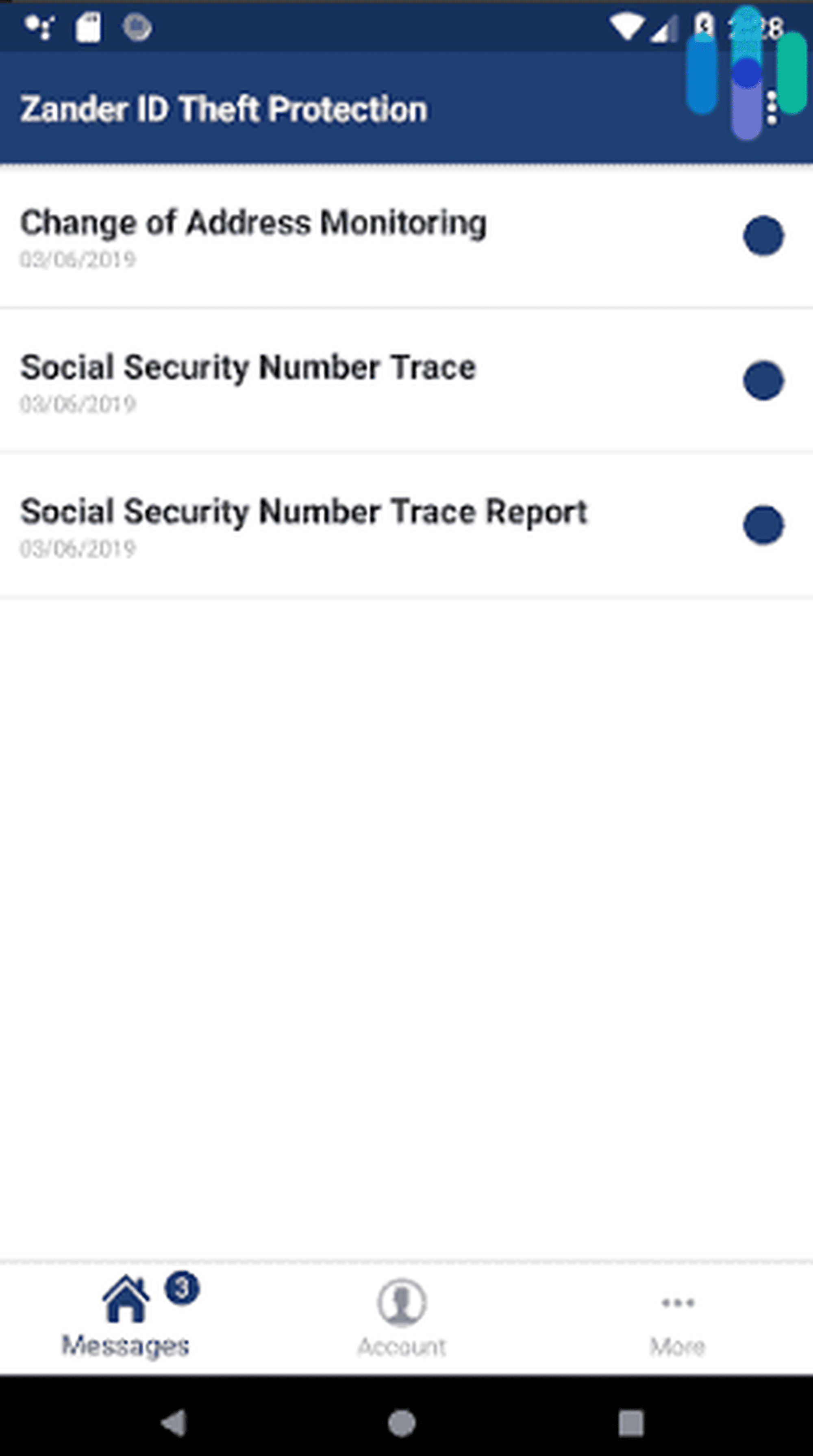 While Zander Insurance's browser dashboard provides comprehensive details about your account, you need the mobile apps to receive notifications and access monitoring reports on the go. We tested both apps under the names Zander ID Theft Protection on the Apple App Store and Zander Identity Theft Protection on Google Play.
Both apps provided much of the same functionalities as the browser dashboard. From the apps, we could access our identity monitoring reports, get identity restoration services, and enter Zander Insurance's education center, which contained articles and tips on how to avoid identity theft.
The apps were useful and they got the job done. However, like many of the user reviews point out, they could use a little touch-up.
For instance, a quick overview of the status of our personal data would have been nice instead of having to check our identity monitoring report every time. We would appreciate getting more frequent app updates, as well, security updates in particular. The apps contain personal information and we'd sleep better knowing that Zander Insurance is keeping the apps' security airtight. Unfortunately, since 2019, the iOS version has received a total of three updates only, the last one being in March 2021.
See how Zander stacks up against the competition
Zander is a great choice, but there may be better options out there. See how Zander compares to our favorite identity theft protection.
Recap
Overall, we'd recommend Zander Insurance for identity monitoring for a few reasons detailed below. Of course, it has its drawbacks, so we wanted to break it down for you even further.
Zander Insurance FAQs
That sums up our review of the Dave Ramsey-recommended Zander Insurance's identity monitoring services, but if you have any more questions, check out these FAQs.