IDnotify Review: Identity Theft Protection At Its Best?
Basic ID theft protection and credit monitoring with Experian's backing
What We Like
Easy to use iPhone app: We found the iOS version of the app had tons of great features and they were all laid out in an easy-to-navigate format.
Comprehensive identity monitoring: IDnotify kept an eye out for anyone using our name or Social Security number fraudulantly. They even scanned the internet to make sure our reputation remained spotless.
Affordable prices: At $9.99 a month, IDnotify's cheapest plans are reasonable, and at just under $36 a month its top-tier plans outdo the competition by as much as $5.
What We Don't Like
Based in a Five Eyes, Nine Eyes, and 14 Eyes member country: If government agencies should come calling, IDnotify can be forced to turn over our user information.
Difficult to navigate Android app: We were nothing but lost when we tried to use the Android version of the IDnotify app.
Credit reports cost extra: We were disappointed to discover that IDnotify's most affordable plans don't include annual credit reports.
Bottom Line
From their user-friendly iPhone app to their affordable pricing, IDNotify satisfied in terms of their comprehensive credit and identity monitoring. From social networks to court records, we felt protected with a subscription from IDNotify.
There's a lot we don't have to worry about any more thanks to technology, but one thing that the internet didn't help with is identity theft. Think about it: we all have dozens of online accounts, and we put a ton of information in them, like our birthdays, addresses, and credit card data. That's why it's no surprise that there were 1.4 million victims of identity fraud in 2020, most of them paying out of pocket for their losses.1 But good news, identity monitoring can help us prevent, detect, and recover from identity theft. In this review, we're telling you the good and the bad of IDnotify, a service owned by the credit-reporting bureau Experian. Okay, let's start guarding our identities with IDnotify!
IDnotify Dashboard Features
| | |
| --- | --- |
| Credit reports from all three bureaus | Yes |
| Sex offender monitoring report | Yes |
| Social Security number tracing report | Yes |
| Internet surveillance report | Yes |
| Score simulator | Yes |
Editor's Rating
Range of social monitoring features
Affordable plans start at just $9.99 a month
Owned by major credit bureau Experian
More Security.org Recommendations
Check out more of our favorite identity theft services.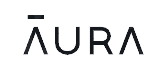 What Does IDnotify Monitor?
The monitoring features we got depended on which plan we chose, so to get all of what IDnotify had to offer, we signed up for the most comprehensive Premier Plan, which included the following:
Credit scores and reports: IDnotify monitored our credit scores and reports from the three major credit-reporting agencies, Experian, TransUnion, and Equifax, updating us of any changes. We had our credit score improve after we paid off a good chunk of our credit card debt and got alerted as soon as it happened.
VantageScores: IDnotify has a VantageScore Simulator that's pretty unique to the industry; the only other time we've seen VantageScores in an identity theft package is when we reviewed IdentityForce. This feature is helpful for folks who are looking to rebuild their credit after financial hardship.
Internet surveillance: IDnotify scanned the Internet for our credentials and would've alerted us if it found our information where it shouldn't be, like dark web forums that sell stolen identities.
Social network monitoring: Being millennials, we have nearly every type of social media account there is, from Facebook to LinkedIn. Once we gave IDnotify our account information, the service notified us of any risks to our privacy— like posts that include our birthdays— or reputation, such as comments we posted back in our college days.
Identity restoration: No identity monitoring service can guarantee protection from identity theft. In case identity theft happens, we knew we'd have access to an identity restoration specialist at all hours of the day to help us figure everything out. When we noticed some unauthorized charges on our debit card, for example, we worked with the specialist to cancel the card and contact the vendors to alert them of the thief. Within a few days, we had our $500 back and a new card to match!
Lost wallet services: Going from the digital world into the physical world, if we lost our wallets, IDnotify would replace their contents, from our driver's licenses to gym membership cards, and whatever else we keep in there.
Child monitoring: Again, we're not parents (yet), but if we had kids, we'd definitely pay that extra $5 a month for child monitoring, meaning that IDnotify would monitor usages of the kids' Social Security numbers for anything that looked fishy.
Monitoring for the whole family: If you want to provide identity theft protection for the entire family, you could also get a family plan. Family plans cost $10 more than the individual plans, but they cover up to two adults and 10 children, which is a pretty great deal for larger families.
Change of address monitoring: You know how when you move, you have to let the post office know so they can transfer your mail to your new address? Imagine if someone filled out that form without your consent. Fortunately, IDnotify was on it, checking to see if the USPS was redirecting our mail to anywhere but home.
Court records and booking monitoring: As unlikely as it may seem, it's possible for someone to get arrested and use our information in the court system, but if that happened, IDnotify would alert us ASAP.
Social Security Number trace: If anyone associated our Social Security Number with their name, address, or alias, IDnotify would tell us.
Non-credit loans: This sounds like a nightmarish situation, but if anyone took out quick-cash or payday loans in our names, we'd get alerted. Phew!
Sex offenders: One of the public records IDnotify monitored was the Department of Justice's National Sex Offender registry, and as added service, IDnotify aggregated the records to show us the sex offenders living in our area.
Financial Account Takeovers: Finally and perhaps most importantly, we would've gotten alerted if anyone tried to open a bank or credit card account in our names, make changes to our current bank account, or apply for a credit card, again, with our information.
Child and family monitoring are the only services not necessarily included in any plan. While we don't have kids of our own just yet, child monitoring only costs $5 more a month tacked onto any of IDnotify's plans, and family plans will add only $10 a month to individual plans. In general, we're really pleased with how comprehensive IDnotify's monitoring is; it covers everything we're looking for, which, believe us, isn't always the case with other companies.
The company also offers identity theft insurance, because again, no company can guarantee 100% that it can prevent identity theft. So if IDnotify somehow missed something, we would've been able to receive up to $1 million in reimbursement. This is the standard across all identity monitoring services, so we're glad to see that IDnotify is neck and neck with the competition.
Subscription Options
When we went on the IDnotify website, we saw that there were three subscription options available to use: Essential, Select, and Premier.
Pro Tip: For the most comprehensive identity monitoring, choose the Premier plan from IDnotify.
The prices were really reasonable, starting at less than $10 a month and only going up to $36 for all of the available features. We've seen plans go up to almost $40 a month (looking at you, myFico2!) but we've also seen plans from Zander Insurance starting at under $7 a month. Zander, which you can learn about in our full Zander Insurance review, does hold its own in value but doesn't have as much financial monitoring as IDnotify. Basically, what we're trying to say is that in terms of cost, IDnotify stands at the lower range, but it's at the higher range in terms of quality. The best of both worlds, right?
IDnotify Subscription Rundown
| Features | Essential Plan | Select Plan | Premier Plan |
| --- | --- | --- | --- |
| Number of credit-reporting bureaus monitored | 1 | 1 | 3 |
| Number of credit reports and VantageScores | 0 | 1 | 3 |
| Internet surveillance | Yes | Yes | Yes |
| Social network monitoring | Yes | Yes | Yes |
| Identity restoration | Yes | Yes | Yes |
| Lost wallet services | Yes | Yes | Yes |
| Optional child monitoring (extra $5 a month) | Yes | Yes | Yes |
| Optional family monitoring (extra $10 a month) | Yes | Yes | Yes |
| Change of address monitoring | No | Yes | Yes |
| Court records and booking monitoring | No | Yes | Yes |
| Social Security number trace | No | Yes | Yes |
| Identity theft insurance | No | Yes | Yes |
| Payday loan monitoring | No | No | Yes |
| Sex offender monitoring | No | No | Yes |
| Financial account takeover | No | No | Yes |
| Monthly price (without Child Monitoring) | $9.99 | $17.99 | $25.99 |
| Monthly price with Child Monitoring (per child) | $14.99 | $22.99 | $30.99 |
| Monthly price for Family Plan | $19.99 | $27.99 | $35.99 |
If you want to see the breakdown in detail, check out our complete IDnotify pricing page.
How Secure Is My Data on IDnotify?
In order to monitor all of the above items, we had to give IDnotify a lot of our personal information, including our names, Social Security numbers, addresses, financial account information, social media accounts, and more. Now, we're not called Security.org for nothing. We want to make sure that this information is safe and sound, in secure data storage, and not falling into the hands of third-parties. Fortunately, when we checked out IDnotify's privacy policy,3 we found that this was exactly the case. Here is the information they collect:
Name
Birthday
Address
Email
Phone number
Social Security number
Credit card information.
IDnotify locks all the pieces of information it collects from users behind SSL encryption, which stands for Secure Socket Layer, in order to make sure that only authorized users are accessing their accounts. Many online retailers use SSL to protect users and their personal information, so we're glad IDnotify is taking advantage. Plus, when we used the IDnotify app on our iPhones, we set up multi-factor authentication so that we had to use our fingerprints to open our accounts. You can't get more secure than this!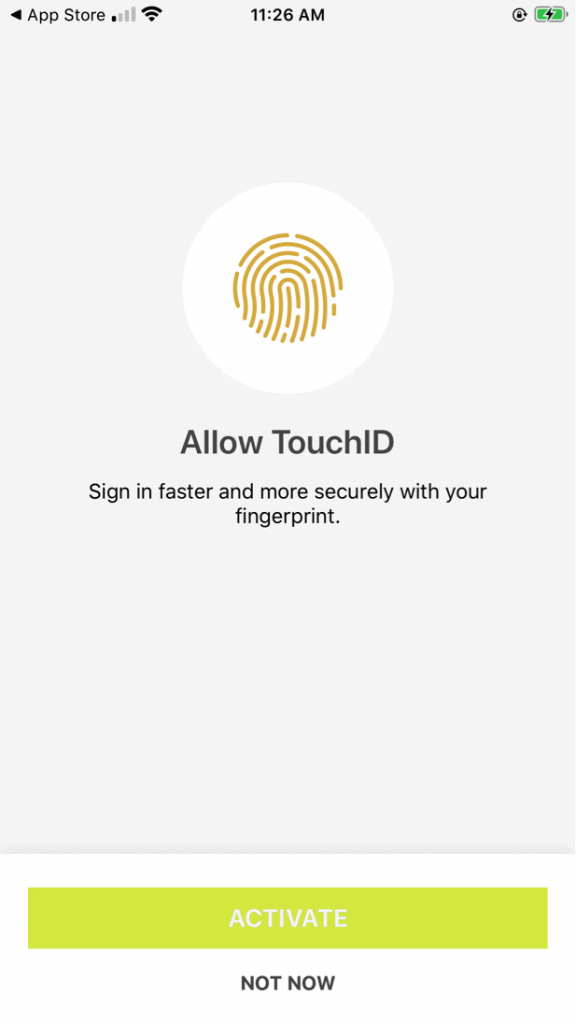 However, for those super-concerned about privacy, IDnotify may not be your best bet. That's because the company's headquarters is in Austin, Texas, obviously part of the United States. Just to brush you up on some American history, the U.S is part of three international surveillance alliances: Five Eyes, Nine Eyes, and 14 Eyes. This means that, in extreme circumstances, the U.S could force IDnotify to hand over customer data. But this is the case with any company based in the U.S, so for most people, this won't be a problem. Keep in mind, though, that all of the identity monitoring services we've reviewed so far are in the U.S, so we may not be able to make a recommendation for you just yet.
Our User Experience with IDnotify
After we selected the Premier plan on IDnotify's website, we created an account, which required us to enter our names, addresses, emails, Social Security numbers, and birthdays. We then made up usernames and passwords and put in our card information. We also created security questions in case we forget our passwords. From there, IDnotify verified our identities by asking a few authentication questions about our ages, addresses, and financial accounts. Aced it!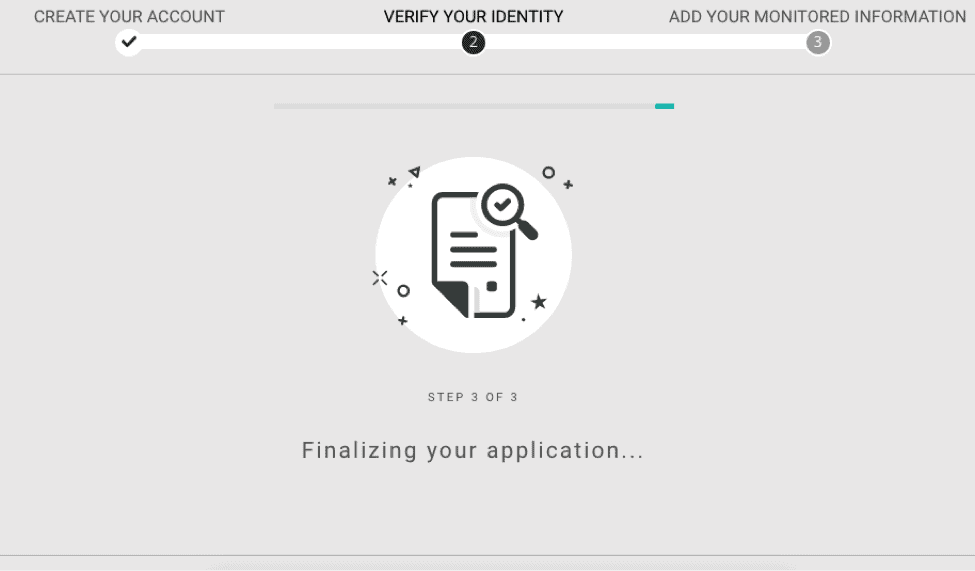 From there, IDnotify prompted us to fill in even more information, like:
Bank account information
Driver's license
Passport
Retail or membership cards
Medical ID numbers
Keep in mind that the more information we gave IDnotify, the more it could protect us, but we like that a large amount of it is optional for the more privacy-concerned among us.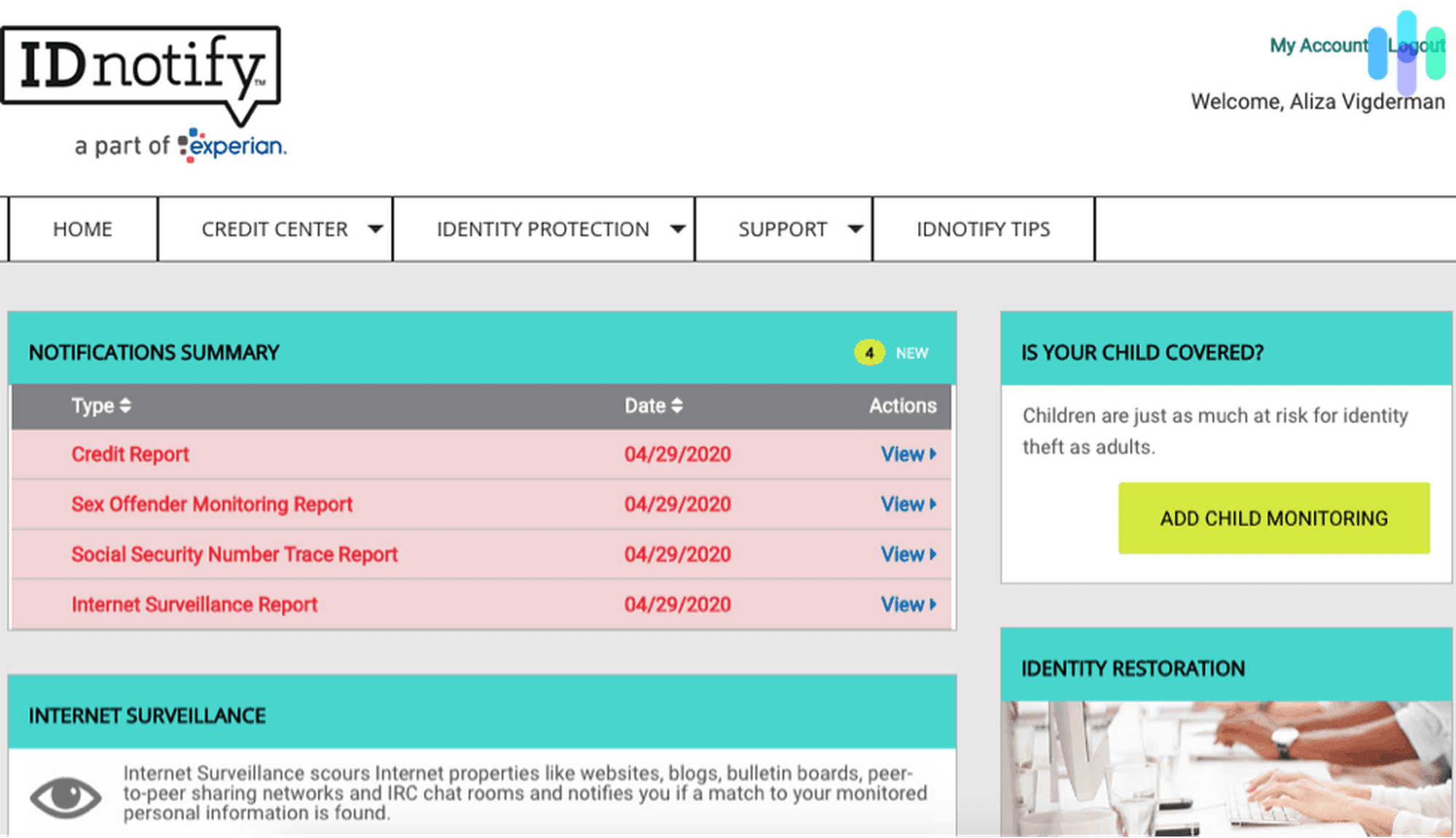 Once we filled out all that information, IDnotify showed us our dashboard, which had many different reports, including our credit report. We could contact support through this dashboard, add child monitoring (if we end up having babies), and even contact the identity restoration specialists. And that was it! From start to finish, the setup process took about 10 minutes. Not too shabby.
As far as using IDnotify goes, we really only opened the app or went to the IDnotify site on our desktop when we received notifications. For example, when we paid off a hefty chunk of an old credit card, IDnotify let us know via a push notification that our credit score changed. Once we went on the desktop site, as you can see above, we clicked on the credit center to view our new score, which was thankfully better than it had been a few days ago. Again, since we signed up for the top-tier plan, we saw our credit scores from all three bureaus, which saved us from having to go to each individual website.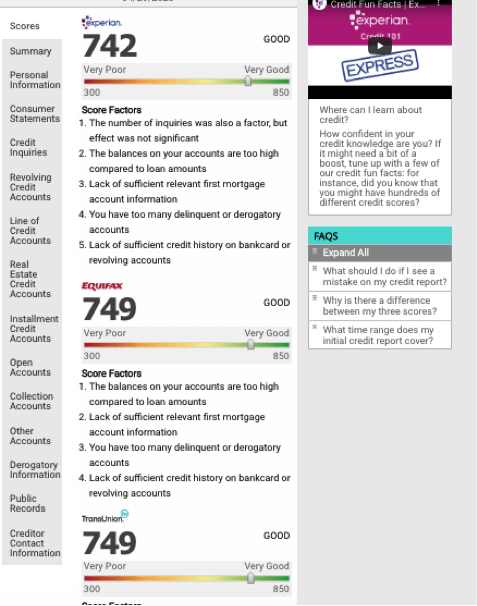 Although our credit scores were good, we wanted to see how we could make them even better, so we clicked on Score Simulator in the credit center.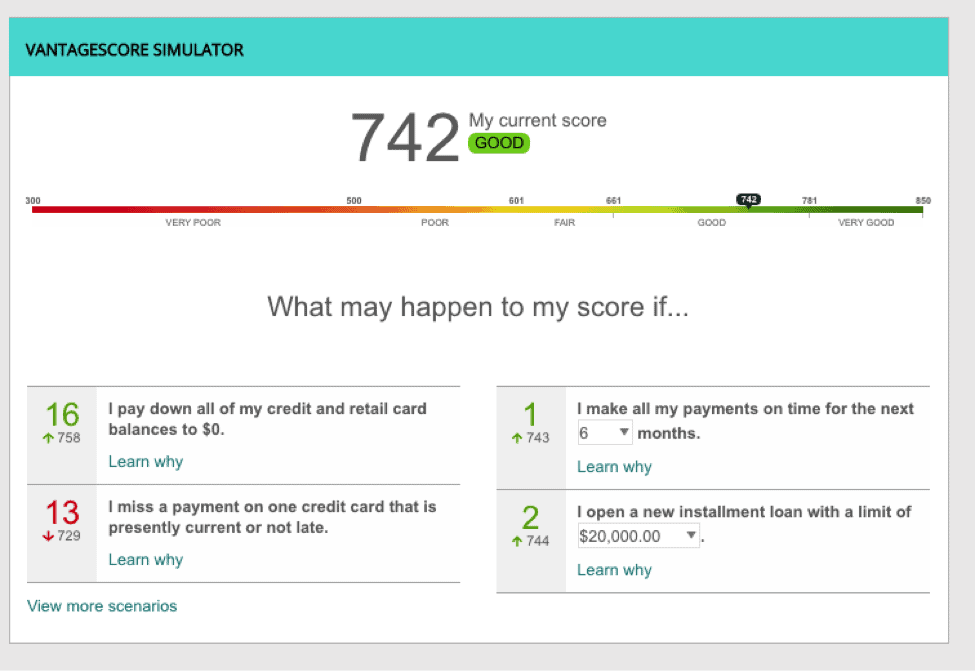 IDnotify provided us with several scenarios, along with how much they would affect our credit scores. It was awesome to see that just by getting our credit card and retail accounts down to $0, our credit score could raise 16 points to 758, which is remarkable.
Aside from help with financial planning, IDnotify also made sure our identities remained private, obviously. Fortunately, no one tried to steal our identities while we were testing out IDnotify, but we were still able to check out the many reports available for identity monitoring, like the change of address report below.

The entire dashboard is clean and functional, so it was never hard to find the exact information we wanted.
| Dashboard features | Does IDnotify have or not? |
| --- | --- |
| Credit reports from all three bureaus | Yes |
| Sex offender monitoring report | Yes |
| Social Security number tracing report | Yes |
| Internet surveillance report | Yes |
| Score simulator | Yes |
| Live chat customer support | Yes |
| Identity restoration specialists | Yes |
Overall, you don't need to be a tech expert like us to navigate IDnotify, whether you're on desktop or mobile.
The IDnotify App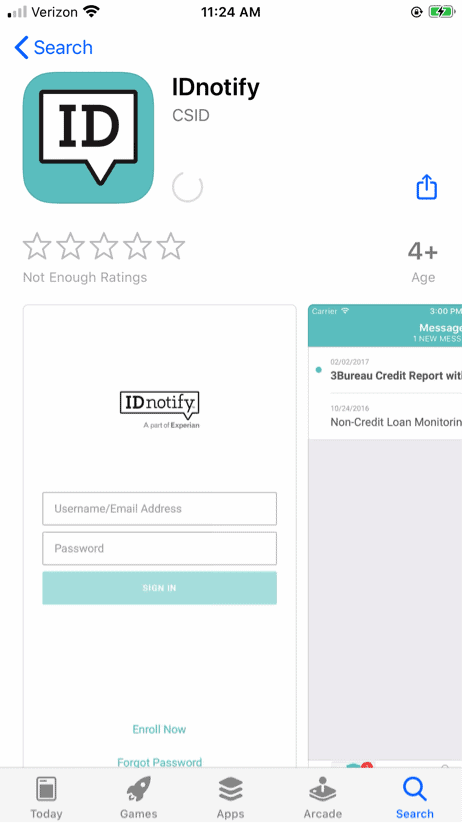 To check out our monitoring reports and receive notifications about our identity, we downloaded the IDnotify app on our iPhone, although it's also available on Android. In our experience, the IDnotify app worked well. It was easy to access our most recent credit reports and scores, and we'd know immediately if the company found anything that seemed fraudulent using our credentials.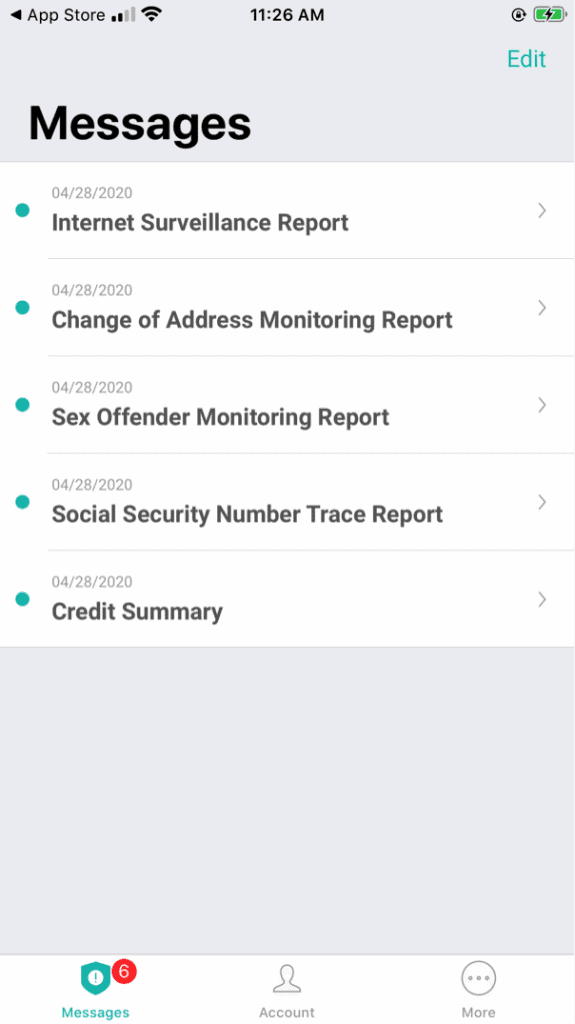 Aside from notifying us, the app had a bunch of features to explore. For example, we tried out the Sex Offender Monitoring Report, since we certainly don't want any sex offenders in our neighborhood. Sadly, it took quite some time for the page to load, so long, in fact, that the app logged us out! But after logging back in again, we saw a map of our neighborhood that, unfortunately, had as many red dots as a teenager's face. Each red dot represented the location of a sex offender in the Department of Justice's National Sex Offender Registry.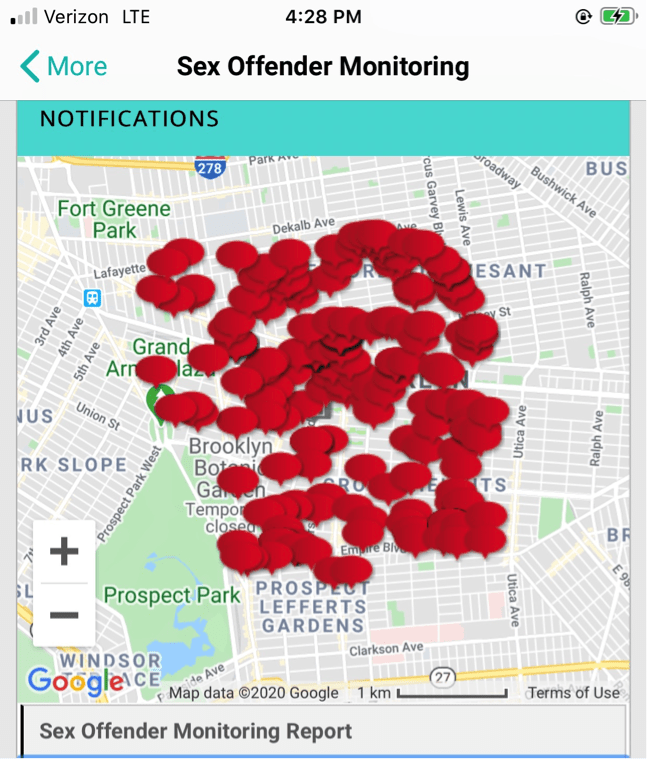 When we scrolled down, we read information about individual sex offender, and there was a ton of information available: their names, addresses, races, heights, hair and eye color, offenses, and more. While we're not happy about the sheer amount of sex offenders near us, at least now we know who to avoid, and IDnotify made it super easy to access this information.
Overall, as iOS users, we're happy with the functionalities that the app provided. On the other hand, Android users didn't seem as pleased with the app. Many people had trouble logging in, defeating the purpose of the app in the first place. No wonder the IDnotify app has a 1.7 rating on the Google Play store!
FYI: If you have an Android, you may run into some issues logging into your account on the IDnotify app.
IDnotify Customer Support
When we had a few questions about IDnotify, like when we wanted to know how much we could get in reimbursement in case of identity theft, we first turned to the company's online help center. The help center included a bunch of helpful FAQs, which were easy to browse, by the way. Also, we love that IDnotify has a support email address, a phone number, and even a mailing address for those of us who still send snail mail. We personally like having a live chat option at our disposal, though its absence from IDnotify wasn't a dealbreaker. In both our review of Privacy Guard and our review of IdentityIQ, we experienced more comprehensive customer support including 24/7 live chat, so check those out if you value having live chat support as well.
Recap
As an identity monitoring service, IDnotify impressed us. Its monitoring was really extensive and it charged a reasonable fee for it. Plus, the iOS app made it easy to check in with our account on the go. Having said that, we know for a fact that we all have different preferences when it comes to identity theft protection, so here's the bottom line:
We'd recommend IDnotify if you want…
Easy to use iPhone app
Comprehensive identity monitoring
Affordable prices
But look elsewhere if you want…
Identity monitoring service based in country that's a non-member to Five Eyes, Nine Eyes, and 14 Eyes
User-friendly Android app
Lowest-priced option possible
If IDnotify doesn't seem like the best option for you, check out our list of the best identity theft protection services. We've tested them all out, so you'll know exactly what you're getting before entering your credit card information.
FAQs
Now to answer questions about IDnotify, here are some FAQs.