Consumer Complaints Over Time

Unwanted or robotic calls by companies attempting to sell products or services happen every day across the United States. Referred to as telemarketing, these calls are one type of consumer complaint addressed by the Federal Communications Commission, or FCC, every year. Communication service availability, billing issues, and internet concerns are also fielded by the organization, among other complaints. We decided to study consumer complaints received by the FCC since 2015 to learn what's changed over time. Continue reading to see what we found.
Changing Concerns
Of the complaints that the FCC has fielded since 2015, most types decreased except for one: unwanted calls. These are defined as robocalls, spoofing, or sales calls.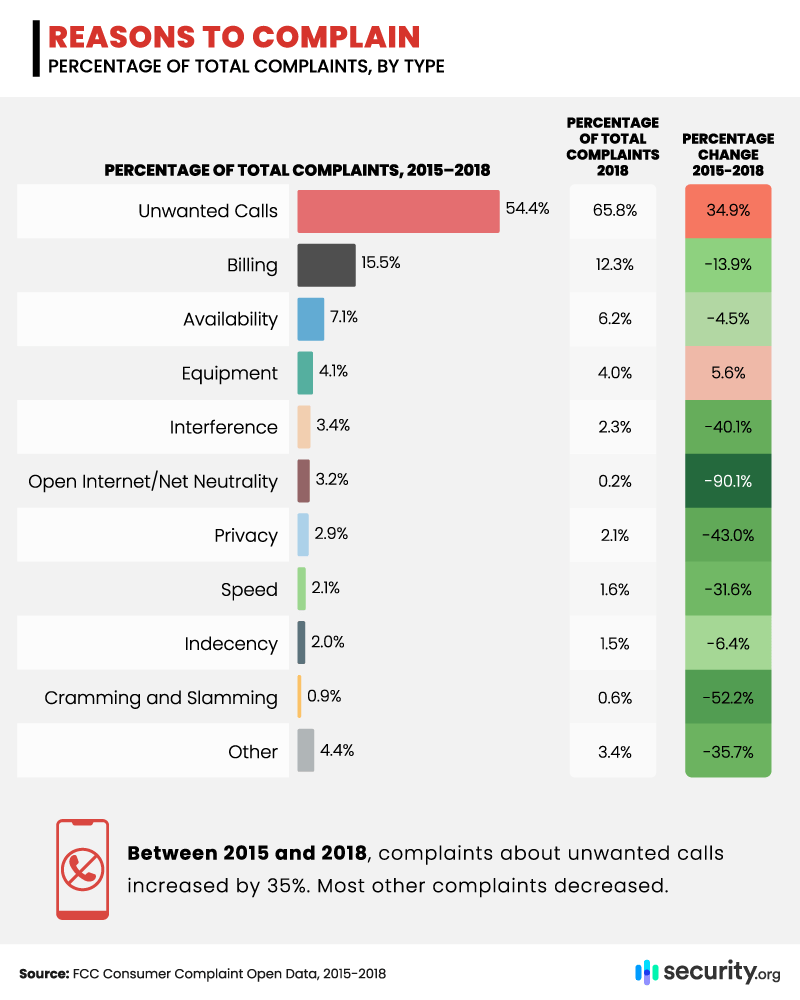 According to our research, unwanted calls increased by 35% from 2015 to 2018, the only other category to experience an increase aside from equipment complaints (almost 6%). The largest decrease in complaints fell under open internet/net neutrality (90%). This slip was likely due to the repeal of net neutrality acts, which was overseen by the FCC's Restoring Internet Freedom Order. Privacy and cramming concerns also decreased significantly.
Calling Complaints
According to the FCC's website, robocalls accounted for approximately 54% of all complaints received. Our research drew the same conclusion: Between 2015 and 2018, the total number of unwanted call reports was higher than all other types of complaints combined.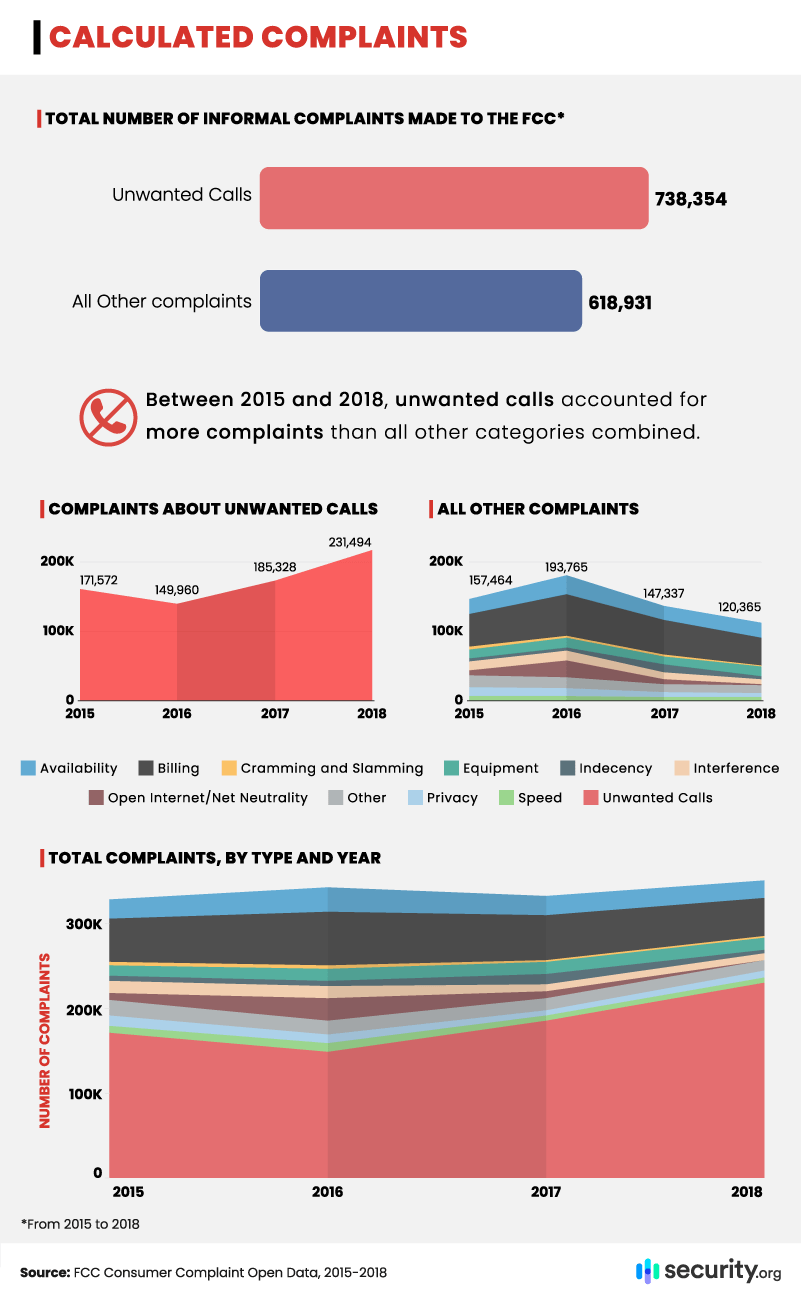 Besides offering consumers tips for dealing with unwanted calls, the FCC also recommends listing your telephone number on the National Do Not Call Registry. While it's not foolproof, it prevents lawful marketers from taking advantage of your phone number. By visiting the FCC's website, you can also find out more information on the newly released report regarding illegal robocalls.
Unwanted calls have increased both in overall frequency and as a proportion of total complaints filed every year since 2016, so far peaking in 2018 at an astronomical 231,494 grievances filed. For reference, the number of unwanted call complaints in 2018 alone exceeds all four years of the next most common category - billing complaints - combined.
Concerns by State
Communication complaints can vary by location and state, but the No. 1 concern was still unwanted calls.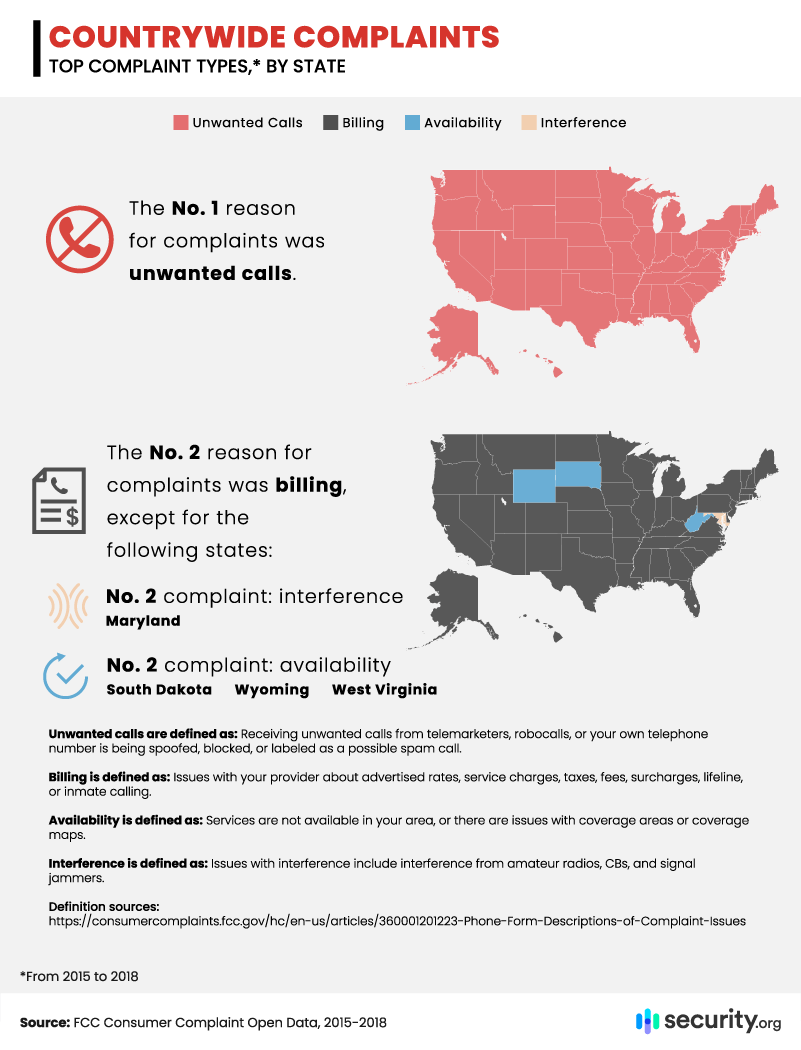 The second most common complaint by state was broken down into three categories: billing, availability, and interference. Billing was the largest issue in almost every state, but availability concerns beat out billing in South Dakota, Wyoming, and West Virginia. Meanwhile, interference concerns were Maryland's second-biggest issue. The FCC began collecting consumer complaint data for public use in 2014 and says it updates its data nightly, so you can always access the most up-to-date information.
Individual Complaints
The data for tracking consumer complaints can quickly become overwhelming and confusing. To help break down this information, we looked at the number of reports at the per-capita level.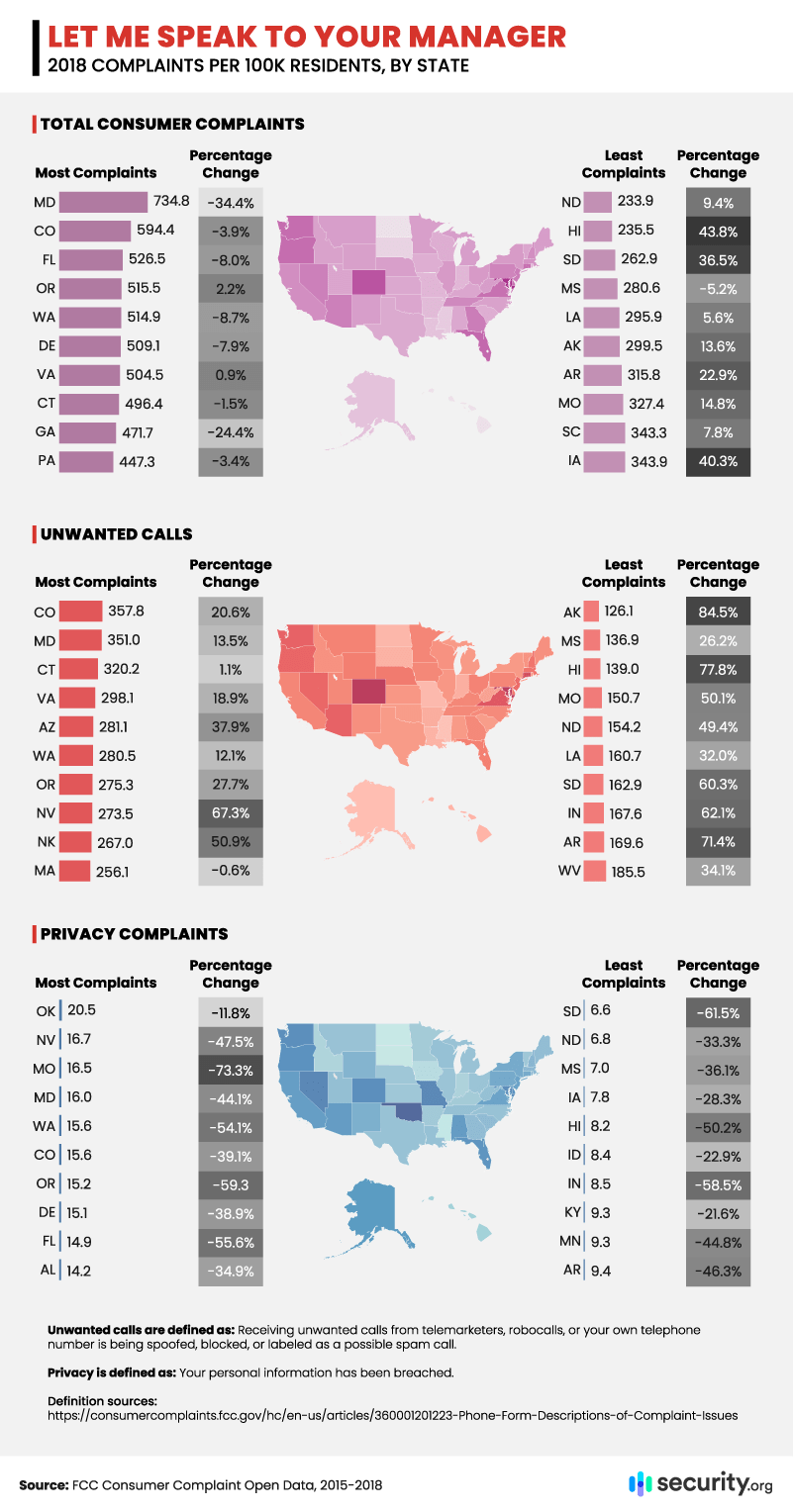 Maryland and Colorado topped the list with the most complaints overall and the most unwanted calls per capita. Besides unwanted calls, though, privacy was another current issue – although much less prevalent than robocalls. Defined as a breach of one's personal information, privacy concerns were most prevalent per capita in Oklahoma and Nevada. Privacy breaches can originate from financial firms, corporations, and stores. Recent breaches include Equifax in 2017, followed by Cheddar's, Adidas, and Delta in 2018, and Capital One in 2019. You can explore what the commission is doing on the privacy front and how it relates to the Freedom of Information Act.
What We've Learned
Given how starkly the number of complaints specifically related to unwanted calls has increased since 2015, it seems more important than ever that Americans utilize the FFC's informal complaint system to shed light on the people or organizations responsible . And other concerns you may have related to the country's communication systems are just as important. You can learn more about the FCC's data and reports at the Consumer Complaint Data Center or file a complaint online at the Consumer Help Center.
Methodology and Limitations
For this project, we analyzed the FCC's Consumer Complaint Open Data from 2015 through 2018. It compiles individual informal consumer complaint data detailing complaints filed with the FCC's Consumer Help Center. It tracks consumers' self-reported complaints and is updated by the FCC regularly.
The data are not weighted. No statistical testing was performed. U.S. territories and D.C. are not included in our analysis.
Complaint-type definitions:
Open Internet/Net Neutrality: The concept that all data on the internet should be treated equally by corporations, such as internet service providers and governments, regardless of content, user, platform, application, or device. Network neutrality requires all internet service providers (ISPs) to provide the same level of data access and speed to all traffic, and that traffic to one service or website cannot be blocked or degraded. ISPs are also not to create special arrangements with services or websites in which companies providing them are given improved network access or speed.Source:https://www.investopedia.com/terms/n/net-neutrality.asp
Cramming: Unauthorized charges placed on your phone bill. Many times, this happens when a third party places a charge on your bill. For example, if you have been slammed – your provider is changed without your authorization – and they charge you for the unauthorized service after your service has been switched back.
Slamming: Your provider has been changed without your authorization.
Equipment: Issues with your phone and related equipment, including device unlocking.
Availability: Services are not available in your area, or there are issues with coverage areas or coverage maps.
Billing: Issues with your provider about advertised rates, service charges, taxes, fees, surcharges, lifeline, or inmate calling.
Unwanted Calls: Receiving unwanted calls from telemarketers, robocalls, or your own telephone number being spoofed, blocked, or labeled as a possible spam call.
Privacy: Your personal information has been breached.
Fair Use Statement
Do you want to share these findings on consumer complaints? The graphics and information found on this website are available for noncommercial reuse. Feel free to share them as much as you'd like across the web, on social media, and at the office, but please make sure to link back to this page. Thank you!