Hotspot Shield Prices: Fair or Not?
Hotspot Shield's prices may not be the lowest, but you get more than what you pay for.
Offers the Hydra protocol for fast speeds.
Uses AES-256 encryption, the industry gold standard.
Comes with malware detection and 1TB of cloud storage.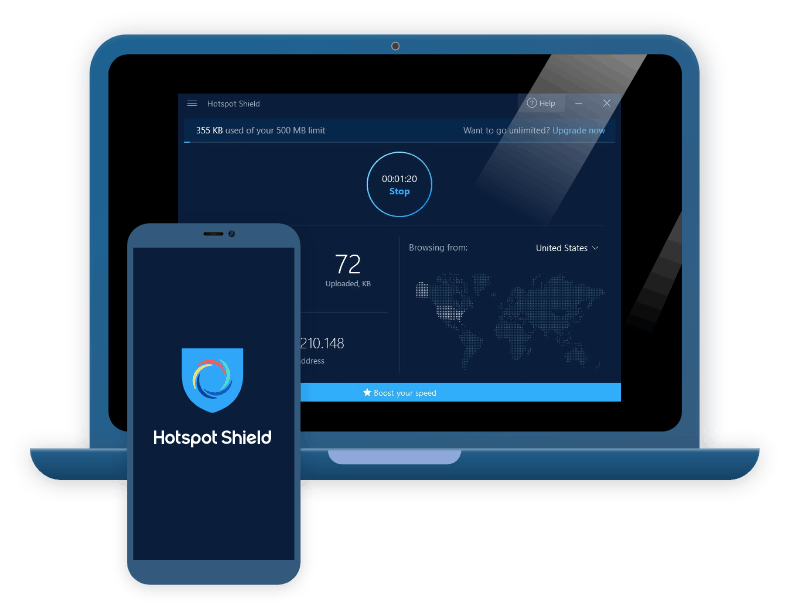 All of our content is written by humans, not robots.
Learn More
By

&

Last Updated
Nov 20, 2023
Hotspot Shield certainly isn't the most well-known VPN in the world, but it has some pretty cool features that we haven't seen bundled with any other VPN on the market. Since its acquisition by Aura, Hotspot Shield added useful digital safety features, such as malware site blocking.
Hotspot Shield also has a free version that you can use forever on one device, plus a 45-day money-back guarantee for its paid plans. But what's the price on these paid packages? We'll cover all that and more, breaking down all of the costs associated with Hotspot Shield (and how you can save money).
Features
| Feature | Hotspot Shield |
| --- | --- |
| Length of money-back guarantee in days | 45 |
| Price range per month | $7.99- $19.99 |
| Free VPN | Yes, for one device with limited data usage, customer support, streaming access, speeds, etc. |
| Compatible devices | Windows, Mac, iOS, Android, Chrome, and with Premium plans only, routers, Linux and Smart TVs |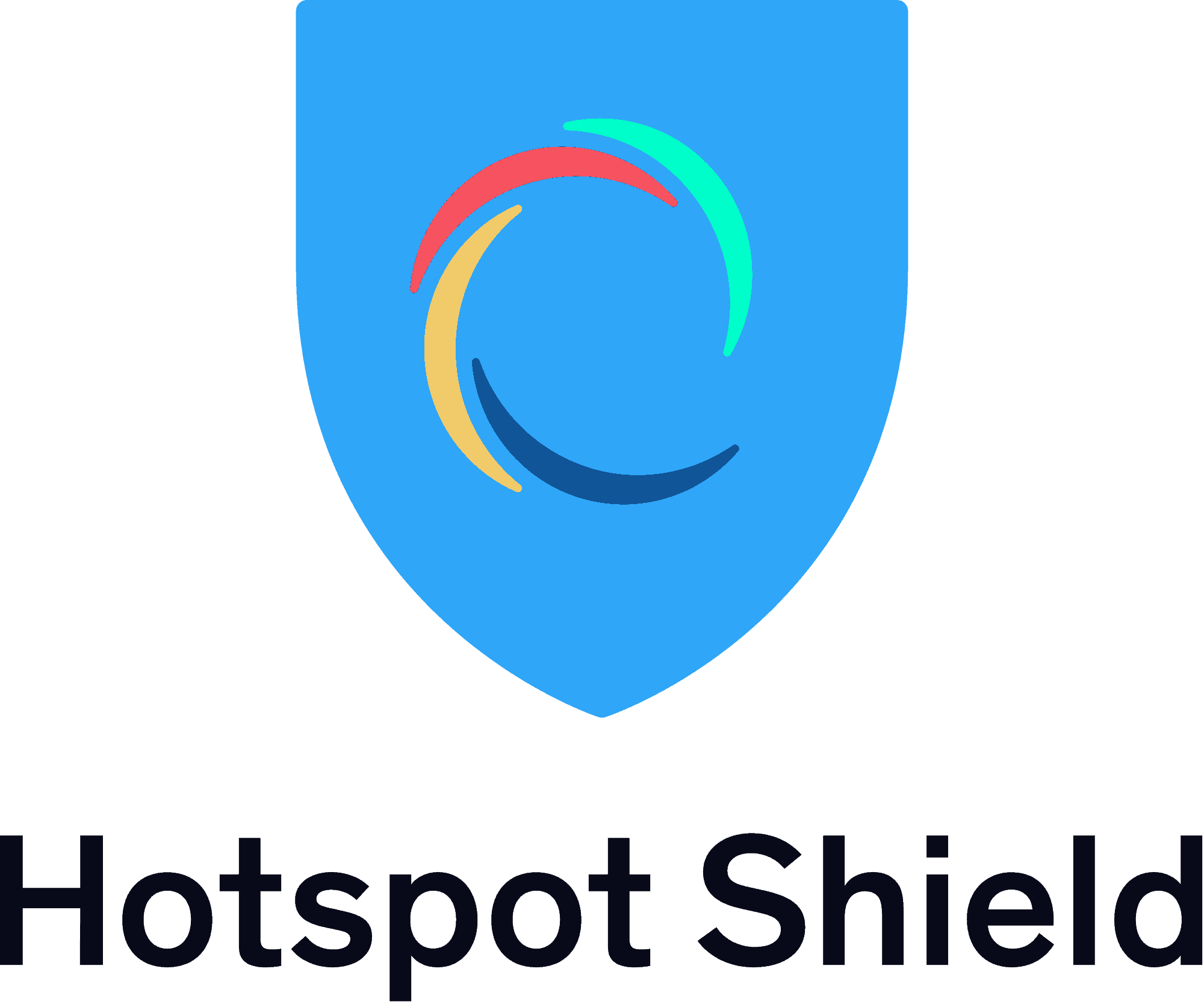 Free Trial
Most of the time, when we want to try VPNs for free, we need to get a subscription first and then cancel within the money-back guarantee period to get our money back. For instance, NordVPN plans come with a 30-day money-back guarantee. Well, Hotspot Shield does things a little differently. It has a money-back guarantee for its premium plans — and a generous one, might we add — but it also has a completely free VPN that you can use indefinitely. However, this free VPN has limits, as there are with the best free VPNs, typically.
| Features | Free | Premium |
| --- | --- | --- |
| Number of devices | 1 | 5 |
| Supported devices | Windows, Mac, iOS, Android | Windows, Mac, iOS, Android, Linux, smart TVs, routers |
| Virtual locations | 1 | 115+ |
| Connection speed limit | 2 Mbps | 1 Gbps |
| Data usage limit | 500 MB daily | Unlimited |
| Netflix access | No | Yes |
| Optimized for gaming | No | Yes |
| Customer support | Support center only | 24/7 live chat |
We could only use the VPN on one device, had limited streaming access, the connection speed tapped out at two Mbps in our speed tests, there was a 500 MB daily data usage limit, and there was no phone support. But if you need a VPN for quick browsing on one device, Hotspot Shield Basic is a solid option that you won't have to pay a penny for.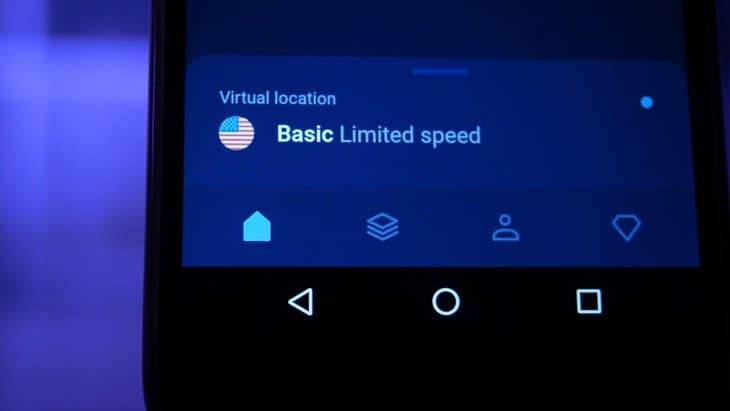 More Free Trial Options
The best VPNs offer free- or risk-free trials, which allows us to test the waters before jumping in with a paid subscription. Aside from Hotspot Shield, these highly-rated VPNs offer 30-day trials as well as free trials up to seven days. Give them a try; you might just like what you see: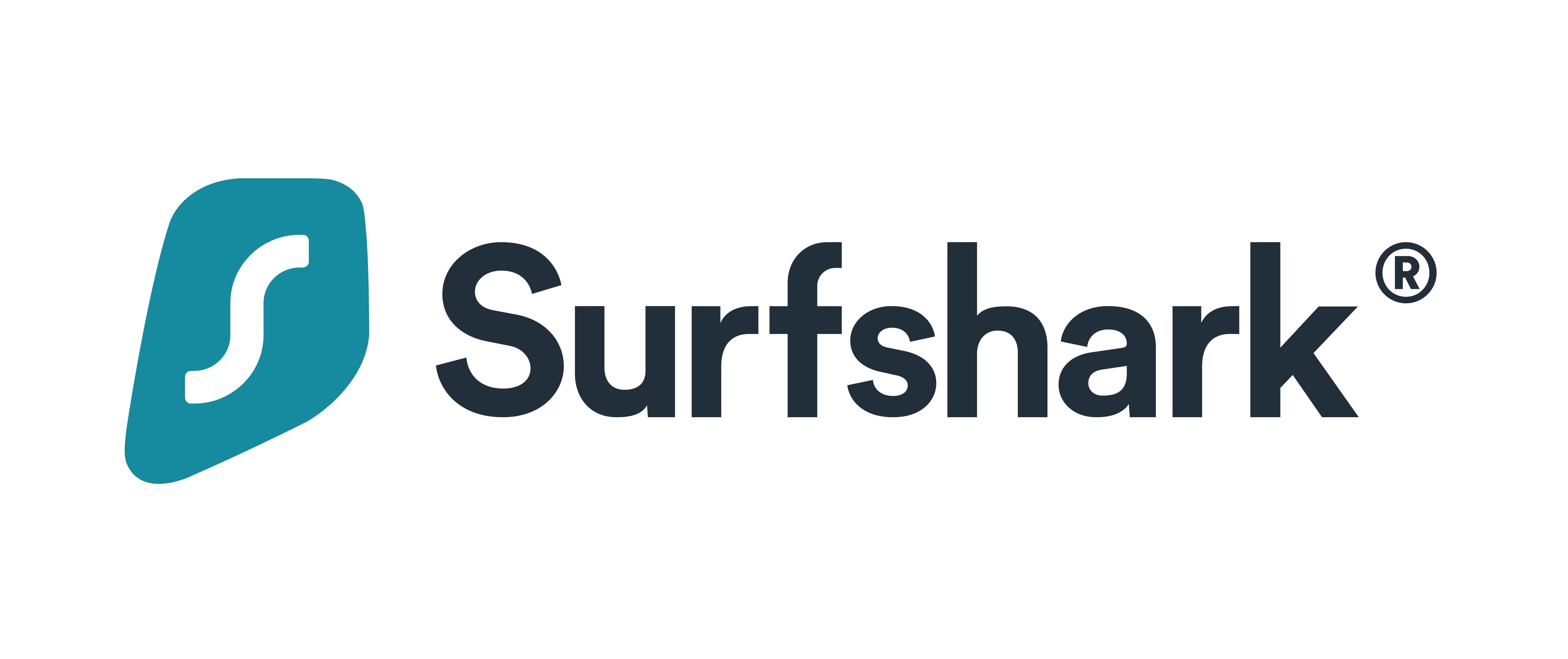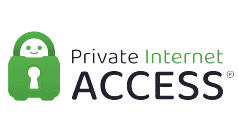 Subscription Options
Since we wanted the full Hotspot Shield experience and not just a taste of the free plan, we invested in the Premium individual plan, which covered five devices under one account. However, if we wanted more coverage, we could've opted for the family plan, which would have covered 25 devices across five accounts.
| Features | Basic | Premium | Premium Family |
| --- | --- | --- | --- |
| Number of accounts | 1 | 1 | 5 |
| Maximum number of devices | 1 | 5 | 25 |
| Streaming access | Limited | Yes | Yes |
| Maximum connection speed | 2 Mbps | 1 Gbps | 1 Gbps |
| Data limit per day | 500 MB | Unlimited | Unlimited |
| Number of virtual locations | 1 | 115+ | 115+ |
| Customer support options | Support center | 24/7 live chat, support center | 24/7 live chat, support center |
| Coverage for Linux, smart TVs, routers | No | Yes | Yes |
| Anti-malware and anti-phishing | No | Yes | No |
| Smart VPN | No | Yes | Yes |
| Monthly price | $0 | $12.99 | $19.99 |
| Monthly price with annual plan | $0 | $7.99 | $11.99 |
| Annual plan total cost | $0 | $95.88 | $143.88 |
| Savings with annual plan | 0% | 38% | 40% |
Pro Tip: With the family plan, you can share your subscription with up to five people. Each user gets his or her own account, and each account gets VPN access on five devices. That's like having five individual subscriptions for only $7 a month more than the individual plan.
Refund and Cancellation Policy
Say you bit the bullet and paid for Hotspot Shield, but later wanted to cancel. We've all had buyer's remorse before, and Hotspot Shield understands that implicitly. That's why it gave us 45 days from our purchase date to get a full refund on Hotspot Shield. As if the free version wasn't enough of a test run!
Favorite Features
Let's get back to the topic at hand, Hotspot Shield, and whether or not it's worth its pricing. We think it is for the following reasons: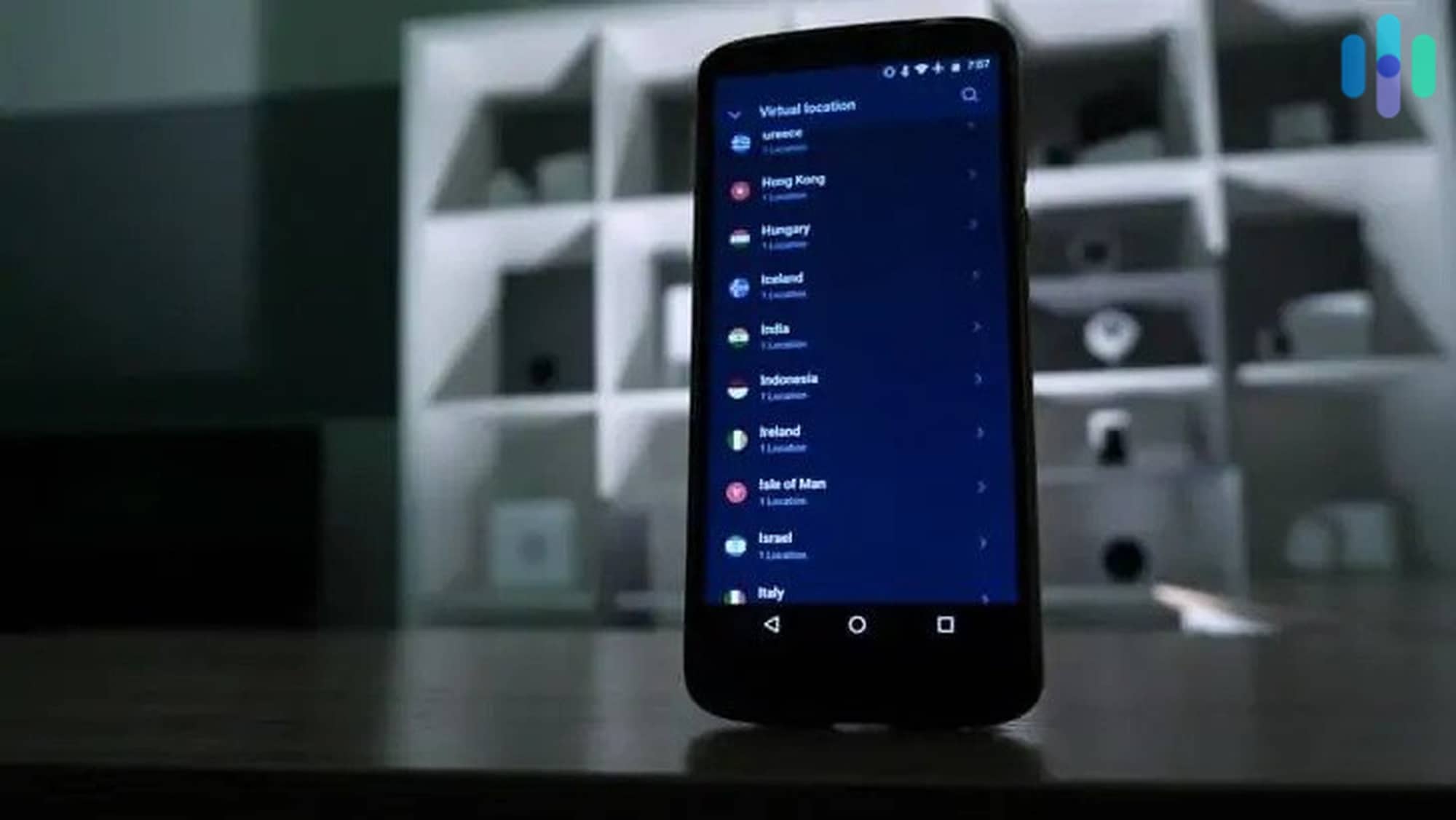 Worldwide availability: With servers in more than 80 countries around the world, we connected to Hotspot Shield at home as well as while traveling.
Won't log web activity: Although we took issues with some of the data collected in Hotspot Shield's privacy policy, ultimately, we were most grateful that it didn't keep track of the websites we visited.
Torrenting: Downloading non-copyrighted material was easy with Hotspot Shield encrypting our activity.
Netflix: We got bored with everything on Netflix, so we connected to Hotspot Shield and changed our Netflix region, seeing the different content they had in store.
Dynamic IP addresses: Every time we connected to Hotspot Shield, we got a new IP address, which made tracing our identity online about as difficult as finding a needle in a very large haystack.
Free option: Sure, it only worked on one device, but we loved that Hotspot Shield's free plan didn't have a time limit.
Smart VPN: Smart VPN, otherwise known as split tunneling, allowed us to route some internet traffic through Hotspot Shield, and others through the public internet, a handy feature for multi-taskers.
Money-back guarantee: Even if we put down a card, Hotspot Shield gave us 45 days, ample time to cancel our subscription and receive a full refund.
User-friendly Hotspot Shield app for VPN services: When we were waiting in line at CVS and simply couldn't take the boredom, we protected ourselves online with Hotspot Shield's easy-to-use iOS and Android apps, currently rated at 4.5 and 4.1 on the Apple and Google Play stores, respectively.
Background Information
Hotspot Shield is part of the ever-expanding portfolio of a company called Aura, which purchased Hotspot Shield's parent company, Pango, in July 2020.1 Aura owns a number of digital security services, like VPNs, antivirus software, and identity theft protection services like Aura identity theft protection. Since being acquired by Aura, Hotspot Shield's offering has expanded tremendously, adding new features like anti-phishing.
The downside? Aura's headquarters is in the United States, as is Hotspot Shield itself in sunny California. While we love California for its beaches and cities, this location means that the U.S government could force Hotspot Shield to hand over customer data due to the surveillance alliance Five Eyes, Nine Eyes, and 14 Eyes, of which the U.S is a member.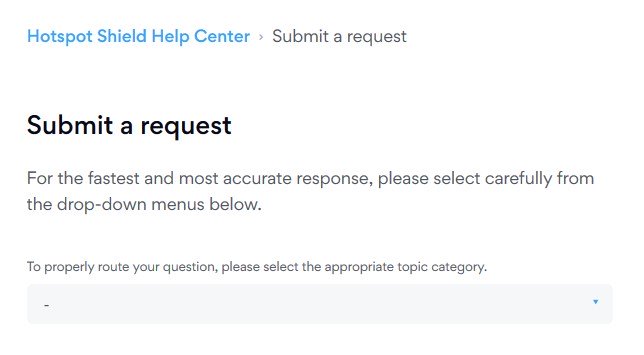 That's not ideal under any circumstances, but it's especially not ideal with Hotspot Shield, as its privacy policy is more than barebones. Essentially, as we said before, Hotspot Shield didn't log our web activity, but it did log information such as our:
Email addresses
IP addresses
Usernames
Mobile IDs
Device information
Duration of VPN sessions
Amount of bandwidth we used
Most VPNs keep our IP addresses hidden even from themselves, so the fact that Hotspot Shield takes notes is an issue for those concerned with privacy. Hopefully, Aura will rethink this privacy policy, as it's less than ideal for anyone handling sensitive information, like activists, journalists, and medical professionals. So while we're happy that we can bundle Hotspot Shield with a bunch of other great digital security services, its privacy policy makes it a poor choice for the privacy-weary. Check out our privacy report on Hotspot Shield for more information about what data the company collects and how it uses the data.

Compatible Operating Systems, Devices and Browsers
We tested out Hotspot Shield on Windows and Mac laptops primarily, which you can read about in our Hotspot Shield review, but here's a full list of the devices and browsers it works on:
| Device type/ browser | Works with Hotspot Shield? |
| --- | --- |
| Windows | Yes |
| Mac | Yes |
| iOS | Yes |
| Android | Yes |
| Chrome | Yes |
| Routers | Yes, Premium plans only |
| Linux | Yes, Premium plans only |
| Smart TVs | Yes, Premium plans only |
Payment Methods
If you choose to go with a Premium subscription, there are a good amount of different payment options for Hotspot Shield, including the following:
Visa
Mastercard
American Express
JCB
Discover
PayPal
Diner's Club International
Recap
Hotspot Shield is a company in flux, and we consider that a good thing. It's generous with a free option, a 45-day money-back guarantee, and extra services that Hotspot Shield bundles with Premium subscriptions. If you're happy with its service, there's no reason not to buy the Premium individual plan bundle and save yourself some money, while upping your digital security along the way. And if you want to provide safer and more private browsing for the entire family, the $19.99 a month Premium Family plan is a practical choice.
Hotspot Shield FAQs
We thought we covered Hotspot Shield pretty thoroughly, but if you've still got questions, we've got answers.