ADT Doorbell Camera Review 2023
See who's knocking with an ADT video doorbell.
What We Like
Facial recognition capabilities: ADT doorbell cameras let us distinguish which of our friends and family were on our doorstep.
Full-service and DIY options: We liked having the choice between 24/7 professional monitoring with ADT and monitoring our cameras ourselves with Blue by ADT.
Wide fields of view: With 160-degree and 180-degree options, ADT doorbell cameras let us see everything going on in front of our home.
What We Don't Like
No local storage options: We were surprised that ADT's doorbell cameras don't have an SD card slot, especially since their indoor and outdoor cameras do.
Relatively low resolution: The camera resolution for ADT's doorbell was just 960x1280, and even Blue by ADT's 1080p resolution is low compared to 4K cameras on the market.
Limited durability: ADT's doorbell camera is rated just IP54, and Blue by ADT's doorbell camera isn't IP rated at all. Neither one works in temperatures over 104 degrees Fahrenheit.
Bottom Line
ADT's doorbell cameras protected our home day and night with great features like facial recognition, though we do wish the devices had better weather ratings.
Video doorbells are your eyes and ears on your front porch, letting you know who's coming, who's going, and whether or not that package you've been waiting for has arrived. These days, no home security system is complete without one. With dozens of cameras on the market, how do you decide?
ADT is one of the most well-known names in the home security business, a consistent entry on our list of best home security systems. Do their doorbell cameras measure up to the competition? Keep reading, as we have the full scoop.
ADT Doorbell Cameras
The first thing you need to know is that ADT doesn't offer its own video doorbells. Instead, if you order a doorbell camera from ADT you'll get a Google Nest video doorbell. That makes sense since, as of 2021, the two companies are now partners.1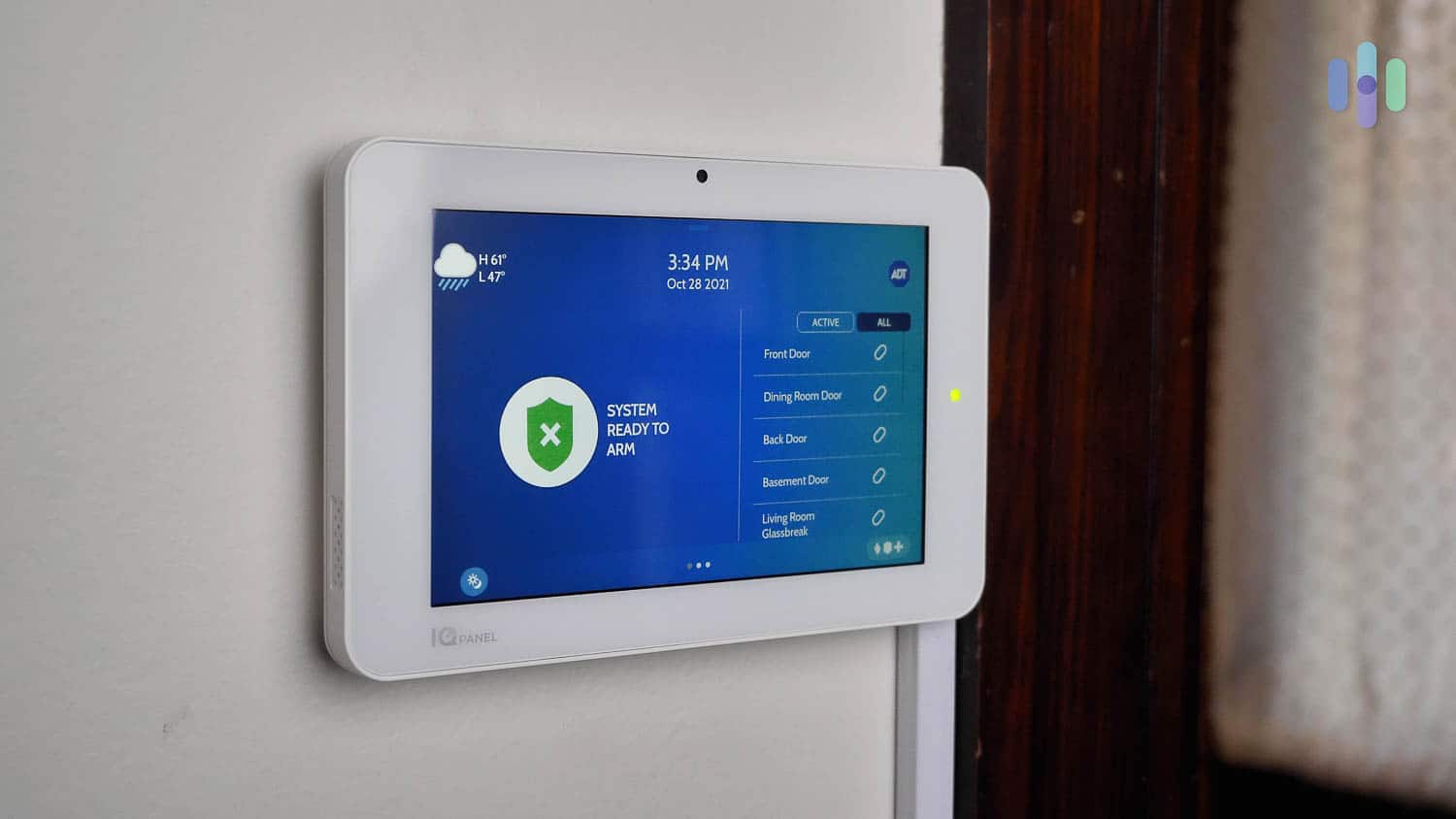 Still, it's a little disappointing to find that Google seems to be taking the lead in the partnership when it comes to camera manufacturing. It makes us wonder if ADT is up to putting out its own equipment. Plus, it creates some confusion when we want to talk about ADT products. Even so, we have all the details on Google Nest, er, we mean ADT's video doorbells.
The Specs
Resolution: A camera's real value has to do with its ability to provide a crystal-clear image. These days, there are cameras on the market that provide up to 4K resolution. That's over 8 million pixels. The ADT doorbell camera doesn't quite achieve that level of clarity. In fact, it doesn't quite measure up even to the industry standard of 1080p. The camera's resolution of 960×1280 provides some 37 fewer pixels than 1080p. That's a passable image, but only just barely.
Field of view: ADT's doorbell camera does better when it comes to field of view. The camera can show 160 degrees, which is solid compared to the industry-standard 140 degrees. Just as important, it features a 4:3 aspect ratio, which means you can see visitors' feet as well as their faces, and you can easily check your porch for packages on the ground.
Night vision: Night vision for this camera is also solid. The video doorbell features two infrared LEDs, which can capture activity even in the lowest light levels. Night vision is an important feature to have, as burglars hate to be exposed while casing a home or breaking in.
Two-way audio: The ADT doorbell succeeds again when it comes to audio. It includes a microphone so you can have two-way conversations with the Girl Scouts who have come by to deliver your cookies. Even better, the mic has noise reduction and echo cancellation, so you can actually understand what they're saying about your thin mints.
Outdoor rating: ADT's doorbell camera is outdoor rated, with an IP rating of 54. That means it's sealed from solid objects, though it isn't dust-tight. It's also protected from splashing water. Not exactly top-of-the-line protection, but if your camera is positioned on your porch, it's probably safe from most weather. In addition, the doorbell camera works in temperatures between negative 4 degrees and 104 degrees Fahrenheit, which should cover all but the most extreme climates.
Activity zones: Like most security cameras these days, you can set up activity zones in your ADT doorbell camera's field of view. That helps cut down on false alerts when the neighbor's dog happens by chasing a squirrel.
AI: ADT's doorbell cameras come with some sophisticated artificial intelligence capabilities. They know the difference, for instance, between people, animals, and packages. In addition, the cameras include facial recognition software so you can set yours up to know when your sister drops by. Connect the camera to smart locks, and you can set your system to let her in even when you're not there.
Wi-Fi connectivity: The ADT doorbell camera works through a Wi-Fi signal and sends all video to cloud storage so you can review it at your leisure.
Power options: ADT offers a choice of wired and wireless doorbells. The wireless option uses a built-in Li-ion battery that can last up to seven months. The wired version connects directly to your existing doorbell wiring.
Definitions: A camera's field of view tells you how much of the observable world in front of it it can see at one time. The human eye can see just 150 degrees at a time. The maximum field of view for a security camera is 180 degrees.
Additional Details on ADT Doorbell Cameras
You need to know that you can't purchase just a doorbell from ADT. As we point out in our full ADT review, the company sells its equipment only as part of its full-service plans. All of those plans include a hub, motion detectors, and door/window sensors. They also include monthly 24/7 professional monitoring and professional installation.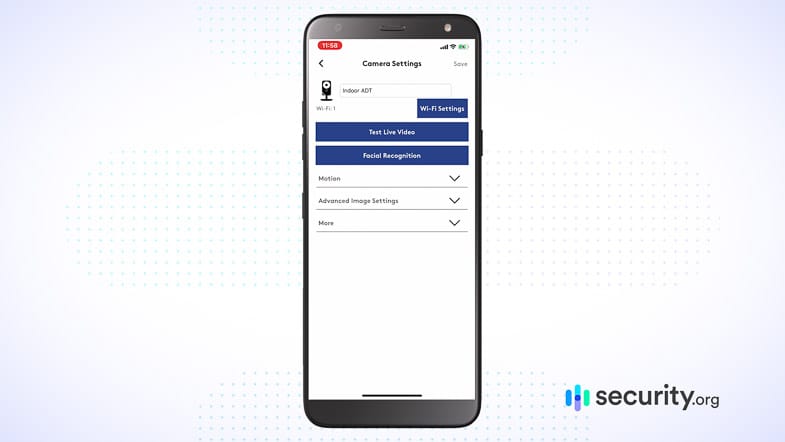 The good news is you're better off with professional monitoring anyway since you're protected even if you aren't available to receive alerts. Of course, you can still keep track of your home yourself through the user-friendly ADT Pulse app and a free 30 days of event history.
Blue by ADT Video Doorbells
ADT created a spin-off brand, Blue by ADT, in 2019, after purchasing LifeShield. The Blue by ADT brand was intended specifically to address the DIY home security market and features high-quality equipment with no monitoring strings attached.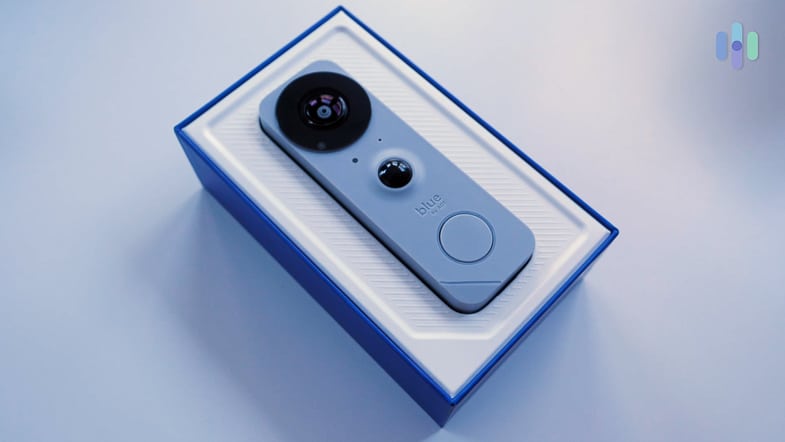 Blue by ADT offers its own line of cameras, including a doorbell camera, and there's no middleman involved. Blue by ADT's cameras are all manufactured by the company itself.
Did You Know: Lou Stilp founded LifeShield Security in 2004 to fill a need in the DIY security market. ADT acquired LifeShield in 2019 and rebranded it as Blue by ADT.
Specs
Here's what you get if you invest in a doorbell camera from Blue by ADT:
Resolution: First and foremost, Blue by ADT's doorbell cameras feature 1080p resolution. Sure, there are cameras out there with a higher resolution, but 1080p is the industry standard and will enable you to see whatever is happening on your doorstep with crystal clarity.
Field of view: Blue by ADT's cameras also best ADT's cameras when it comes to field of view. While ADT's doorbell cameras provide a generous 160 degrees, Blue by ADT's cameras' field of view is a full 180 degrees.
Night vision: Blue by ADT's doorbells use something known as true-day technology, which transitions smoothly between day and night images so that you don't lose clarity at dawn or dusk.
Activity zones: Like ADT's doorbell camera, Blue by ADT's offerings let you turn certain zones on and off in your fields of view so you avoid unnecessary alerts.
Two-way audio: These doorbell cameras not only come with microphones, but also use noise reduction and echo cancellation for clear conversations.
AI: The Blue by ADT cameras come with facial recognition. Scan a handful of pictures of your friends into the system, and it can tell you who's knocking at your door. The cameras also recognize packages so that you can worry less about porch pirates.
Wi-Fi compatible: Blue by ADT doorbell cameras are completely wireless. You get real-time alerts and cloud video storage via a Wi-Fi connection.
Power: One of the limitations of the Blue by ADT doorbell cameras is that they require you to wire them into your existing doorbell wiring. No battery option means that you're out of luck if you're looking to install a doorbell where there wasn't one before.
Durability: As for its ability to withstand the elements, Blue by ADT doorbell cameras are water-resistant. Unlike the ADT models, they aren't IP rated. However, they are durable up to 104 degrees Fahrenheit or down to negative 40 degrees Fahrenheit. That's some 35 degrees better at dealing with cold temperatures than ADT's doorbell cameras.
Additional Details on Blue by ADT
The big difference between ADT and Blue by ADT is in service. ADT is a traditional, full-service home security company. That means the company takes care of everything. It decides the best package for your needs; it installs that package; it monitors your home 24/7. With Blue by ADT, in contrast, you have choices. You can sign up for a monitoring plan, but you can also choose DIY if you prefer to handle all your security needs yourself.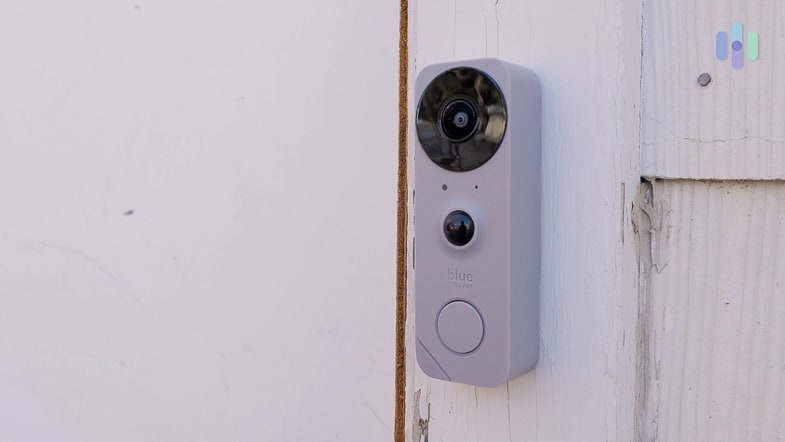 Blue by ADT gives you real-time push alerts, and you can access live or saved video. The company provides a full day of cloud storage for free and offers reasonably priced plans for those who need more. Finally, because the company is focused on DIY customers, you can just buy the doorbell camera itself and even install it on your own.
For more, check out our full Blue by ADT review.
Side-by-Side Comparison
| Features | ADT | Blue by ADT |
| --- | --- | --- |
| Resolution | 960×1280 | 1080p |
| Field of view | 160 degrees | 180 degrees |
| Night vision | LED | LED with true-day technology |
| Two-way audio | Noise reduction and echo cancellation | Noise reduction and echo cancellation |
| Connectivity | Wi-Fi | Wi-Fi |
| Power | Wired or battery | Wired |
| Durability | IP54, negative 4 degrees to 104 degrees Fahrenheit | No IP rating, negative 40 degrees to 104 degrees Fahrenheit |
| Monitoring zones | Yes | Yes |
| Artificial intelligence | Person/pet/package detection and facial recognition | Person/pet/package detection and facial recognition |
| Price | $199.99 | $199.99 |
See how ADT measures up in the industry
It's good to have options. See how ADT compares to these top doorbell picks.
Recap
One of the best things about ADT is that you have so many options when it comes to protecting your home. That applies to the company's video doorbells too. If you're looking for a full-service company to stand behind your video doorbell, ADT is definitely your best bet. If, however, you just want to invest in a video doorbell without worrying about equipment packages and monthly monitoring, you can always go with Blue by ADT.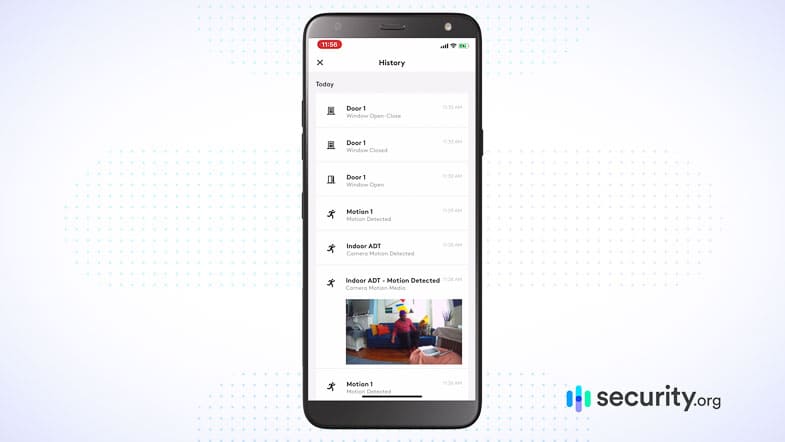 Either doorbell comes with important features like two-way audio, a wide field of view, and facial recognition. Still, ADT has a 145-year history in the security business. With that kind of reputation, we couldn't help but wonder why the company doesn't offer cameras with better resolution and durability, or why it needs to sell Google Nest doorbell cameras instead of manufacturing its own products. We expect ADT to make their own video doorbells in the near future.
FAQ
We've put together a list of your most frequently asked questions about ADT's video doorbells. You can find all the answers below.