Arlo Video Doorbell Review
Arlo, a top smart security company, has two doorbells to choose from, audio and video.
What We Like
Alexa integration: The Arlo Video Doorbell worked with Alexa, which allowed for hands-free commands.
Hardwired setup: Arlo's video doorbell worked only as part of a wired system.
Quality video: With 1536 by 1536 pixels and HDR, the Arlo Video Doorbell went above and beyond the industry standard for video.
What We Don't Like
Free person detection: After the first three months, we had to pay monthly for person detection.
Google or Apple integration: The Arlo Video Doorbell didn't work with Google Assistant or Apple HomeKit.
Wireless: The Arlo Video Doorbell had to be hardwired into our home.
Bottom Line
The Arlo Video Doorbell can differentiate between people, pets and packages with the Arlo Smart Home subscription, resulting in only the notifications that matter. Plus, with HDR, the quality of the footage was incredibly clear, free of glare or shadows.
After reviewing an expanse of Arlo products, from the Arlo Pro 2 and Arlo Pro 3 to the Arlo baby monitor and Arlo Ultra 4K, our experience with Arlo was mixed. Given the major technical difficulties we dealt with using the Arlo Ultra and Arlo Hub, we hoped their video doorbell would redeem the brand's reputation with our team.
Arlo Video Doorbell Design
| | |
| --- | --- |
| Temperature range | -4 -113 degrees Fahrenheit |
| Power | Hardwired |
| Connectivity | Wi-Fi |
| Requirements | Existing electrical wiring for wired doorbell and chime |
In this review, we evaluated the Arlo Video Doorbell's design, features, installation process, and mobile app. Did this video doorbell rise to the challenge? Keep reading to find out.
A Better Alternative: The more options, the merrier. As our favorite doorbell cam, Ring has a variety of products including doorbells with a virtual butler that greet guests for you. See what else Ring has up their sleeve in our Ring review.
Editor's Rating
Hardwired setup
Can tell the difference between people, pets and packages with Arlo Smart subscription
Only $149.99, making it one of the more affordable options on the market
How Arlo Stacks Up Against the Competition
Arlo doorbells provide extra smarts and security to homes, but we found it lacking in variety and options, especially compared to the top doorbell brands we've reviewed like Ring. So if you're looking for other options, or just want to shop around, check out our best-recommended video doorbell brands here: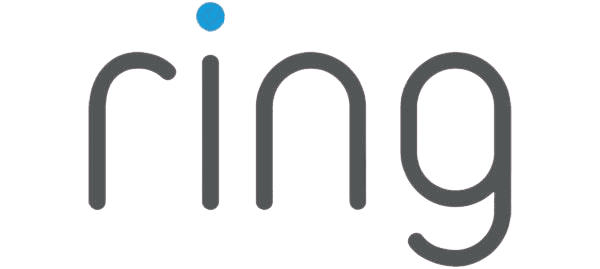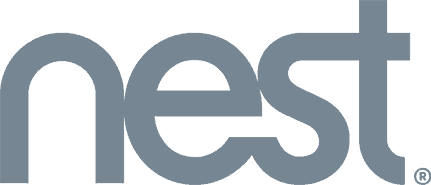 Arlo Video Doorbell Design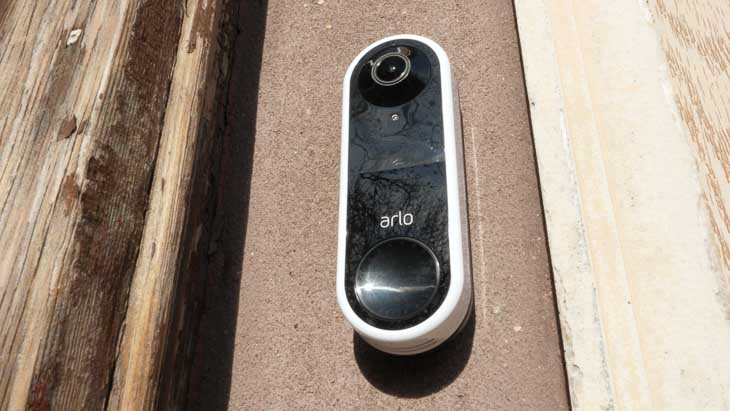 When it came to aesthetics, we appreciated the Arlo Video Doorbell's sleek style. It was pill-shaped with a shiny black face and a white rim. A black rim was also available. Before we made any purchases, we did our research. We were glad to discover that the Arlo Video Doorbell required an existing wired doorbell and chime setup with electrical wiring before we got ready to install our device.
Once we purchased our Arlo Video Doorbell, we hardwired it into our home. We were excited that we'd never have to worry about the battery running out. Of course, the wiring made installation a bit more difficult, but that was a concession we were willing to make.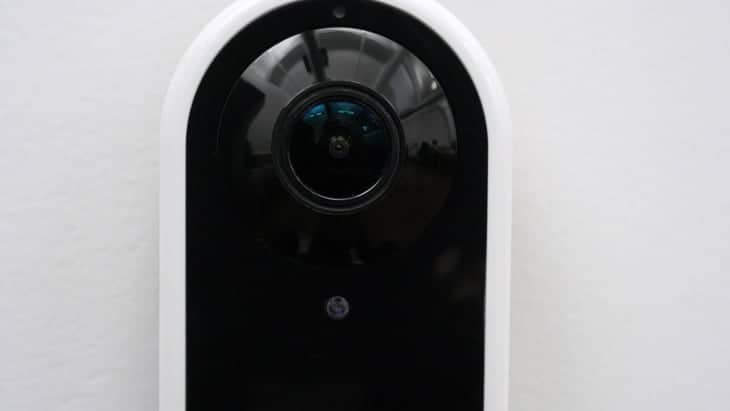 Although we liked the overall look of the Arlo Video Doorbell, we weren't thrilled about its size. At five inches tall, 1.7 inches wide, and one inch deep, it was taller than most other video doorbells we've seen. It still maintained the sleek look we thought it was going for, but it was borderline bulky, as well.
The Arlo Video Doorbell included a built-in siren, which was both convenient and useful for our home's security. It also featured tamper detection, so the alarm went off if anyone tried to move it. Following our installation, we were alerted via our Arlo Smart every time our doorbell detected a person, pet or package. Since this was a lot of notifications, we used the activity zones feature on the mobile app to narrow our doorbell's focus area to our porch, where we usually only saw people and packages.
Protected against temperatures ranging from negative four to 113 degrees Fahrenheit, Arlo tauts their video doorbell as a "weather resistant security" that's built to withstand heat, cold, wind, or sun. It did well for us during rain, but although it appeared durable, we wondered how it would hold up during a harsher winter. The Arlo Video Doorbell connected to the Arlo app over Wi-Fi, allowing us to control and monitor it from our mobile devices. Satisfied that we'd learned everything we could about the Arlo Video Doorbell's design, we jumped into our next section — assessing its features.
Arlo Video Doorbell Features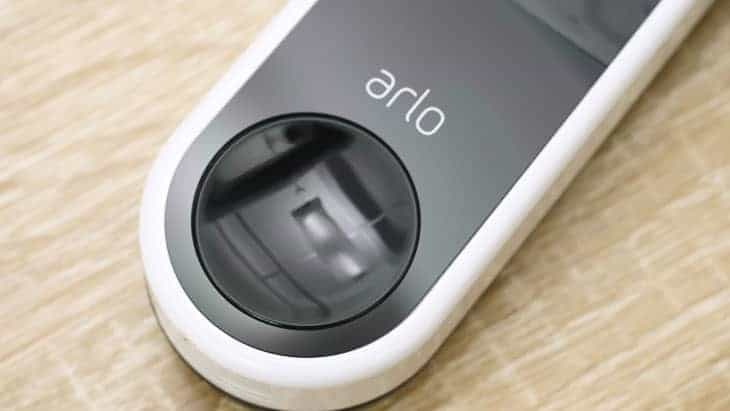 Video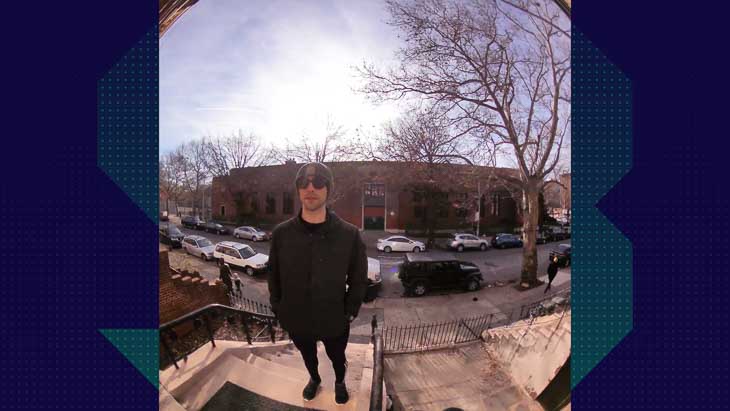 During our video evaluation, we found that the Arlo Video Doorbell fared better than the industry standard of 1080p HD. It actually shot in a maximum of 1536 by 1536 pixels, which made for a very clear image. Plus, the camera had HDR, which helped with outdoor lighting that might have otherwise caused discoloration. While most video doorbells had a 16:9 aspect ratio, Arlo's offered a 1:1 aspect ratio. This made it so we could see a large vertical area, from our guest's face to any packages at their feet, clearly and without any extra effort. Also equipped with the widest possible field of view, 180 degrees, and the ability to zoom in digitally 12 times, the Arlo Video Doorbell's video quality left us more than impressed.
Audio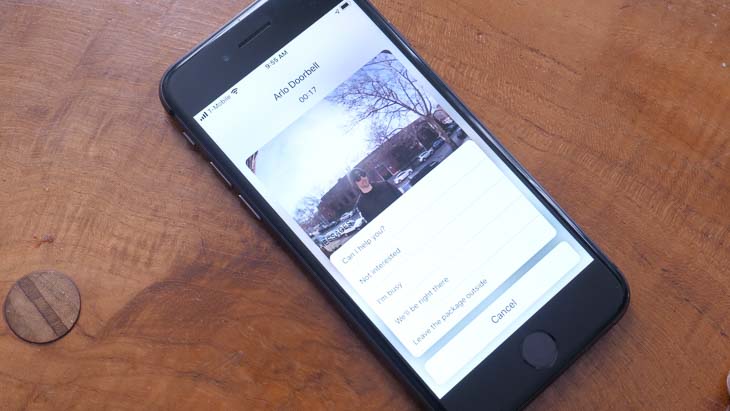 Another capability we agreed was an essential feature of any video doorbell was two-way audio, which required our device to have a speaker and microphone. These tools allowed us to speak to whoever was in front of our doorbell camera, be it kids coming home from school, the Amazon delivery worker, or a Girl Scout selling Thin Mints.
Two-way audio made it so we easily answered our door regardless of where we were, but the Arlo Video Doorbell's features didn't stop there. It allowed us to leave pre-recorded messages for guests and vice versa. It was much like an answering machine for our front door. This feature was not included in most video doorbells we reviewed, so we were pumped to play with it a bit. When we tried it out, both our day and night videos were recorded clearly, and we never had trouble understanding or hearing visitor audio. Our guests also got a kick out of our pre-recorded message welcoming them to our home.
Night Vision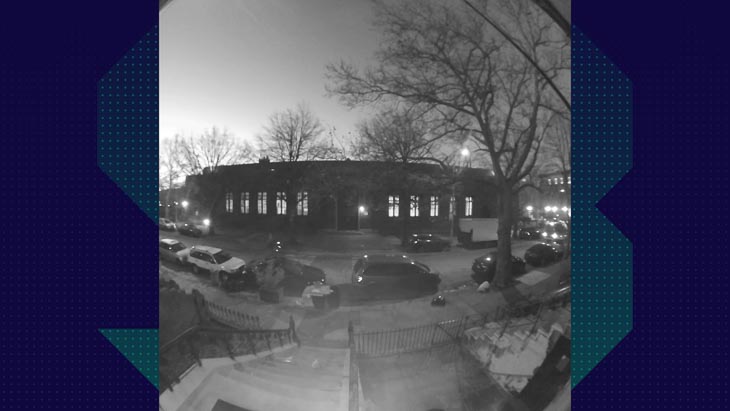 What's a video doorbell without night vision? The Arlo Video Doorbell came equipped with infrared LED sensors that allowed us to see clearly at night. We thought this feature would be particularly useful for winter evenings when the sun set so much earlier, yet we always seemed to still have frequent visitors. We actually preferred infrared night vision over color night vision, as it made the camera way less conspicuous than the bright white spotlight that color night vision required.
Storage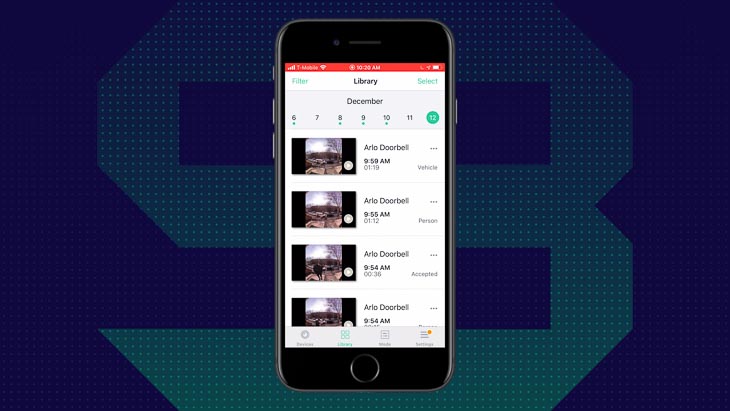 Unfortunately, the Arlo Video Doorbell lacked local storage, but Arlo still got points with us for providing a week of free cloud storage. For longer cloud storage, we had to invest in an Arlo Smart plan, which stared at approximately $3 per month.
| | Arlo Basic | Arlo Smart | Arlo Smart Premier | Arlo Smart Elite |
| --- | --- | --- | --- | --- |
| Amount of Cloud Storage | 7 Days | 30 Days | 31 Days | 60 Days |
| Advanced A.I. Detection | No | Yes | Yes | Yes |
| Max Amount of Cameras | 5 | 1 per add-on subscription | 10 | 20 |
| Monthly Price | $0.00 | $2.99 | $9.99 | $14.99 |
Pretend like you're home from anywhere in the world with Arlo's video and audio doorbells. Decide which one is right for you on Amazon.
Cloud storage wasn't the only thing we got with Arlo Smart; there was also person detection, which we got free as part of the three-month Arlo Smart trial that came with our video doorbell. After the first three months, Arlo Smart started at only $2.99 per month per camera, which was a great deal compared to competitor pricing.
Smart Platform Integration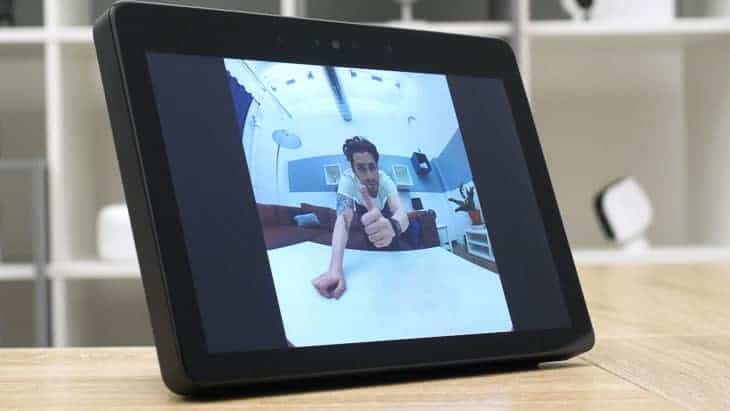 | Voice Assistant | Compatible? |
| --- | --- |
| Alexa | Yes |
| Google Assistant | No |
| Siri | No |
The Arlo Video Doorbell works with Alexa, so we enjoyed asking the voice assistant to:
Show the Arlo Video Doorbell's footage
Hide the Arlo Video Doorbell's footage
Show the last motion detected by the Arlo Video Doorbell.
However, the doorbell wasn't compatible with Google Assistant or Apple HomeKit, which we thought would be frustrating if we were already using one of those voice assistants.
Artificial Intelligence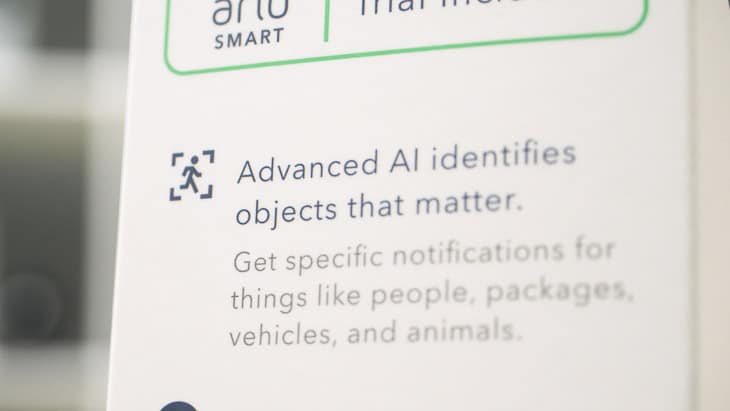 Again, Arlo Smart included person detection, which enabled our Arlo Video Doorbell to distinguish a person's movement from that of pets, cars, and more. With person detection, we only received the most important notifications. We didn't have to put up with annoying beeps every time a car passed our house. We considered person detection one of the best features of Arlo Smart, so we decided to go ahead and pay the service after our free trial period ended.
Aside from person detection, Arlo also offered pet or package detection. We thought that the latter might prove rather useful in communicating with a delivery person about where to put our packages. In fact, getting packages at home while living in New York could be kind of a toss up, so it made a big difference to be able to speak with our delivery person directly.
Arlo Doorbell Video Review
If you want to see what the Arlo Doorbell can do with your own eyes, check out this video review that we made.
Whether you go with the video or audio version, Arlo's doorbells will up your home's security in a flash. Check out your options on Amazon.
Installing the Arlo Video Doorbell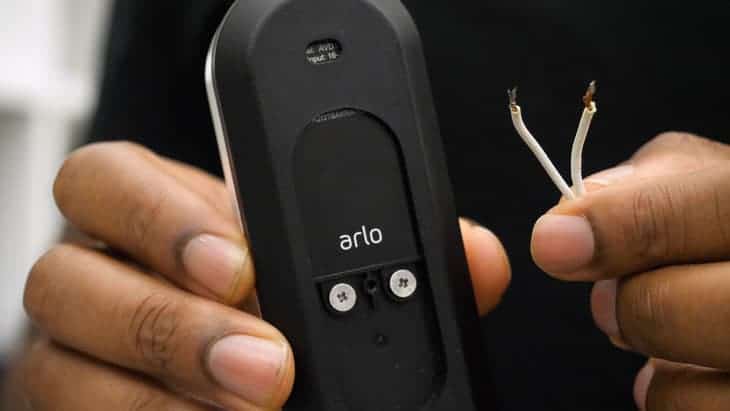 To use the Arlo Video Doorbell, we needed a wired doorbell and chime setup with existing electrical wiring and a 16-24 VAC. Unlike our experience with other Arlo products, this device only took us about ten minutes to set up. We removed our existing doorbell, took the two wires and re-screwed them into the back of the Arlo Video Doorbell. Of course, we made sure our power was off during this process so we could avoid getting electrocuted!
Once we'd physically installed the Arlo Video Doorbell to our home, the Arlo mobile app guided us through the rest of the process, which included giving our doorbell a name, like "front door" or even "The Batman," and scanning the QR code from the app. From there, the app did the rest of the setup for us.
The Arlo App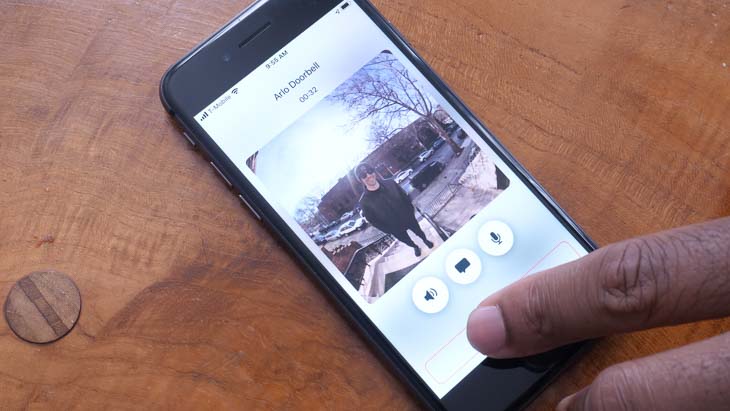 With the Arlo app, we monitored settings, spoke through two-way audio, viewed cloud storage, turned our camera on and off, recorded messages, listened to guest records, and live streamed footage. The app had a high rating, a 3.7 out of five, in the Google Play store, averaged from over 60,000 votes, and a four-star rating in the Apple store. Although most reviews were positive, a few complaints focused on the app's lack of a user-friendly interface. We also noticed a general consensus about a three to five-second lag on live content. While we didn't experience this delay ourselves, we thought that could get rather frustrating if we were trying to have a real time conversation.
See how Arlo measures up in the industry
It's good to have options. See how Arlo compares to these top doorbell picks.
Recap of the Arlo Video Doorbell
Although $149 seemed like a lot for a video doorbell at first, it was actually about $50 less than the industry average. However, the Arlo Video Doorbell didn't skimp on features like some of the other doorbells did. With Arlo Smart, we got person detection and 30 days of cloud storage on top of excellent video, audio, night vision, and Alexa integration. All that considered, we only recommended the Arlo Video Doorbell for anyone willing to use Arlo Smart, as person detection and cloud storage were part of what made the Arlo doorbell so enticing.