Ring Video Doorbell 3 Plus Review
Alexa, who's at the front door? Our experts tested out this $229.99 video doorbell from the Amazon-owned Ring.
What We Like
5 GHz compatibility: Our router's 2.4 GHz network is already crowded as it is, so we were glad to see that the Ring Video Doorbell 3 Plus can connect to the much less often used 5 GHz band.
Hardwired or battery-operated: We didn't need a hardwired doorbell to install the Ring Video Doorbell 3 Plus, although that was also an option. We're all about options!
Great audio, video and night vision: From its 1080p HD video to its two-way audio and infrared night vision, the Ring Video Doorbell 3 Plus has the features we've come to expect for their doorbell cameras.
What We Don't Like
No free storage: Although prices start at just $3 a month or $30 a year for 60 days of cloud storage, the Ring Video Doorbell 3 Plus doesn't offer local storage nor any free cloud storage.
No person detection: Since the camera lacks artificial intelligence features, we definitely received some false alarms due to movement from cars, animals, and other moving objects.
Disappointing pre-roll: Although we love the idea of pre-roll in theory (more on this later), the footage disappointed, being low resolution and black and white. Not to mention it only worked during the day!
It's no secret that Ring has a ton of options when it comes to video doorbells. In fact, the company started off as a doorbell camera company called Doorbot before it began expanding into security cameras, systems, smart lighting, and more. You name it, if it's related to smart home security, Ring has products in droves.
In this review, we took a look at the Ring Video Doorbell 3 Plus. This doorbell was released in 2020, but it's still one of the more advanced doorbells from Ring. Granted, it has since fallen off Ring's lineup, but with features very much similar to the new Ring Video Doorbell 4, learning from our experience with the Video Doorbell 3 Plus could help you pick the right video doorbell for you.
Ring Video Doorbell 3 Plus Key Features
| | |
| --- | --- |
| Price | $229.99 |
| Power | Battery or hardwired |
| Video quality | 1080p HD |
| Viewing angle | 160 degrees |
| Night vision | Infrared |
What We Thought of The Ring Video Doorbell 3 Plus
With a 9.8 out of 10 rating, any doorbell from Ring is a good option. You just have to make sure that the Ring Video Doorbell 3 Plus works for your specific setup, and that's what this review is for. If you're open to other options, however, check out other video doorbells from these other highly-rated brands:



Costs
Before we get too far into the nitty-gritty, let's talk about the bottom line. The Ring Video Doorbell 3 Plus costs $229.99, which is a pretty average price when it comes to doorbell cameras. Considering the most affordable Ring Video Doorbell is $99.99 and the most expensive is $499.99, the 3 Plus is priced straight down the middle.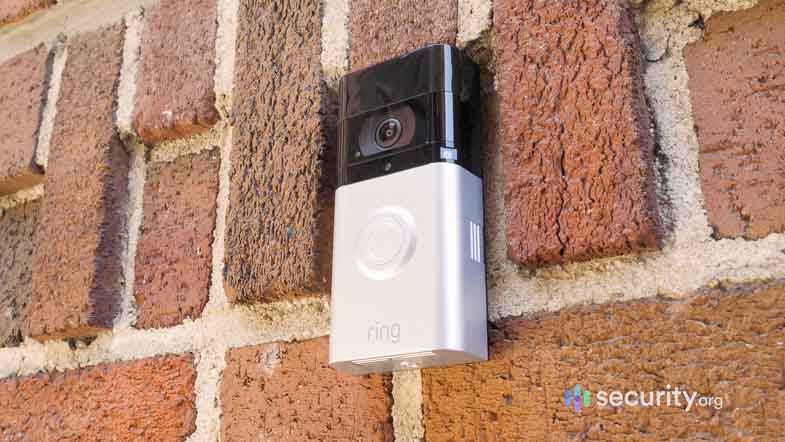 Plus, Ring didn't force us to pay monthly fees; even without a Ring Protect plan, which you can learn more about on our Ring pricing page, we could still livestream footage and speak through two-way audio, receive notifications when our doorbell camera detected motion, and control the 3 Plus remotely. This isn't always the case; SimpliSafe, for example, makes its users pay $24.99 a month for notifications and remote control.
However, one of the biggest drawbacks of Ring cameras and doorbells is that they don't offer any free video storage options. If you want to have recordings of events captured by the cameras, you'll need a Ring Protect plan that costs $3 per month for each camera or $10 per month for unlimited cameras.
Those subscription options aren't that expensive, to be honest. We've seen companies charge $10 or more per month, so we'd say that the Ring Video Doorbell 3 Plus is affordable even with the optional cloud plan.
Design and Features of the Ring Video Doorbell 3 Plus
If those prices sound a-okay, it's time to see if the device is actually worth buying in the first place. We tested it out in our apartment in Brooklyn, where thousands of people pass by our front door every day.
WiFi connectivity: Since the Ring Video Doorbell 3 Plus works with either 2.4 or 5 Ghz networks, we were able to hook it up to our 5 Ghz router, because obviously we're obsessed with fast Internet speeds. Because of this, we noticed that there was less of a lag between our camera detecting motion and us receiving notifications about it. In the event of a home intrusion, every second counts, which is why we're so glad Ring has made this upgrade.
Temperature range: As we said previously, we tested out the Ring Video Doorbell 3 Plus in New York City, where the temperature ranges from below freezing to over 100 degrees Fahrenheit based on the time of year. Throw in some rain, hail, snow, and sunshine and we knew we needed a doorbell camera that could withstand the elements. Fortunately, the Ring Video Doorbell 3 Plus fit in that range, working in temperatures from negative five to 120 degrees Fahrenheit. All in all, we didn't have any weather-related issues with our Ring Video Doorbell 3 Plus, although it may not work for those in a super-extreme climate like Arizona or Alaska.
Power source: Although we have an existing doorbell setup in our brownstone, we didn't want to mess with it too much, especially considering we're just renters. Instead, we opted to power our Ring Video Doorbell 3 Plus via a battery, which also made for a much shorter installation process. Once we added the device in our Ring app and connected it to our WiFi network, we made sure our battery was charged and then mounted the device next to our front door, installing the faceplate with a security screw. All in all, we got it up and running in less than 20 minutes! Plus, installing our doorbell ourselves meant that we saved $219 to $240, the average cost of professional installation.

2

Video: We were satisfied with the quality of our video footage, which was in 1080p HD with a wide, 160-degree field of view. This gave us more than enough coverage of our stoop, the sidewalk beyond it and the street beyond that. Plus, it saved us from having to buy multiple video doorbells, good news for our wallets.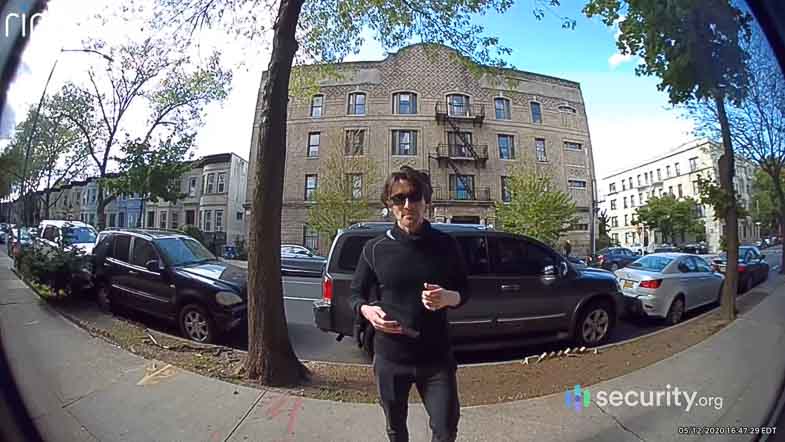 Audio: Of course, we didn't want to just be able to see our guests as they walked in front of our 3 Plus. We also wanted to greet them, be it through Ring's mobile app or through one of our Echo Show devices. Fortunately, the 3 Plus comes equipped with speakers and a microphone so we could actually greet our guests. Beyond that, the speaker actually cancelled a lot of the noise from the street (and believe me, during rush hour, this was pretty loud). In sum, we could hear our friends and delivery people clearly, and it was nice to be able to tell the Chinese food delivery guy to come upstairs and give us the lo mein so we could avoid walking downstairs.
Night vision: We were also impressed with the 3 Plus' night vision, which was black and white thanks to its infrared LED sensors. Even when we had a friend getting in from a red-eye in the middle of the night, we could clearly see him and buzz him in without having to call or text.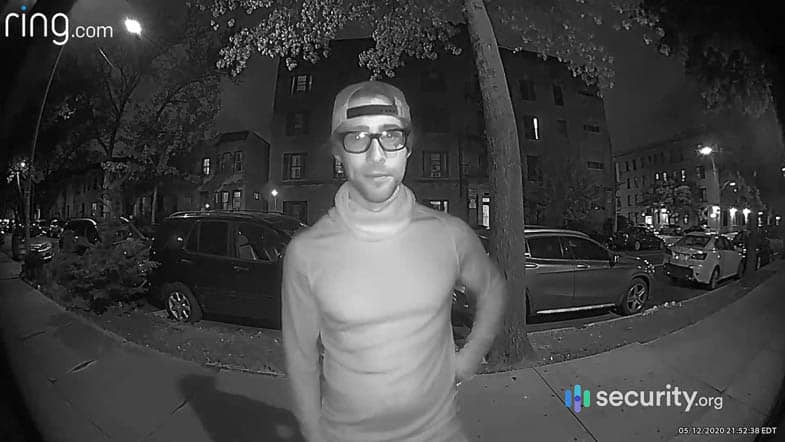 Storage: One drawback of the 3 Plus is that, like all of Ring's video doorbells and cameras, there was no slot for us to put in a micro-SD card. Rather, we had to pay $3 a month for the Protect Basic plan, which gave us 60 days of cloud storage. When we wanted to save a clip of our elderly relatives arriving for a visit, we had to go into the Ring app and download them to our phones, before transferring them onto hard drives we had lying around. A bit more effort than we'd like, but the process wasn't too complicated.
Motion detection: Another drawback of the 3 Plus was its lack of artificial intelligence. Unlike the Nest doorbell, which has person detection and facial recognition, the 3 Plus could only tell us when it detected motion. However, it couldn't tell the difference between people, which we care about, and squirrels, cars, planes, and other moving objects which we don't care about. As a result, we definitely received some notifications that were less than necessary, like when a squirrel was rummaging through our garbage cans. But one thing that helped reduce the number of unnecessary notifications we were receiving was motion zones, which brings us to our next point…
Motion zones: Once we discovered motion zones, our notifications were cut by around 70%. Basically, we drew a line around our stoop and our little front yard area, if you could call it that, so the camera didn't pay any attention to the sidewalk or street. Instead, we were only notified of movement that happened in our actual building and its property. Sure, some critters got in the way but in general, motion zones worked really well to cut down on those notifications that we didn't really need.
Pre-roll: We've tested out a ton of Ring's video doorbells, from the Ring Video Doorbell 2 to the Peephole Cam, but the 3 Plus and the new Video Doorbell 4 are the only option to have pre-roll. Basically, that meant that we got to see what happened in the previous four seconds prior to a motion event. However, when we tested this out, we found that the footage was black and white, lacked audio, and didn't work at night. We're not even sure what the purpose of pre-roll is in the first place, as the time before a motion event isn't super important, so we ended up turning pre-roll off.
All in all, we were happy with how the 3 Plus worked, minus its lack of free cloud storage, local storage and person detection. But for the basic seeing and greeting of our guests, it certainly got the job done.
Ring Video Doorbell 3 Plus and Our Smart Home: How Did It Fit In?
If you've been on Security.org before, it shouldn't surprise you that we're pretty obsessed with smart home technology. We're not only in the Amazon ecosystem, but also the Google ecosystem, meaning we use both Alexa and Google Assistant for voice commands. The 3 Plus, like all of Ring's video doorbells, works with both voice assistants, but when it came to the commands we could use, Alexa was a lot more comprehensive than Google Assistant.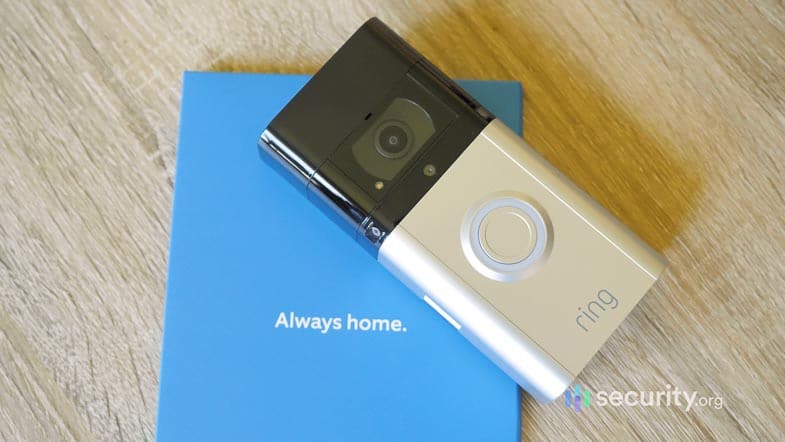 We could have Alexa show us our footage from the 3 Plus on either our Echo Show devices or Fire TV, which was pretty cool. We could also have Alexa make the 3 Plus stop recording, or show us the most recent motion event.
With Google Assistant, we couldn't get the footage displayed on our Google Nest Hub or Chromecast, no matter how many times we tried. Basically, we could only have the voice assistant start a new recording, tell us when the doorbell last rang, or the "health" of the 3 Plus, meaning its connectivity and battery life. It would've been nice to tell Google Assistant to show our 3 Plus footage on our Chromecast, but instead, we had to do this manually. In sum, the 3 Plus is a better option for those already in the Amazon ecosystem.
Aside from the voice assistants, the 3 Plus works with a whole slew of Internet of Things devices from third-party brands like Ecolink, Dome, and GE. That meant that we could have our Dome siren go off if the 3 Plus detected motion while it was armed. However, our neighbors weren't too thrilled about this home automation, so we ended up having to turn it off. Still, a cool option!
Video Review
If you're more of a Youtuber versus a reader, that's okay. We made a video review of the Ring Video Doorbell 3 Plus so you can actually see it in action, including day and night footage, especially important as more than half of all robberies1 occur at night.
Ring Protect Plans
We've mentioned the Ring Protect plans, which are optional, but let's get into a bit more detail.
| | Free | Protect Basic Plan | Protect Plus Plan |
| --- | --- | --- | --- |
| Coverage | No | One Ring Doorbell or Security Camera | All Ring Devices at One Address |
| Ring and Motion Alerts | Yes | Yes | Yes |
| Custom Motion Detection | Yes | Yes | Yes |
| Person Only Mode | No | Yes | Yes |
| Interact with Visitors Remotely | Yes | Yes | Yes |
| Livestream | Yes | Yes | Yes |
| Warranty | 1 Year | 1 Year | Extended Warranty |
| Length of Cloud Storage (in Days) | No | 60 | 60 |
| Review, Share, and Save Ring Videos | No | Yes | Yes |
| Exclusive Discounts at Ring.com | No | No | 10% off Ring Products |
| Monthly Price | $0 | $3 | $10 |
| Annual Price | $0 | $30 | $100 |
| Annual Savings | $0 | $6 | $20 |
The two options are simple: cloud storage for one camera or cloud storage for unlimited cameras. If you own one or two Ring cameras, it makes sense to choose the cloud plan for individual cameras because then you'll pay only $3 per camera.
If you own more than three cameras, however, the $10 per month plan that covers unlimited Ring cameras makes more sense. Both plans, however, offer the same features. You'll be able to store videos in the cloud for 60 days as well as download and share your recorded videos.
Note:: You don't have to pay anything to use the 3 Plus after you buy the device, but if you want 60 days of cloud storage, buy the Protect Basic plan.
The Ring— Always Home App
When we were away from our apartment, the Ring— Always Home app was just as its name, our home away from home. We got notified when the 3 Plus' camera detected motion, and we could check in on the footage right there and then, answering our door from literally anywhere in the world. The app was also where we viewed our cloud storage and downloaded it onto our phones, as well as controlled the 3 Plus remotely. One morning when we forgot to arm the doorbell after we left for work, we simply did it on the way to the subway via the app.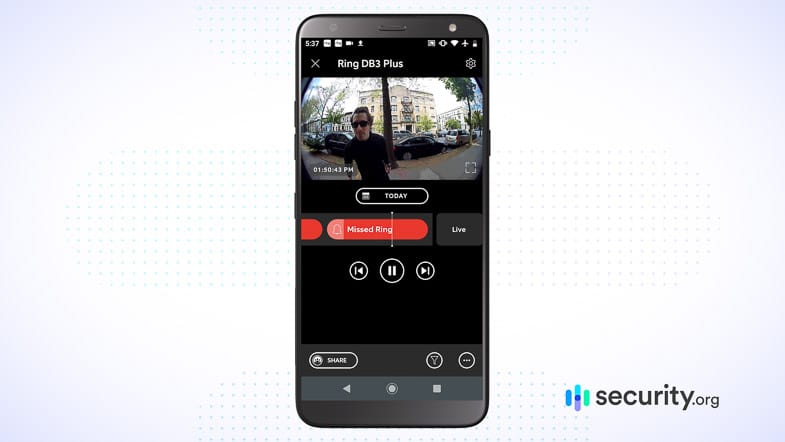 In general, we found the app easy to use, and other Ring users seemed to agree with us, as the app has a 4.2 rating from iOS users and a 4.1 from Android users. These ratings are way up since the last time we tested out a Ring device, so we're happy to see that Ring updates its app regularly.
FYI: The Ring— Always Home app is free on the Apple and Google Play stores.
Find out if Ring can protect your home like other security systems
For a closer look at how Ring performs, we compared it with other popular security systems.
Recap: Is the Ring Video Doorbell 3 Plus Worth It?
Overall, we think that the 3 Plus is only worth it if you're passionate about having pre-roll, a service we found a bit lackluster. But if pre-roll isn't important to you, we definitely recommend going with the Ring Video Doorbell 3 instead. It's essentially the exact same device without pre-roll, but it costs $30 less at $199.99. Sure, it's not a huge price difference, but there's no need to pay extra for something you don't care about and that doesn't work super well. Let's break it down even further.
| Get the Ring Video Doorbell 3 Plus if you want | But don't get the Ring Video Doorbell 3 if you want |
| --- | --- |
| Pre-roll | Free cloud storage |
| Alexa and Google Assistant integrations | Local storage |
| 1080p HD video resolution | Person detection |
| Two-way audio | Lowest prices on the market |
Ring tends to put out a lot of different devices that aren't super different from each other, except for the prices. Fortunately for you, you have Security.org in your corner to give you the skinny.