SimpliSafe Video Doorbell Pro Cost and Pricing
All the details on SimpliSafe's pricing structure.
Impressive 1080p HD image resolution
Two-way audio for an extra layer of safety
Simple DIY setup requires no handy skills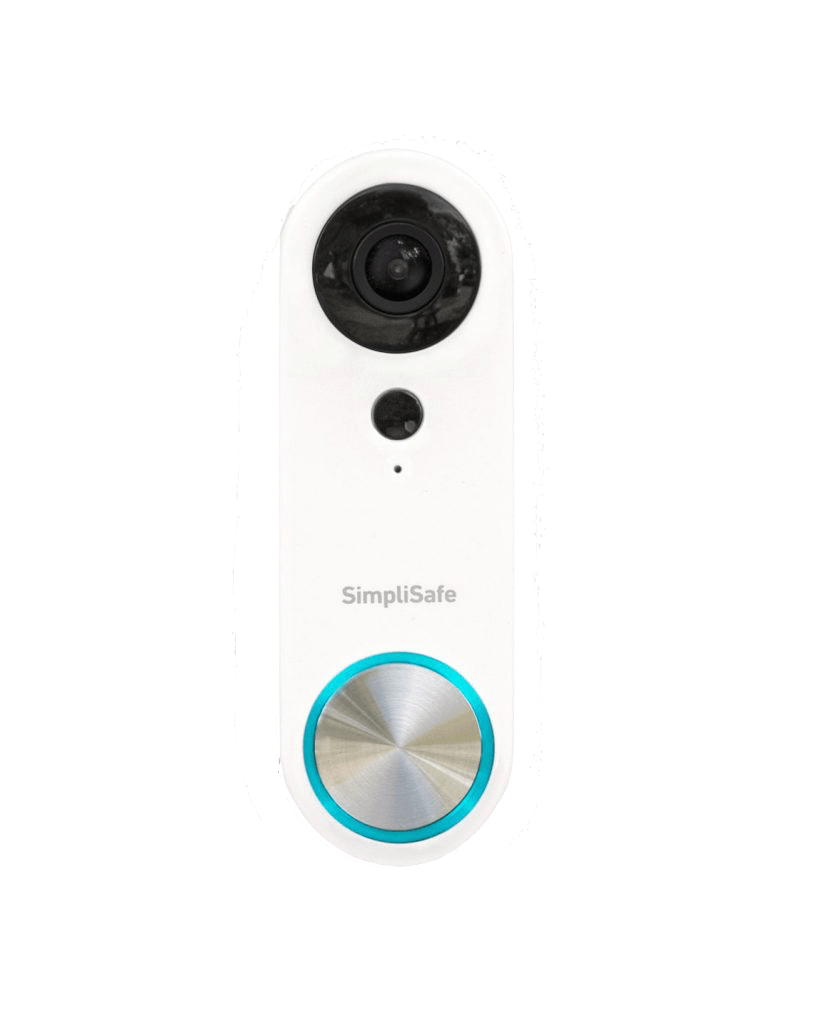 By

&

Last Updated on
Nov 10, 2022
Recent Update: 3 weeks ago
For Black Friday 2022, enjoy 60% off and get a free indoor camera when you purchase a new SimpliSafe security system with Interactive Plan.
Nothing beats the peace of mind of knowing that burglars can't just walk right into your front door to steal from you.
One of the best tools you can use to prevent burglaries is a video doorbell, and SimpliSafe, one of the best home security brands right now, has a trusty little video doorbell: the SimpliSafe Video Doorbell Pro.
In this guide, we'll save you hours of tedious research by evaluating how SimpliSafe's Video Doorbell Pro stands up against some of the video doorbell industry's top contenders in areas such as pricing, features, smart home integrations, and monitoring and storage subscriptions. Let's get right into it.
Favorite Features
A range of qualities earned SimpliSafe's Video Doorbell Pro its place as a market leader. We've selected some of those features we appreciate most:
No contract, no pressure: Part of what makes SimpliSafe great as a security system is the fact that it doesn't oblige you to sign a long-term contract or even pay a monthly fee. You can always self-monitor SimpliSafe equipment, and that applies to its video doorbell, as well. However, you can opt to pay a monthly fee to enjoy features like cloud recording, video verification, and professional monitoring.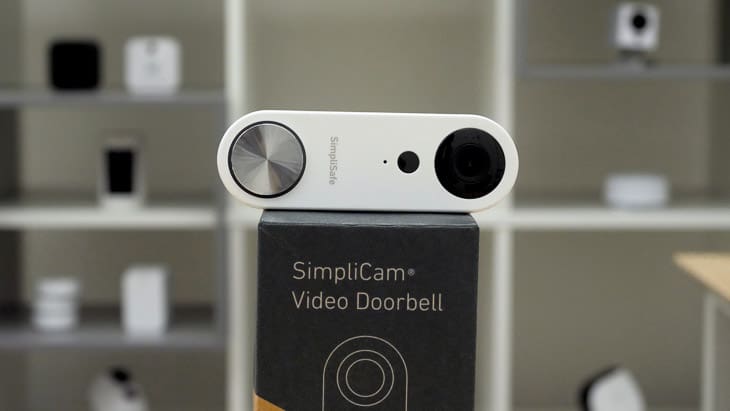 AI sensors limit false alarms: SimpliSafe's video doorbell uses a combination of Passive Infrared and computer vision to limit false alarms. The Passive Infrared (PIR) motion sensor built into the doorbell only triggers when the movement is caused by something that emits body heat (i.e. humans and animals), while person detection technology on the camera confirms if the frame really does include a human being.
Easy DIY or professional installation options: During these tough times, we'd do anything to save some cash, and that includes installing our security equipment ourselves. Thankfully, SimpliSafe is a master of easy-to-install DIY equipment, and we managed to install the SimpliSafe doorbell in under 30 minutes. The box even came with mini tools that were useful during the installation.
60-day money-back guarantee: SimpliSafe removes the risk from giving the Video Doorbell Pro a try with its 60-day money-back guarantee. The company will even pay for return shipping, a luxury often forgone by other companies. We liked that we had a full two months to confirm our video doorbell. We had plenty of time to ensure the device was glitch-free and that each feature met our expectations without having to stress about potentially losing our money should we need to return it.
Smart Home Integration
SimpliSafe's Video Doorbell Pro functions effectively on its own or as part of a fully connected SimpliSafe security system with home automation. When we connected our Video Doorbell Pro with the SimpliSafe base station, it linked up with every sensor in our security system. We were impressed to learn that when a sensor detects motion while the system is armed, the Video Doorbell Pro along with our other cameras would begin recording, ensuring that we know exactly why our system was set off. As a bonus, these recordings would have provided evidence in case we need to give them to the police.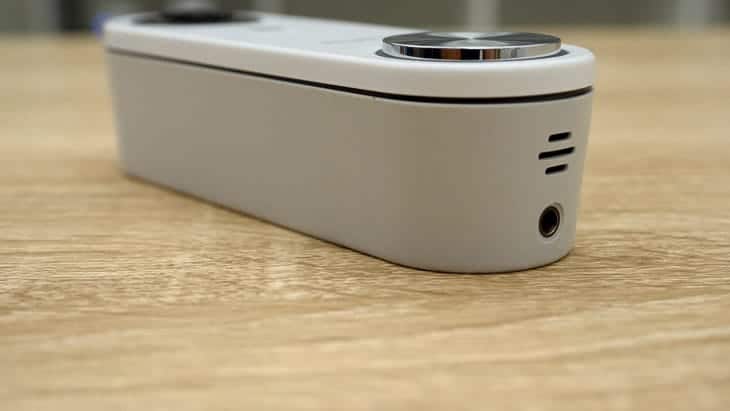 The Video Doorbell Pro syncs up with Alexa and Google Assistant, as well. That meant we were able to arm our system just by saying "Alexa, tell SimpliSafe we're going out" or "Hey Google, arm system." Pretty responsive for the affordable cost of just $169 for equipment and no required monthly subscription. We had no complaints.
Tip: Use SimpliSafe's mobile app to designate motion zones and create an even more precise area of focus for the Video Doorbell Pro. Instead of investigating every movement in its field of view, we told our doorbell to ignore motion in certain areas, such as the sidewalk and street, and track it in other areas, like our front yard. As a result, we received fewer unnecessary notifications.
Pricing
By 2025, experts predict the video doorbell industry will bring in a revenue of $2.83 billion yearly2 in the United States alone. Between charges for equipment and monthly fees for storage and monitoring, it's clear that this industry is already raking in the cash. Of course, not every video doorbell is equal. To succeed, each video doorbell must find a perfect balance between costs and quality. How does the SimpliSafe Video Doorbell Pro stack up?
Equipment Pricing
As briefly discussed earlier, the SimpliSafe Video Doorbell Pro is $169, priced lower than many of its quality competitors like the Nest Doorbell and the Ring Video Doorbell Pro.
The following chart compares the cost of a SimpliSafe Video Doorbell Pro against that of similar devices from top companies.
| Brand | Doorbell Cost |
| --- | --- |
| SimpliSafe Video Doorbell Pro | $169 |
| Nest Doorbell (wired) | $179 |
| Ring Video Doorbell Pro 2 | $249 |
| SkyBell HD | $199 |
Feature-wise, the SimpliSafe Video Doorbell Pro falls within the mid-range category, and compared to other doorbells in that category, it's certainly one of the most affordable.
That said, there are sub-$100 devices now from notable brands like Ring and Wyze. These aren't as advanced, but they have two-way talk and good image quality, which are the reasons most people get video doorbells in the first place.
SimpliSafe, on the other hand, offers features like person and vehicle detection to reduce false alerts. If you need those features and are willing to pay for them, then SimpliSafe should definitely be on your radar.
Monitoring And Storage Pricing
The device cost isn't the end of it. Like most video doorbells on the market, you'll need a cloud plan to actually store videos. The good news is, SimpliSafe is known for being flexible in terms of subscriptions. You have five options total, including a free one, and you don't have to sign a long-term contract. Here are your options:
| Features | Free | Cloud storage for Video Doorbell Pro only | Cloud storage for 5 cameras | Standard | Interactive |
| --- | --- | --- | --- | --- | --- |
| Cost per month | $0.00 | $4.99 | $9.99 | $17.99 | $27.99 |
| Unlimited cloud storage | No | Yes | Yes | No | Yes |
| Professional monitoring | No | No | No | Yes | Yes |
| Remote control | Yes | Yes | Yes | Yes | Yes |
| Livestream | Yes | Yes | Yes | Yes | Yes |
Self Monitoring and Storage
| Cloud storage plans | Monthly price |
| --- | --- |
| Free | $0.00 |
| Unlimited cloud storage for 1 camera | $4.99 |
| Unlimited cloud storage for 5 cameras | $9.99 |
| Standard monitoring plan | $17.99 |
| Interactive monitoring plan | $27.99 |
Free: During the month we tested SimpliSafe's free plan, we were able to livestream doorbell content and forgo a monthly storage or monitoring subscription altogether. We still enjoyed being able to talk to individuals who were outside our door in real time, especially when we were still in pajamas or not able to physically answer the door. We got sensor notifications as well, to make us aware anyone was outside. Like Ring video doorbells and Google's Nest Doorbell, push notifications were free. Unfortunately, we never knew if someone stopped by while we were away, since there was no recorded content to scroll back through and find out.
Cloud storage for one camera: With a $4.99 per month cloud storage subscription, the Video Doorbell Pro starts recording when it senses a person is at the door. SimpliSafe then stores the recordings forever. We enjoyed that we could scroll back through our recorded footage and see who'd stopped by. We also felt safer about any packages that were left outside. First, the camera served as a deterrent to any porch pirates. Most importantly, we liked that, in most cases, we'd be able to identify anyone who took our packages. To download the footage of our recorded files, we went through the SimpliSafe mobile app or website. While this lower-tier cloud storage plan offers far more possibilities than the free plan, it is still a self-monitoring only plan. That means we were responsible for keeping an eye on happenings around our home and calling emergency services should we witness a stranger casing or attempting to enter. And, of course, the $4.99 plan only gave us storage for one camera, in this case our video doorbell.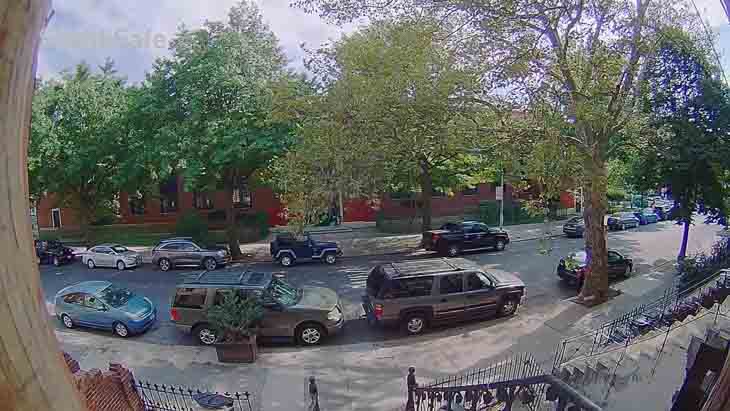 Cloud storage for five cameras: For $9.99 per month, SimpliSafe's second cloud plan supports storage for the Video Doorbell Pro and up to four additional cameras in our SimpliSafe security system. Again, storage was unlimited. To test out our cloud plan, we tried downloading our video footage via both the smartphone mobile app and SimpliSafe's website on our desktop computer. Both downloads went smoothly, and we could still view our clips in HD. We thought this plan might be a great option for parents who want additional cameras to remotely check-in on older children when they're home alone, since it provides real-time alerts and live remote viewing. Of course, like the one-camera plan, this plan is only for self-monitoring. If we had jobs that didn't allow us to periodically check our home security cameras, it's unlikely we'd notice a home invasion or other safety issue in time to inform emergency services prior to a crime.
Professional Monitoring and Storage
We found two professional monitoring plans that are available for the Video Doorbell Pro when it is paired with a SimpliSafe smart home security system.
Standard: The $17.99 per month Standard plan provides around-the-clock professional monitoring for our Video Doorbell Pro and other security system components. If our system identified a problem, SimpliSafe would immediately attempt to verify the emergency with us. If we confirmed or SimpliSafe could not get a hold of us, they would call first responders on our behalf. We noticed this price is low in comparison to many other minimum home security plans such as Brinks, which starts at about $29 a month for professional monitoring and ADT, which starts at $40 per month. Nonetheless, we doubt that we'd feel comfortable choosing the Standard Plan plan, as it didn't allow us to make any recordings with our SimpliSafe Video Doorbell Pro. We'd become used to the unlimited video storage with our self monitoring plans, and we had a hard time returning to a system that did not allow us to see who'd been near our home while we were away. We did, however, like that we still had mobile access to our live video doorbell feed with this plan.
Interactive: SimpliSafe calls its second option for professional monitoring the Interactive plan. At the very least, this plan requires the purchase of a SimpliSafe base station, motion sensor, contact sensor and keypad. For $27.99 per month, we got 24/7 professional monitoring, sensor notifications whenever a guest arrived at our door, unlimited cloud storage, and the ability to remotely control our home's security system, door lock, thermostat and lights. We loved not having to sign a long-term contract, as everything was month-to-month. We also appreciated having the option to check in on our home, but we really valued that SimpliSafe did all the work for us if an emergency came up.
Legal leverage: While SimpliSafe does not require a monthly subscription, a $5 to $10 monthly cost for a cloud storage plan might be worth it in the event of a theft or burglary. The 1080p HD recorded footage can serve as evidence, which may aid in the recovery of stolen items and/or the prosecution of lawbreakers.
A Notable Contender
To evaluate the Video Doorbell Pro's value, we compared SimpliSafe's Video Doorbell Pro with two of the industry's other top video doorbell brands, Amazon's Ring and Google's Nest, specifically the Ring Video Doorbell Pro and the Nest Hello. The most striking financial difference between SimpliSafe's Video Doorbell Pro and comparable competitors is its affordable equipment cost.
SimpliSafe's Video Doorbell Pro offers competitive device pricing, marked at $169. That's a full $60 to $80 less than the Google Nest Hello and Ring Video Doorbell Pro, costing $229 and $249, respectively.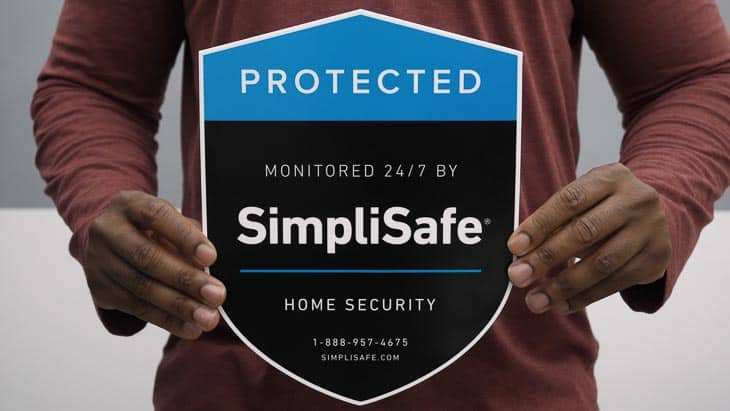 SimpliSafe also outshines both Ring and Google Nest with its money-back guarantee. Both Ring and Google Nest only have 30-day return policies. Ring charges $5 for shipping, and Google Nest has been known to require a $35 restocking fee on all its wireless products. SimpliSafe, on the other hand, has a 60-day return policy and will send a prepaid label to cover the cost of shipping.
Month-to-month video cloud storage plans with SimpliSafe also provide low cost options, starting at $4.99 per month for unlimited storage. Comparing SimpliSafe to Ring and Nest, SimpliSafe isn't the cheapest, but it isn't the most expensive either. SimpliSafe's minimum plan is slightly more expensive than Ring's minimum $3 per month or $30 per year plan. However, SimpliSafe's subscription is somewhat lower than Nest's minimum plan of $6 per month or $60 for a year for 30 days of storage. So in terms of costs, SimpliSafe's equipment is more affordable than the average, while their storage costs are straight down the middle of the road.
Is SimpliSafe the Video Doorbell For You?
All in all, we feel the SimpliSafe Video Doorbell Pro is one of top choices among today's video doorbells. With an equipment cost of $169, the SimpliSafe Video Doorbell Pro is known for its affordability. SimpliSafe doesn't beat its competitors in terms of the lowest cost storage, so when we wanted professional monitoring, we had to also purchase a SimpliSafe security system. Nonetheless, options for storage and professional monitoring with the SimpliSafe security system and the Video Doorbell Pro are very affordable. Backed by a 60-day money-back promise and free return shipping, we found SimpliSafe's return policy to be better than most major competitors. With no contracts required, families on a budget, students, and renters can consider a video doorbell from SimpliSafe without the stress of a huge initial investment or long-term commitment.
FAQs
We get questions all the time about Simplisafe's Video Doorbell Pro, so we decided we'd take a little time and answer some of the most common ones.