ADT vs Frontpoint
Our experts compare two industry giants, ADT and Frontpoint, to see what their strengths and weaknesses are.

Best Customer Support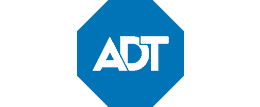 Professional installation on all systems
24/7 monitoring centers nationwide
145+ years of home security innovation
Best App

Fast and easy DIY installation
Smart home features and integrations
Industry's best customer service
ADT vs. Frontpoint is a story of old vs. young, of traditional vs. modern, truly a tale that will stand the test of time. ADT is the oldest security company in the United States, with over 140 years in business. They're undeniably the most recognizable security brand around, and that's got to mean something good, right?
Frontpoint is another customer favorite in the home security industry. Only a decade old, the company was the first nationwide alarm company to include completely wireless equipment and smart security in its systems. They were also the first to make a self-guided setup app. Clearly, Frontpoint is a frontrunner in the industry in terms of innovation, so I'm excited to see how their system compares with a similar system from ADT.
In this comparison, I'll be looking at the ADT Video Package and a customized system I bought from Frontpoint. I'll be going over the two systems' similarities, differences, and installation processes. Next, I'll move on to professional monitoring, then customer support. Finally, I'll end by comparing their apps before telling you which system I recommend overall. Our comparison of Frontpoint and ADT starts now!
Key Similarities of ADT vs. Frontpoint
I'll admit that I can get a little wordy, so before you buckle down and get into the nitty-gritty of the systems, I want to tell you what ADT and Frontpoint have in common.
Equipment: ADT and Frontpoint offer wireless equipment compatible with smart home automation, indoor and outdoor cameras, and video doorbells.
24/7 professional monitoring required: Both companies require that you pay a monthly fee for 24/7 professional monitoring and cellular backup.
Highly-rated apps: The ADT Pulse app and the Frontpoint app have high ratings from Android and iPhone users.
Key Differences of ADT vs. Frontpoint
Next, I'm going to tell you the main ways that ADT and Frontpoint are different from each other.
Customer support: While ADT doesn't have the highest customer reviews, Frontpoint's customer support is truly stellar.
Return policies: ADT gives refunds within six months if they cannot resolve an issue, while Frontpoint gives you 30 days for a total refund for any reason.
Contract lengths: ADT only offers three-year contracts, while Frontpoint lets you go month-to-month.
Perfect! Now let's see what's actually included in these systems.
ADT vs. Frontpoint  System Components
| Feature | ADT Video Package | Frontpoint Customized System |
| --- | --- | --- |
| Hub | No | Yes |
| Keypad | Yes | Yes |
| Motion Sensor | Yes | Yes |
| Entry Sensor | Yes | Yes |
| Glass Break Sensor | Yes | Yes |
| Key Ring Remote | Yes | Yes |
| Smart Lock | Yes | Yes |
| Indoor Camera | Yes | Yes |
| Video Doorbell | Yes | Yes |
| Radio | No | Yes |
The ADT Video Package and the customized Frontpoint system I bought are pretty similar, as you can see. Both give you a keypad, motion, entry, and glass break sensors, keyring remotes, smart locks, video doorbell cameras, and indoor cameras.
ADT vs. Frontpoint Installation
ADT requires professional installation, which means users get an overall white-glove experience. On the other hand, Frontpoint is completely DIY, which might be preferable for people who like doing things themselves.
ADT Installation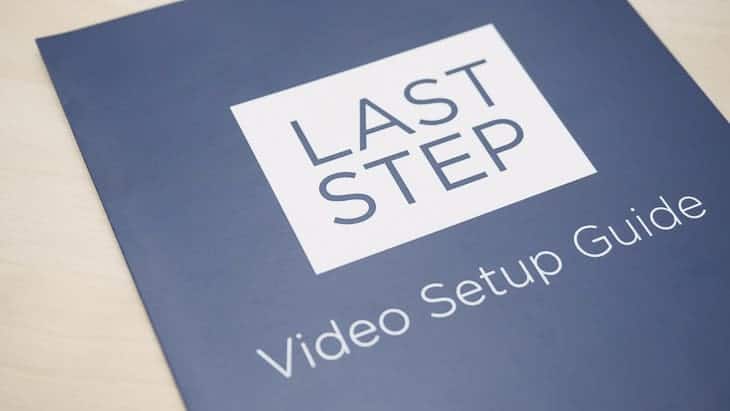 We're glad that ADT sent a technician out to install our ADT Video Package. Our system included cameras and a Kwikset Deadbolt, which in our experience, can be quite a handful to install.
The technician who installed our system was very professional. He walked us through the process, explained how each device worked, and then sat down and discussed how to operate the system. This kind of professional installation is exactly why we love ADT. All in all, it took the tech a couple of hours to complete the installation.
Installing Frontpoint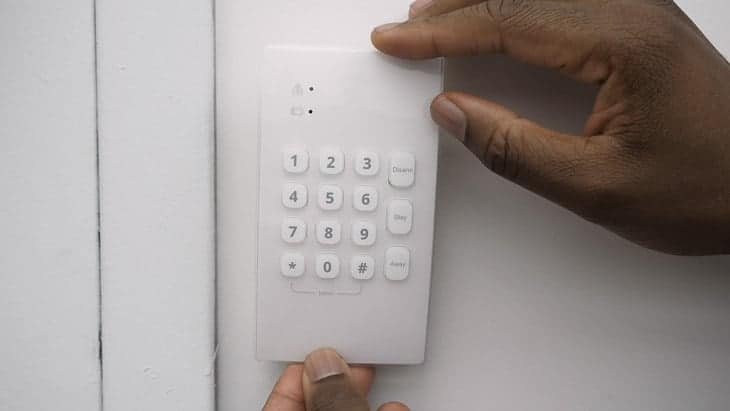 Most of the Frontpoint security system is wireless, which definitely makes installation a lot easier. The sensors and even the keypad are peel-and-stick, my personal favorite installation method, and everything comes pre-programmed with the hub. In the same vein as ADT, installing the Frontpoint camera was the most complicated part, but it wasn't too bad. I just had to plug in the ethernet and power cables, add the camera on the Frontpoint website, and connect it to my Wi-Fi. The process took a little under an hour, so I'm pretty happy!
Top System Installation
This really depends on your preference. Go with ADT if you want to sit back and let professionals take care of the installation, but go with Frontpoint if you want a more hands-on approach.
>> Learn More: See our pick for the Best Home Security System
Professional Monitoring
Looking to self-monitor through your app? Then you're reading the wrong review. (Check out our SimpliSafe review if that's what you're after.) Both ADT and Frontpoint come with 24/7 professional monitoring, which means you'll have a team of professionals monitoring your security system. It's super helpful if you're on vacation, stuck in a meeting, or trapped at the bottom of a ball pit. Wherever you are, if there's an emergency at your home, the professionals can take care of it. They'll check in with you and your home and if they determine it's necessary, you can contact the police, hospital, or fire department for you. I wish I had them for every aspect of my life!
ADT vs. Frontpoint Monitoring Options
Frontpoint Plan
| Feature | Ultimate (49.99/month) |
| --- | --- |
| 24/7 Professional Monitoring | Yes |
| 100% Wireless & Cellular | Yes |
| Automated System Check | Yes |
| Expandable and Portable | Yes |
| Unique User Codes | Yes |
| Crash and Smash Protection | Yes |
| Geo-location Services | Yes |
| Mobile Alert and Notifications via Email and Text | Yes |
| Remote Access and Control and Text | Yes |
| Sensor History | Yes |
| Live Video Streaming | Yes |
| Video and Image History | Yes |
| Motion Triggered Alerts | Yes |
| Night Vision Enabled | Yes |
| Light Control | Yes |
| Smart Lock Control | Yes |
ADT and Frontpoint's monitoring options work pretty differently. With Frontpoint, there's only one monitoring plan: the Ultimate plan for $49.99 per month. This plan includes every feature in Frontpoint's arsenal, including video monitoring, video storage for videos, and home automation. If you ever decide to expand your system, you won't have to upgrade your plan.
On the other hand, with ADT, your monitoring plan is based on both the amount of equipment you get and the services you want. Prices start at a little less than $30 per month, but can go as high as over $50 if you add video monitoring and home automation.
No matter which plan you choose on which system, you'll get cellular backup along with your 24/7 professional monitoring. What does that mean, exactly? It means that your system will stay on even if your neighborhood's power goes out. And that's a good thing, in case you didn't know!
I also wanted to explain the two more esoteric features of Frontpoint. One, they offer crash and smash protection, which means that if someone tries to (you guessed it), crash or smash your control panel, the professional monitoring team will be notified immediately and can send help. The second thing is the geolocation services. In a nutshell, you can connect your family's phones to your Frontpoint system and stay updated on their locations. This seems a bit creepy to me, and unnecessary as most smartphones have their own internal location services.
I'm going to be honest— Frontpoint's plans are a bit on the more expensive side, especially when you consider that you'd have to do the top-tier plan no matter what, even if you go with just a couple of sensors. Nearly $50 a month just to have a security system with night vision feels like a lot to me, but this is typical of these more established companies.
Unfortunately, ADT's pricing is not much better. While I can't give you exact prices, I can say that you'll pay a minimum of $28.99 a month for traditional security monitoring. If you want life safety monitoring, referring to smoke and carbon monoxide sensors, that cost will rise to $35.99 a month. And if you want to add an indoor and an outdoor camera, the cost goes to $57.99 a month! Of course, the exact pricing will depend on your equipment, but be sure to negotiate with your salesperson.
ADT vs. Frontpoint Contracts
ADT only offers three-year contracts, which you can start paying after your first six months with the system. Frontpoint, on the other hand, is a little more flexible, offering monthly contracting if you pay for your equipment up-front. With financing, your Frontpoint contract can also be up to three years.
ADT vs. Frontpoint Moving Policies
As both ADT and Frontpoint have DIY installation, you'll just move your system yourself if you are moving into a new home. There are no fees involved whatsoever! Just make sure you let Frontpoint know before you're moving— they'll send you more double-sided adhesive for your sensors and activate your system.
Top System for Monitoring
Regarding professional monitoring, I'm looking for a system with both flexibility and affordability, and Frontpoint wins in both of those categories. I like that it has monthly contracting as well as cheaper prices. Frontpoint two, ADT zero!
ADT vs. Frontpoint  Customer Support
| | ADT | Frontpoint |
| --- | --- | --- |
| Features | Live chat, phone, Facetime, online help center | Online FAQs, Phone |
| Google Rating | 2.5 | 4.5 |
WINNER: Frontpoint
Contacting customer support? Not ideal no matter who you are or what the situation is. But it's a reality of life, like flossing or doing your taxes. And if I'm investing hundreds if not thousands of dollars into my home's security, then I want to ensure that customer support is on point.
Both ADT and Frontpoint offer online help centers as well as phone lines, but get this: ADT also gives you live chat and even Facetime! Facetiming with an ADT customer support rep may seem like the most awkward thing imaginable, but I could see it being helpful if you want to show them an issue visually. Still, it's a bit odd.
Next, I looked at what real customers had to say about ADT and Frontpoint's customer support. Unfortunately, ADT only has a 2.5 rating on Google, which is pretty yikes! Plus, all of the reviews that mentioned customer support were negative. Clearly, this is not ADT's strong suit.
Frontpoint, on the other hand, is known for its incredible customer support, some of the best in the business. That amazing reputation is reflected in their 4.6 overall Google rating, and let me tell you, I kept scrolling and scrolling and saw nothing but four and five-star reviews.
"Customer service has been professionally helpful each time that I have had questions. They won't leave you hanging if you have an issue. All that and you get peace of mind knowing that you have someone watching your back"
wrote Jack Linamen in a five-star review. Sounds great to me!
Top System for Customer Support
It's no contest— Frontpoint has much better customer support than ADT. Again, if you're keeping track, it's Frontpoint three, ADT zero. Will ADT redeem itself with the app, or will it be a clean sweep for Frontpoint?
ADT vs. Frontpoint App
| | ADT | Frontpoint |
| --- | --- | --- |
| Features | Arm or disarm your system, control any connected devices, livestream footage, & receive push notifications | Remotely arm & disarm your system, receive all push notifications, livestream or view recorded video, & control your lights, locks, & thermostats |
| Google Play Rating | 3.9 | 4.1 |
| Apple Store Rating | 4.8 | 4.5 |
WINNER: ADT
The last thing I'll write about is the app from which you'll control and monitor your smart security system. We've all dealt with buggy apps, and I think we're all in agreement that they're zero amounts of fun. Let's see if the ADT and Frontpoint apps spark joy.
The ADT Pulse App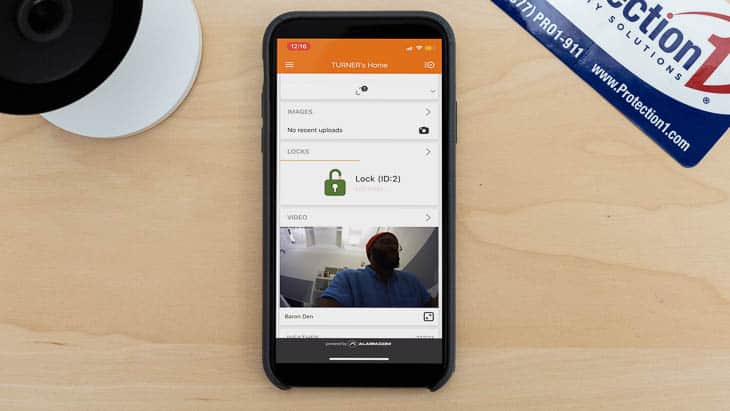 Don't ask me why ADT named it's app "Pulse," I'm just here to review it! From the ADT Pulse app, you'll be able to arm or disarm your security system, control any connected devices, livestream footage, and receive notifications. The app has great ratings, a 3.9 on the Google Play store and a 4.8 on the Apple store. Not too shabby, ADT! But is it enough to beat the beloved Frontpoint?
The Frontpoint App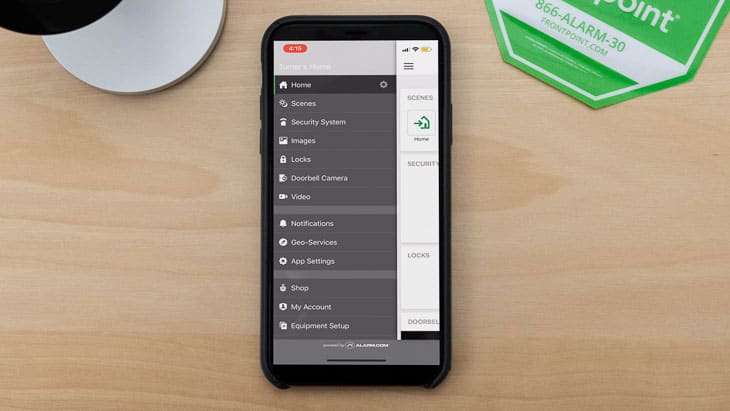 The Frontpoint app does the exact same things as the ADT Pulse app and it's also highly rated. While Android users gave it a 4.1, iPhone users gave it a 4.5! It seems like both apps are pretty easy to use, so you're covered either way.
Top System App
The numbers didn't lie, and the ADT Pulse app beat the Frontpoint app by .1! A win's still a win.
Recap of ADT vs. Frontpoint
It shouldn't come as a shock that I'd recommend Frontpoint over ADT. They have more flexible and affordable monitoring options, easier installation, and better customer support than ADT. The only category that ADT beats Frontpoint in was the app, and it was a pretty marginal win.
That's my recommendation, but I understand that people have different things that they're looking for in a security system. Because I'm an incredibly kind and giving person, I want to break it down for you even further.
That's it for me! To learn more, read our full written Frontpoint review or our ADT review.
Frequently Asked Questions
Still have a few questions about ADT and Frontpoint? You'll find answers to some of the most common questions below.