ADT Self Setup vs. Frontpoint
Who offers the better home security system: ADT Self Setup or Frontpoint? Let's find out!

Best Home Automations

Fast and easy DIY installation
Smart home features and integrations
Industry's best customer service
Best for DIY Install

Affordable equipment
ADT has 150+ years of experience
Simple DIY installation
You've read all the statistics. You know a home security system is vital to the protection of your family and property. There are a lot of home security systems on the market, though, so it's not easy to decide. The worst — the absolute worst — is when you've narrowed it down to two, but you just can't make up your mind.
Don't worry. We've got you covered. ADT Self Setup (formerly Blue by ADT) and Frontpoint are both very popular DIY home security systems — and for good reason. Both systems will protect you, both offer great value, and both appear on our list of the best home security systems on the market. You may be stuck, but we take our jobs seriously — and part of that job is to get you unstuck.
We've set up a head-to-head comparison between these two heavyweights. We'll give you the most important information about both and let you know which one is right for your particular situation. So let's jump in.
FYI: Blue by ADT is an affordable, DIY home security kit that's fairly new to the market. Don't get it confused with ADT's award-winning home security system. You can read more about ADT's traditional offerings in our full ADT review. If DIY is what you're after, check out our Blue by ADT review.
Key Similarities
Part of the reason it can be hard to decide between these two systems is that they have so many things in common. Here's a list of features you can expect from both.
Equipment
Both Frontpoint and Blue by ADT offer robust equipment packages with lots of optional add-ons. Choose the package that's right for you or build your own by choosing from standard devices such as entry sensors, motion sensors, and mobile stations. You can even add extras such as smoke detectors, chimes, and keypads.
Cameras
Both companies also offer security cameras, but selection is limited. These aren't camera companies like Lorex, where you can choose from dozens of models. Both ADT Self Setup and Frontpoint offer indoor cameras, outdoor cameras, and video doorbell cameras, so you can keep an eye on different areas of your house whether you're home or away.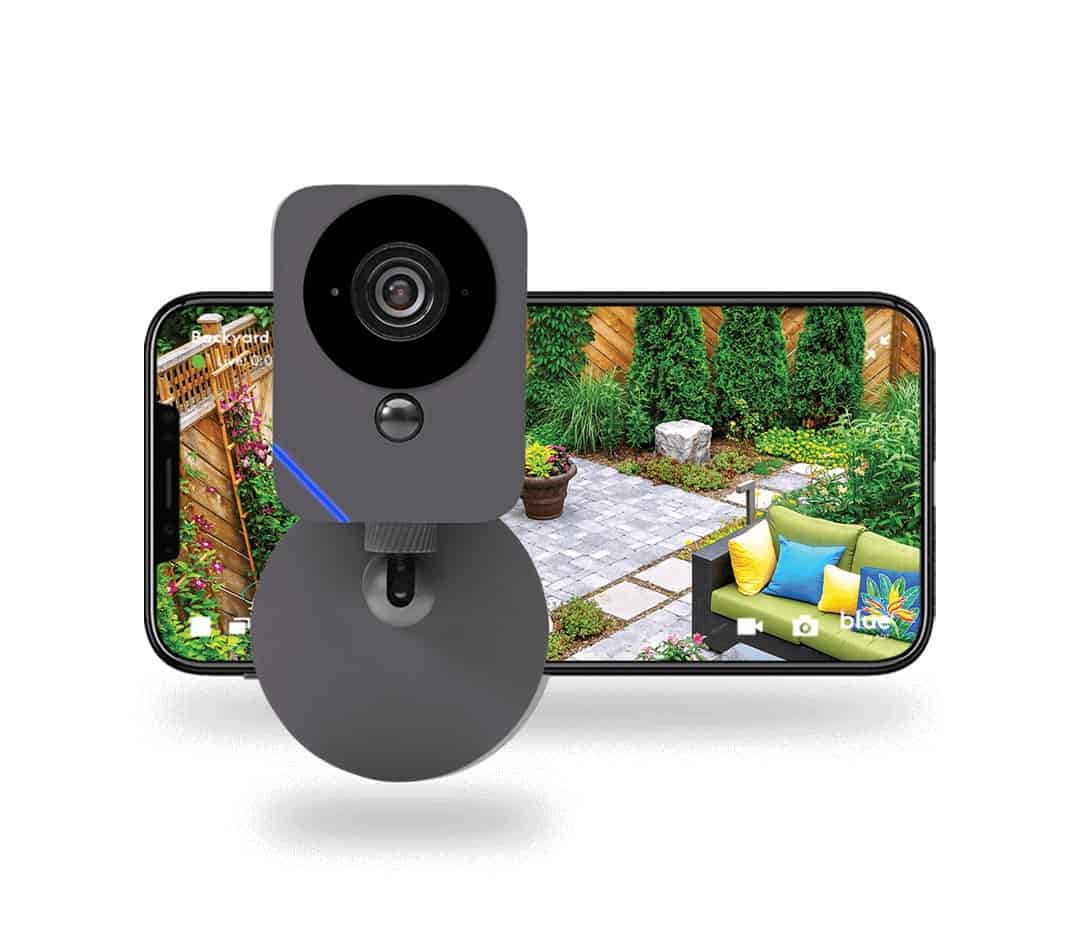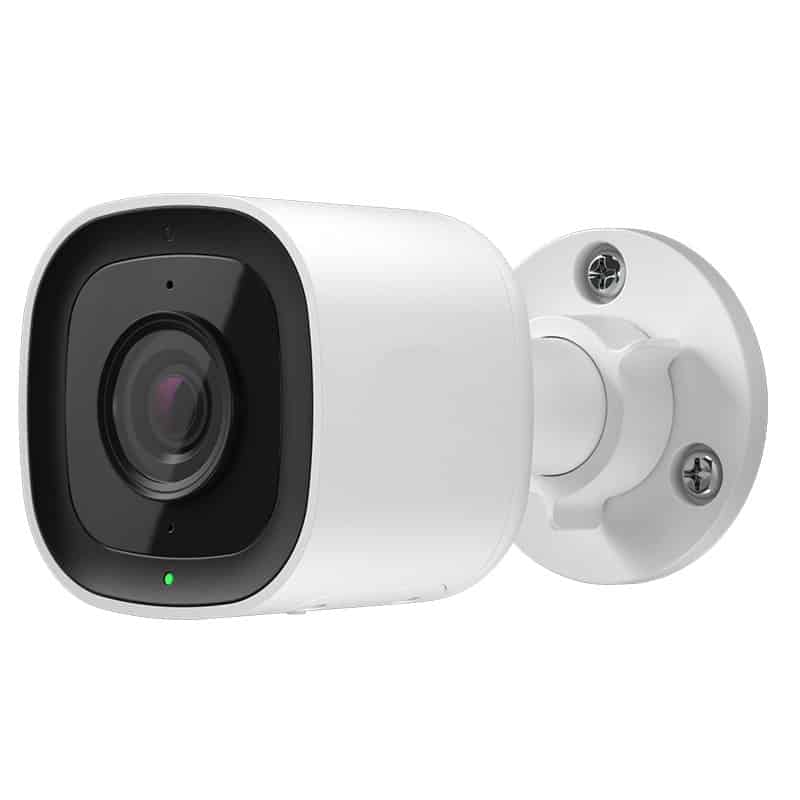 FYI: Some cities and states in the U.S. have outlawed the use of facial-recognition software in cameras, arguing that it's an invasion of privacy.
Smart Home Integration
Frontpoint and ADT Self Setup both provide integration with Alexa and Google Home, which means you can easily operate either system using voice controls. The integration also gives you access to special features and even more equipment. Once you've connected to Alexa or Google Home, for instance, you can create routines that connect your security equipment to smart locks, smart light bulbs, and garage doors.
Additionally, both Frontpoint and ADT Self Setup offer integrations with third-party smart home products, particularly those that use Z-Wave. With this, you can connect smart home products to either system and control them using the Frontpoint or ADT+ app.
One advantage of ADT Self Setup is that it works closely with Google Nest to provide native controls for Google Nest smart home products (e.g. security cameras, smart thermostats, smart speakers/displays) through the ADT+ app.
Installation
Whether you sign up with ADT Self Setup or Frontpoint, you'll get DIY installation, which saves money on professional installation. Both systems are remarkably straightforward. Their base stations and sensors are all plug-and-play, so you'll mostly just have to plug them in or turn them on to set up. The Frontpoint system comes preprogrammed so components all work with the keypad hub right out of the box. Neither system took more than a half-hour total to set up. If you need a little help setting up your system, though, you can check out our handy installation guide.
Responsive Apps
A strong app is key for any top-tier home security system. You need to be able to access your system no matter where you are. Both companies offer intuitive, easy-to-use apps that send real-time alerts any time one of its sensors goes off. In addition, they let you pull up live or recorded video. You also have the option to turn both systems on or off using just the app.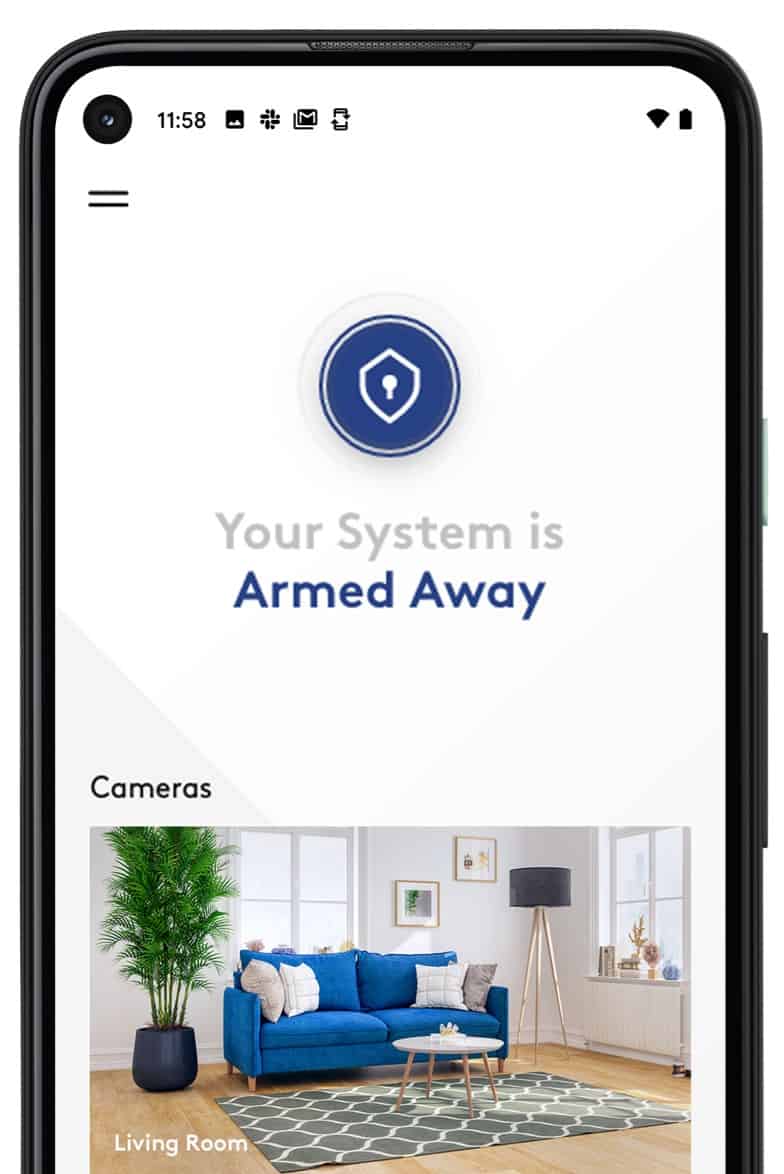 One Key Difference: Monitoring
The real difference between the security systems has to do with monitoring. Frontpoint offers only one option for 24/7 professional monitoring, which costs $49.99 per month, while with ADT Self Setup, you can go with basic professional monitoring ($24.99 per month) or add cloud video storage and video verification.
FYI: Technically speaking, you can self-monitor a Frontpoint security system. You just won't have access to Frontpoint's mobile app for remote arming and disarming, video streaming, and notifications. You can read all about this in our full Frontpoint review.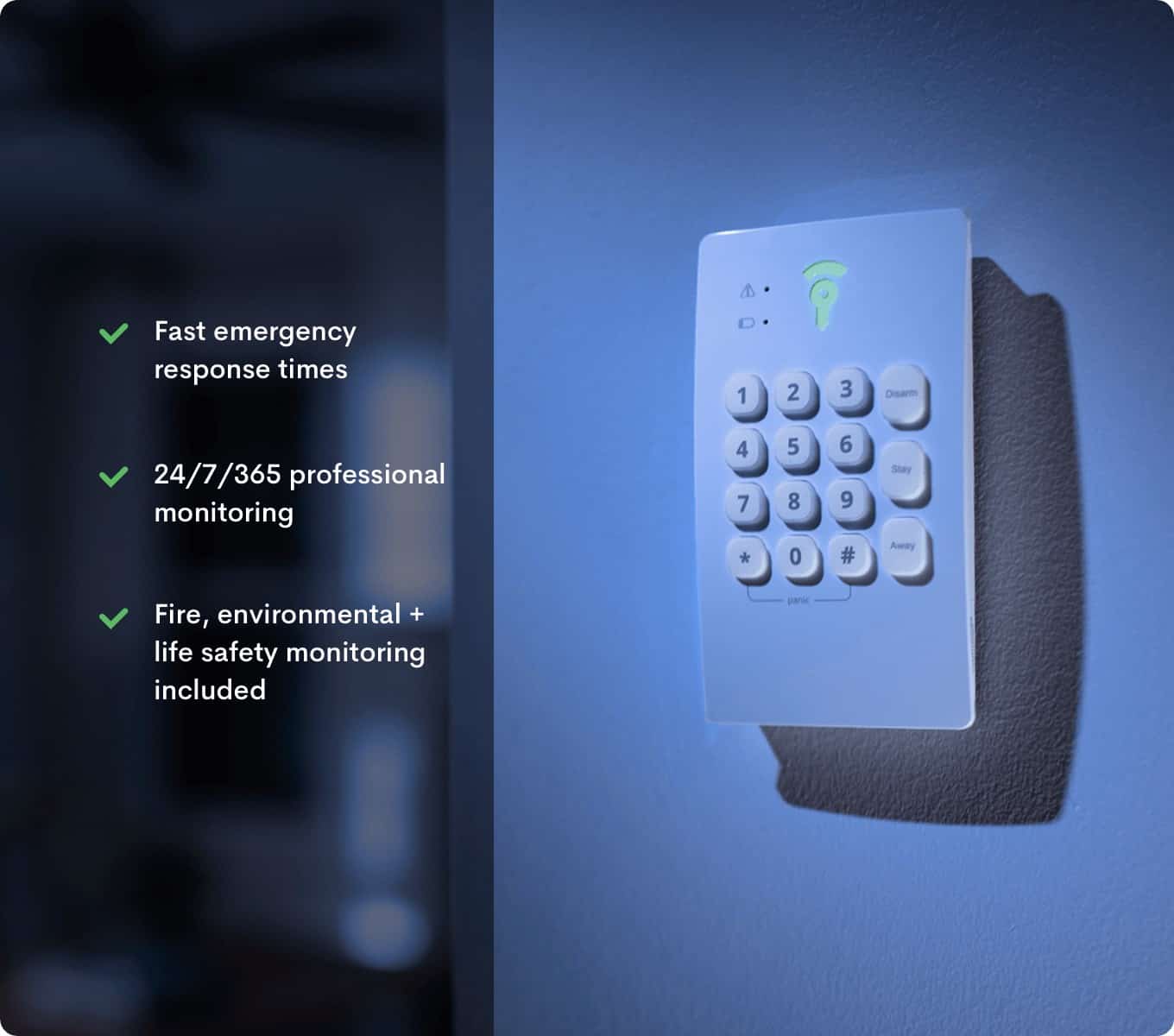 If you've read any of our other home security reviews, you know we always recommend professional monitoring. We know we're never going to be available 24/7 to check alerts and monitor footage. Every once in a while, we like to turn off our phones and take a nap under the big elm trees in our local park. And there are all those other pesky things, like dentist appointments, that tie up our attention as well. With professional monitoring, we never have to worry about paying attention. We let trained professionals do it for us.
With both systems offering professional monitoring, it comes down to price and features.
Frontpoint's professional monitoring costs $49.99 per month, which is on the more expensive side. That said, considering that it's the only available monitoring plan, and that it offers everything in Frontpoint's deep bag of tricks, it's a good value. In addition to professional monitoring, the Frontpoint monthly subscription gives you access to the Frontpoint app, cellular backup, home automation features, cloud video storage, and so much more.
With ADT Self Setup, all systems come with Essential monitoring, which costs $24.99 per month. For that price, you'll get 24/7 monitoring, access to the ADT+ app, and all the smart home features that come with the app.
Essential monitoring won't cut it, though, if you have security cameras as well. As mentioned, ADT Self Setup uses cameras from Google Nest, and Nest Cams require Nest Aware to store videos. For $10 more per month, you'll get a Nest Aware subscription and all the smart features that come with it, including facial recognition (a.k.a. Familiar Face Alerts). ADT will also be able to use Nest Cams to verify alerts, also known as video verification.
We'd have to give ADT Self Setup the edge here because it offers more options, it's more affordable, and it's backed by ADT's world-class professional monitoring service.
Like the idea of self-monitoring? Check out our page on the best no-monthly-fee security systems.
Pro Tip: You can save money by signing up for professional monitoring when you need it and doing it yourself when you don't. Self-monitoring is often free, and you can always add a single month of professional monitoring when you're on vacation.
Let's Talk About Pricing
Let's get to the bottom line: What will it cost to install these two systems, and how do their price points compare?
First, let's talk about what you pay for with a home security system.
Equipment: Obviously you have to buy the equipment itself, including door and window sensors, motion sensors, cameras, and hubs.
Monitoring: If you sign up for professional monitoring, you'll pay a monthly fee for it.
Installation: Some home security companies require professional installation. That costs money, but luckily, neither ADT Self Setup nor Frontpoint require professional installation.
Since we've already discussed their monitoring costs, and since there are no installation costs for both systems, let's go straight to equipment pricing.
At first look, Frontpoint's starter kits seem more enticing, price-wise. A starter kit with one base station, one motion sensor, and one entry sensor costs only $129. With ADT Self Setup, a starter kit costs $335.97. However, if you look at what's included, it's clear that ADT Self Setup has the advantage. That starter package includes four entry sensors, two motion sensors, and even a Google Nest Doorbell (battery). That's a lot of goodies for its price.
If you look at individual equipment pricing, it becomes clearer that ADT Self Setup is the more budget-friendly option. An entry sensor from ADT Self Setup costs $15, for example. The same type of sensor costs over $30 from Frontpoint.
The only area where Frontpoint and ADT Self Setup see eye-to-eye in terms of price is the cameras. For instance, Frontpoint's indoor camera costs $99, and the Nest Cam (wired) also costs $99. You have to remember, however, that the Nest Cam (wired) is one of the best indoor cameras on the market, with features like person detection, facial recognition, and customizable motion zones. Frontpoint cameras are simply not that smart.
Advantage to ADT Self Setup here.
Components Table
Want to compare apples to apples? Both companies offer a variety of packages. In addition, you can add equipment to any of these packages or build your own package from scratch. For comparison's sake, we compared the most similar equipment packages from both companies.
| Component | ADT Self Setup Starter system | Frontpoint Family Lookout system |
| --- | --- | --- |
| Hub and keypad | 1 | 1 |
| Motion sensors | 2 | 1 |
| Door and window sensors | 4 | 3 |
| Keychain remote | 0 | 1 |
| Indoor camera | 0 | 1 |
| Doorbell camera | 1 | 1 |
| Smoke sensor | 0 | 0 |
| Flood sensor | 0 | 0 |
| Price | $335.97 | $269 |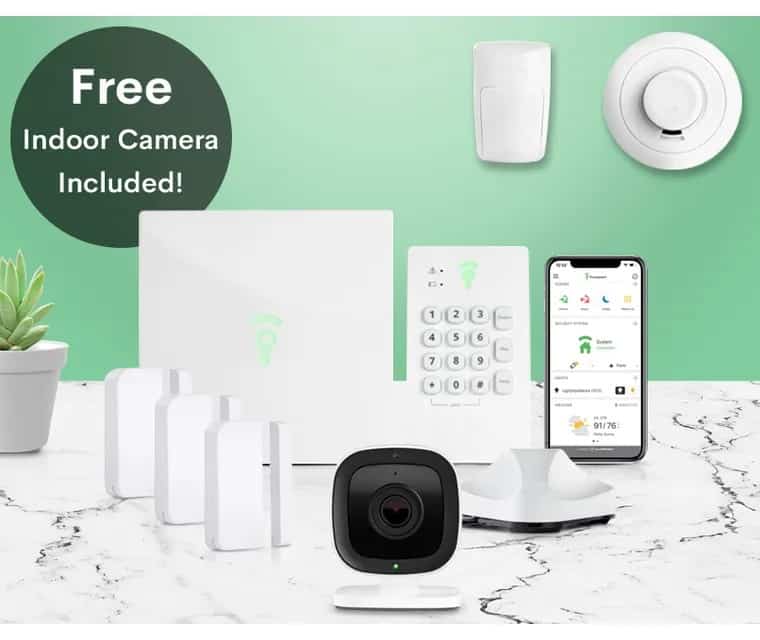 Recap
How does it all shake out in the end? Honestly, there's not a lot of daylight between them. Both offer solid midrange security equipment, including sensors, cameras, and hubs. Both make use of advanced technology features such as person detection and face recognition. Both require DIY installation, but in both cases that DIY is about as easy as self-installation gets. Both integrate well with Alexa and Google Home ecosystems.
Frontpoint has a bit of an edge on equipment options. In addition to basic security sensors, Frontpoint offers sensors like carbon monoxide detectors, glass break sensors, garage door sensors, and more. ADT Self Setup, however, has an edge on price both for monitoring and equipment. It's also backed by ADT's monitoring service, so you know you're getting quality service there.
With the two so close together, you know what we're going to say: It really comes down to what your home needs.
FAQs
Looking for even more information about the differences between Frontpoint and ADT Self Setup? We've put together a list of your most frequently asked questions below.