Fortress Security System Review
This affordable security system doesn't require any monthly fees.
What We Like
Self-monitoring and professional monitoring options
Easy, DIY installation
Remote access via a mobile app
What We Don't Like
Lack of in-house monitoring option
Limited smart home integration
Mobile app reliability issues
Bottom Line
Because we purchased cellular backup, our Fortress system stayed on 24/7, even when our power went out. Plus, with professional monitoring from a third party, we were protected even if we couldn't respond to an app notification.
Fortress Security is all about offering the right equipment to make homes almost as secure as an impenetrable fortress. Established in 2005,1 Fortress Security sells almost anything home security-related, including intrusion sensors, security system accessories, standalone sensors, security cameras, and NVRs.
This review focuses on Fortress's current flagship system, the S6 Titan, which our security experts have tested themselves. It's a DIY security system that supports landline, Wi-Fi, and cellular connections and allows the user to self-monitor or link the system to a third-party monitoring company for 24/7 professional monitoring. There's no time like the present, so let's get into it!
Fortress Monitoring Features
| | |
| --- | --- |
| Self-monitoring cost | $0.00 |
| Smart phone access | Yes |
| Push notification alerts | Yes |
| SMS alerts | Yes |
| Call alerts | Yes |
Editor's Rating
Works with Alexa
Professional monitoring is optional
Can control system remotely through the My Fortress app
More Security.org Recommendations
Check out more of our favorite home security systems.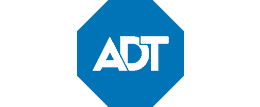 Pros and Cons
Right off the bat, our tech experts noted the versatility of the Fortress S6 Titan. It connects to a landline or Wi-Fi router with the added option to purchase a Fortress SIM card to activate cellular connectivity, unless you get your cellular backup from your third-party monitoring source, which is what we did (more on that later). You can even use any combination of the three to ensure that the system is functional during power, internet, or landline disruption. During our tests, we used both Wi-Fi and cellular, but we're pleased with the number of backup options that are with Fortress.
The S6 Titan can also be either self-monitored or professionally monitored, which is a first for a Fortress system. Despite Fortress's lack of in-house monitoring service, we've found a feature that allowed us to use S6 Titan with a third-party monitoring company.
We also liked that the main panel is tamper-proof. If someone tries to smash or rip out the panel from the wall, it will sound an alarm immediately. This feature helps deter a "crash and smash" burglary, where an intruder targets the central hub to prevent it from sending alerts.
On the more technical side, one of the best things about Fortress systems is that there's room for upward scalability. The central panel supports over 100 devices. Although we've only used it with a handful of sensors and accessories, it's nice to know that we can expand the system as we want. Our only note is that products purchased after the initial system are not pre-programmed to work with the main panel, so integrating them into the system will require a few extra steps.
System Components
Now that we've given you a high-level overview of the Fortress S6 Titan system, it's time to delve a little deeper into individual components. We purchased the S6 Titan Classic Kit, which is comprised of the following:
1 Main Panel
2 Motion Sensors
5 Door/Window Contact Sensors
1 Panic Button
2 Remote Key Fobs
1 Indoor Strobe Siren
2 RFID Tags
Let's see exactly how each component kept us safe at home.
Main Panel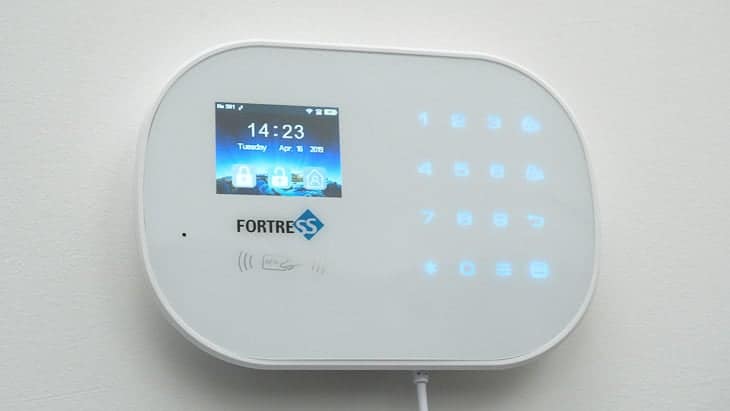 The main panel is the central device of the entire system. It tied our entire system together by pairing with sensors and accessories, generating alerts via landline, cellular signal, or Wi-Fi, and providing a way to control our system from within the house.
The main panel was tamper-proof, and it has battery-backup, a small, colored screen, a keypad, and an RFID reader, which made for a quick and easy system disarming with our RFID tags. It was tap and go, which came in handy when we were balancing takeout along with our gym bags and various other items.
Based on our experience, the main panel is durable, and it's pretty easy to operate. It has soft-touch buttons, the screen is clear and easy to see, and the menu provides a decent user interface. The voice prompts when arming and disarming the system is also a nice touch. We didn't have to worry about whether or not we armed or disarmed correctly because the voice provided us with the assurance we needed. Anxiety, be gone!
Fortress Pet-Immune Motion Detector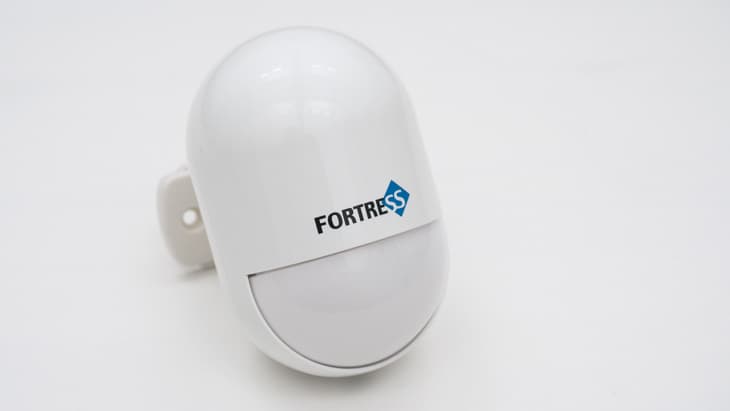 Almost any security system includes a motion sensor, but the Fortress Pet-Immune Motion Detector takes things a step further by being, well, pet-immune. What exactly does that mean? Well, the Fortress motion sensor ignores pets under 50 pounds, which covers most medium-sized and some large-sized dog breeds. While we're not pet-owners, sadly, animal lovers out there will appreciate the lack of false alarms from little old Scruffy.
Other than the fact that it can distinguish humans from pets, Fortress' motion sensor functions pretty much like any motion sensor, meaning it uses infrared technology to detect movement with a 110-degree field of vision. For maximum coverage, we placed our motion sensor high up in a corner wall facing the center of the living room. That way, if someone walked in, the sensor could immediately pick up the movement.
Fortress Door/Window Contact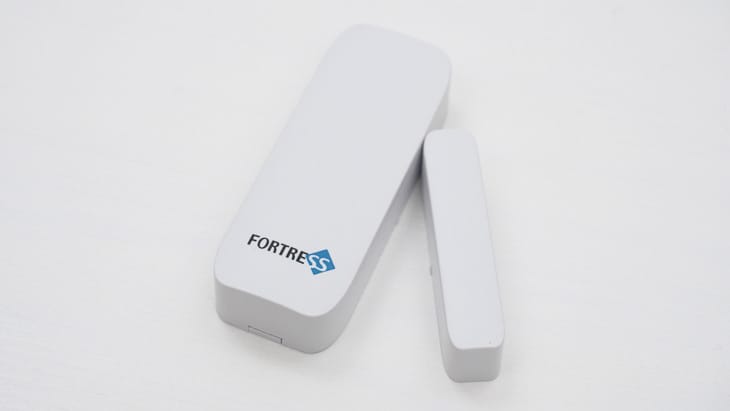 Designed to watch over doors and windows, Fortress' Door/Window Contact alerted us when a door was opened. If no one is home and the system was armed, that would be a cause for concern that we'd check in on immediately.
Given its simple mechanism, the Fortress Door/Window Contact is a reliable intrusion detector. Our only gripe, if we were to have one, is that it's relatively large compared to other door/window sensors and Fortress doesn't offer a smaller version, unlike abode, which you can read about more in our abode review. Fortunately, the sensor is white with curved edges, so it blended in nicely with our door.
Fortress Remote Fob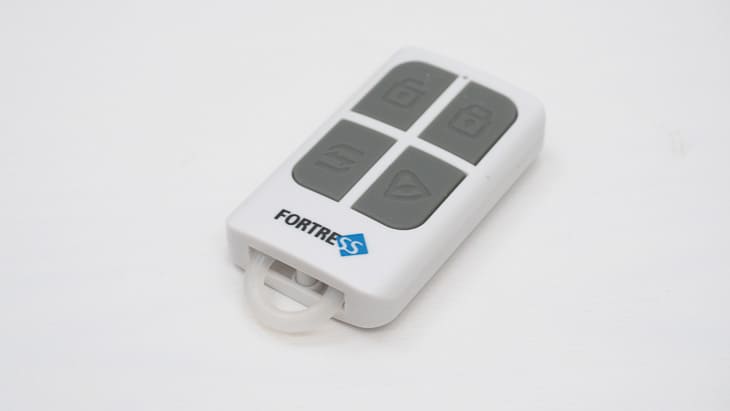 Besides sensors, Fortress gave us other ways to conveniently control our security system in and out of the house. The Fortress Remote Fob is a car remote-style device with four buttons: Disarm, Arm Away, Arm Home, and SOS. The SOS button calls for help in case of an emergency, the Arm Away button arms all security components, and the Arm Home button arms most security sensors except for motion sensors.
We've used the Fortress Remote Fob to arm and disarm the S6 Titan from outside the door, eliminating the need for an exit or entry delay. That way, the system can immediately alert us of attempted break-ins. However, because the remote fob can disarm the system without requiring a PIN, we highly recommend keeping it in your possession at all times.
Fortress Total Security RFID Key Tag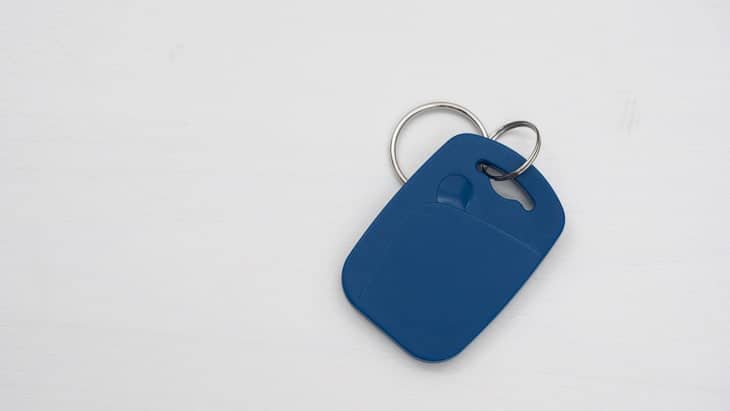 Another way we controlled our security system is through the RFID Key Tag. It disarmed our system with a quick swipe in front of the main panel's RFID reader. During our tests, we noticed that it could only disarm the system, not arm it. Rather, the main panel required us to enter our PIN whenever we tried to arm the system with it. Our theory is that this feature prevents users from accidentally arming their systems and triggering an alarm.
Just like the remote fob, we recommend securing the key tag so it doesn't get stolen or lost. If a key tag happens to get lost, we suggest immediately wiping it off from the main panel's programming.
Fortress Panic Button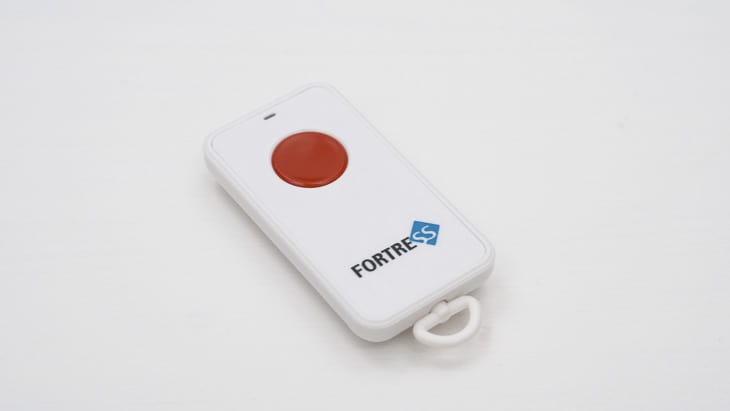 If you live with an aging loved one or a family member with a medical condition who might need emergency help while everyone is away, the FortressPanic Button can help you keep tabs on them. When pressed, the button triggers an alarm event and sends out alerts to all intended recipients. This device was also useful if we were away from the main panel or didn't have our phones nearby, on that rare occasion when we're not staring at a screen.
The Fortress Panic Button can also double as a wireless doorbell. Instead of sending SOS alerts, you can program it to sound a chime on the main panel. We've never seen a panic button double as a doorbell before, so this was a pretty cool feature if you don't already have a video doorbell handy.
Smart Home Tip: With a smart speaker that supports Alexa, you can control Fortress S6 Titan along with countless other smart home products and services with your voice.
Installing the Fortress S6 Titan
After gathering all the system components needed, the next obvious step was installation. The Fortress S6 Titan is a DIY system, which means it is the user's job to set it up (i.e., your beloved Security.org experts). We expect this trend to continue, as some studies suggest that by 2025 60% of all security systems will have DIY installation.2
The component that took us the most time to set up was the main panel. Once turned on and plugged in, it needed to be connected to the preferred communication method—either landline, cellular backup, or Wi-Fi. Like most 21st century homes, ours lacks a landline, so we stuck to cellular and good old Wi-Fi.
Initially, our testers used the main panel's menu to search available Wi-Fi connections. That was a mistake because we have a long Wi-Fi password, and the main panel's interface isn't ideal for typing. Upon further research, we discovered that there's an easier way called Smart Config that is made possible by the My Fortress mobile app.3 The process involved scanning a QR code, typing the Wi-Fi password on the My Fortress app, and then starting the pairing process on the main panel. With Smart Config, it took us only about three minutes to set up, and only about 30 seconds of that was put into typing the password.
Once we set up the main panel, the rest of the process was a breeze. We simply had to turn on the sensors and devices—mostly by pulling out their battery tabs— to connect them to the main panel instantly. The final step was mounting the sensors where we wanted them. Most sensors came with adhesive backs, but the motion sensors and main panel both required screws.
Pro Tip: There's an on/off switch at the back of the main panel. Be sure to turn that on before plugging the power cable to activate the battery backup.
Our Experience With the Fortress Security System
It didn't take long for our tech experts to figure out how to use the T6 Titan system. After all, it's a pretty straightforward system. Everything we needed can either be found in the app or on the main panels' menu.
Arming/Disarming Fortress T6 Titan
Arming and disarming the system is easy, and the voice prompts make it all the more convenient. We've tried all of the methods available to arm or disarm the system—the main panel's keypad, the My Fortress mobile application, the RFID key tags, and the remote fob. When arming the system, there are two modes to choose from: the Arm Away state arms all security sensors, while the Arm Home mode excludes motion sensors, ideal for securing the downstairs when we're upstairs
Remember: Before using the system for the first time, don't forget to set a 4-digit user password, which is used to arm and disarm the system, and to turn on the keypad lock.
Notifications
Notifications also worked great with the T6 Titan. We received real-time push notifications every time a sensor was triggered. We also had the option to receive either a call and SMS, only a call, or only a text message when alerts were triggered. We loved how much we could customize notifications because let's be honest, we don't want our security system to be a source of annoyance, as we have enough of those in our daily lives.
Zones & Modifications
Although we found the S6 Titan easy to use, we went ahead and did a little bit of tinkering to personalize its settings. One feature we liked playing with was Zones. Each sensor and accessory can be added to different Zones corresponding to their locations, and each zone can be modified to react differently to arming/disarming and alerts.
Each accessory can also be further modified. We've found modifying the alarm delay particularly useful. You know how security systems don't react immediately after you enter the front door? That's an alarm delay, also sometimes referred to as exit/entry delay. The system waits a few seconds to give us a chance to disarm the system. Intruders sometimes take advantage of this feature to deactivate the system before it sounds an alarm. With T6 Titan, however, we were able to turn off the alarm delay for all other sensors except for the front door contact sensor. By doing so, we've programmed the system to sound an alarm immediately if someone breaks in through a window, the back door, or any other entry point besides the front door.
Monitoring Options
Fortress S6 Titan and all other Fortress systems are, by design, self-monitored. They generate alerts when an alarm event is detected, but it's up to the user to take action. Because of this setup, there are no mandatory monthly monitoring fees and contracts. However, S6 Titan has a feature called CID that allows it to be professionally monitored by a third-party monitoring center. This setup is the case for about 96% of security companies, although most do it in-house.
Alarm Relay offered us professional monitoring services for as low as $8.95 per month, plus a one-time activation fee of $35. However, we had to sign up for a year, bringing the total upfront cost to $107.40 plus $35 for activation, which includes cellular backup.4
With a scalability of more than 100 devices, Fortress is completely customizable.
The My Fortress Mobile App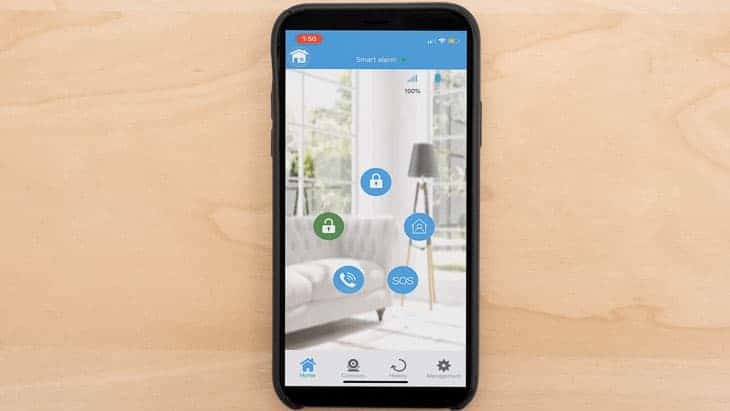 Besides the actual physical system, the My Fortress mobile application is a vital component of the S6 Titan. It is essentially a virtual control panel. Almost anything we could do using the main panel, we could also do with the app. During our tests, we used the app to arm and disarm the system, trigger panic alarms, initiate calls to emergency contacts, and customize our T6 Titan's settings. It's also where push notifications went through. Although the app has poor ratings on the Google Play and Apple stores, it seems to have improved since those customers left their reviews, and we had no issues using it.
Smart Home Integrations
If there's one thing we want to see more of from Fortress Security, it's smart home integrations. Currently, Fortress S6 Titan works with only two smart home products: the Fortress Total Security Outlet and Amazon Alexa.5
The Total Security Outlet, as discussed above, is a smart outlet. You can schedule it to turn on and off during certain times of the day, or you can manually turn it on and off using the My Fortress app. Each S6 Titan main panel supports up to 20 Total Security Outlets.
On the other hand, Amazon Alexa integration offers more features. Alexa is a voice assistant made by Amazon that anyone can access using any Alexa-enabled smart speaker. It understands voice commands and can control thousands of smart home and security products via Alexa Skills, including the Fortress S6 Titan.
We activated the integration using an Alexa-enabled speaker, the Alexa app, and a My Fortress account linked to our S6 Titan. After linking our My Fortress account to Alexa, we were able to issue voice commands to arm and disarm the security system, checking our activity feed, and even control some devices connected to our system. As a quick note, every command needs to start with the phrase "Alexa, ask My Fortress to…" for Alexa to know where to route the command.
Customer Support
It's easy to fall in love with a security system if everything is working as intended. However, when things go awry, that's when we all appreciate being with a company that provides great customer support.
Fortress Security offers support through different channels. Whenever we encountered problems or had questions regarding the S6 Titan system, our first course of action was to check Fortress's online FAQ, support articles, and YouTube channel. Their YouTube channel provides valuable instructional videos on how to set up, use, and personalize Fortress security systems. We've also found their downloadable manuals very helpful. Being millennials, this plethora of online sources was a definite treat.
For questions and concerns that our researching powers can not handle, we turned to Fortress's customer support. We were able to reach them via their website's live chat feature and over the phone, but they also have a support email and, surprisingly, for 2020, an actual mailing address. Who knew?
We've had a couple of encounters with Fortress' support team, and we can tell you firsthand that they respond within a reasonable time period, a blessing for our patience (or lack thereof). However, perhaps because of our curious nature, we've found some of their answers unsatisfying. For instance, when we asked which other monitoring companies work with Fortress besides Alarm Relay, we were vaguely told to Google "local professional monitoring." Basically, we were on our own when it came to setting up professional monitoring with our Fortress system. But aside from that blip, we appreciated the online resources from Fortress, which should answer the majority of your questions.
Video Review
If you want to check out how the S6 Titan looks in our hands and see the system in action, we've put together a video review that highlights each component we tested, their features, and the My Fortress App.

With four layers of backup, you can be assured that your security system will stay on 24/7.
Final Words
Overall, we had a great time testing and using Fortress Security to protect our home. It's a system simple enough to be used whether you're tech-savvy or an average Joe simply trying to provide protection for your family.
We liked that the system is versatile, easy to use, and scalable both in size and features. Most components were wireless, which contributed to the simple installation. However, some pieces required drilling for installation, which may not work for renters who don't want to damage their walls.
The fact that the system can work with a landline, Wi-Fi, or cellular backup makes the system even more flexible. Fortress S6 Titan and all the other Fortress systems may not be a good option if you are looking to get professional monitoring or smart home features, but if you're eyeing a self-monitored system that can grow with you, it's worth looking into their systems. However, if you want professional monitoring, note that you'll have to set it up yourself, which could be a bit annoying compared to other companies (like Vivint, ADT, or Frontpoint as you can read about in our Vivint review, ADT review and Frontpoint review) who have it in house. But if you're looking to self-monitor, Fortress is a viable option for your home's security.
With easy, DIY installation, you won't have to pay a dime to get Fortress up and running.