Ring Alarm Review: 2nd Generation
What We Like
Low-cost professional monitoring: We might sound like a broken record here, but it's true that Ring offers some of the lowest rates around for 24/7 professional monitoring at just $10 per month or $100 a year. We also liked that we had the option to self-monitor whereas some companies require pricier professional monitoring.
Robust Ring ecosystem: We were able to mix and match other Ring devices such as our Ring Stick Up Cam Plug-In and Ring Video Doorbell 2 to fortify our Ring Alarm security system. This ended up saving us a lot of money.
DIY installation: Like many security brands that we've reviewed, Ring provided an easy setup that didn't require a toolbox. It was as quick and simple as peeling and sticking for many of the components. Check out some other options of the best DIY home security systems.
What We Don't Like
Privacy concerns: With smart security systems can come hackers. Ring is no stranger to security breaches

1

but has incorporated two-step authentication into the Ring Alarm app in an effort to reduce the number of hacked devices.
Connectivity issues: During our initial setup of the Ring Alarm's base station, we had trouble connecting it to our Wi-Fi. But after a few tries, the connection went through, and, thankfully, we didn't encounter this issue again.
Bottom Line
Amazon's take on home security is one of the most affordable options on the market. Easy to install, we could livestream footage, receive motion notifications and control our system remotely for no additional fees.
If there's one security company that calls for your attention, it's Ring. With Amazon as its parent company, Ring grew from selling only video doorbells to product lines chock-full of security cameras, smart lighting, and two versions of alarm security systems: The 2nd generation Ring Alarm and the Ring Alarm Pro that doubles as a Wi-Fi router.
This is our hands-on review of the former, the 2nd generation Ring Alarm, but it's not our first rodeo with Ring. We've tested most of their security cameras and doorbells, and we also tested the original Ring Alarm system, which the 2nd generation replaced.
So, what's new with the second generation of Ring Alarm? Here's what went down during our testing of the Ring Alarm security kit.
What's new with the Ring Alarm 2nd Gen?
| | |
| --- | --- |
| Smaller keypad | 4.13 x 4.41 x 0.75 inches |
| Smaller contact sensor | 1.56 x 2.09 x 0.55 inches |
| Better contact sensor battery | CR2032 coin cell battery |
| Smaller motion sensor | 2.6 x 2.6 x 1.53 inches |
| Better motion sensor battery | 2 AA batteries |
Editor's Rating
Professional monitoring for $20 per month
No contract required
Amazon-owned company
Is The Ring Alarm Enough For Your Home Security?
One thing we noticed that hasn't changed in the Ring Alarm is its limited equipment options. It doesn't offer as many devices as our top-pick security systems. It lacks monitored smoke alarms and gas detectors, and it doesn't offer smart home equipment, for instance. If you want to see how Ring compares to the best security brands, see our Ring vs ADT, Ring vs SimpliSafe, and Ring vs Vivint guides. Or just cut to the chase and view the packages and pricing below: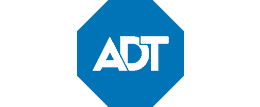 Piecing the Ring Alarm Together
DIY installation is the name of the game among security companies these days, so when we finally got our hands on the Ring Alarm five-piece security kit with all the components in one box, we went straight to work. Much like its predecessor, the Ring Alarm was quick and easy to set up, and installing it took less than half an hour. While we already had the Ring — Always Home mobile app installed, we recommend that this be the first step before installing anything else.
When we took out the base station, it looked more or less the same as the first-gen. We plugged it into a power outlet and connected it to our Wi-Fi. This took a few tries, much to our chagrin, but it didn't waste too much of our time. Most of the components — keypad, motion detector, contact sensor, and range extender — were peel-and-stick, so we pulled the tabs and placed them in the desired areas of our apartment. Once that was complete, we connected each component on the mobile app. While we were at it, we decided to rename some of them; for example, we named the contact sensor "Front Window."
Overall, we had a pleasant experience setting up our Ring Alarm security system and appreciated that the easy installation process remained the same. Plus, if we experienced any issues, we could access a number of helpful guides on Ring's website.
FYI: Ring Alarm 2nd Gen components are noticeably sleeker in design than the first generation, so you can place them in tighter areas of your home.
Our Reunion With Ring's Customer Support
Like we mentioned earlier, Ring offers a ton of guides, video tutorials, and FAQs on its website, but those who need more hands-on help can give Ring's customer support a call, send an email or use its website's live chat feature. While we're not fans of calling customer service, we found that it's a tried-and-true way of getting a direct response rather than waiting for a representative to respond to an email that was most likely ignored. This time around, we decided to chat it up with a Ring customer service representative over the phone about the base station's connectivity issues during our setup. The representative, Alex, was patient with our questions and helped us troubleshoot the issue until we could get connected. We'd recommend calling Ring rather than emailing, as most of our emails to Ring have gone unanswered.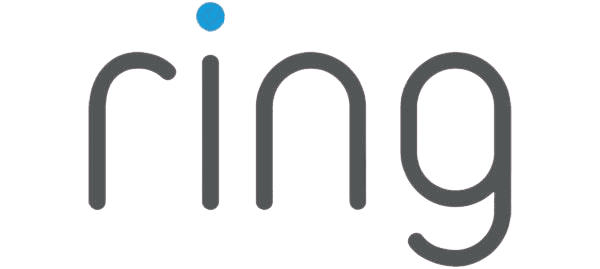 Professional monitoring for $20 per month
No contract required
Amazon-owned company
The Ring — Always Home App Experience Part 2
We saw an improvement with the Ring — Always Home mobile app as ratings are now 4.5 for iPhone and 3.9 for Android.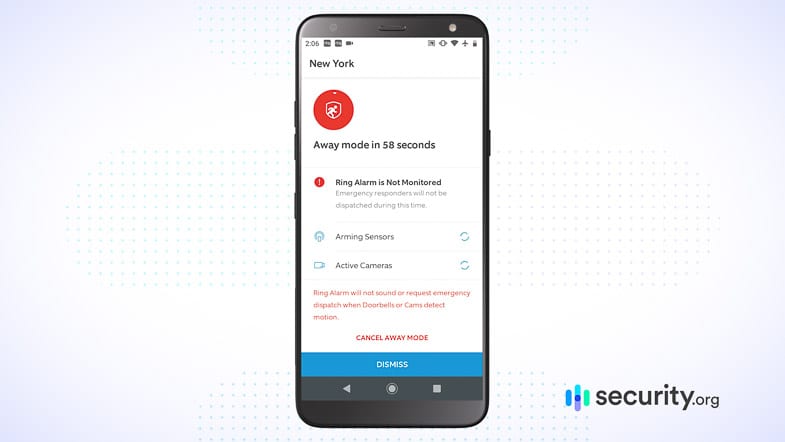 During our testing, we synced the app on our iPhones with the Ring Alarm security system and noticed the disarmed, home, and away options at the top of the home page. Each time we tapped any of the three options, we received phone notifications. This was super helpful since we had multiple users on one account who could arm or disarm the apartment, so we appreciated the heads up. We also jumped into the history and saw the most recent disarming activity along with changes made to the security system. What's more, we could check a specific device's history such as the contact sensor, and see the exact time that someone last opened our front window.
With our motion detector, we could change it to low, medium, or high detection — high being the recommended level for spaces with no pets. There were other features that we could play around with on the mobile app such as changing the name or placement of the devices, customizing notifications that we wanted to receive, and linking Ring cameras. If our phones died, we could still access our account through Ring's online portal. With so much ease and control on the Ring — Always Home mobile app, our experience with the Ring Alarm was stress-free.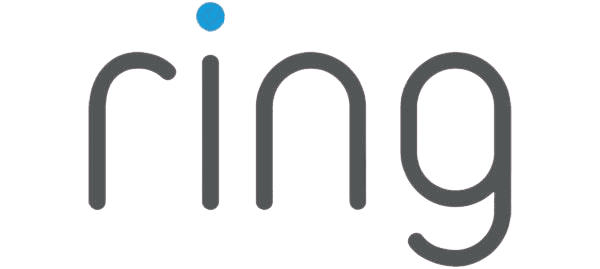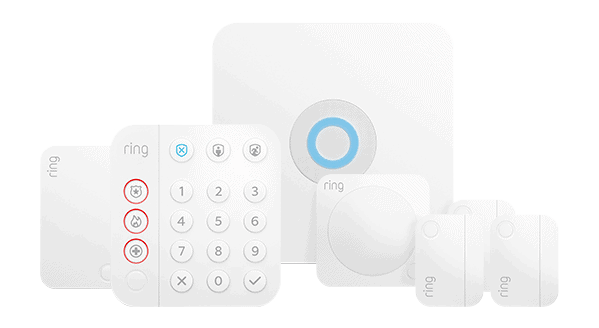 Ring Alarm offers easy-to-install whole-house protection
What's in the Ring Alarm Box?
Like we mentioned before, we ordered and tested out the five-piece kit, but Ring also offers 5-piece, 10-piece, and 14-piece kits with extra components like a panic button. What we liked about the Ring Alarm as a whole is that you can mix and match sensors from the first and second generations while adding cameras and video doorbells for a more well-rounded home security system.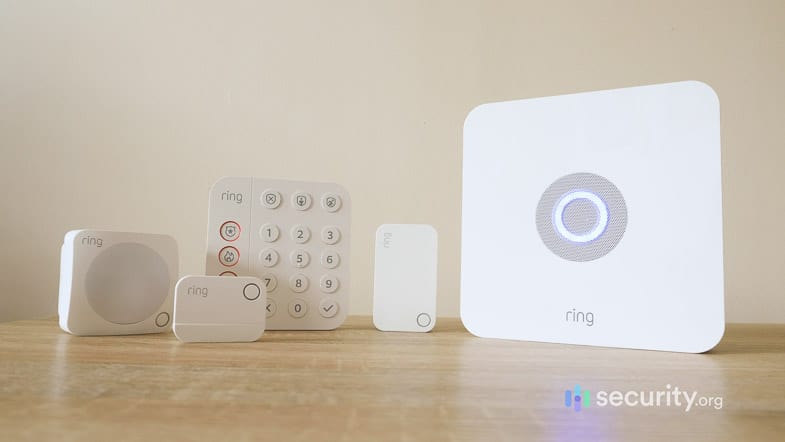 Similar to our testing of the first-gen, we paired our Ring Alarm with the Ring Stick Up Cam Plug-In and Ring Video Doorbell 2 to see if our Ring ecosystem was as cohesive as the first time. Let's get right into what our five-piece security kit included and the components' features.
Base Station
As the brains of our entire security system, the Ring Alarm's base station didn't undergo significant changes but still connected all components on the mobile app as well as the professional monitoring team.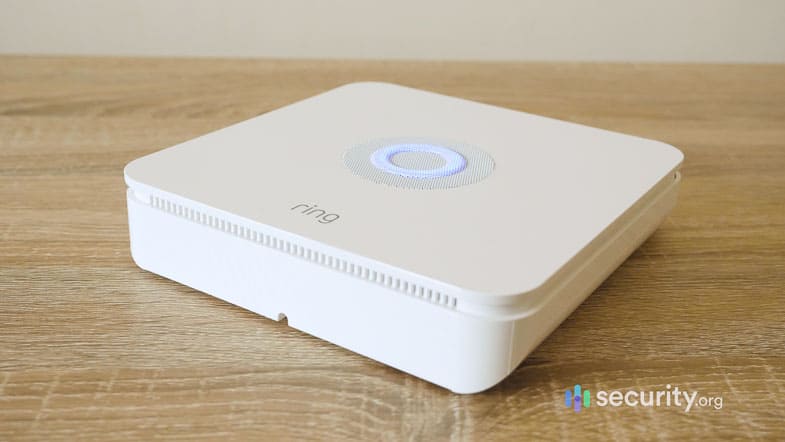 In the event of power outages, our base station would still be up and running thanks to the 24-hour backup battery. Coupled with cellular backup, there was minimal room for lost connection with our Ring Alarm, so that was very reassuring. It was also nice to see that the built-in, 104-decibel siren remained in the base station and was still loud enough for us to hear from all our rooms — though our neighbors, who heard the siren go off one too many times, may not be just as happy as we are about the siren's volume.
Keypad
One of the first noticeable changes in the Ring Alarm that we came across was the size of the keypad. Smaller than the previous generation, the keypad also incorporated three separate buttons that put us into direct contact with the authorities: police, fire, and medical. All we had to do was hold the button down for three seconds, and the base station would notify the appropriate authorities immediately.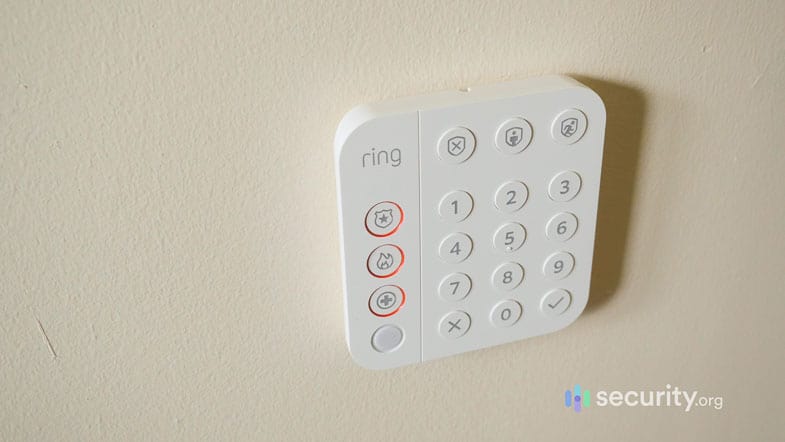 If we didn't feel like using the mobile app, we could arm and disarm the Ring Alarm on the keypad. We also shared access to our apartment with our visiting relatives by creating temporary guest codes. No more sliding the apartment key under the doormat!
Motion Detector
Like the keypad, the Ring Alarm's new motion detector has a slimmer profile than the first-gen, but with a button and indicator light this time. We saw the motion detector as our second line of defense and stuck it up in one corner of our living room.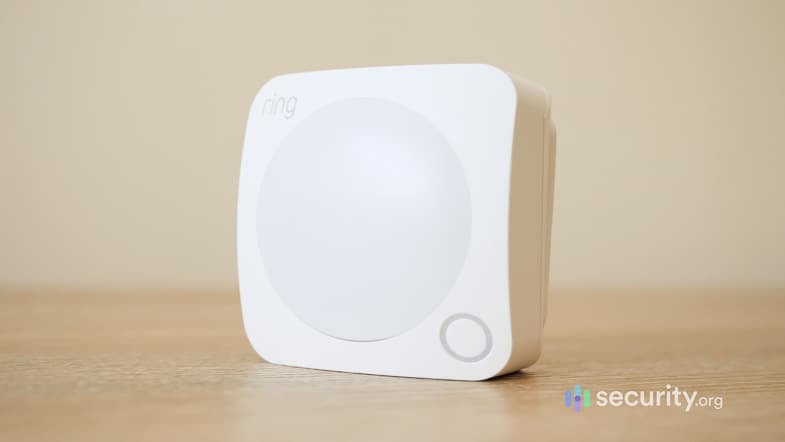 If you're like us and despise useless notifications about pet activity, then great news: the motion detector can ignore pets 50 pounds or less under low detection or pets 30 pounds or less under medium detection. This is all thanks to patented motion detection technology, which allows the component to focus solely on human intruders and ignore animals. While we don't have pets personally, when we were cat-sitting for a friend, this feature definitely came in handy.
Contact Sensor
The Ring Alarm's contact sensor has an indicator light and gets its power from two coin cell batteries that last up to three years. We placed our contact sensor above our front window, as windows are the most common spots for forcible entry.2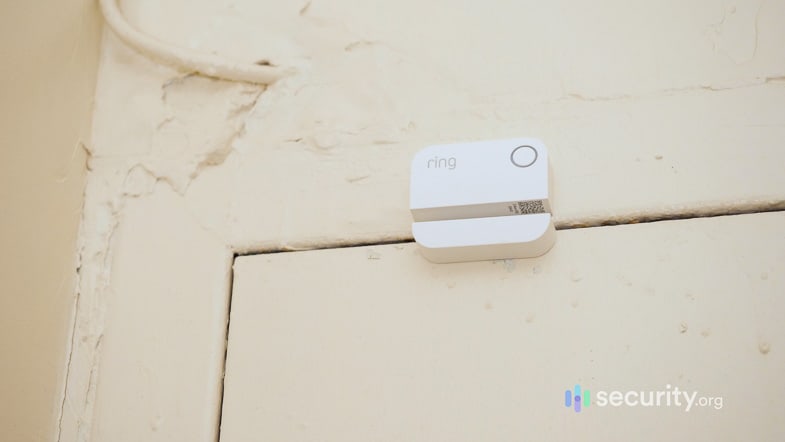 We remembered from our testing of the first generation that the contact sensor needed to be within 250 feet of the base station or else it wouldn't connect. Even though we avoided that rookie mistake this time around, we still tested the contact sensor and received notifications on the app whenever one of us opened or closed the window.
Range Extender
Following suit with the slim profile, button, and light indicator is the range extender, which amplifies the distance between the sensors and the base station by another 250 feet.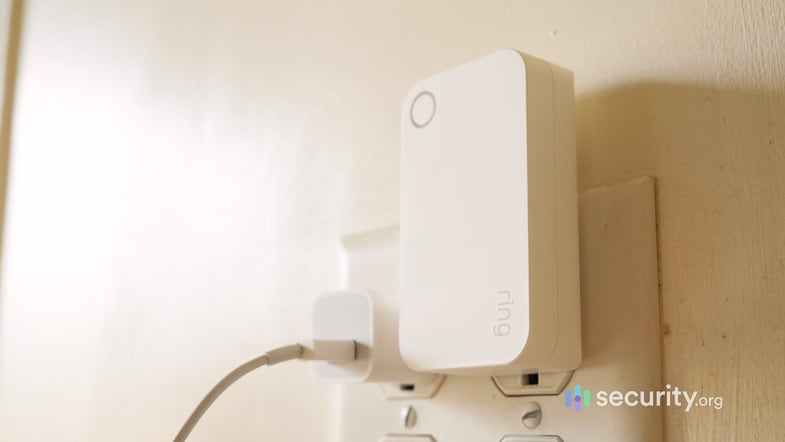 While we didn't use the range extender, we definitely recommend it for larger homes that need a stronger connection among Ring devices.
Ring Stick Up Cam Plug-In
Ring has a variety of camera options, from indoor cameras to outdoor cameras to video doorbells.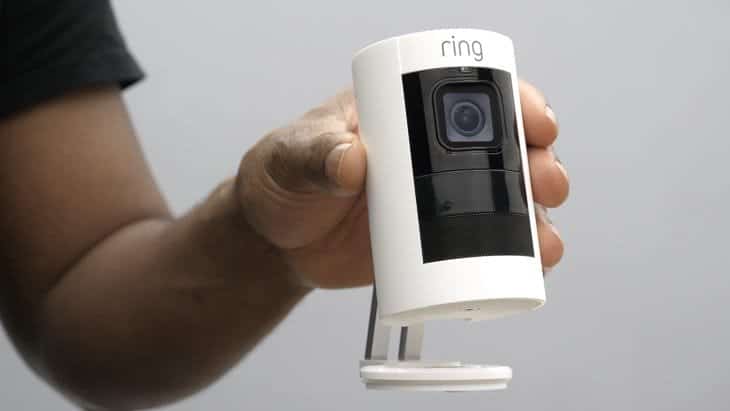 We used the Ring Stick Up Cam Plug-In with our Ring Alarm security system, a plug-in indoor/outdoor camera. Let's see how it performed during our testing.
Video: The Ring Stick Up Cam Plug-In has 1080p HD video, the current industry standard, plus a wide, 150-degree field of view. While we couldn't zoom in at all, we were still happy with the clear video image it produced, which, as you can see, is very easy to see. But if you're looking for a higher-quality security camera in terms of video, we prefer the Nest Cam IQ Outdoor, which has 4K sensors, twice the amount of pixels as 1080p HD. We really enjoyed a unique feature called Supersight which made the camera automatically zoom in when it detected a person. However, this more advanced camera cost us $399, compared to the $180 we paid for the Ring Stick Up Cam Plug-In, so it's not a great option for those on a budget.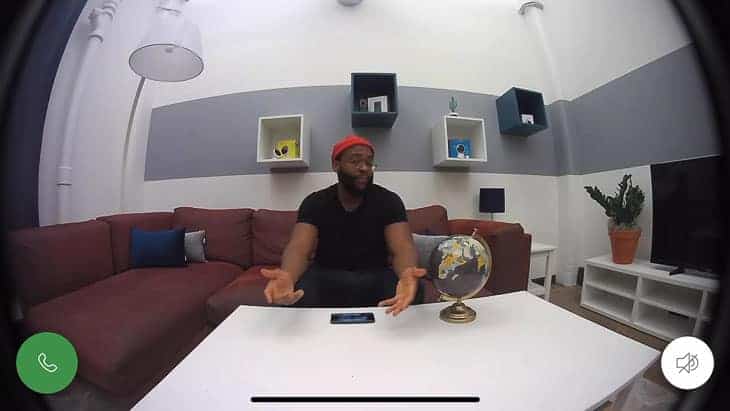 Audio: The camera has a speaker and microphone enabling two-way audio so that we could speak to whoever's in front of the camera and they could answer. This isn't just a great way to stop intruders in their tracks; it's also useful for telling family members that dinner is ready, which we preferred to do as opposed to yelling across the house like normal.
Night vision: The Ring Stick Up Cam Plug-In has infrared night vision producing a black and white image in the dark. As you can see, it's pretty clear, even in the dark, windowless room we tested it in.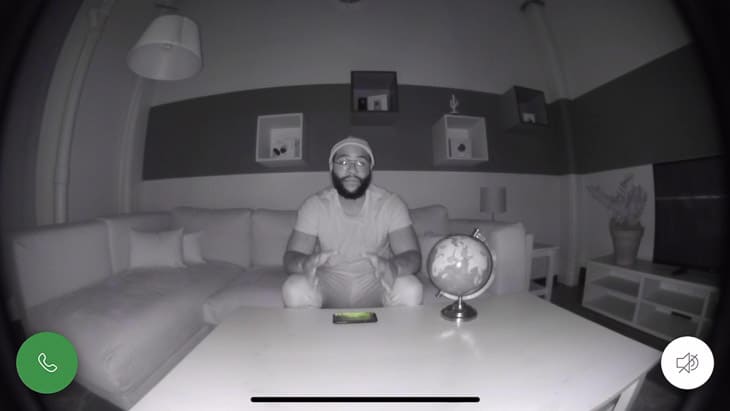 Storage: One disadvantage of the Ring Stick Up Cam Plug-In is it's lack of local storage. The only option is cloud storage. This may be a problem for you if you want continuous recording or if you want to use your camera without Wi-Fi for whatever reasons. However, for our purposes, we were able to get 60 days of cloud storage for a very affordable price, as it's built into the Ring Protect Plus plan and the less-expensive Protect Basic plan. Once we had recorded some footage, we simply downloaded it from our cloud storage onto a hard drive so we could have a backup. While this process isn't exactly arduous, we do wish that it occurred automatically.
Artificial intelligence: Now, with a Ring Protect Basic or Plus plan, we were notified only when the camera detected a person, resulting in much fewer false notifications. However, without a plan, you'll only get motion-activated notifications.
Ring Video Doorbell 2
Finally, there's the Ring Video Doorbell 2, a doorbell camera that you can either hardwire into your home or power using a battery. We chose to hardwire it into our existing doorbell set up so it wouldn't be dependent on a battery.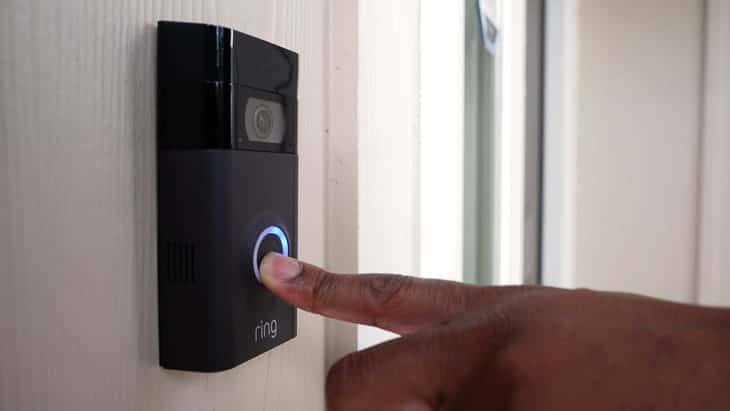 Here at Security.org, we love doorbell cameras because they let us greet our guests whether we're just upstairs or across the globe, even speaking to them through the Ring app.
Video: Like the Stick Up Cam Wired, the Ring Video Doorbell 2 has that 1080p HD video we look for in a camera, plus an even wider 160-degree field of view. While we weren't able to zoom in, it definitely wasn't super necessary as our guests stood right in front of it. As you can see from the picture, we were able to see our visitors and front stoop clearly.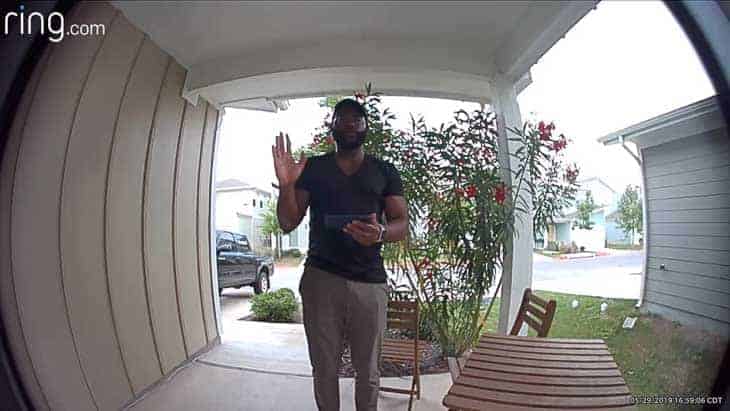 Audio: Every video doorbell we've tested out has a speaker and microphone, allowing us to have conversations through our camera and its respective app, and the Ring Video Doorbell 2 was no exception. Now, when we tested it out from our apartment in Brooklyn, we found it super helpful in regards to home deliveries. We get a lot delivered, so it was really nice to be able to communicate with the delivery people and tell them any special instructions.
Night vision: As you can see, the Ring Video Doorbell 2's night vision lights up even the darkest of nights via infrared LED sensors, which really helped us greet friends!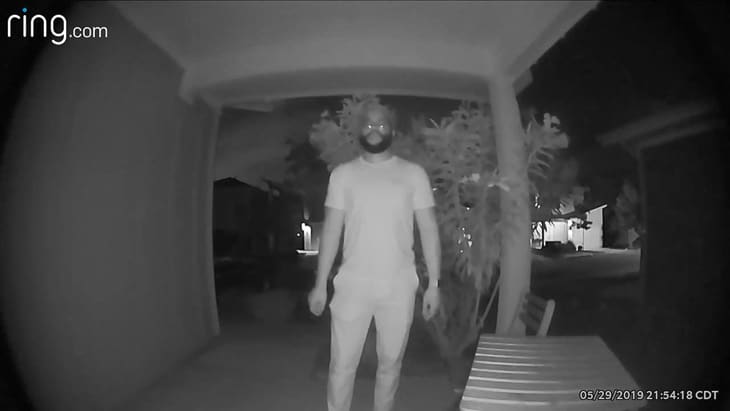 Storage: The same storage options apply to the Ring Video Doorbell 2; no local storage and cloud storage available only through Ring Protect plans. Again, we wish that the Ring Video Doorbell 2 had a slot for a micro-SD card, but it wasn't hard to download the cloud storage from the Ring app onto a local hard drive.
Artificial intelligence: Since the Ring Video Doorbell 2 lacks person detection, we received a lot of false notifications, as we mentioned earlier. Most of the video doorbells we review have person detection, which is even more important outside because of cars and animals like squirrels. Living in Brooklyn, there's a lot that passes our camera every day, so this was a pretty big drawback for us. However, if you live in a more rural area, it may not be as much of a problem.
Ring doesn't just stop at alarms, cameras, and video doorbells — you can add their Alarm Flood & Freeze Sensors or Alarm Smoke & CO Listeners to reinforce your home's protection. In our case, we didn't incorporate any of these accessories into our security system but we tip our hats at Ring's dedication to expanding its ever-growing product line.
Ring Jobsite Security
Ring recently announced a partnership with the Home Depot and the release of a security system specifically made for construction and other job sites. Since it's still in the pre-order stage for now, we haven't had the chance to test the Ring Jobsite Security3 package hands-on yet. But from what we can tell, it's basically a spinoff of Ring Alarm Pro, with its powerful eero Wi-Fi 6 router.
This unit was created to solve two key problems: thefts of materials, machinery, lumber, tools, and other items from worksites4, and lack of (or underperforming) internet service. When set up with a Ring Protect Pro subscription, Ring Jobsite Security will monitor the worksite 24/7 and provide cellular connectivity to keep all of the system's components, including security cameras, running day and night.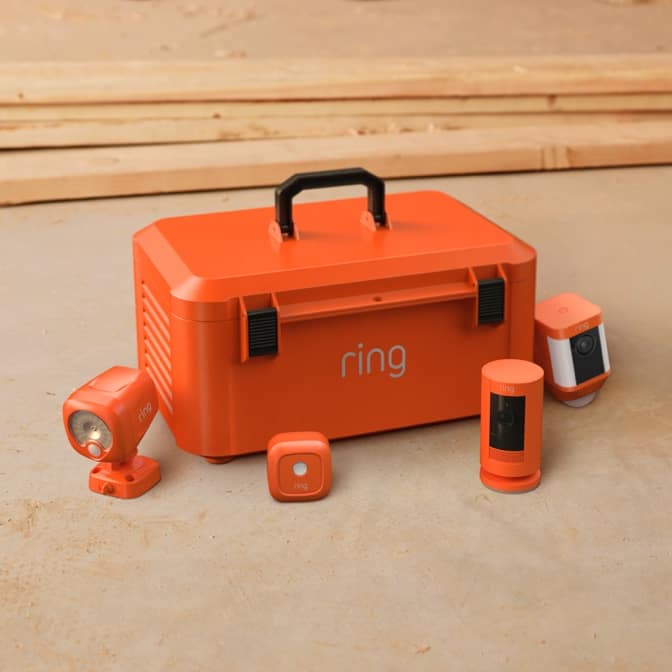 A 5-piece Ring Jobsite Security kit costs $400. Packages are expected to start shipping in early November.
Video Review of the Ring Alarm
More of a visual learner? Check out our video review below, which goes over the same details as our written review.
Ring's security system has it all, from customizable components to affordable professional monitoring. View on Amazon.
A Day in Our Lives With the Ring Alarm
What improved with the Ring Alarm 2nd Gen was the overall design of the components; the slimmer profiles made it easier for us to install each component in the tight spaces of our apartment. We mentioned in our review of the first generation that the sensors were brittle, but from what we experienced with the new generation of sensors, they were more durable. Navigating with the Ring — Always Home app felt much better than the first time.
We're always in and out of the apartment, so it was no surprise that when we checked the history of our devices on the mobile app, there was a long list of activities. Luckily, nothing out of the ordinary occurred and that left us wondering if the professional monitoring team ever got bored because of it. They did give us a call every time we were too busy to respond to a notification, so at the very least we knew that they existed and were vigilant.
Ring Alarm's Monitoring Options
Recently, Ring has made some exciting announcements, like Virtual Security Guard. If you already have a Ring Protect Pro subscription, Virtual Security Guard will have humans monitor the cameras of your desire. However, as of early October, 2021, this service isn't available yet, but you can just waitlist on Ring's website. We know we're on it!
Because we want to say it louder for the people in the back: Ring offers some of the most affordable monitoring subscriptions in the home security market. Of the Ring Protect plans offered, we chose the Protect Plus because we could never say no to inexpensive professional monitoring services. Also, we wanted cellular backup because we could never be too sure when circumstances would knock our base station offline. You can hop on over to our Ring monitoring and pricing page for more details or glance at the chart below which sums everything up:
Ring Alarm Monitoring Overview
| | Free | Protect Basic Plan | Protect Plus Plan |
| --- | --- | --- | --- |
| Coverage | No | One Ring Doorbell or Security Camera | All Ring devices at one address |
| Ring and Motion Alerts | Yes | Yes | Yes |
| Custom motion detection | Yes | Yes | Yes |
| Person only mode | No | Yes | Yes |
| Interact with visitors remotely | Yes | Yes | Yes |
| Livestream | Yes | Yes | Yes |
| Warranty | 1 year | 1 year | Extended warranty |
| Length of cloud storage (in days) | No | 60 | 60 |
| Review, share, and save Ring videos | No | Yes | Yes |
| Cellular backup | No | No | Yes |
| Professional Monitoring for Ring Alarm | No | No | Yes |
| Exclusive discounts at ring.com | No | No | 10% off Ring products |
| Monthly Price | $0 | $3 | $10 |
| Annual Price | $0 | $30 | $100 |
| Annual Savings | $0 | $6 | $20 |
All in all, we paid for our Protect Plus monthly rather than annually but we're suckers for contract-free plans because we can cancel at any time — no strings (or fees) attached.
Ring is one of the lowest-priced security systems we've tested, giving us protection on a budget. View on Amazon.
Money Saving Tip: If you think you'll stay in a long-term relationship with Ring, we recommend paying annually so you can save either $6 on the Basic plan or $20 on the Plus plan.
Our Smart Home, Now With Ring Alarm
Something else that we've been repeating is that Amazon owns Ring, which meant that we could have a field day with its voice assistant, Alexa. Ring also happens to be the best security system that works with Alexa. Don't worry, Ring didn't forget about Google Assistant either, although the Alexa integration allowed us to issue a lot more commands. Here's what we commanded Alexa to do:
Arm or disarm the security system and ask for status updates
Show live footage on our Echo Show devices or Fire TV
Disable motion alerts from cameras and entry sensors on doors and windows
Adjust our cameras' motion sensitivity
Lock or unlock our doors (if we had compatible smart locks installed) and ask for status updates
Review recent video clips from our cameras.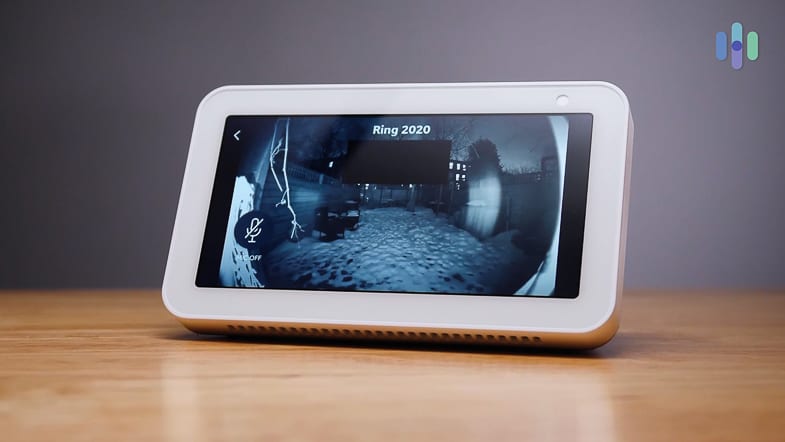 Google Assistant couldn't match up to Alexa in terms of commands, but these were tasks that it could do:
Start a new recording on our cameras
Receive health updates on our devices
Review previous notifications.
Other than voice assistants, here are some third-party devices that are compatible with Ring:
Dome Siren
Leviton Decora In-Wall Switch
GE Plug-In Dimmer
Schlage Connect Smart Deadbolt
Kwikset Z-Wave Deadbolt
Yale Touchscreen Deadbolt
We have a Dome Siren in our apartment because our grandparents, who are hard of hearing, often visit. When we integrated it with our Ring Alarm, we had to test how loud we wanted the siren to be. All we needed to do was adjust the Dome Siren's volume on the app and see if our grandparents could hear it from the guest room. Any time the Ring Alarm went off, the Siren would go off as well and alert our grandparents, which gave us peace of mind whenever we weren't home.
Pro Tip: While the Ring Alarm's base station has a built-in siren, you can add a Dome Siren which works perfectly well with the security system.
Does the Ring Alarm 2nd Gen Outpace the Original?
When it comes to Ring's products, there's a second generation for almost everything. What that tells us is that Ring listens to customer feedback and tries to improve the user experience. In the Ring Alarm 2nd Gen exemplified this for us with its newer, sleeker design and the clearer separate buttons for authorities on the keypad. We also liked the fact that placing each component around our apartment was easier than the first time, and the components weren't as fragile when we constantly moved them around. And, last of all, we loved that the cost for professional monitoring remained affordable. With a traditional security system like ADT, or even with a no-contract plan from Frontpoint, professional monitoring can cost $60 and up. So it's nice to have a more affordable option with Ring.
As a household name in the industry, Ring has come a long way to providing a multitude of security products that are as affordable as they are effective in protecting homes. With contract-free plans and low-cost monitoring subscriptions, our wallets didn't hurt too much, allowing us to entertain the thought of ordering more Ring accessories to add to our Ring Alarm security system. Beyond the minor hiccup with connecting our base station to our Wi-Fi, we recognized the improvements from the first-gen. Ring really took customers' feedback to heart! It's because of this, they landed a spot on our best home security system list.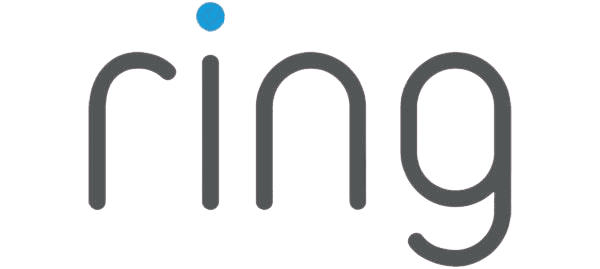 Easy, DIY Install
Works for any size home
Works great with Alexa
When you get started with Ring Alarm, you're opening yourself up to a whole ecosystem of smart cameras, video doorbells and more. View on Amazon.
Ring Alarm FAQs
That's not all, folks! Here are the questions we get the most about the Ring Alarm.